Hi I'm Mike and today we're talking about camper and travel trailer weight, averages, and how to reduce it. We'll compare a few popular models to help you get an idea of how heavy these trailers are. You'll also find information about how weights are measured. Let's get into it 🙂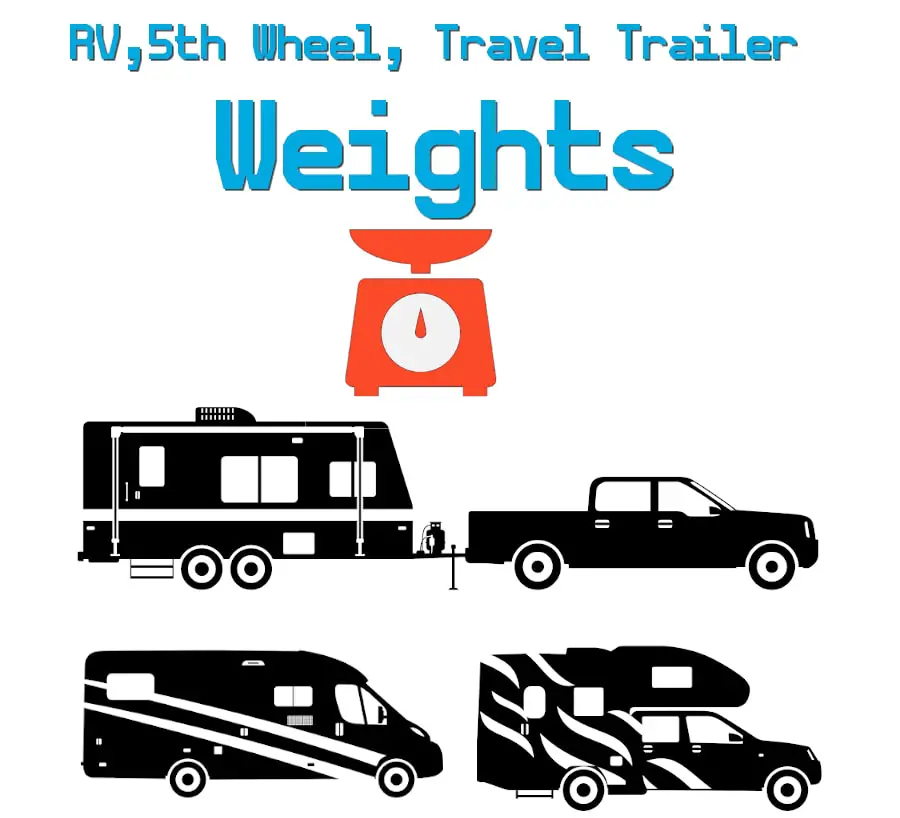 Introduction
The purpose of an RV or Travel Trailer is to be able to see new places, have fun, and relax. While planning and logistics may not seem fun or relaxing, a bit of forethought can make your time on the road a lot more enjoyable.
Of all the planning and research you can do on your camper, there are few things more important than knowing the total weight of your rig.
Making sure you know the weight is paramount to keeping your family safe, on schedule, and on the right side of the law.
---
Travel Trailer Weight Terms Explained
Newcomers to the RV world may be tempted to believe that there is only one number associated with the weight of a camper. After all, doesn't it just weigh whatever it weighs? The specifications of RV's can be a confusing and a collection of obscure acronyms. Luckily, there are only a few terms you need to understand.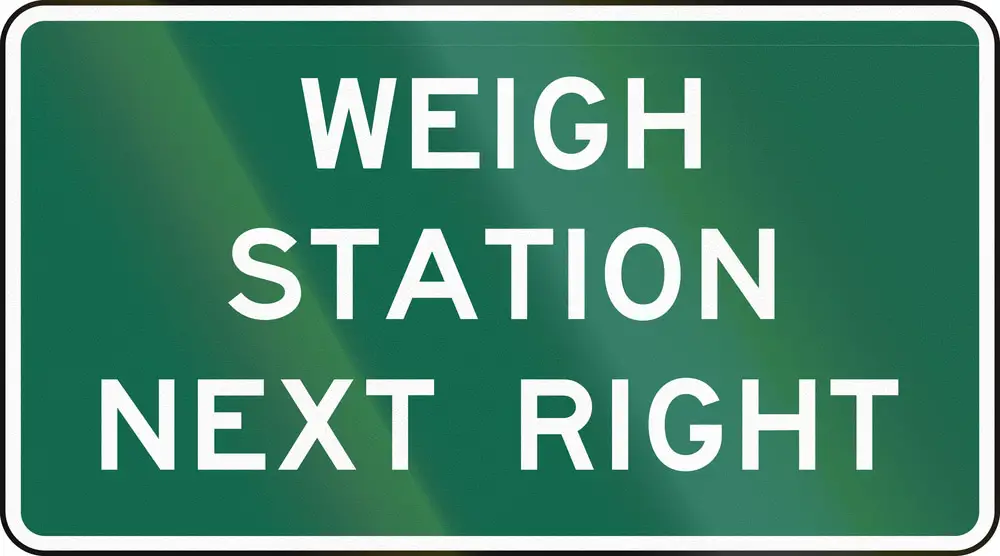 ---
GVWR
Likely the most common abbreviation you will encounter is GVWR (Gross Vehicle Weight Rating).
Because this number often appears at the top of a specification sheet, many people assume this number is the total weight of the RV.
Thus, the weight of the camper, combined with people, water, and supplies, should not exceed the listed GVWR.
In the context of motorhomes, the GVWR is specified by the manufacturer of the chassis. In contrast, the GVWR of a trailer is often determined by the weight-rating of the axles.
Looking for a lightweight bunkhouse travel trailer, or ultra lightweight toy hauler??
---
UVW
UVW stands for "Unladen (or Unloaded) Vehicle Weight."
This is the number that most people think about when they consider the weight of an RV.
This is almost an unrealistically low number. A vehicle in use will never be as light as the UVW indicates. But it's a significant number to know so you can tally the total weight of the rig.
A significant number to know is the maximum weight of "stuff" you can put in your RV. To get this number, subtract the UVW from the GVWR. This number will be how much weight your unit can safely carry.
It is crucial to factor not only your camping supplies and toys, but also the weight of your passengers, fuel, and water.
---
Hitch Weight or Tongue Weight
Hitch weight, also known as "tongue weight," is one of the most important measurements for a trailer owner to understand.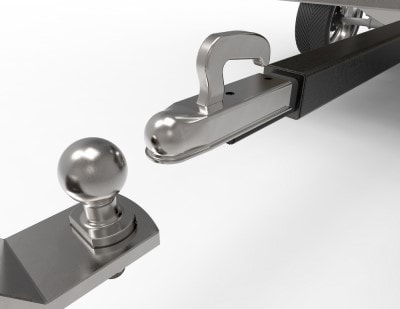 In a towing situation, the truck and trailer function as a giant lever. The more weight on the hitch of your tow vehicle, the more weight that will be on the back tires, and less weight will be on the front tires.
Having too little tongue weight can take traction away from the rear tires of your tow vehicle and make the tow vehicle fishtail on slippery roads.
Having too much tongue weight can remove traction from the steering tires, making the rig challenging to steer.
Making sure the hitch weight is correct is essential.
Need to increase towing capacity?
---
GTW
For a travel trailer, your hitch weight should be 10-15% of the GTW. For a fifth-wheel, the hitch weight (also known as "pin weight" for a fifth-wheel) should be between 15-25%.
These figures should be on your trailer, but if not, most truck stops or RV supply companies should be able to help you determine your hitch weight.
---
GCWR
Whether your setup is a travel trailer or a motorhome towing a "toad," the entire weight should be less than the listed GCWR of the tow vehicle.
---
GAWR
For example, if your fifth-wheel has three 9,000-pound axles, the total carrying rating would theoretically be 27,000 pounds. While it is a nice number to know, there is not a lot of practical purpose in studying the GAWR.
The GAWR accounts only for the strength of the axles, whereas the GVWR is a number that takes the entire vehicle into account. Therefore, the GAWR is not a number you need to be overly concerned with understanding.
---
Travel Trailer Materials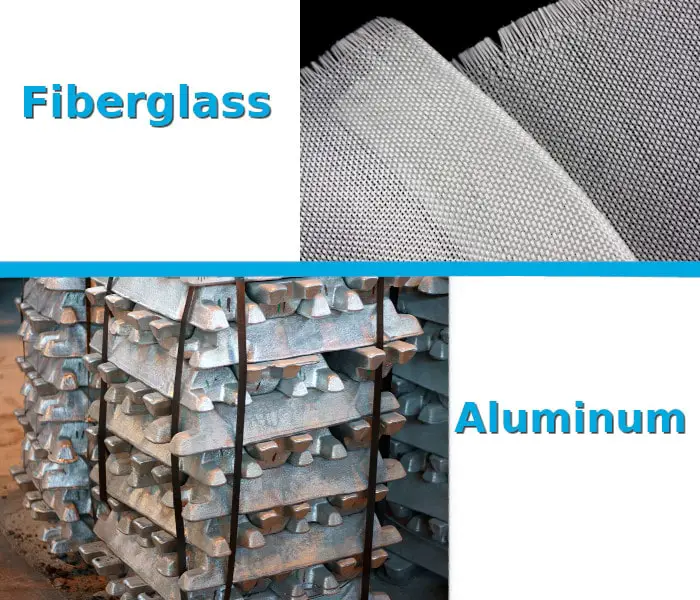 The weight of a travel trailer is determined by its size and materials. Generally, trailers are constructed of either aluminum or fiberglass. Aluminum is the lighter of the two. We'll discuss them more below.
Aluminum
Aluminum siding tends to be the lightest option for trailer construction. The framing of the unit also needs to be considered. Some higher-end trailers have both aluminum skins and aluminum framing, which is a very strong and light combination. On the lower end of the market are the trailers with aluminum skins but wooden framing. These are known as "sticks and tin" trailers.
While cheaper to construct, this construction method can also be more cumbersome.
Fiberglass
Fiberglass construction has advantages, including a sleeker appearance and increased resistance to wear. However, fiberglass can be heavy material. Compared to aluminum skinned and framed trailers, fiberglass construction tends to result in a weightier RV.
Which is lightest?
The lightest trailers and campers are going to be aluminum, but these will also be the most expensive option.
If your goal is to have the lightest trailer possible at a reasonable cost, a wooden-framed, aluminum-skinned trailer is a solid choice.
What else adds weight?
Many people buy an RV, camper or travel trailer and never think about weight again. However, the equipment carried by most campers can be substantial.
It is significant to always consider the weight you are adding to your RV to ensure you are safe.
What are the main culprits for adding unaccounted for weight?
By far, the most overlooked factor when thinking about the weight of your RV is the weight of the water you are carrying.
Water weighs 8lbs/gallon, and many modern RV's have a combined tank capacity of over 150 gallons. You may be adding over 1,200 pounds to your camper without even thinking about it.
The weight of food can add up quickly. A 12-pack of soda or beer, for example, weighs at least 10 pounds. If you are packing supplies for an extended trip, do not forget the weight of groceries.
Most RVs use standardized 40-Pound propane tanks.
A full 40-pound propane tank is actually 72 pounds.
The majority of RV's have two such tanks, and they are often mounted at the most crucial point of the camper: the hitch.
This makes the weight of these a consideration if you are close to your maximum load capacities.
The safety of the people in your RV is the reason why keeping the weight within safe limits is so important.
People themselves can represent a sizable amount of weight. A typical family of four often weighs 600+ pounds.
---
Short Travel Trailer Weight Examples (10-20 ft Travel Trailer)
Let's look at some typical ranges for different types of trailers. Here are a few real-world examples.
16 ft Travel Trailer Weights
Sixteen feet is typically the shortest travel trailer available. A Scamp 16, a full-fiberglass trailer, has a UVW of around 2,000+ pounds. Some wood-framed trailers can weigh a little more, such as the Rockwood Geo Pro G16BH at 2,900+ lbs.
Looking for light travel trailers under 7,000 lbs?
Scamp 16 = 1,750+ lbs UVW  (3,500 lbs GVWR)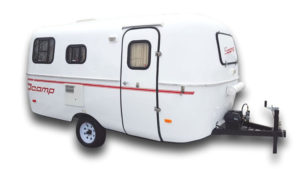 Rockwood Geo Pro G16BH  = 2,993 lbs UVW (3,920 lbs GVWR)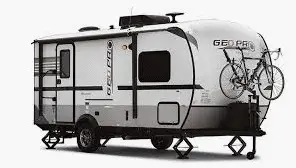 20 ft Travel Trailer Weights
A 20ft trailer is a versatile size, as they often combine space for a small family while still being easy to tow. A Rockwood Geopro G20BHS weighs around 3,500 pounds, while a more luxurious unit, such as an Airstream Flying Cloud 20 is 4,200+ lbs.
Rockwood Geopro G20BHS = 3,513 lbs UVW (4,455 lbs GVWR)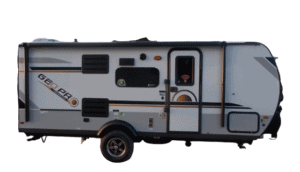 Airstream Flying Cloud 20  = 4,200 lbs UVW (6,000 lbs GVWR)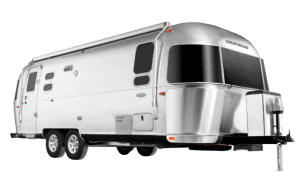 ---
Long Travel Trailer Weight Examples (20-30 ft Camper )
Travel trailers get heavy as the length increases. Let's look at a few examples.
26 ft Travel Trailer Weights
This is one of the most common lengths for travel trailers. A popular fiberglass skinned example, the Grand Design Imagine 2600RB, has a UVW of 5,725 pounds. A Coachmen Catalina 261BHS is a heavier option, at 6,200 pounds.
Grand Design Imagine 2600RB = 5,725 lbs UVW (7,850 lbs GVWR)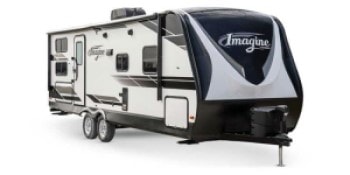 Coachmen Catalina 261BHS = 6,198 lbs UVW (7,700 lbs GVWR)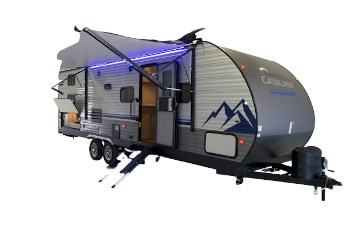 30 ft Travel Trailer Weights
While spacious, this is a length where the trailer gets very heavy. Spend extra time going over your tow vehicle specs. An unloaded Forest River Heritage Glen 314BUD weighs a significant 8,400 pounds. An Airstream Classic 30, mainly due to its lack of slides, weighs 7,400 pounds.
Forest River Heritage Glen 314BUD = 8,354 lbs UVW (9,920 lbs GVWR)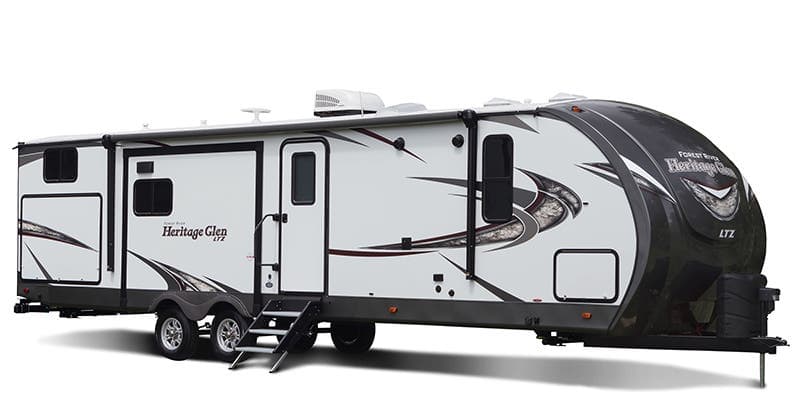 Airstream Classic 30 = 7,365 lbs UVW (10,000 lbs GVWR)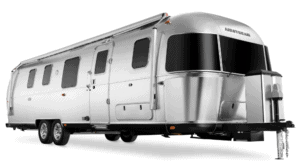 ---
How Much Do Campers Weigh on Average?
The various makes, models, and types of RV's are as diverse as the people who own them. Thus, it is difficult to pin down a solid average even if you narrow the spectrum to a specific class of RV.
Getting a rough idea of what a typical unit weighs can help show how different nits vary. Each specific nit is different, so always make sure to check your RV rather than trusting a list.
Class A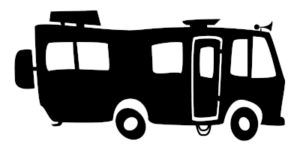 Class A's are generally the largest motorhomes on the road, and as such, are the heaviest.
Smaller gasoline-powered Class A's, which are often under thirty feet in length, weigh around 16,000 pounds. Many of the available coach-based Class A's can be over twice this amount.
Related: Best Class A Motorhome Under 30 Feet
A Prevost or Monaco, for example, weighs around 35,000 pounds. This extra weight is due to their diesel engines, increased length, and stout construction. This amount of heft puts some of these units within range of a needing a Commercial Driver's License (CDL).
Class B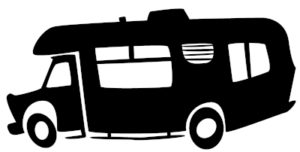 Of the motorized options, Class B's are the lightest RV.
Because they are based on a full-sized van chassis and keep the body of the van, many Class B's weigh little more than a large SUV.
A well-equipped Class B will generally weigh somewhere between 8,000 to 12,000 pounds.
Just because they are lighter does not mean that you do not need to know the weight. A Class B is often more susceptible to being overloaded. Knowing the numbers and limits is crucial to the safety of you and your family.
Read more about small RVs with bathrooms
Class C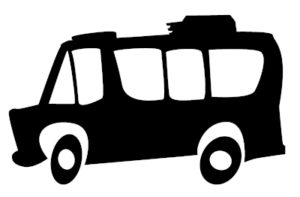 The weight of Class C's is somewhat of a dirty little secret in the RV industry.
This is because a Class C is built on a full-sized van chassis, but is much larger than the Class B counterparts.
In contrast to a Class B's weight, larger Class C's can weigh over 20,000 pounds.
Yet, due to their weak platforms, the carrying capacity of a Class C is often low. Several Class C's are only rated to transport 800 pounds over their empty weight. Once you tally the weight of a few people, camping supplies, and the family pet, you start to understand why tracking weight is critical.
Looking for a small Class C RV?
Fifth Wheel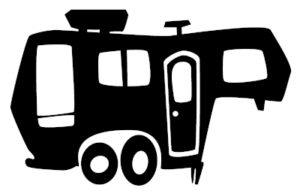 Diving into the world of trailers, the weights and capacities vary dramatically.
This is unsurprising because there is an enormous variety of sizes and shapes in the trailer world. That said, fifth wheels tend to be heavy compared to travel trailers (although there are some 1/2 ton towable 5th wheels on the market).
Indeed, there are light fifth wheel options, such as the 3,500-pound Scamp 19. However, the vast majority of fifth wheels will be over 30 feet long and weigh at least 12,000 pounds.
Larger and more luxurious models, especially toy-hauler variants, can weigh 20,000+ lbs.
You may be interested in our other articles on small 5th wheel toy haulers and ultra lightweight toy haulers.
Travel Trailer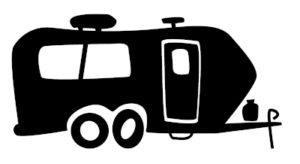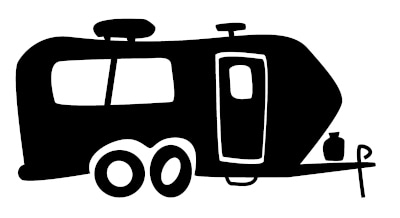 Anyone who has stepped foot onto an RV lot will realize that travel trailers are available in seemingly any size.
The smallest examples can weigh as little as 2,500 pounds. These are an excellent option for many people, as they can often be towed by the family minivan or small SUV. This low weight comes at a cost though – they often contain only a bed and stove.. so it's cramped!
On the opposing end of the category, travel trailers are available in 30, or even 35+ foot lengths. These behemoths have dry weights of over 13,000 pounds.
Heavy Travel Trailers are difficult because the weight is not applied as well as a Fifth-wheel Trailer. If you want a long or heavy trailer, consider purchasing a Fifth-wheel Trailer instead.
Weight isn't the only consideration when towing a camper, you need to measure the dimensions as well.
You may be interested in our Travel Trailers Under 7000 lbs guide or go ULTRA Lightweight with these.
Teardrop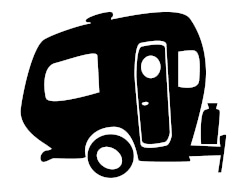 Teardrops represent the lightest – and cutest – RV offering.
A typical Teardrop consists of little more than a queen-bed and a rear-facing exterior kitchen. Because of the Teardrop's simple design and size, they are one of the easiest to tow campers on the market.
A sparse aluminum-framed teardrop can weigh as little as 1,000 pounds. This allows it to be towed by almost any vehicle, including cars!
Heavier wood-framed teardrops, or more luxuriously equipped models like a Vistabule, can weigh a little more. However, even the heaviest Teardrop is likely to be under 1,800 pounds.
We have a list of affordable teardrop campers if youre interested.
How to Reduce Weight
By far, the number one tactic to reduce the weight of your trailer is to travel with empty holding tanks.
Water is heavy, and there is no need to subject your tow vehicle to towing more than necessary.
Almost all RV parks have convenient dump and fill stations. Get into a habit of emptying your tanks as you leave, and refilling your freshwater as you enter.
Further, never underestimate a simple spring cleaning. Much like our homes, our RV's are prone to accumulating a lot of junk after years of use. Once every season, go through the closets and drawers and remove anything you no longer use. You might be surprised by what you find.
Weight matters for travel trailers, campers, and motorhomes!
When considering the weight of a camper, many people think this factor is only for trailers or other towed RV's. However, this number is necessary for RV's and motorhomes.
The weight and capacity of your motorhome can affect the stability, longevity, and legal status of your setup.
Didn't the manufacturer's engineers figure this out for me?
Most people think that because their motorhome was engineered by a manufacturer that the work of ensuring load ratings has been done. In many instances, this might be true. However, in some cases, the weight-carrying capacity of a motorhome can be surprisingly low.
Thus, if you do not take the time to understand the weight and carrying capacity of your motorhome, you won't know if your coach is overloaded.
What's the harm in overloading a motorhome?
Overloading a motorhome has many dangers.
First, it can make your motorhome less stable or more challenging to steer.
Next, parts are more likely to fail when exposed to a higher weight than they were designed for. This includes tires, suspension components, cooling systems, transmissions, and much more. Failure of any of these items can result in a costly repair, a stressful delay, or a dangerous accident.
Lastly, the weight of a motorhome can have legal implications. For example, some states require a commercial driver's license, or "CDL" to operate a vehicle with a GVRW over 26,000 pounds.
Both Washington DC and Hawaii require a CDL to drive a coach over 26,000 pounds.
But, North Carolina, Kansas, Maryland, Texas, Nevada, Pennsylvania, and Wyoming do not require a CDL. They do, instead, require a "Class B" driver's license. Illinois shares this Class B requirement, but for units as low as 16,000 pounds.
As you can see, the legal requirements vary by state. Hopefully, you understand by now the importance of knowing the weight of your motorhome!
Conclusion
The plethora of numbers on a travel trailer weight spec sheet can become overwhelming.
Making sure you understand the basics of weights and capacities is crucial for the safety of both your family and your equipment.
Keep track of your weights and be kind to your equipment. Your camping experience will be as enjoyable and relaxing as possible.