Hey I'm Matt. Today we're discussing the top ultra lightweight toy hauler you can choose for your weekend getaway. We'll go over 10 models including fifth-wheel and travel trailers options. If you're looking for light toy haulers that you can tow with your half ton pickup, you've gotta check out these options.
Ultra Lightweight Toy Haulers
Lightweight 5th Wheel Toy Haulers
Introduction
If you spend any amount of time at RV shows or on camping websites, you've likely heard the term "toy hauler" thrown around quite a bit. However, the models that receive that label can come in a staggering array of shapes, sizes, and prices. Because of this disparity, it is easy to be left confused as to what exactly constitutes a toy hauler. Or what you should be looking for when shopping for one. Here are some helpful considerations to keep in mind when looking at an ultra lightweight toy hauler. Then, we will look at a few of the best models to start your search.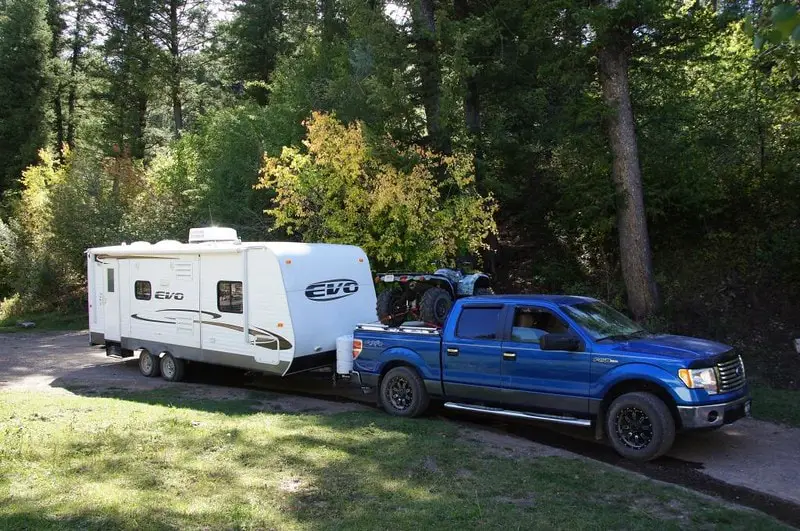 What is a Toy Hauler?
A toy hauler was a travel trailer or fifth wheel that incorporated a garage-like storage space in the rear of the unit. This area was accessed via a large fold-down ramp door, and used for transporting motorcycles or ATVs. These units were quite heavy, and often expensive. However, the world of toy haulers has expanded exponentially in the past decade. Now, there is a new range of ultra-light toy haulers that are not only more affordable but much easier to tow.
What to Consider Before Buying a Toy Hauler
The myriad of choices currently available in toy haulers broadens your options. However, it can also make shopping for them an overwhelming proposition. Thus, it is crucial to create a system to narrow down your options to make sure that you end up with a unit that best suits your needs. Whether you plan to browse the market digitally or hit up a local dealer, here are some of the most important factors to consider.
Like with any other purchase, price is a significant factor. When toy haulers were first introduced to the market, they occupied a lofty place in the market. It was not uncommon for even a basic toy hauler to cost over $80,000. Luckily, the price range has expanded downward quite a bit. For a basic model with modest specs, a toy hauler can be found for as little as $15,000. Of course, the price will vary depending on the specific model you choose.
Another key decision to make is what size toy hauler you are interested in. There are generally three factors that lead to this decision:
What you need to haul
What you feel comfortable towing
Where you can store it
Size is an area where I often caution first-time RV buyers. As you should be aware of, trailer dimensions are a key part of choosing the right hauler.
When shopping across various models, it is easy to feel inclined to buy the largest RV possible. But while size has its advantages, there are also drawbacks. Purchasing a larger toy hauler can make the prospect of towing it more intimidating. Many state and national parks have limits on how large of an RV they can accommodate. Finally, your tow vehicle may not have the capacity to haul a larger unit. In short, it is often wise to purchase the smallest toy hauler that fits your needs. The easier it is to use, the more likely you are to enjoy it.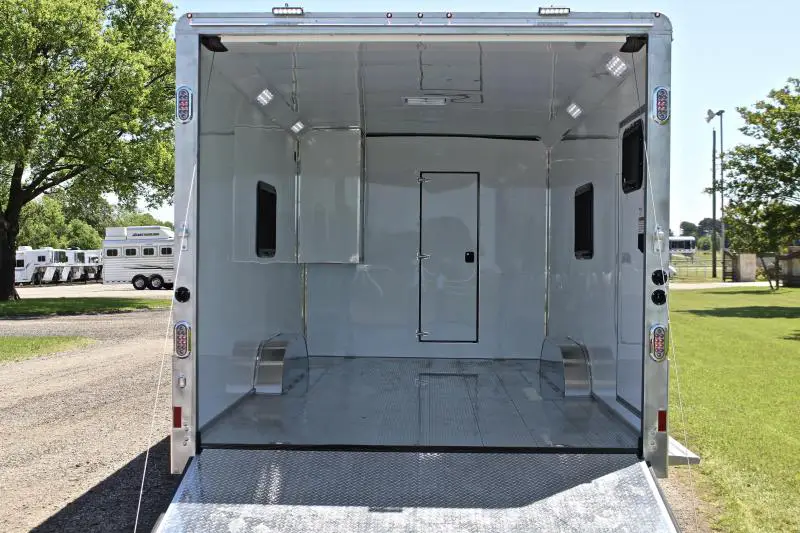 In addition to the physical size of a toy hauler, weight is an important consideration. Most half-ton trucks will have a towing capacity of around 8,000 lbs (learn more about Half Ton Towable 5th Wheel Trailers). Thus, if you intend to keep your current tow vehicle, the weight of the trailer is an important consideration. This is why the new trend of ultralight toy haulers is such a welcome addition to the RV lineup. A typical ultra-light toy hauler will weigh between 3,000 and 5,000 lbs. This allows a mid-size truck or SUV to tow it, even with a bevy of gear and toys loaded up. When shopping, be aware that most manufacturers will quote the empty trailer weight in their specifications. This weight, often called the "unladen vehicle weight" or UVW, is the weight of the trailer without any gear, water, or items on board. Thus, always add at least 1,500 lbs to this number to account for a more realistic towing weight.
Of course, the primary motivation for purchasing a toy hauler is the ability to haul toys. It is very important to examine the carrying capacity of any toy hauler. Many toy haulers, especially those in an "ultralight" category, have low weight ratings. If you intend to only haul one or two 250 lb dirt bikes, this likely will not be a concern. But if your lineup includes heavier touring bikes, or large ATV's, make sure that the toy hauler has the carrying capacity you need.
Beyond mere numbers, the weight in a toy hauler is generally placed at the very back of the trailer. If overloaded, this can create a dangerously unstable situation. Luckily, in all but the most extreme situations, the average toy hauler will have more than enough capacity for your needs. Make sure to consult with a dealer or other knowledgeable party.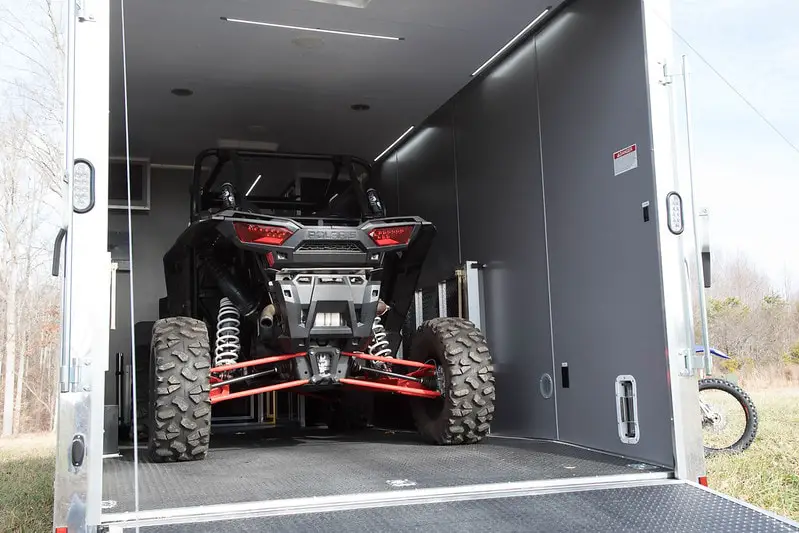 Floor plans are one of the most exciting aspects of toy haulers. Because of the open rear layout, the interior of a toy hauler can grant a huge amount of flexibility. Generally, there are two styles of toy hauler floor plan: those with a separate garage area, and those that are one room. Many shoppers default to looking at the "separated" models, but this an area where more thought may convince you otherwise.
Generally, the toys you are hauling will only be inside the camper while you are going down the road. Otherwise, they will likely be stored outside. Thus, having the open space at your disposal, rather than separated in a dark "garage", can be a real advantage in a smaller trailer. Further, integrated units often have more hauling space, as the toys you are transporting can be moved further into the trailer.
Another unique feature of toy haulers is the prevalence of lofts and drop-down beds. Many models will have queen-sized beds which electrically drop down from the storage area. This allows you to have the best of both worlds, with both a comfortable sleeping area and a large garage space. In the world of toy haulers, flexibility is king. Look for a layout that places the permanent fixtures, like kitchens and bathrooms, towards the front of the layout. This design will maximize your open space and carrying ability.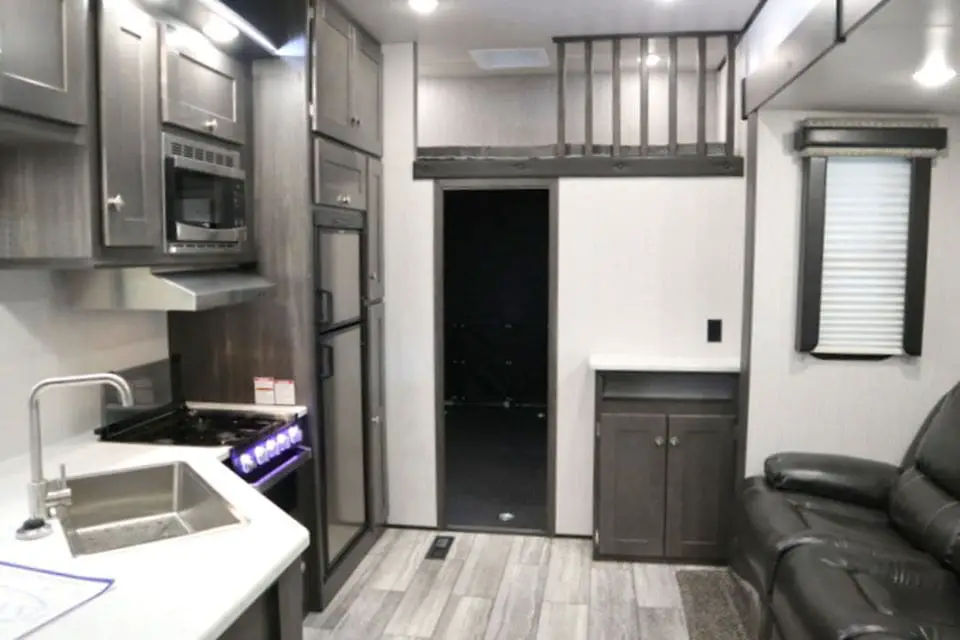 The decision to buy new or used will depend upon your desires, demands, and budget. There are many goods deals to be had on the used market. However, toy haulers are often used more roughly than their closed-back counterparts. Thus, looking at toy haulers on the used market, prepare to encounter a fair amount of scuffs and wear.
Beyond this, the cost difference between new and used is often not as significant as it seems. When shopping for new units, there are more incentives, rebates, and financing options. When comparing new and used units, make sure you look past the sticker to analyze the true costs. A new unit may be more attainable than you think.
We've looked over some of the considerations you should have while shopping for an ultralight toy hauler. Now, let's look at some of the hottest options on the market.
Five Ultra Lightweight Toy Haulers
1. Forest River No Boundaries NB10.6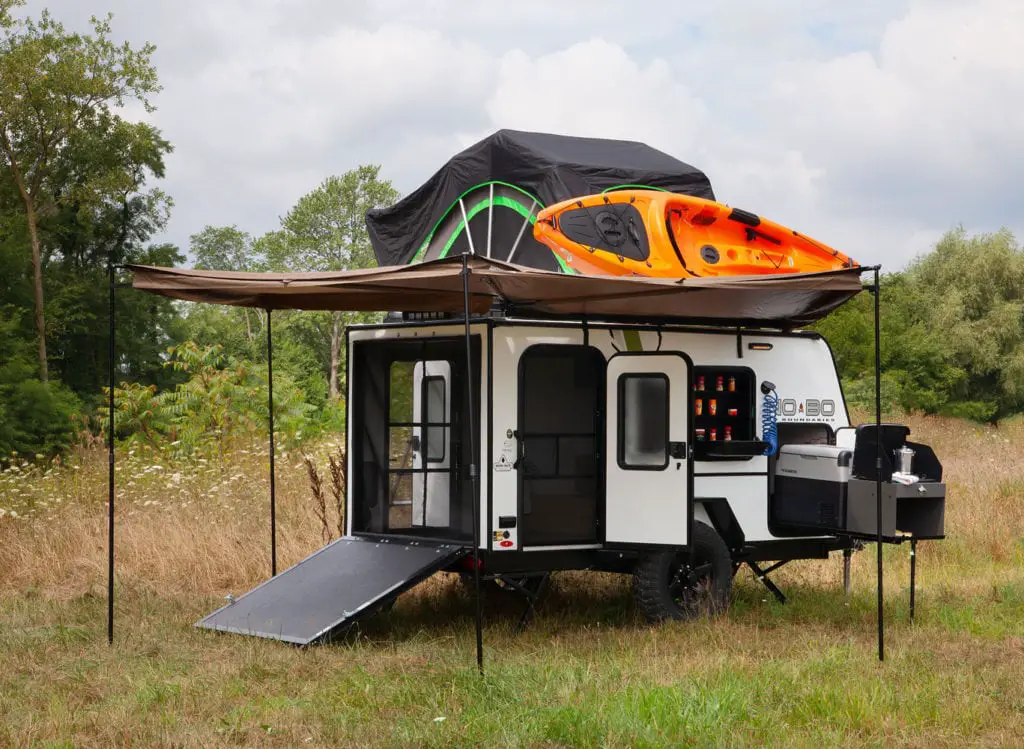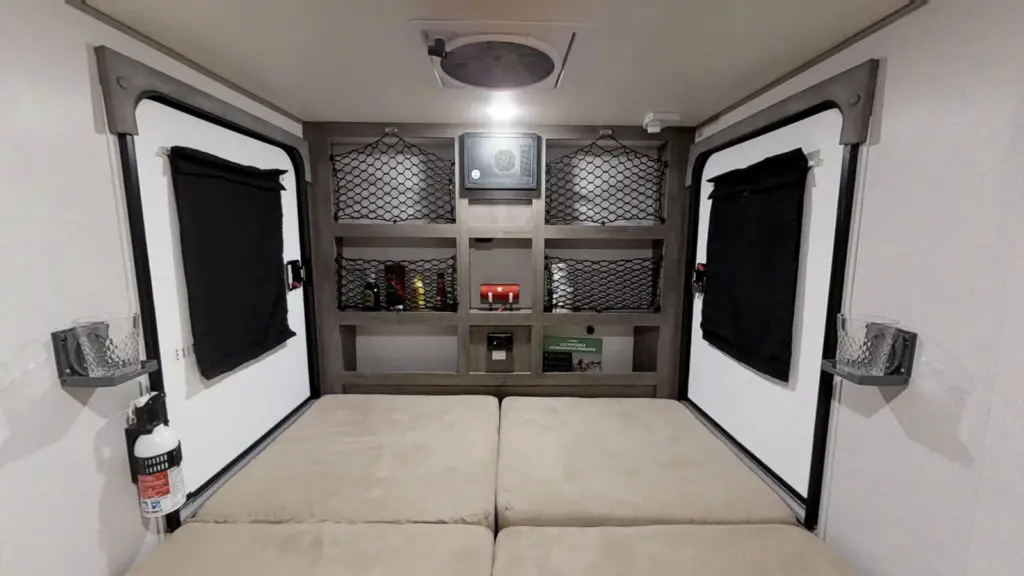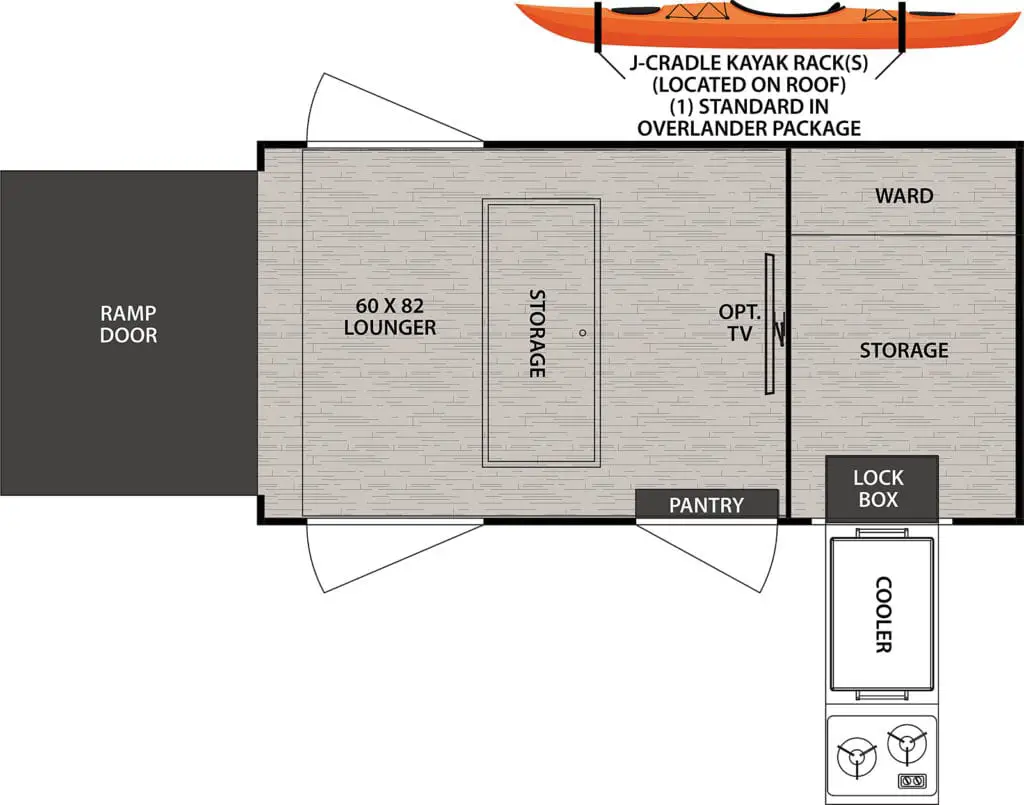 The Forest River No Boundaries NB10.6 is one of the most unique ultralight toy haulers to hit the market in recent years. This model straddles the line between a teardrop and a toy hauler by offering a fold-down ramp door, but being a mere eleven feet long. If you are searching for the height of luxury, this is probably not your best option. But, for those who prefer to spend their recreational time outside enjoying nature, this Forest River provides a dry and climate-controlled place for two people. It's got plenty of room to sleep and the ample storage to haul your bikes, kayaks, or small ATV.
The kitchen is another innovation in this unique. In a traditional teardrop, the kitchen is at the rear of the unit, accessed from the outside. Because of the ramp, Forest River had to move the kitchen to the front. Access is achieved by a sliding drawer mechanism, and the kitchen slides out of the side of the coach. It's an approach I've never seen, but it is hard to argue with the efficiency.
The mission of efficiency continues with the price and weight. At around $15,000 and weighing a mere 1,700 lbs, this may be the easiest to live with toy hauler around.
2. Livin'Lite Quicksilver VRV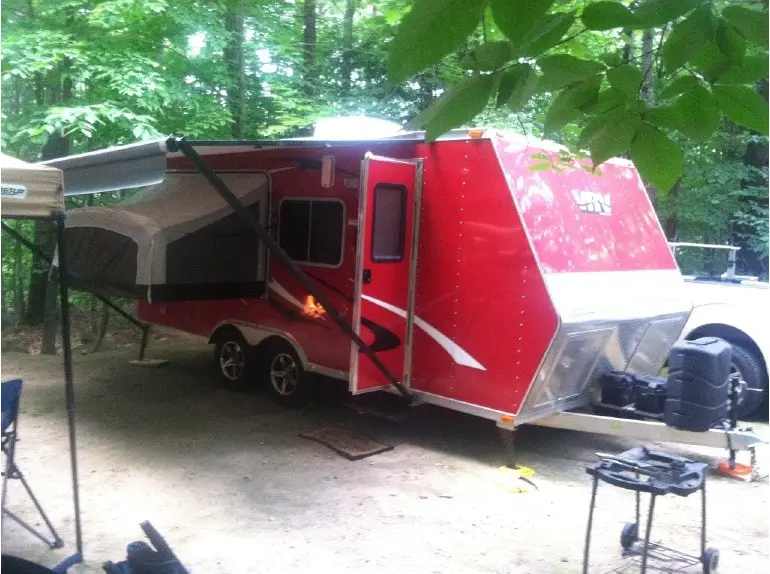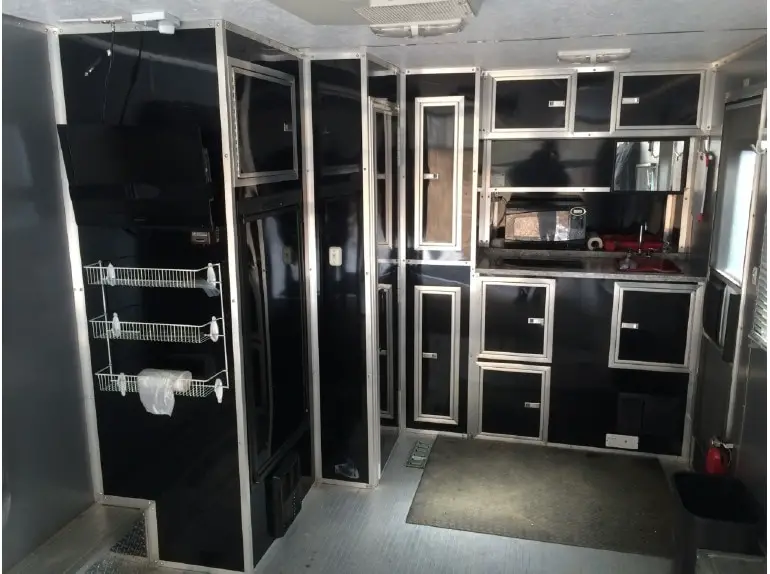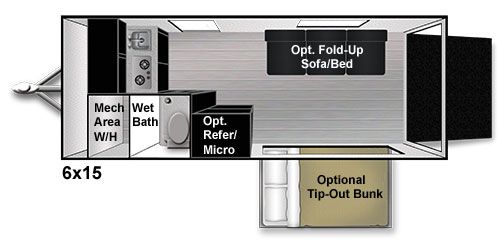 The Livin'Lite Quicksilver VRV is a refreshing offering to the ultralight toy hauler market. One glance at one of these units and you will realize that Livin'Lite set out to create an RV that was a hauler first and an RV second. The Quicksilver is based upon an aluminum racing trailer platform. This has advantages. The first advantage is aesthetics. This is a tough and rugged looking trailer. The aluminum construction makes the Quicksilver light, strong, and resistant to rotting or leaks. For its strength, the 20-foot-long Quicksilver weighs a svelte 3,700 lbs, making it easily towable by half-ton trucks.
The interior layouts are a very unique approach to toy haulers. There is almost no permanent furniture in the Quicksilver, not even a bed. Instead, this trailer uses fold-down beds that extend out of the side of the unit, similar to a pop-up. These extensions allow the Quicksilver to sleep up to six adults comfortably. The interior is rugged, with an emphasis put on tough-wearing hose-down materials. It is not the coziest space, but it is hard to argue with the versatility.
However, this quality comes at a cost. Due to the aluminum construction, the Quicksilver costs in the upper 20's low 30's, depending on options. Yet, the quality leaves no question that this is a trailer that will last for decades to come.
You also get a dual axle, so towing will be more stable and safer compared to single-axle counterparts. As you may know, we love small dual axle travel trailers 🙂
Learn the pros and cons of single vs dual axle.
3. Jayco Octane Super Lite 161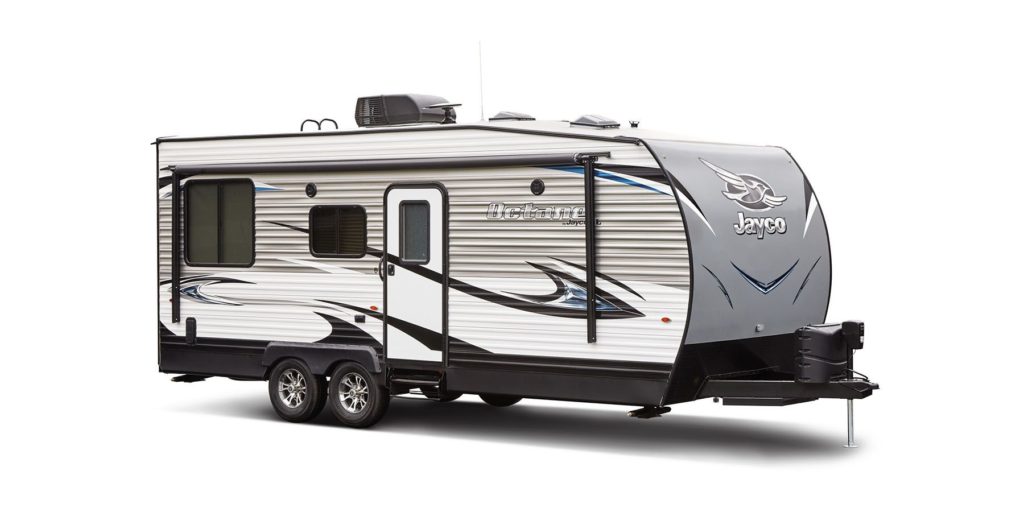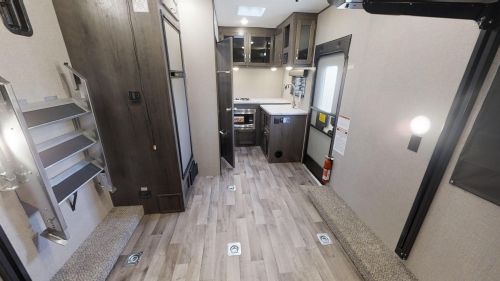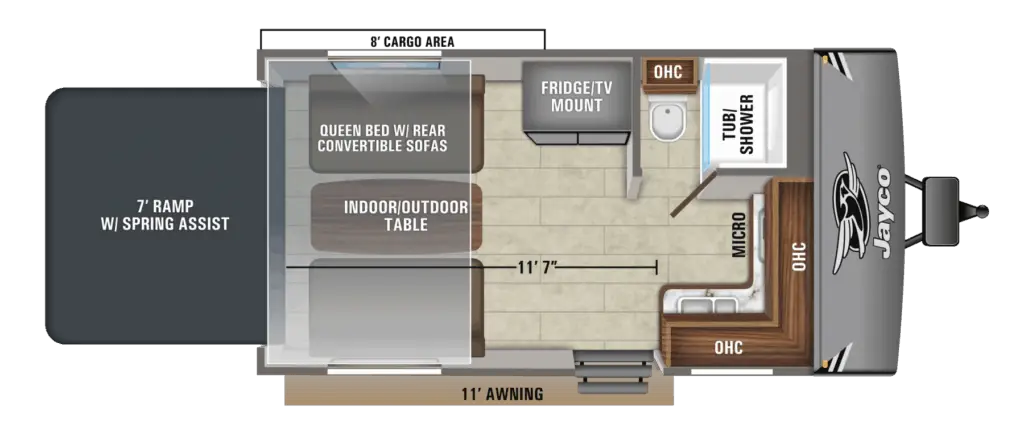 For decades, Jayco has been a leader in quality travel trailers, and the Super Lite 161 is no exception. The packaging of the 161 is an exercise in efficiency, as almost the entire trailer is usable for hauling your toys. Rather than have space taken up by a permanent bed, Jayco instead opted for an electrically-actuated queen bed. It drops from the ceiling into the garage space. This is augmented by a convertible sofa, allowing for a total of four comfortable campers.
While the quality of the Jayco is undeniable, the price and weight both reflect the Jayco name. At over 4,500 lbs, this is one of the heavier options in the ultralight category. Further, the $26,000+ price is fairly substantial. But for anyone looking for a high-quality toy hauler with superb packaging, the Jayco Octane Super Lite 161 is worth a look.
4. Sportsmen Classic 180TH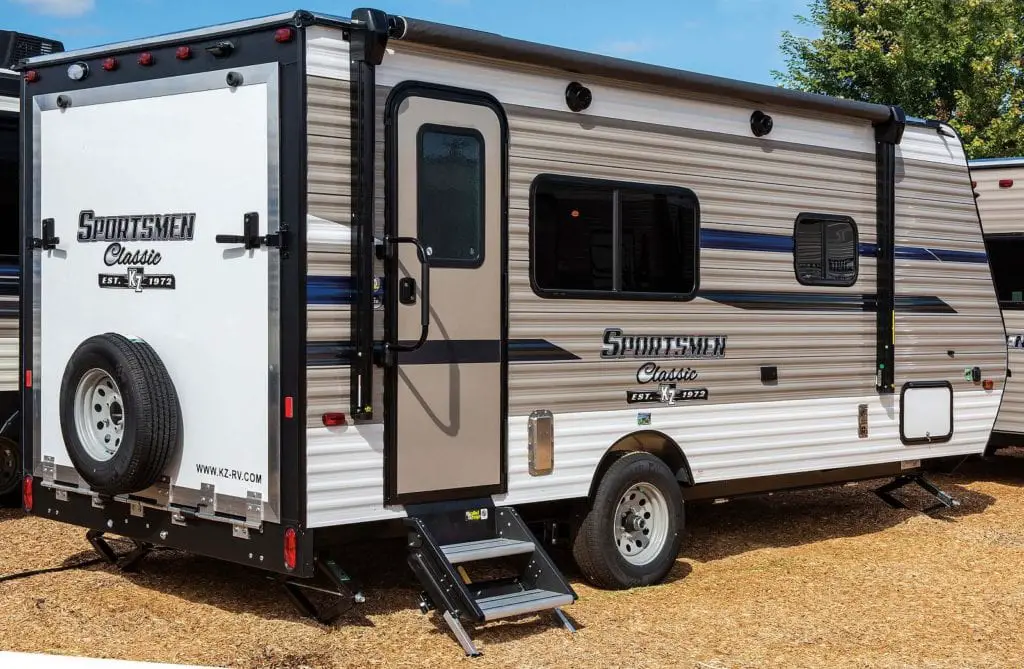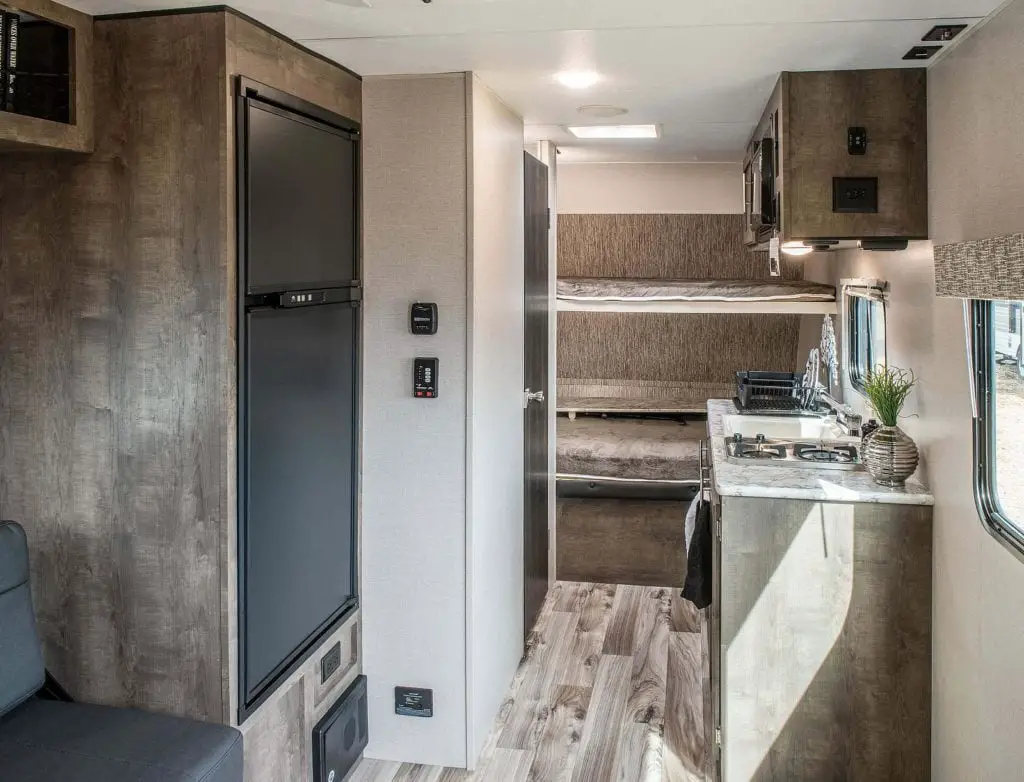 For anyone looking to maximize cargo space while minimizing price, the Sportsmen Classic 180TH is a great option. The primary cargo box is a generous nine feet long, allowing even the biggest ATV's to fit comfortably. However, Sportsmen left enough room between the kitchen and bath area to accommodate a small dirt bike or bicycles. Thus, this unit punches well above its class in terms of capacity.
The 180TH also excels in regards to sleeping capacity. Flanking the front of the unit are a set of double-width bunk beds, allowing four adults to sleep with plenty of room. Further, the cargo area/living room has a fold-down sofa, allowing for six total sleeping areas. At 3,250 lbs, the 180TH still manages to have a light UVW despite its 1,750 lb carrying capacity. For only $17,500, this is a fantastic option for those looking for a small unit with enough space for a family and their toys.
5. KZ Escape E180TH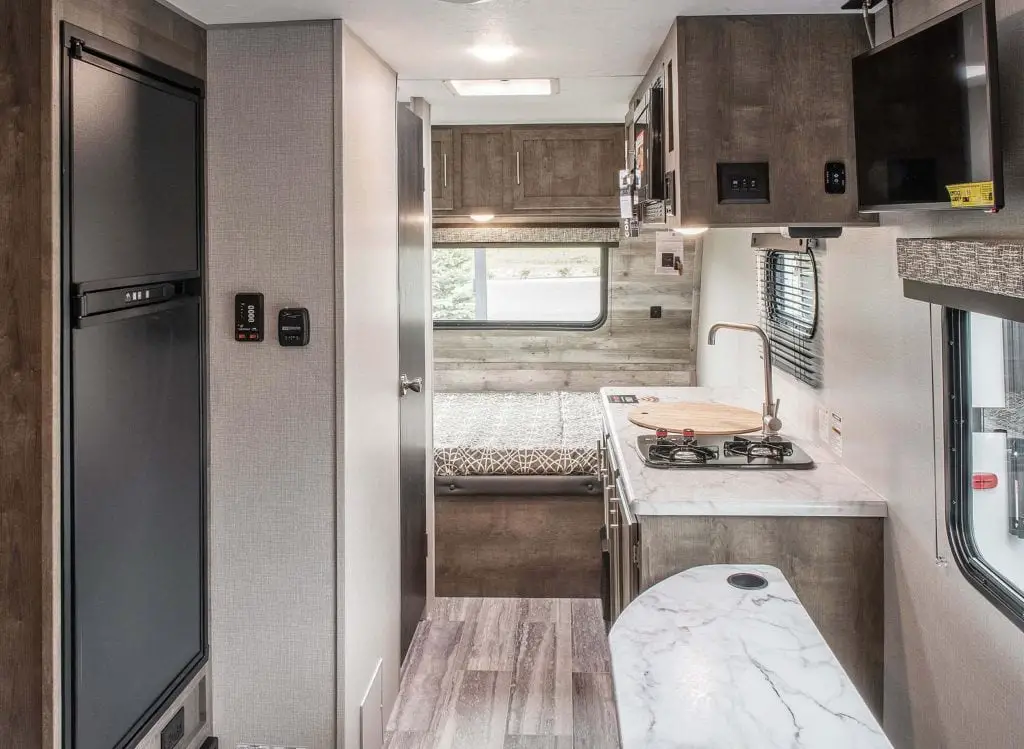 KZ is owned by the same parent company as Sportsmen. Thus, the KZ Escape E180TH is the staple-mate to the above-mentioned Classic 180TH. The Escape shares the same layout and features, however, KZ is the more upmarket division of the brand. Therefore, the price is slightly higher (roughly $2,000 so) for an equivalent KZ. The interior finishes and decorative touches are superior. Cross shopping between them is worthwhile.
In my experience, the added luxury is worth the small additional expense.
It's got a bunkhouse too!
Five Lightweight 5th Wheel Toy Haulers
Now for those of you who have a 5th wheel hitch but still are looking for an ultra light toy hauler for 5th wheels, check out these 5 trailers.
1. Forest River XLR Boost 28RZR16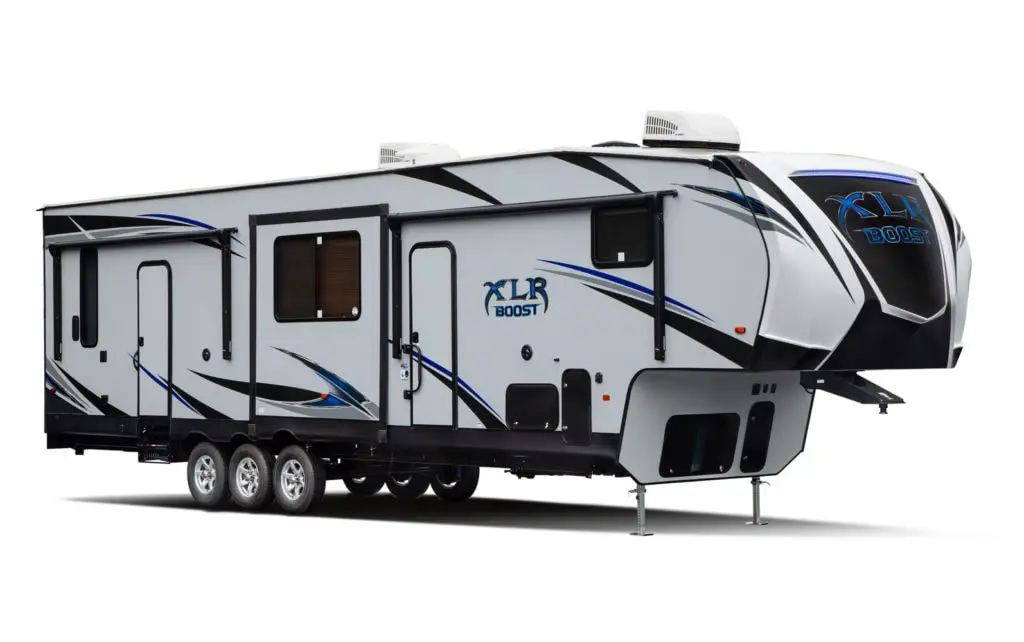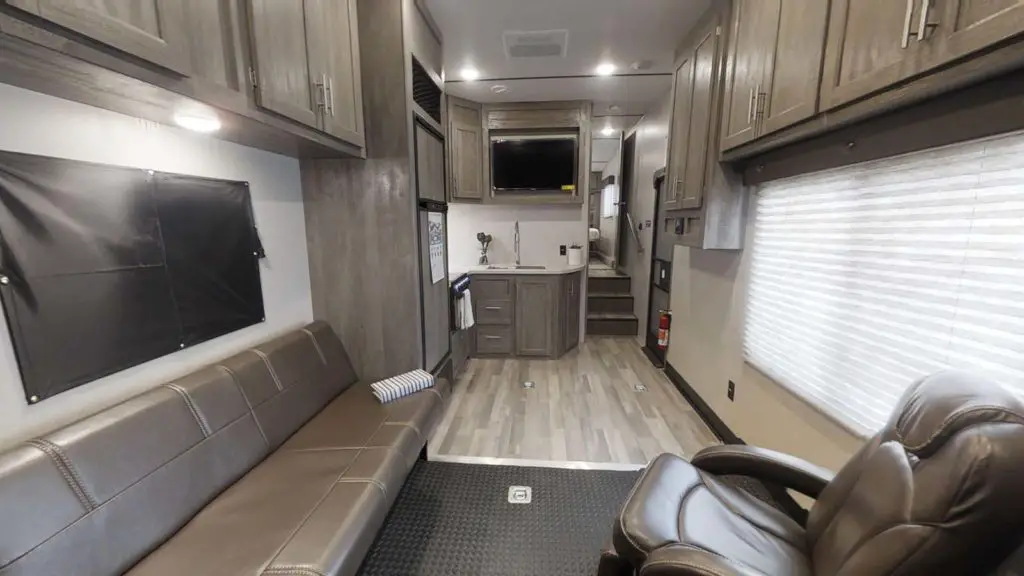 Some fifth wheels are unique for their extensive list of features, while others manage to stand out by what they choose not to include. The XLR Boost 28RZR16 is a very interesting floorplan because it only has one small slide in the upper bedroom. While not having a living room slide may seem like an oversight, it, in fact, increases the functionality of this model significantly. In a small fifth wheel, slide-outs can severely hamper the garage space of the unit. Forest River has managed to incorporate a staggering sixteen feet of garage space into a unit only twenty-eight feet long. They did not skimp on sleeping space either. Between the fold-down bed, sofa, and king-sized master bedroom, this unit can comfortably sleep six adults.
Fifth wheels are generally heavier than their travel trailer equivalents, and this is not an exception. At around 8,000 lbs, this model may be towards the top of a half-ton truck's capacity. However, this $37,000 model is still one of the lightest fifth wheel toy hauler options on the market.
2. Heartland Cyclone 3600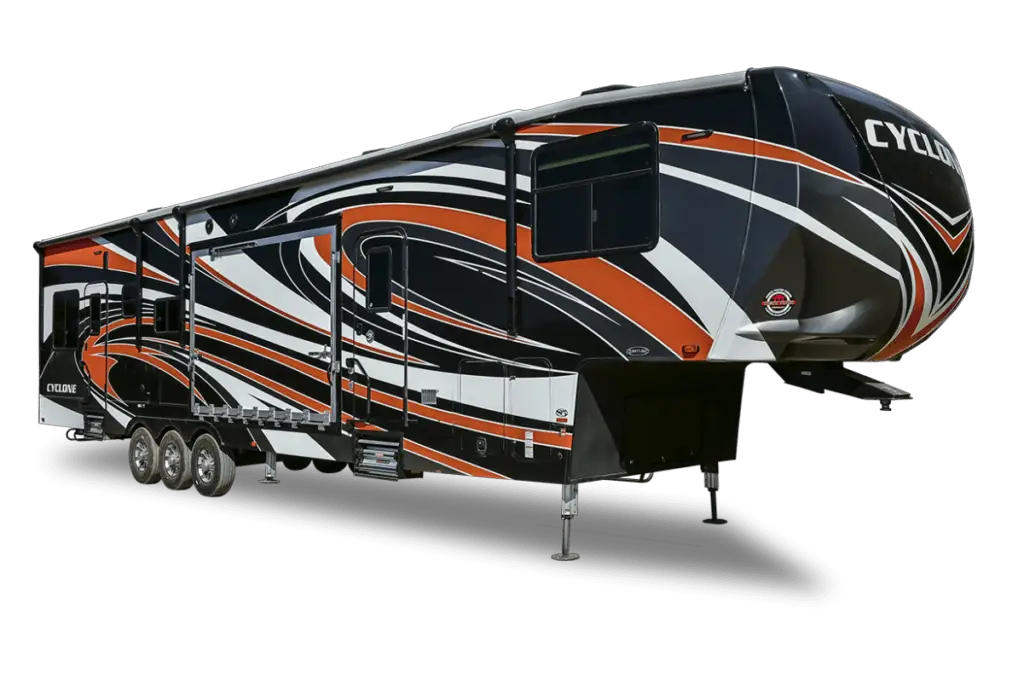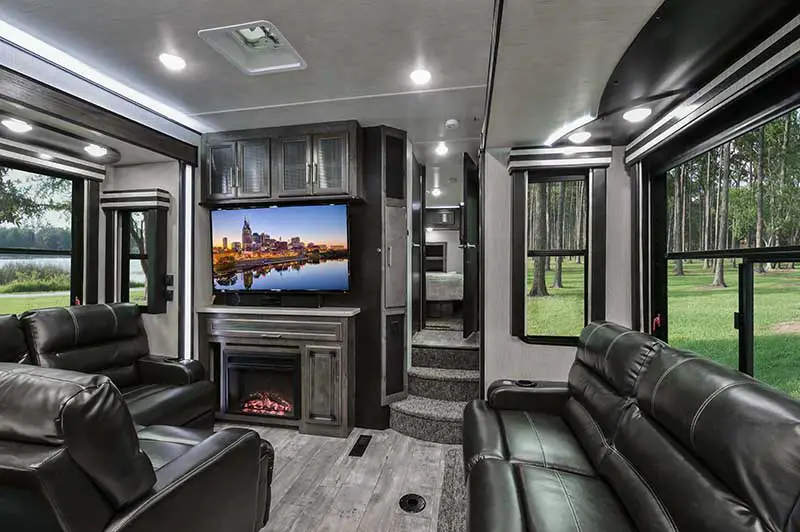 For anyone looking for a toy hauler with a sealed-off garage, the Cyclone 3600 is one of the most compact options on the market. Despite its shorter length, the 3600 does a lot with the space it has. In addition to a twelve-foot garage area, the 3600 incorporates a unique L-shaped kitchen and living room area. This makes the space feel much larger than it is. One of the most impressive aspects of this model is the sleeping capacity. Between the lofts, garage-bed, sofa, and master bedroom, this 15,000 lb (dry weight) multi-tasker can sleep ten people comfortably. At around $60,000+, it is not the least expensive option on the market, but it may be the most versatile.
3. Evergreen RV Tesla T3950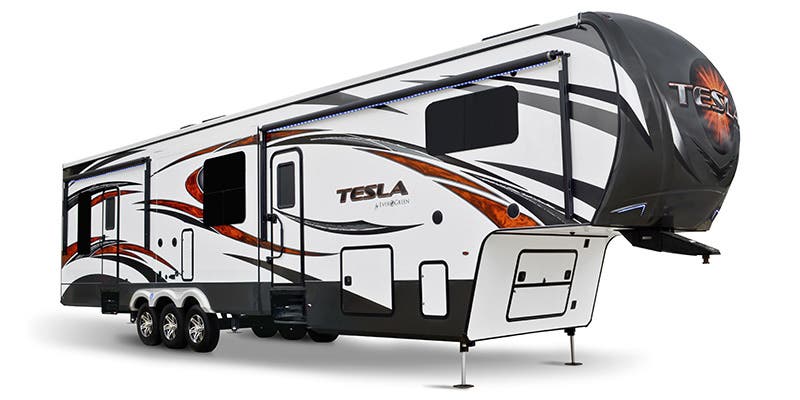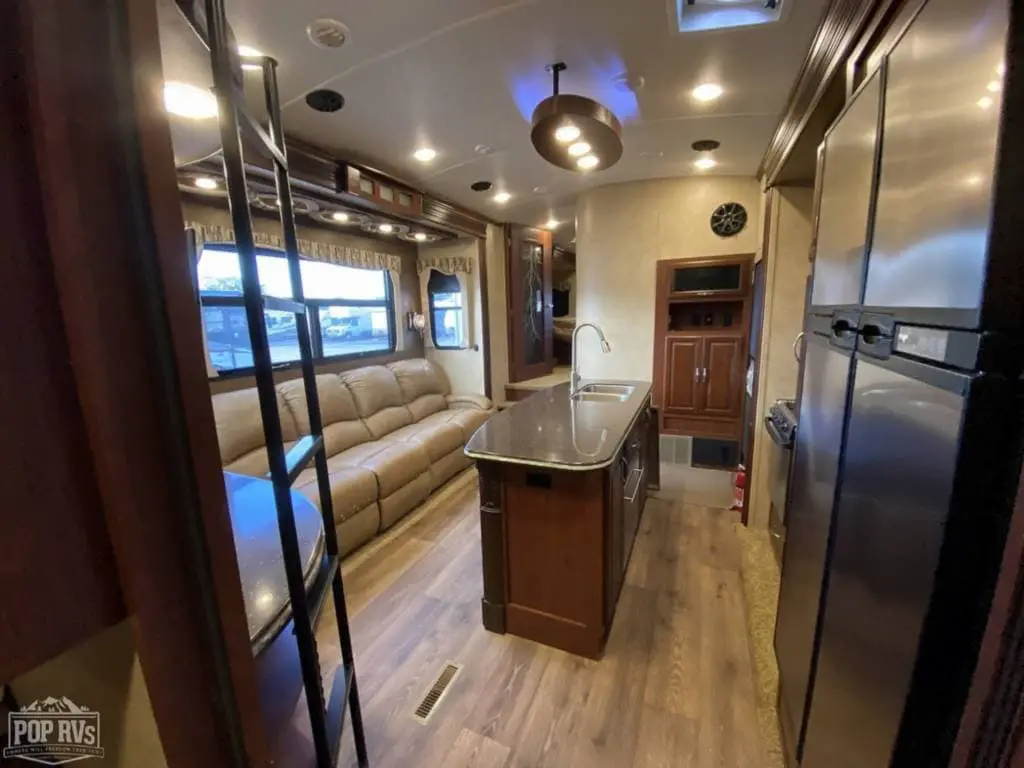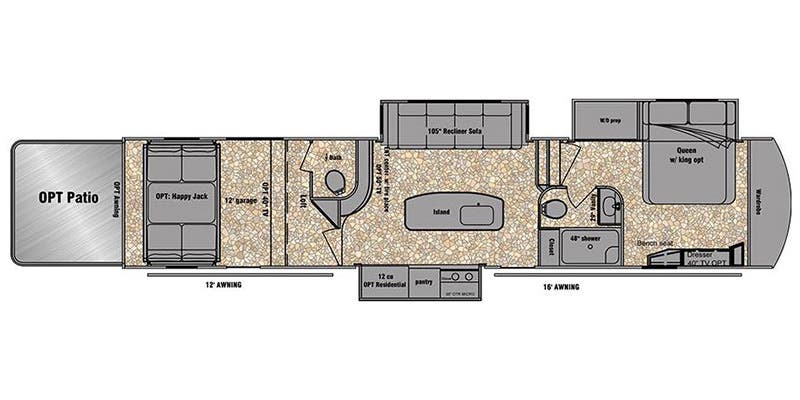 Compared to the Heartland, the Evergreen Tesla T3950 is a more traditional layout and packs an impressive amount of luxury into its 39 ft length. The Heartland name is known for luxury touches. These models feature such niceties as fireplaces, wine coolers, and dishwashers. With a twelve-foot garage, this model can haul a large array of gear while still having space for ten people to sleep. However, as light toy haulers go, the T3950 is somewhat loaded down by its luxury touches, weighing in at around 15,000 lbs (dry). However, they constitute a fantastic value at a typical price of around $60,000.
4. Keystone Carbon Toy Hauler 347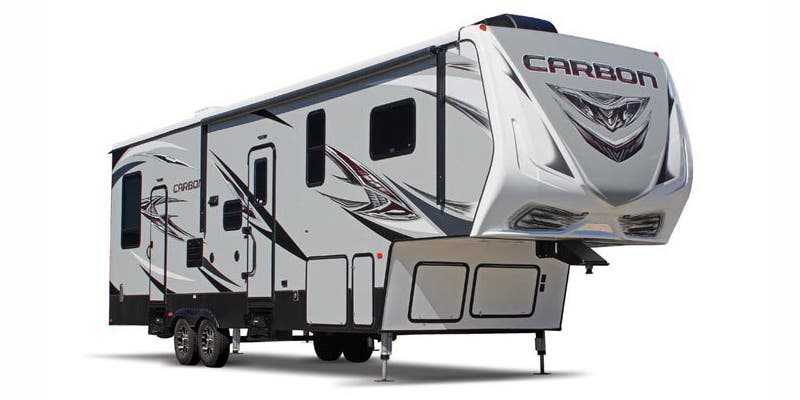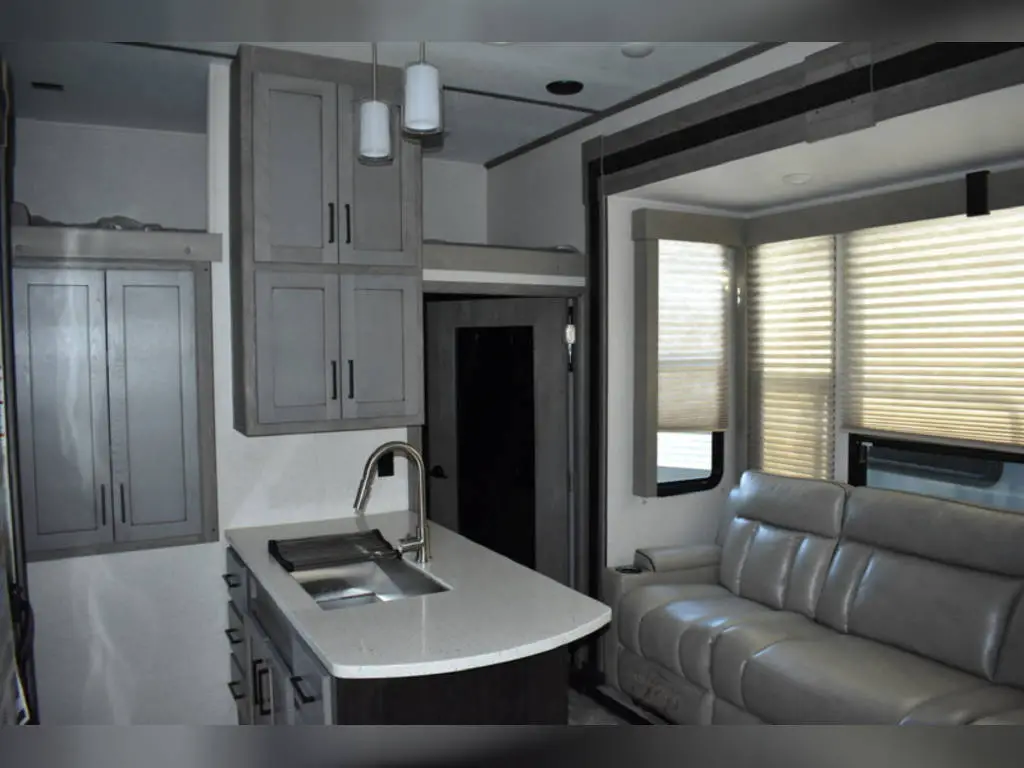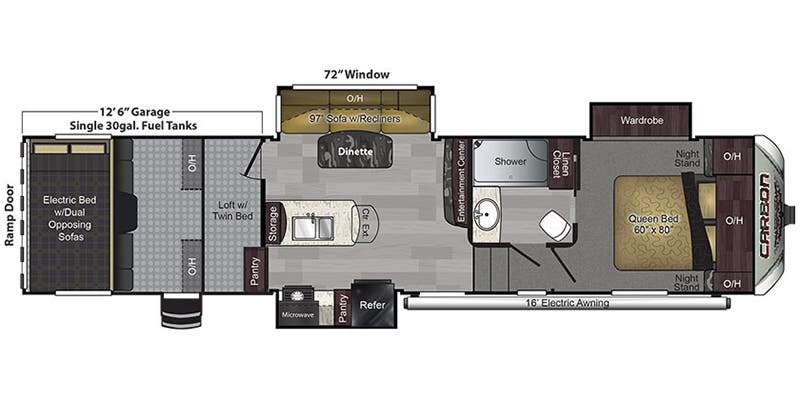 The Carbon 347 does an admirable job walking the line of being a luxury toy hauler while still maintaining a reasonable size and weight. At around 35 ft long and 12,000 lbs, this is a maneuverable unit. And yet, it still manages to incorporate a thirteen-foot garage and sleeping space for eight. Further, at around $55,000, the 347 is an impressive value given its high-quality construction. Anyone searching for a compact yet luxurious 5th wheel toy hauler should strongly consider the Carbon.
5. Jayco Seismic 4250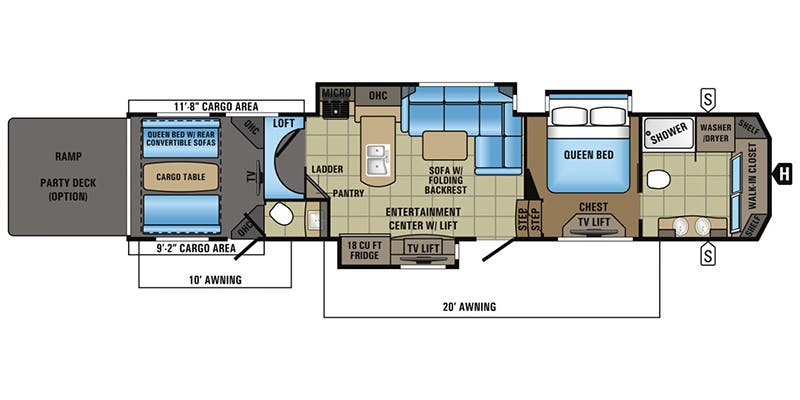 With a small nine-foot garage, the Jayco Seismic 4250 is far from the highest capacity toy hauler available. But for anyone looking for the utmost in luxury floorplans, it is hard to beat the 4250. The master suite is the clear highlight of this model. It features a stunning front-positioned master bathroom with dual sink vanity and a staggering amount of space. For guests, this model also features a half-bath, as well as sleeping for up to ten people. At 16,000+ lbs, you most likely want a ¾ ton truck to haul this $75,000 beauty. However, for anyone looking to full-time in a toy hauler, this is a wonderful option.
Still looking for a perfect small 5th wheel toy hauler? We wrote an article with 9 more models for you to consider!
Conclusion
There has never been a more exciting time to be in the market for an ultralight toy hauler. Regardless of your dreams, from a ten-foot tent-replacement to a two-bedroom mansion, it seems there is an option for everyone. With the influx of ultra lightweight toy hauler models, having a smaller tow rig is no longer a limitation. No matter your desires, it's time to get out there and find the rig for you.
If you dont have any toys, consider these ultra lightweight trailers weighing less than 2,000 lbs!