Hi I'm John and if you're looking for the smallest RV With shower and toilet for your next adventure, check out these Class B, Class C, and Travel Trailer options.
Introduction
Shopping for an RV always presents a balancing act. You must find a unit that packs all of the features you need while still maintaining an easily usable size. When shopping for smaller RV's, one of the first features to be sacrificed is the bathroom.
However, many recent RV models do not require you to make this choice. Here are some of the factors to consider when shopping for a small RV with a full bathroom.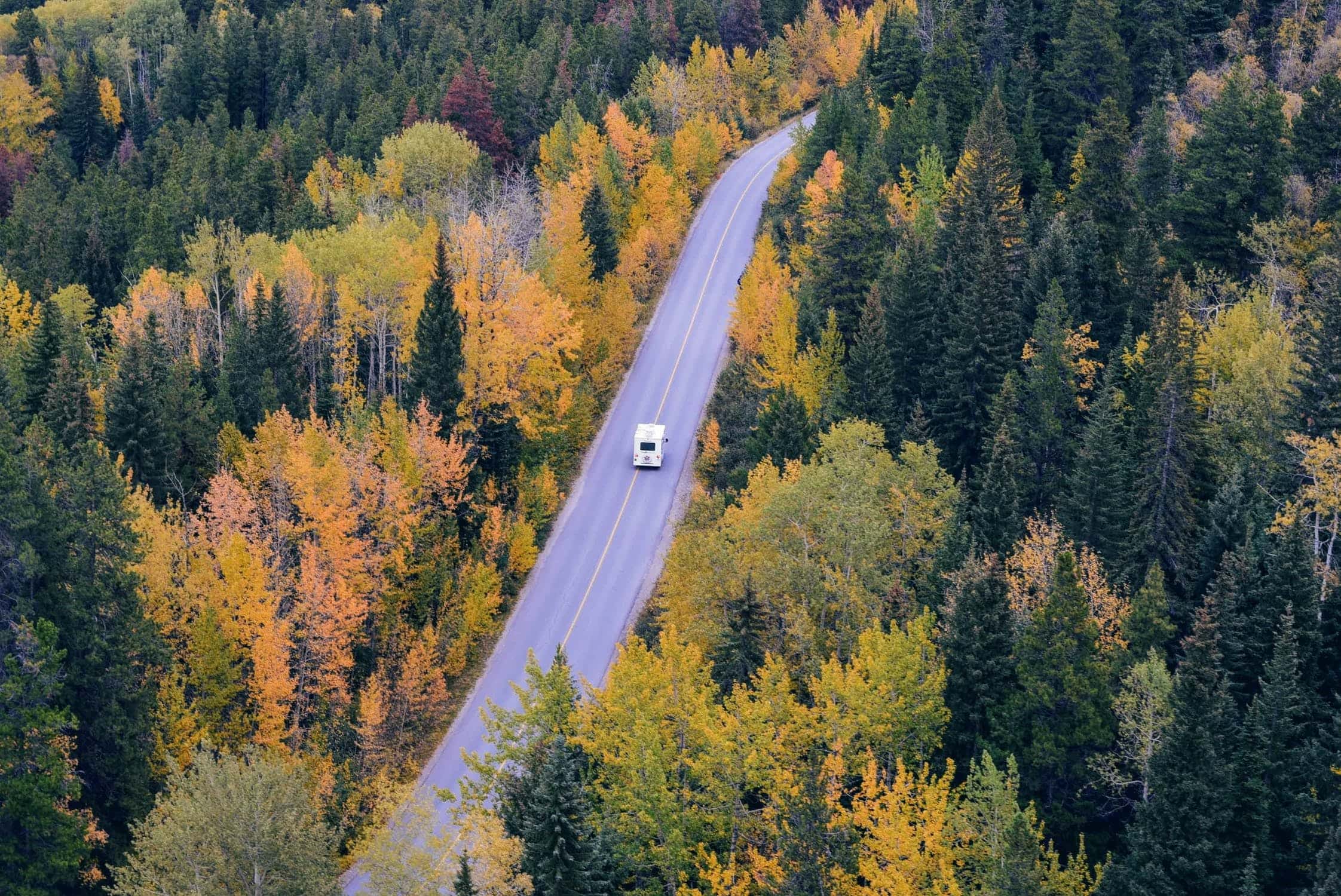 Class B
Class C
Ultra Small Travel Trailers
Class A vs Class B vs Class C RV's vs Travel Trailers
One of the first decisions that you must make when shopping for an RV is the style. Each has its advantages and the choice primarily depends upon your preferences and how you intend to use the vehicle.
Here's a comparison table of the different classes of campers and RV's available: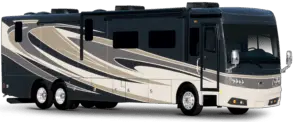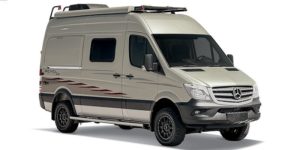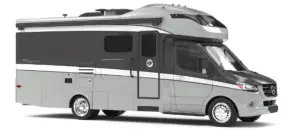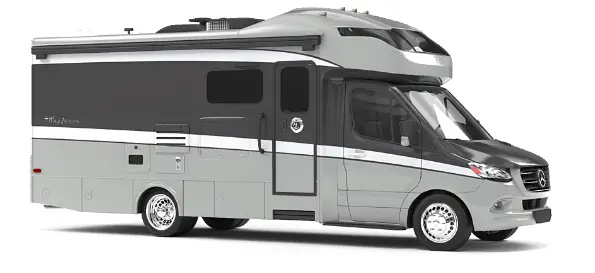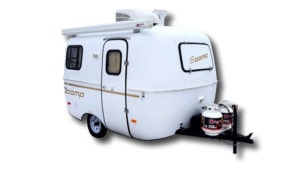 Class A
Class A's are generally the largest of the motorhome genres. While this tends to equate to more space, they can also be some of the most intimidating to drive. Further, fuel efficiency is often not a strong aspect of Class A RV's. However, the increased space in these units means that almost all Class A's will feature a sizable bathroom. Thus, the convenience may be worth the tradeoffs.
Class B
Class B's are the smallest motorhome style. These models are typically based on a van platform, making them relatively efficient and easy to drive. However, the space constraints of a van body lead to many of these units not featuring a bathroom. Or, if they do, they are often very small areas. Luckily, RV manufacturers are finding increasingly creative ways to maximize the space utilization of Class B's. Thus, it is now possible to have the long-distance driving dynamics of a van while still having a toilet and shower on board.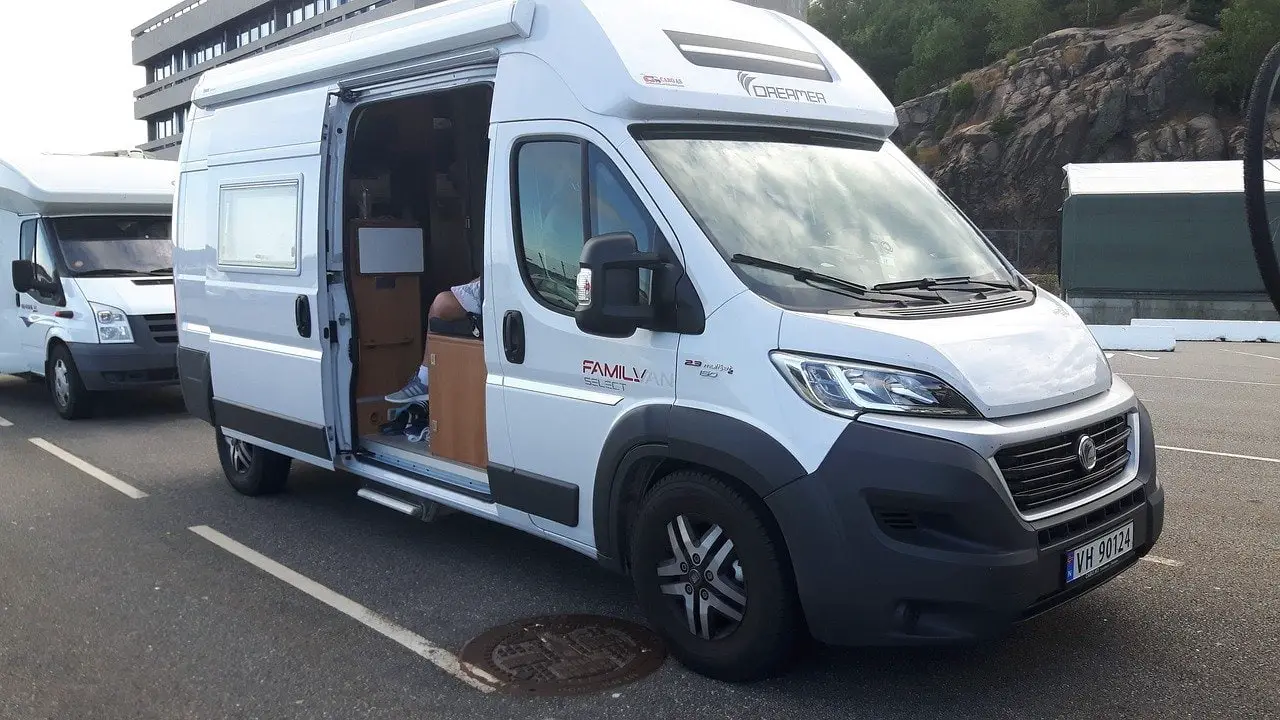 Class C
Class C's are a hybrid between and Class A and Class B styles. While they are still based on a van chassis, Class C's instead use a custom manufactured body to allow for much more interior space. For many, Class C's are the "just right" segment of the market. The smaller models are still very easy to drive, but will still feature plenty of space for any amenities you may want.
Travel Trailers
Without question, the most varied models in the RV world are travel trailers. Depending on your preferences, a travel trailer can range from a minuscule box or a multi-room mansion on wheels. Travel trailers at the smaller end of the market are becoming increasingly popular these days. Not only are smaller trailers more affordable, but they are also more easily towed by a vehicle you already own. However, just because you want the ease of use and affordability of a small travel trailer does not mean you have to sacrifice comfort. Today, even the smallest travel trailers are apt to feature full bathrooms.
Why Purchase a Small RV with a Shower and Toilet?
For many, the appeal of owning a small RV revolves around simplicity and getting back to nature. In practice, many RV owners choose to use the campground facilities, even if their unit has a toilet and shower. However, the key reason to own a small RV with full bathroom facilities is simple: flexibility. Owning a small RV greatly increases the places you can explore. And yet, without the proper facilities, you may still be chained to the nearest RV park. With a fully equipped RV, you greatly increase the opportunities to boondock or stay at unimproved campsites.
Further, having your own toilet and shower at your disposal makes traveling easier. Even if your eventual destination is a traditional RV park, having your own facilities provides a great deal of peace of mind. Whether it be a quick break from a long day of driving or an impromptu overnight stay in a big-box parking lot, having a bathroom on board can make your life on the road much easier.
What to Consider Before Buying?
Before purchasing a small RV with a bathroom, it is important to ask how you plan to use the camper. If you plan to do extensive off-grid camping, finding a unit with larger facilities may be a priority. However, if you will simply be using the restroom as an emergency last resort, then less emphasis needs to be on the practicality of the bathroom.
There are two varieties of RV bathroom. A "wet bath" is a common solution in smaller campers. Wet baths do not have a distinct area for the shower and toilet. Rather, they use a waterproof enclosure for both functions. This can be slightly less convenient but does allow a smaller RV to still have full functionality. In contrast, a "dry bath" arrangement uses a traditional shower and toilet. This layout is more akin to home, but also requires a larger area.
Which Class of Camper Do You Want?
The type of camper you choose depends on how you travel. If you prefer to spend most of your camping time outdoors, then choosing a smaller unit like a Class B may be the best option. However, if you intend to spend more time in a given location, the "home base" feeling of a larger Class A or C may be preferable. When weighing your options, do not neglect to consider a travel trailer. For some, towing a trailer is considered a hassle. Yet, it is an easy process to adjust to. Further, having a trailer allows you to set up camp and still have a vehicle to use. If you intend to leave the confines of a campground and explore the surrounding area, a trailer can be a great choice.
Bathroom Size
Beyond choosing between a wet bath and a dry bath, it is important to find the right size bathroom. In a smaller unit, manufacturers often choose to dramatically shrink the size of the bathroom. For smaller individuals, this may not be a problem. However, keep in mind that a floorplan can be deceiving. Once you have narrowed down your list of potential candidates, take a trip to a local dealer. You may find that the space limitations of certain models may make them impractical. After all, it is your RV, so it should make you comfortable.
Need a small RV with a shower and toilet? 
Your Family Size
Another key consideration is the size of your family. An RV that is comfortable for one person or a couple may be cramped when the number of occupants increases. Thus, a Class B or very small trailer may not be an ideal choice for a growing family. However, having your own bathroom facilities can make traveling with a family considerably easier. This is especially true for those with young children. Not having to worry about questionable bathroom facilities greatly reduces the stress of being on the road. If you have a family who will be traveling with you, there is even more reason to make sure your RV has the necessary facilities. However, use care if you have very young children who may need help bathing or using the restroom. If so, make sure you purchase an RV with enough bathroom space for multiple people.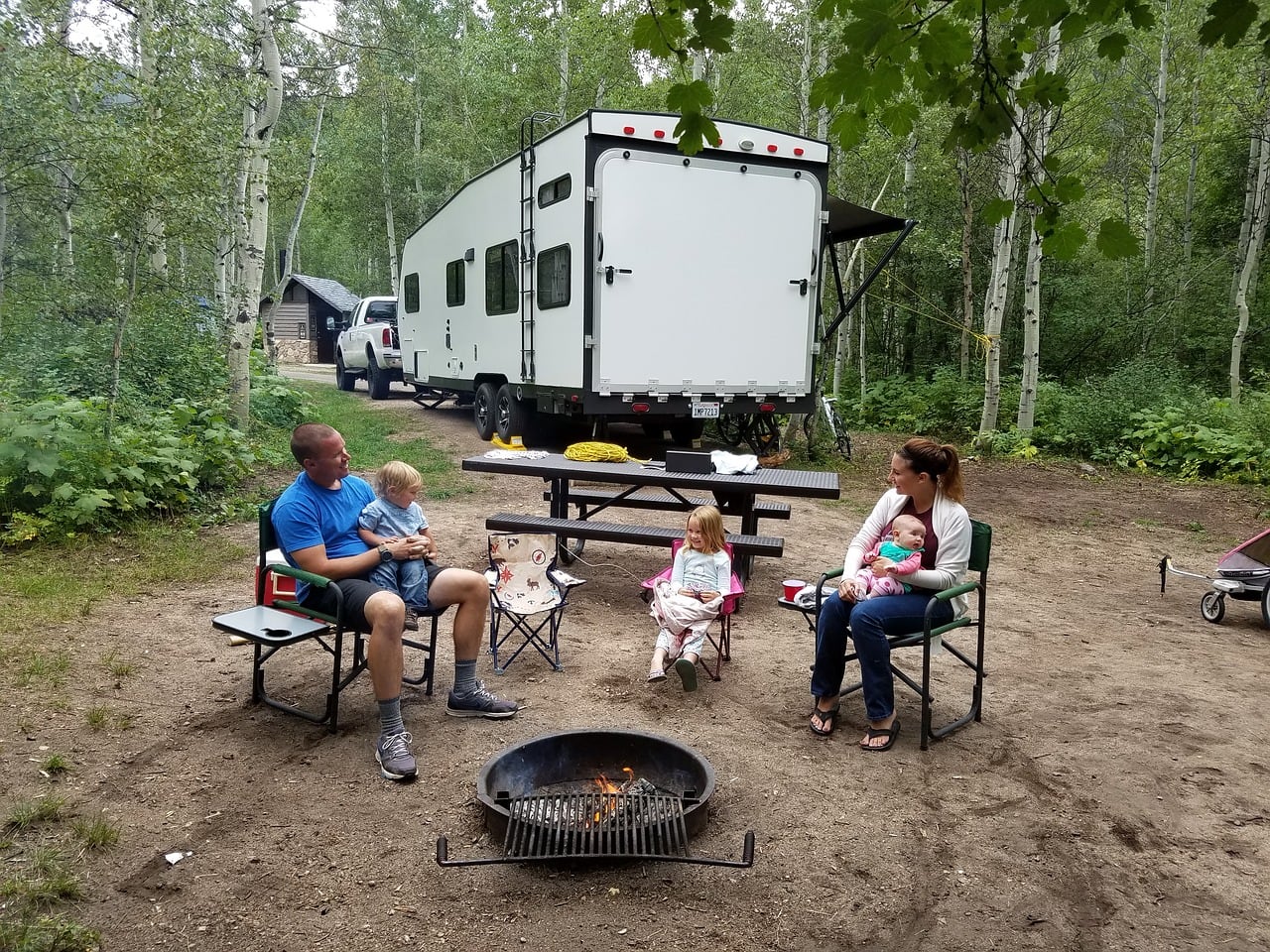 Where You'll be Travelling
It is almost impossible to choose the right RV if you don't think about how you plan to use it. There is a multitude of variables that may change which RV is the best fit for you. If you are a traveler that enjoys driving great distances, a smaller unit might be the best fit. However, a larger unit may be the best choice. Further, some RV's are better suited for boondocking. If you plan to venture off-grid, try to find an RV that has the necessary amount of tank space. Nothing can ruin a trip faster than running out of water or waste capacity. Further, aspiring boon-dockers should search out units with solar panels or provisions for them to be installed.
Where to Find a Dump Station
Of course, having an RV with a bathroom means having to empty tanks. Luckily, dump stations are easy to find. Almost all RV parks will feature dump stations, either at each site or near the entrance to the park. Further, many state parks feature dump stations to cater to RV visitors. However, if you aren't staying at a park, many truck stops have dump stations for RVs to use. There may be a small fee, but it is rarely more than a few dollars.
Fuel Mileage
A major factor that scares people away from RV's is the fuel mileage. Yet, the news is not as bleak as you might think. Modern motorhomes are achieving fuel economy that was unimaginable only a few years ago. Intuitively, the fuel economy is related to the size of the unit. If you plan to log a lot of miles, look into a diesel Class B. Many of the newer models can achieve mid-20's fuel economy. Class A's and C's have also made progress, but the larger units are still closer to single-digit numbers. Lastly, if fuel economy is a priority, do not rule out travel trailers. Modern trailers are often exceptionally light and aerodynamic. Depending on your tow vehicle, the fuel economy while towing can be surprisingly good.
Now that we've reviewed some of the considerations to make when shopping for the smallest RV with shower and toilet, let's look at some of the best models.
Class B Motorhomes with Bathroom
1. Winnebago Revel E44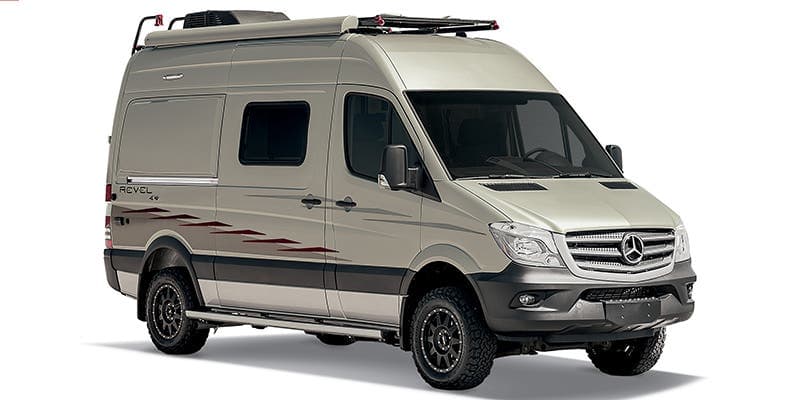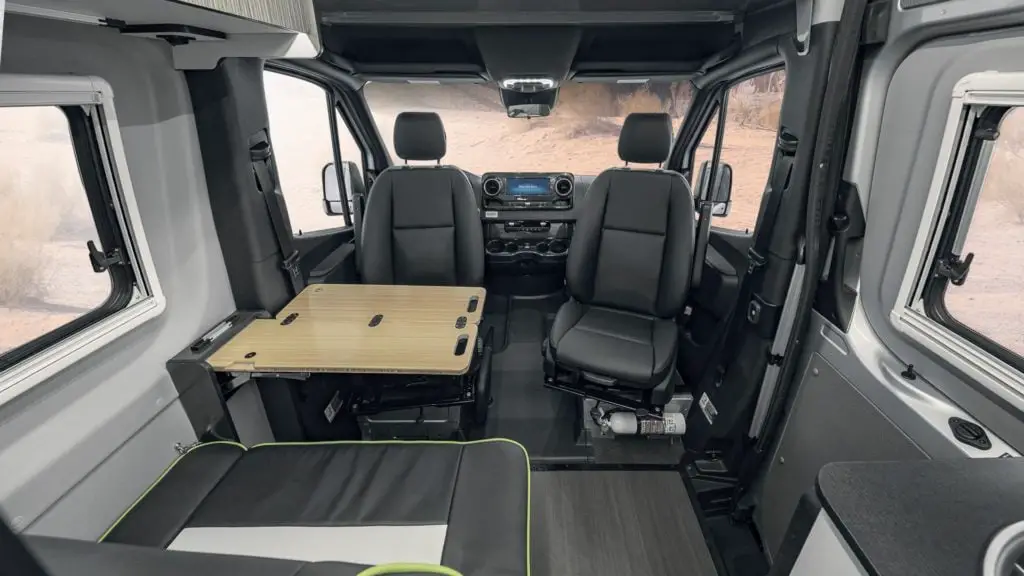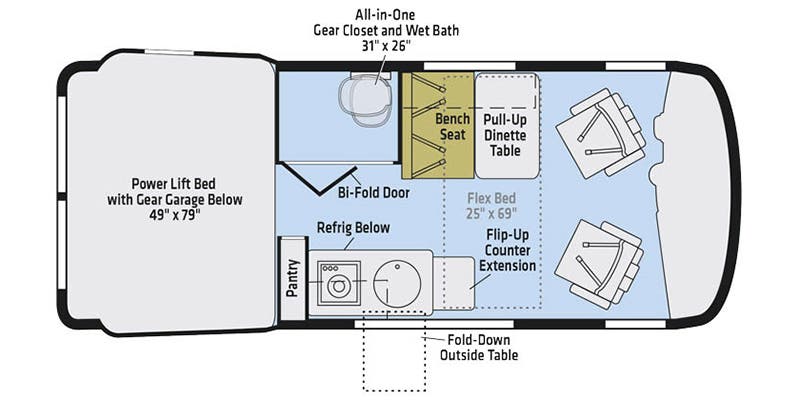 The Revel E44 is an extremely unique Class B that is well suited for an adventurous couple.
Despite its small size, it features a large garage space in the rear for transporting bikes or other adventure gear. Once at your destination, this area is transformed into a spacious bedroom. While the kitchen and lounge area of the E44 are compact, they are highly functional. One of the most novel features of this coach is that it features four-wheel-drive. Thus, if you long to head off the beaten path, this is one of the best options.
For a unit this small, the inclusion of a large wet bath is an impressive feat. While the Revel E44 manages to pack a lot of functionality into a svelte package, it does come at a price. This Winnebago starts at around $160,000.
Find more Winnebego Class B RV's here.
2. Pleasure Way Plateau TS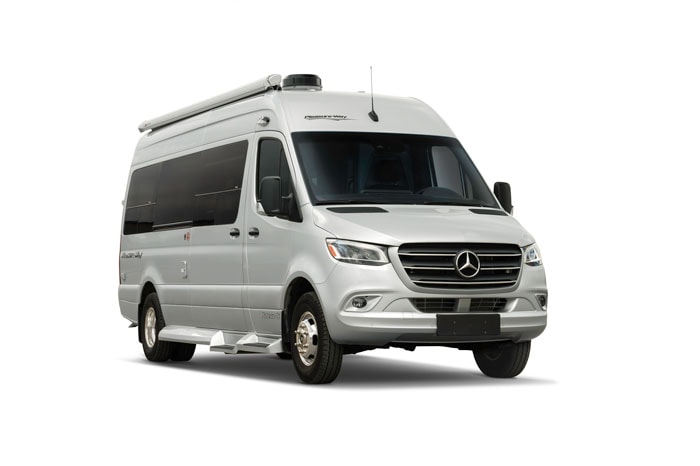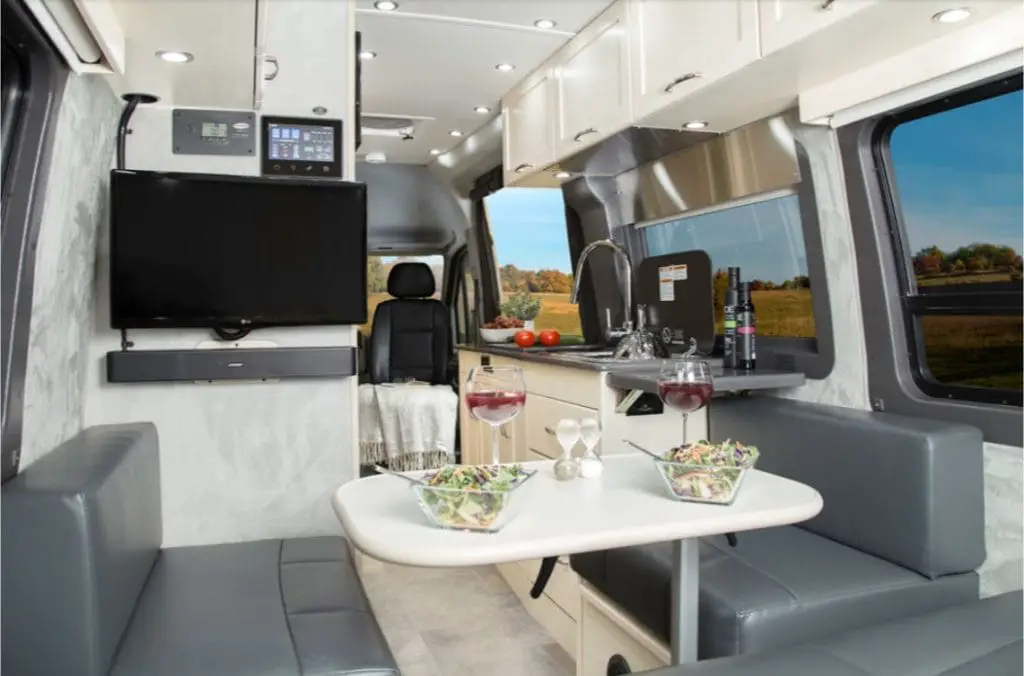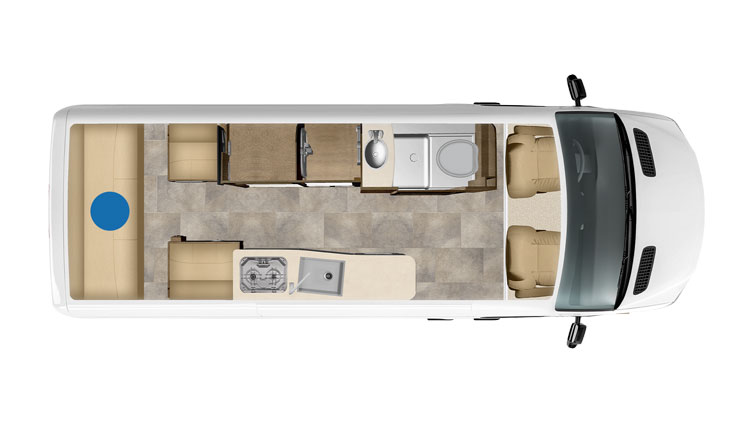 Designing a Class B that doesn't feel cramped is no small feat. Due to the inherent limitation of a van body, many Class B's that feature a bathroom feel cramped and uninviting. The Pleasure Way Plateau TS does an admirable job of bucking that trend.
There is an impressively spacious galley style kitchen and expansive wet bath. Overall, the TS fits more into its length that you would ever think possible. Because of its diesel engine, the fuel economy of this Sprinter-based unit will be equally impressive.
Like most Sprinter conversions, the TS is not a budget unit. However, at a starting price of around $150,000, it is cheaper than the Winnebago Regel.
Read more about the Plateau TS
Class C RVs with Restroom
1. Jayco Redhawk 22J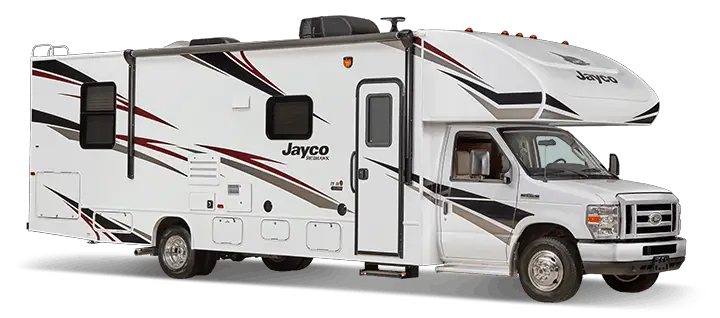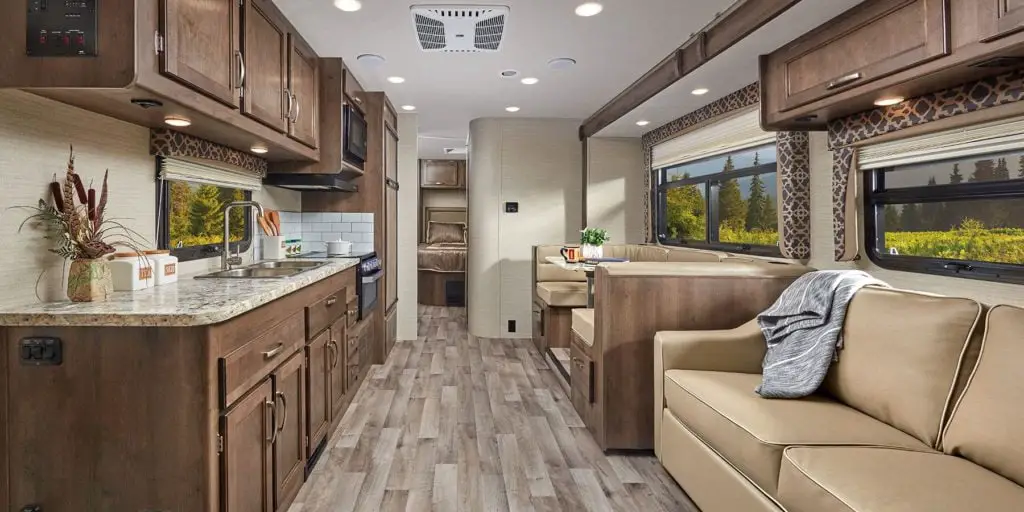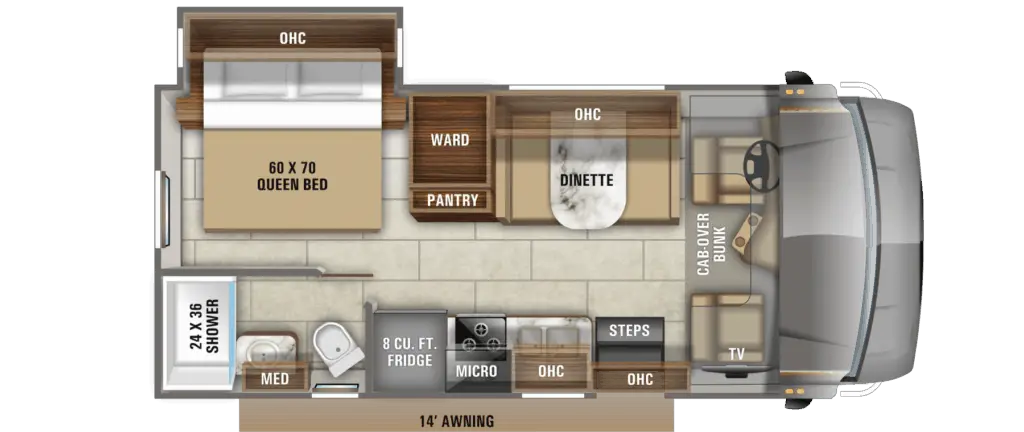 For any shopper looking for an incredible value on a highly functional small Class C RV, the Redhawk 22J deserves a detailed overview. At only 22 feet long, this is the smallest Class C in the Jayco lineup. However, it still manages to pack a very usable dry bath. Beyond this, there is a spacious queen size bed in addition to an overhead bunk.
Thus, within an incredibly small package, this unit can sleep six while still having a full restroom and kitchen.
The advantages don't end with the layout, though. The 22J is based on the much more economical Ford E-Series chassis. While it may lack the fuel economy of a Sprinter model, the starting price of the Redhawk is a budget-friendly $68,000. That's not too bad for a small motorhome with a bathroom.
Read more about the RedHawk lineup
2. Coachmen Orion T20CB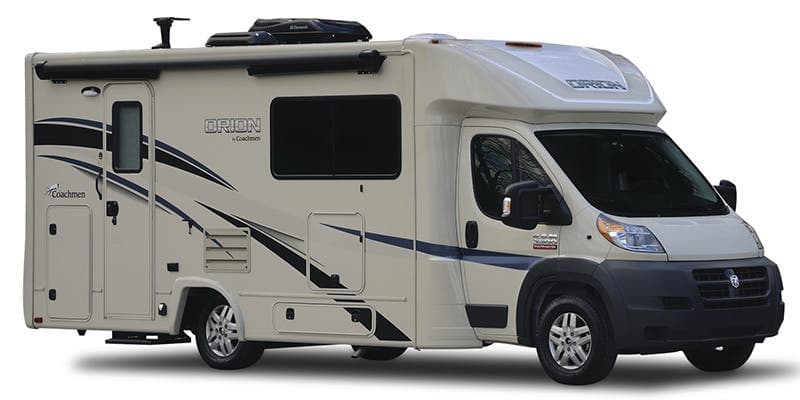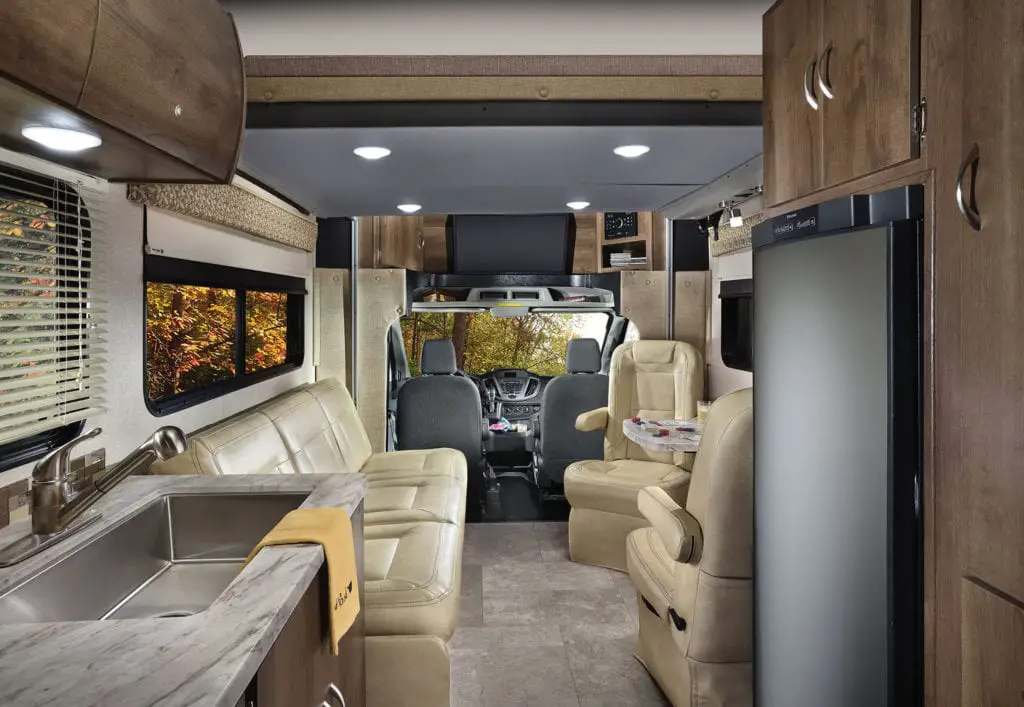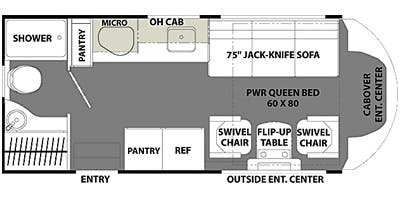 The Orion series by Coachmen is based on the Ford Transit chassis. This base provides a good balance between efficiency and affordability.
This balanced approach is reflected in the rest of the T20CB's design. This model does not feature a slide-out, making it somewhat of a rarity these days.
However, despite the small length and lack of slides, the Orion features all the comforts of home in a cozy package.
While this unit sleeps up to four, the floor space will likely become cramped for any more than a couple. However, for a single person or couple who prioritize driveability, this $75,000 unit is a great choice.
Read more about the Coachman Orion.
3. Winnebago Cambria 27K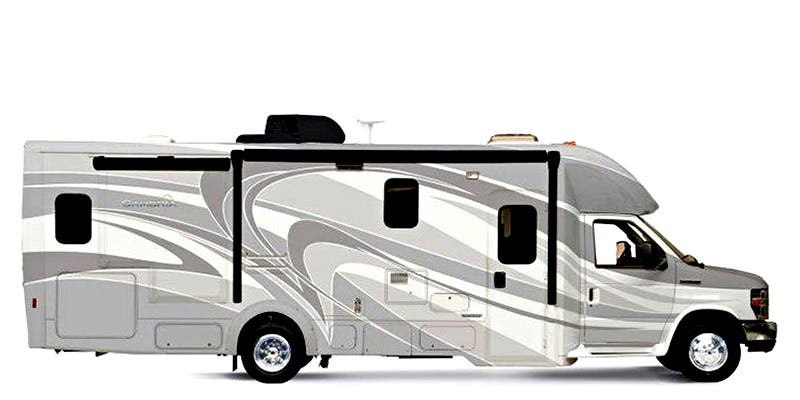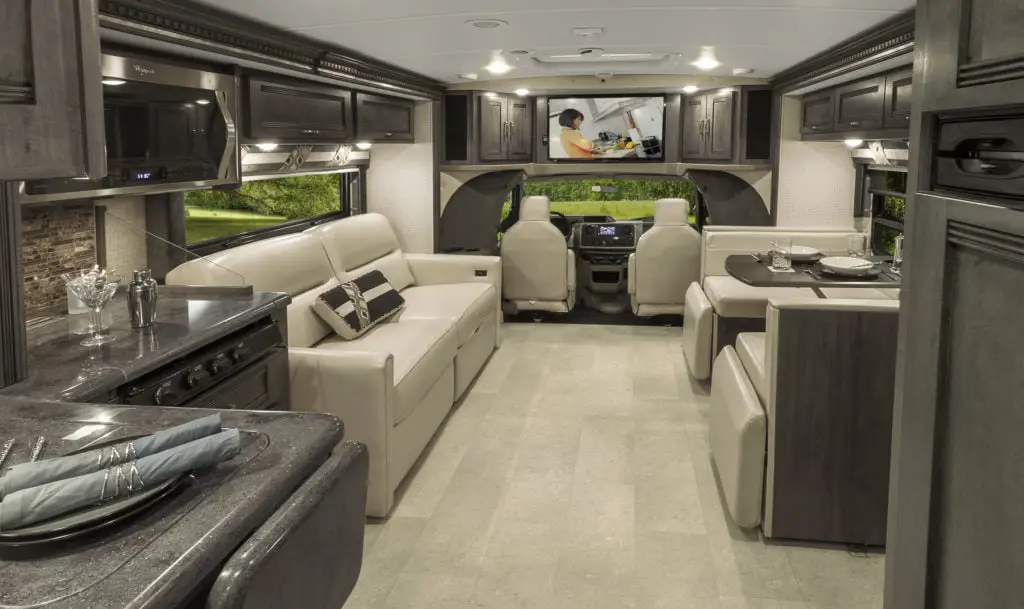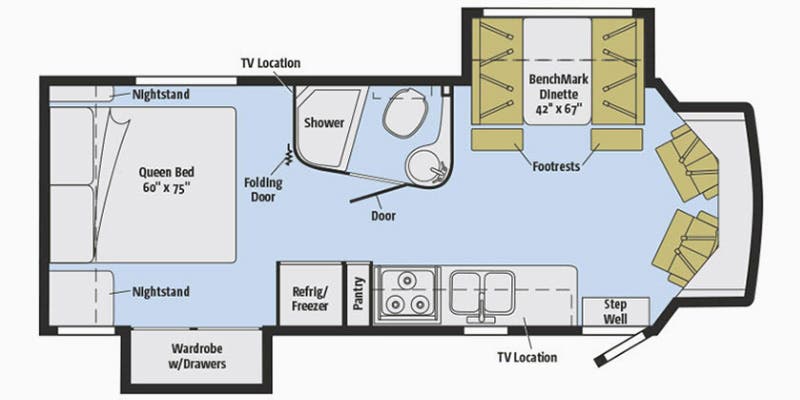 At 27 feet long, this is the smallest model in the Cambria line. While the short length allows this to be a very manageable coach to drive, there is no shortage of luxury.
The rear queen bedroom is one of the largest in its class. Further, the kitchen is impressive for a unit of this size.
However, this model is not without its quibbles. The living room area is somewhat smaller than one would expect. In retrospect, it may have been a better use of space to shrink the bedroom to allow for a larger lounge.
Yet, there is no question that the fit and finish of this unit is impressive. This is doubly true when you consider that the Cambria 27K retails for as little as $79,000.
Small Travel Trailers with Shower and Toilet
1. Scamp 13 Deluxe Trailer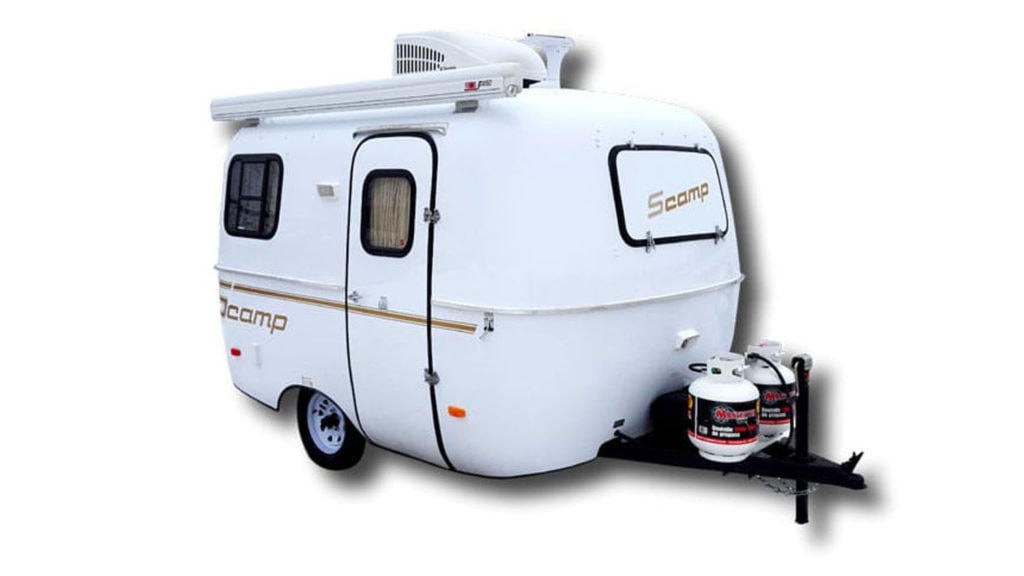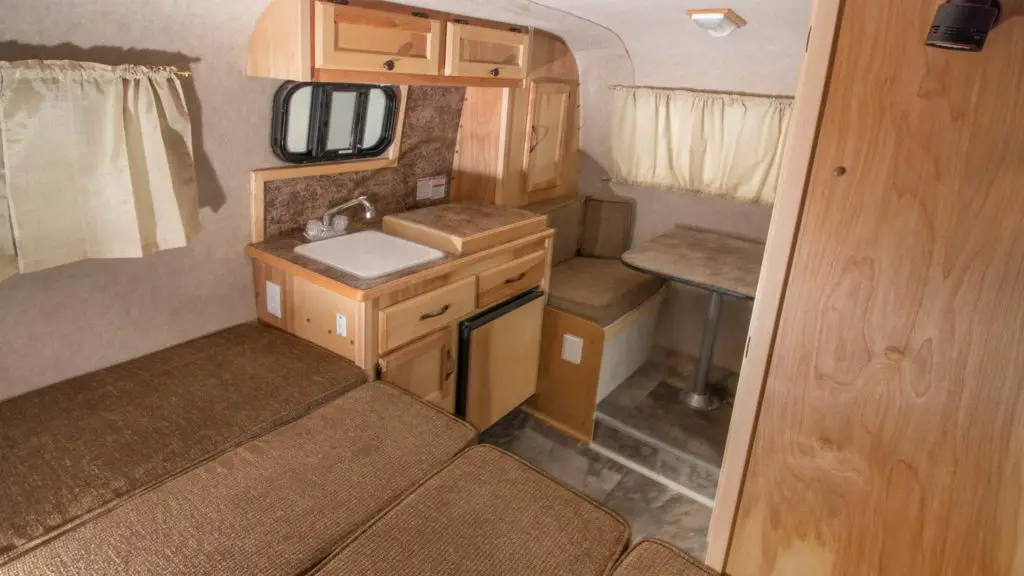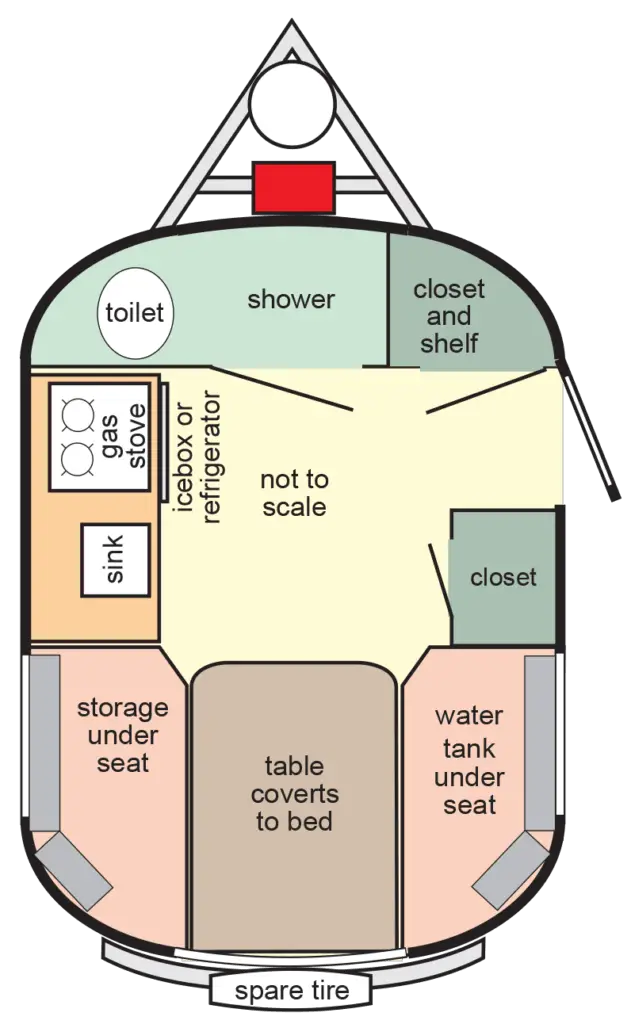 Scamp is widely known as the premier manufacturer of fiberglass travel trailers. The construction of a Scamp is more akin to a boat. The top and bottom half are each cast as one piece and then bonded together for a leak-proof seal. While somewhat spartan, the interior of Scamps is extremely functional and durable.
The 13 is the smallest model made by Scamp. Despite its compact dimensions, it still features a very functional wet bath. Scamp realized that many people use the bathroom only occasionally. Thus, this space is designed to double as storage when not in use.
While Scamp 13's are somewhat more expensive than the competition, the durability and resale value may justify the somewhat high $28,000 initial price.
2. iCamp Elite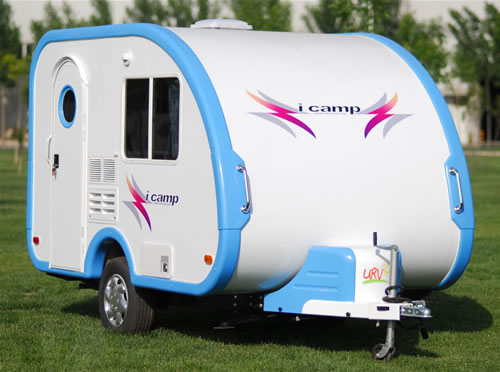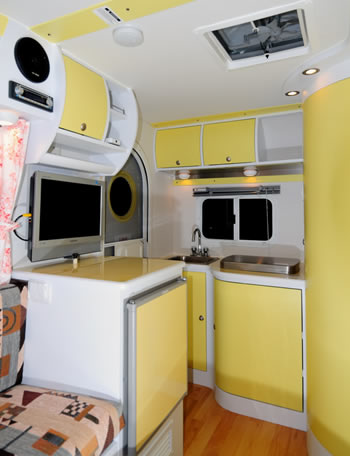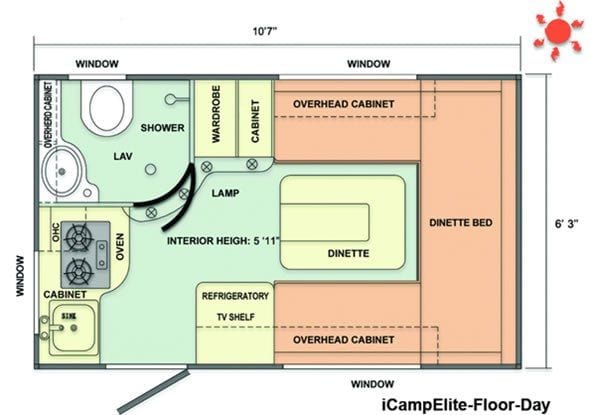 At only ten feet long, the iCamp Elite is one of the most compact trailers on the market to feature a bathroom. Despite its small size, this European-style camper features a surprisingly functional interior. The main dinette is also the only sleeping area, so this model is limited to couples. However, for anyone looking for a compact but high-quality camper, the iCamp is a fantastic option.
Despite the full kitchen and wet bath, this model weighs only 2,400 lbs (check out more options near the 2000 pound weight). Thus, even small vehicles can tow it with ease. Perhaps the best feature of the iCamp is the price. A well-equipped model can be had for as little as $19,000 new or ~$10k used.
3. Jayco Jay Sport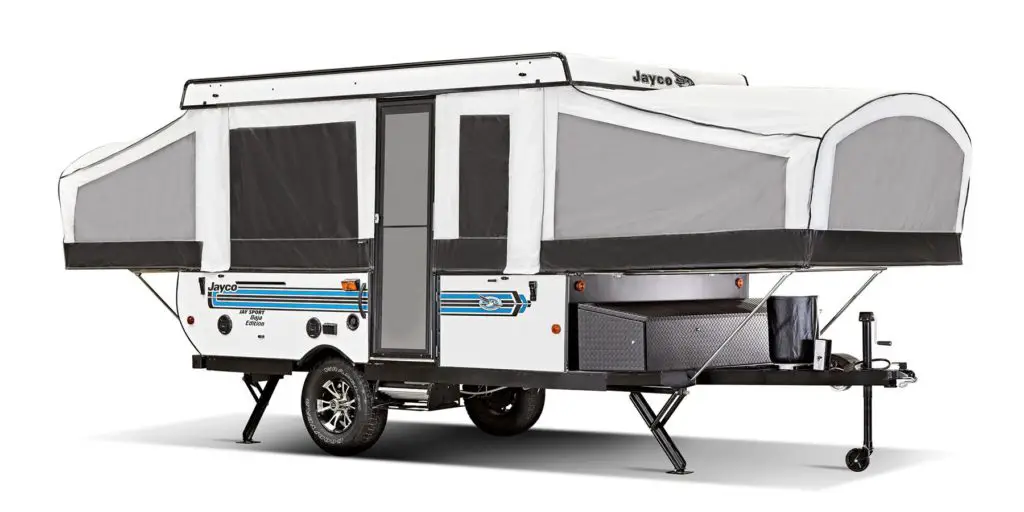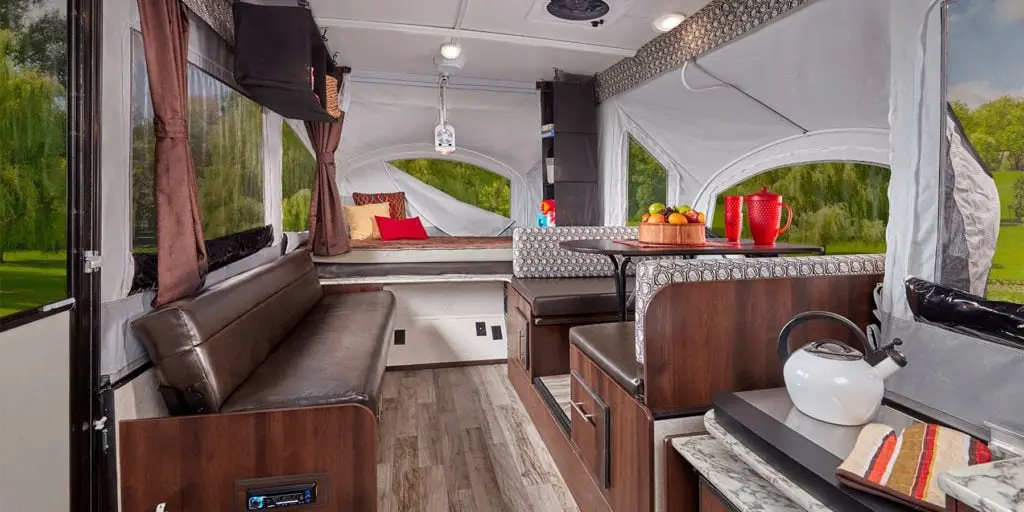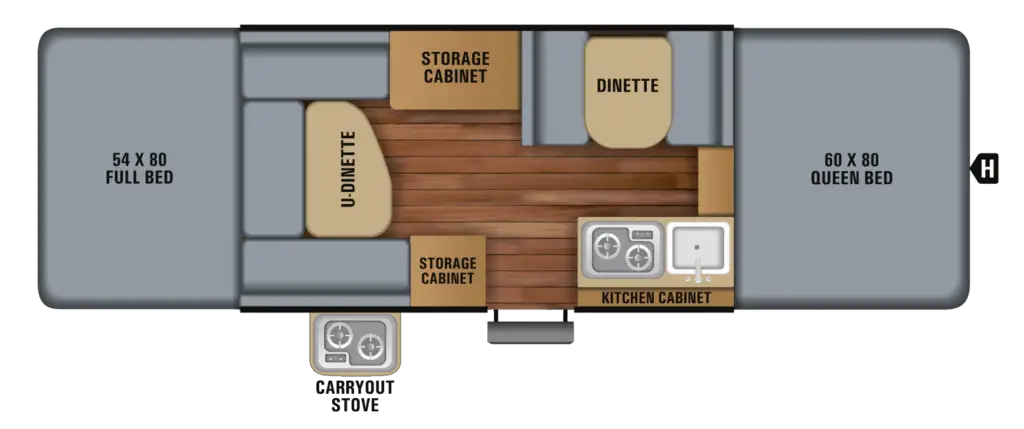 The Jay Sport is a reminder that a trailer can still have emergency bathroom facilities without sacrificing space.
Jayco is one of the oldest names in pop-up trailers, and the experience is shown in the design of the Jay Sport. This is one of their more budget-oriented models. As such, it does not feature a permanent bathroom solution.
However, Jayco incorporated plenty of space to fit an optional portapotty. While this is likely not a permanent solution, it is nonetheless a nice addition for emergency use.
Beyond the bathroom, the Jay Sport is elegantly laid out. The layout is efficient and sleeps six people in only ten feet of folded length.
Lastly, the pop-up nature of this trailer leads to an extremely low weight of 2,100 lbs. Thus, almost any vehicle can easily tow it. And with an affordable price tag of $14,000, almost any budget can manage as well.
Learn more about the Jaysport models.
Conclusion
You don't have to poop in the woods when you pick up one of these small campers with a shower and toilet. Whether you're in the market for a Class A/B/C or Travel Trailer, there's a model for you. Hope this guide helps you get a good start 🙂