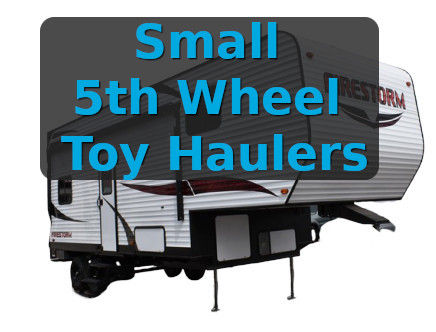 Ever since the Shining, I've had a bad feeling about hotels. And since every human's dream involves a little need to travel the world, I've decided to talk about haulers. So here are 10 of the best small 5th wheel toy haulers.
These vehicles are among the most suitable options for combining residence with travel.
They usually have most living accommodations, including a kitchen and a bathroom (all haulers on the list have one bathroom with a shower). They are engineered specifically for the road.
Who Makes The Top 5th Wheel Toy Hauler?
There's a wide variety of haulers with versatile features and capabilities. And since smaller trailers have been the current trend, I made a list of the small 5th wheel toy haulers on the market.
Here's the summary. Click the links to skip ahead:
1. KZ Sportster 280th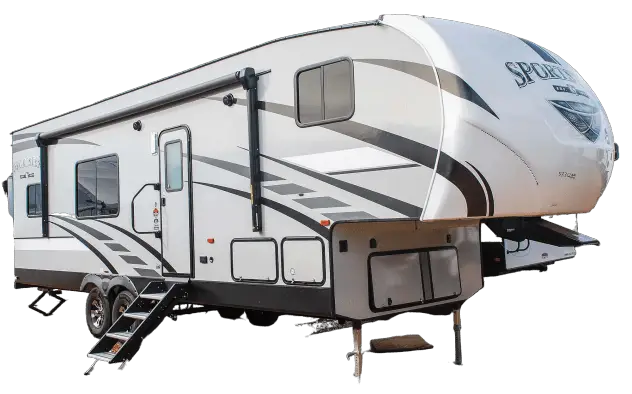 Features
The hauler features a queen bed, a 72″ rollover jiffy, and an optional 60″ power bed. Its front storage area also empties more space for additional items.
It provides flexibility through its recliner chair and movable table. You can also enjoy your meals outdoors underneath the 14′ power awning.
What we liked:
Dehco 3-year cold crack warranty
 K-Z 24-month limited warranty (covers +1,500 operation codes)
What we did not like:
The refrigerator is only 8 cu.ft.
2. Dune Sport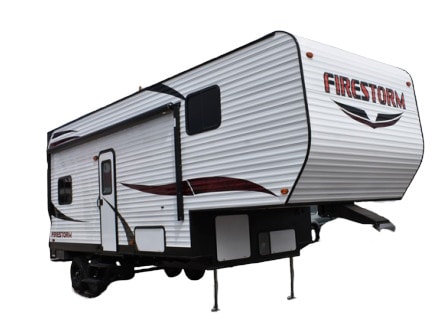 The Dune Sport Hauler is the RV you'd usually picture next to a BBQ party. With sturdy workmanship and impressive customization, it certainly deserves to be on the list.
Features
It's one of the few haulers with a low profile, which is practical for fuel consumption. Moreover, it features a full-length electric awning and an electronic leveling system.
A quite remarkable feature is that Dune Sport lets you customize the trailer. Some custom doors allow you to access the cabinets from the inside or outside.
If you are looking for an ultra lightweight toy hauler, we wrote a guide on those as well.
Walls and windows can also be orientated differently, and you won't be charged extra for these changes.
What we liked:
MorRyde steps that reduce wobbling and instability
55-gallon drum smokers
What we did not like:
Doesn't include some of the "fanciness" of other models.
You might be interested in the best truck for towing 5th wheels
3. Heartland Fuel 322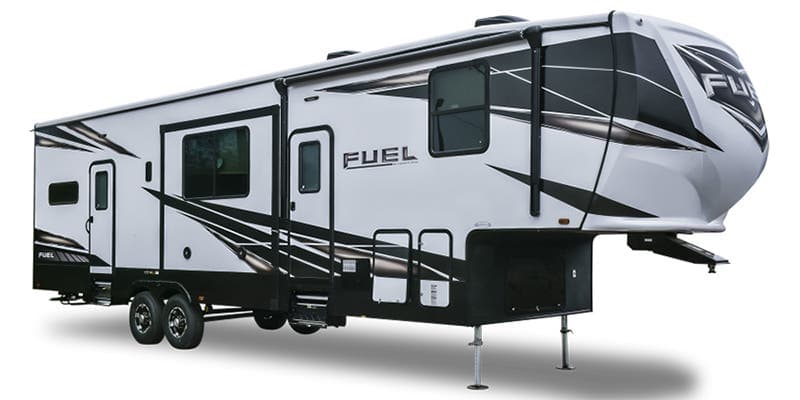 Features
The trailer's components have high quality, with 7,000 lb Dexter axles, covered by a 6-year warranty, and standard steel appliances.
The underbelly is enclosed with forced air heat, and there are tinted glass windows for safety. I also admired how the roof was walk-able, and the exterior speakers are perfect for outdoor fun.
What we liked:
13′ Separate Garage
Stainless Steel Kitchen Package
What we did not like:
Thin retaining pin on front leveling jack
4. Forest River XLR Thunderbolt 369AMP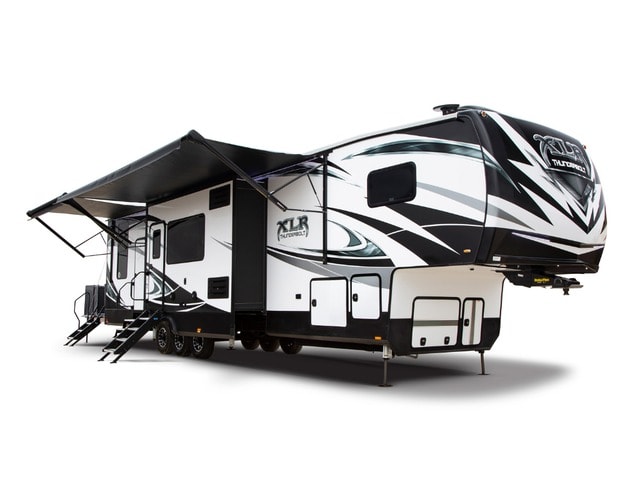 Features
The hauler's shaker-style cabinetry and steel enforced tie-downs ensure both comfort and safety.
Air conditioners and heat are ducted throughout the trailer, maintaining adequate room temperatures.
The cargo flooring is rubberized, making it durable and easier to clean. Also, the high rise kitchen faucet and brushed nickel hardware are some of its high-quality features.
What we liked:
Fully Enclosed "Body-Armor" Underbelly
Plush furniture and bedding
7,000 lb Dexter axles
Power Theater seating
What we did not like:
Expensive
Occasional Heater issues
5. Keystone Montana High Country 381TH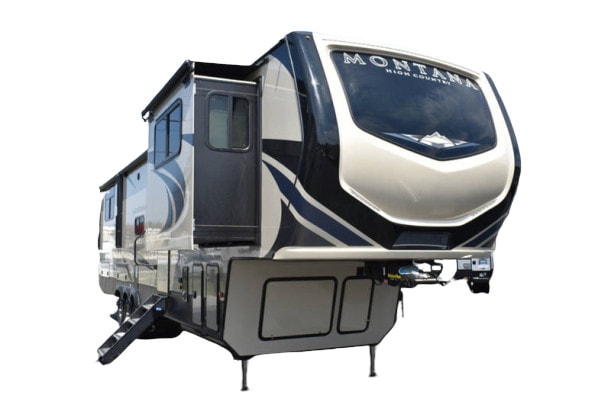 Features
The trailer provides a comfortable setting. An LED fireplace beneath its HD LED TV is set in the front living area. And has a multitude of seating choices.
The kitchen includes a hutch and 3 cooktop-burners. Its refrigerator's an 18 cu. ft. Residential French door with an ice maker.
Moreover, the garage has a queen bed, which you can lift when needed. This provides enough space for parking your motorcycle or golf cart.
What we liked:
Front Patent-Pending Windshield
Seamless PLYVENEER floor decking
What we did not like:
Requires frequent repairs
Only two air conditioners for a 41 Ft. RV
6. Grand Design Momentum 376TH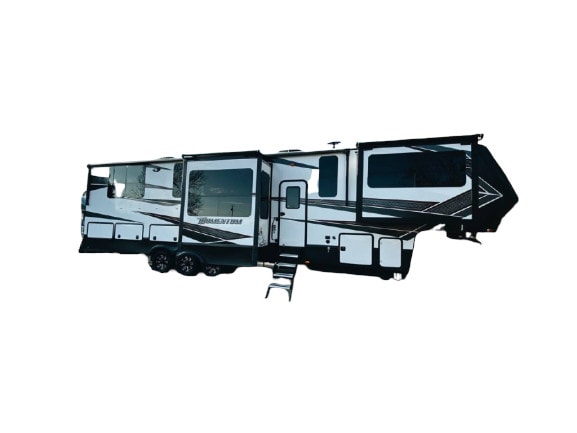 Features
For moderating your RV's interior temperature, four-season Weather-Tek insulation is installed. Most importantly, it provides its own enclosed fuel pump station.
The interior includes a sofa with the headrest and removable swivel tables. Also, the kitchen has a convection microwave.
Other features include a Tuff-Ply garage flooring that's oil and gas resistant, which contains a 2,500 lb flush-mount-tie downs to secure your toys while driving.
What we liked:
Satellite and Solar roof access channel
Four-season weather insulation
What we did not like:
One of the most expensive on the list
7. Forest River Spartan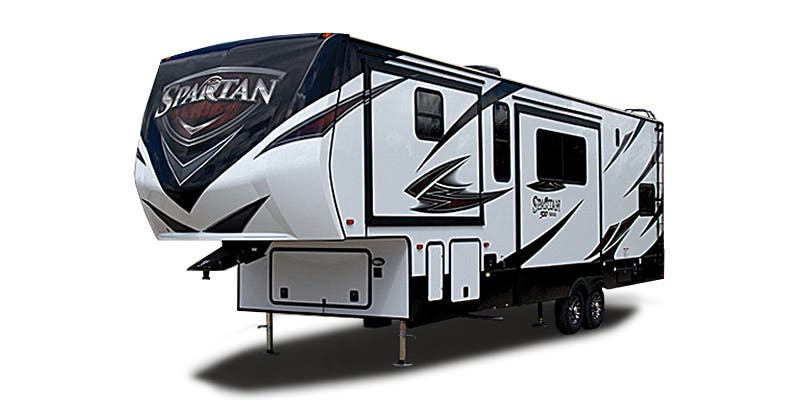 Features
You can store all your gear in the overhead section by the cargo area. There is also additional overhead storage by the queen-sized bed.
The kitchen area has a three burner range. In addition to the 8 cu. ft. refrigerator, there is a pantry for storing food items and dishes.
The hauler features dual slides for more interior space. Moreover, the dual folding sofas and side man door in the cargo area allow for extra sleeping spaces.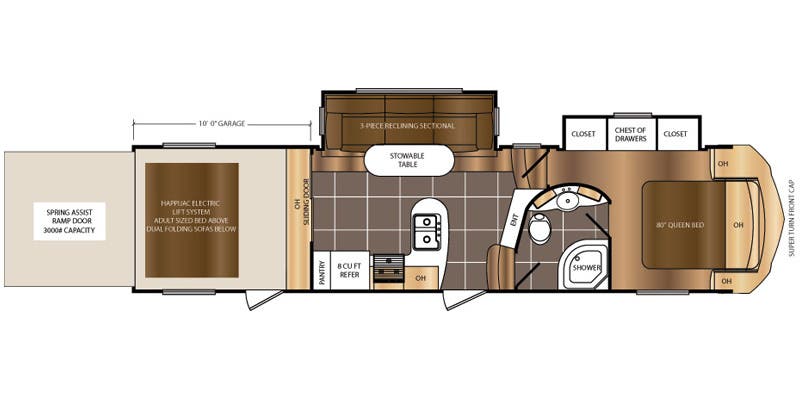 What we liked:
Happijac electric lift system
L-shaped counter for easier cleaning
What we did not like:
Frequent complaints with cable wirings
No backup lights or backup camera
The back screen's open and bugs come in
8. Keystone Raptor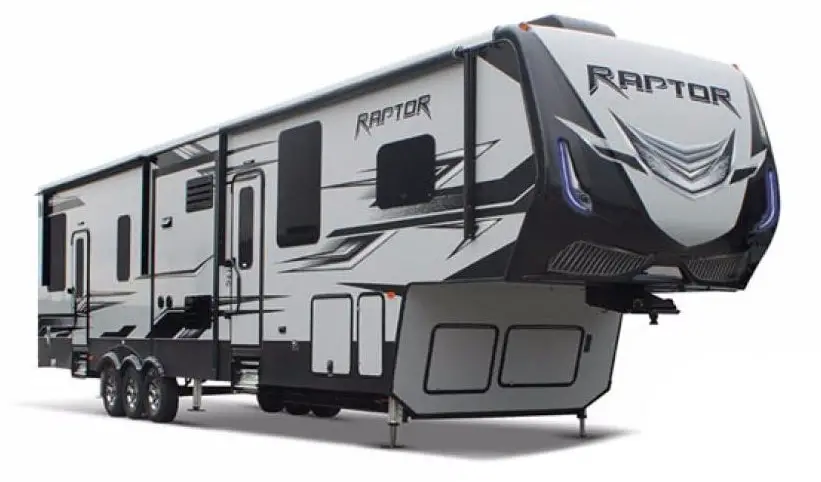 Features
One of its most remarkable features is the color-coded electric wiring system. This facilitates the troubleshooting of electrical products when needed.
Like the Montana high country, its kitchen also has an 18 cu. ft. refrigerator. The freshwater's capacity is 75 gallons, whereas both the waste and gray water's capacity are 53 gallons.
Furthermore, the garage holds two convertible sofas and a twin-sized loft. This convenient resting spot is also warmed with the in-floor heating system.
What we liked:
A 3-year limited structural warranty
12′ Separate Garage
In-floor heating system
What we did not like:
Sometimes has defective lights
9. Jayco Talon 413T Toy Hauler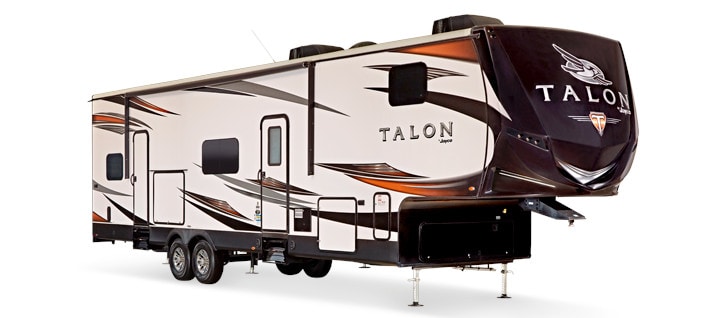 Features
The storage doors are locked using a single key system. This means that you only need to remember where you put that one key that opens the entire unit.
The tires are H-rated (16″ Ply), and it also has an electric awning lined with LED lighting. There are sofa beds and a pull-down ramp door screen, which clears more space.
What we liked:
Jayco-exclusive Simmons mattress
Includes full and half bathroom
What we did not like:
Before buying a Jayco you may want to read our 5th Wheel Brands To Avoid article
What Features Do You Need In a 5th Wheel Toy Hauler?
You can see after reviewing all these haulers are the size of a literal house. You maybe need to increase the towing capacity on your truck to haul them.
Let's look at some other features to consider before you run out and buy one of these small 5th wheel toy haulers.
Dimensions
You should know the length, width and height of your camper or RV before you hit the road. We wrote an entire guide to 5th Wheel, Travel Trailer and RV Dimensions so check it out if you're new to the hauler scene.
Basically some states require a CDL if your trailer is over 8′ 6″ or the GVWR exceeds a certain amount. Certain parks have length and width limits as well.
Cargo Carrying Capacity
This is usually the first aspect to inspect before buying your hauler. Cargo Carrying Capacity, or simply CCC, is the safe amount of weight the trailer can legally carry.
Most manufacturers are already required to post a sticker on their trailers indicating the value. For a full-time living in a 5th wheel toy hauler, the least sufficient amount of CCC is 3500 lbs.
Axles
Lippert axles are the most commonly used among 5th wheel haulers. However, due to numerous complaints and frequent issues, Dexter axles are favored.
This could be seen through the article where I considered any Dexter axles to be an advantage, as it's regarded as a premium feature by most users.
Tires
Most tires are chosen based on how much "Ply" they have. Ply is the unit by which we measure the tire's ability to hold air pressure and carry weight.
Considering the average cargo capacity, the G-rated (14 Ply) tires seem to work just fine. They usually go well with 7,000 lb axles.
5th Wheel Vs Travel Trailers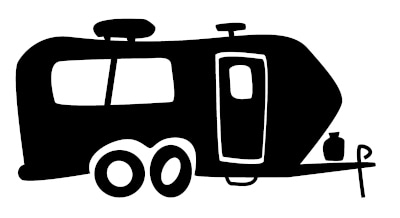 Points of Comparison
5th Wheel 
Travel Trailers 

Compatibility 

Usually requires 3/4 ton pickups, although there are some Half Ton Towable 5th Wheels on the market.
Travel Trailer weights are lighter, and some can be towed by SUVs or half-ton pickups

Residence

More adequate for recreating a living area

Suitable for longer camping rides

Less living space and lower roofs

Can't be sustained for longer rides  without given facilities 

Fuel Efficiency and Cost

Slows down the towed vehicle and reduces fuel efficiency 

Quite expensive due to possessing additional features 

Is relatively more efficient in fuel consumption

Costs less than a comparable hauler
Conclusion
I know that Ben 10's grandpa made it seem much easier than it really is. But a hauler almost resembles a house, so it does require additional work.
So if I had to choose, I'd prefer having the KZ Sportster 280th, since it requires minimal technical troubleshooting, and provides unique features such as the spacious residence and movable furniture.