Mike here. Did you know that half ton towable 5th wheel trailers exist!? That's right, you don't need an expensive diesel 3/4 ton to tow these four light trailers that we'll discuss.
Introduction
Many shoppers mistakenly believe that they need a massive truck to tow any size fifth-wheel. Given the ever-increasing size of many 5th wheel models, it is easy to see what could lead a prospective buyer to this conclusion.
Purchasing and maintaining a ¾ or 1-Ton truck is an expensive and inconvenient proposition to many potential owners. Thankfully, moderation is still an option within the realm of fifth-wheels. Let's look at some of the factors that can help you find the ideal half ton towable 5th wheel models.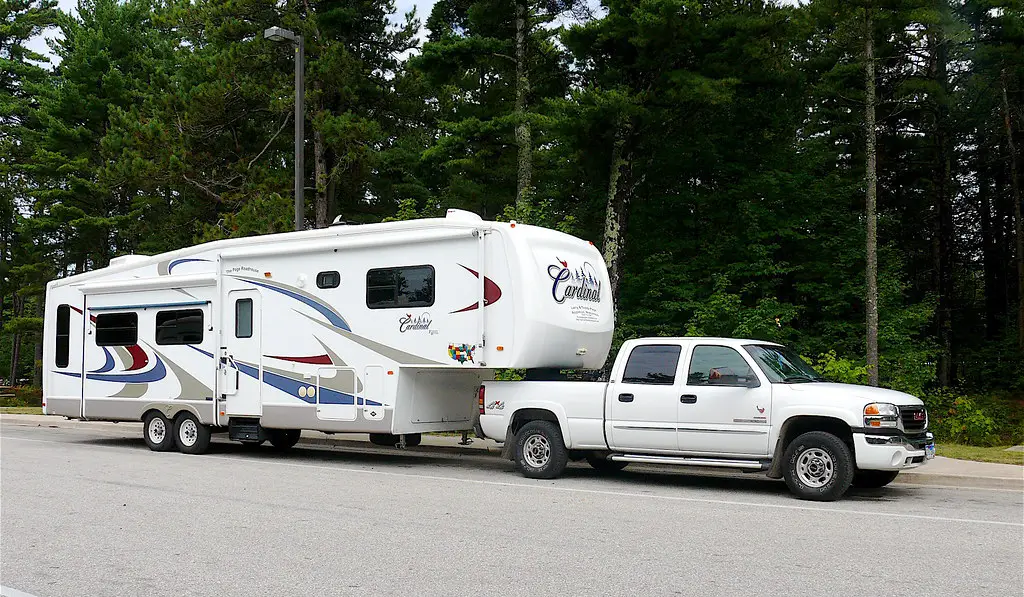 Can You Tow a Fifth Wheel with a 1/2 Ton Truck?
Unfortunately, it is all too uncommon to hear people offer the "advice" that half-ton trucks cannot tow a fifth-wheel trailer. While this is true for the larger fifth-wheels on the market, it is also a gross oversimplification. Whenever you are trying to match a trailer to a tow vehicle, there is a multitude of factors to consider. There is no reason that a properly-equipped half-ton truck should not tow a light fifth-wheel trailer.
Should You Tow With Your Half-Ton Truck?
This answer will depend upon your specific truck. Although the terms "half-ton" and "one-ton" are thrown around as general categories, not all half-ton trucks are created equally. Throughout the years, the capabilities of trucks have increased significantly. Thus, while a modern half-ton may be capable of safely towing a trailer, an older version of the same truck may not. It is important to research the specifications of your specific year, make, model, and configuration. Further, never tow with a vehicle that has not been properly maintained. Towing can be a difficult task for any vehicle, so always err on the side of safety.
Read more about choosing a truck for towing a 5th wheel.
What Weights Can Half-Ton Trucks Tow?
As mentioned, trucks have become more capable every year. While a decade-old F-150 may have been limited to a meager 7,000 lbs, its modern equal can tow almost double that weight.
This is box title
The towing range of most half ton pickups is 5,000 – 12,000 lbs. This is all dependent on the gearing, shocks and engine in each model. For example, the Dodge Ram 1500 base model with a 3.6L V6 can tow 4,400 lbs, where as a Ram 1500 with the 3.0L Ecodiesel can tow 12,000+ lbs.
There is still a significant amount of variability among brands and within each model. Manufacturers often quote the most flattering number when discussing towing capacities. To have the most accurate idea, always look to the specific model and features you are considering.
Below you'll find a brief overview of each pickup's capabilities:
GMC Sierra 1500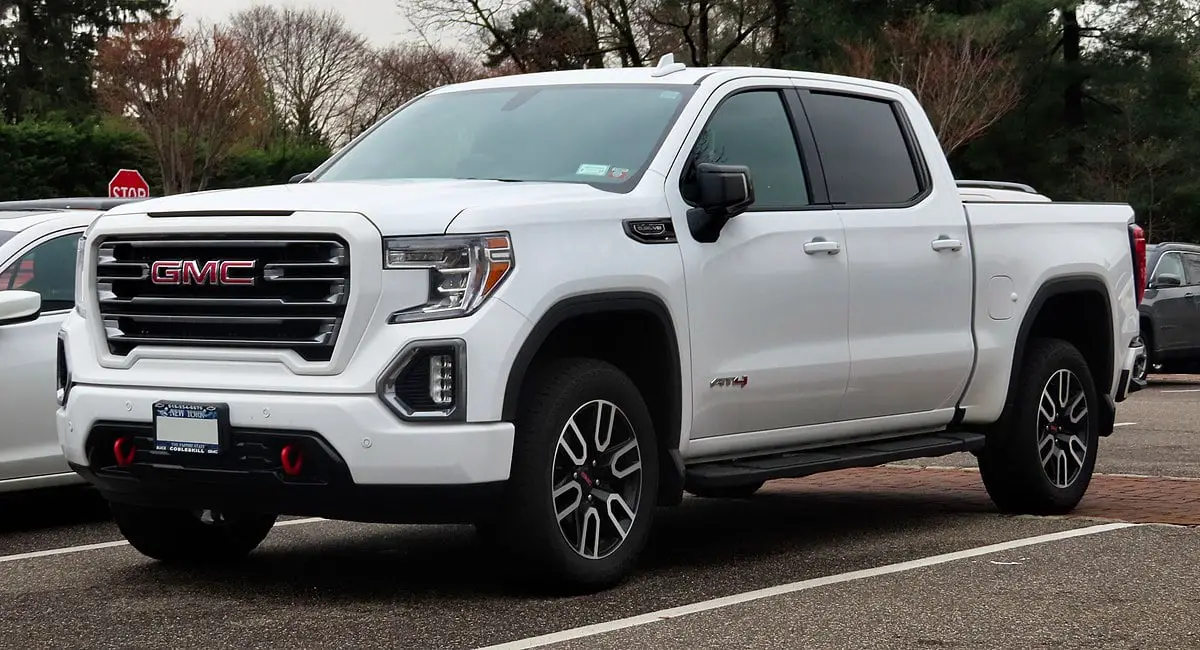 As the stablemate of the Chevy Silverado 1500, the GMC Sierra 1500 is mechanically identical. Thus, the towing capacity range is identical as well, from 6,600 lbs to 13,400 lbs.
Chevy Silverado 1500
Like most trucks, the venerable Chevy 1500 is offered in a myriad of styles. As such, the towing capacity varies. In its most capable form, the 2020 Chevy 1500 can tow up to 13,400 lbs. Even the least powerful models can still tow an impressive 6,600 lbs.
Ram 1500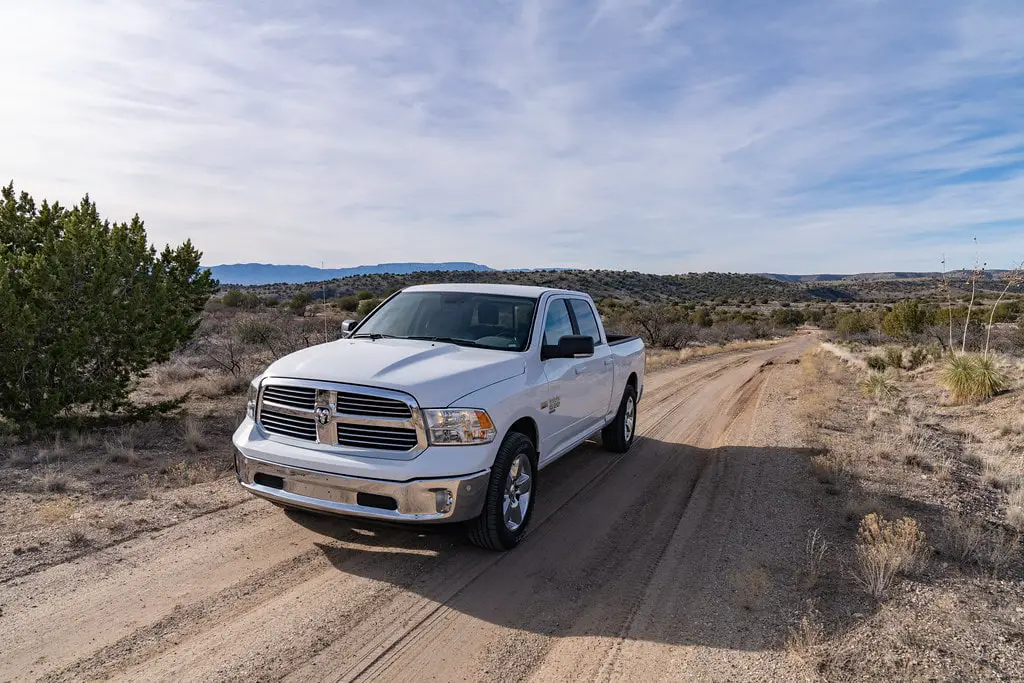 The 2020 Ram 1500 is a prime example of how much the towing capacity can vary within a single model. The base-model Ram, equipped with a V6 gasoline engine, can tow 6,200 lbs. Yet, in its most potent arrangement, a Ram 1500 is capable of towing a staggering 12,600 lbs. A decade ago, a one-ton truck was required to handle that much weight.
Ford F-150
As America's best selling vehicle, the Ford F-150 has always been a popular choice for pickup seekers. The 2020 F-150 continues to be a capable platform. It's towing capacity represents the greatest range seen yet. At a minimum, the F-150 can tow only 5,000 lbs. In the ideal configuration, that number almost triples to 13,200 lbs.
Toyota Tundra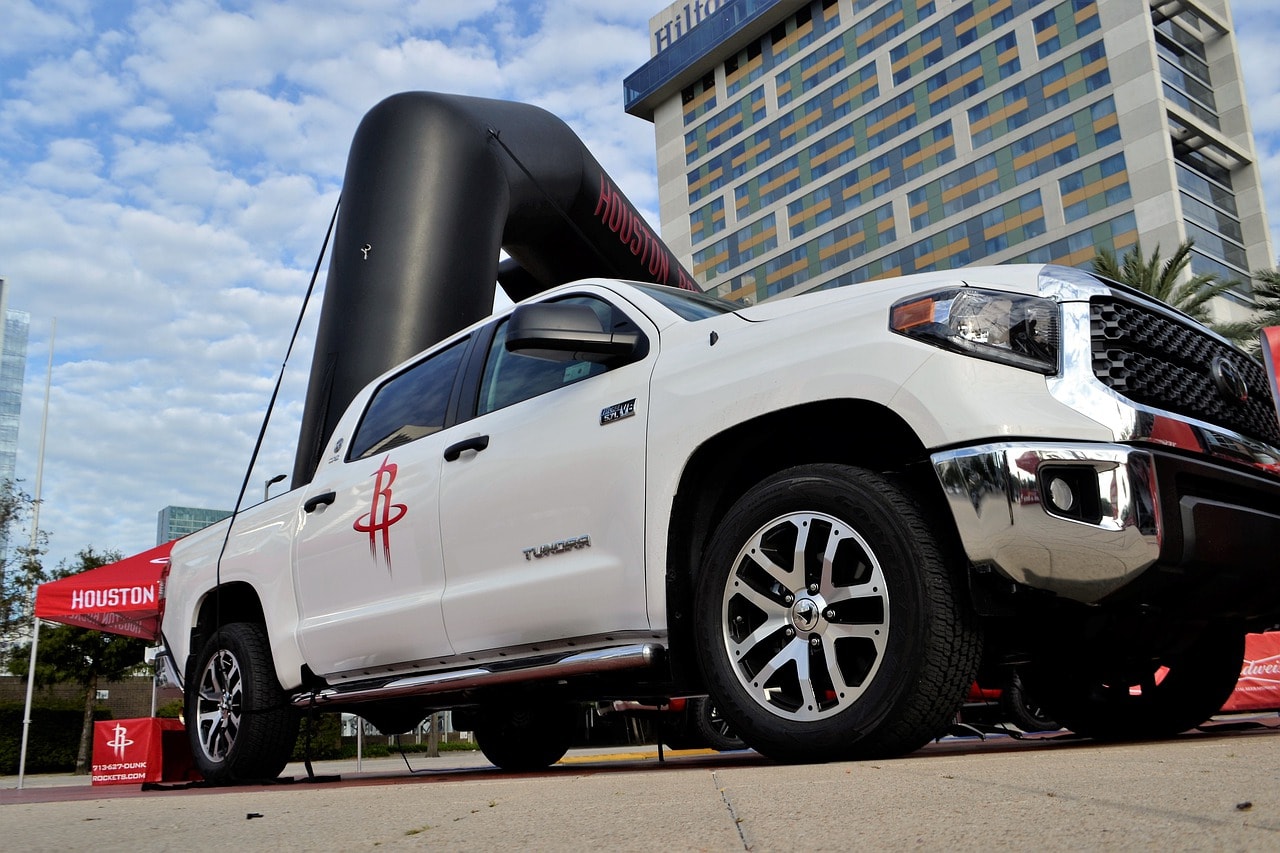 The Toyota Tundra boasts a relatively meager towing capacity. In the base model form, the 2020 Tundra can drag 8,800 lbs. In its peak capacity, that number increases to 10,200 lbs.
Nissan Titan
The 2020 Nissan Titan has a limited options sheet. Essentially all Titan models are capable of towing the same amount. Compared to other trucks in the class, the Titan's towing credentials are fairly limited. The maximum towing capacity for the 2020 Titan is 9,370 lbs.
Best Fifth-Wheel Towing Configuration for a ½-Ton Truck
Towing is not only a matter of getting the right model of truck. Rather, it is important to make sure that the truck is properly equipped. Here are the most important factors when outfitting your newest tow-rig. You can increase towing capacity on most trucks by upgrading the parts below.
Historically, manual transmissions were preferred for towing duties. However, the availability of manuals has become almost zero. Thus, you are unlikely the have much say in the transmission of any modern truck. Yet, there are still steps you can take to make sure your transmission is equipped for the job. Towing puts significant additional strain on your transmission, which leads to increased heat. Few things damage a transmission more than heat. Any truck destined for towing should be equipped with an auxiliary transmission cooler to keep heat levels in check. Further, most modern transmissions are equipped with a "tow/haul" mode. This informs the transmission that the vehicle is being used for towing, and adapts the line pressure and shift points. This not only makes towing easier, but it also reduces strain on your vehicle.
In summary: If your vehicle has a towing mode, use it.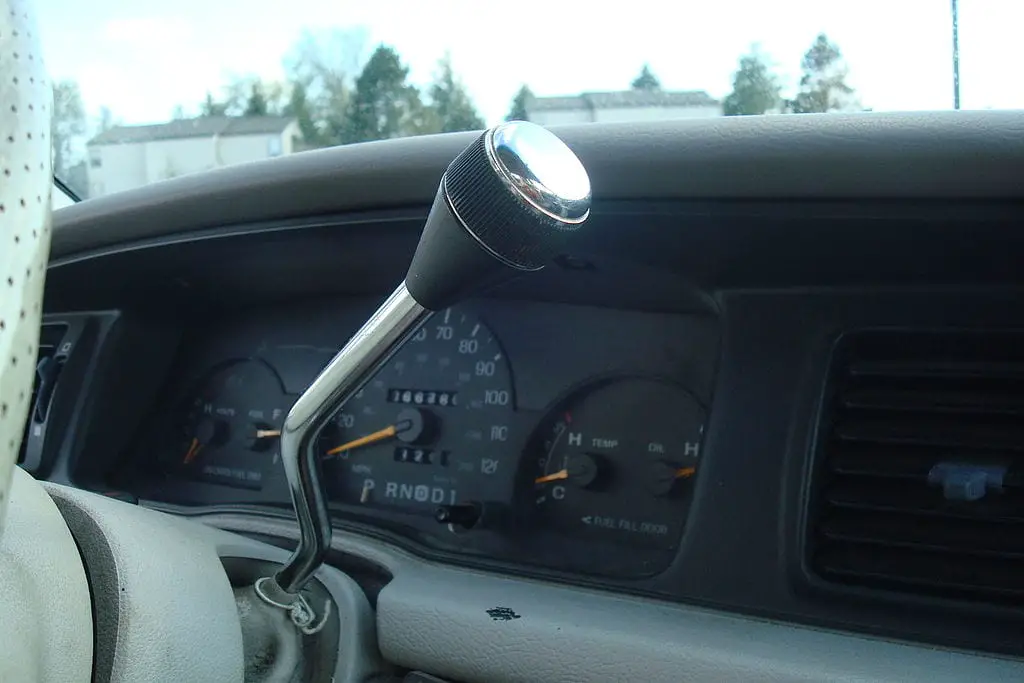 Shocks are an often-overlooked consideration when equipping a vehicle to tow a fifth-wheel. Because of the increased weight that a fifth-wheel trailer places on a truck's back axle, having properly equipped shocks is crucial. Inadequate or worn shocks can result in an uncontrollable oscillation that may result in losing control. Beyond the shocks themselves, many owners choose to upgrade their rear suspension with air-bags. Airbags are bladders that install into the suspension and, when inflated, help support the load. These can be an excellent and cost-effective way to improve the safety and handling of a tow vehicle.
Read more about shocks for towing travel trailers.
There is no single more important factor for the safety of towing than the brakes of the tow vehicle. A trailer can often weigh double or triple the weight of the tow vehicle. Thus, the amount of strain on the braking system is increased. In addition to proper maintenance, verify that the brake pads and fluid in your tow vehicle are well suited for the task of towing. The tow vehicle's brakes are not the only factor. The vast majority of fifth-wheel trailers have a trailer braking system. The trailer brake activates electronically via signals from your truck. Some modern trucks have built-in trailer brake controllers, while some will need to have this equipment added. In either case, verify that your tow vehicle has a functioning trailer brake controller, and know how to use it.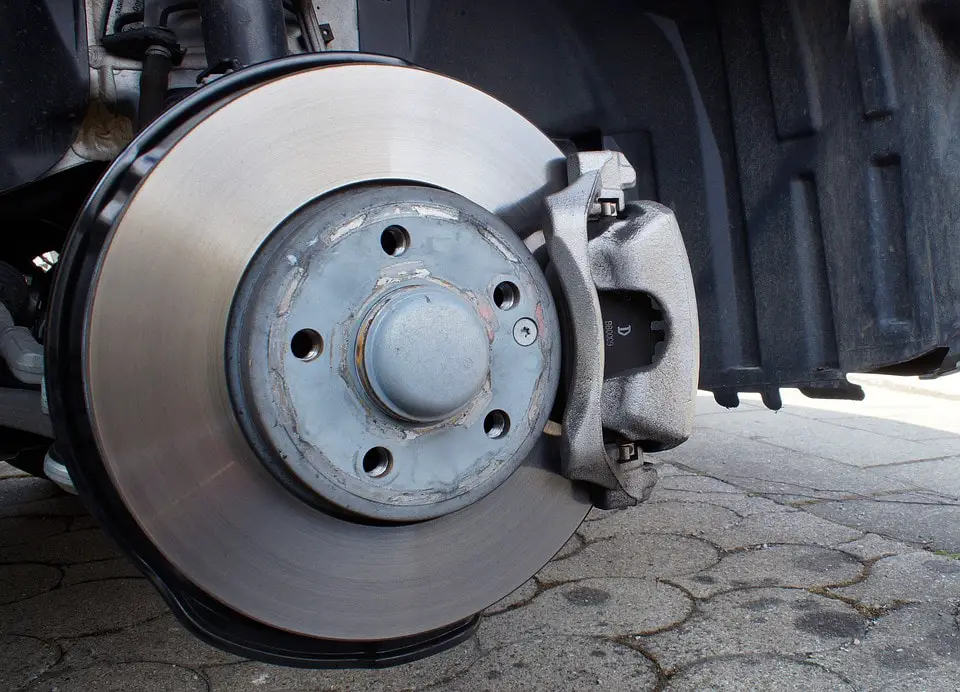 Contrary to popular belief, the engine is one of the least important requirements in a tow vehicle. Even base model trucks have more power than their ancestors, and power is rarely a meaningful limitation when it comes to towing. That said, a larger engine may result in a more relaxed towing experience. Diesel engines are well equipped to handle towing due to their high torque ratings at low RPM. Yet, a diesel is not a requirement for towing, especially for smaller rigs.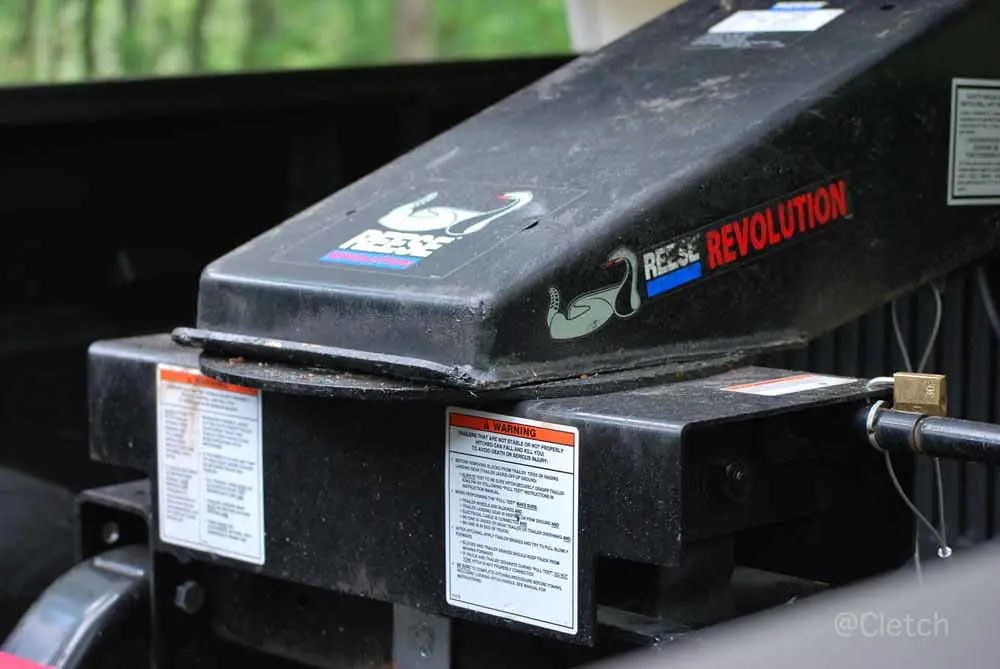 Fifth wheel hitch – Photo Credit: Pat Williams
Your truck will need to have a fifth-wheel hitch installed before towing is possible. The towing apparatus of a fifth-wheel consists of two pieces: the hitch, which is in the bed of the truck, and the pin-box, which is on the trailer. There are multiple styles of hitches, and prices vary. Higher-end hitches often feature air-ride cushioning systems or complex coupling devices. Typically, these are not necessary for smaller fifth-wheel trailers. For lighter trailers, any properly installed fifth-wheel hitch should be more than sufficient. However, if you find you are left demanding a smoother ride, consider an upgraded pin-box instead.
Maximum Payload and Hitch Weight Explained
Anyone familiar with travel trailers is likely to have heard the terms "tongue weight."
This measurement refers to the amount of weight that a trailer applies to the hitch of a tow vehicle.
In a fifth-wheel trailer, the equivalent measurement is known as "hitch weight."
A fifth-wheel applies its hitch weight directly onto the frame of the truck via the hitch, which is normally mounted directly over the axle of the truck. Thus, the payload of a truck (the amount of weight you can put in the bed) is the same number as the maximum hitch weight.
It is critical to consider the hitch weight of any given truck and trailer combination. Many fifth-wheels may be well under the maximum towing capacity of a truck, yet nonetheless exceed the maximum hitch weight. Overloading a truck's axle can result in damage to the truck or an unstable towing scenario.
Towing Capacity Explained
Truck manufacturers often quote a single number as the towing capacity of their trucks. This can lead to confusion, as trailers are often listed with four or five different weights. Here's what you need to know.
GVWR vs UVW (Dry Weight)
There are two primary numbers you are likely to see when shopping for a fifth-wheel trailer:
UVW – important
GVWR – not as important
The GVWR, or Gross Vehicle Weight Rating, is the maximum amount that a trailer can safely weigh. This number is often determined by the amount of weight the axles can support. While this number can give you an idea of the capacity of your trailer, it is normally not a number you need to consider.
The UVW, or Unladen Vehicle Weight, is key. The UVW is the weight that a trailer weighs before any water, gear, or people are added to it.
By adding together UVW and the weight of the contents of the trailer, you can ensure that your trailer weight is below your tow vehicle's weight limit.
Hitch Weight
A described above, hitch weight (also known as pin weight) is the amount of weight that the fifth wheel puts onto the hitch. This is often 15% of the total trailer weight but can be much more. Always ensure that the hitch weight is within your truck's payload capacity.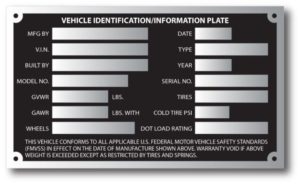 Four Recommended ½-Ton Towable 5th Wheel Options
Now that we've considered some of the key factors in choosing a tow vehicle and trailer, let's look at some of the best 1/2 ton towable 5th wheel models.
1. Highland Ridge Light – LF280RKS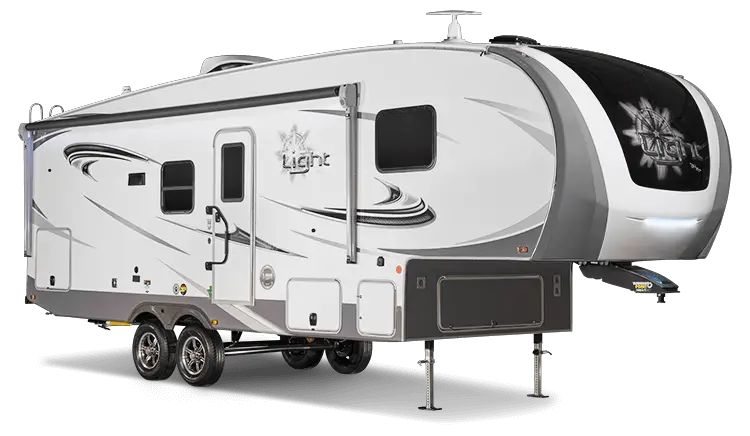 It has become difficult to find a fifth-wheel that strikes the proper balance between light weight, space, and quality. It seems that every manufacturer has made its models larger every year. Yet, Highland Ridge has resisted this urge with its Open Range Light Models. Their range contains high quality and thoughtfully constructed fifth-wheels with innovative floorplans.
The first advantage of any Highland Range product stems from its construction. The Open Range trailers are built using aluminum wall supports, meaning that rot or corrosion is not a concern. Further, numerous thoughtful touches are incorporated into the structure. For example, the roofs are arches to prevent leaks or water accumulation. The walls are laminated foam for increased strength and insulation.
There is a lot to like about the way Highland Ridge builds its trailers. The floorplans are excellent as well. They have not tried to reinvent the wheel. Of the six models they offer, each is spacious and efficient. The smallest of the bunch is a classic rear-living room 25-foot model.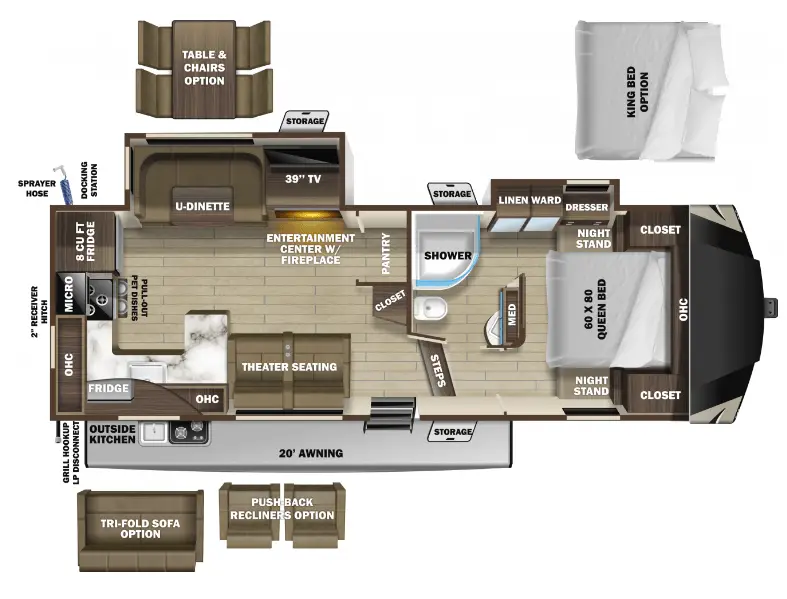 My favorite is the second smallest, the LF280RKS.
Though still compact, this layout incorporates a U-shaped kitchen in the rear. This design affords more counter space but also gives the living area a more intimate feel. It is a successful design for such a small trailer.
Lastly, Highland Range stood by their claim of building an "ultra-lite" trailer. The smallest fifth-wheel in the lineup has a scant 7,400 lb UVW with a 1,2000 lb hitch weight. Even the largest of the bunch, a 30-foot bunkhouse model, weighs a mere 8,400 lbs.
For once, a company succeeded in making a true half-ton towable 5th wheel.
2. Scamp 19 5th Wheel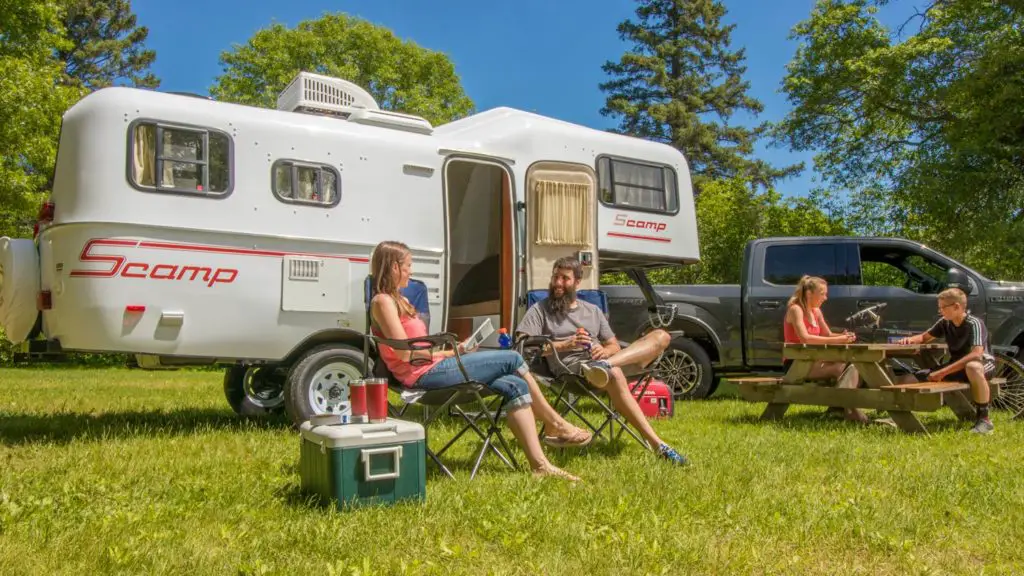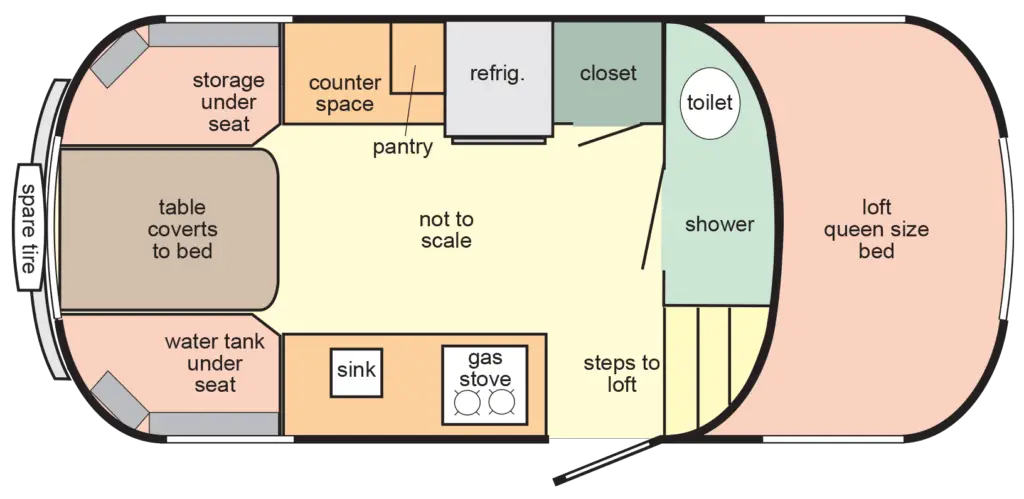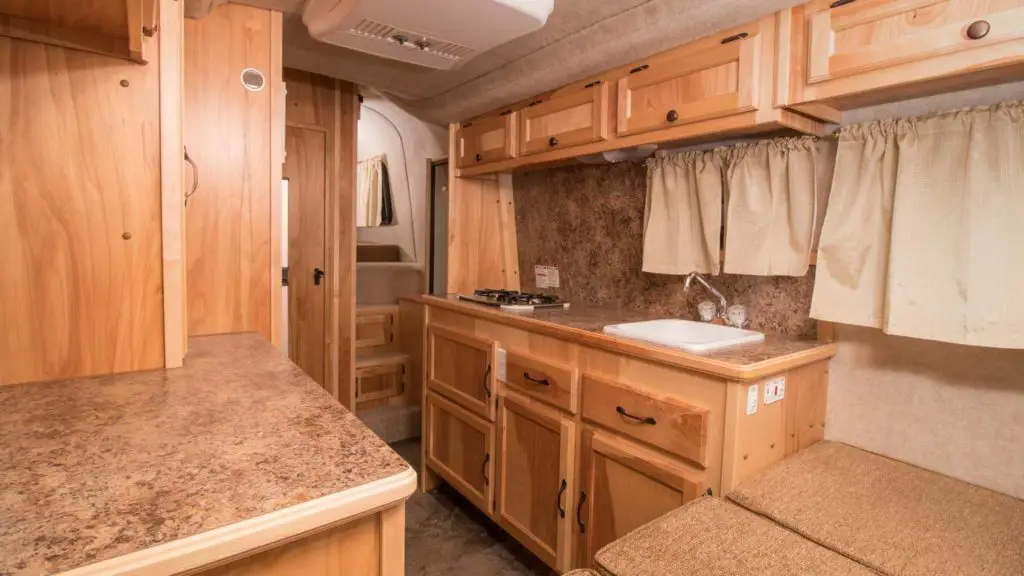 There is no point in beating around the bush. The Scamp 19 is an odd trailer.
Its unique design and philosophy stray so far that it becomes somewhat difficult to compare the Scamp to other units. Scamp has been building trailers since the mid-1980s, and the approach has not changed in that time. Every Scamp is made using two fiberglass castings that are bonded together. Imagine flipping a small boat upside down onto another boat and gluing them together.
There are a lot of advantages to this construction.
First, there are almost no seams in a Scamp. Thus, they are waterproof and durable.
Further, they are light. At a mere 2,500 lbs UVW and 400 lb hitch weight, the Scamp 19 5th wheel is not just half-ton towable; it is ¼-ton towable too.
What the Scamp is not, however, is luxurious. The interior of a Scamp 19 is largely exposed gel-coated fiberglass. Given the size and simplicity of the trailer, there are very few amenities. The kitchen is small, and a bathroom is not even standard equipment.
But focusing on what it lacks is missing the point. I like the Scamp 19. In a sea of gilded boxes, it is a refreshingly honest approach to RV design.
Read more about the Scamp in our guide to small 5th wheels.
3. Rockwood Ultra Lite Fifth Wheel – 2441WS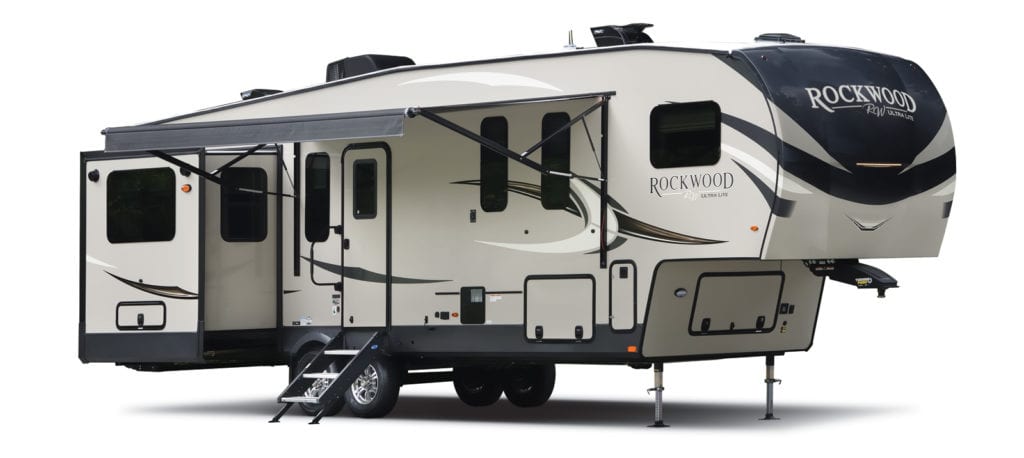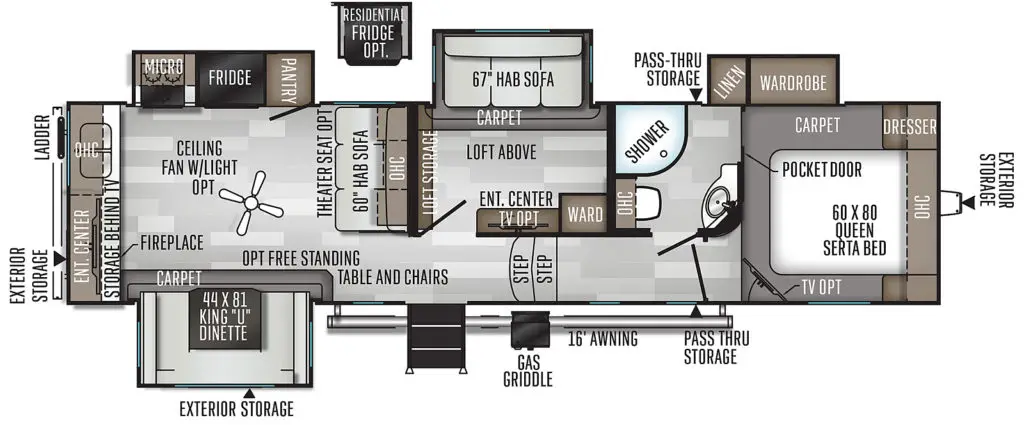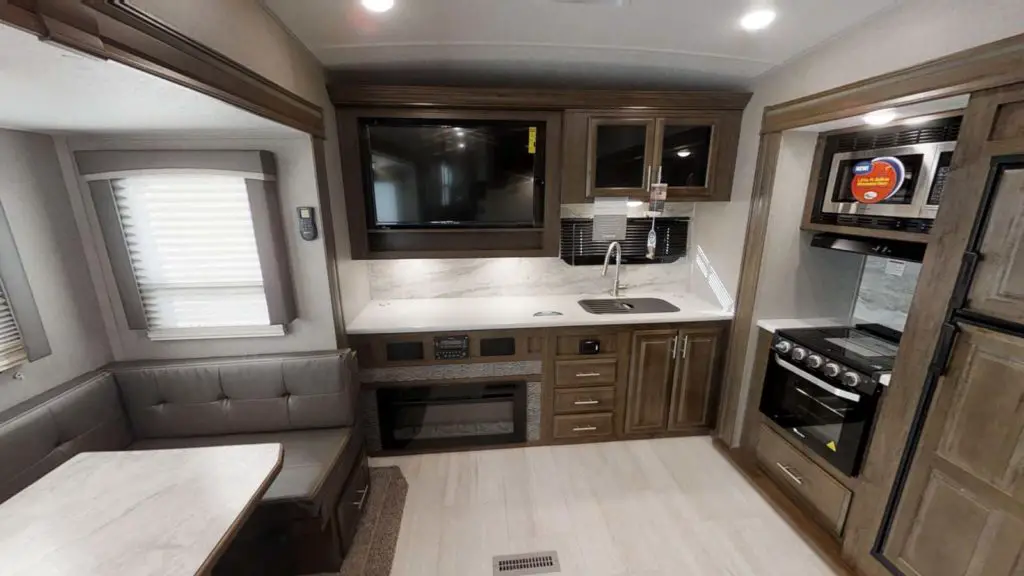 In many cases, "light" is a polite word to describe a cheaply made RV. Finding a luxurious and well-made ultra-lite model often seems almost impossible.
But then Rockwood stepped into the game and realized the dream of a luxurious half-ton towable camper.
The specifications of the Rockwood Ultra Lite read like a much more expensive unit.
Aluminum frame
Vacuum bonded walls
⅝" tongue and groove sub-floor
Alloy wheels
Torsion axles
Enclosed and insulated underbelly
Heated holding tanks
HVAC system is ducted and high-capacity
Typically, these features are limited to only the highest-end units. To see them in an Ultra-Lite 5th wheel is impressive.
Rockwood did not skimp on floorplans either. Twelve are available, and there are some gems among them.
Bunkhouse floorplans normally place the second bedroom at the rear of the coach. This tended to make the living room feel dark and cramped. To solve this, there has been a recent trend towards mid-ship bunkhouses. These layouts provide a much more residential feel and greater versatility. Rockwood's 2896MB is an excellent example of the genre. The second bedroom is designed to function as a bedroom or a den and office. Thus, this is an incredible unit for couples that have occasional visitors.
Despite the quality build and innovative floorplans, the Rockwood Ultra Lite series stays svelte. The lightest model, the 2441WS, is only 7,300 lbs. Even the heaviest models are still well under 10,000 lbs.
4. Keystone Laredo Super Lite – 296SBH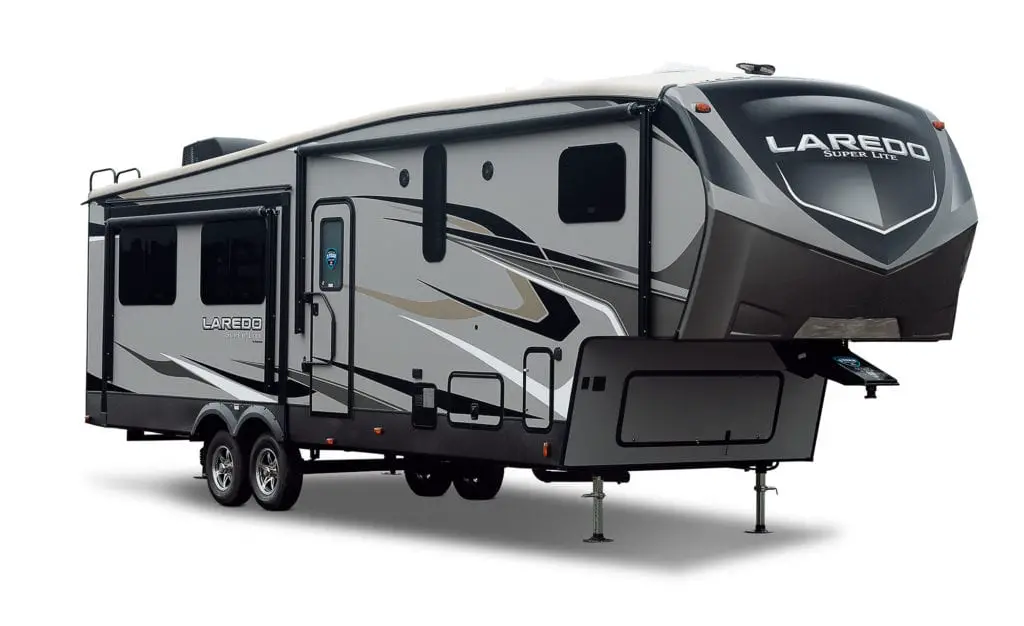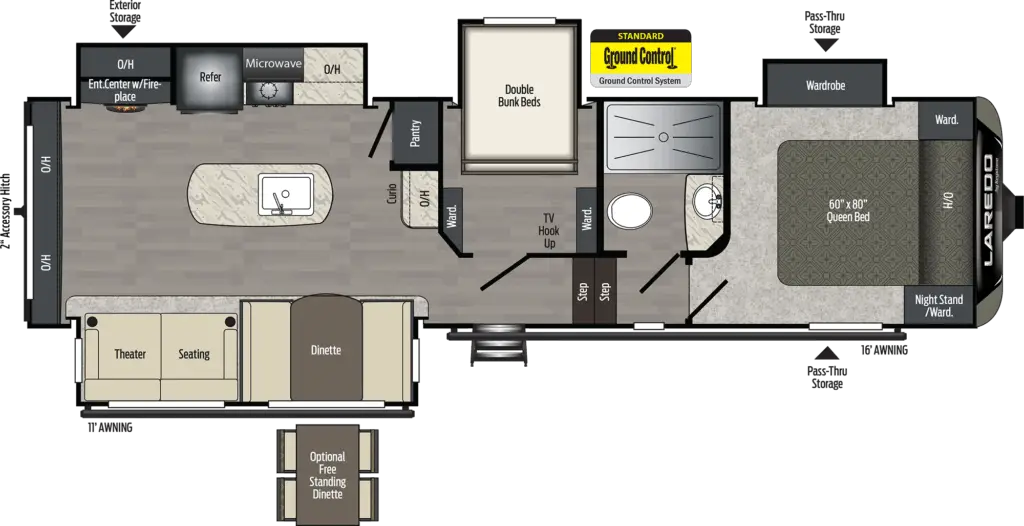 Keystone has developed an impressive reputation for quality and value. Looking at the Laredo Super Lite, the source of the reputation is apparent. There are fifth-wheels on the market that seem good on paper but lack the careful design.
The Laredo excels by providing unparalleled attention to detail. For example, very few companies are installing frame-less windows in ultra-lite models. But the details make a big difference.
The floorplans are another big draw to the Laredo line. I cannot recall the last time I saw more distinct plans offered for one model. Some of them, like the 296SBH, are fantastic. This plans mid-ship second bedroom has a double bed and an impressively residential feel. The 342RD is another favorite of mine. This model has three rear sofas creating a beautiful lounge area, distinct from the kitchen. It creates the illusion of a spacious rig.
Some of the floorplans are less successful. The 284SBH, with its hidden pantry and sideways double bunkbeds, is an acquired taste.
Generally, the Laredo Ultra-Lite lives up to its name. The lightest model is a highly towable 7,400 lbs. However, the larger models start to develop more considerable mass. The largest of the range, the 380MB, is almost 13,000 lbs with a significant 2,200 lb hitch weight.
Just because a unit is marketed as an ultra-lite does not mean you can tow it with your half ton pickup.
Conclusion
It is a fantastic time to be shopping for a half ton towable 5th wheel. For the past decade, it seemed as if the market for a light-weight unit had been abandoned. Thankfully, manufacturers have realized the demand and responded with some spectacular models. Towing a fifth-wheel with a 1/2 ton truck can be a great means to a practical setup. Just make sure you mind your trailer weight limits, and make sure you have fun.
Maybe a bumper-pull dual-axle travel trailer would be a better option for you?
Pro Tip
If you're still set on towing with your 1500, you will want a lightweight,
small 5th wheel
!