There are a lot of counter-intuitive ideas in the world of campers, and one of the most surprising is that smaller trailers are not necessarily less expensive. In a market where Goliath, multi-bedroom travel trailers can be purchased for under $20,000, you'd be forgiven for thinking something as simple as a humble teardrop would be a fraction of the cost. Alas, this isn't the case. The elegant simplicity and classic style of these sleek tents-on-wheels make them quite popular, which has the impact of making them surprisingly expensive. Thankfully, there are still many deals to be found. Here's what to look for when searching for an affordable teardrop trailer, as well as some of our favorite models.
Our favorite 4 cheap teardrop trailers for the budget-minded
If you dont feel like reading this entire blog post, here's a summary our top picks 🙂
| | | |
| --- | --- | --- |
| Model | Price | Weight Lbs. (UVW) |
| PeeWee Camper Small Fry | $6,900 (new) | 350 |
| Hiker Trailer Highway Deluxe | $6,000+ (new) | 1,300 |
| Tiny Camper Company "Canned Spam" | $6,000 (used) | 900 |
| RetroRide Teardrop Trailers | $7,400 (new) | 820 |
What is a teardrop?
There are a lot of trailers sold under the banner of "teardrop" campers, but they don't all adhere to the traditional formula. Teardrops have their roots in the 1930s when home craftspeople would create small campers to tow behind their cars. These early examples were little more than a wooden box on a trailer platform, simply something to keep you slightly more warm and protected than canvas. However, what they lacked in features they made up for in style. For both appearance and aerodynamics, the side profile of these campers was typically formed into a sweeping taper. Thus, the name is self-explanatory: they look like a teardrop.
It's still possible to purchase a teardrop that follows the classic path. At their most basic, a teardrop is an enclosed queen-sized bed with just enough room to sit up, but not stand. Further, there is typically a simple kitchen under a hatch at the rear. You may get some storage included, but there is rarely a restroom or other luxuries. These campers are a stark contrast to the high-end mansions that adorn many modern campgrounds. Yet, they are still extremely popular. For individuals that love the idea of spending time in nature and "roughing it," but also want a rain-proof and comfortable place to lay their head, a teardrop can be a great option. Better still, they can be towed by almost any vehicle, so you don't need to account for the expense of a giant truck.
If you simply want an ultra light weight travel trailer, we have a post written on that too!
Should you buy or build one a tiny camper?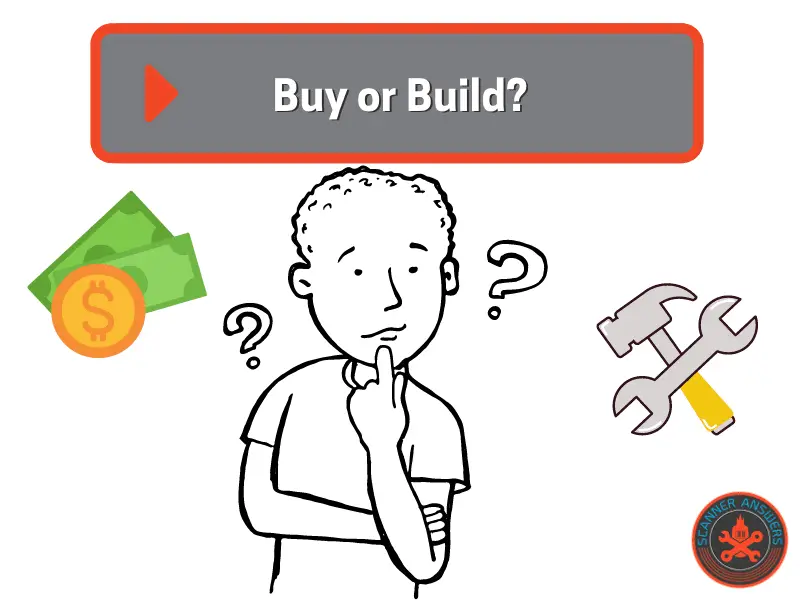 There is still a thriving DIY community surrounding teardrops, so prospective buyers are faced with a proposition that is unique to the world of campers. Should you buy one or build one? A quick Google search will reveal then there is no shortage of plans, kits, and ideas for building your own camper. Countless websites are devoted to just that idea. To be fair, building your own teardrop can be an extremely fun and rewarding experience. However, you need to make sure you are doing it for the right reasons.
First, you should never do it simply to save money. If you are building a camper for economic reasons and not for the fun of the project, you are bound to end up discouraged and frustrated. Although it seems like a simple project, the details can become arduous, and a 6-month project can quickly become one that drags on for many years.
Second, you aren't likely to actually save that much money. When building your own camper, the small things add up quickly. It isn't buying the base trailer or the plywood or the hinges that get you. Rather, it is the fifth trip to the Home Improvement store to buy more screws, rivets, or spray paint. In short, you will likely be nickel and dimed to death. Further, the large manufacturers can buy in bulk, so their material costs are significantly lower. Simply put, building a camper to save money is a recipe for disaster. Unless you love building projects, you are almost always better off buying a pre-made unit.
For anyone ambitious enough to try building a cheap teardrop camper, Xyla Foxlin shared her experience here –
Who Should Consider a Teardrop?
Teardrops are a fantastic option, but they are not for everybody. As mentioned before, the best owner for a teardrop is somebody that truly enjoys the thrill of camping in nature, rather than the luxury of a high-end RV. If you are the type of person that enjoys spending the majority of their time outside while on a camping adventure, a teardrop might be great for you. Perhaps more importantly, you need to learn to travel light. There simply isn't that much space in a teardrop, so you have to be prepared for a minimalistic approach to camping.
Yet, for many people, they represent the perfect compromise. I love tent camping, and I probably can't count the number of nights I have slept in my trusty tent. But with tent camping comes a level of stress. Will it rain? How much wind will there be that night? Did you bring a warm enough sleeping bag for the conditions? Teardrops offer a way of enjoying the tent experience while also eliminating these variables. You have the simplicity of a tent, but none of the risk or discomfort.
This ruggedness is not simply a great defense against the weather. If you enjoy camping in areas that have certain natural risks like bears or snakes, teardrops are also a great option for providing the needed protection without adding unnecessary complexity. Ultimately, they're the charm of the tent without the risk, and the security of an RV without the inconvenience.
Maybe you want a small slide out camper or even a lightweight toy hauler?
In addition to their inherent security over a tent, teardrops also have the advantage of being able to provide a level of organization that is difficult with tent camping. While most avid campers have refined their setup and packing routine for years, it is hard to deny the simple fact that hauling all of the equipment in and out of your car and setting it up each time you stop is less than convenient. Teardrops provide a fantastic solution. Because they are a fixed structure with a permanent bed and cooking facilities, you greatly reduce the amount of setup required for a sporadic camping adventure. There are already plates in the cabinet. There's already a pillow on the bed. There are no poles to erect in the dark before you can finally get some rest. Simply hitch up, throw some beer in the fridge or cooler, and go.
While towing a teardrop is certainly somewhat more inconvenient than having a tent in the back of your car, the extremely lightweight and aerodynamic nature of these trailers makes them almost equivalent. Even compact sedans can tow many teardrop models, and the impact on fuel economy and driveability should be relatively minor. Some are even towable by motorcycles.
Finally, arguably the biggest advantage of a teardrop is the ability to control the temperature of your sleeping environment. Braving it through a 90-degree night or frozen morning may seem charming when you're in your early twenties, but the appeal can quickly fade if you accumulate a couple of years. Because of their small size, teardrops can be heated or cooled by extremely small furnaces or air conditioners. Thus, even if you were off-grid, you should be able to make the interior be a surprisingly comfortable temperature with little effort.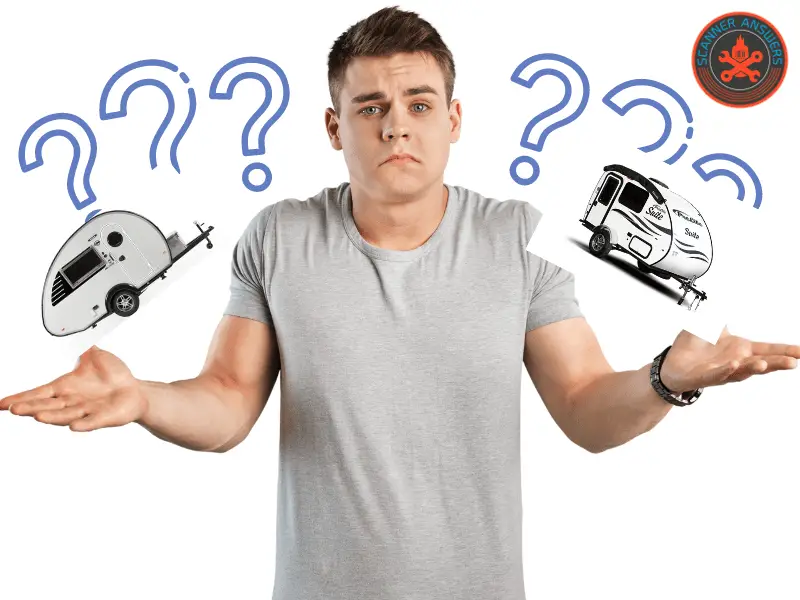 Most of the disadvantages of a teardrop trailer stem from the same central reason that they are great. They're small. Compared to almost any other form of trailer, a teardrop will have a small fraction of the amount of interior room. As discussed previously, they are typically little more than a queen bed on wheels. You can't easily stand up inside or change clothes. They don't provide a place to eat a meal on a rainy day. And if you're traveling with more than one other person, they essentially become a logistical impossibility.
Another key disadvantage is the cost. As mentioned at the top of this article, teardrop trailers do not necessarily provide a lot of bang for your buck. They typically have relatively few features and almost no luxuries and yet they can easily cost more than an entry-level "full-size" camper. Sure, they will be more efficient to tow, but realistically you will never make up this financial delta in fuel savings alone. Thus, teardrops are a type of camper where you have to be devoted to the idea, not just the economics. You need to love the idea, the style, and the function. Without this motivation, your teardrop trailer may result in actual tears.
Pros
Convenient and More Organized
Simple, yet Secure
Protection from Environment with Low Hassle
Downsides
Rather Small Space Inside
Potential Cost to Worth Ratio
What to Look for When Shopping for a Teardrop trailer?
Because of their simple design, there are a lot of teardrop manufacturers on the market. Compared to the demands of designing and building a full-size RV, it is relatively simple to create a teardrop trailer company. Unfortunately, this phenomenon breeds a lot of fly-by-night companies, so do you need to be careful and do your due diligence. Don't simply purchase from the first company you find. More than in any other context, you need to make sure you are buying from a reputable manufacturer. How many trailers have they made? What is their support system? Is there a warranty? These are all the types of questions you need to ask before you give your hard-earned money to a manufacturer that may or may not be making a legitimate product.
As with so many things, research is king. Without question, one of the best parts of buying a teardrop trailer is the community. You will never find a more devoted, helpful, and passionate group of people than teardrop fans. Because of this inherent devotion, you will not need to do much digging to find whether a company does right by its customers. Join a few forums. Ask questions. Be informed.
Lastly, when you are looking at a teardrop to purchase, don't be afraid to dig deep and ask the seller questions. How does the wiring look? Is it fiberglass or wood? If wood, is it marine grade? Is the frame galvanized? Just because these trailers are simple does not mean that quality is less important. Rather, it means that it is easier for a novice buyer to separate the wheat from the chaff.
Let's Look at Some Models
Having discussed some of the advantages, disadvantages, and considerations when buying a teardrop trailer, let's now take a look at some of the best models. As we mentioned at the beginning, the goal of this article is to make teardrops affordable and approachable again. We believe that teardrops are a fantastic entry point into the camping world. However, with this entry point mindset needs to come an entry point price tag. To facilitate this, we went out and found the best teardrop trailers available for under $7,000. Within this price range, there were a lot of fantastic opportunities, and there are a lot of chances for missteps. We focused on the best and here is what we found:
This is box title
PeeWee Camper Small Fry
When discussing basic teardrop campers, we find that it is often helpful to start with the most basic option possible. Once you dive into the details of the PeeWee Camper Small Fry, you're sure to understand why it would rank at the top of our list of simplistic campers. As we've discussed, most teardrops follow a basic formula of a curved sweeping profile, side entry, and rear kitchen. Alas, such luxuries as "curves" were deemed a bridge too far for the Small Fry.
This camper is an RV at its most basic level. With its squared-off edges and rear entry, this is truly little more than a metal tent. There is no kitchen. No entertainment center. This is a climate-controlled box and not much else. However, you have to remember that teardrop trailers are judged by a different standard. You don't buy a teardrop for its myriad of luxury features or expansive layout. Rather, you buy it for comfort and simplicity. To that end, I have to applaud the straightforward approach of the least expensive offering from PeeWee!
Peewee has 4 different models and they are all highly customizable. If the Small Fry isnt large enough for you, check out their Big Tripper which has a massive (for teardrop standards) interior size of 6′ High x 6′ Wide x 10′ Long!
This is undoubtedly a rugged camper. With a 1×1 steel tubing frame and galvanized siding, this camper is small but mighty. A rear-entry door is a novel approach for a teardrop, but it makes a lot of practical sense. When not being used as a camper, the wide rear entry allows this versatile camper to function admirably as a utility trailer by simply removing the mattress. Beyond the utility, this camper delivers on weight savings as well. The base model weighs a mere 600-pounds, allowing it to even be towed by motorcycles.
Is it luxurious? No, but it fills the 'Affordable Teardrop Trailer' niche impressively well.
Hiker Trailer Highway Deluxe
Although the Hiker Trailer Highway Deluxe might look very similar to the Small Fry, it is an entirely different beast. While the Small Fry took minimalism to the extreme, the Highway Deluxe puts a lot of stake in providing compact convenience at an even smaller price. Like the Small Fry, the Hiker has a squared-off profile to save on cost and manufacturing complexity. However, the layout is much more traditional. The Highway Deluxe has a modern shape, but the layout is a classic teardrop with a rear kitchen, side entry, and a slightly sloped front for aerodynamics. It's a simple approach, but effective. Further, this is one of the cheapest ready-made teardrops on the market, costing as little as $6000 for their basic model. One of the ways that Hiker achieved this value is by eliminating a lot of extraneous "stuff." The kitchen in this trailer can be optioned with a sink, but there is no stove or fridge.
I asked a Hiker representative about this, and they responded:
"Most of our customers are transitioning from a tent. They already have the camping equipment they love and have probably been refining their setup for years. They already have a camp stove, a cooler or fridge, and their favorite lights and chairs."
Not only does this save money, but it allows you to customize your camper to your tastes.
The Hiker is a fantastic option for a no-nonsense entry point into the teardrop world. They offer a variety of options including an intriguing range of off-road equipped models, but even their most basic option is a wonderful example of attentive design.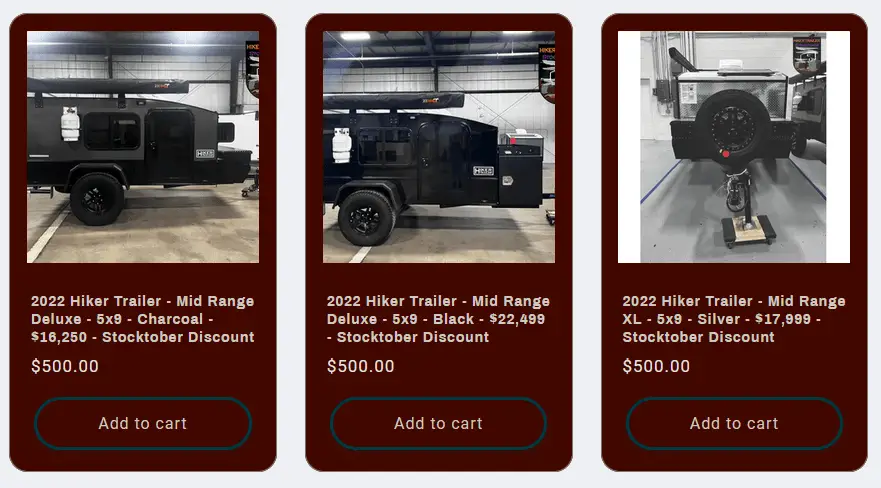 This is box title
Tiny Camper Company "Canned Spam"
Editor note (2022) – You'll have to pick up a used model because Tiny Camper stopped producing this model 🙁
Whether you intend to take more extensive trips in your teardrop or your knees just aren't what they used to be, the act of climbing into a teardrop can be a challenge for some potential campers. With this aspect in mind, we were extremely excited when we first encountered the "Canned Spam" by Tiny Camper Company.
The name is a reference to the famous "canned ham" trailers of the 1950s, but presumably, TCC adds a little extra sodium to help with longevity. By combining the higher profile of a "ham" trailer with the compact footprint of a teardrop, Tiny Camper Compay created something truly unique: a teardrop you can stand in.
Like so many of the other affordable trailers we've discussed today, the Canned Spam is sold as somewhat of a blank slate. This 6×8 trailer has standing height through almost the entire space and comes with a fold-out sofa that doubles as a full bed. Beyond that, the choices are yours. There is space to add a desk to work or to build a small portable kitchen. You could add additional seating for guests. This is a teardrop that has an order of magnitude more flexibility than the shorter options.
Despite the additional height, the unit still weighs under 1,000-pounds, so it can be towed by almost any vehicle. Sure, the proportions are a little ungainly if we're being honest, but that drawback is more than offset by the versatility. For a traveler seeking a simple trailer that can be used on longer trips and provide a place to be on a rainy day, the Canned Spam is a very unique opportunity. You may even find it kind of cute, eventually.
RetroRide Teardrop Trailers
There are countless reasons to buy a teardrop. They're light. Easy to tow. Simple to maintain. And yet, we can't ignore the guiding reason that draws most people to the genre: they look cool. Many of the budget-friendly teardrop campers are variations on the classic shape, and for some people, this lessens the appeal. For this reason, we wanted to make sure to include a truly classic-looking teardrop on this list, and the RetroRide range delivers in spades.
RetroRides has a fairly comprehensive ranger of teardrop options, from the base model 4×8 to the rather unique 5×10 offering. Yet, they all have one thing in common. They follow the classic design cues that made these trailers so popular to begin with. The sweeping side profile of a RetroRide is immediately recognizable, and the aluminum paneling gives a rugged yet decidedly vintage look. They did a beautiful job with the detailing as well, with judicious use of chrome, vintage-looking lights, and some rather sharp-looking chrome wheels. Sure, it would look great behind your family's Honda CRV, but it wouldn't look out of place behind a '49 Plymouth at the local cruise-in, either.
RetroRides look classic, but the construction is fully modern with excellent rust-proofing, LED lighting throughout, and exceptionally high-quality insulation. Having toured their factory many years ago, it is clear that they put a lot of pride into building a quality product.
Although the $7,400 base trailer is fairly simple, they offer a whole host of upgrades including air conditioning, additional storage, roof racks, and more. If you want the classic look without the inherent compromises of a classic trailer, this is the option for you. You can opt for the larger 5×10′ model if you need more space and your budget allows.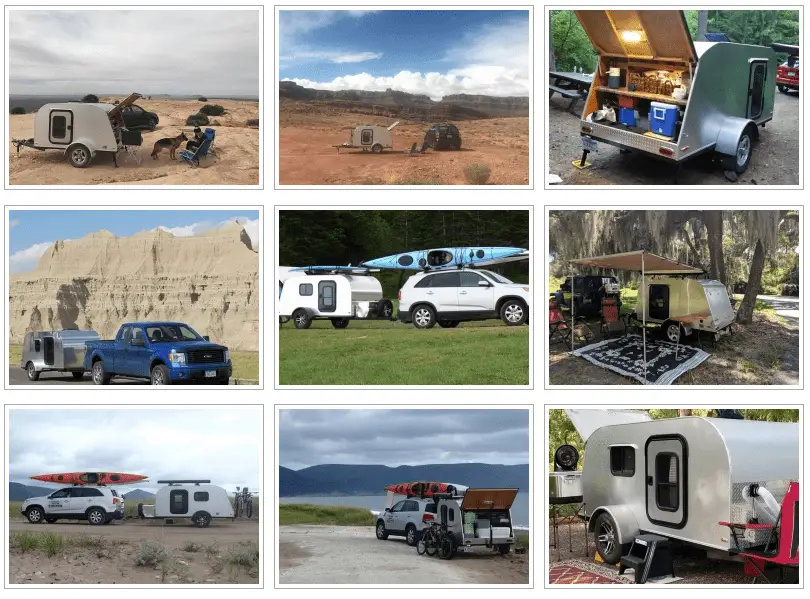 Conclusion
It can be easy to dismiss teardrop trailers as an expensive novelty. I won't pretend that I don't occasionally balk at the idea of spending twenty or even thirty thousand dollars on a tiny metal tent on wheels. At the higher end of the market, the pricing of teardrops can quickly leave you disillusioned. But that doesn't have to be the case.
If you simply want a cheap teardrop trailer, there are numerous high-quality options available at a price the average shopper can afford.
These trailers return teardrops to their original roots as an easy way to enjoy nature without the stress and struggle of a tent. Whether you want a classic option like a RetroRide, a more modern and rugged approach like a Hiker, or a unique stand-up model like the Canned Spam, there is sure to be something out there for you. Camping doesn't have to be expensive. All it has to be is fun.