Finding the best Class A motorhome under 30 feet can be a challenge. We're here today to share the top 7 RVs that will easily fit in a campground and are easier to drive than their 45′ long counterparts.
A brief story and why we wrote this article
I set out on this journey after talking with my uncle Tim, who had recently retired and was considering purchasing a used Newmar Dutch Star 4362 so he and his wife could start their retirement off by traveling to all the destinations they hadn't seen.
On a bright Saturday morning in April (we see them sometimes up North!) we hit up our local RV store and saw that lumbering 45-foot yacht on wheels. "What a monster!" said my uncle Tim.
A monster it was indeed. 45-feet long, this thing was a daunting machine to drive. Needless to say, it was like a house on wheels, but it got me thinking, "are all Class A RVs this large?" and "are there any smaller options that could fit into campgrounds easier?"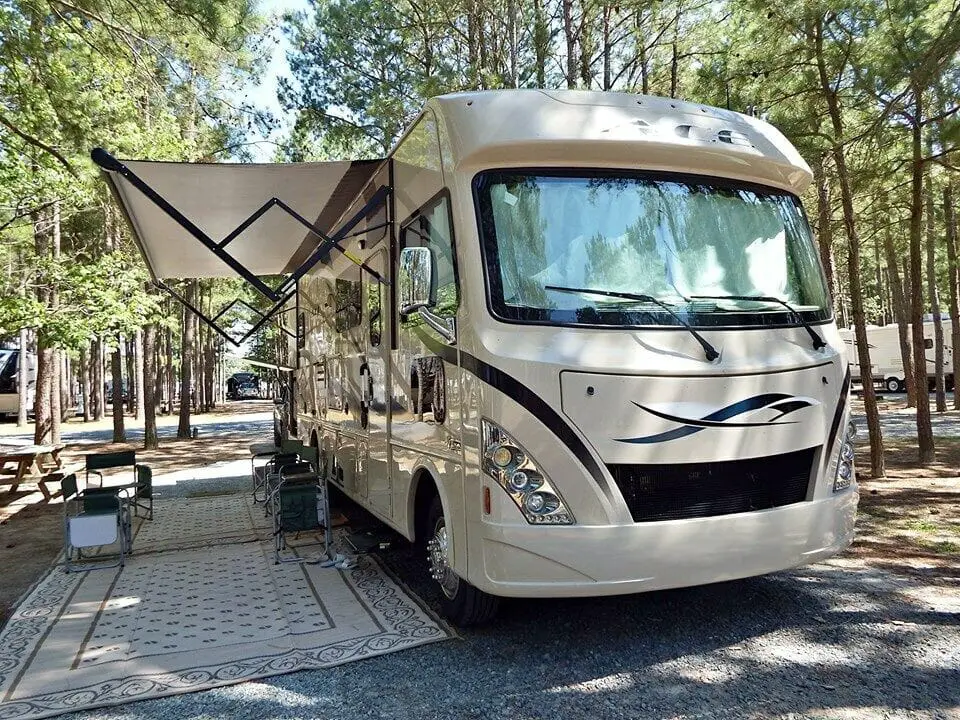 Why Class A?
The layout of a Class A allows for more interior room than other Class B or C coaches. This equates to the unique and spacious floorplans in the RV world. While many people envision Class A's as 45-foot "coaches", not all are so imposing.
There is a growing trend of smaller Class A coaches under 30′ long. These smaller units allow the residential feel of a Class A while maintaining the maneuverability of a small Class C RV.
Let's go over a quick rundown of the different RV classes, and then we'll jump into the top Class A motorhomes under 30 Feet… Or you can click the links to jump ahead:
Class A vs Class B or Class C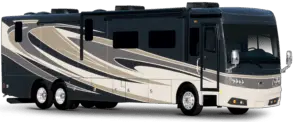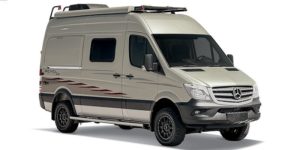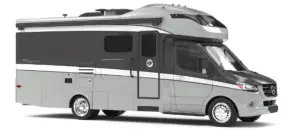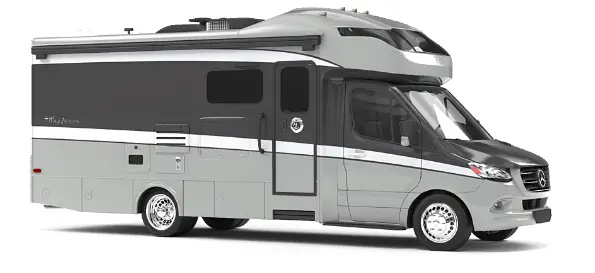 The first question in the mind of a prospective RV shopper is often which style of coach they want. Class A's are the traditional "one box" RV layout. They are generally built on a purpose-built truck chassis and topped with a custom-manufactured body. In contrast, Class B is the smallest class of motorhome. A Class B is based on a van chassis and retains the stock van's body. While these are the most maneuverable, they are also very limited in terms of space. Thus, Class B's are best used for occasional travel by couples.
Breaking with alphabetic convention, Class C's are the midway point between A and B. Class C's retain the front cab of a van, but use a larger body made by the RV company. While Class C's are often more affordably priced than Class A's, they lack the interior space. Thus, for anyone looking to maximize the amount of space in their RV, a Class A is the best choice.
What Makes a Top Class A RV?
Once you have decided on a Class A, there is still a multitude of factors to consider. Here are some of the most important considerations to make before buying your next motorhome.
Of course, one of the chief considerations when RV shopping is the price. Class A's are often the most spacious and luxurious models. However, they also tend to be the most expensive. Smaller Class A's typically start at around $90,000. At the upper end, a luxury coach can easily cost several hundred thousand dollars. Luckily, a well-optioned coach need not be excessively expensive. Many popular and well-equipped models are available from $100,000 to $150,000.
Perhaps the most overlooked aspect when shopping for an RV is the warranty. Warranties are especially important because of the inherent complexity of a motorhome. Unlike a traditional car, a motorhome includes all of the systems of a vehicle and a house. Therefore, it is important to make sure that you are protected should anything malfunction. An RV warranty is typically broken into two aspects: the drivetrain and the "house" warranty. Many manufacturers offer a three year/50,000 mile warranty for any issues from the drivetrain. Beyond this, look for a house warranty of at least three years to cover any appliances or other systems.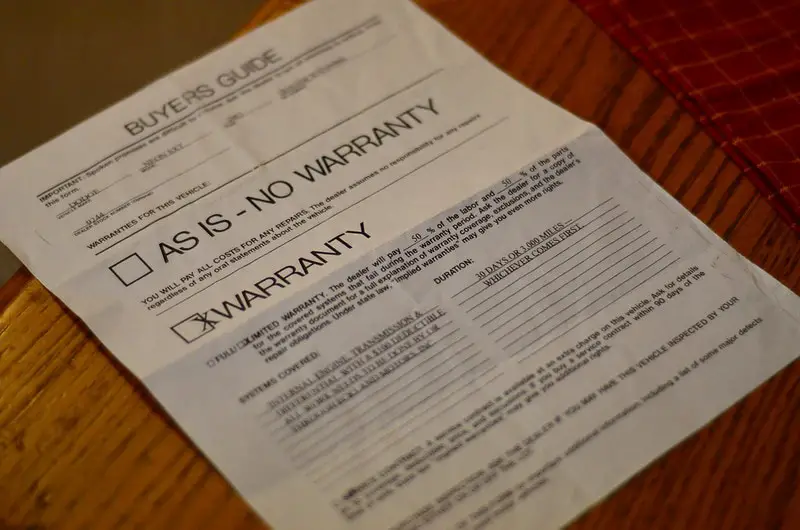 Likely the primary consideration in your mind when shopping for a new RV is the amenities. There are few limits to what can be found in a modern Class A. From fireplaces to Jacuzzi tubs, any number of once-unheard-of luxuries are available. However, when shopping for a smaller Class A, it is important to make priorities. To avoid becoming overwhelmed, it is often helpful to create a list of must-have features. It is up to you whether this pertains to the sleeping capacity or some luxury feature you can't live without. The top Class A RV's will feature solid surface countertops, reclining seating, instant hot water, and many other luxury touches.
Another consideration when searching for the best Class A is the life expectancy of the coach. This is an area where purchasing from a well-known manufacturer has a great benefit. Often, relatively minor issues are the limiting factor in the lifespan of a motorhome. Thus, whether the attention to detail was taken to prevent wire chaffing or water intrusion, for example, can make a huge difference. Luckily, the quality of RV's has never been better. As the years have progressed, even budget-minded models have achieved excellent quality standards. Years ago, the average life expectancy of a motorhome was under ten years. However, with proper care, a modern unit can last decades.
While many Class A's look great, not all are created equally. The materials and build quality are what separate the best models from the just good-enough. Unfortunately, ascertaining build quality can be difficult through photos. Thus, it is a good idea to spend time reading reviews of each of the models you are considering. Once you've narrowed down your list to a manageable number, it's time to start looking at units in person. An RV show is a fantastic way to experience the quality of many brands in one convenient place. I am an advocate for the "knock test." Once you're in a motorhome, don't be afraid to knock on the walls or see how much flex there is in the cabinet doors. Inspect the wiring and plumbing. Overall, simply take the time to see how well built a unit is. The best models have nothing to hide.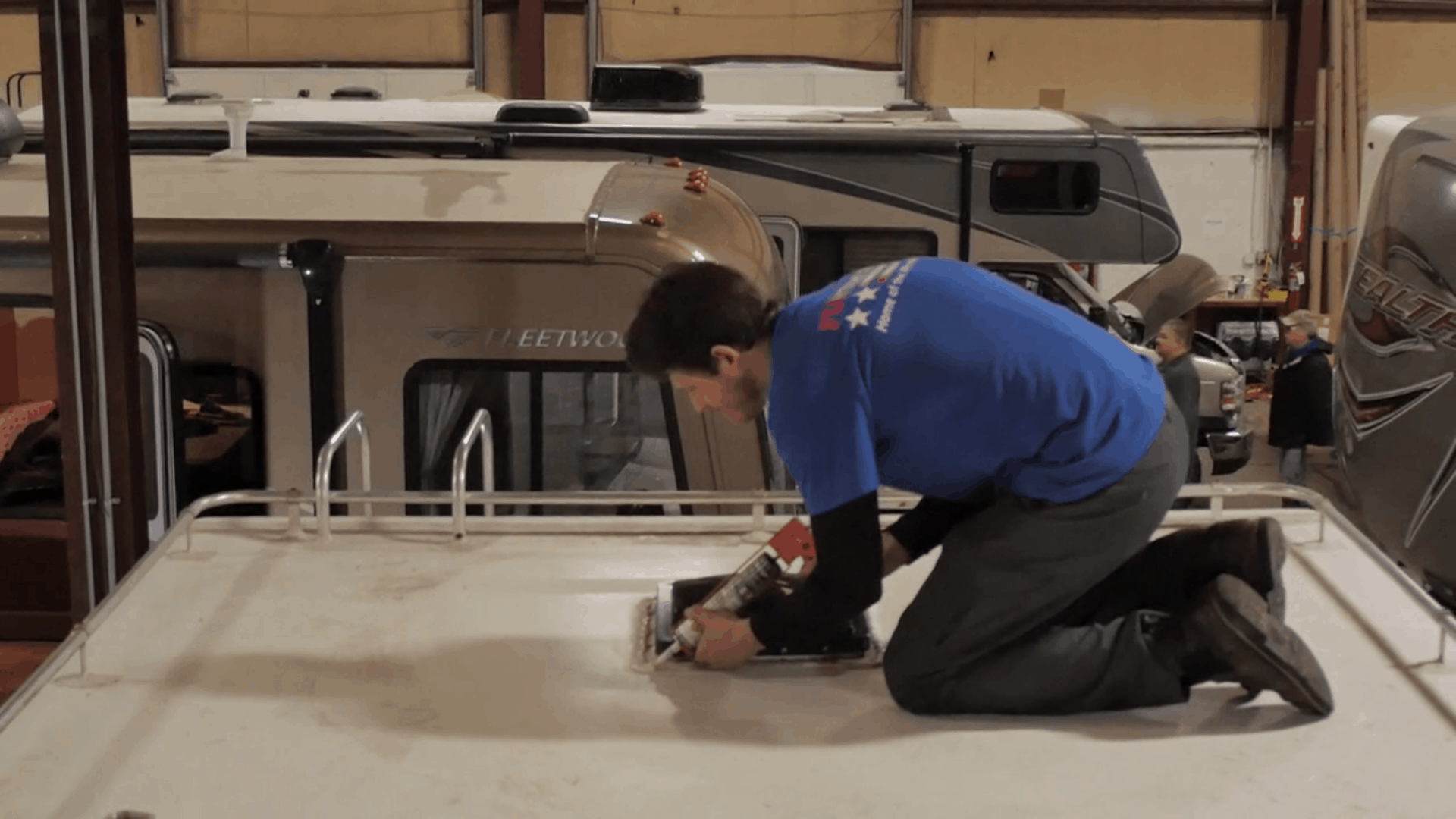 Customer service is rarely considered by aspiring Class A owners. However, the importance of purchasing a unit with good customer service cannot be overstated. Given the inherent complexity of motorhomes, small issues will inevitably arise. It is important to know that when this occurs, you will be able to find a quick and easy solution. Forums are often the place that owners go to voice their frustrations. Thus, spend some time browsing RV forums to get a sense of the ownership experience for a given model.
Further, it is important to check the size of the dealer and service network. The best warranty in the world does little good if there are only two service centers in the entire country. Thus, before making a final selection, take the time to see how easy it will be to have your unit repaired should the need ever arise.
Which Manufacturer Makes the Best Class A Motorhome Under 30 Feet?
Having discussed the key points of RV shopping, let's take a look at some of the hottest class a RV models under 30 feet long.
1. Coachmen Pursuit Precision 27DS Motorhome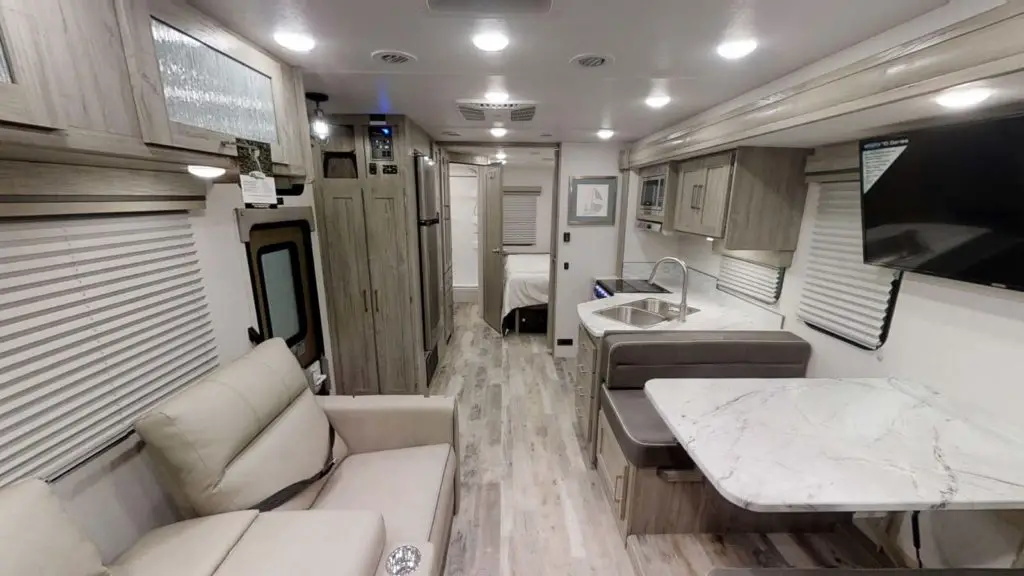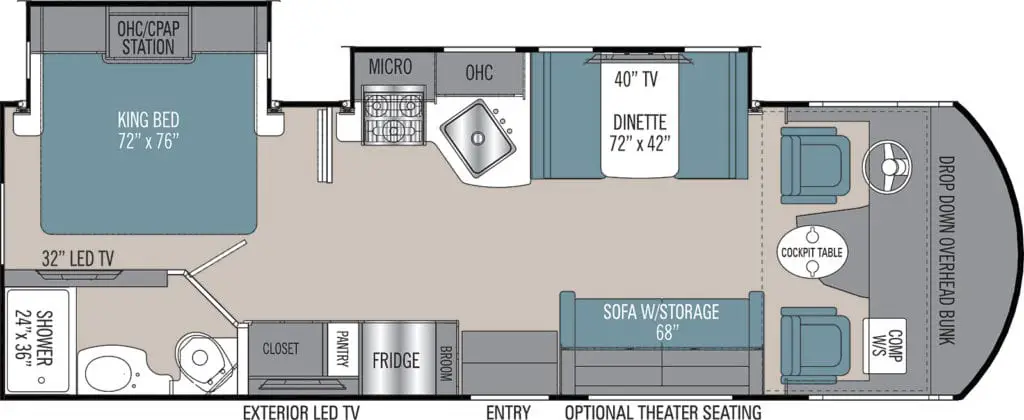 It is rare to find a Class A as compact as the 27-foot Coachmen Pursuit. However, its small size does not translate to limited features. The 27DS has more functional space than many 35-foot coaches. This space efficiency is due in large part to the dual-slides that expand the living and bedroom. The bed, a king-size, uses a unique folding mechanism to slide-in while traveling. Coachmen has a reputation for quality products, and this appears to be no exception. Perhaps the best feature of this model is its price. With its small size and gasoline powertrain, the 27DS can be had for as little as $84,000.
2. Fleetwood RV Flair 28A Coach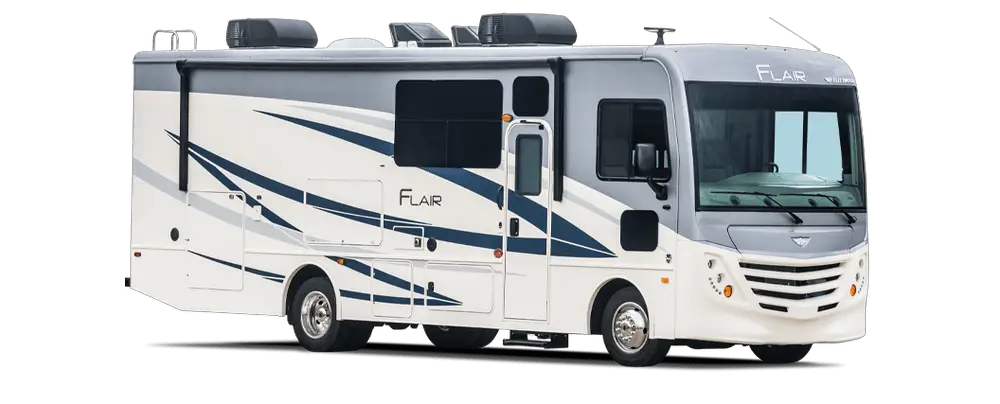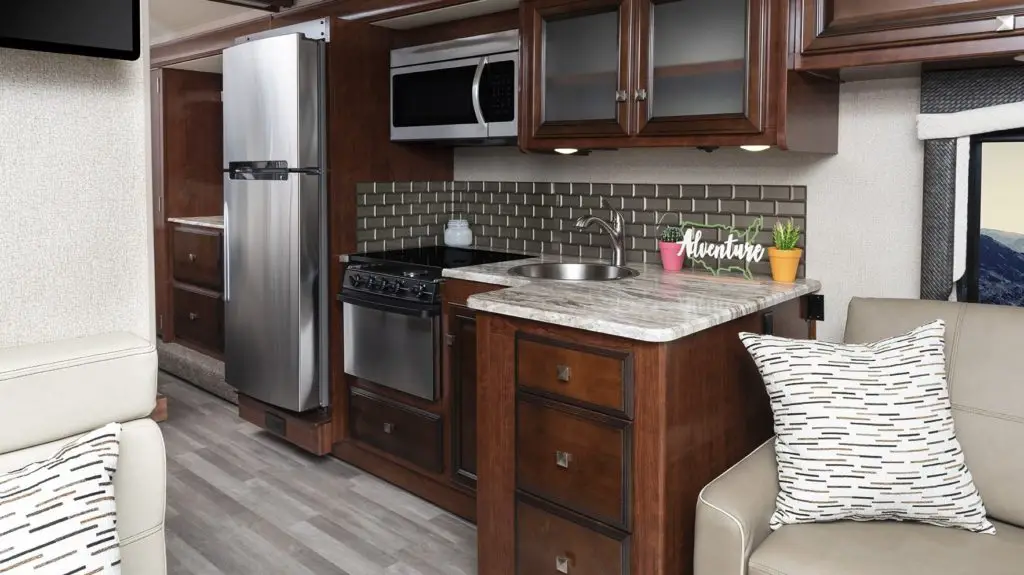 The Flair 28A utilizes a similar floorplan to the Coachmen mentioned above. Thus, it has a folding side-mounted king bed and a rear-corner bath. The rest of the coach features the high-quality fit and finish you would expect from Fleetwood. One thing that sets the 28A apart from the competition is the inclusion of an above-cab bunk. This allows the 28A to have the spacious feel of a Class A, but the sleeping versatility of a Class C. It's a unique design and a winner by any account.
3. Newmar Bay Star 2903 RV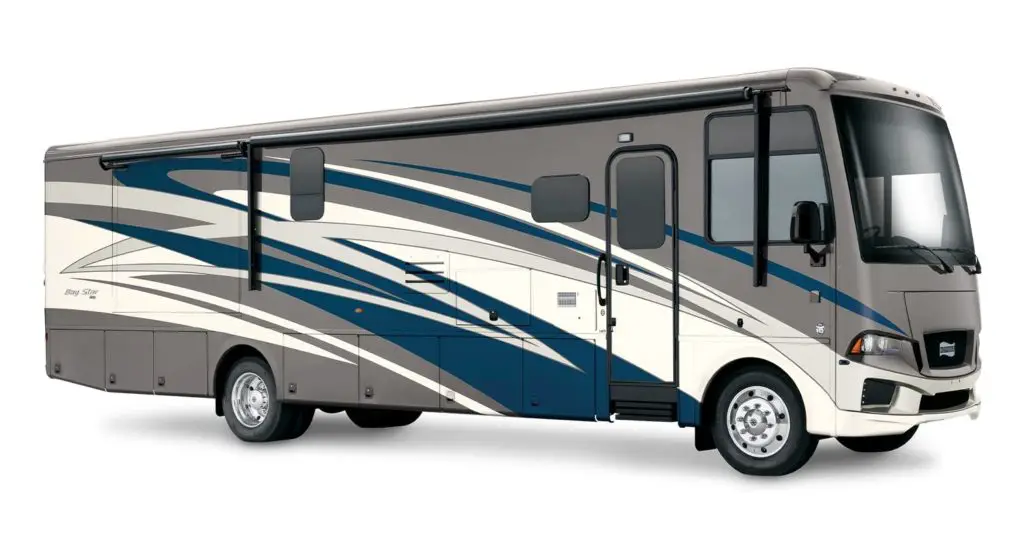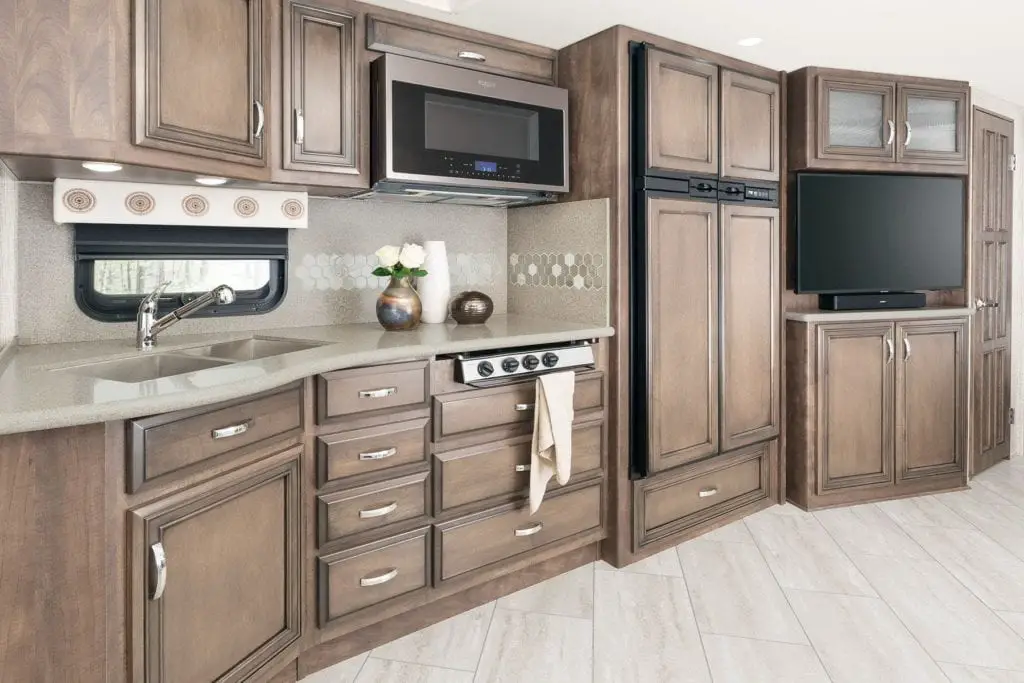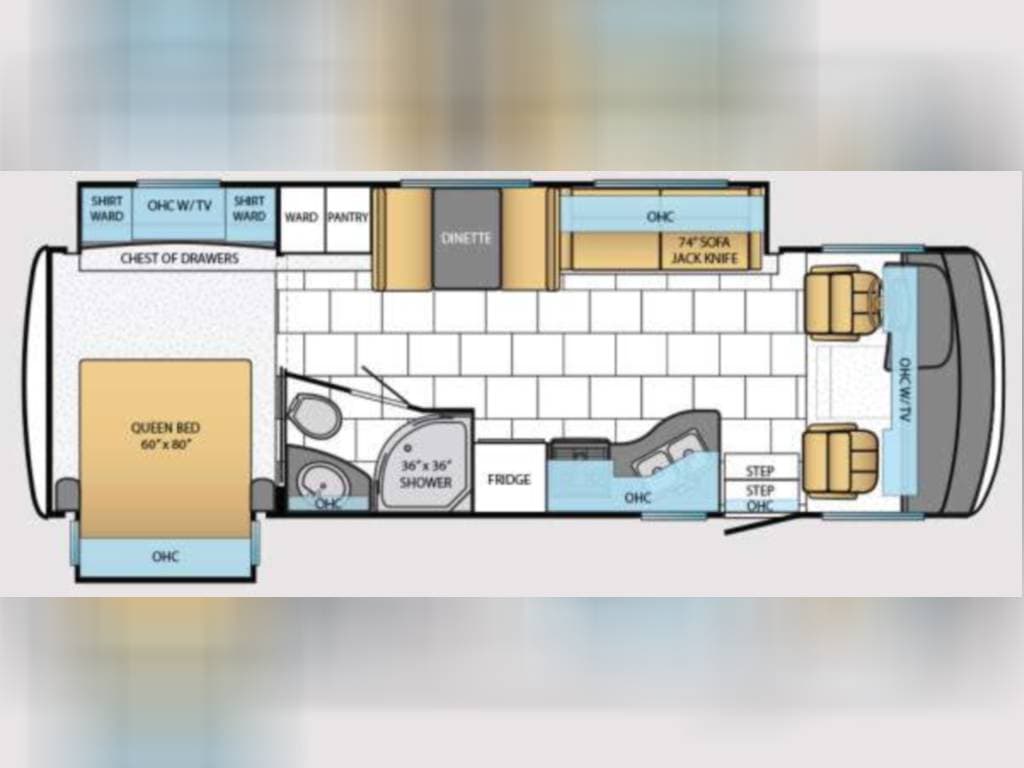 Newmar is best known for its high-end luxury 5th wheels and diesel coaches. (we talk more about this in our Travel Trailer and RV Dimensions guide). However, they have recently forayed into the world of small Class A's. The floorplan of the 2903 uses a more traditional approach. The bed, a queen, is centered in the rear of the coach. The bath is a hallway-style arrangement. When touring a Bay Star, Newmar's experience building luxury coaches is apparent. All of the woodwork and finishes are class-leading. However, the floorplan feels somewhat cramped compared to other options. Further, many of the interior color-schemes are fairly dark. Thus, the 2903 is a quality coach, but the interior may not be for everyone.
4. Jayco Precept 29V Motorhome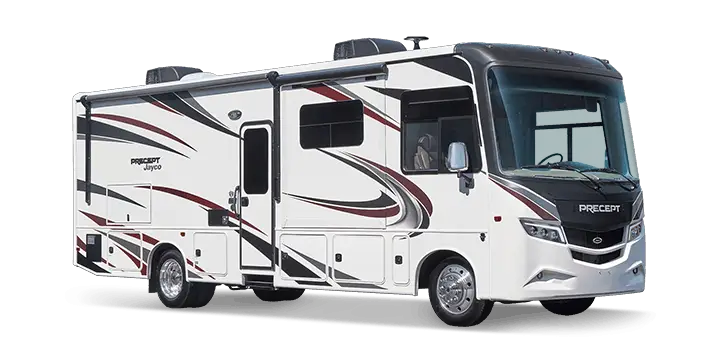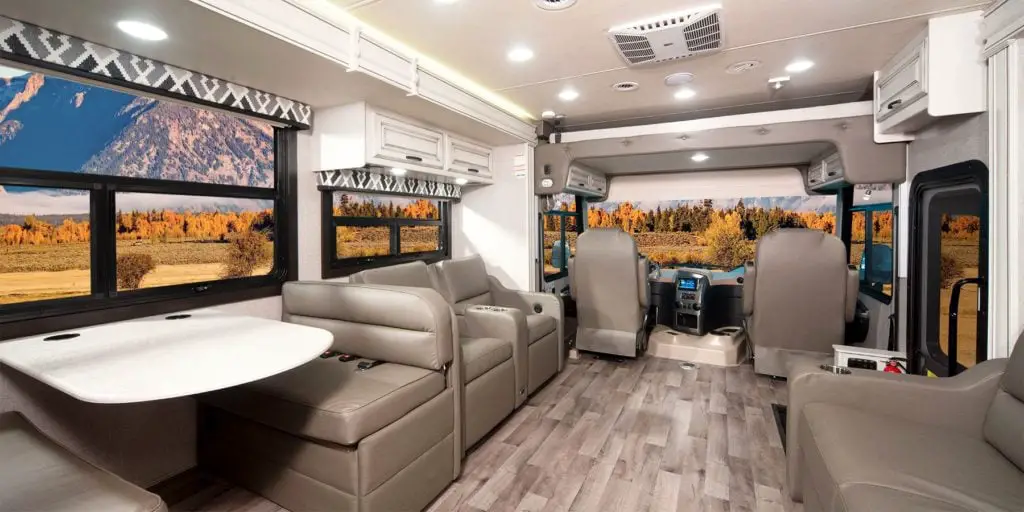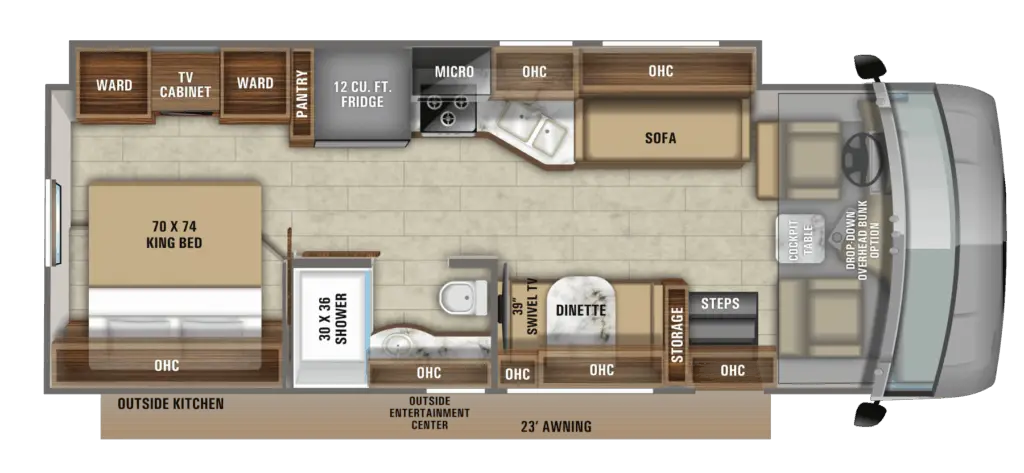 Most small Class A's use multiple slideouts to create additional space. However, the 29V takes a unique approach. This coach has a single slideout, but it occupies the entire length of the unit. Thus, in terms of sheer interior volume, there are few more spacious coaches of this size. Beyond the novel slide, the interior of the 29V is very efficient. It features a king bed, sizeable bathroom with tub, and a dropdown front-bed. All told, this model can sleep up to eight if necessary. Overall, this is a fantastic and high-quality coach. However, there are a few drawbacks. First, the kitchen is lacking in cabinet space. Further, the steps into the unit severely cut into the floor space of the front living area. But if you are willing to look past these small annoyances, and to pay the $150,000 entry price, this is a fantastic option.
5. Winnebago Sunstar 29VE Coach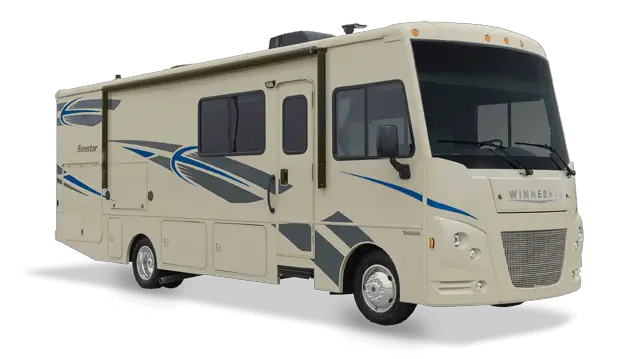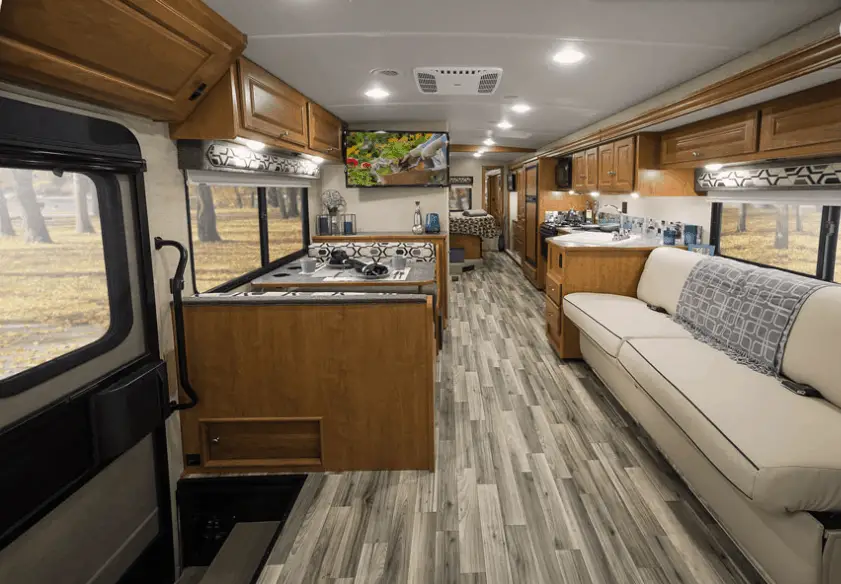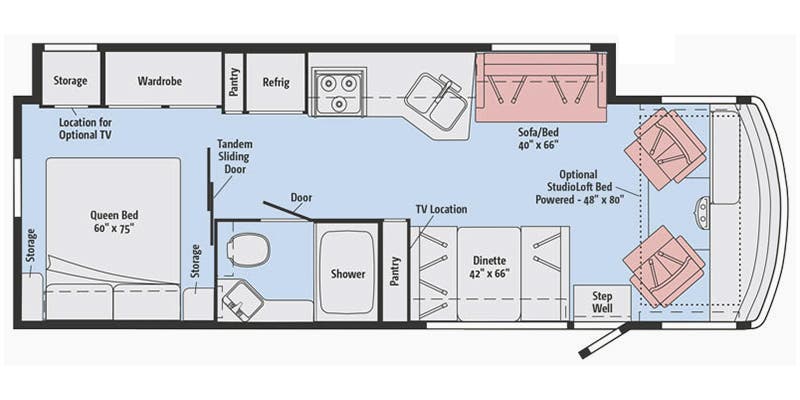 The Sunstar 29VE is another model that features a full-side slideout. Despite this similarity, the 29VE uses its space somewhat differently than the Jayco above. For one, the Sunstar has a queen bed. While this may be a drawback for some, I find that it makes the interior feel much larger. Another advantage of the 29VE is the amount of storage. Storage is often a weak point for smaller coaches, but not in this case. Inside and out it was clear that a great emphasis was put on giving owners plenty of space. For this reason, this is likely the best option for a full-time unit.
6. Tiffin Allegro Breeze 28BR RV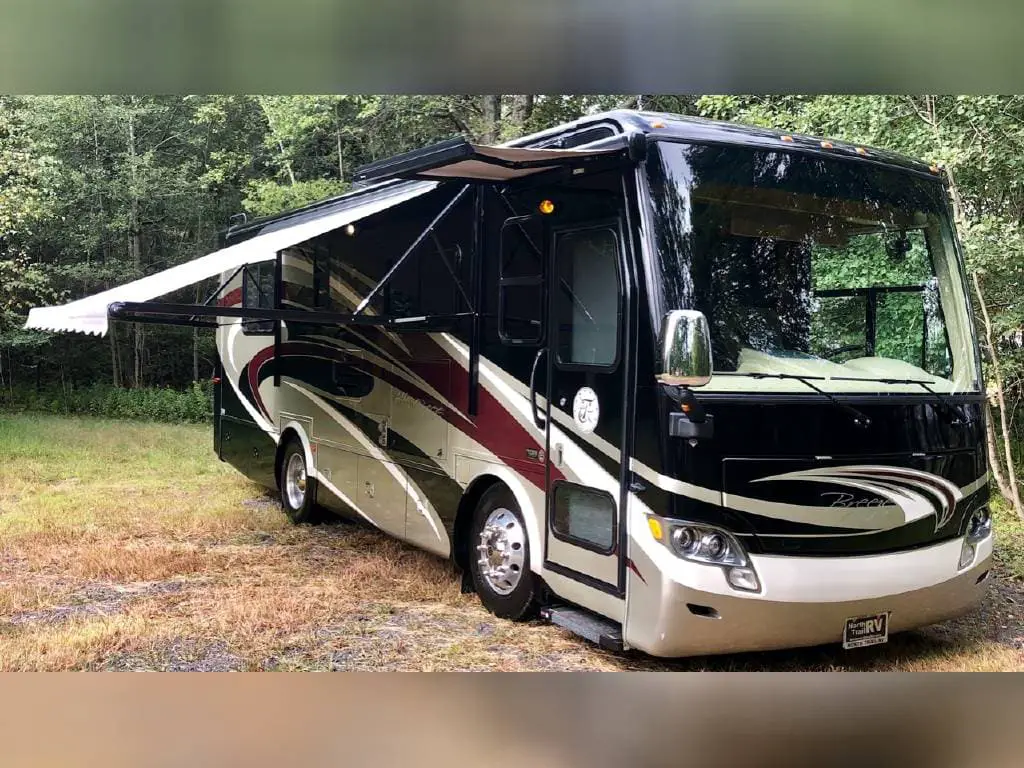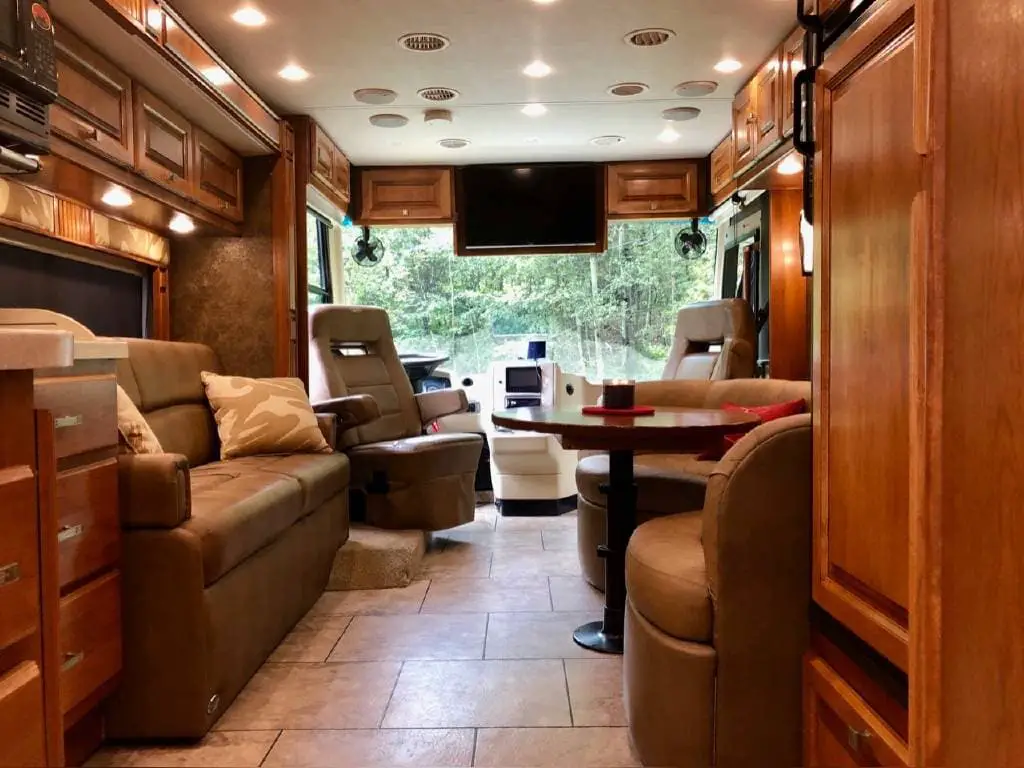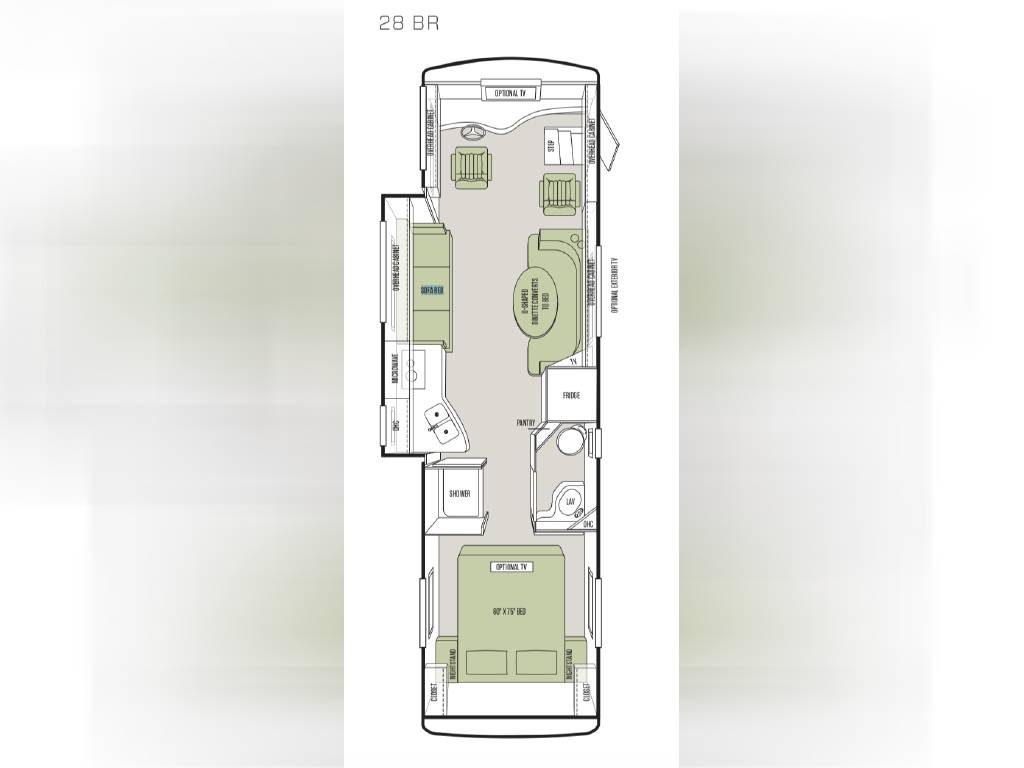 Tiffin is one of the best RV brands we've run across and the Breeze 28BR is no exception. It's a small coach with a big-rig personality.
The layout and design of this model mimic the patterns of much larger units. One of the primary reasons for this is the front-entrance, a feature much more common on diesel pushers. Further, the expansive U-shaped dinette would feel at home in any 40-foot coach. However, there is no denying the small size of the 28BR. The bedroom has no slide and feels fairly cramped as a result. The bathroom is only partially enclosed, which leaves the shower awkwardly in the open. The kitchen, while nicely appointed, has almost no counter space. The 28BR is a good example of a great idea that falls short in the execution.
7. Thor A.C.E. and Windsport Motor Home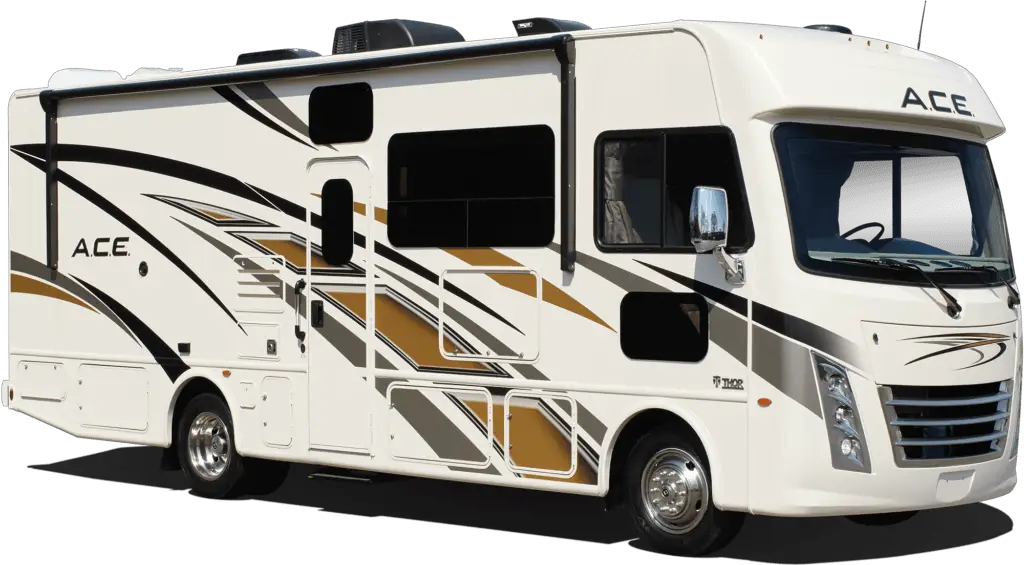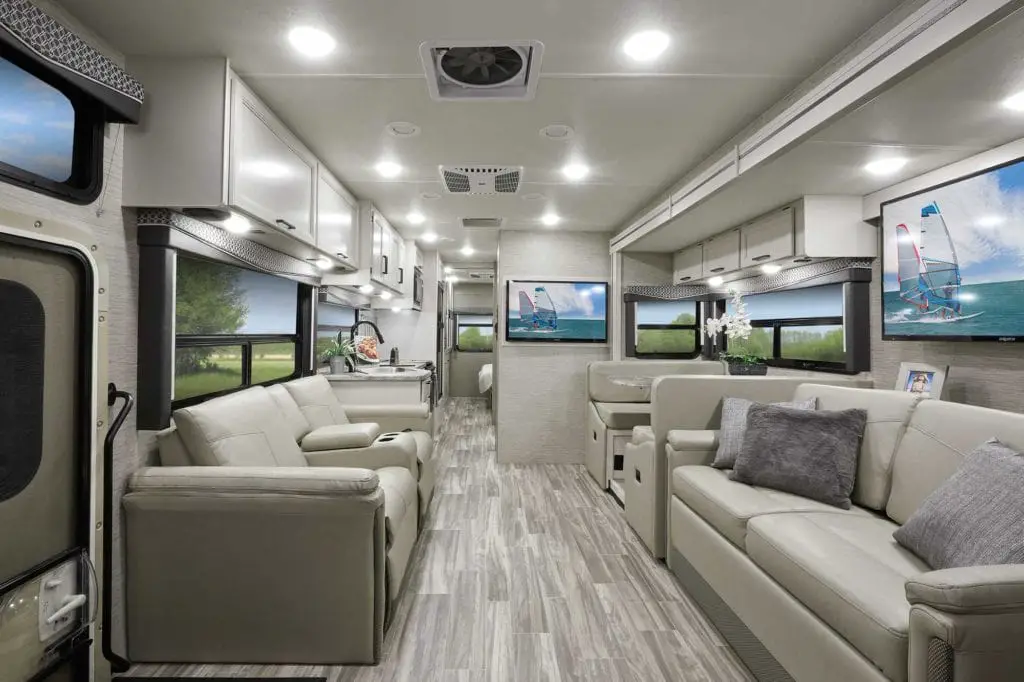 The A.C.E. and Windsport are similar coaches, differing primarily in front-end design and interior finishes. Anyone looking for a sportier unit should consider the A.C.E., while more traditional customers may prefer the Windsport. In either case, the sub-30-foot floorplans of both are efficient and spacious. Both include a drop-down front bed, which is a smart way to increase the utility of a small coach. The primary complaint within the smaller floorplans involves traveling, not setup. When the slide was in, these units became rather cramped and difficult to navigate. This is only an issue if you have guests on the road, but it is worth considering. However, the quality of Thor is on full display in both models.
Questions Before Buying a Class A Motorhome
How much do they cost?
The initial purchase price of a Class A can range anywhere from $90,000 to several hundred thousand. It simply depends on the size, brand, features, and whether it is diesel or gasoline-powered.
Price of ownership, taxes, insurance, fuel, etc.
Beyond the initial purchase price, you must account for the overall cost of owning a motorhome. Beyond monthly payments, you must also consider insurance, taxes, and fuel prices. Luckily, the insurance for an RV is often surprisingly affordable. Because they tend to be used less frequently, insuring a $100,000+ RV may be cheaper than insuring a $20,000 car. Taxes will, of course, depend on your location and situation. However, keep all of these numbers in mind to develop an accurate "total cost of ownership."
Diesel or Gas?
An important choice to make when shopping for a Class A is whether you purchase a gasoline or diesel-powered model. Many people will claim that diesel is simply better. However, the truth is more nuanced. In terms of durability, drivability, and fuel economy, diesel coaches indeed have an advantage. However, this is not a complete picture. While diesel vehicles tend to be more efficient, the fuel is also more expensive. Thus, a diesel coach achieving 12MPG may cost the same per mile as a gasoline one getting 8.
Beyond fuel costs, the maintenance and initial price of a diesel coach is likely to be much higher. Thus, unless you put a significant number of miles on the vehicle, choosing a diesel may be a false economy. Put simply, do not rule out a coach simply for being gasoline-powered.
How Often Will You Use The RV?
When shopping for a Class A, ask yourself how often you will use it. This may seem like an obvious question, but it has important ramifications. If you only intend to use your Class A a few times a year, it is likely advisable to choose a less expensive model. Further, for a less-used coach, quality may not be as crucial. However, if you plan to be a frequent traveler or full-timer, the decision is altered. For a heavily used coach, you can justify spending a greater amount. Further, a heavily used coach must withstand the rigors of abuse inherent in motorhome life.
Should You Buy New or Used?
There is often a perception that newer coaches are automatically higher quality. This is not necessarily true. Many RV's are used very gently and have very low mileage. Therefore, it is worthwhile to consider a used coach when looking for your next RV. That said, make sure you consider the true cost of each option. When buying a new unit, there are often substantial dealer incentives and financing offers. These are typically more limited for a used model. As such, the cost difference between new and used examples may be smaller than expected.
Should You Buy or Rent a Class A Motorhome?
Many aspiring campers instinctively gravitate towards purchasing a unit of their own. However, it is worth considering renting. If you only use your RV a few times a year, renting is often a much cheaper option. With renting, there are no monthly payments, no repairs, and no maintenance. Even if you eventually purchase a unit, renting can be a fantastic way to try models or to decide if RV ownership is right for you.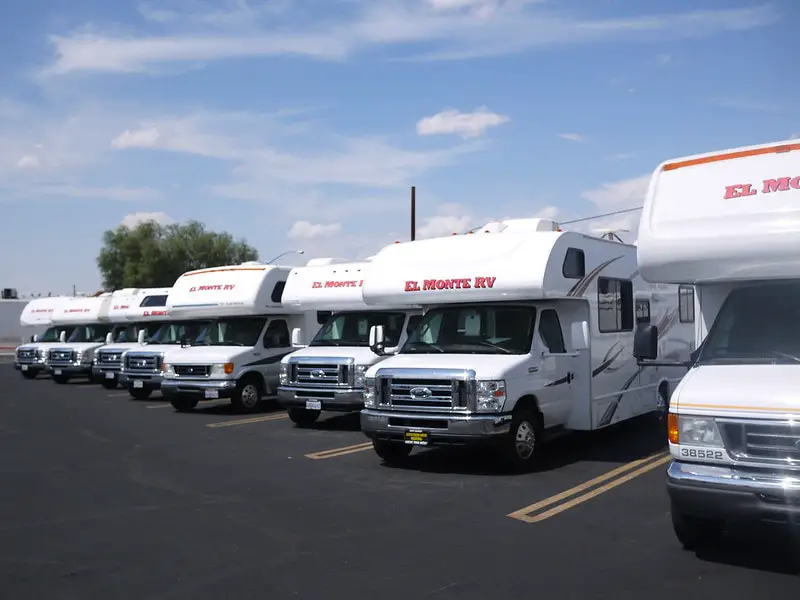 Will it Be for Full-Time Living or Weekend Travel?
The needs for a full-time RV are very different from an occasional-use model. For a unit to be full-time capable, the quality must be extremely high. Quite frankly, most RV's are not designed for the stress of full-time living. Thus, if you intend to make your Class A your only home, find the highest quality model you can. In contrast, if your unit will be only for occasional use, it is okay to prioritize features over function.
What Climate Do You Live In?
Climate is another key point to consider when looking for the best Class A. Not all models are designed for year-round use. If you plan to camp in a particularly harsh environment, look for models that are "four-season capable." These units have more robust HVAC systems, greater insulation, and insulated or heated tanks to prevent freezing.
What amenities do you need or want in the Class A RV
Slideouts
Slideouts were once considered a luxury, but are now standard equipment on most Class A's. While the added space is unquestionably nice, slideouts are mechanically complex. Thus, don't immediately discount a unit simply because it has fewer slides.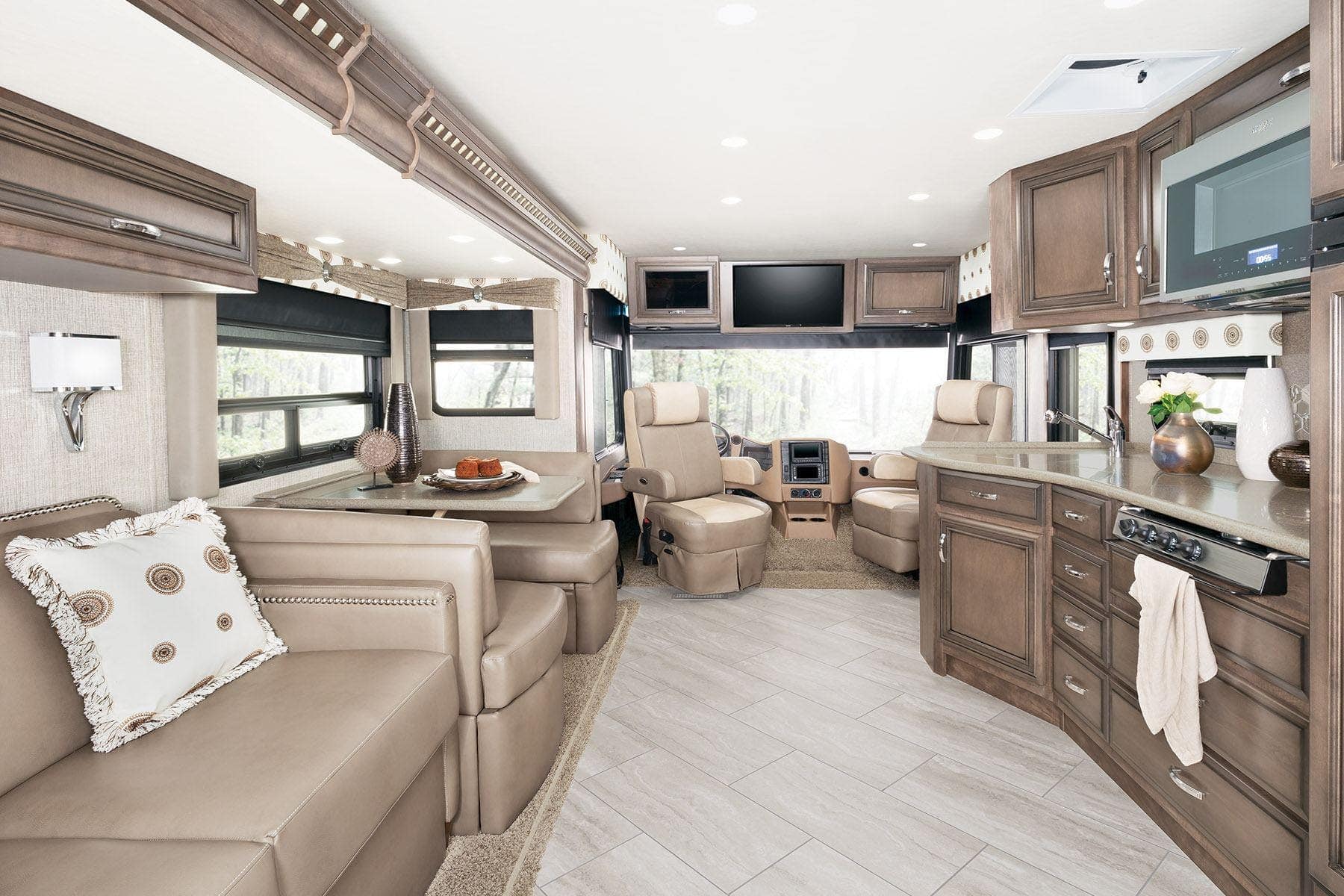 King Bed
While king beds are more difficult to find in smaller Class A's, it is not impossible. However, keep in mind that a larger bed can often make a space feel cramped. Thus, make sure to balance the pluses with the downsides.
Washer/Dryer
A washer and dryer is a feature that many people consider a must-have. However, I always caution potential shoppers. First, you must consider how long you plan to travel. If you will rarely be gone for more than a week, it is unlikely that you will need a washer at all. Further, almost all campgrounds have laundromat facilities. While an onboard washer is a nice feature, it is often not worth the space it consumes.
Conclusion
You no longer need to buy a 40-foot behemoth to enjoy the spaciousness of a Class A. There are countless sub-30-foot models on the market, each with their distinct advantages. The only way to find the best class a motorhome under 30 feet is simply to get out there and see them all!