There is no question that travel trailers are getting more advanced. Features that were unimaginable a decade ago are commonplace today. Countless luxuries can include fireplaces, washer/dryers, and even outdoor kitchens. There is, unfortunately, an unavoidable penalty to these additions: weight.
It used to be easy finding travel trailers under 7000 lbs, but every year the weights of units are slowly increasing.
A 7,000-pound limit is an ideal weight limitation for most campers. While a trailer at this weight will still pack all the features and luxury you demand, it will remain towable by the family SUV (though you may want some heavy duty shocks). Beyond this point, trailers often require costly and impractical heavy-duty trucks to safely tow. With this in mind, let's look at how to choose the best travel trailers under 7000 lbs.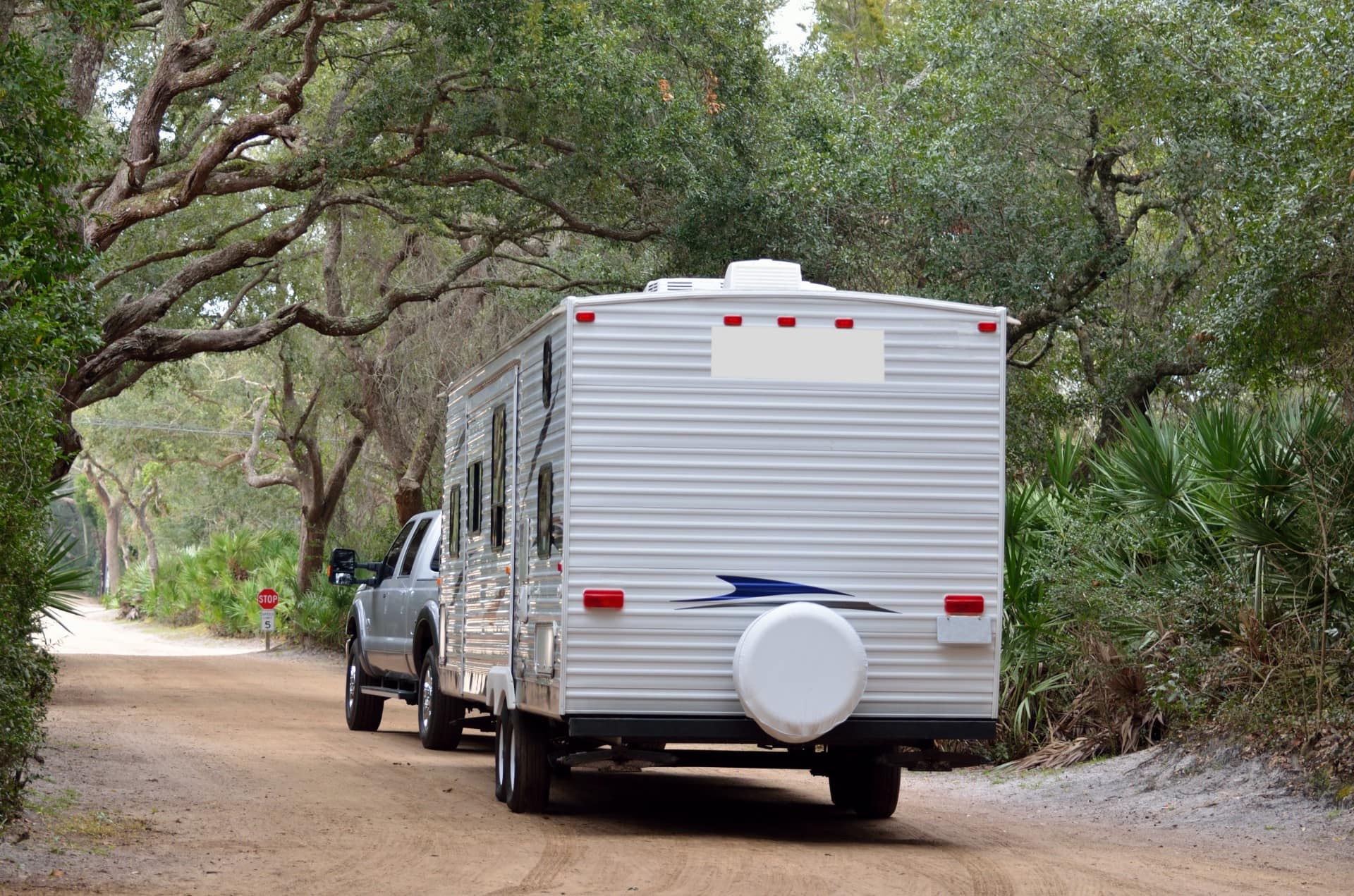 What Makes a Good Travel Trailer?
It is almost impossible to measure the variety of options available in the travel trailer market. A seemingly endless variety of sizes, shapes, layouts, and schemes are at a buyer's beck and call. Ultimately, the best travel trailer will be the one that fits your lifestyle. However, here are some key factors to consider when embarking on a journey for your next camper.
Price may not be the most pleasant topic, but it is arguably the most important consideration. Amid a dealer lot, it can be easy to become disillusioned regarding the amount of money you can reasonably spend. Thus, it is important to remember that the purpose of an RV is to reduce stress and have fun. If a camper stresses your budget, the enjoyment of owning it can be negated. Because of this, I often advise shoppers to buy the most affordable camper that fits their needs. This is doubly true for first-time RV shoppers. Often, the benefit of an additional feature is mitigated by its associated financial impact.
Another factor closely tied to relaxation is the warranty of the camper. Even the simplest travel trailer still features dozens of complex systems that can fail. Of course, optimally you will never have to use a warranty. But having coverage can provide immeasurable peace of mind.
Typically, a travel trailer warranty is divided into two categories. There will generally be a "bumper to bumper" warranty that covers all systems against failure. The best manufacturers typically offer a full-coverage warranty of between two and three years. The other warranty type is the chassis and corrosion warranty. This is designed to protect against any defects in the frame or premature rust. For the best results, look for a corrosion warranty for at least five years.
Unlike warranties, amenities are largely a subjective matter. Different buyers have distinctly different approaches to this aspect. Many buyers enjoy camping for its "return to nature" appeal. Thus, for these shoppers, the endless luxuries of modern trailers hold little appeal. In contrast, some prospective RV owners demand all the luxuries of a modern mansion. Neither approach is incorrect.
However, it can be very easy to become distracted by the deluge of options available. To prevent becoming overwhelmed, I often advise shoppers to compose a list of their desired options. Further, divide the list into "wants" vs "must-haves." This will allow you to stay focused on your goals once the decision is upon you.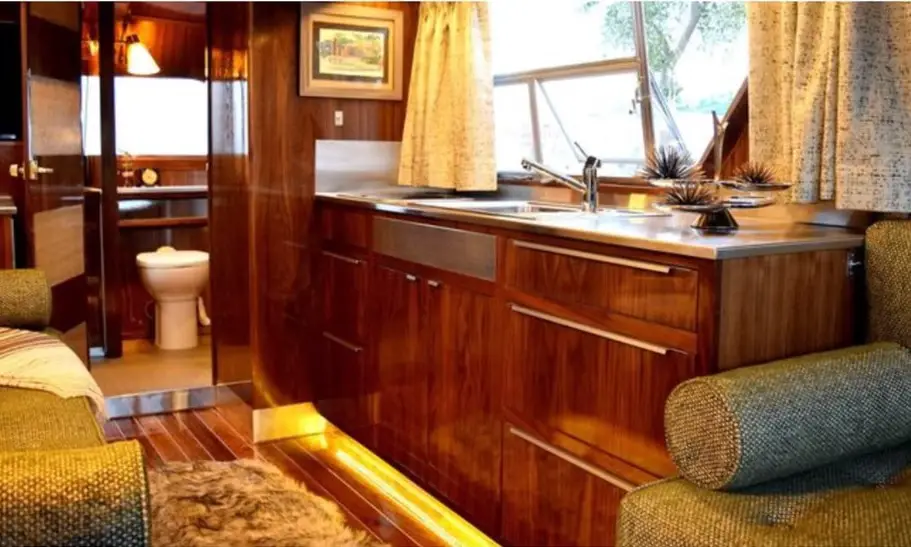 The build quality of travel trailers has excelled in recent years. For decades, travel trailers were hallmarked by being rickety "stick and tin" construction. Fortunately, this is no longer the case. Modern trailers are posed to last significantly longer than their questionable ancestors. Of course, construction methods still vary between brands. A wooden framed trailer can be expected to have a 15 to 25-year serviceable life, assuming proper maintenance. However, many trailers are moving to aluminum construction. A fully metal trailer is likely to withstand more abuse and last almost indefinitely.
The frame of a trailer is not the only aspect that has improved. As material science has progressed, these benefits have been transferred to the RV industry. This allows modern trailers to be more durable, look better, and weigh less. These advantages can be seen most clearly in the interiors of new travel trailers. Countertops of older trailers were typically cheaply made laminate. Now, new manufacturers are opting for thin solid surface counters. Further, cabinets are now commonly laser-cut honeycomb structures. Technology for making plastic tiles has enabled upscale backsplashes and luxurious bathrooms. In short, even a light trailer can feel like a palace.
Despite the advances in material, it is still important to assess the quality of each trailer you see. When shopping for a trailer, do not be afraid to do some extra poking around to see how it was built. Looking at the back of a cabinet door or the wiring behind a panel can reveal a lot about how a trailer was made.
Shoppers often neglect to consider customer support when shopping for a new trailer. Many upstart makers may appear to offer a lower-priced product, but the savings are not always worth the risk. Over the past hundred years, there have been thousands of RV manufacturers. Most of them have come and gone. However, there are a few names that seem to persist indefinitely. Customer service and support provided by these established makers can be an unparalleled asset.
Do not be afraid to ask questions. How long will a manufacturer continue to make parts for a given model? How many authorized service centers are there in the country? What is the average weight time for warranty repair? Doing some homework upfront can go a long way towards making sure your asset is supported.
13 of the Best Travel Trailers Under 7000 lbs
Looking for travel trailers under 7000 lbs can be a daunting task. Luckily you've stumbled across our guide, and we've narrowed the list from hundreds, down to the top 13 lightweight travel trailers. Here's our picks:
1. Livin Lite Camplite – Our Favorite Livin Lite Camplites are a unique offering in the lightweight trailer category. They offer full-aluminum construction, which is a rarity among small budget-oriented models. While aluminum is certainly not the cheapest method of constructing a trailer, it reduces weight and corrosion. Thus, it is always impressive to see a manufacturer putting forth the effort to use aluminum.
Another great aspect of Livin Lite is that they offer some of the most compact units around. While most makers do not have a model below 17-feet, Camplites are available in sizes as small as eleven feet. This may seem like an odd aspect to complement. However, extremely small campers were once commonplace. Yet, it is now surprisingly difficult to find a truly compact modern camper. Many buyers prefer a minimalistic approach to camping, so it is nice to see Livin Lite fill a much-needed niche.
They make a multitude of diverse floorplans, but my personal favorite is the 11FK. This design is a marvel of simplicity. It combines a dinette/bed combo, a small kitchen, and a wet bath. Thus, it has everything you need without any fluff to distract you from the true goal of camping. Further, it is an extremely affordable model, with used examples available for as little as $12,000.
2. Airstream Sport – Runner Up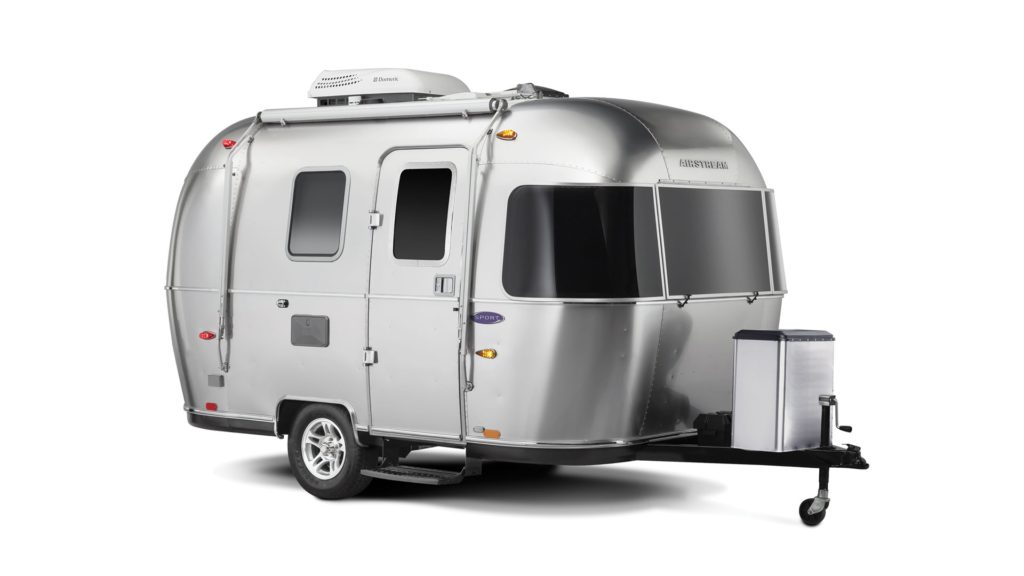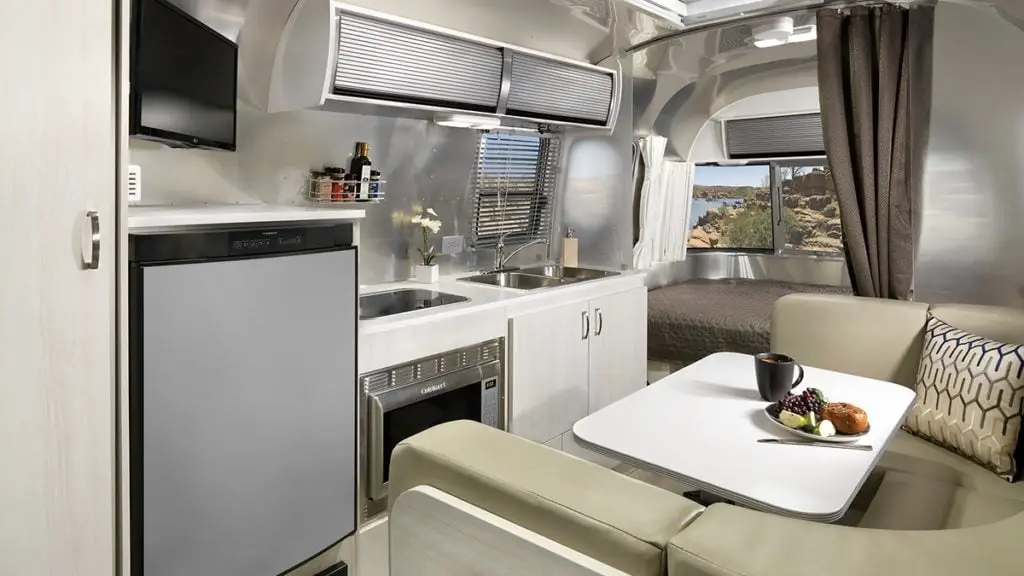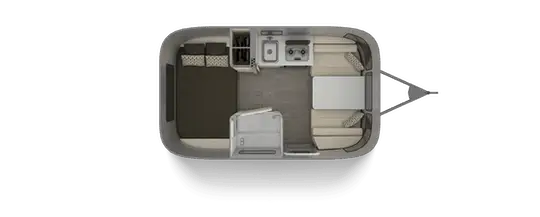 Airstream is arguably the most famous brand in the RV world, having made trailers for almost a century. Their aluminum cladding and craftsmanship makes them some of the most luxurious small campers on the market.
The Sport is not the smallest trailer that Airstream makes. The Basecamp, Nest, and Bambi are all smaller.
However, the Sport does the best job of capturing the romanticism of a classic Airstream. With its sleek single-axle design, the Sport could easily pass for a 1950's model at first glance.
Read more about the Airstream Sport and Single Vs Dual Axle trailers.
The interior is simplistic but extremely cozy. The layout is a very traditional front-bed and side dinette arrangement, with a rear dry bath. Given the size of this trailer, I would have preferred for the front bed to be convertible into a sofa or dinette, rather than a permanent fixture. However, many people prefer a fixed bed. Regardless of your preference, there is no denying that the Airstream Sport is a wonderful place to spend time.
However, the luxury comes at a price.
While you will be hardpressed to find a better camper, the starting price of around $55,000 causes many buyers to shy away. Further, Airstreams hold their value extremely well. Thus, used models are not much cheaper.
3. Lance 2295 – Most Luxurious Lightweight Travel Trailer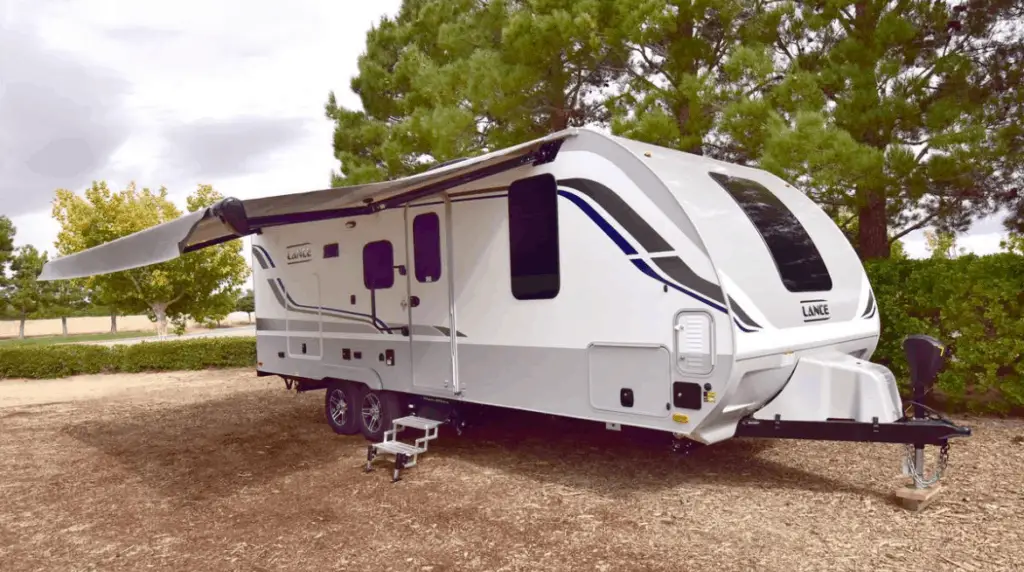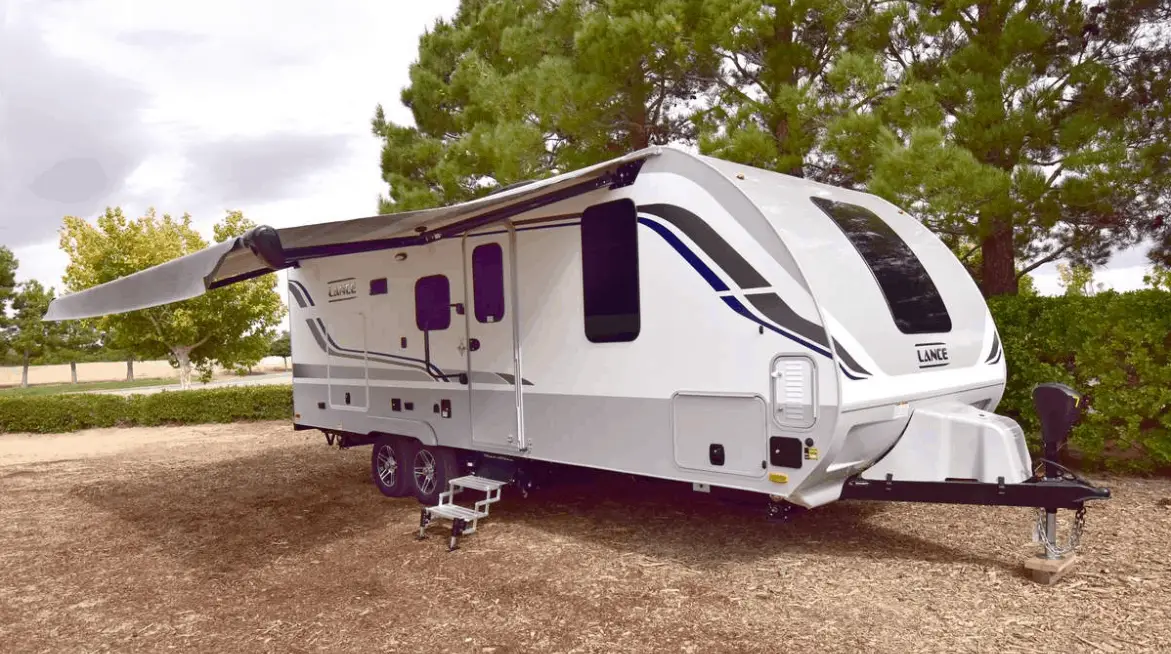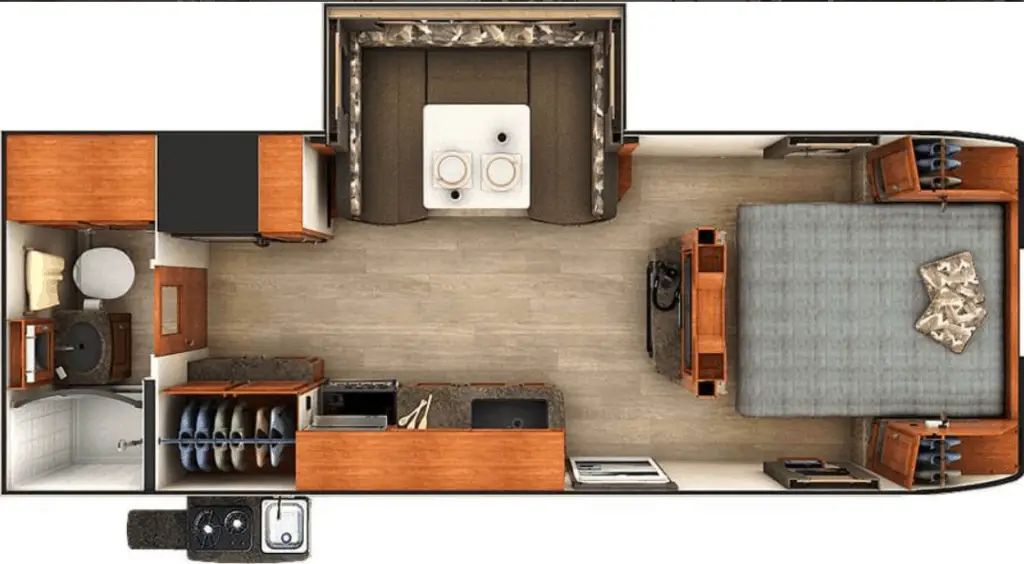 Many travel trailers are relentlessly focused on families. With the 2295, Lance decided to fulfill a different niche. The 2295 is engineered as a European style compact luxury camper for couples. The cabinetry and overall interior finishing are among the best in the industry, and the designs are strikingly modern.
Lance was confident in their efforts, as the 2295 is only available in one floorplan. Luckily, they made it a good one. It is a fairly classic arrangement, with a front bedroom, side dinette, and rear bath. Yet, the space feels efficient and upscale. I would normally criticize dark wood tones. However, in this instance, it lends an almost yacht-like appeal.
This is not a camper for everyone. However, for those without children, this is a fantastic option to consider.
4. Rockwood Geo Pro 19TH – Lightweight Toy Hauler under 7,000 lbs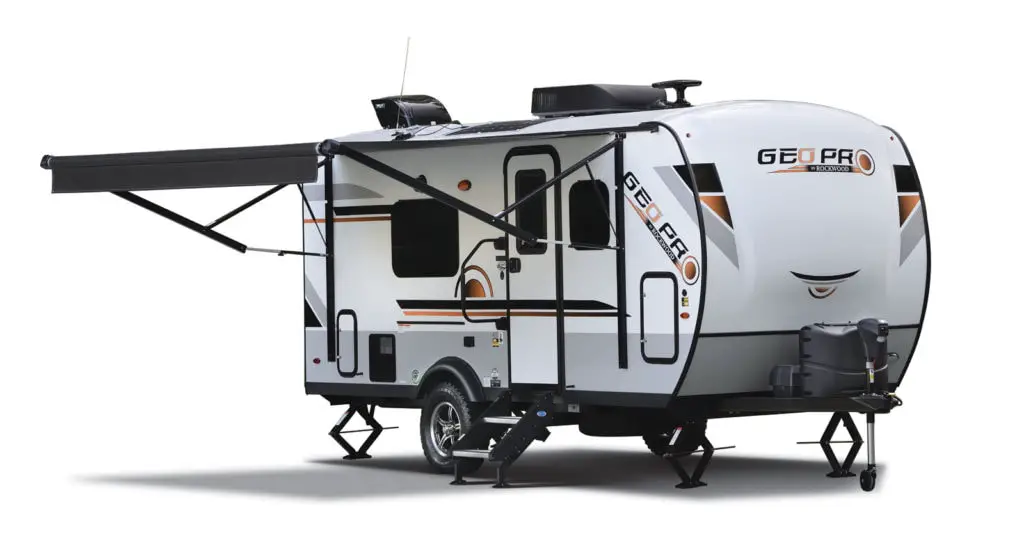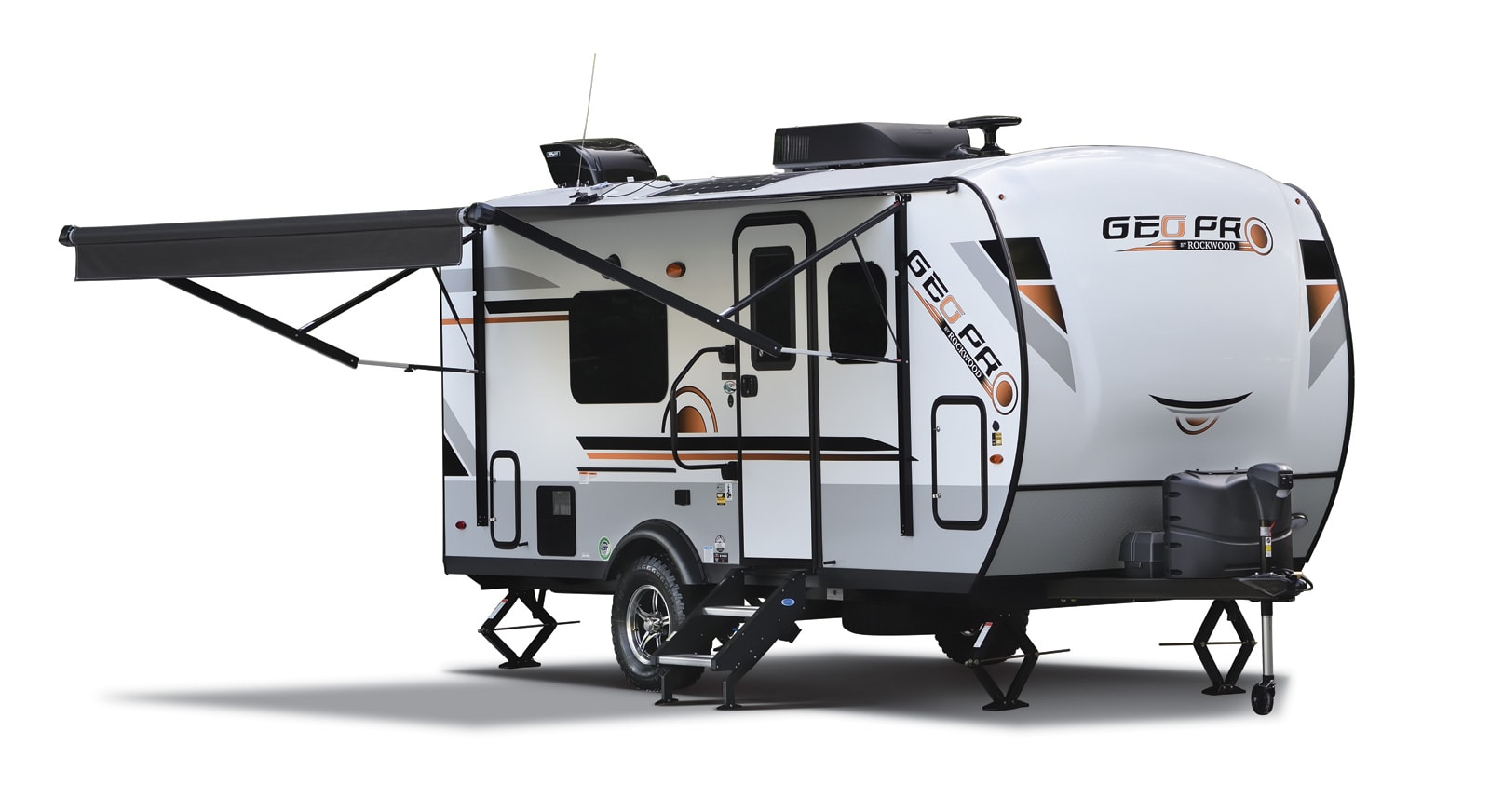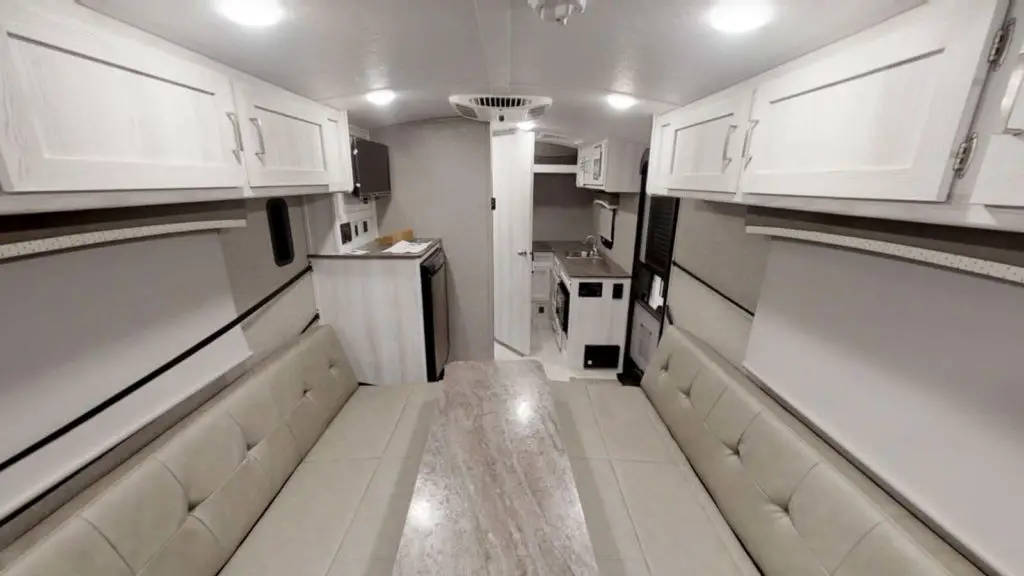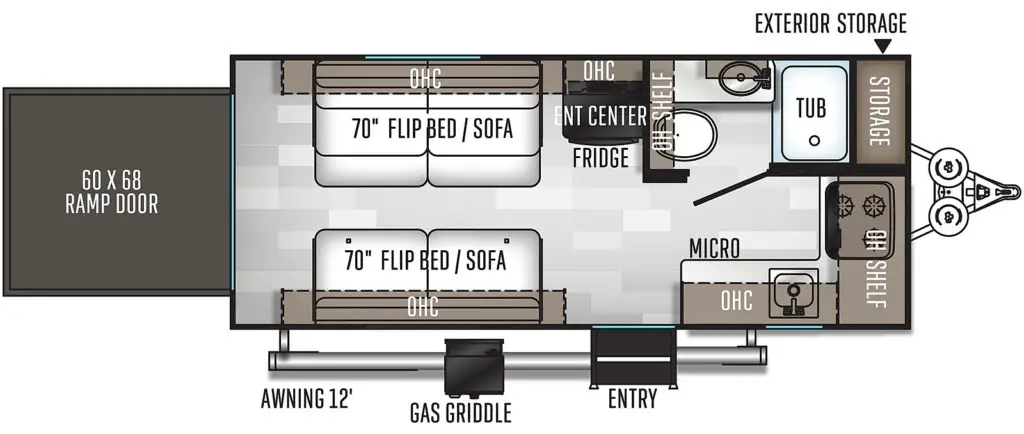 Rockwood has created a niche for themselves with its Geo Pro line of trailers. This lineup ranges from a diminutive teardrop to larger toy haulers. Positioned in the middle of this spectrum, the 19TH is a mid-pack model that has a lot to offer.
Despite being one of the smallest toy haulers on the market, it still features a full bathroom and a very usable kitchen. The living room and cargo area are essentially barren, with only two fold-away couches. This makes the interior slightly spartan for some tastes, but the versatility of this unit cannot be denied. With the couches folded away, the 19TH has a surprisingly large cargo area for a trailer of this size. Large ATV's should fit with ease, and up to three dirt bikes can be hauled in a pinch.
5. Forest River Flagstaff Micro-Lite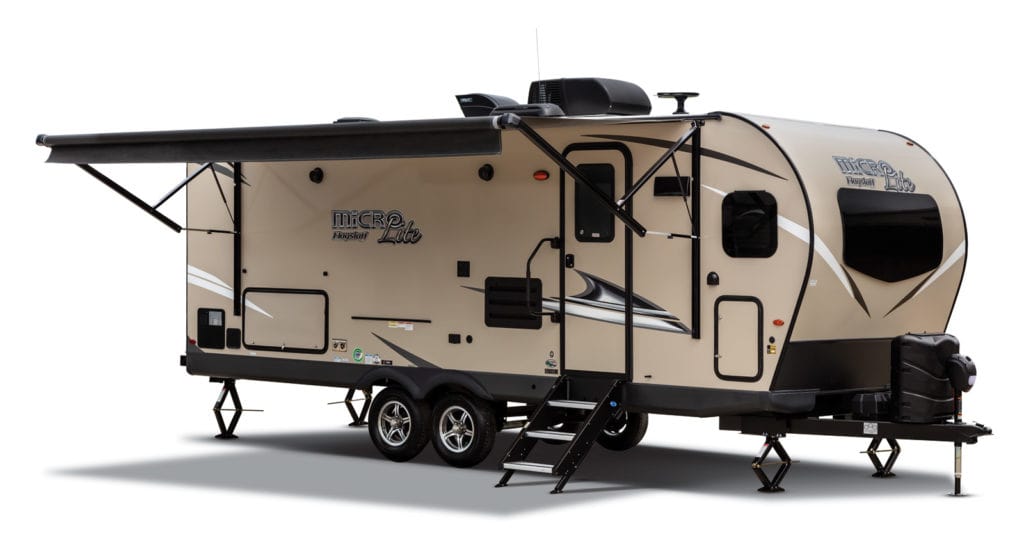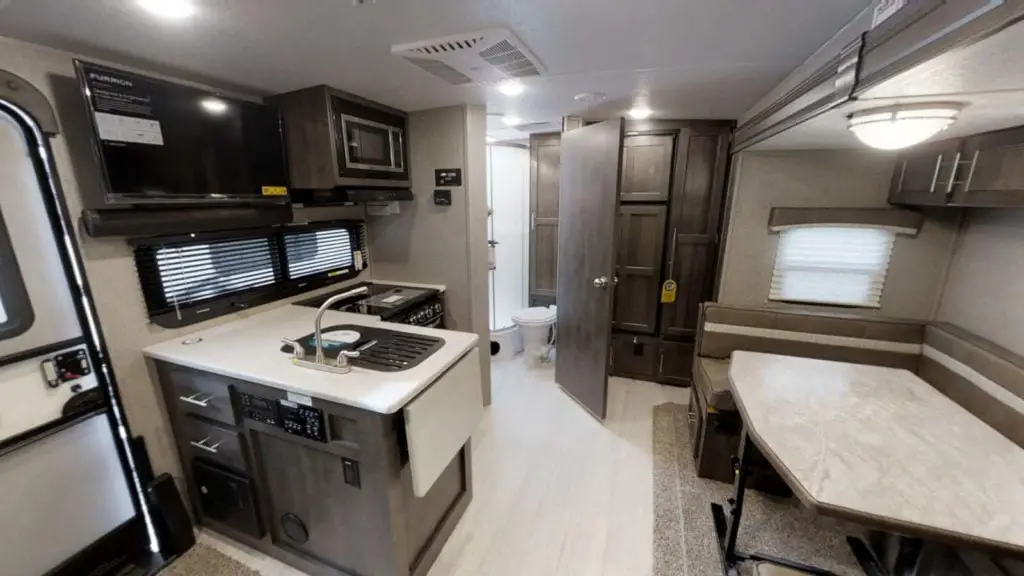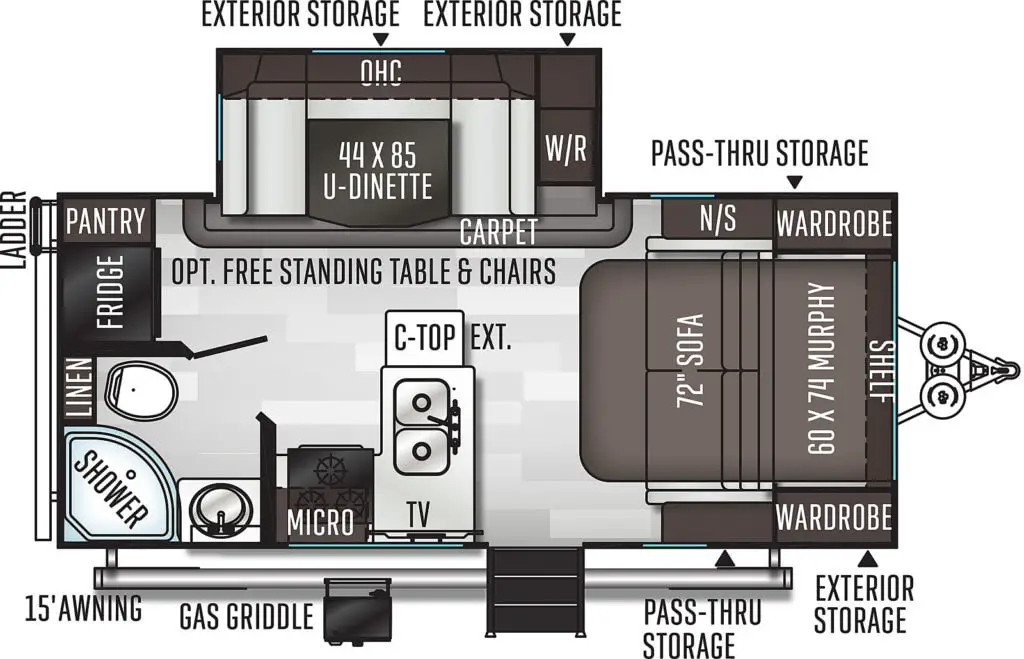 Forest River's design prowess is on full display in the Micro-Lite series.
Despite the diminutive size of these units, they pack spacious and functional interiors. The 21DS is a particularly appealing model. This layout features a murphy bed, which I am surprised is not a more common approach. In a small trailer, it is not uncommon for a double bed to occupy almost a third of the available space. Thus, having the ability to fold the bed away is a game changer in a compact unit.
The 21DS makes full use of this party trick. Under the bed is an extremely comfortable couch that, when coupled with the dinette, provides space to entertain six or seven people.
Further, the use of an L-shaped kitchen was a brilliant move. By moving the kitchen off the wall, the amount of counter space is almost doubled. Plus, it simply gives the kitchen a more cozy feel. The interior color schemes and finishes are pleasingly upscale for a small trailer, and the quality is respectable.
Best of all, the Micro-Lite adheres to its mission of being an SUV-towable trailer. The smallest model is well under 5,000 lbs, and the largest is not much more.
If you like small dual axle campers, we wrote an entire article on them. 
6. Dutchmen Aerolite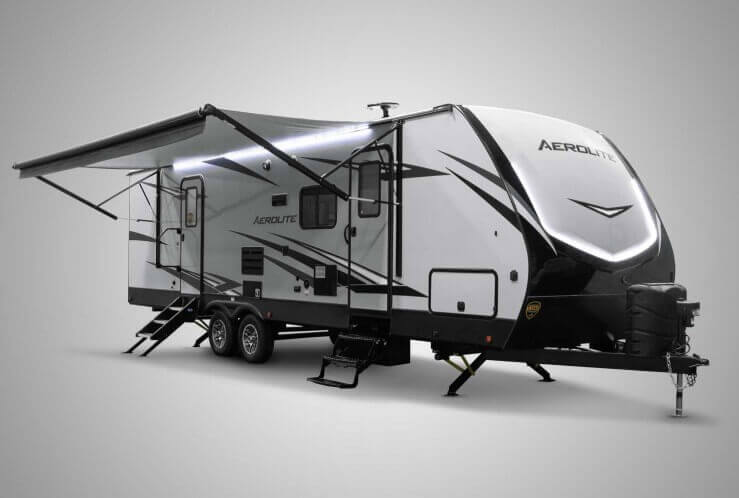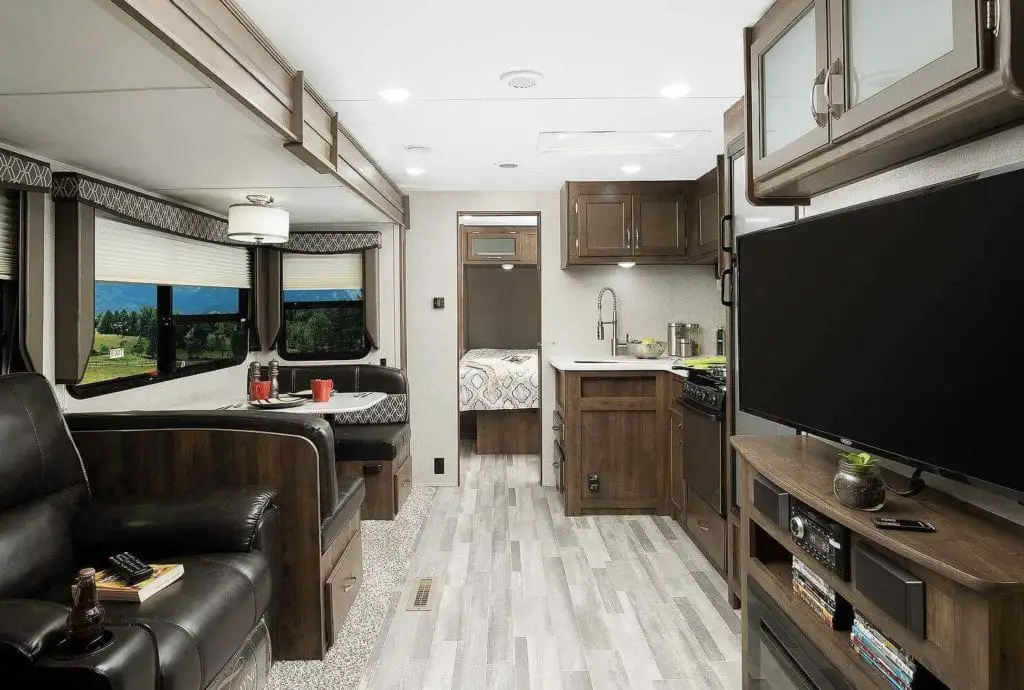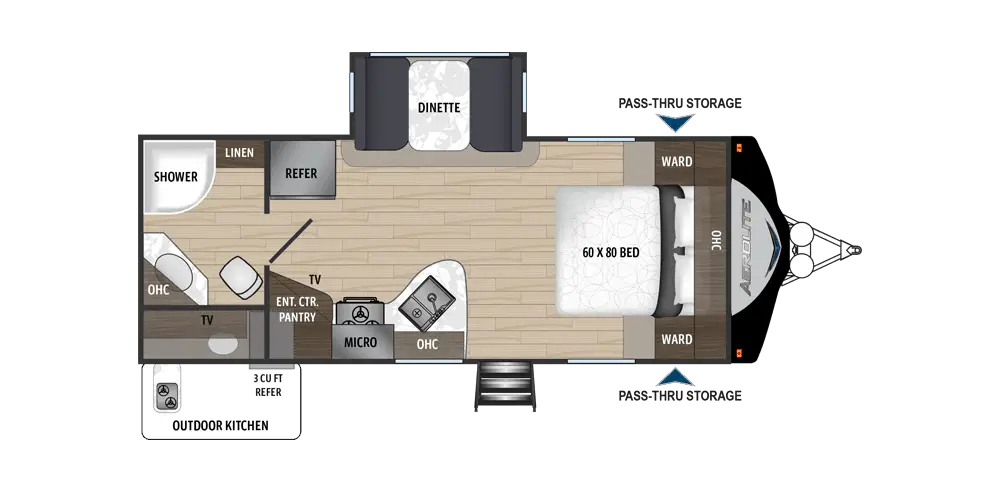 The Aerolite series is a more traditional approach to travel trailer construction. Compared to many other models in this review, the Aerolite used a comparatively primitive "stick and tin" construction. Despite this, there is still an emphasis placed on lightness.
Dutchmen did an admirable job designing the floorplans for this trailer. When designing a small trailer, the bathroom is often the first thing to get sacrificed. Not so with Dutchmen. Across the layouts offered, the bathrooms are significantly more spacious than other trailers in this class. This is doubly true for the 2133RB, which offers a truly luxurious bathroom area. If you believe that having a small trailer shouldn't mean being cramped, the Aerolite may be the answer for you. Further, numerous bunk-room layouts are available, making the Aerolite a great option for a family.
Have a family and want a bunkhouse travel trailer under 5000 lbs?
A wooden and tin trailer might indeed lack the decades-long durability of an aluminum or full-fiberglass model. Yet, this does not mean you should count Dutchmen out. The more economical construction leads to a more economical price. Compared to other compact trailers, the Aerolite has a very affordable $25,000 starting price.
Read more about the Dutchmen Aerolite
7. Forest River Rockwood Signature Ultra-Lite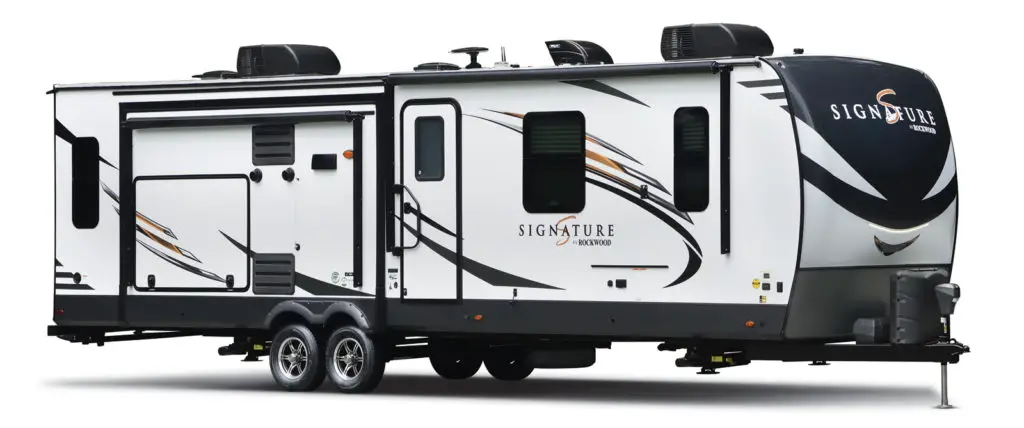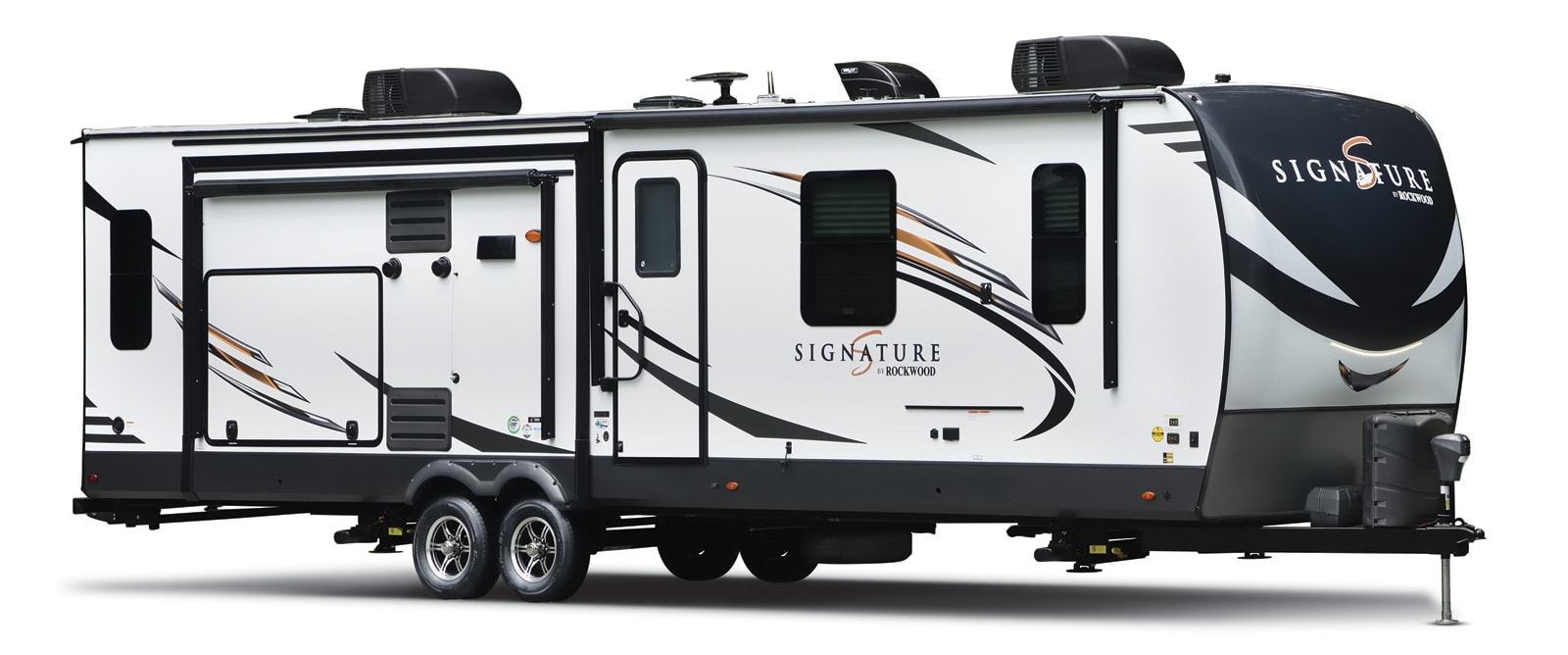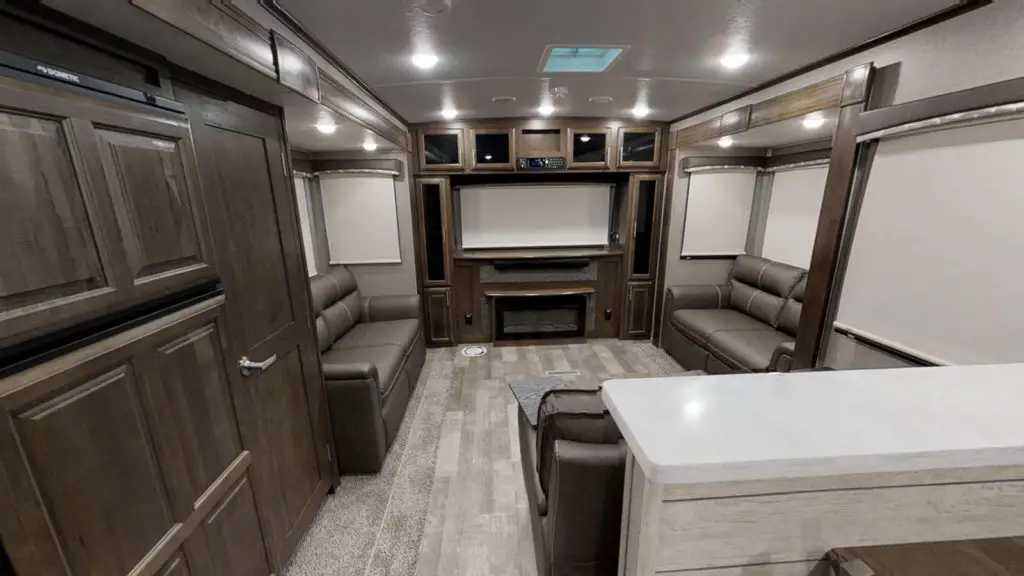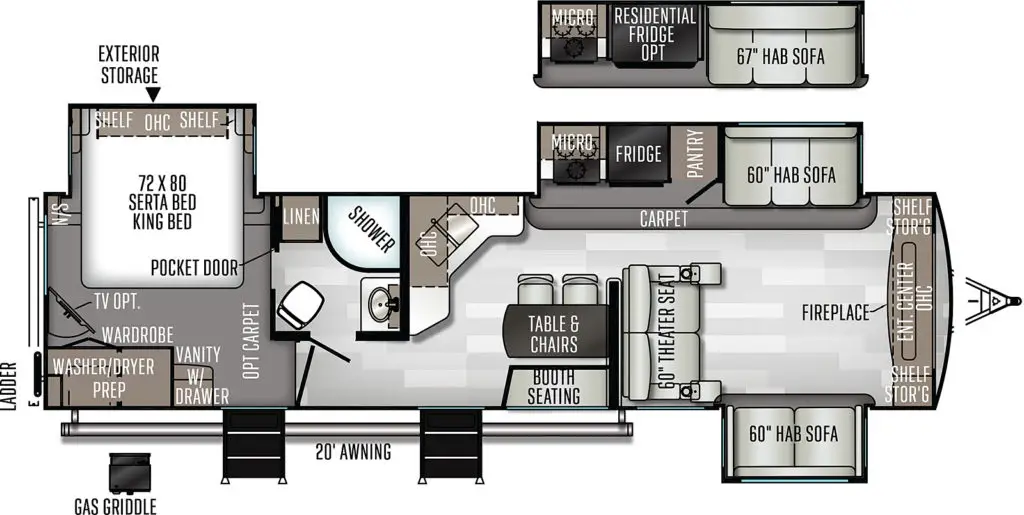 The Rockwood Signature line is a pleasant reminder that lightweight does not have to mean sacrificing luxury. Across the board, the Rockwood series provides innovative floorplans with high-quality finishes.
The hallmark of the Rockwood Signature line is the residential feeling floorplans. Most compact campers are designed with weekend getaways in mind. A Rockwood could certainly fulfill that purpose. But, they are also one of the few lightweight trailers that could also accommodate full-time living.
One of the more unique floorplans offered is the 8324SB. This layout has an L-shaped kitchen and three sofas upfront. This design is very reminiscent of a fifth-wheel layout and provides a very home-like feel.
There are many more interesting plans available, but the lack of bunk-house designs is somewhat strange.
8. Bigfoot Industries 2500 Series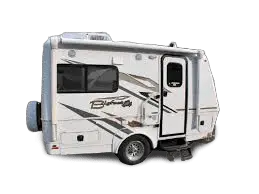 Bigfoot is well known for its truck campers but has recently branched into the travel trailer market. The 2500 series can best be described as a modern take on a classic idea. The two-piece fiberglass construction is reminiscent of a Casita or Scamp.
However, the interiors are significantly more upscale. I am pleased to see a manufacturer finally produces a more luxurious trailer using this construction technique. The Scamp is a wonderful trailer, but it is frustrating that the interiors have not been updated in decades. Thus, the Bigfoot 2500 series offers an opportunity to enjoy the advantages of a two-piece fiberglass trailer and still have an interior from this century.
Bigfoot Industries has a bevy of layouts, but the smallest may be the best.
The 25B17.5G is an extremely compact seventeen-feet but manages a shockingly spacious interior. When I first stepped into one, I had to double-check the dimensions, as I had never experienced such a small trailer providing so much usable space.
The key to this efficiency is the lack of a permanent bed. Rather than have a bed take up space while only being used eight hours a day, Bigfoot opted to fit a gaucho-style sofa instead. Thus, between the dinette and the sofa, this is one of the few sub-twenty-foot models with space to entertain.
At a starting price of $45,000, these are far from the cheapest trailers on the market. However, the quality is superb and the floorplans are superb. For anyone looking for a Scamp or Casita style trailer with a modern twist, give Bigfoot Industries a call.
9. Heartland RV North Trail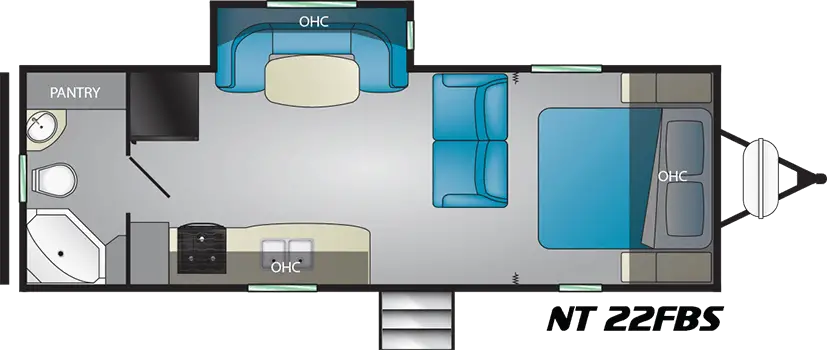 Heartland's mission has always been to provide a quality product at an affordable price. Their North Trailer series achieves this goal admirably.
What stands out with any Heartland product is not what you see, but what you don't. Many trailers look great on the surface, but their lack of quality quickly shows once you start investigating.
However, a Heartland is equally well finished throughout. Having spent years around RV's, I have gotten used to seeing corners cut. Typically, the wiring behind a cabinet or the trim in a baggage compartment will be done shoddily. Thus, I was continuously surprised to see the level of finish applied to every corner of the North Trail series.
Another key to the North Trail trailers is the limited use of slideouts. By using small slides in their trailers, they provide sufficient space while reducing cost and complexity.
Despite the lack of slides, the interiors feel surprisingly spacious. I am a particular fan of the 22FBS. By using a sofa as the bedroom divider instead of a fixed wall, space is still divided without feeling claustrophobic. This layout also has one of the largest bathrooms in its class.
While they are not the least expensive trailer on the market, the North Trail is still a fantastic value at around $28,000 starting price. There are cheaper trailers, but there are not better-made ones.
Read more about the Heartland RV North Trail lightweight travel trailer under 7,000 pounds
Check out more small trailers with slideouts.
10. Keystone Passport Elite – lowest New prices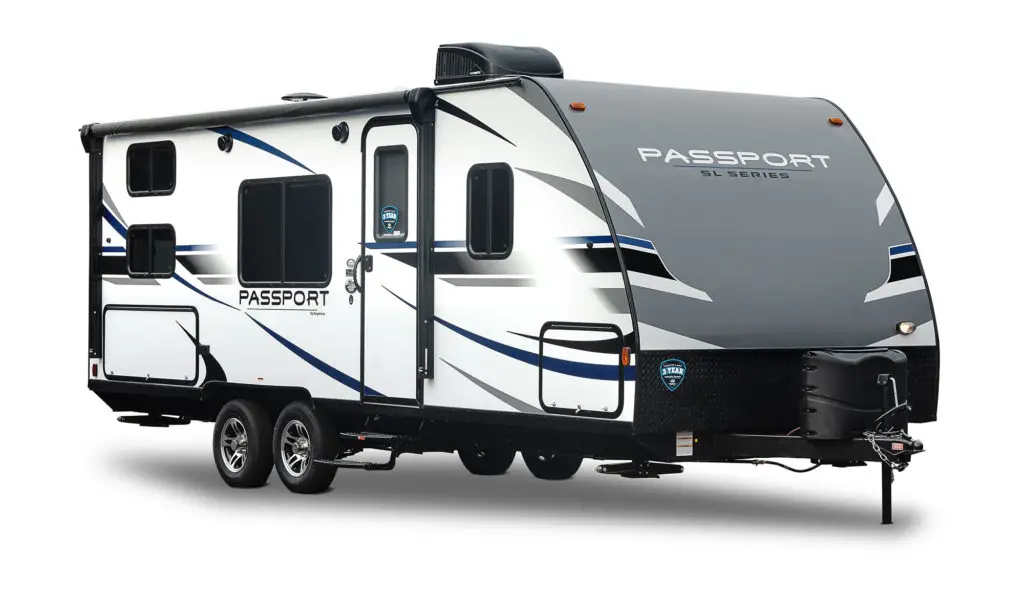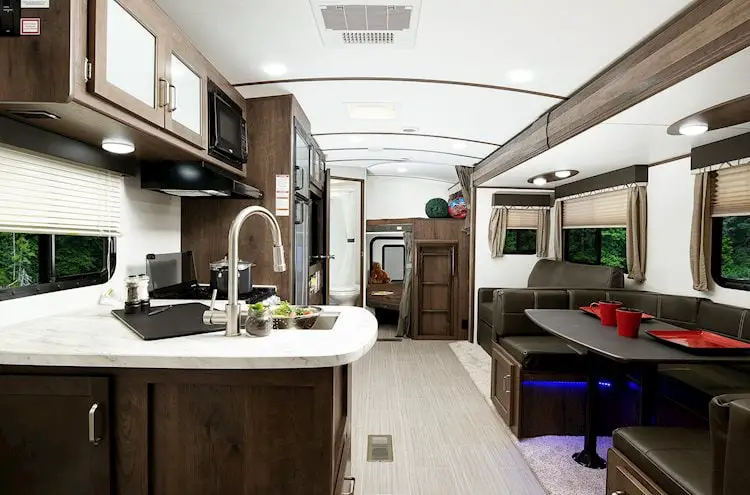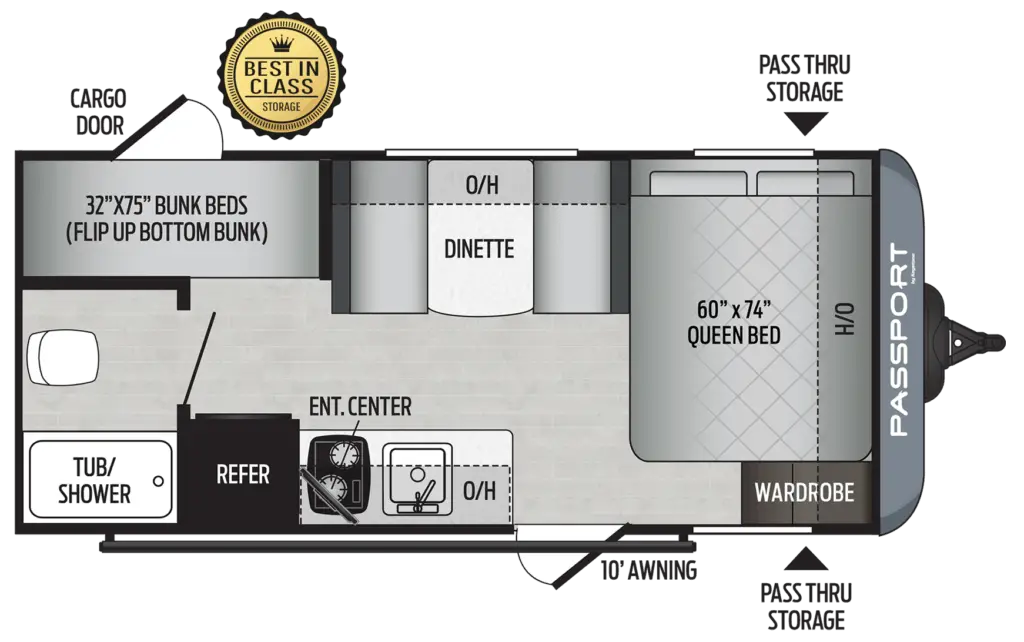 Keystone's claim to fame with the Passport line is their "Hyperdeck" foam construction. Unlike the traditional wood and tin arrangement in so many trailers, Passports use waterproof foam for structure. This allows the Passport to avoid the high price of other trailers while still providing insulation and durability.
Beyond its novel construction, the floorplans of the Passport are unique as well.
My favorite happens to be their smallest, the 175BH. This model is one of the few bunk bed equipped campers without a slide. Thus, within an incredibly compact footprint, this trailer can sleep six people comfortably. Yet, they made the space even more adaptable. The bottom bunk is hinged, and they provided a large cargo door on the side of the trailer. This allows the space to be used as a small garage for hauling bikes or even a kayak in transit. It's a clever trick that I wish more companies would use.
Given the quality and innovation of the Passport Elite, the price point is surprisingly low. Even a brand new model can be found for under $20,000. For a family on a budget, it is hard to imagine a better option.
11. KZRV Spree – Affordable option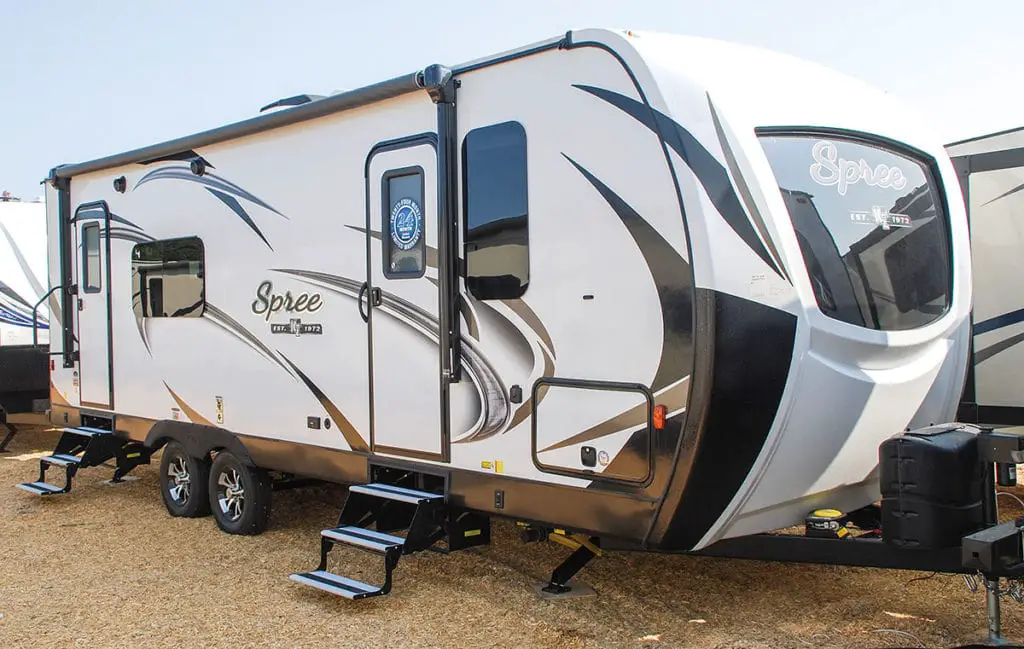 KZRV may lack the name recognition of other brands, but they have been in business since 1972. Ever the underdog, their new Spree line of luxury lightweights is not earth-shattering. But, they consistently provide a very high-quality product for shoppers looking for an alternative.
The S251RK Spree is a pleasant floor plan.
By positioning the kitchen across the rear of the trailer, they managed to provide more counter space than normally found in a unit this size.
While the layouts and construction of the Spree were admirable, I found myself disappointed by the color schemes. As noted above, dark colors can make a compact trailer seem less inviting. While the Spree offers three distinct interior colors, they are all variations of a dark brown. Providing a brighter interior option would go a long way towards making the Spree a more competitive player in the market.
12. Travel Lite Cobblestone i18 – Simple and Affordable
In a world of over-complication, the Cobblestone i18 is a refreshing alternative. This is a camper designed for anyone who enjoys being in touch with nature while camping. It's a simple unit, without a slide, but boasts excellent quality and a sleek exterior profile.
Though the lack of a slide is an advantage in many ways, the interior of the i18 could stand to be more efficient. The front positioned queen bed is comfortable, but it takes up a significant portion of the trailer. Many modern companies are switching to sofa or murphy beds. Standing in the i18, it is clear why. Because the bed occupies such a large portion of this interior, you inevitably use the bed as if it were a couch. It is not a deal-breaker, but nor is it elegant.
That said, the wash and wear nature of the i18 holds a lot of advantages. This is a fantastic option for a quick weekend getaway at the lake that does not require an abundance of preparation or setup. If simplicity is a feature that appeals to you, the i18 might be the camper for you.
13. EverGreen Ever-Lite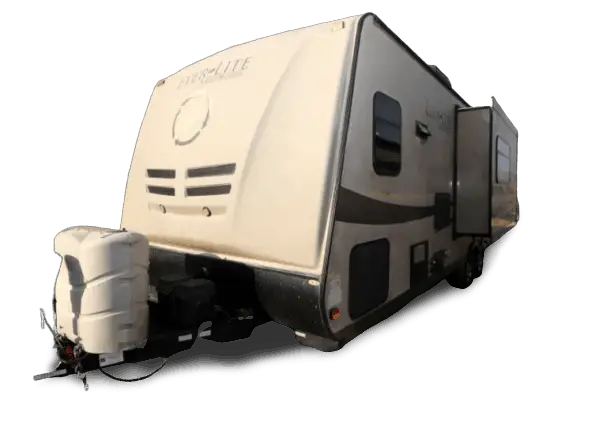 The Ever-Lite is a fairly traditional trailer but has a chic European exterior design. As traditional trailers go, this is one of the sleekest options. The design of most mainstream trailers has not evolved very much over time. Outside of the realm of Airstreams, most travel trailers are still simple boring boxes. Thus, the attention devoted to styling the exterior is greatly appreciated.
Unfortunately, that flair does not translate to the interiors.
There is nothing objectively poor about the Ever-Lite series. Yet, the interior designs look dated compared to the competition. In the world of small trailers, manufacturers typically take a very fitting "less is more" approach. Dark interiors or fussy decorations tend to make a small space feel cramped or uninviting. Sadly, that is exactly how the inside of an Ever-Lite feels.
The issue is worsened by the slideouts. While almost all models feature a slide, the slides are extremely shallow. Thus, they only increase the space by about eight inches. Having the complexity and weight of a slideout without space benefits is a highly questionable choice. The Ever-Lite is not a terrible trailer, and many owners that I've spoken to are very happy with their purchase. Yet, in my opinion, there are better options around.
Travel Trailer vs Fifth Wheel
One of the most common questions for a first-time trailer shopper is whether they should purchase a travel trailer or a fifth wheel. As with most considerations, the answer may be different for everyone. Travel trailers are available in a wider variety of sizes. Thus, if you are interested in a smaller unit, a travel trailer is likely the best option. However, fifth wheels typically provide more space given the additional room over the bed of the truck. Further, many users report that fifth wheels are easier to maneuver and overall more stable.
Another key question is whether or not you already have a tow vehicle. Many families already have an SUV that is capable of towing a camper. In comparison, fewer likely have fifth-wheel capable trucks. Purchasing a new tow vehicle can double or even triple the prospective cost of buying a new camper. Thus, if you already have an SUV, simplifying the decision and opting for a travel trailer may be the smarter move.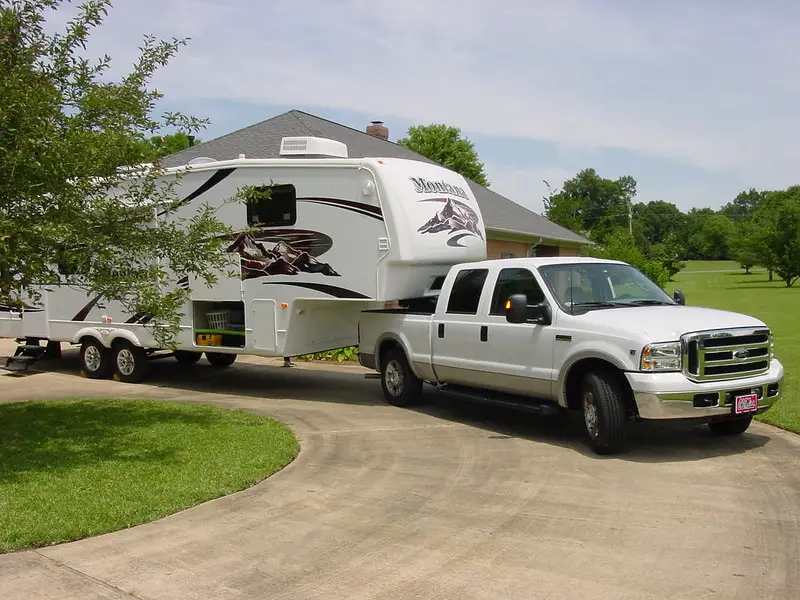 Questions Before Buying a Travel Trailer
Now that you've decided on a travel trailer, here are some questions you should ask yourself to help you decide on a specific model.
How Much Do They Cost?
The price of travel trailers varies as much as the trailers themselves. Thus, it is difficult to provide a clear-cut answer. However, small base-model trailers typically retail for around $13,000. At the other end of the spectrum, larger luxury models can easily cost over $85,000. Regardless of the price point, be wary of manufacturer "suggested retail prices", or MSRP's. The final price at a dealership is often only 75% of the MSRP, so quoted numbers can be misleading.
Price of Ownership, Taxes, Insurance, Fuel, etc.
Many first-time buyers make the mistake of only considering the purchase price of a travel trailer. This can be a dangerous oversight, especially for those on a budget. Like any vehicle, a travel trailer has additional expenses to consider. Luckily, these tend to be fairly minor.
Unlike a motorhome, travel trailers are mechanically very simple. Aside from greasing the wheel bearings and replacing tires, there is very little maintenance to do. Further, taxes and insurance are often much lower for a trailer. It will depend on your state and situation, but the taxes and insurance for a travel trailer can easily be under $50 per month. The last consideration is fuel. Fuel economy will depend on the vehicle you use to tow the trailer, but towing is rarely efficient. For a larger truck towing a heavier trailer, expect to get no more than twelve miles per gallon. At the higher end, a midsize SUV towing a small trailer may get as much as fifteen.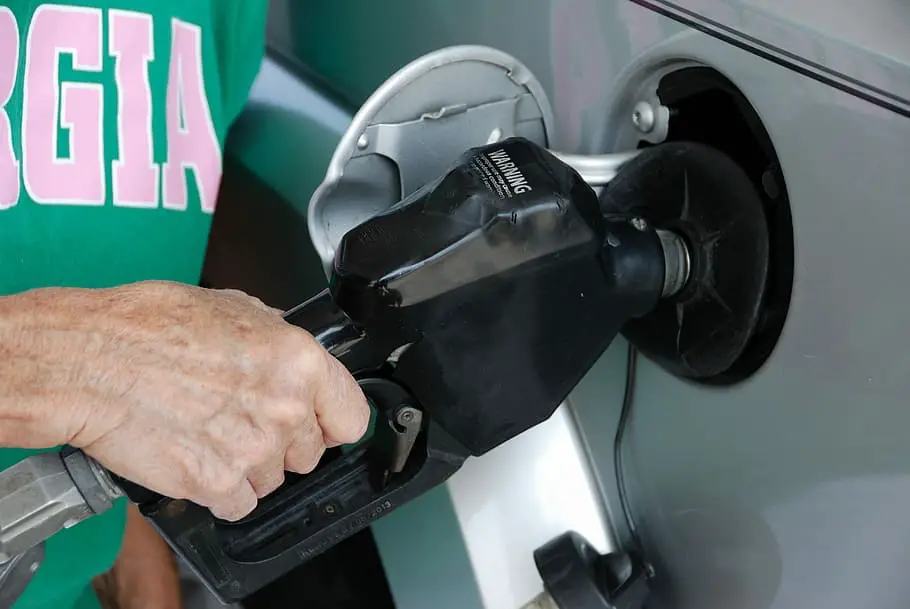 How Often Will You Use It?
This can be a difficult question to answer honestly. Everyone likes to believe that camping will be an every-weekend affair, but life often intervenes. Thus, it is important to consider your schedule and try to assess how often you will utilize a camper. The type of camper you need and should pay for varies widely depending on your usage. For a full-time rig, a much more expensive trailer can be justified. However, if you will only use your travel trailer sparingly, choosing a sparser model is advisable. Further, consider the idea of renting. If you do not plan to use your camper often or are simply unsure, renting can eliminate a significant portion of ongoing cost and inconvenience.
Should You Buy New or Used?
Again, this decision comes down to how you plan to use the trailer. For a heavily used camper, purchasing a new model is preferable. But do not rule out used examples if you wish to maximize your budget. Many campers are sold by their owners without extensive use. This means that even used examples may have only be camped in once or twice.
What Climate Do You Live In?
Perhaps the broader question is "what climate do you plan to camp in?" Not all trailers are designed for harsh environments. Many less expensive models lack the insulation and equipment needed for extreme temperatures. Therefore, if you intend to camp in abnormally cold or hot environments, make sure you have a trailer that can keep up. For maximum flexibility, look for "four-season rated" models with heated or insulated holding tanks.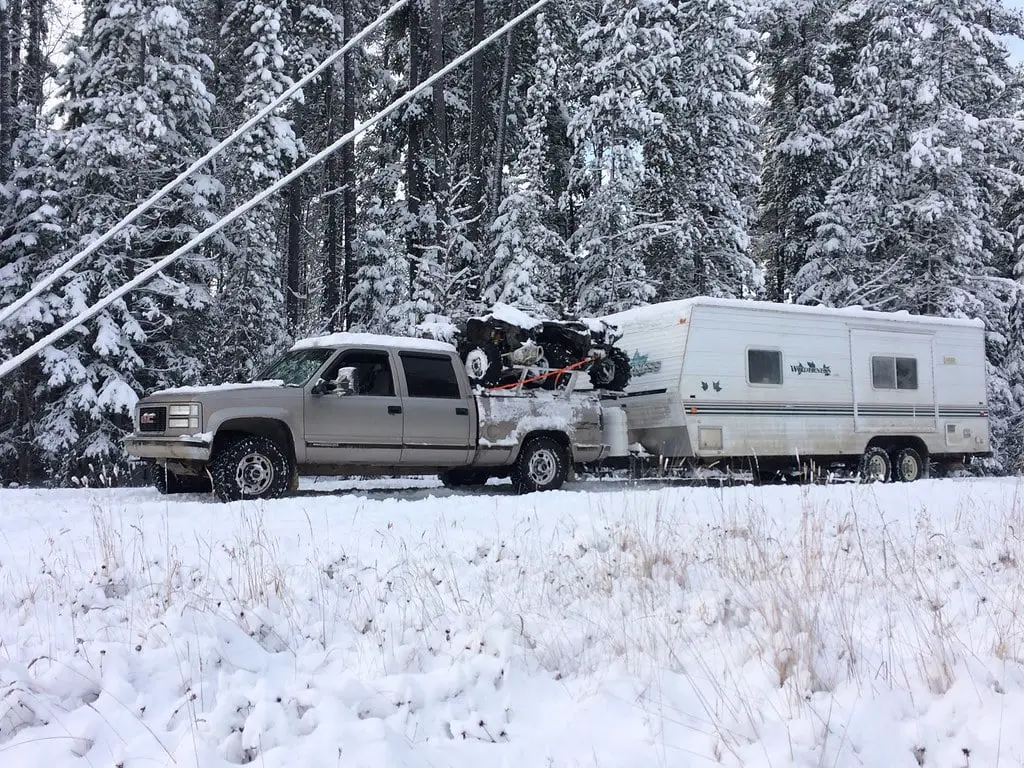 What Amenities Do You Need or Want In The Travel Trailer?
As mentioned above, it is important to separate your "needs" from your "wants." Do not make the mistake of overlooking your perfect camper simply because it lacks some insignificant features. Slideouts are among the most popular demands. Certainly, slideouts go a long way towards making a camper more spacious. However, they also add weight, cost, and complexity. Many campers are surprisingly spacious without slides, so take the time to look at both models.
King beds are another requirement on many lists. However, in a smaller trailer, they can make a bedroom feel cramped or difficult to navigate. Remember that in most contexts you will only be sleeping in your camper for a few days at a time, so ask whether a king bed is truly a requirement.
Finally, many buyers believe that a washer and dryer is a must-have. I advise caution on this. These appliances take up a great deal of space, and generally only see occasional use. Further, most campgrounds have well-equipped laundry rooms with machines that frankly work better.
Conclusion
With camping, simplicity is often a virtue. Lighter travel trailers under 7000 lbs are often less stressful to use, and thus get used more. Advancements in technology and design have made this a very exciting time to be in the market for a lightweight travel trailer. Whatever your desires, there is a trailer for you.
If lightweight is what you're after, check out these campers under 2,000 pounds.