Hey there I'm Mike. Whether you're new to the RV scene, or you've been retired and cruising for years you'll learn something from this best small Class C RV guide!
Small Class C motorhomes were once considered the default choice for a first-time RV'er, or for anyone looking for a budget option. Despite this reputation, in recent years, Class C's have boomed in popularity almost universally. Many RV veterans who have commanded larger Class A coaches for years have started to see the appeal in downsizing to a Class C RV. The RV dimensions on a Class C makes them much easier to drive and handle.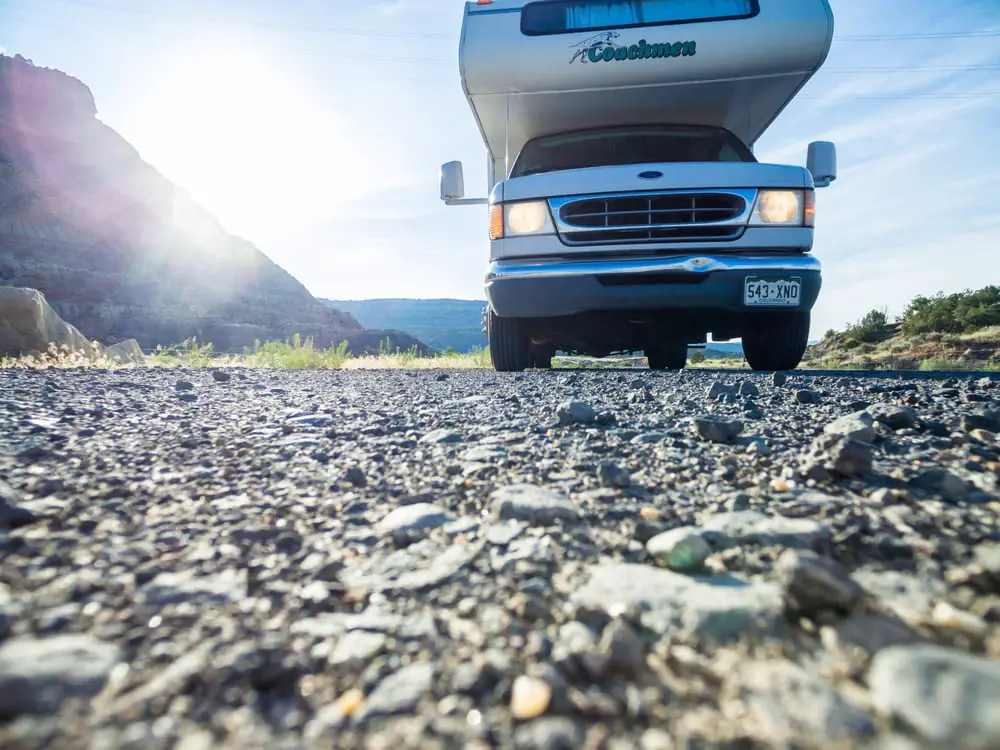 Class C's are not just an entry-level option anymore; the luxurious offerings can now go toe to toe with even the fanciest high-end Class A coaches. Below we'll share some of our favorite small Class C Motorhomes, and then discuss things to consider before making your purchase.
Let's jump in.
Best Small Class C RV under 25 feet (9 Models to consider)
Choosing "the best" small Class C motorhome will, of course, vary depending on your specific needs and situation. Here are a few models less than 25 feet long that will serve as a good starting point for your research.
1. Coachmen Prism 2200FS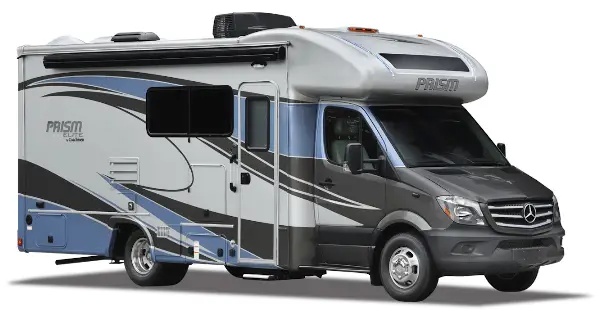 They are built on the Mercedes Sprinter Chassis. This provides high fuel economy with a diesel V6, while still providing class-leading driving comfort.
The 2200FS is a particularly exciting floor plan that features a side-mounted queen bed on an almost full-length single slide. This allows an apartment-like feel while still maintaining the maneuverability of a compact RV. Read more about the Coachman Prism.
2. Fleetwood Jamboree 24D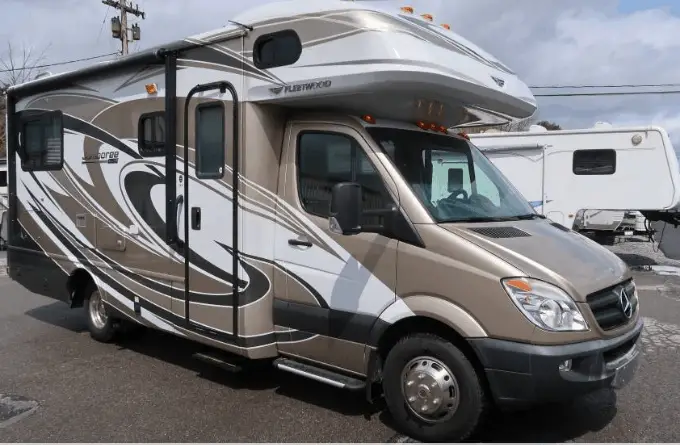 The Jamboree name has been used by Fleetwood for over 20 years, but they have continually improved. The current iteration of the Jamboree is only available in the one-floor plan – the 30F – but it is a class-leading design.
The 30F has a single slide that runs the entire length of the coach, making it one of the largest slide-outs in the industry. By having so much expandability, the Jamboree can contain a king-sized bed and garden tub within its exterior dimensions. If space is a focus, the 30F should be a consideration.
If you want to get a Jamboree under 25ft (named the model 24D), you'll need to purchase a used one.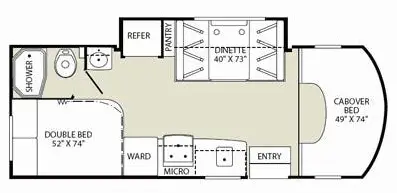 You can snag this model for about $25,000 with a gasoline engine and configured to sleep 4 people. Check out the Model 24D on RVTrader.
Not a bad deal for an RV.
3. Forest River Forester TS 2381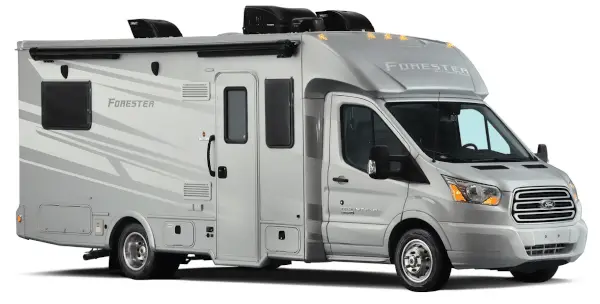 The Forester moniker is applied to several sub-models by Forest River. The TS line is the one we'll focus on for this section.
The TS is based on the Ford Transit chassis, which has been a workhorse staple of Europe for decades. The Transit offers the fuel economy of a diesel engine without the intimidating price of a diesel engine or Sprinter-based unit.

A unique offering in the Forester TS line is the TS2381. This is one of the few modern Class C's still produced without a slide-out. This makes the interior more compact. It also makes the TS an exceptional coach for touring or visiting campsites that are more difficult to access.
If you like to stay on the go, the TS2381 is a great option.
Read more about the Forester TS
4. Jayco Redhawk 22A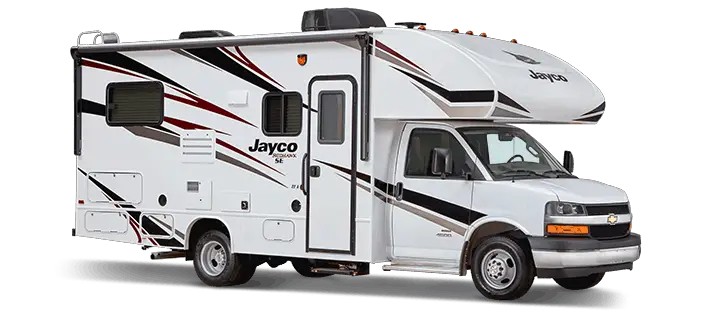 The Redhawk by Jayco is a more traditional offering in the Class C world. It's based on a Chevy Express van chassis and features several classic floorplans. Despite this nod to tradition, the Redhawk still packs a lot of features into its compact size.
The 22A is the bread and butter of the Redhawk lineup. This floorplan is a very classic rear-quarter bed arrangement with a rear corner bathroom. Unlike older units, the dinette slide makes the 22A a spacious place to be. For anyone looking for a simple, functional, and very affordable small Class C RV with a bathroom, the Redhawk 22A is a surefire bet. 5. Winnebago Outlook 22C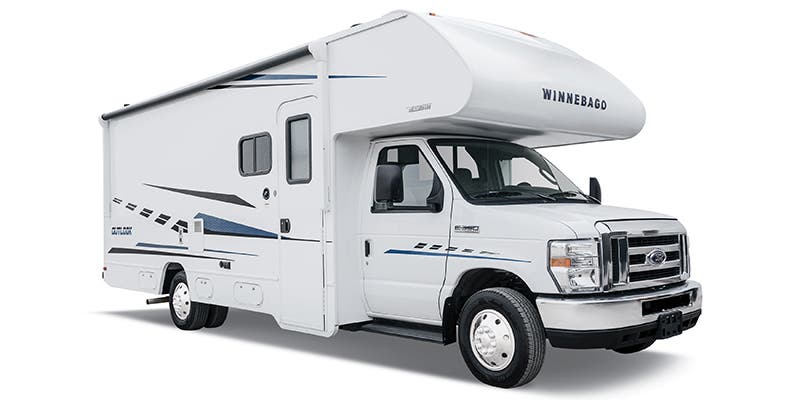 Winnebago is one of the oldest names in the RV world, and there is a good reason for its longevity. The Outlook 22C is a practical and compact Class C that does not sacrifice usability for size. The hallmark feature of the 22C is the single slide for the rear side-facing bed. This allows a walk-around bedroom that would otherwise be impossible in a motorhome this small.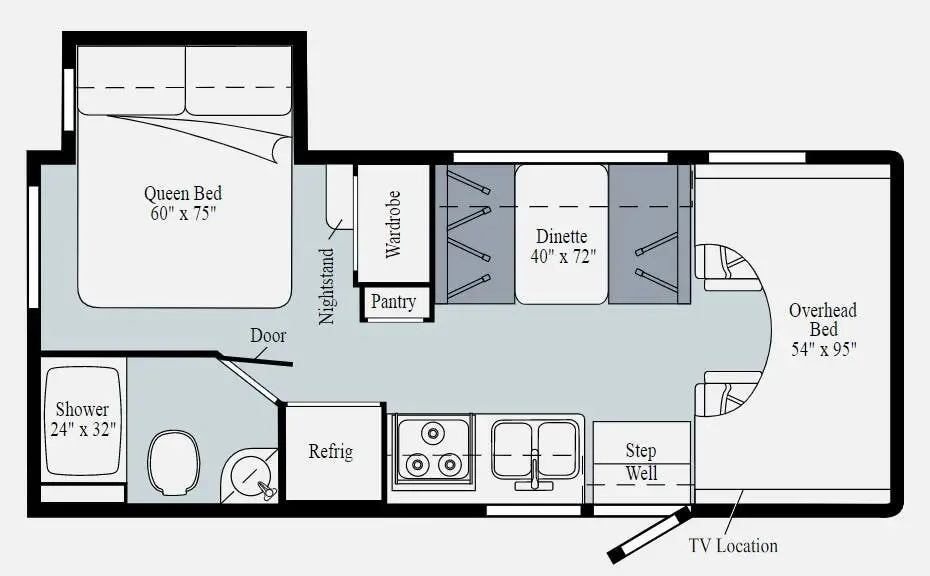 6. Winnebago Minnie Winnie 22R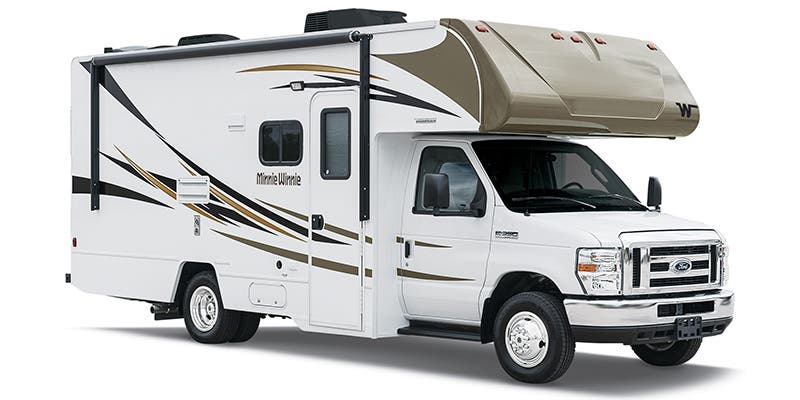 The "Minnie Winnie" name is almost as synonymous with RV's as the Winnebago name itself. The 22R is the best compact class C RV from Winnebego. It's easy to drive and park due to it's slim side and doesn't have a slide-out to hassle with.
The walk-in shower is a "must-have" feature that some can't live without. It's got tons of deep storage along with two comfortable beds.
Powered by a Ford Triton 5.4L it's a gasoline engine that gets around 14MPG and has enough power for scooting through the mountains. Read more about the Minnie Winnie
7. Tiffin Wayfarer 25QW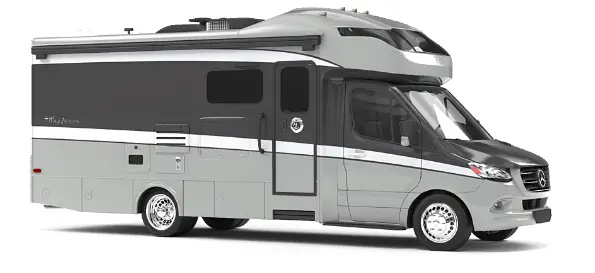 The Tiffin Wayfarer is a compact Sprinter-based Class C, and it might be the most luxurious Class C to have ever graced the market.
While not the cheapest option, the layouts, and interior finishes may justify the price point for some.
The 25QW is the flagship of the Wayfarer line. It features two slides – one side and one rear-mount – which give it an interior space much more akin to a thirty-five-foot coach. Despite this enormous space, the 25QW is still small enough to avoid all national park length restrictions. For a couple who wants to travel anywhere in luxury, the 25QW is as good as it gets. Read more about Tiffin Class C Motorhomes
8. Thor Freedom Elite 22FE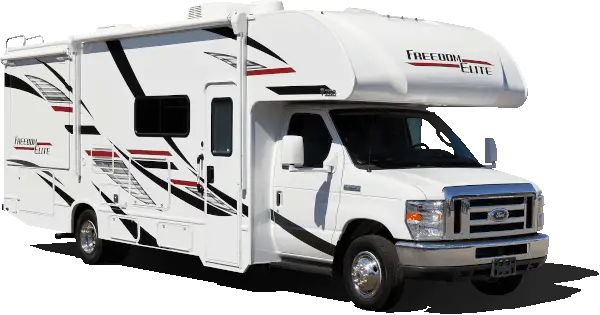 The Thor Freedom Elite 22FE is a compact and affordable unit. It balances compact exterior dimensions with a spacious slide-mounted queen bed. Unlike many motorhomes in this category, the 22FE is still based on a gas engine Ford platform.
While this does make it more thirsty at the pumps, it also reduces the cost and difficulty of repair.
It is a functional unit that is especially appealing to first-time buyers.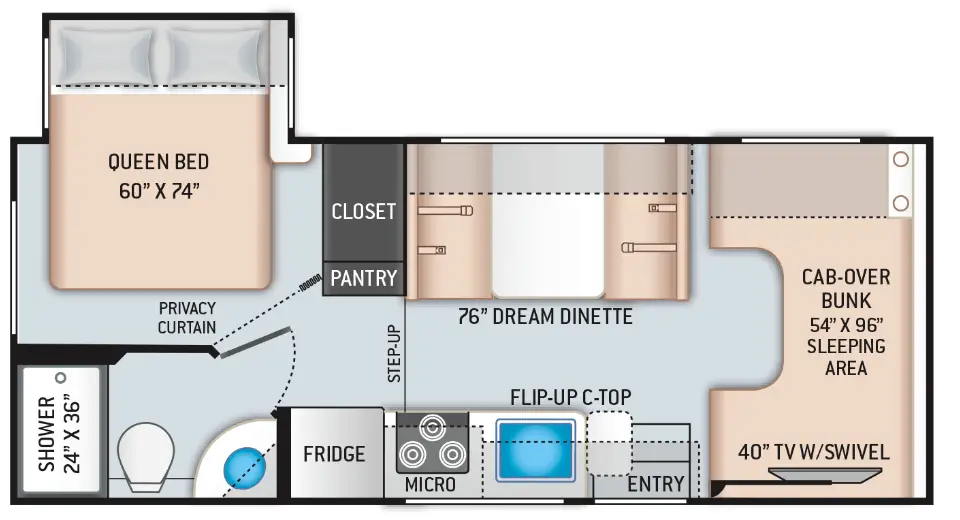 Find more details on the Thor Freedom motorhomes
9. Thor Daybreak 22GOF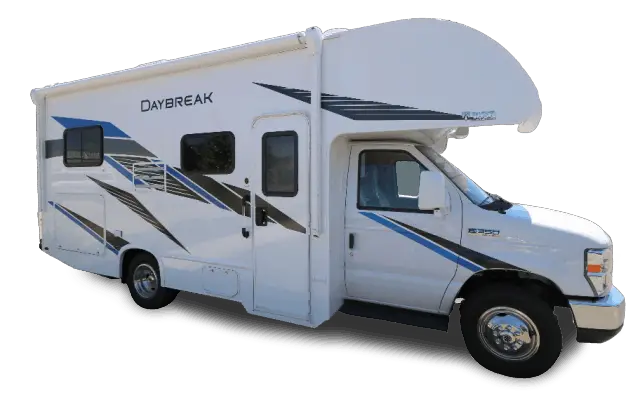 The Daybreak 22GOF is a similar unit to the Freedom Elite 22FE but without a slide-out.
The lack of a slide combined with a simple gasoline V8 engine makes the 22FE the most dependable and cheap to repair RV on the market.
It's best for individuals who view camping as an opportunity to enjoy the outdoors and use their RV for cooking and sleeping.
The 22GOF provides an affordable and practical basecamp.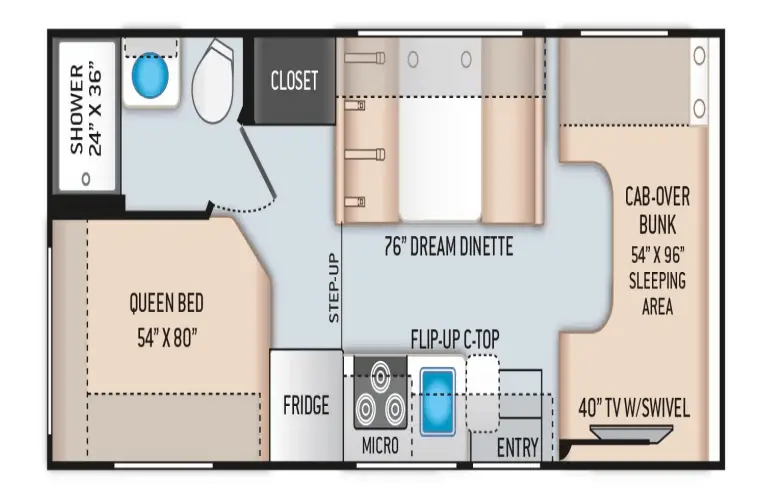 Class C Motorhome vs. Class A or Class B
The first question for anyone in the market for a new RV is, "what class should I buy?" The segment is divided into three primary categories: A, B, and C.
A Class
These are the typical "large box" RV, where the entire structure has been onto a bare chassis. These tend to be the most extensive motorhome offerings available. While luxurious, Class A's can also be expensive, difficult to service, and taxing to drive.
B Class
At the other end of the spectrum is the Class B, which is built around a traditional full-size van chassis. While these are the most fuel-efficient and easiest-to-drive types, their size makes them limited to one or two people. Even a large dog runs the risk of overwhelming the square footage of most Class B's!
C Class
At the "just right" Goldilocks point between the A and B is the Class C. Class C's are built on a full-size van chassis like a Class B, but they retain the cab.
The rest of the body is constructed by the RV manufacturer, and thus offers more space and versatility compared to a stock van body. Class C's are often identified by a distinctive feature: an over-cab area, which serves as a sleeping area.
Small Class C's are easy to drive, simple to service, and are offered in a dizzying array of floorplans. Beyond all this, they are also some of the best deals in the RV market. With all this considered, the continued growth of the Class C sector is wholly unsurprising.
What Makes A Top Class C RV?
While Class C's are one of the most practical and economical options, not all Class C's are equal. Before diving into the ever-expanding world of Class C options, it is crucial to consider what factors make a top-class Class C.
Price is one of the most appealing aspects of a Class C.
Because of their van-derived chassis, Class C's represent the best value-for-money RV's. At the lower end up the market, a new Class C can be found for as little as $80,000. Of course, the high end of the market can be multitudes more, but the value compared to Class A offerings is nonetheless better across the spectrum.
Compared to cars or trucks, warranties can quickly become a complex topic when applied to RV's. An RV warranty is typically divided into three or four subsections, depending on the manufacturer. The most important aspect of a manufacture guarantee is the "comprehensive" component, which covers every aspect of the RV. RV makers will often offer lengthier powertrain, structural, and fiberglass "anti-delamination" warranties.
Given the complexity of drive-train and house functions of an RV, make sure you are protected by a comprehensive warranty. Most manufacturers offer a 10,000 mile/1 year full warranty, but many top brands offer even more coverage.
It is almost impossible to condense the possible features offered in Class C's into a single article. The specific amenities available will vary depending on your needs any budget. Potential options for Class C motorhomes run the gamut to include bunk beds, outdoor kitchens, fireplaces, or even garages.
Many brands will offer features across different floor plans. Still, a critical difference that separates a top RV brand is flexibility. The best Class C producers will let you combine your favorite amenities to configure your perfect RV.
One of the reasons to choose a Class C RV is the reliability of the full-size van platform. Most Class C's are based on battle-tested van offerings from Ford or Chevy. They share mechanical components with ambulances or work vehicles. Because of this, you can expect to get hundreds of thousands of miles from the platform.
Beyond their inherent reliability, one of the most underappreciated benefits of Class C platforms is the ease of service. Many Class A coaches bury the engine into cramped and inaccessible engine compartments. This makes even routine maintenance challenging. Many mechanic shops charge a higher hourly rate for working on these coaches because of the added difficulty. But for a Class C, this is not a concern. The platform makes maintenance and repair as simple as any church van.
Finding high build quality has been one of the most challenging aspects of Class C shopping. In prior decades, Class C motorhomes had a reputation for representing the lower end of the RV market, and the quality often reflected this. However, modern Class C's are a completely different tier of a motorhome. There is little to no discernible difference in quality between Class C and Class A coaches.
Despite the increase in quality, vigilance is still a necessary trait for a buyer to have. When looking for a new RV, do not be afraid to slam a few cabinets doors or peel back some access panels. Listen to how solid a wall sounds when you knock on it. Take note of how neatly the trim fits or how neatly the wiring is labeled. Regarding quality, attention to small details often corresponds to care taken in the broader factors as well.
There have never been more distinct RV manufacturers on the market. Many of their offerings seem to be almost identical in price, quality, and features. Beyond these similarities, customer service is one of the most significant between a top RV brand and a less reputable one.
Tragically, this is an aspect that buyers often don't consider.
When shopping for an RV, make sure to inquire about the service network offered by the brand. Ask how many service centers exist, and which is closest to your home. Further, ask if the warranty will honor repairs completed by a third party shop if a service center is not convenient.
Some of the best RV brands excel in this department by offering perks such as free towing or free camping while your RV is being repaired. Don't be afraid to ask questions!
Questions Before Buying a Small RV
Shopping for an RV can become an overwhelming task if the proper preparation is not taken. By reviewing a few questions, you can find yourself in a much more empowered position. Here are a few of the questions to ask before embarking on your shopping journey.
How much do they cost?
As previously noted, price is one of the critical features which drives many shoppers to buy a Class C.
Small Class C's represent the best value available in the motorhome market.
The cost you can expect to pay is decided by numerous factors. Still, the two most influential are the quality of the interior and whether the engine is gasoline or diesel. Generally speaking, the lowest entry price for a Class C is around $80,000. But this can be higher depending on the specific model and chassis in question.
Price of ownership, taxes, insurance, fuel, etc
Financial stress is rarely conducive to camping fun. Because of this, it is crucial to understand the costs of RV ownership before diving in. Beyond the anticipated monthly payment, make sure to account for taxes, insurance, storage fees, and fuel in the overall cost of your new RV. Insurance for RV's is often affordable. Further, many of the latest Class C offerings are fuel-efficient. Thus, these additional costs are not meant to be feared, simply accounted for.
Diesel or Gas?
The proliferation of diesel-powered Class C's is a new phenomenon. The increased efficiency and durability of diesel make them a worthy competitor to gasoline engines.
There are some things to consider first.
Diesel-powered motorhomes command a price thousands over their gas-powered equivalents. Routine maintenance, such as oil changes, are also more expensive.
Consider how many miles you intend to drive the coach before making this decision.
If your preferred style of camping involves constant travel and sight-seeing, then a diesel engine may very well pay for itself. However, if you prefer a leisurely travel schedule, you may never recoup the increased cost of a diesel engine.
In making this calculation, keep two things in mind. First, diesel tends to cost more per gallon. Thus, the vital estimate is not actually miles per gallon, but rather dollars per mile.
A vehicle getting 10 MPG on $2.50/gallon gasoline costs the same per mile as a vehicle getting 14 MPG on $3.50/gallon diesel.
Second, while modern diesel RV's are reliable, maintenance and repair costs for diesel engines are more expensive. For many campers, a diesel is a fantastic option. But please consider the entire calculation.
How often will you use the small motorhome?
When trying to choose the best small Class C RV, ask yourself how often you will use it. The quality and feature demands of an RV used three weekends out of the year are different than those of an RV used for long amounts of time.
If you are new to RV ownership or are unsure of how much free time you will actually have, err on the side of purchasing a lower-priced unit. After all, a lower cost allows a vehicle to be used less while still constituting a worthwhile ownership experience.
Should you buy new or used?
In many ways, the question of "new or used" follows the same contours as the above "how often will you use it" inquiry. Again, this question depends on your priorities and intended use for the RV. If you only intend to use your Class C occasionally, or if you don't need all the latest luxuries, a used RV may be the best value for you.
That said, always keep the total cost of ownership in mind. The financing rates and incentives are often more advantageous when purchasing a new coach. Further, new RV's have the benefit of warranty coverage. So while there are great deals to be had on used RV's, compare them with equivalent new RV's to make sure the price is truly lower.
Should you buy or rent a small Class C RV
Buying or renting is another common question in the minds of RV shoppers. Of course, renting reduces many of the inherent complexities and costs of owning your own RV. Renting can be an expensive option. While the numbers can vary, the typical break-even point between renting and owning is roughly three weeks of use per year. If your usage falls below that, renting may be the more cost-effective option. That said, the rental options are often less full-featured models.
Either way, renting is a great way to get some experience RV'ing without having to commit to a long-term purchase.
Is this a small RV for full time living or weekend travel?
Of course, the requirements for an RV for full-time use are different than those of an occasional weekend unit. If you intend to use your RV full time, consider investing in a higher-end coach from the beginning. While less expensive RV's hold up fine during occasional camping use, full-timing puts a lot more demand on the coach.
What climate do you live in?
Before deciding on the best small Class C RV, always be sure to consider your climate. Many RV's are "four-season" rated, meaning they include extra insulation, heated water tanks, and more robust furnaces. Further, ask the salesperson how easy the winterizing process is. Some manufacturers make winterizing a trivial task with easy to access drains, while some make it a tedious and trying process.
What amenities do you need or want in the Class C motorhome
Lastly, a helpful way to streamline your RV shopping experience is to take a moment and compose a list of features you are looking for in your next RV.
Having a definitive list can make the process much less overwhelming once you are standing on the lot surrounded by hundreds of units (and sales people!).
It's beneficial to divide the list into must-have "needs" and "wants." This allows you to eliminate variables and settle close-calls.
For example, a family may consider a slide-out or king bed to be a must-have "need" feature. Compared to a retired couple who may prefer better fuel economy over larger living space.
Something like a washing machine may be a nice feature but is not a necessity for an occasionally used camper. Haha, my wife might disagree with this, though! 🙂
Conclusion
The units reviewed in this best small class C RV guide barely break the surface of the infinite options available. But we believe these are are some of the top small class C motorhomes on the market.
In countless ways, a compact Class C is the perfect swiss-army-knife, serving as all things to all people. If you keep some guidelines in mind and ensure you are choosing a unit that fits your needs, a small Class C may become the last RV you ever need.