BlueDriver

BAFX

Foseal

OBDLink 426101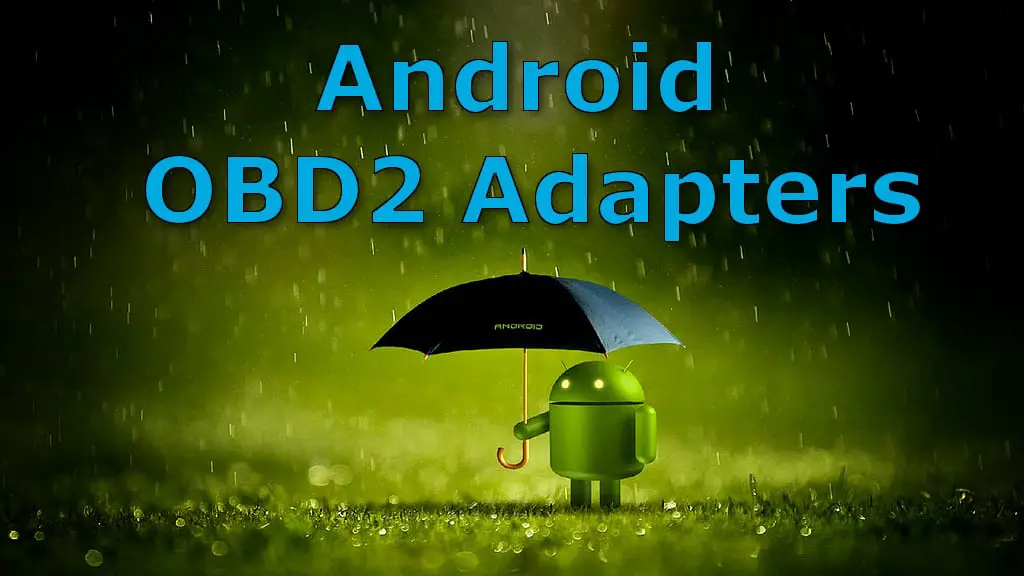 Choosing the right OBD2 Scan Tool for Android
Looking for an OBD2 scanner that works for your Android device? Check out our simple guide to help you find the best OBD2 scan tool for Android phones and tablets.
Spoiler Alert: These are our favorites
Bludriver – Best overall
BAFX (great budget option)
Foseal (great budget option)
| # | Preview | Product | Rating | Price | |
| --- | --- | --- | --- | --- | --- |
| 1 | | BlueDriver Bluetooth Pro OBDII Scan Tool for... | 38,539 Reviews | $119.95 | Buy on Amazon |
| 2 | | for Android Phones ONLY - Wireless Bluetooth... | 34,060 Reviews | $16.65 | Buy on Amazon |
| 3 | | Car WIFI OBD 2 OBD2 OBDII Scan Tool Foseal Scanner... | 3,196 Reviews | $19.99 | Buy on Amazon |
| 4 | | OBDLink MX Bluetooth OBD-II Automotive Scan Tool... | 2,790 Reviews | | Buy on Amazon |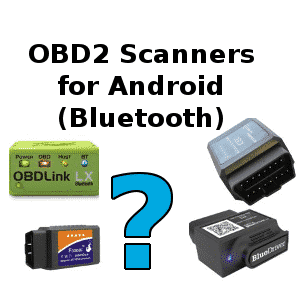 You've all been contacting us recently asking questions like, "yo Mike, I got car X and I wanna know which OBDii scanner I need."
We've been getting this question a lot so I figured I'd try to update this article to make it more concise!
Most DIY'ers are using wireless OBD2 scanners. These use either Wifi or Bluetooth.
If you have an Android you can use either (wifi or bluetooth)
BUT if you have an iPhone, you HAVE TO GET THE WIFI version because Apple doesn't allow bluetooth connections.
If you're old school and want a corded scanner, grab an
Actron
or
Innova
that supports the codes you need to pull. In my experience, I've found these corded scanners are
clunkier
,
more expensive
, and don't pull codes (
enhanced codes mainly
) as well of the wireless dongles. So I usually point people towards the wireless option 🙂
Now, as for wireless OBD2 dongles/adapters, I'd start with the Bluedriver. It's one of the most expensive ones at about 100 bucks (there's two cheaper ones down below that I'll talk about!), but probably the most supported and highest quality adapter I've used. The Bluedriver company's customer support is very good and quick to respond to any questions and their website is super helpful.
Cheaper alternatives. 
Now, if you want a cheaper alternative, (~20 bucks at the time of writing this), check out the FOSEAL or BAFX. They are basically the same adapter with a different name 🙂
If you get either of these, you'll want to use
Torque
(
free
) or
Torque Pro
(
costs $5 or so
). That's the app you'll need to download to your smartphone. Matt wrote a quick guide to different apps here:
These use a generic ELM327 chip that SHOULD support the same features as the Bluedriver, but I can't verify they will because they don't have a "vehicle locator" like the Bluedriver website.
They are both VERY popular OBD2 adapters and lots of people use them.
Here's a brief writeup we wrote on these two cheaper scanners.
"Okay Mike, but which one should I buy?" If you're tight for cash, grab the Foseal or BAFX from Amazon, try them out, and if they don't work, send them back for a full refund.
If you have the money and want a scanner that will last you for years and is pretty much guaranteed to work with vehicle and you know if it'll diagnose enhanced codes, get the Bluedriver.
Oh, if this helped you decide which scanner to buy, you can support our site by buying from these links below (direct from Amazon). We'll get $1-2 bucks (buy us a coffee or Monster energy drink!) and it doesn't cost you any extra 🙂
…plus, we love Amazon and personally buy almost everything from them!
Okay, on to the full writeup on choosing an OBDII adapter for your Android!
Car enthusiasts have a lot to be thankful for these days. Want car parts? Simply go online and order what you need, and it will be delivered to your doorstep. Need to look for a used car? The days of hopping from one dealer to the next is ancient history – simply search the Internet for the widest selection of used cars. Fortunately, even OBD2 scanners are now readily available to every car owner. But it isn't as simple as that. Yes, OBD2 scan tools have evolved in such a way that they are remarkably easy to use, but you must first determine the OBD2 protocol of your vehicle before buying a scanner.
Here's our favorite OBD2 Android scanner for the price
There are 5 (five) known OBD2 protocols:
SAE J1850 PWM
SAE J1850 VPW
ISO9141-2
ISO14230-4 (KWP2000)
ISO 15765-4/SAE J2480 or simply CAN-BUS
If you're not sure about the OBD2 protocol of your vehicle, you can check the owner's manual or the engine information label in the engine bay. You can also search online if you need to double-check the OBD2 protocol of your car.
Why use an Android OBD2 Scanner?
Most scan tools for Android support all of the five protocols, but we're not saying that each and every device is compatible with all of them. But why choose an Android scan tool? There are many benefits to this:
Android is known for its plug-and-play capabilities, so it is essentially considered a universal platform, similar to Windows for the PC. Android phones and tablets can also be used for both Bluetooth and Wi Fi OBD2 scanners. We all know that Apple and iOS can only be used on Wi Fi wireless OBD2 scanners, and will not work using Bluetooth. Why? We can all blame Apple on that, what with their strict sharing and wireless protocols.
There is a lot of debate regarding the popularity (or market share/dominance) of Android versus iOS. In a recent survey conducted last 2015, smartphone subscribers for Apple was a bedazzling 44%, which was more than the combined subscribers who bought Samsung, LG, Motorola and HTC devices – which all run on the Android platform. But Android is still popular in the US, and is considerably more dominant overseas. In 2003, total worldwide Android shipments was 70.1%, compared to just 21% for iOS. No arguments there on why Android Bluetooth scan tools are still popular even now.
We previously mentioned that OBD2 scan tools for Android are very easy to use, and this is made possible by the impressive array of OBD apps on Google Play. There free apps that you can use, but similar to most games on the Play Store, you need to buy the paid version of the app to enjoy all the hidden features.
Speaking of apps, we need to mention the top OBD apps that you can use on Android OBD2 scanners, and these are:
Torque Pro – The free version is good enough, but Torque Pro is better. It has customizable dashboard screens but you can also design your own layout or theme. It also has a dynamometer and horsepower feature that allows you to determine if you can smoke your buddy's car in the track, but it also offers information on vehicle CO2 emissions as well.
OBD Car Tracker – This app is also available for iOS users, and is one of the most popular OBD car apps for Android scan tools. This app is different because it can raise alarms and notify you if anything unusual is happening with your car. It can also monitor your driving habits and show you how much cash you're spending each time you decide to smoke your tires at the next junction.
OBDLink – This app is specially designed for Android only, and it offers real-time graphing, fuel economy and turbo boost pressure. You can also verify emissions and overall fuel consumption. The app itself is now more user friendly, and is consistently being updated to provide smoother operation and a more user-friendly dashboard.
OBD eZWAY – Designed exclusively for Android scanners, this app offers premium GPS tracking and air-fuel ratio monitoring. But what sets it apart is that eZWay will create your car's personal home page so you can monitor family trip statistics, daily ratings of who's driving the car and fuel cost control.
The verdict is basically the same:
all of those apps are great, and there are free apps that you can use. But if you need something that will not only monitor your fuel consumption or emissions, then you should get a paid version of your preferred OBD2 app. After all, they only cost a couple of dollars.
We should also mention that some OBD apps will work better if you use an app-specific OBD2 scan tool (like the Bluedriver), but a large majority of Android scan tools are designed to interact pretty well with any third-party app.
We have been getting a lot of questions about choosing the right OBDII app for Android adapters, and that prompted us to write a more comprehensive guide. Check out the OBD2 Apps guide here: https://scanneranswers.com/best-obd2-app-software-android-iphone-windows/
That link above covers apps not only for Android, but iPhone and Windows phones and tablets as well. Check it out!
Introducing the top 5 Wireless OBD2 Scanners for Android
We have hand-picked 5 of our favorite Android OBD2 scan tools, both in Wi-Fi and Bluetooth configurations.
BlueDriver Professional – Best Overall OBD2 Android Scan Tool
BAFX 34T5 – Best Android OBD2 Scanner For the Price
Foseal WiFi – Best WiFi Android Adapter
ScanTool 426101 – Runner Up
1. BlueDriver Professional
Bottom Line
Scan and clear Check-engine, ABS, Airbag, and Transmission codes! It is the only OBDII adapter officially licensed with Android and Apple, so you know it will work with any smartphone you own! Fast OBD2 scanner that quickly scans any car or truck made after 1996 for issues. Instantly know if you can pass emissions. Access to the Reports database which has over 4 million vehicle fixes! View live engine and sensor data, capture freeze frame info, and a lot more!
The BlueDriver Bluetooth Professional scan tool is not the most expensive, but it certainly isn't the cheapest either. But it comes with the reputation of being developed by professional engineers in North America, and it is officially licensed and certified for Apple and Android devices.
Besides the price, there is something you need to consider: this OBDII scanner will only work exclusively with the BlueDriver app to ensure quality. The good news is that the app is free, so you don't need to worry about purchasing separate third-party apps.
Pick up the BlueDriver on Amazon
The BlueDriver Bluetooth Professional Scan Tool works with all vehicles from 1996 and upwards, including both imports and domestic cars and trucks. The device also supports all five OBD2 protocols, so it will work on all new cars as well. Since this device is professional-grade, you can also view a vehicle-specific repair report that contains valuable information such as code definitions, possible causes of the error code and reported fixes which you can email as a PDF file. If that's not enough, it can also read and clear enhanced codes such as ABS, transmission and airbag codes on most Ford, GM Chrysler and Toyota vehicles.
You can also leave it plugged into the OBD port of your vehicle without worrying about battery drainage. This device offers a lot for the price, but it also makes it easier for you to finally pinpoint the worrying cause of that nagging check engine light.
If you can afford the price tag (nearly 5 times as much as the others) then the Bluedriver is the best OBDII adapter for the money!
2. BAFX 34T5
Bottom Line
Bluetooth OBD2 scanner lets you connect your Android smartphone to your car and helps with car repairs! View Live Engine data, read/clear CeL light codes, Check Freeze-Frame data and more! Works on most vehicles made after 1996. Low Cost OBDII adapter solution!
We added the BAFX Products 34t5 not because it's the smallest, but it's definitely one of the cheapest in the bunch. If you are new to the world of OBD2 vehicle scanners then you need to check out this amazing device.
The BAFX 34t5 scan tool for Android works on all vehicles sold in the USA, as long as your vehicle supports the OBD2 protocol (vehicles released from 1996 upwards). It will also work on all five OBD2 protocols including CAN-BUS, which is pretty common for vehicles manufactured since 1998. This scan tool is easy to set up, and it hides inconspicuously under your vehicle dashboard while plugged-in.
This Android vehicle scanner can read and clear diagnostic trouble codes. If you have a check engine light on your dash and you happen to have an Android smartphone or tablet then the BAFX 34t5 is an excellent choice. It can read both generic and manufacturer specific codes and analyze real-time sensor information. Are you fond of sprinting from one stoplight to the next? This OBD2 scanner will display your quarter-mile times in your Android smartphone or tablet. It works with all Android and Windows devices, and the product comes with a solid 2-year warranty. What's more, it costs less than (see price on Amazon), which in our opinion is pretty amazing.
The only caveat? If you live outside the US then you need to contact BAFX Products to know if the product will work with your vehicle type. But for customers in the US, this product is designed to work with all models.
Low cost adapter that comes with a warranty and works awesome with Torque Pro. For 95% of you, it will be the perfect OBD2 adapter!
3. Foseal WiFi
Bottom Line
Wireless OBD2 scanner for your Android or iOS (iphone, iPad, etc) – Compatable with all major OBD2 protocols (CAN, ISO14230-4, ISO9141-2 and more!) – View current vehicle sensor data – Read and clear check engine codes
Looking for a cheap Android scanner that uses WiFi rather than Bluetooth (and also works with iPhone)? You better take a close look at the Foseal Scanner for iOS and Android. Again, since it works via Wi Fi, it will work on any Android or Apple smartphone/tablet. The Car WIFI Scan Tool will work on both free and paid apps, and it can display current sensor data including engine RPM, coolant temperature, vehicle speed and absolute throttle position.
This scan tool for Android and iOS will work on all known OBD2 protocols. It can read, display and clear diagnostic trouble codes, both generic and manufacturer-specific DTC's. What's more, you can search for the meaning of the trouble codes from a database of more than 3,000 generic code definitions.
This is probably one of the cheapest Android WiFi scanners we've tested, and it certainly doesn't scrimp on features either. We like that it works on both paid and free versions of any third-party app, so if you're looking for a budget OBD2 scanner then this is an outstanding choice.
I prefer the Bluetooth wireless adapters like the BAFX and Bluedriver, but this scanner works for Apple products and it's 2 bucks cheaper than the BAFX!
4. ScanTool 426101
Bottom Line
Sync up your Android phone to your car, and make that phone useful for more than just looking at cats – The LAST OBD2 tool you'll need, functions with all OBD2 protocols – Battery Saver technology means you can leave it plugged in 24/7
The ScanTool 426101 OBDLink MX Bluetooth is designed to work with Android and Windows only. It can transform your humdrum PC or smartphone into a professional-grade scan tool. You can leave this device plugged in, even if you turn off the engine and lock the car. This innovative battery-saving technology will instantly turn on the device when you turn the engine on, and turn it off when the vehicle is not in use.
The ScanTool 426201 OBDLink MX is reputably the fastest Bluetooth wireless scanner in the market, capable of accelerating apps and software by as much as 400%. It also utilizes a multi-layered link security mechanism that prevents unauthorized intrusion into the Bluetooth network. The device comes with its own OBDLink app for Android (and OBDWiz for Windows) but it will also work on other third-party apps.
This device costs more than other Bluetooth scanners, but it is also faster than the rest. This means you get real-time sensor data as you put your pedal to the floor, and it can accurately display fuel economy data as you drive your vehicle. The device is also quite small and unobtrusive, and will work on all 1996 + vehicles sold in the USA since it supports all five OBD-II protocols.
It's more expensive than the BAFX and Foseal, but if you want an adapter that you can leave plugged in 24/7, get this one!
5. iSaddle WIFI Wireless OBD2 OBDII Scan Tool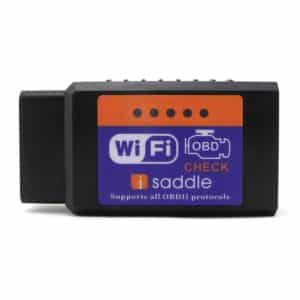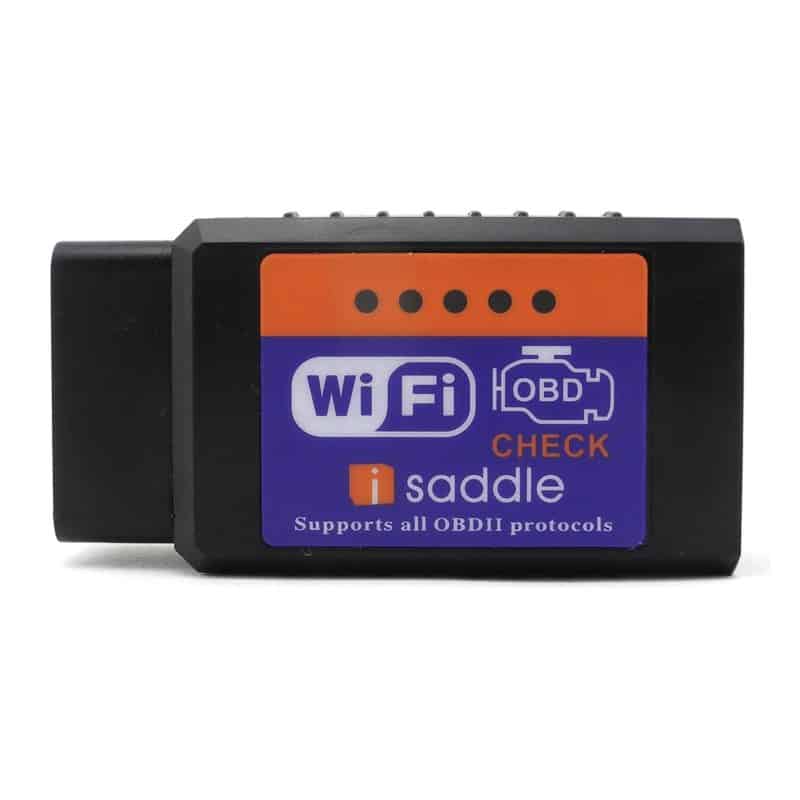 Updated for 2018
The iSaddle is basically a repackaged Foseal scanner and we'd suggest purchasing the Foseal instead. 
Last on our list is the iSaddle WiFi Wireless OBD2 Scan Tool. What makes this better than other vehicle scanners is that it works on Android, Windows and iOS since it uses Wi-Fi to communicate with your device. Of course, you need a pretty decent Internet speed to achieve successful results, but for the price this OBD2 WiFi scanner offers remarkable value.
The device supports all OBD2 protocols including CAN-BUS. It will work on your pre-2000 Honda, and it will work on your 2010 Ford. It will work on most third-party Android OBD apps, but the manufacturer recommends using paid versions for trouble-free compatibility.
The iSaddle WiFi Android and iOS scanner can read both generic and manufacturer-specific trouble codes. It can also display the meaning of the trouble codes (instead of displaying random numbers and letters) so you will instantly know what's bothering your car. The database contains more than 3,000 generic trouble codes, making it easier to determine the cause of that annoying check engine light in your console.
It can clear trouble codes, display current sensor data monitor the airflow rate of your engine. That may seem too much for the average Joe, but for car enthusiasts this product is nirvana.
Conclusion
From our list of the best Android scan tools, you may have noticed that the price does not necessarily reflect the quality or the usefulness of the product. You can buy a cheap Android scan tool and still get the same amount of features like those found on more expensive vehicle scanners, although the more expensive ones may offer a host of other features that you might want (or need) in an OBD2 vehicle scanner. We hope this guide of the best OBD2 scan tool for Android helps you find the right scanner for you. Need a scan tool for Windows or IOS? Check out our buying guide for the best OBD2 scanner
Have any questions? Drop a comment down below and we'll help you find the answer! Heads up, you can also find more OBD2 bluetooth scanner reviews here
-Mike
Search terms: 
android obd2 scanner
best obd2 scanner android
bluetooth scan tool