Best Synthetic Motor Oils
Royal Purple 51530

Castrol 03087 EDGE Extended Performance

Castrol 03083 EDGE

Valvoline 5W-30 SynPower

Mobil 1 120764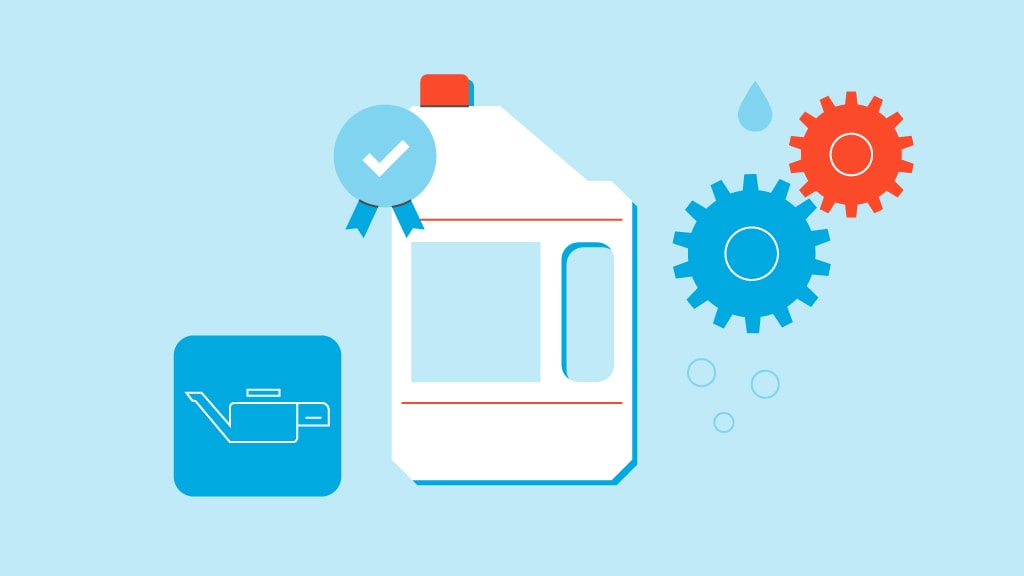 Vince here to talk about lubrication! If you're looking for the best synthetic motor oil for your car or pickup, this article is specifically meant for you.
The engine in your vehicle needs proper lubrication at all times. This enables the engine to work efficiently while protecting it from heat and wear. Lubrication will ensure you enjoy many miles in your vehicle. So, what do you need to guarantee this?
Want to skip the reading? Here's the products!
| # | Preview | Product | Rating | Price | |
| --- | --- | --- | --- | --- | --- |
| 1 | | Royal Purple 51530 API-Licensed SAE 5W-30 High... | 3,981 Reviews | $37.56 | Buy on Amazon |
| 2 | | Castrol 1597B1 EDGE Extended Performance 5W-30... | 24,749 Reviews | $29.58 | Buy on Amazon |
| 3 | | Castrol Edge 5W-20 Advanced Full Synthetic Motor... | 24,772 Reviews | $25.98 | Buy on Amazon |
| 4 | | Valvoline Advanced Full Synthetic SAE 5W-30 Motor... | 22,967 Reviews | $26.97 | Buy on Amazon |
| 5 | | Mobil 1 Advanced Full Synthetic Motor Oil 5W-30, 5... | 36,879 Reviews | $26.97 | Buy on Amazon |
This article will give you a couple of helpful tips so you can choose the best type of oil for your vehicle.
Make sure you know how much oil your engine needs! https://scanneranswers.com/many-quarts-oil-car-need/
Our 5 Best Synthetic Engine Oils with Brief Reviews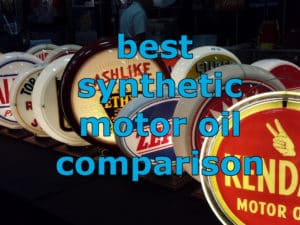 Royal Purple 51530 – Best overall synthetic motor oil
Castrol 03087 EDGE Extended Performance – Best long life synthetic oil
Castrol 03083 EDGE – Another great synthetic oil
Valvoline 5W-30 SynPower – Best American owned and operated motor oil
Mobil 1 120764 – Best cheap synthetic motor oil
1. Royal Purple 51530
Bottom Line
Improved motor efficiency – more power and mileage – great engine protection
The Royal Purple brand (read our Review here) name reminds you of luxury and excellence. Your vehicle's engine will run with excellence if you purchase this oil, and it will make sure your engine has enough of it at all times. This product is specifically for gasoline engines. You can purchase the oil in a range of sizes, so if it's the oil you prefer you can keep stock of it for regular use.
Pros
Excellent lubrication
Better fuel economy
Compatible with ethanol-blend gasoline
Affordable price
Great for old/vintage engines
Cons
This oil can't be used in diesel engines
Higher price tag
Summary
Royal Purple oil gives engines the royal treatment. Your engine will function far better than before, as it protects and lubricates well. At an affordable price, this is definitely a product to put on the shopping list.
Read my Full Royal Purple High-Performance Synthetic Motor Oil Review HERE
2. Castrol 03087 EDGE Extended Performance
Bottom Line
Protection up to 15,000 miles – Very affordable synthetic oil – Maintains viscosity provides maximum protection of your engine
The well-known Castrol Company (read our detailed review here) offers you this product that was developed after extensive research. The special additives will enhance oil's performance so your vehicle draws many benefits. Here's what you need to know:
Pros
Enriched with titanium particles to offer better protection against wear and tear
Solid and durable performance up to 15,000 miles before the next oil change
Reasonable price
Meets or exceeds Dexos1 standards which is perfect for any make and model of American or European car
Cons
Hard to find at physical stores
Summary
As always, Castrol offers an excellent product to customers. Whether you have an old car or a brand new truck, you'll love the efficiency with which your engine will run.
Wanna know more about how awesome this oil is? Check out Matt's Castrol EDGE Extended Performance Synthetic Motor Oil Review
3. Castrol 03083 EDGE
Bottom Line
Protection up to 15,000 miles – Very affordable synthetic oil – Maintains viscosity provides maximum protection of your engine
If you compare the Castrol 03083 vs the Castrol 03087 you will not find much difference. From what we've found, the 03083 claims to meet a bunch of requirements by Dexos1. It also costs a few dollars more. If you're really concerned about getting the best synthetic motor oil for your car, give the Castrol 03083 a try. Otherwise the Castrol 03087 lasts longer between oil changes and is cheaper.
Pros
Affordable price tag
Great for older engines
Powerful cleaning action to reduce harmful engine deposits
Meets or exceeds strict Dexos1 standards
Cons
Summary
A certain car can only function to its full potential if you use the best products. This Castrol product is one that will bring the best out of your engine. Start experiencing what your car can do today.
4. Valvoline SynPower
Bottom Line
Valvoline is American owned and operated! Cant beat made in the USA
The Valvoline Inc. was founded in the 1800's. They have been part of motor history since the very beginning, so you can be sure they know what clients require. This Valvoline oil product has a range of features that will improve your engine's functionality. Let's look at a few.
Pros
Powerful cleaning action prevents sludge build-up
Excellent lubrication to significantly reduce engine friction
Better protection against cold starts and extremely high operating temperatures
Better fuel economy to give you more miles to the gallon
Perfect for supercharged or turbocharged vehicles
Cons
American-made quality comes at a price
Summary
You need to decide whether your budget or your car's engine is the most important. You may save quite a lot of money if you purchase the correct oil, instead of trusting cheaper products. Quality oils prevent damage so fewer repairs and replacements are necessary. In the long run, it may be beneficial to purchase this expensive motor oil, because it will definitely preserve your engine so you get more miles out of it.
5. Mobil 1 120764
Bottom Line
Lowest priced synthetic oil and offers superb protection at a terrific value
Mobil is synonymous with any car scenario. For more than a century, this company has helped vehicle owners look after their assets. This motor oil is a continuation of this legacy, because it will help you have the best experience possible in your vehicle.
Pros
Decent price tag
Reduces sludge and carbon deposits in the motor
Exceptional protection against cold starts
Superb fuel economy
Superior engine lubrication
Cons
Difficult to find in stock
Summary
Mobil offers you an excellent product at an affordable price. You'll love how easy it is to maintain the like-new performance of your vehicle by simply using a high-quality synthetic motor oil.
Our Top 5 Best Synthetic Motor Oil Guide Summary: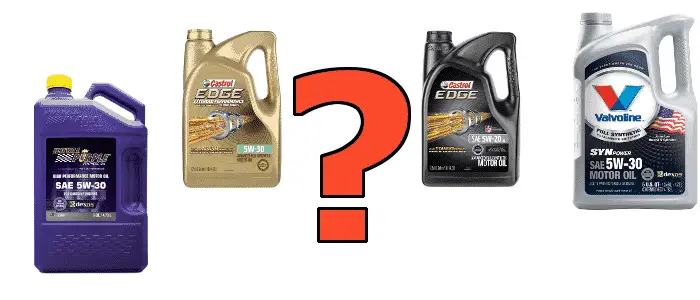 What is the best synthetic motor oil?
Motor oil or engine oil is designed to lubricate the internal parts of the engine. It forms a layer around metal components so moving parts can operate smoothly. Oil protects these parts against rust and also against wear and tear.
But what many people don't know is that motor oil is also responsible for cooling the internal parts of the motor. The process of combustion produces extremely high temperatures and demands a motor oil that will lubricate, protect, and cool the motor as it operates continuously in the harshest driving conditions.
Through the years, technology made it possible to manufacture more efficient and more powerful oil products. All motor oils are extracted from crude oil. Crude oil comes from a mining process underground. New methods extracted more dynamic lubricants from crude oil, so engines using these oils work even better. Oils can be grouped in two types:
Conventional oils
Conventional oils are made from crude oil and have been used since the dawn of the motorized car/pickup. The substance is less refined than synthetic oils. Conventional oils can lubricate an engine, but it tends to break down and leave deposits on engine components. The residue that conventional oils leaves can be sticky instead of creating a smooth surface.
Synthetic oils
Synthetic oils evolved along with technology. New methods enabled scientists to extract a more refined oil that's more beneficial to engine functioning. The differences from conventional oils include:
Impurities are removed
There are less chance of residue forming
The chemicals that make up the oil are customized. They can then perform more in line with what an engine requires for optimal functioning
Read more about conventional oils vs synthetic oils.
How oil helps your engine
Oil is used throughout your engine, and you need to make sure there's enough of the substance so your engine's parts can be well lubricated. This lubrication benefits your car as well as your budget in the following ways:
Oil creates smooth surfaces in moving parts. Less means less damage. By reducing friction, the engine parts won't wear out as easily. There's less damage, less breakage and therefore, fewer replacements or servicing are necessary.
Oil ensures that all parts easily move, which has an effect on how hard your engine has to work. If parts move effortlessly, less power is needed. You'll use less fuel and have fewer emissions.
Oil absorbs some of the heat created by friction in the engine. This allows parts to work more effectively and prevents heat damage. It helps keep your engine from overheating.
Benefits of synthetic motor oils vs conventional oil
The unique chemical makeup of synthetic oil means it performs differently than other oil. If you put synthetic oil into your vehicle, you'll see the following benefits:
Your engine temperatures will be lower
Synthetic oil flows freely, even at low temperatures. This means it protects your vehicle's parts even while your car is warming up
Synthetic oil doesn't thin at high temperatures. When your car becomes extremely hot, your engine parts will still be well protected
Check the owner's manual of your vehicle. If you can't find the owner's manual on an older car, pop open the hood and check the engine oil cap. It is recommended to follow the manufacturer's recommended type of oil for every servicing.
What to look for when shopping for the ideal motor oil
If you're staring at oil containers, unsure of which ones are worth the buy, look for these features:
Excellent viscosity. This helps the engine run smoother in cold climates or extremely hot temperatures.
High lubricating properties. This will decrease friction to allow the engine to run smoothly and lower fuel consumption.
Oil can contain some chemical additives that assist in looking after the engine. Additives help to break down residue so your engine stays clean and functions well.
Now that you know what to look out for, browse through these synthetic oils below and look for the one that most impresses and fulfills your vehicle's requirements.
Final Verdict
We hope this guide the choosing the best synthetic engine oil has helped you. We use and recommend each product on this list, but if we had to pick one, we would vote Royal Purple as the best synthetic motor oil.
Don't forget to check out our guide to the best spark plugs and best halogen headlight replacements.
Taking care of your vehicle can become quite expensive, because you need many products to look after your vehicle's different parts. Oil protects your engine, which is the vital part of your vehicle if you want to travel at all. It's worth paying a little extra to ensure you give your car the best. Luckily, many well-known brands offer motor oil at reasonable prices.
Looking for more resources on oil? We wrote of guide on what an oil changes should cost.
-Vince