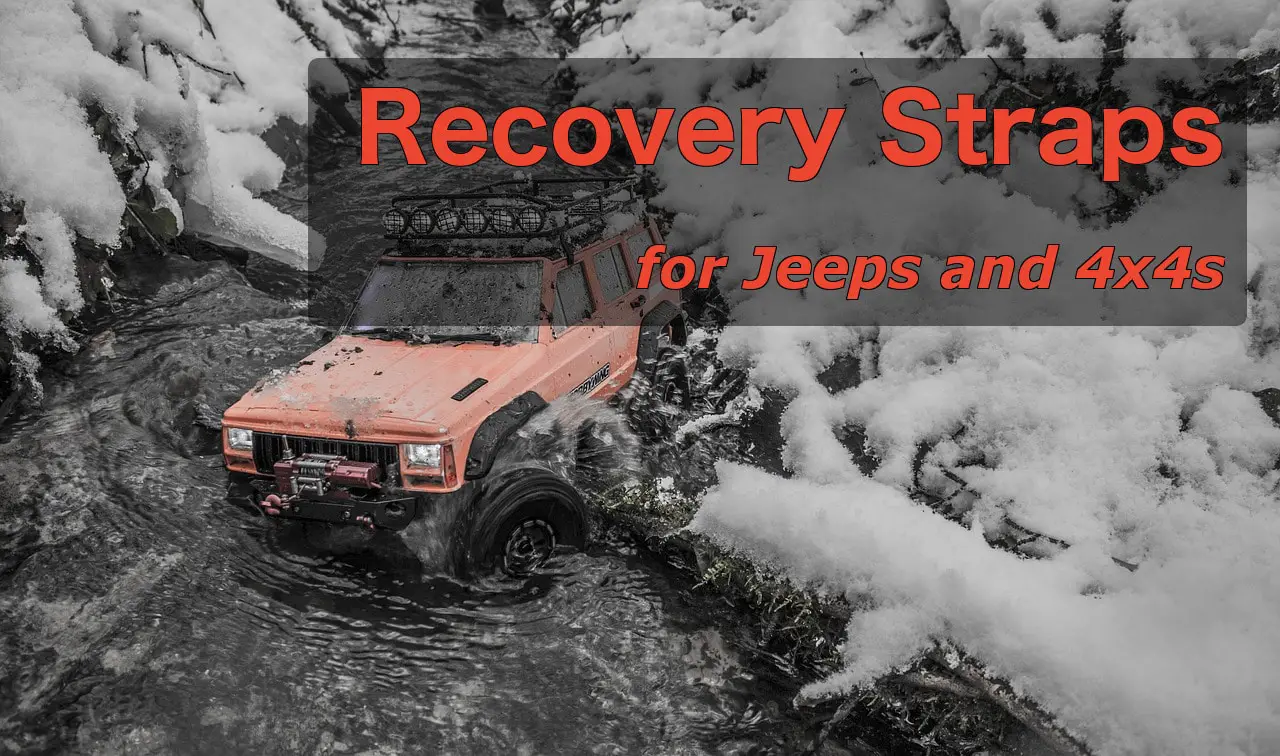 Learn about Off-Road recovery straps and how to use them here!
Mike here. In this article, I will discuss the best recovery straps for Jeeps and 4×4 vehicles so you can perfectly choose the right one for the job. I will also divulge some much needed tidbits on how to properly use a recovery strap.
If you're an off-road enthusiast, chances are you've either gotten yourself stuck or one of your buddies got stuck and now you have to recover your vehicles.
Maybe you're a DIY mechanic and your car broke down on the side of the road or you slid on some ice and now you're stuck in a snow bank or down in a ditch. Now you have to get your stuck car/truck unstuck.

Unfortunately, you can't just strap any old rope or chain to the stuck car and use your pickup truck to pull it out. There are a lot of things to think about and taking shortcuts isn't going to cut it. You need to do this recovery and possibly tow the vehicle as safely as possible.
And it's best not to try this alone. Grab your friends and work out a plan to get your car back on the road.
First thing on the agenda is to get yourself a Recovery Strap.
The simple fact is this: if you are planning to drive in the wilderness (or over rough terrain), always bring along a Recovery Strap. I cannot stress this enough.
The Best Recovery Straps Buying Guide Summary
| # | Preview | Product | Rating | Price | |
| --- | --- | --- | --- | --- | --- |
| 1 | | RHINO USA Recovery Tow Strap 3" x 20ft - Lab... | | $36.90 | Buy on Amazon |
| 2 | | ARB ARB710LB 3-1/4" x 30' Recovery Snatch Strap... | | $96.00 | Buy on Amazon |
| 3 | | ALL-TOP Heavy Duty Tow Strap Recovery Strap Kit :... | | $61.98 | Buy on Amazon |
| 4 | | Motormic Tow Strap Recovery Kit - 3" x 30ft... | | | Buy on Amazon |
| 5 | | Rocket Straps Tow Strap - Premium Heavy Duty 3" x... | | $32.88 | Buy on Amazon |
1. Rhino USA Recovery Tow Strap
Bottom Line
The Rhino made choice number one because it's the an affordable tow strap that's made in the USA, has a 10,000 pound Working Load Limit (WWL), and gets the job done.
There's a reason why the Rhino USA Recovery Tow Strap is on top of this list. The strap is manufactured from Rhino's exclusive poly-silk webbing material. It is soft to the touch but is incredibly strong and durable. It comes with triple-reinforced loop ends to ensure maximum strength. I'm not a big fan of the bright green trimmings on this recovery tow strap, but the color does make it easy to see the strap when working in dark or dim conditions.
My favorite thing about the Rhino strap is the price. It is among the lowest-priced recovery/tow strap in this list. The reinforced loop ends of this strap makes it ideal for both recovery and towing scenarios.
I mentioned this because there's a world of difference between a tow strap and a recovery strap. If your recovery strap is equipped with large metal hooks, that is called a tow strap. A recovery strap is also more stretchable than a tow strap. I will discuss more on this later.
Pros
Low priced
Flexible and softer than others
30,000 pound break strength
10,000 pound working load limit
Made in the USA
100% buyer satisfaction
Downsides
Build quality shows signs of cheapness and mass production
With that being said, the Rhino USA is a great synergy between a recovery and tow strap. The poly-silk webbing allows the strap to marginally stretch when force is acting upon the strap. However, it remains firm enough to be used for towing. This is the ultimate emergency off-road towing rope that any off-roader can have.
The one thing I don't like about this item is the build quality seems good enough for the weekend warrior but it might not fit the needs of a serious offroad enthusiast… For those folks this strap would function perfectly as a backup or emergency product.
…But if you're hardcore offroader, check out the next product for a strap that you can rely on –
2. ARB Snatch Recovery Strap
if you want the best snatch recovery strap for the money, then you want to get the ARB. 
This orange-colored strap is manufactured from 100 percent nylon material. Nothing beats nylon in the world of recovery straps. The material allows the strap to stretch like a rubber band. This allows the pulling power to transfer more effectively to the other side of the strap, which allows for greater strength when pulling out the heaviest of loads.
Bottom Line
While more expensive that others on this list, this is the most reliable recovery strap and best for hardcore offroaders.
Unlike other recovery straps that only measure 3" in width, the ARB recovery strap goes further by adding a quarter inch of material. This may not look like much, but an inch of width in a recovery strap is equal to roughly 10,000 lbs. This is the reason why the ARB Recovery Strap is rated at 24,000 lbs.
When it comes to build quality and reliability, the ARB trumps the Rhino USA.
But there's a catch: the ARB costs way more than the Rhino USA. And while the loop ends of the ARB recovery strap are properly reinforced, the nylon strap itself is bit rough to the touch. This is not something that will affect the strength or durability of the strap, but the smooth texture of the Rhino USA recovery strap does make it feel more refined.
I wholeheartedly recommend the ARB Recovery Strap for serious off-road enthusiasts. 
Pros
Suitable for heavy duty work
Great build quality
24,000 pound break strength
8,000 pound working load limit
Made in Taiwan (not cheap Chinese material)
Downsides
Expensive
Bulky and difficult to store
It might be harder to store due to it's extra thickness, and it's going to cost you more to purchase. But in terms of tough and critical recovery situations, my money will be on the ARB Recovery Strap. I believe nylon is still the best material for a recovery strap. The elasticity of nylon generates the kinetic energy required to complete the job. This also means an elastic recovery strap will reduce the likelihood of damaging both vehicles while pulling.
Like I said, you'll pay more money for the ARB Recovery Strap. But you also get more strength, better pulling power, and the renowned toughness of the ARB badge.
3. All-Top Snatch Strap Kit
Bottom Line
The All-Top performs well under most demanding situations. If you have a smaller or lighter 4×4 vehicle, the ARB strap is a bit of overkill for the price. The All-Top is a great option for someone looking for a little higher quality than the Rhino USA, but doesn't want to pay the high price tag of the ARB.
This kit also comes with a pair of ¾ heavy duty D-ring shackles that are made from specially-treated carbon steel. You can keep the strap and the shackles in the included heavy-duty storage bag.
Pros
Includes bow shackles and a bag
3 year warranty
40,000 pound break limit
12,000 pound WLL
The strap itself has a breaking strength of 42,500 lbs. and measures 4″ x 20′ (other sizes and strengths available). This means the recovery strap can pull a maximum weight (WLL) of around 13,000 lbs. The strap comes with reinforced loops and neoprene protector sleeves for added strength and security.
4. Motormic Tow Strap Kit
A word of caution about this product: it is actually a tow strap and NOT a recovery strap. 
The strap is manufactured from rope and has very little elasticity. For all intents and purposes, this product is great as a winch strap and for other towing applications. But if you're looking for an elastic recovery strap, you are better off with the ARB or the All-Top recovery strap.
Bottom Line
TOW strap and not a recovery strap. But it still works great for pulling trucks out of the mud, snow and sand. It's a good tow strap and comes with D-Ring shackles and a storage back.
Still, the Motormic Tow Strap is a serious kit. The strap measures 3" x 30' for a breaking point of 30,000 lbs. and a maximum load of 10,000 lbs. Both ends of the tow straps are equipped with padded and reinforced end loops to increase the strength on the connecting points of the strap.
This recovery kit will cost just as much as the ARB recovery strap, but you get more tools for the money. Besides the towing strap, you get a multi-mount hitch receiver. It is rated at towing up to 10,000 lbs. and is perfectly designed for 2-inch receivers.
Pros
Strong, thick, high quality
Shackles included
30,000 pound break limit
10,000 pound Working Load Limit
Affordable tow strap for the money
Downsides
Not a snatch strap
Never heard of the brand
You also get a pair of heavy-duty D-ring shackles. Each is rated at 9,500 lbs. and are equipped with red plastic isolators to prevent rattling. The D-ring shackles are precision-crafted from drop forged steel for maximum strength. Each shackle is treated with a zinc coating to resist rust and corrosion.
Motormic will also throw in an innovative pin lock. It can fit on all types of hitch receivers and can be adjusted using a set of five silicone O-rings. A waterproof storage bag is also included in this recovery kit.
So, you pay more money but you get more tools with the Motormic Tow Strap Recovery Kit. It is not a proper recovery strap by any means, but it is strong enough to tackle the toughest towing jobs.
5. Rocket Straps Heavy-Duty Tow Strap
tow strap
(not specifically a snatch strap). With a 3" x 30" strap, the company claims this is also ideal for demanding recovery situations. Unlike other recovery straps that are crafted from nylon, the Rocket Straps is manufactured from polyester.
Bottom Line
Another Tow Strap that works as a recovery strap, but it's not a snatch strap. Budget friendly, built well, perfect for cars and trucks, and comes with a lifetime warranty
As such, it doesn't offer a lot of stretch compared to a proper recovery strap. And while the strap is rated with a breaking strength of 30,000 lbs. (10,000 lbs. maximum working capacity), it is more ideal for towing and light recovery situations due to the lack of stretch.
Pros
Great for towing
Budget friendly
Lifetime warranty
30,000 pound Break Limit
10,000 pound Working Load Limit
Downsides
Doesn't stretch as well as nylon
Made in China
But don't get me wrong. With reinforced loop ends and protective sleeves on each end for added strength, the Rocket Straps heavy-duty tow strap can still deliver some serious muscle. And besides, I would rather have the Rocket Straps in my Jeep than have nothing at all.
What is a Recovery Strap?
A recovery strap is a heavy duty nylon strap made for pulling a vehicle for recovery purposes like getting it unstuck from snow or mud, or pulling it out of a ditch.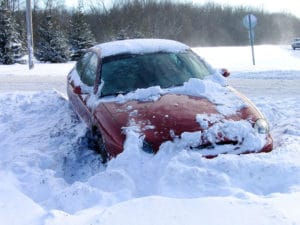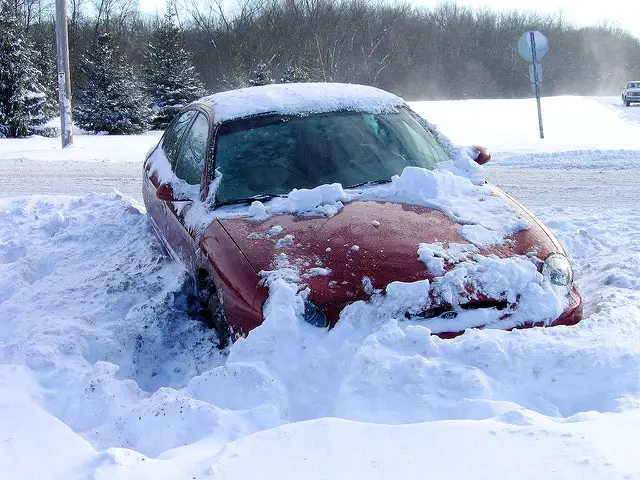 Recovery straps are not tow straps but they can be used for and are intended for flat towing only.
It's important to know the difference between a recovery strap and a tow strap if you want to prevent any serious injuries or further damage to your vehicle.
Recovery straps have loops on the ends but they don't have big, heavy-duty hooks on them like tow straps do. Tow straps are not recommended for pulling a stuck vehicle because they don't have the kinetic stretch to them that recovery straps do.
If you use a tow strap to pull a stuck car, it could possibly snap the strap and you and the vehicle could face some serious damage once those big hooks go flying.
Recovery Straps & Tow Straps Safety Tips Video: 

What's the difference between a tow strap and a recovery strap?
Tow straps and recovery straps are NOT the same thing!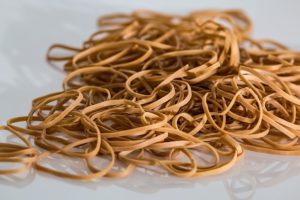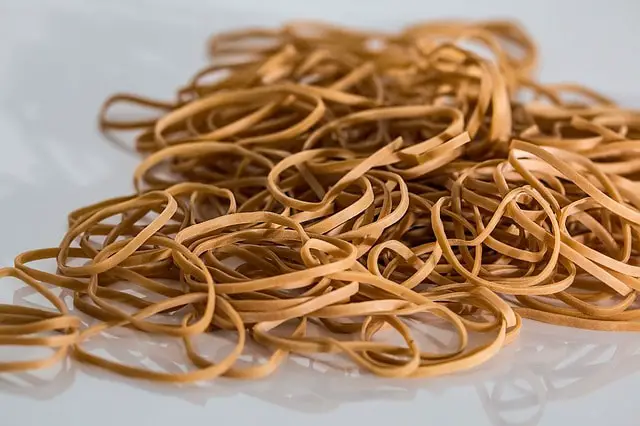 Recovery straps more elastic than a tow strap. The kinetic energy produced by the stretching of the recovery strap is responsible for multiplying the pulling power of the material. Have you ever stretched out a rubber band and let it go? What happened? It snapped back to it's original shape right? That's exactly what a snatch recovery strap does for a stuck Jeep.
Tow Strap vs Snatch Strap Demonstrated
Check out this video by Ultra Red Outdoors showing the difference in pulling a stuck vehicle out with a tow strap vs snatch strap. As you can see, with the snatch recovery strap, you leave a little slack, get a slight "running start" and the elasticity of the strap acts like a rubber band which usually yanks out the stuck vehicle. Give it a watch now.
If you want a the best recovery strap, it is better to choose nylon over polyester.
Nylon is considerably more elastic and can stretch more than any other material.
Are towing straps any good for recovering vehicles?
Well, yes and no. In a pitch, it's better than nothing (but whatever you do don't use a towing strap with hooks for recovery!). Towing straps are usually fine for light recovery jobs like pulling your pickup out of a snowy ditch, but for anything else, I highly recommend you get yourself a snatch recovery strap.
However, if you're towing a broken down vehicle then you definitely want a towing strap.
Towing straps have less elasticity because they're designed to tow a non-running vehicle back to the Garage. In most cases, proper towing straps will come with large and heavy hooks on both ends of the strap. Those metal hooks might prove helpful when towing heavy loads, but they're dangerous when used in recovery situations. When the strap breaks, you don't want to be on the other end of a flying metal hook, right?
So choose wisely. Recovery straps can go anywhere from 20 to 40-feet in length. The width of the recovery strap should be from 4" to 6". However, recovery straps with more than 6" in width are less elastic. Every inch of width in a recovery strap is good for around 10,000 lbs. Use this as a general guideline. In most cases, a 2" or 3" strap is your best bet whether you have a small Suzuki Samurai or monster Jeep Wrangler.
How to Use a Recovery Strap
Here are some helpful tips on how to use a recovery strap along with some useful 4×4 recovery techniques.
The recovery strap should be attached to the frame of the vehicle via the receivers. You should never attach a recovery strap to bumpers, axles, suspension components, steering rods, and even on the hitch ball.
Don't tie the strap in a knot. This is a surefire way towards failure. The recovery strap should be attached to a tow hook or D-ring adapter in extreme situations.
Before pulling the vehicle out, it is best to lay thick jackets or a tarp on top of the recovery strap. This will slow down and tame the strap in case it breaks.
Always inspect the strap before using. Check the entire length of the strap for nicks, cuts, frays, loose stitching, and other signs of deterioration. If you find anything unusual in the strap, it is safer to grab another one.
Check the hardware. The mounting or recovery points should be free from rust. This also holds true for the tow hooks and the front/rear hitch.
For recovering vehicles, it is always better to pull using the rear end. This is also the safest possible scenario if the strap breaks.
Always drive slowly when pulling a vehicle out. Avoid sudden tugs. This will not only damage the strap, but it can cause serious harm to both vehicles.
Engage 4L or four-wheel drive low range whenever applicable. In this setting, all four wheels are driving the vehicle using a low gear ratio. This provides maximum power and optimum traction in recovery situations.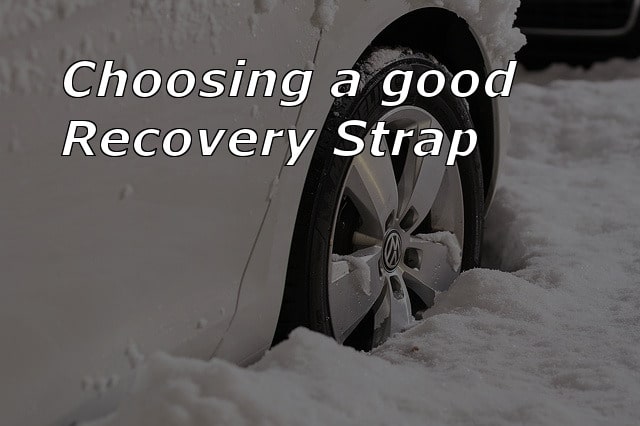 How to Choose a Good Recovery Strap
The first things to ask when choosing a recovery strap would be what are you planning to use it for and how heavy is the vehicle you are going to be using it on. There are two numbers that you want to look at:
Break Strength vs Working Load Limit (W.L.L.)
Break Strength – This is the maximum pressure the strap can handle before snapping. For example, a 30,000lb break limit means if you put 31,000 pounds on that strap, it's gonna be destroyed and cause problems!
Working Load Limit –  This is how much pressure can be applied for an extended period of time. It's usually 1/3 the amount of the Break Strength. For example, if your strap has a 30,000 pound break strength, your working load limit (WLL) is about 10,000.
You want to use a strap that is rated for at least the weight you plan on pulling with it or more. A heavier rating most times will not be a problem.
Knowing the type of vehicle recovery is important too, since different scenarios can impact what straps you need; if you're towing a tractor or a Panzer tank, it's gonna be different than pulling your buddy's Jeep Wrangler out of the sand dunes.
How to Shorten a Recovery Strap 20′ or 30′ Length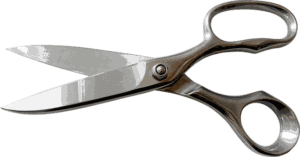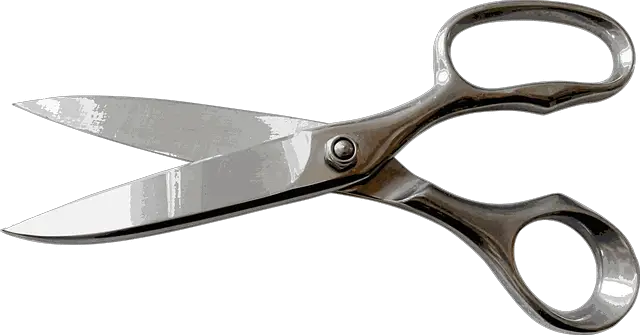 If you really need less than the 20′ or 30′ length of the strap, pull the strap through one of your pulling or tow points on the vehicle. On the other side of the car, pull one loop through the other on the strap and it will be a shortened length.
You don't ever want to cut the strap to shorten it. This weakens the strap and could cause it to fray and snap during the recovery.
Proper Tow Points on Cars
Most vehicles have a tow point on the front frame and rear frame. Tow points on newer vehicles are probably hidden behind a cover and need to be assembled so they can be used. Your vehicle's owner's manual should detail where to find the tow points and guide you through setting them up.
Locating Proper Vehicle Recovery Points Video
Vehicle Recovery Techniques
First of all, every recovery expert develops their own techniques over time depending on how many recovery situations they've encountered. Recovering any vehicle really depends on a lot of variables that will determine what technique to use.
The position of the car
The environment that you're in
Whether the stuck vehicle is down a ditch and how far
Is the car on its roof, on its side or on its wheels
You also have to think about any obstacles that you have to maneuver around.
How far from the road is the car?
How far down in a ditch is it?
Is it up against a tree, stuck between trees, or wrapped around a telephone pole?
Is there snow and ice on the ground or on the road?
Generally, the recovery method is to first make sure the vehicle is on all four wheels. You may have to flip the vehicle first before actually starting the recovery.
Once the car is back on its wheels, attach the recovery strap to a secure pulling point on both the stuck car and the vehicle that is doing the pulling. It's best to have two or more people on hand so one can steer and brake the recovered vehicle, if necessary, while the other is operating the recovery truck.
If you have to do the recovery by yourself, make sure the towing capacity of the truck you're going use for recovery is sufficient for the car you need to recover. Make sure you do the job in as safe a manner as possible. Don't take any shortcuts or you could risk serious injury to yourself as well as damage your car more than it already is.
Two More Vehicle Recovery Offroad Essentials
Alright, hopefully by now you've decided to grab a recovery strap, but there's a two more essential items to consider adding to your off road gear pack:
D-Ring Shackle Receiver – These are a cheap and easy way to add a recovery point to your pickup or Jeep. Just shove it in the hitch when you need be recovered or to pull someone out. I like the Smittybilt but there's other brands out there too.
Winch Damper Blanket – The purpose of these are a backup in case the strap snaps or breaks free. The Damper Blanket with make the strap fall to the ground rather than it crashing through a window. Just put it in the center of the strap and you're good to go. If you're cheap, a heavy jacket does the same thing.
Sale
Sale
How to Tow an Automatic Car
Once you've recovered the vehicle, you can tow it. If you're going to tow an automatic vehicle, there are a few things you absolutely need to be aware of before strapping that car to a truck and pulling it.
Tip #1 – Keep the Drive Wheels Off the Ground
If you have a front-wheel drive, tow from the front of the car making sure the wheels are off the ground. If it's a rear-wheel drive, tow from the back. The owner's manual will also tell you how far you can tow the vehicle and the speed limit you should go while towing.
Tip #2 – Always Tow with the Car in Neutral and Emergency Brake Off
The vehicle's non-drive wheels need to be able to rotate, but they won't if the car is in any gear other than neutral and/or the emergency brake is on.
Keep in mind, though, that putting the car in neutral will disengage the engine from the trans, but it won't disengage the trans from the wheels. If you tow with the car's drive wheels on the ground, whether front-wheel or rear-wheel, when the drive wheels turn, the trans turns and will probably heat up during travel.
Since the engine is off, the trans fluid pump won'tcool the transmission because it won't be getting lubricated. This could cause damage to the car's transmission, giving you more headaches than having to tow the car in the first place.
The most advised way to recover or tow a vehicle with an automatic transmission is to use a flat bed or rollback recovery truck. This method makes sure that while the car is on all fours, you're still avoiding any possibility of damaging the transmission while it's being moved.
The mechanics over at Motor Vehicle Maintenance & Repair Stack Exchange have some great tips on their forum on towing cars with automatic transmissions that will help you avoid damaging your vehicle's transmission.
If you're going to recover your car or a friend's car yourself, it's a good idea to check the vehicle's owner's manual before you start the recovery. If you don't have the original owner's manual for your specific car, you can look it up at Edmunds.com. The owner's manual will give you guidelines for proper recovery and towing of your car so you don't create any further damage.
Recommended Towing Methods for Any Vehicle
Flat bed or rollback wreckers are the preferred towing methods for any car since they're made to keep all the wheels off the ground and you don't have to worry if the car is in neutral.
If the only way to tow a front-wheel drive car is from the front due to rear vehicle heavy damage, you must use a front-end dolly if you don't have access to a flat-bed or a rollback tow truck.
Make sure you don't leave home without a Jeep OBD2 scanner!
Conclusion
Wow that was a heck of a list. Hopefully this helps you find the best recovery straps for Jeeps and pickups. Let's recap and go over the summary:
Rhino USA Recovery Tow Strap – Cheapest snatch strap for the money, and works well for the average user.
ARB Recovery Strap – Most expensive but also the most reliable snatch strap. Reccommended for hardcore offroaders or people who want the best.
All-Top Recovery Kit – It's the happy medium between the Rhino and the ARB products. Perfect blend of value and toughness.
Motormic Tow Kit- A great Tow strap, that's built well. If you're strictly doing recovery, choose either the Rhino or ARB.
Rocket Tow Straps – I'd say this is the best cheapest tow strap. It's reliable and seems well made.
If you have anything we forgot to add or see some error in this article, please contact us.
Mike.