Best Waterless Car Wash
Meguiar's G3626 Ultimate

Armor All Ultra Shine

Aero Cosmetics

Optimum No Rinse Wash and Shine

TriNova
Is your car, truck or SUV in desperate need of a bath, but you cannot make it to the "Auto Spa?"
Look, I get it. You're a busy guy. You don't always have time to get to the car wash. That's why today we're talking about the best waterless car wash for your vehicle that you can use right in your garage or driveway!
At first, a waterless car wash sounds oxymoronic, but they actually make a lot of sense. For those unfamiliar…. a 'Dry Car Wash' is a wash that you can use to clean your car that does not require any water.
Bet you didn't see that coming! Bam!
Yeah but seriously, waterless automobile washes offer several benefits over regular vehicle washes, and can save you money in the long run. Below, I've put together some need to know info and some of the best waterless vehicle washes for your consideration.
| # | Preview | Product | Rating | Price | |
| --- | --- | --- | --- | --- | --- |
| 1 | | Meguiar's Ultimate Waterless Wash & Wax -... | | $9.97 | Buy on Amazon |
| 2 | | Armor All 18240 Ultra Shine Wash Wipes (12 XL... | | $64.30 | Buy on Amazon |
| 3 | | Wet or Waterless Car Wash Wax Kit 144 oz with Bug... | 11,868 Reviews | $39.95 | Buy on Amazon |
| 4 | | Optimum No Rinse Wash and Shine - ONR Car Wash,... | 8,059 Reviews | $18.81 | Buy on Amazon |
| 5 | | TriNova Waterless Car Wash and Wax Kit - Bug... | 936 Reviews | $12.99 | Buy on Amazon |
 Spoiler Alert – This magical car duster will cut your car washing by 90%! 
| Preview | Product | Rating | Price | |
| --- | --- | --- | --- | --- |
| | California Car Duster 62442 Standard Car Duster... | 6,214 Reviews | $25.68 | Buy on Amazon |
Five Best Waterless Car Washes
Meguiar's G3626 Ultimate – Best overall waterless car wash
Armor All Ultra Shine – Most convenient car wash wipes
Aero Cosmetics – Best Waterless Car Wash Wax Kit
Optimum No Rinse Wash and Shine – Best for the value
TriNova – Last on our list but certainly not least
1. Meguiar's G3626 Ultimate
Now I've mentioned before that I've a sucker for Meguiar's products and have been using them since my first car – a 1990 Toyota Celica. Meguiar's Waterless Wash kit does not disappoint! I always keep a bottle of this stuff in my garage in case I want to go out for a Friday night cruise with my lady, but the Chevelle is a little dusty.
Great value – Won't scratch paint – leaves a synthetic wax to keep that ruby red paint shiny clean! In about 10 minutes, the Meguiar's waterless automotive detailer + a little elbow grease takes the car from "dusty and meh" to "oh yeah!"
Here's the top features:
Volume: 26 ounces
Wash and Wax: Yes
What's Included: 26 oz. spray bottle of wash
So you're getting a huge bottle at a good price, and it usually lasts  for 5 washes or so (assuming your car ain't too dirty!).
Find it on Amazon here: Meguiars G3626 Ultimate
Gentle
Meguiar's Waterless Wash & Wax gently washes and waxes your car, without scratching or damaging your car's glass coat. The powerful cleaners in this wash loosen and remove dirt, leaving your car with a long lasting, glossy finish. This wash is gentle enough to be used on any surfaces, so you can clean your entire car with just one product.
Protective "Hydrophobic" Coating
After washing and waxing your car, this car wash leaves behind a protective hydrophobic coating. Typically you wouldn't think water could do any damage to your car, but you'd be wrong. Rain water can contain pollutants that have the potential to damage paint, not to mention it leaves behind water marks and streaks that are unsightly and distracting. With this hydrophobic coating, water that falls on your car just beads and rolls right off of your car.
Easy to Use
Finally, this Meguiar's car wash is super easy to use. All you have to do is spray it on and them wipe it off using a microfiber towel and requires no water at all. Instead of taking an hour or longer to wash your car by hand using a wet vehicle wash, you can wash and wax your entire car in under 30 minutes with this car wash.
Pros
What I love about this vehicle detailing wash is that it offers people without a hose, or those living in a drought, a way to effectively wash and wax their cars. Regularly washing and waxing your car has several benefits, and there's no reason where you live should dictate whether or not you can take proper care of your car.
Downsides
What I love about this dry automotive wash is that it offers people without a hose, or those living in a drought, a way to effectively wash and wax their cars. Regularly washing and waxing your car has several benefits, and there's no reason where you live should dictate whether or not you can take proper care of your car.
You can read more about this kick-butt wash here: Meguiar's Ultimate Waterless Wash & Wax Review
2. Armor All Ultra Shine
Bottom Line
Easy to use and portable wipes – PERFECT for spot cleanups and inbetween car washes
This was a tough choice when choosing where to put it in this list because I'm a lazy guy…..and the Armor All car wash wipes are perfect for us lazy folks!
The Meguiar's (see #1) does most of the heavy lifting when I need to clean the dirt off my paint, but sometimes I don't have a clean microfiber towel lying around, or cannot find one.
That's why I love the Armor All Ultra Shine Wipes. They are an all-in-one system! Just pull out a wipe, clean off that bird doodoo, pollen, bug splatter, or anything else!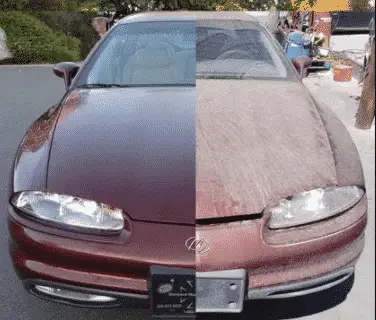 Yup, just pull out a wipe, and get to work. They're great to keep in the glove box too in case you're already on the road and get a drop of bird crap or something on your paint. My buddy who lives in Georgia loves these wipes because they have "Love Bugs" which can destroy a vehicle paint job quick! He uses the wipes to quickly mop the guts off his Silverado pickup!
Here's what's good about 'em:
Volume: 12 wipes
Wash and Wax: No
What's Included: 12 pre-moistened wipes
Fast and Easy
These wipes, maybe more so than any of the washes, is super fast and easy to use. You don't need a hose, bucket, sponge, towel, or wash solution, all you need is the wipes. With a few gentle swipes over your car, these wipes lifts any dirt, grease, and grime from your car, it's as easy as that.
Completely Waterless
Some of the previous washes require some degree of water to be used effectively, but this is truly a waterless car wash. This is perfect for people who live in an apartment, have limited access to water, or anyone who just doesn't like washing their car. Armor All has created a way for absolutely anyone to get a sparkling clean car in just one step.
Versatile
If you still aren't sold on these wipes, they are extremely versatile as well. They can be used on just about any vehicle, from cars and trucks, to trailers and snowmobiles, these wipes can tackle almost anything. Since it's just a small pack of wipes, they are also easy to store and take with you anywhere you go. You can use them anywhere, at any time, for a quick detailing or a full wash.

Pros
Armor All is one of the most recognizable brands on this list, which is a direct result of their strong reputation. Armor All has been in business for decades, making strong, high-quality car products and innovating new technology. I have had several experiences with Armor All products, and I have never been disappointed.
Downsides
You're paying more for convenience here. You can get multiple vehicle paint washes out of one pack of wipes, but not as many as most of the other washes. However, they are decently affordable and extremely effective so I don't mind running to the store to stock up when I run out.
3. Aero Cosmetics
Bottom Line
Everything you need to clean your car, boat or plane! This kit comes with everything you need to get started in the world of waterless automotive detailing
I'm gonna be straight up with you guys on this one. I have too many "best" products to include them all! 🙂
When Mike first came to me telling me I had to review the "Aero Wash Wax All kit", my first response was, "Who the heck is Aero Cosmetics? Is that a makeup company!?"
My first impression couldn't be wrong. Aero seems to be a new player on the auto detailing scene with their Wash Wax All products, but let me tell you, they are making some waves!
Anyway, my neighbor John just purchased a sick, cherry red, Hellcat and that thing is a beauty! But under this Florida sun, it sure brings out any imperfection in the paint job. John asked me if I had any ideas for a quick way to keep his baby clean and I thought it would be a great opportunity to test out the Aero Cosmetics kit.
Our Test Results of the Wash Wax All: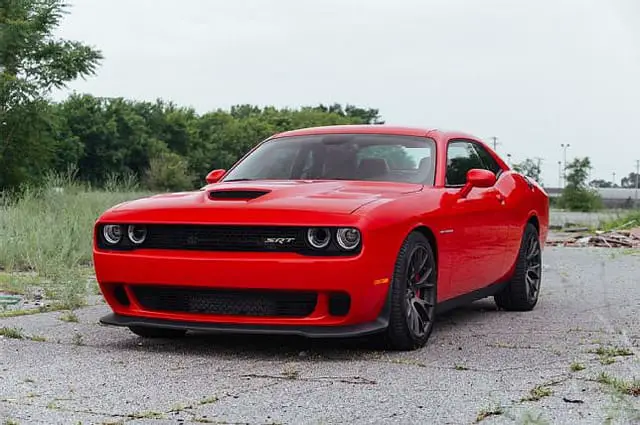 After a quick spot test on the rocker panel in the shade, we wiped down the Hellcat with included microfiber towels (make sure you wash em first!) and Ooooooweeeee, let me tell you, that cherry paint shone like a shooting star and June evening!
I cannot help but recommend this stuff to all my friends!
Top Features/ Specs
Volume: 144 ounces
Wash and Wax: Yes
Biodegradable
What's Included: Gallon of Wash Wax ALL, 16 oz. spray bottle of Wash Wax ALL, 4 microfiber towels, mini bug scrubber, product guide, and a how to guide
UV Protective Coating
This Aero waterless wash and wax not only gently lifts dirt from your car, it also leaves behind a protective UV coating. The UV coating will protect your car from the sun's UV rays, which can cause paint dulling and oxidization. Once your paint starts dulling, and the frame starts rusting, it can be difficult and costly to get your car back to its former glory. Without UV protection, your car will start looking old and worn down well before it should, so this detailing tool helps extend the lifetime of your car and ultimately save you money.
Safe on All Surfaces
Since this wash is water based and alcohol and ammonia free, it is safe to use on any surface or vehicle. It can be used on plastic, chrome, metal, glass, vinyl, leather, aluminum, and rubber, which makes it good for all types of vehicles, including boats and motorcycles. This wash can even be used on the inside of your car so that you can clean your windows and windshields on both sides. You can even wipe down your leather seats, although I haven't tried it yet.
Long lasting
Every couple of weeks your car will need to be washed so that dirt doesn't build up too much, and if you live in a particularly dusty area, you may need to wash it weekly. However, this kit comes with 144 ounces of Wash Wax ALL, so it will take a while to go through all of it. On average, this kit will last around 6 months, which can save you hundreds of dollars per year when you add up the cost of the dozens of commercial auto spas you would have paid for over the year.
Pros
Aero has experience formulating heavy duty cleaners used on high-end aircrafts, and that is exactly what this wash is, so you know it's a high-quality automotive paint cleaner. I'm definitely going to be adding some to my auto detailing collection
Downsides
The only downside to this kit, although it is true for most waterless washes, is that it won't fix oxidization or scratches. This wax enhances your car's natural shine, but if the paint is dull or rusting, you will have to polish it to fix those problems. Another minor thing is that if you already have microfiber towels, you should just buy the gallon jug of it and save 10 bucks.
If you're bored, check out our complete Aero Waterless Wash Kit Review
4. Optimum No Rinse Wash and Shine
Bottom Line
If you want the most washes for your dollar, get this one! A gallon of this stuff could last a year or longer!
Are you looking for the cheapest waterless car wash? Then you've gotta try out the OPT wash and shine. It's not "cheap" in the sense that it sucks, but it's cheap in that it's a great value and you get a TON of washes using it. You can get it on Amazon here: Optimum No Rinse (ONR)
You mix 1 oz of OPT per 2 gallons of water. That means that a 32 container with give you 64 gallons of cleaning solution.
Now 2 gallons is enough for one car, and I found that I could usually do two or more. This means that it's easy to get 64 washes with a 32oz bottle of ONR! (Some more experienced auto detailers report getting even more washes!)
Here's some tips and trips to using ONR:
Top Features/ Specs
Volume: 32 ounces
Wash and Wax: No (wash only)
What's Included: 32 oz. bottle of "ONR" Wash and Shine
Concentrated Formula
You end up getting a lot of actual washing out of this Optimum No Rinse Wash and Shine solution since it is very concentrated. A single ounce of this wash can make up to 2 gallons of washing solution, which is more than enough for the average car. After some practice, you can easily wash two vehicles with two gallons!
Polymer Technology
This wash contains a blend of lubricating polymers, which make up the glossy finish. The polymers work by gripping onto the paint, without damaging it, and removing dirt and gunk. These polymers help leave your car both clean and protected, so you don't have to worry about UV rays or water damage. Don't confuse this with a wax/polish finish though.
Multipurpose
Best of all, this wash has multiple uses and can be used for multiple steps in the detailing process. You can use this wash mixed into water to clean your car or mix it with your regular car wash and water to use it as a water conditioner. You can also use it as a quick detailer and a clay lubricant bar, depending on what ratios of water and wash you use.
Pros
A huge benefit of this wash is that it is environmentally friendly, so you don't have to worry about hurting the environment every time you wash your car. ONR contains no VOCs so it's good for the environment. On top of all that, it's very low priced and a 32 oz bottle should last a long time!
Downsides
The ONR doesn't leave a wax finish like some other kits. But if you need a waterless wash and was then you can purchase their Optimum (NRWW2012Q) version which also performs well. I didn't find the need for the wax and just prefer to use this to clean my ride!
5. TriNova
Bottom Line
Super concentrated formula lets you get lots of washes! Microfiber towel and spray bottle included!
Alright, last on my list is the TriNova. Now some might prefer this stuff over the Meguair's, or ONR, but I personally think that for the money and value, you're better off with the other options.
Here's the three biggest selling points: 
It's a concentrated formula so it makes a ton of solution and you can get about one or two washes per "spray bottle"
It's a wax solution as well so it can give your vehicle a nice little shine without have to use any additional spray waxes or carnuaba waxes.
Unlike the ONR, you don't need a bucket. Just mix some water in the spray bottle and go!
Find it on Amazon: TriNova
Now, with that said, it's the same price as Optimum No Rinse (ONR), but you get half as much. Granted, it's a lot cheaper that going to the drive-thru vehicle wash at 10 bucks a pop, but still, it's not the best valued dry car detailing solution.
Additionally, I noticed that it was leaving streaks on my dark blue Ford Ranger due to the wax formula. This was easily solved by getting out a dry microfiber towel and lightly buffing it, but still, it irritated me slightly 😛
So if you're looking for a straight paint washer, this might not be the best choice. I'll admit though, after using this product the wax formula really left a nice, deep shine on my blue paint.
Specs:
Volume: 16ounces
Wash and Wax: Yes
What's Included: 16 oz. of wash & wax solution, 18 oz. spray bottle, and a microfiber cloth
Concentrated Solution
Even though it's only 16 ounces, it is super concentrated, so it ends up making over 500 ounces of solution when diluted properly. Concentrated solutions are easy to stretch and make last a long time, and give you the best bang for your buck. Instead of repeatedly buying spray bottles of TriNova every couple of washes, the concentrated solution in this kit can make 32 spray bottles worth of auto detailing spray!
Easy to Use
TriNova cuts down on exterior auto detailing (compared to standard washing with a hose and whatnot). It comes with a ½ ounce measuring cup, so it's super easy to measure out the exact amount of concentrate you need. Then you just dump it in the spray bottle, fill it with water, and get to work.
All Inclusive
Like I mentioned earlier, this kit comes with everything you need. From the concentrate and spray bottle, to the microfiber cloth that comes with it, this waterless automotive wash comes with everything you need to use it. The microfiber cloth is gentle and specially designed to remove debris while leaving behind a smooth, even finish. I would recommend getting some more microfiber towels. I usually use 3-4 towels when I'm detailing my pickup.
Pros
Concentrated formula gives you lots of vehicles washes. 100% money back guarantee. Complete dry car wash kit!
Downsides
For the money, the ONR is a better deal. They don't include enough microfiber towels to get the job done. Some vehicles it'll leave streaks that you have to buff out with a dry (microfiber) towel making for extra elbow grease spent.
Bonus – California Car Duster
I know you're here to read about finding the best dry car wash kit, but I just have to include the California car duster and talk about it for a minute. If you store your truck or car in the garage, then you'll notice that dust can build up quickly after a wash. Also, some seasons have a lot of pollen or other flower dust floating through the air and your clean vehicle is like a magnet for that!
If you want to drastically cut down on the amount of times you need to wash your ride, grab a California car duster and save time and money!
My first experience which this duster was back in 2007 or so when I had just bought my second car; 1990 Mitsubishi 3000GT VR4 – black. Now if you've owned a black car, you know that you have a keep them clean to keep that beautiful deep paint shining good! Anyway, I was washing my clear at least twice a week to keep it clean when my buddy Mike told me about the California Duster.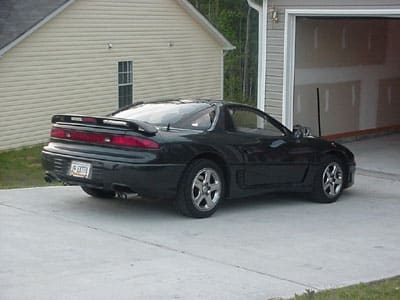 Related: How to wax a black car and the best car wax for black cars
He said, "Dude you've gotta try this thing. It's a dust killer and perfect for a quick touchup!"
Fast forward a couple weeks when I splurged the fifteen-or-so buck and bought one. Let me tell you what, this thing is awesome! It lets you just "dust" your car and save trips to the commercial auto wash. It only takes two or three minutes to wipe down your vehicle and it's the best thing since sliced bread for dark colored vehicles.
You can pick them up on Amazon here: California Car Duster
Grab one or two and prepare for your external auto detailing to get a whole lot easier!
Pros
Just wipe off dirt and reveal a beautiful shine! Quick and easy to use. Guys – this is the first time you'll find yourself wanting to "dust!" 🙂
Downsides
There is a break-in period (make sure you read the directions and lay it out on a newspaper!) which causes it to leave red fibers. Some people have reported it's not as good as the older ones (make sure you buy from the California Car Duster brand!).
Benefits of using Dry Car Washing Products
Protects your vehicle paint
The main benefit of washing your car, waterless or not, is the protection it gives you and your car. Over time, the dirt that builds up on your car can chip and scratch your car's protective coat, which leads to color fading and eventually paint scratches and chips. Washing your car can also make driving safer, by removing dirt and other debris on your windshields and windows that may otherwise obstruct your view.
For extra protection, make sure to use some spray wax or some other liquid carnuaba wax!
Cost effective – save that money!
Commercial car washes can get pretty expensive if you wash your car regularly, and even worse, they can use up to 20 gallons of water per wash, (although most of that is reclaimed). Still, the typical commercial car wash costs around $6-$10 bucks, so if you get one per week, you end up spending over $300 per year!
Many people choose to wash their cars themselves to save money, but using regular car soap and a hose can use almost triple the amount of water used by commercial washes, and none of that is typically reclaimed.
And you can admit it, dragging out the soap, microfiber towels, bucket, and garden hose takes time! There's gotta be a quicker way…. Hey that reminds me, we did write a sick guide on how to wash your car!
Click here to skip to the summary and see which one you should buy!
One of the most appealing parts of waterless automotive cleaner is how easy they are to use. They are much quicker than standard washes (with soap and a bucket), and with just a few steps your car looks as good as new. Instead of having to rinse your car, scrub it down, rinse it again, dry it, and then wax it, but these washes typically only have one to two steps. Most products even have a wax layer so that you can wash and wax your car all at once.
They are good for the environment.
If you live in high heat places like California, there is serious concern for drought and permanent water restrictions could be seen before we know it. When you don't waste the precious aqua on your car, you're doing your part to make sure your kids and future generations can enjoy clean water.
Factors to Consider Before Buying a Waterless Car Wash Cleaners and Waxes
I recommend considering the ingredients on the label. You want to make sure there are no harmful chemicals in the car wash so that it won't damage your car. Most people assume if you can clean your car with it, then it won't contain abrasive or corrosive ingredients, but that's usually false. It isn't hard to find a product that is natural, nontoxic, biodegradable, or non-irritating, so I definitely recommend getting one of those.
You will also want to consider how dirty your car is to begin with and how dirty it typically gets. Waterless car washes are best for cars with a light to moderate amount of dirt, so they aren't for everyone. If you just haven't washed your car lately and it's very muddy, or caked in dirt, you should go to a commercial car wash before trying to detail/clean it with a waterless automotive wash. However, if your car is regularly muddy, like a work truck or jeep, a waterless or "dry," vehicle cleaner may not be for you.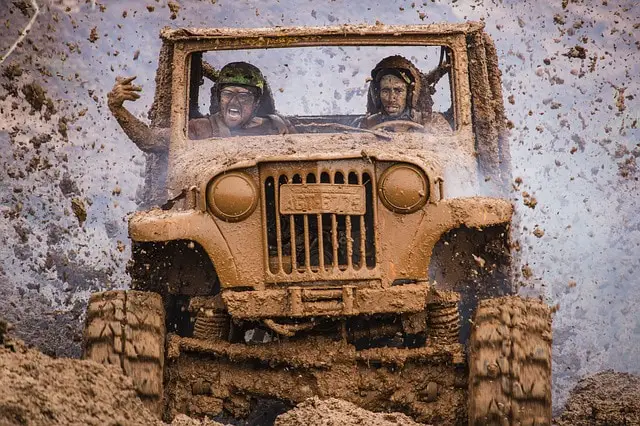 Spoiler Alert – Check out my #1 Pick Here
Lastly, you should learn about how they are used and their different application techniques. Some car washes are sprayed on and wiped down with a towel, others are individual wipes, but either way, there are a few guidelines you should follow. You should always start at the top of the car and work your way down, this way you know where you've been over and you aren't spreading dirt all over your car. The wheels and bottom panels are the dirtiest part of your car, so you want to get them last. This way you don't scratch your paint's clear coat from the grime.
Tips for Choosing the Best Waterless Vehicle Wash for Your Needs
Three things that I keep in mind when choosing the right option:
Cost – If you're a tightwad like me, this is always a big consideration. For example, you can buy the TriNova which is a high concentrated mix, and yields lots of uses, but it's a pain in the butt to mix with water. Then there's the ArmorAll wipes, which are quick and easy and conveniant, but not as economical as a concentrate.
Brand – I'm a bit of a brand snob, I'll admit it! But there's good reason to buy from a reputable brand because you don't wanna be using some cheap garbage on your precious car or truck and mess up the paint job! Here's my favorite brand: **Vince's favorite brand**
Formula – I like the "Wash and Wax" formulas. These are sweet and save time by cleaning the surface layer dirt, and applying a light coat of protective wax that'll make your paint shine and give it a beautiful shimmer!
You should also keep in mind that just because it doesn't "require water" doesn't mean that you don't need any other equipment to use it. Lots of these products still require you to use a microfiber cloth to apply it, but some do not. If you do need towels or other equipment, look for kits that come with everything you need. This cuts out the extra step of you having to purchase everything separately and possibly getting the wrong thing.
Come on, every man should have a bucket and some microfiber towels on hand!
Lastly, the best advice I have is to do plenty of research before buying. I'm sure that's why you're here, and I'm gonna try to do my darndest to help you find the right one for your vehicle!
Below is a quick rundown on some of the top waterless vehicle washes on the market, but I recommend looking at each one thoroughly and learning more.
How to use a waterless vehicle wash?
If you're like me and don't have time to read direction, here's the simple, man's guide to using a dry automotive external detailer!
Spray the liquid on your (clean) microfiber towel (read more about some of my favorite microfiber towels here)
Wipe in a straight line in one direction
Flip the towel and "buff" the section
…or this guide on ONR provides some great tips and tricks also:
So which waterless vehicle wash is best?
Man, choosing the best waterless vehicle wash is such a difficult task that I had to include 5! Haha.
Here's how I would sum it up:
If you want a easy to use spray where you're not mixing formula and already have microfiber towels – Get the Meguiar's G3626 Ultimate
If you need convenience and don't mind spending a little extra cash – Get the Armor All Ultra Shine car wash wipes
My favorite kit for the first timer who is just starting out – Choose the Aero Cosmetics Car Wash Wax Kit
Want the best overall bang for your buck? – You can't beat Optimum No Rinse
Need a wax and wash at the same time? – Grab the TriNova Wash Wax
Waterless vehicle washes are faster, easier, and better for the environment, so any of these are better than commercial or wet car washes!
Got any questions? Drop a comment or contact us!
-Vince