Griot's Garage Paint Cleaning Clay

Chemical Guys Medium Clay Bar

Chemical Guys Light Clay Bar

Armor All Ultra Shine Spray Wash

OPT Optimum No Rinse Wash & Shine

Chemical Guys Clay Luber Synthetic Lubricant
Two Essentials That You Need Before Clay Bar Cleaning Your Black Vehicle
Hey there I'm Matt and I want to help you find the best clay bar kit for black cars. If you're reading this, I'm going to assume you already know a bit about automotive detailing, car washing, waxing, and the like. If not, we'll briefly talk about that but we're focusing on two products that you need to clay bar clean your black ride.
Clay Bar – This is simply a blob of clay that you run over your paint and it soaks up dirt and grime like a magnet.
Lubricant – You gotta use lube! If you don't have a slick lubricant, your clay will scratch up and swirl your paint. Especially dark colored paint.
You can choose from tons of clay bar kits at your favorite auto parts store. But which is the best? I've broken this article up into 3 sections:
Choosing the right Clay Bar
Choosing a quality Clay Bar Lubricant
FAQ and how to clay a black vehicle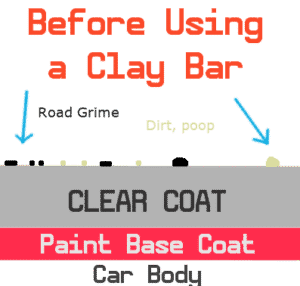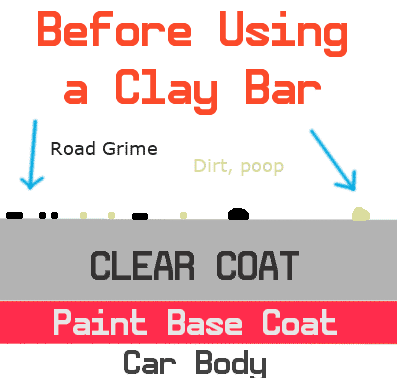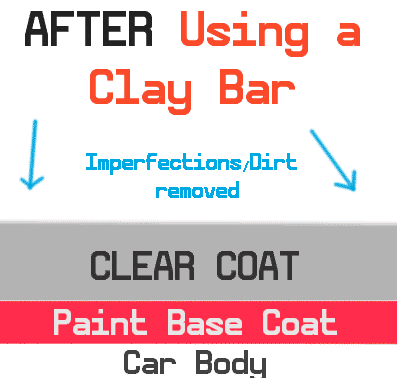 The Best Clay Bars for black paint
| # | Preview | Product | Rating | Price | |
| --- | --- | --- | --- | --- | --- |
| 1 | | Griot's Garage 11153 Paint Cleaning Clay 8oz | 1,424 Reviews | $35.98 | Buy on Amazon |
| 2 | | Chemical Guys CLY_402 Medium Duty Clay Bar, Gray,... | 3,659 Reviews | $12.99 | Buy on Amazon |
| 3 | | Chemical Guys CLY_401 Light Clay Bar, Blue (100 g) | 3,662 Reviews | $17.98 | Buy on Amazon |
1. Griot's Garage Paint Cleaning Clay
Bottom Line
We used a lot of clay bars in the past, but our favorite is the Griot's Garage Paint Cleaning Clay.
It may be a bit pricey, but you're getting a lot of clay for the money. A single 8 oz. can of this clay bar can go a long way. This product can easily remove contaminants, bird droppings, tree sap, and asphalt easily without harming the paint. Regular use of this clay bar (along with polishing and waxing) will also prevent oxidation, which is an important thing to remember if your vehicle is constantly exposed to sunlight. Unlike the Chemical Guys clay bars, the Griot's Garage is only available in a single variant, but that's not necessarily a bad thing. Based on our experience, this clay bar is great for light or moderate cleaning jobs. The trick is to use the right kind of clay lubricant (more on that later).
Pros
Economical and easy to use
Ideal for both light and tougher cleaning
Downsides
It's a bit expensive but you get a lot of clay for the price
2. Chemical Guys Medium
Bottom Line
This product is ideal for black vehicles that need moderate paint cleaning prior to waxing.
The Chemical Guys Medium Clay Bar is a more powerful alternative to the Light Clay Bar. It is powerful enough to remove deep-seated dirt and contaminants in automotive paint including rail dust, overspray, pollution, and brake dust. When used appropriately, it can remove moderate and rough contaminants without scratching or marring the paint. If you have an older black vehicle, the Chemical Guys Medium Clay Bar is the top choice. It is effective yet gentle enough to lift off harmful paint contaminants without damaging the paint.
Pros
Powerful yet gentle cleaning action
Easy to use
Affordable price
Downsides
May cause marring when not used properly
3. Chemical Guys Light
Bottom Line
This is the clay bar you want to get if your paint is in good shape without too many blemishes!
The Chemical Guys Light Clay Bar is applicable in removing light paint contamination on newer or well-maintained vehicles. This clay bar is also great for black cars. The light consistency will prevent marring and swirl marks, which are two of the biggest downsides to claying a black vehicle. This product is not only good for automotive paint. It is also ideal to clean glass, plastic, and bare metal or chrome plated surfaces. This clay bar can easily remove tar, insects, asphalt, and tree sap without harming or scratching the finish. Look no further than the Chemical Guys Light Clay Bar if you need a gentler way of removing contaminants in your black car.
Pros
Perfect for newer paint or black finishes
Easy to use
Lasting cleaning power
The Best Clay Lubricants to prevent scratches
| # | Preview | Product | Rating | Price | |
| --- | --- | --- | --- | --- | --- |
| 1 | | Armor All Car Wash & Wax Spray Bottle, Cleaning... | 274 Reviews | | Buy on Amazon |
| 2 | | Optimum No Rinse Wash and Shine - ONR Car Wash,... | 8,059 Reviews | $18.81 | Buy on Amazon |
| 3 | | Chemical Guys WAC_CLY_100_16 Clay Luber Synthetic... | 4,546 Reviews | $15.98 | Buy on Amazon |
Having the clay bar is not enough. You're going to want to pair it with water or a lubricant. Because of the sensitive nature of black paint, I highly recommend you get yourself one or all of these lubricants. I've arranged them in order of my favorite with the Armor All taking the number 1 spot for lubricant to use with clay bar on a black car.
1. Armor All Ultra Shine Spray Wash
I gotta give credit to Dallas Paint Correction & Auto Detailing for this tip. Before reading, you gotta watch this video:
Yes, the Armor All Ultra Shine Spray Wash is also waterless car wash. When I first started claying my vehicles I was just using water. As some of you might know, water quickly evaporates and needs to be constantly sprayed which causes fatigue and other problems. That's when I started looking into alternate clay bar lube for black paint and ran across Dallas' video.
Let me tell you what, it might sound crazy, but the Armor All spray wash is the best clay lube for the price. It lasts so much longer than anything else and doesn't need to be constantly re-applied.
This aerosol spray is extremely easy to use. Simply spray a light amount of the cleaner on a section of the paint and use the clay bar to remove tough dirt and stains. It also comes out as foamy solution that clings to the paint! If you need an affordable clay lubricant that is easy and economical to use, look no further than the Armor All Ultra Shine Spray Wash!
As a bonus, it doubles as a waterless vehicle wash that you can use to get in that last minute detailing.
Pros
Affordable price
Superior lubricity and cleaning power
Easy to apply
Downsides
It's an "Add On" product on Amazon
Usually have to buy in bulk
More expensive than "ONR"
2. Optimum No Rinse (ONR)
Bottom Line
Concentrated so it's a lot cheaper than the Armor-All and still does a great job. My second favorite clay bar lube.
Yeah once again, the Optimum No Rinse or, "ONR" is another pick that isn't specifically marketed as a lubricant, but it's a great step up from water and just barely misses the mark when compared to our #1 pick.
If you're looking to save some cash, get this! It's the cheapest clay lube for the money because it's concentrated but still does a great job. Because it's concentrated you'll have to add a cap full of the product in spray bottle of clean water. Now granted, you'll spend more time spraying your paint than you would with the Armor All because it dries quicker, but this is an amazing clay bar lube.
And what else is great about ONR is it's a no-rinse car wash solution and a dang good one at that! So you can use it to wash your car anytime, anywhere. There is no need to rinse off! With this product, you can clean an entire midsize sedan using only one or two gallons of water.
It's a runner-up to Armor All and a very economical clay lubricant option.
What we do is to add half a cap full of the cleaning solution to a one-liter spray bottle filled with clean water. No mess, no fuss!
Pros
Good for light and heavy cleaning
Economical to use
Excellent lubricity
Doubles as a car wash
Downsides
Dries quickly
Mixing it can be inconveniant
It's also a great detailing spray!
3. Chemical Guys Synthetic Luber
Bottom Line
If the Armor All and ONR aren't your fancy, this is still a great option.
I think this is the only product listed here that is specifically a clay bar lubricant. Don't get me wrong, if you're new to claying this stuff works great. But what I've found is that for the month the ONR and Armor All blow this stuff away for the price.
The Armor All just lasts longer and the ONR is so much cheaper. 
Chemical Guys Clay Lube is scientifically formulated to reduce friction and increase lubricity. It is created using a synthetic-based lubricant to easily lift off deep-seated dirt and contamination. This clay lubricant is gentle enough to extend the life of your clay bar without compromising on cleaning power. Using the Chemical Guys Clay Luber will ensure an ultra-smooth and swirl-free finish. The product is easy to dispense using the built-in spray nozzle.
Pros
Outstanding lubricity
Affordable price
Economical to use
Downsides
Expensive and you'll use a lot
Can stain your hands if you're not wearing gloves
The spray bottle is flimsy and breaks
Should you really clay bar your black car?
As I talked about in our black car wax article, "it's a curse without a cure". Black paint requires gentler cleaning to prevent marring on the surface. Light to moderate scratches and swirl marks are readily more visible on a black or dark-colored finish compared to light-colored paint.
With that in mind, running a clay cleaner over your car can sometimes do more harm than good and all that you might need is one of these two products:
For more reading on this subject, check out these two posts:
https://www.autogeekonline.net/forum/auto-detailing-101-a/108861-best-way-clay-black-car-without-causing-marring.html
https://www.autogeekonline.net/forum/auto-detailing-101-a/52509-first-time-clay-bar-black-paint.html
If you want to use a clay bar in your black car, we highly suggest using a different cleaning product before you do so. The Tar X Tar and Adhesive Remover is great in removing dried bugs, tar, asphalt, and adhesive on black paint without the need to use a separate clay bar. It is formulated from solvents derived from natural orange peels so it is safe to use on delicate clearcoat paint.
Another product we like is the Car Pro Iron X Iron Remover. It is formulated to open up the pores in the clear coat to effectively release iron particles and contaminants. This product is great to use on black paint since there is no need to apply elbow grease to remove surface contaminants. Applying less pressure means less chances of marring or scratching the paint.
How to do the "sandwich bag" or plastic bag test
Want to know if your clay is even doing some work? Try the plastic bag clay bar test. Credits go to Adams for this one! If you want to know how much crap the clay is cleaning off your paint, this is a great way.
Make sure your vehicle is clean so you don't scratch it up.
Now gently place the BACK of your hand on your paint. Don't use your fingertips or you'll leave oil and smudges
Get your sandwich plastic baggie and put your hand in it and feel the same paint spot. You'll be able to really feel a difference because the plastic bag makes your skin really sensitive!
Lube up the surface using one of the sprays we've mentioned; make sure to use lots!
Start running the clay bar side-to-side on your paint surface until it's smoothed out
Dry the paint that you just clayed with a microfiber towel
Throw that sandwich bag back over your hand and run the back of your hand over the paint spot that you just clayed. The difference in smoothness should be noticeable!
How to Use a Clay Bar on Black Cars
Before grabbing your clay and running it over your paint, you've got to know a few things.
Keep your vehicle clean – You always want to wash the car or truck first and get as much dust and dirt off as possible to avoid scratches and marring.
Use Lubricant – and lots of it! This is protect the paint and prevent marring. Your vehicle paint surface should stay wet during the entire clay process.
If you drop the clay, throw it away – A clay bar will last you many years and many uses because when it get dirty, just fold it over and kneed it…but it you drop it on the ground you gotta toss it out.
Alright, let's talk about the process to claying your black vehicle paint. If you want to use a wax and polish, it's often best to wash the car, clay bar, polish and wax. Now this would be if the paint isn't in the best shape. If you're vehicle is newer or you've taken care of the paint, you could probably skip the polish and just clay and wax.
Here's the steps I like to do when I detail my vehicles (assuming I have a free Saturday!)
Step 1: Wash and dry the vehicle.
Nothing beats using clean water and car shampoo to clean your car. You can use any type of car shampoo as long as you're not using dish soap. We highly recommend using the Zymol Auto Wash or the CarPro Reset for intensive cleaning.
Wash your vehicle in a shaded area, preferably away from direct sunlight.
Rinse the entire vehicle using a garden hose and clean water. If the paint is covered in mud, grab a microfiber towel and remove excess dirt while rinsing the paint.
Mix a capful of car shampoo in a small bucket of clean water. Use a microfiber wash mitt to apply the cleaning solution.
Wash your vehicle from top to bottom to prevent scratching the paint.
Use a separate wash mitt to clean the wheels and tires. It is highly advisable to clean the wheels and tires after washing the paint to avoid cross-contamination.
Rinse the vehicle well using clean water.
Wipe the surface dry using a chamois or microfiber towel.
Read more about how to wash a vehicle or using waterless washes for your car
After washing and drying the car, this is the right time to clay your car. Now some people prefer to polish BEFORE claying, but personally I've found it's best to clay before the polish. Think about it, the clay acts like a magnet to suck up the grime, and smooth out the surface, so it's going to make your waxing and polish that much easier!
Step 2: Use a Clay Bar.
After washing car, bust out the clay and get to work.
Work with a single section at a time. It is best to start working from the top to the bottom of your vehicle.
Spray a moderate amount of clay lubricant on the paint. Knead the clay in a circular shape and work the clay on the surface of the paint.
Be gentle! Do not apply excessive force on the clay as it glides over the paint. Rub the clay in a vertical and horizontal motion to ensure even coverage.
If the surface dries up, apply more lubricant. This is important if you are cleaning black or dark-colored paint.
Wipe the surface dry using a clean microfiber towel.
Inspect the clay. If you see a lot of dirt, knead the clay once more to reveal a fresh and clean section. Proceed to clay the entire vehicle.


 Pro Tip 

Now's a good time to use the Sandwich Bag Test that we talked about!
After using the clay bar, run your hands over the paint to determine if the surface is as smooth as glass. You are now ready to polish and wax.
Step 2: Polish the paint.
Black cars will shine brighter when treated to a nice coat of polish. This holds true if your vehicle is littered with light scratches, swirls, and/or oxidation. We like using the Meguiar's Ultimate Polish for this step.
Start with a freshly cleaned and dry paint surface.
Apply a small amount of polish to a clean applicator pad.
Work the polish to one section at a time. Start by polishing the top most portions of the vehicle and work your way downwards to avoid scratching the finish.
Unlike wax, pure polish doesn't need to dry to a haze. Quickly remove the polish from the paint using a clean microfiber towel. Turn the towel over, buff lightly, and admire the shine.
After polishing all painted surfaces, inspect the rough sections by running your clean hands over the surface. If there are still visible contaminants like asphalt, tar, and chemicals on the paint, you will need to clay the paint to revive the smooth finish.
Step 4: Wax the paint.
Waxing is the final step. Clay bars can remove wax from the paint. This is the reason why it is important to apply a light coat of wax after treating the paint using a clay bar. You can use any type of paste or liquid wax, but out favorites are the Meguiar's Gold Class Carnauba Plus and the Mother's California Gold Liquid Carnauba Wax.
Apply a small amount of wax in a clean applicator pad.
Start waxing the hood, roof, and trunk before waxing the sides and bumpers.
Work the wax using small circular motions.
Allow the wax to dry to a haze. This will take approximately 5 to 15 minutes depending on the weather.
Remove excess haze using a clean microfiber towel.
Turn the towel over and buff lightly to reveal a flawless shine!
Conclusion
Whew! There you have it! So let's recap. To clay bar your black vehicle you'll need
Lubricant – We recommend ONR or Armor All!
Clay Bar – Most will do but the Griot's Garage is our favorite.
Free time – Make sure to schedule a couple hours for the job especially if it's your first time!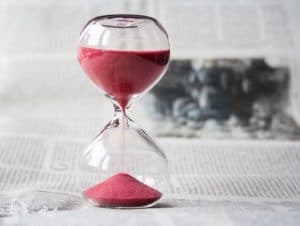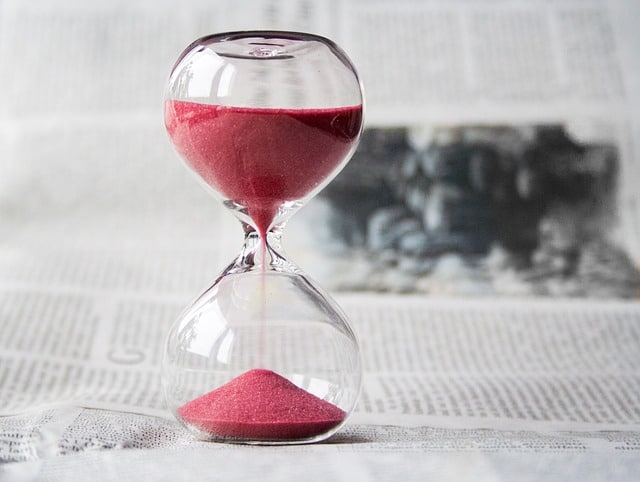 It is easy to use a clay bar in your black car without marring or harming the finish. Make sure to clean and polish the finish before treating black paint with a clay bar. It is also important to finish off by waxing the paint to seal the smoothness and shine.
Hope this helps you choose the best clay bar kit for black cars. If you have any questions, please contact us.
Matt