ScanTool 427201 OBDLink LX
Summary
This OBD2 scanner is an easy, effective and secure way to scan or diagnose the CPU of your OBD-II compliant vehicle using any Andoid or Windows device. The OBDLink LX Bluetooth Scan Tool will get the job done. It is one of the best OBD2 scanners I've used and has become a personal favorite here at ScannerAnswers!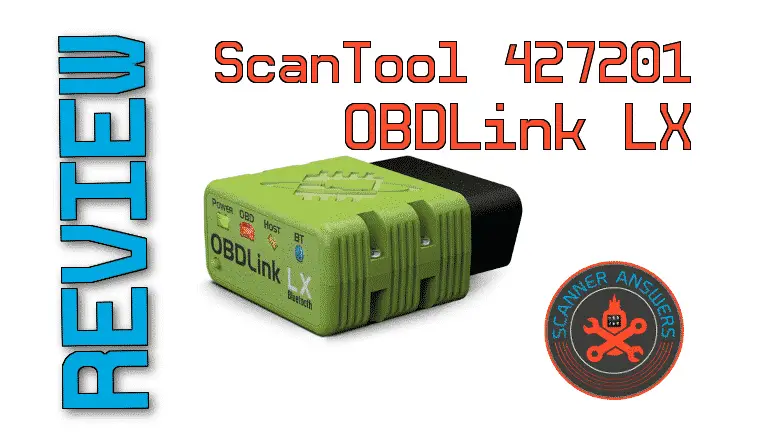 Can you really use your phone to fix your car!?
What's good my virtual friends!
Vince, here with ScannerAnswers to bring you the latest ScanTool 427201 OBDLink LX Review. I picked mine up from Amazon. The guys and I have been dying to get our hands on one of these OBDII code readers and see what they're all about. See, I'm used to the old school SnapOn scanners where you gotta lug around a bunch of adapters and random junk… But with these new OBD2 diagnostic code scanners, all the heavy lifting is done with your smartphone or tablet! Let's dive into the review!
ScanTool 427201 OBDLink LX review
There is an easy and affordable way to convert your smartphone, tablet or PC into a scanning tool for your car. Believe it or not, phones are for more than watching cat videos! Introducing the ScanTool 427201 OBDLink LX, a professional-grade, bluetooth obd2 adapter scan tool for any Android or Windows device. With this code reader, you can connect to the onboard CPU (OBD2 port) of your vehicle and perform diagnostic scans, monitor engine performance and calculate both instantaneous and average MPG, all while using your smartphone or tablet.
Get the best price on the ScanTool 427201 OBDLink LX here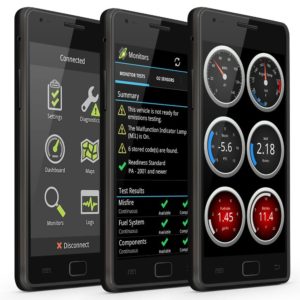 The OBDLink LX Blutetooth is different than cheap aftermarket Bluetooth scanners because it accelerates apps and software interface by up to 400%! This means that you get precise real-time readings with no lag, and you can also enjoy detailed graphs and smooth virtual gauges on your Android or windows device.
So why shouldn't you just buy a cheaper OBDII tool? The OBDlink uses the ELM327 1.3 version chip whereas the cheap China knock-offs use the v1.0 chip. This higher quality chip means you get much faster transfer speeds and less disconnects.
It doesn't matter if you are a professional mechanic or just an average Joe. The ODBLink LX Bluetooth is easy to use, and it offers the fastest Bluetooth connection unlike other cheap scanners in the market. The package also comes with a free Android app and Windows software so you can start scanning in minutes. It also works with other third party applications such as Torque and DashCommand.
Wireless connectivity means you don't have to deal with messy wires and faulty connections. Simply plug the OBDLink LX to the OBD-II port of your vehicle to get real-time readings of vehicle performance. You can also scan for error codes and diagnose check engine lights on your dashboard. All this information can be accessed using any Android or Windows device. No need to purchase expensive scanning tools that only work for specific vehicle types.
Maximum Coverage for All Vehicles from 1996 upwards
Yup, you read that right. The OBDLink LX Bluetooth will work on vehicles and light trucks sold in the United States from 1996 upwards, including newer cars. However, keep in mind that this device may not be compatible with hybrid vehicles and electric cars such as the Toyota Prius and Nissan Leaf.
The OBDLink LX utilizes a proprietary algorithm connection software. That is a mouthful, but it simply means that this device is able to connect to more makes and models of vehicles compared to other scanning tools in the market. As an added bonus, it can also support JOBD, EOBD and other international variants of OBD-II making it a great tool if you work on European or Asian imports.
Bottom Line
Easy to use adapter lets you connect your Android phone to your car or truck to read and clear Check-Engine Lights – Safe to leave plugged in even after you shut off your engine – 3 year warrant and lifetime updates – Protects against overvoltage so you don't catch your car on fire!
Get Outstanding Security Protection with the OBDLink LX Bluetooth Scanner
Worried about hackers and intrusions while using a Bluetooth vehicle scanner? The OBDLink LX Bluetooth offers outstanding security protection by using a secure multi-layer 128-bit data encryption.
Compared to other Bluetooth adapters, the OBDLink LX doesn't use or display an easy-to-hack PIN, and it doesn't broadcast its presence so your connection is always kept safe and secure. You can use this device without worrying of unauthorized intrusion into the communication link. This gives you added peace of mind when the device is plugged into the OBD-II port of your vehicle.
And since the OBDLink LX works via Bluetooth interface, you can use the device while you are operating the vehicle. This is great for vehicle diagnostics and on-the-spot performance tuning. Since there are no messy wires, you can view performance graphs and other data while driving your vehicle. Place your phone or tablet in the dash and see real-time results. Ultra-fast Bluetooth connection also ensures smooth graphics and animations with no perceivable lag.
Difference between the Scantool OBDlink MX 426101 and OBDlink LX 427201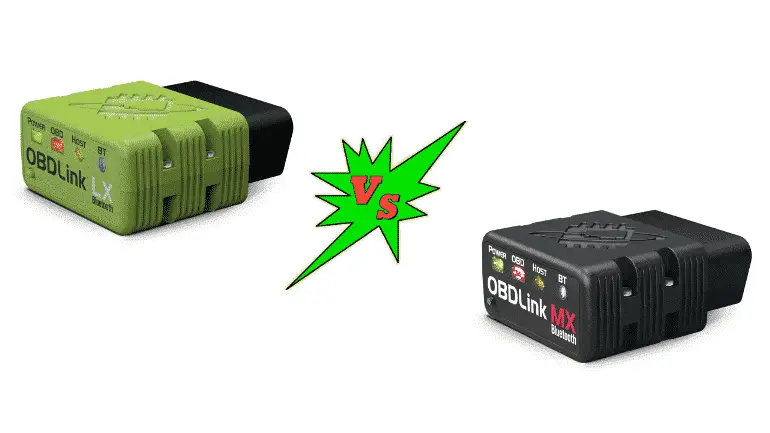 If you're trying to decide between the OBDlink MX 426101 OR the OBDlink LX 427201 and want to know the difference, the main thing is that the MX 426101 (the black one) supports Single-Wire CAN (GMLAN) & Ford Medium-Speed CAN (MS-CAN) but it costs about $16 bucks more than the LX 427201 (the green one). 
Product Specs of OBDLink LX Bluetooth OBDII Adapter
The OBDLink LX Bluetooth allows you to use any Android or Windows device as a professional scanning tool, performance monitor and trip computer. It also gives you the power to safely scan and diagnose engine fault codes (or check engine lights) so you can save money on expensive vehicle repairs.
The adapter is small enough to fit in your pocket, and it doesn't obstruct driver legroom so you can use the device while driving.
Easily read engine trouble codes, reset check engine lights and monitor real time sensor data using the included diagnostics software.
Lightning-fast Bluetooth connection offers instantaneous response time so you can view realistic virtual gauges and smooth graphics with almost zero lag, even without using wires.
The OBDLink LX comes with an innovative battery-saving and sleep function. The device turns off when not in use, and turns on again when you turn the ignition or start the vehicle. You don't have to worry about draining your vehicle battery.
Compatible with any Android smartphone or tablet, including any Windows device or PC. Turns your gadget into a sophisticated scanning tool for your car.
Secured, hacker-proof connection. The OBDLink LX uses sophisticated multi-layer 128-bit data encryption to eliminate the risk of intrusions or unauthorized access to the system.
Works on a wider range of cars and light trucks from 1996 upwards. The advanced algorithm software allows the LX to connect to more OBD-II compliant vehicles than other scanning tools in the market.
Comes with free Android and Windows diagnostic software, and also works with other third party apps like Torque and DashCommand.
The OBDLink LX Bluetooth comes with a brilliant 3-year warranty, including lifetime software and firmware upgrades.
Will NOT void vehicle warranty.
The product is NOT compatible with Apple and iOS devices. Sorry iPhone and iPad users!
Pros and Cons
 Things I liked: 
Modern v1.3 ELM327 chip makes this scanner more reliable with higher transfer rates that cheaper Chinese scanners. This OBD2 scanner is an easy, effective and secure way to scan or diagnose the CPU of your OBD-II compliant vehicle using any Andoid or Windows device. The OBDLink LX Bluetooth Scan Tool will get the job done. It offers blazing-fast and secure Bluetooth connectivity using your Android or Windows device, and it offers unsurpassed protection from hackers and unauthorized intrusions for trouble-free scanning. If you're a DIY type of guy (or gal) and want to quickly and accurately get a complete view of the health of your car, this is just what you need. This thing also is very small, so it's conveniant to just leave it plugged into the car!
 Things I did not like: 
One of the biggest drawbacks that we found was that this device is NOT compatible with Apple or iOS devices. This is not OBDLink's fault thought, it's because Apple doesn't support Bluetooth sharing or connectivity with non-Apple devices. This is a minor annoyance, but the good news is that you can buy the OBDLink MX Wi-Fi which is designed to work with Apple or Mac computers.
One other thing that I've heard some friends mention is that sometimes the OBDLink doesn't return all the SRS codes… I did not have that issue, but if you run into a similar issue where the scanner doesn't provide a description for the code, just look it up here: https://actron.com/code-lookup
Final thoughts
If you want to safely and wirelessly connect to the OBD-II port of your vehicle, then the ScanTool 427201 OBDLink LX Bluetooth is perfect for you. With ultra-fast and secure Bluetooth connectiton, this product is among the best Bluetooth scan tools you can buy. Click here for the best price on this scanner.
Did you know that the ScanTool 427201 was featured in our guide to the best scanners for Ford Focus, Kia, VW, Dodge, and BMW? It's a terrific, low cost adapter!
Hey I hope you enjoyed this ScanTool 427201 OBDLink LX Review as much as I enjoyed writing it! If you have any questions or are still looking for the best OBD2 scan tool, leave a comment and we'll help you out! You can find more bluetooth obdII scanner reviews here, and don't miss our guide on the best bluetooth obdII adapter for the price
-Vince