Foseal

BlueDriver

ScanTool 427201 OBDLink LX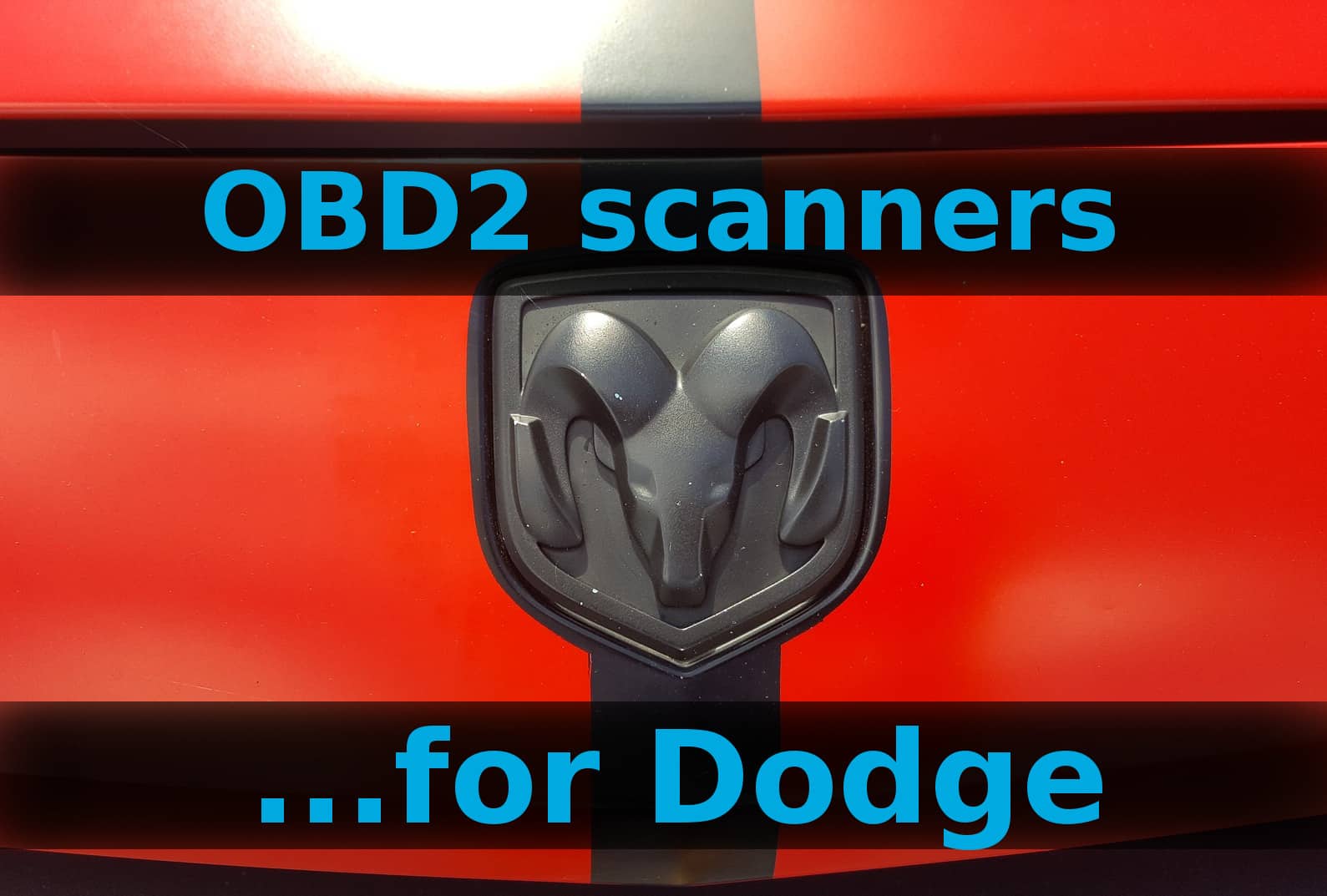 The 3 Best Wireless OBD2 Scanners for Dodge Vehicles
Here's my three choices!
| # | Preview | Product | Rating | Price | |
| --- | --- | --- | --- | --- | --- |
| 1 | | Car WIFI OBD 2 OBD2 OBDII Scan Tool Foseal Scanner... | 3,239 Reviews | $21.99 | Buy on Amazon |
| 2 | | BlueDriver Bluetooth Pro OBDII Scan Tool for... | 52,374 Reviews | $99.95 | Buy on Amazon |
| 3 | | OBDLink LX OBD2 Bluetooth Scanner for Android and... | 6,515 Reviews | $89.95 | Buy on Amazon |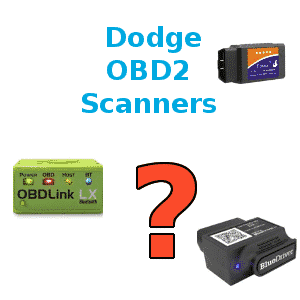 We've been getting quite a few queries on what the best Dodge OBD2 scanner is for the price, and this article is aimed at providing an answer. Actually, make that 'answers', because we have a habit of using more than just one scanner for our tests 🙂 The check-engine MIL can flash on whether you drive one of those goofy Calibers or a Grand Caravan. And when that happens, you're going to need a Dodge code reader to investigate further! Read on further to see how you can start diagnosing Dodge OBD2 codes and save money by fixing your own car/truck/van!
Finding our test subjects (Dodge Durango and Caravan)
Naturally, we needed a couple of Dodge vehicles for this job. Mike was kind enough to lend us his aunt's 2014 Dodge Caravan SE for this test. We heard that the minivan is running smoothly, except for a pesky idling problem that is most prevalent when the engine is cold. We're guessing the 3.6-liter V6 engine needs some love, and hopefully our Dodge OBDII scanners can trace and resolve the idling issue.
But we couldn't find another Dodge test car at the time. We wanted at least 2 cars or trucks because we'll be using quite a few Dodge wireless code readers so we can choose which among is best. We headed to our favorite garage, and Winston was there working on a 2012 Dodge Durango SXT. The car was having acceleration issues, so we thanked the car gods for this blessing. Winston has quite a few scanners in his arsenal, so we told him to let us check the SUV first before he can work his magic. We're glad he said yes, but we owe him some lunch. So before we tested the Caravan, we decided to check the Durango before heading out for some brunch at Wendy's.
The Durango has the same 3.6-liter flex-fuel engine as the Caravan, but they have different symptoms altogether. This is going to be quite interesting investigating these Dodge codes.
Our Pick of the 3 Best OBD2 Scanners for Dodge
After a day in the garage and testing about 20 different OBDII scan tools that we had lying around, we narrowed it down to 3 tools that we recommend. All the these scanners work flawlessly with our Dodge Durango and Caravan, but they'll also work with any car/truck made after 1996. On top of that, because Dodge and Chrysler vehicles are "domestic" they are much easier to pull DTC's (diagnostic trouble codes) on then European cars. This means that you can get the generic code as well as Manufacture-Specific codes which provide much more useful info!
1. Foseal
Bottom Line
Wireless enabled OBD2 adapter that links up to your Android or iOS (iphone, iPad, etc) – Works great on all Dodge and Chrysler cars/trucks/vans! Compatible with all major OBD2 protocols (CAN, ISO14230-4, ISO9141-2 and more!) – View current vehicle sensor data – Read and clear check engine codes
We love the Car WIFI Foseal OBD2 Scanner because it is easy to use and light on the check-book (if anyone uses checks?). It's one of the most affordable wireless OBD2 scanners that you can buy, but it is small and light enough to bring anywhere. Find it on Amazon here This OBD2 scanner for Dodge will work on both iOS and Android, and it supports all OBD2 protocols. It's worth mentioning that this scanner will also work on Windows devices, but we decided to use Mike's iPhone for this ordeal. The DashCommand app is already installed, so it's simply a matter of plugging the Car WIFI Foseal under the dash so we can get cracking!
Bottom line:  if you need to pull Dodge OBD2 codes and don't want to spend a fortune, check out the Foseal. 
The Durango had an intermittent check engine light on the dash, but the Car WIFI Foseal had no problem detecting a bad speed sensor! We weren't surprised at all, because this baby can read both generic and manufacturer-specific codes.
We proceeded to test the ailing Dodge Caravan using the Car WIFI Foseal, and it quickly displayed a faulty TPS (throttle position sensor). This is a minor problem that can easily be resolved by cleaning the throttle body and possibly replacing the TPS. You can read our full review on the Foseal here
2. Lemur Bluedriver
Bottom Line
Read and Erase Check-engine, ABS, Airbag, and Transmission codes! The Bluedriver is the only OBDII adapter officially licensed with Android and Apple! Fast OBD2 scanner that quickly scans Dodge and Chrysler vehicle (or any other car or truck made after 1996 for issues)! Access to the Reports database which has over 4 million vehicle fixes! View live engine and sensor data, capture freeze frame info, and a lot more!
The BlueDriver Bluetooth Professional is not the cheapest wireless scanner in the market, but you get your money's worth in terms of features and ease of use. The reason for the extra cost is due to the scanner being officially licensed with Android and Apple… So if you've tried the cheap Chinese scanners and found that they are hit-or-miss, you might have to splurge on the Bluedriver.
Since this device works via Bluetooth, you need to install the free BlueDriver app which communicates directly with the BlueDriver Sensor.
We tested the Durango first, and we were able to detect the bad speed sensor issue. We decided to play around a little and fiddle with the other features before testing the Dodge Caravan. We purchased the Bluedriver on Amazon.
The live data looks spectacular, and the BlueDriver Bluetooth Professional was able to detect the misfire counts using the advanced test results. This Durango needed more than a new speed sensor, because it needed new spark plugs as well.
When we plugged in the BlueDriver Bluetooth to our ailing Dodge Caravan, there were no error codes displayed at first. We removed the product, plugged it in the second time, and there it was! The TPS error was there, and the device even presented us with possible fixes (such as cleaning the throttle body and adjusting the TPS again) that will hopefully put an end to the issue.
Bottom Line: If you've tried the cheap Chinese scanners and had issues, you need to get Blue Driver!
Like we previously mentioned, the BlueDriver Bluetooth Professional is not what you would call cheap, but considering the fact that manufacturer-specific scanners can cost 5x or 10x more, this baby is a relative bargain in our books.
Want some more info on the Lemur Bluedriver Professional? We wrote a sweet review on it here: https://scanneranswers.com/bluedriver-obd2-scanner-review/
3. ScanTool 427201
Bottom Line
Cool Bluetooth adapter that works great on all Dodge vehicles made after 1996 – Connect your Android phone to your car or truck to view and erase Check-Engine Lights – Internal chip protects from overvoltage and you can leave it plugged in after you shut the engine off – 3 year warrant and lifetime updates!
The Scan Tool 427201 OBDLink LX Bluetooth is not compatible with iOS devices, so we pulled out my trusted Android smartphone to test this little green device.
This wireless Bluetooth scanner is compatible with ALL vehicles from 1996 upwards that support OBDII
. It is somewhat in the middle of the price range, but it provides lightning-fast connections via Bluetooth, and it can act as a real-time performance monitor as well.
At this point, we were hoping that we had a Dodge Charger or a Dodge Viper to test the real-time performance monitor of the Scan Tool 427201 LX, but it seems you can't have it all, right?
Bottom line: This is basically an upgraded version of the Foseal with better quality control and warranty! 
The Scan Tool works faster than other Bluetooth OBD scanners due to the upgraded ELM127 chip. It also has the ability to read, scan, and erase Dodge OBD2 fault codes. In fact, this baby had no problems detecting the faulty speed sensor on our Dodge Durango test vehicle. I guess the only thing needed now is to place an order for a new speed sensor to cure the Durango's ailment.
Before we proceeded testing the Scan Tool 42720 on our Dodge Caravan, Mike decided to go to the hardware store to purchase a can of throttle body cleaner. This will help us in determining whether we needed a new TPS, or if the throttle body is dirty.
After an hour of working under the hood and cleaning the throttle body, we plugged the Scan Tool 427201 to the OBD2 connector of the Caravan. Sure enough, the TPS fault code was still there, verified by the presence of a check engine light on the dash.
We were a bit bummed out because we thought cleaning the throttle body will resolve the fault code, but we were glad that we had the OBDLink LX to verify the problematic TPS.
We wrote a pretty in-depth review on the Scantool 427201 OBDLink LX here if you want to know more about this scanner.
Disclaimer about Wireless OBDII adapters
All of these OBD2 adapter use either Bluetooth or WiFi to connect to your phone and vehicle. Make sure that if you have an iPhone, you buy one that explicitly works for iPhone. Apple locks down the Bluetooth protocol and doesn't allow the cheaper adapters to connect. Also, you'll need to download an app from the Google Playstore or iTunes. We recommend Torque (free or paid versions) for Android. If you have an iPhone or iPad, then you'll have to purchase an app like DashCommand here. You can also read more about OBD2 apps here
Conclusion
I hope you enjoyed our review of the 3 best OBDII scanners for Dodge vehicles. If you're having similar problems like a check engine light on your Dodge car (Avenger, Charger, Challenger, Dart), truck (Ram) or SUV (Durango, Caravan, Journey) why not try fixing it yourself and save a bit of money in the process?
-Mike