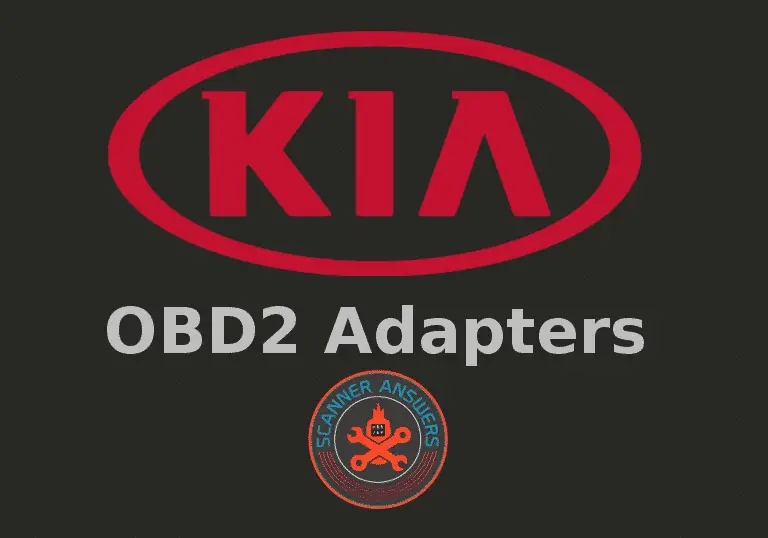 Guide to Choosing the Best OBDII Adapter for Kia
Matt here with ScannerAnswers bringing you another great round up of wireless and corded OBD2 scanners for KIA. You'll need a Kia OBDII adapter if that dreaded check-engine MIL flashes on and you need to pull the DTC (diagnostic trouble codes) to get the problem fixed.
There is no question why Kia vehicles are becoming increasingly popular than the usual Japanese brands. Kia cars and SUVs are less expensive than the competition, yet they offer the same levels of equipment.
Kia cars also come with a lengthy warranty, which is a testament to the build quality and reliability of the Korean carmaker. But like most cars, even Kia vehicles are not spared from issues with trouble codes. Sure, these vehicles have a long warranty, but when that check engine light comes on, it is best to diagnose the problem yourself rather than spending an entire day at the dealership.
In order to read and diagnose OBDII trouble codes in your Kia, you need a quality OBD2 scanner, preferably one that is compatible with all OBD2 protocols. With that in mind, we decided to test quite a number of scan tools so we can come up with the 3 best OBDII scanners for Kia.
3 Best Kia OBD2 Adapters Quick List
| # | Preview | Product | Rating | Price | |
| --- | --- | --- | --- | --- | --- |
| 1 | | BlueDriver Bluetooth Pro OBDII Scan Tool for... | 52,374 Reviews | $99.95 | Buy on Amazon |
| 2 | | OBDLink LX OBD2 Bluetooth Scanner for Android and... | 6,515 Reviews | $89.95 | Buy on Amazon |
| 3 | | Diagnostic Code Reader/Scan Tool with ABS and Live... | 175 Reviews | | Buy on Amazon |
3 Best Kia OBDII Scanners Reviewed
Bluedriver – Best overall scanner
ScanTool 427201 – Our favorite bluetooth OBDII scanner for KIA
Innova 3100i – Most feature-packed KIA OBDII scanner
1. Bluedriver
Bottom Line
If you want the best allaround scanner that works great with KIA (or most other brands) then check out the Bluedriver. It connects to Android and iPhone over Bluetooth, and can even pull Enhanced codes on some vehicles
I'm gonna cut straight to the point. The Bluedriver is the best scanner that we've used. It pairs with Android AND iPhone over BLUETOOTH which is incredibly rare. It's compatable with almost every vehicle out there. It scans enhanced codes, pulls transmission codes, and can use Mode 6.
Sure, the price is higher than cheaper scanners like the Foseal and BAFX, but the internal components are better quality, and the app is far easier to use. Don't take our word for it though, with nearly 10,000+ other reviews and a 4.8 rating on Amazon, we're not along in thinking this is the best scanner you can get.
Chrisfix even did a full review on this adapter. Check it out below:
2. ScanTool 427201
Bottom Line
Easy to use adapter lets you connect your Android phone to your KIA to read and clear Check-Engine Lights – Safe to leave plugged in even after you shut off your engine – 3 year warrant and lifetime updates – Protects against overvoltage so you don't catch your car on fire!
Before proceeding with our test, it's time to address the elephant in the room. Bluetooth OBD2 scanners will only work on Android and Windows devices. If you are planning to scan your vehicle using any Apple device, you need to get an OBD-2 scanner that works via Wi-Fi. See my favorite OBD2 adapters for Apple devices here
The ScanTool 427201 LX Bluetooth is specifically designed to work on both Android devices and Windows laptops. This relatively tiny scanner can transform your smartphone, tablet, or laptop into a professional-grade scanning tool.
But this is not just an OBD2 scanner. The ScanTool 427201 OBDLink LX is a sophisticated tuning tool that you can leave plugged in without the risk of draining your car's battery. If you bought an aftermarket air filter, for instance, you can easily check for horsepower and torque gains by using this clever device.
We plugged this is to our 2014 Kia Sorento so we can determine the cause of that nasty check engine light. It didn't take long for the ScanTool 427201 OBDLink LX to read the trouble code, which was P0335. This meant that the Sorento had a bad crankshaft position sensor, which explained why the engine refused to start on certain occasions.
We then plugged in the ScanTool to our 2013 Kia Rio. We weren't surprised to find out that the trouble code had something to do with the EGR (Exhaust Gas Re-circulation) valve. The trouble code was manifested as P0403. No wonder the Rio was idling roughly.
If you decide to pick up this OBD-2 scanner adapter, be sure to grab an app like Torque or Torque Pro
3. Innova 3100i
Bottom Line
Helps you diagnose the root cause of your check engine light – Shows if your vehicle will pass emissions – Freeze frame data lets you capture sensor settings at the time of the issue
Not all OBD2 scanners are the same. The Innova 3100i is a bit different than the rest. It certainly looks like a professional-grade scan tool, although it is not the wireless variety that we have come to love.
It's not the cheapest OBD2 scanner either, to be quite honest. It costs just under No products found."], but this baby comes with a colored screen. It can also detect and read ABS trouble codes on any foreign or domestic vehicle that use the OBD2 protocol (all 1996 vehicles and newer).
The Innova 3100i is also equipped with a freeze frame feature that shows the condition of the engine when the malfunction indicator lamp turned on. This is especially useful for tuning purposes, or if you like modifying your car.
But we're not here to tune our Sorento test car. We plugged the Innova 3100i to the OBD2 diagnostic port, and it quickly revealed the problematic crankshaft position sensor.
Next was the Kia Rio. It took less than 30 seconds for the trouble code to show up, and it was indeed the faulty EGR valve.
We had no doubt that the Innova 3100i can do the job well, because it is one of the bestselling corded OBDII scanners in the market today. Want more info on the Innova 3100?
4. The Big Banana
(2023 update – This scanner is no longer available.)
Our Kia test subjects (Sorento + Rio)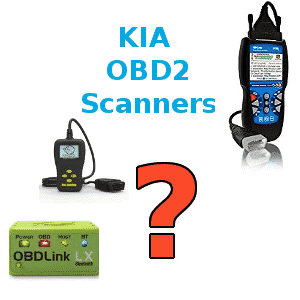 Before we could proceed with our review, we needed to find a couple of test cars. It didn't take long to find our first test vehicle: a 2014 Kia Sorento LX with a 2.4-liter 4-cylinder engine and 6-speed automatic transmission. This vehicle had a fair share of abuse from its owner, who happens to own a coffee shop downtown.
The owner told me that his Sorento had a bit of trouble accelerating, and sometimes it took quite a while to start the car. This SUV has already clocked more than 80,000 miles on the odometer, and he has yet to get the car inspected at the dealership since he uses his other car (which is an E36 BMW 3-series) for the daily drive.
As luck would have it, we came upon a 2013 Kia Rio with a 1.6-liter gasoline engine. This particular unit has a check engine on the console, and it was idling roughly, which was most noticeable when the engine is cold. The owner, who is actually planning to sell the car, wants to get rid of the check engine light before posting it online.
The owner of the Kia Rio also told us that he used to get terrific gas mileage from his compact. But ever since the idling problem and the check engine light popped up, his car was eating gas like it had a V6 engine under the hood. This is not good.
Conclusion
We hoped you enjoyed our review of these 3 awesome OBD2 scanners for Kia. Remember that you don't need to be an expert mechanic to diagnose the check engine light in your car. All you need is your very own OBD2 scan tool so you can fix and repair your car without paying big money at the dealership. Find some more OBDII scan tool reviews here
-Matt