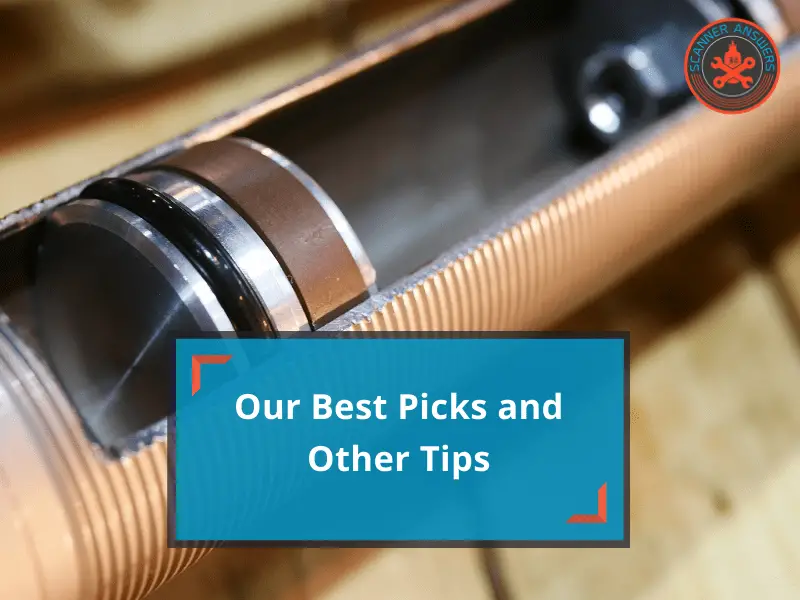 When it comes to vehicles, especially heavy-duty ones, we're usually targeting a smooth, safe, and stable ride. The same applies to Towing Vehicles.
To fulfill those 3 main goals, one of the critical steps you need to follow is to install the appropriate and perfect heavy-duty shocks for your vehicle.
Car shock absorbers, commonly known as 'shocks', are an essential piece in your kit to achieve the stability you're looking for in your ride.
In this article, we'll be reviewing some heavy-duty shocks, and we'll be discussing when you should consider changing or repairing your vehicle's shocks.
Considerations for Heavy Towing – When Should I Worry?
If you see one of the following signs, then probably your car shocks are worn out, and they desperately need replacement:
If your vehicle doesn't stop instantly or moves a distance that's more than usual after stopping, this could be a sign to get yourself a new pair of shocks. This might cause fatal accidents.
If you ever sense vibrations that you didn't feel before, then you should definitely get your vehicle checked. It could possibly be related to your vehicle's shocks.
We have guides to troubleshooting a shaking steering wheel, as well as clunking sounds when turning.
This will be more dangerous in rainy weather. To avoid accidents, please get your shocks checked and replaced if necessary.
And by this, I mean rocking harder than usual over small bumps. This might be a sign that your shocks are worn out.
This means that your car dips after braking, which decreases your control over your car. Consequently, it may lead to serious accidents.
This -most of the time- means that your tire isn't receiving the normal or usual contact with the road, which may be caused by non-efficient shocks.
So, if you ever notice some bald patches on your tires, the first thing to check is your vehicle's shock absorbers to avoid any further damage that might be caused by it.
Read more about tire maintenance tips.
Factors to Consider When Buying Your New Shocks
While choosing the perfect shocks for my vehicle, I usually consider a few things, which I have shared with you here:
It's normal for shocks to wear down and need replacing. Check out our guide to tell if shocks are worn.
However, like all things, the more quality the shocks are, the longer they last.
Some people believe that the more expensive the shocks are, the longer they'll last. That's not always the case. There are many affordable brands that provide the same quality as the expensive ones, if not better.
Moreover, it wouldn't be very effective, money-wise, to buy cheap ones and then have to change them occasionally. So, I recommend you settle for an average-priced shock absorber that's known for its good quality.
If you're planning on installing them on your own for the first time:
To save time, you must make sure that the shocks come with an easy-to-understand manual guide, especially if you haven't installed one before.
After taking that into consideration, it's time to introduce you to our list of the top 6 heavy-duty shocks on the market!
However, if you are unsure of how to follow the manuals properly- don't feel embarrassed! That's what the experts are there for. It's better to be safe than sorry, even if taking your car to the shop costs more in the present.
Our 7 favorite heavy duty shocks
This is box title
1. ACDELCO 504-550
ACDelco Specialty 504-550
can maintain ride height with up to 1,100 lbs (per pair) of additional temporary leveling capacity to help improve vehicle handling and reduce the risk of undercarriage damage
adjustable air pressure to custom tune each individual load weight
the super finished chromed piston rod provides anti-corrosion support, a more consistent wear surface, proper seal lubrication, and longer product life
Speaking of heavy-duty vehicle shocks, ACDelco has earned its place on top of the list. It's well-known for the quality and sophistication of its suspension systems. They have a wide variety of suspension systems that are affordable, durable and efficient.
What makes the ACDelco 504-550 shocks stand out for me is their incredible lifting, which makes them compatible with most vehicles.
Talk about a capacity that reaches 1,100 pounds per pair! This makes it the perfect match for a towing van.
Highlights
Highly durable
Reasonable price
It rarely needs any maintenance
The pack contains 2 absorbers and an air hose to facilitate the installment process for you.
2. Bilstein 5100 Shock Absorbers
Sale
Bilstein 5100
Package Dimensions: 67.5 H x 7.5 L x 7.8 W (centimetres)
Package Weight: 2.6 kilograms
Country of Origin : United States
The most striking feature in this absorber is its easy installation. It comes in a custom-fit design that facilitates the installation process.
So, if it's your first time installing absorbers to your vehicle, then this is definitely the absorber for you. You can easily handle it on your own!
The Bilstein works perfectly with heavy-duty vehicles (especially towing ones), due to their large lifting capacity.
What makes it special is its unique gas pressure technology that provides excellent handling. It'll take you on one of the smoothest rides you've ever had. However, to be completely honest, its efficiency is reduced on bumpy roads.
They also have an awesome chrome finish that would make your vehicle even more impressive, sleek and elegant. Talk about hot wheels!
Highlights
Relatively affordable price
It'll guarantee you a smooth ride
Highly durable and won't be worn out by long rides
This is box title
3. MONROE 58654
Sale
MONROE 58654
REDUCES SAG UNDER LOAD -- Ideal for occasionally hauling or towing varying loads; heavy gauge, calibrated coil spring reduces sag when loaded up to 1,200 lbs. (capacity limited by suspension, tires...
EXCEPTIONAL HANDLING -- Tuned specifically for each application, full-displaced valving automatically adjusts to road extremes to provide ride consistency
CONSISTENT RIDE -- OE all-weather fluid contains special modifiers to handle extreme temperatures and PTFE-banded piston helps reduce friction between the piston and pressure tube to enhance...
Monroe is a standalone company that I usually recommend for people looking to purchase vehicle spare parts, as it's a company that you could definitely rely on and trust.
These absorbers are built to work in all weather conditions, this is achieved through its built-in modifiers that reduce smoothness when required. For added versatility, it adjusts its valves automatically when it goes through road extremes. This leads to a prolonged product's lifetime and consistent quality throughout tough rides.
They are well-known for having perfect customer care as well, so there is absolutely nothing to worry about when dealing with them. They're ready to assist you and answer your questions at all times.
Highlights
Highly durable
Works well with extremely vigorous forces and speeds
Very affordable
Suitable for both, personal use and towing business
4. RANCHO 9000S SUSPENSION SHOCK KIT
RANCHO 9000S
NINE LEVELS OF PERFORMANCE -- Nine-position easy-to-adjust knob allows customized damping control and firmness for on-road and off-road flexibility
DESIGNED FOR HARDWORKING VEHICLES -- Ideal for stock or lifted trucks, SUVs and Jeeps that tow, haul or go off road
INDUSTRY FIRST -- Recognized as the first nine-position manually adjustable shock series in the off-road market
The most impressive thing about this kit is that it contains 4 shock absorbers!
So, if you're going for a full replacement for all four of your shocks, this is the kit for you. It also comes at a cheaper price than buying 4 separate shocks. 
The secret of its impressive shock absorbers is that the shockers are charged with Nitrogen gas.
Highlights
Most popular shock absorber by Rancho
Highly durable
Capable of overcoming all types of forces
Surrounded by a shield for dirt and rain protection
Comes with a lifetime warranty
This is box title
5. GABRIEL 49235
Sale
GABRIEL 49235
America's best-known air-adjustable shock ideal for towing or heavy loads
America's best-known air-adjustable shock absorber
Ideal for temporarily towing boats and trailers or for heavy loads
This shock absorber is a bargain. It's a great value for money, and it offers the highest quality in its price range.
These shocks are designed especially for towing vehicles; they have an outstanding leveling capacity, and reduce the risk of bottoming out efficiently.
Moreover, these shocks have near-perfect, smooth piston rods that are corrosion resistant, and the piston seal is leak-proof; which extends the product's lifetime.
Highlights
One of the cheapest on the market
Super stable
Highly durable
Low-maintenance
Completely leak-proof
6. KYB 565104 MonoMax Gas Shock
Sale
KYB 565104 MonoMax Gas Shock
Maximum performance upgrade with up to 40% more damping performance than standard shock absorbers
Perfect solution when you need to upgrade suspension performance on your GM truck
Truck monotube design outperforms all other standard shock absorbers
Another highly-functional, yet affordable product on our list is the KYB absorbers.
Their strong point is that they offer better damping performance by 40% more than their counterparts. Thanks to their single-tube design and durability, they're perfect candidates for heavy-duty vehicles, especially towing ones.
The instructions are all written in Spanish, which can be difficult if you are not fluent, but you can get through them.
The shocks are noticeably cheaper than other options on the list, but they do get the job done. You'll experience effortless rides, no matter how bumpy the road is or how much weight you add on!
Highlights
Automatically adjusts to driving conditions
Ideal for towing
Zinc coated piston with minimal corrosion
7. Airbags
In order to get the maximum ride smoothness on your truck, you could use airbags.
Airbags are used as a suspension kit to provide towing trucks with support and comfort despite carrying heavy loads. Before using an airbag or air suspension system for towing, you need to determine the towing capabilities of your vehicle based on its make:
Shocks or Airbags?
Although shocks are more widely used, I believe airbags are the better option if you're looking to tow or haul heavy. I find that airbags can give a smoother ride than shocks, and they guarantee you have a soft and comfortable ride.
It might be one of the reasons why they've widely spread in the past 10 years and replaced the traditional shocks.
On the downside, airbags are known to be pricier than other suspension parts. Not only that, but they're also not as durable as shocks, as they require more maintenance and replacement.
For a quick example of price, the Bilstein 5100, one of the best shocks for towing travel trailers, can be had for around $400 for a set of four compared to airbags which will cost close to $2,000.
Wrap-Up
So this quick guide included all of our 6 recommendations for heavy-duty shocks for towing and airbags.
Hopefully, you'd now find the suitable one for you and know exactly how to evaluate the next shocks you're buying.