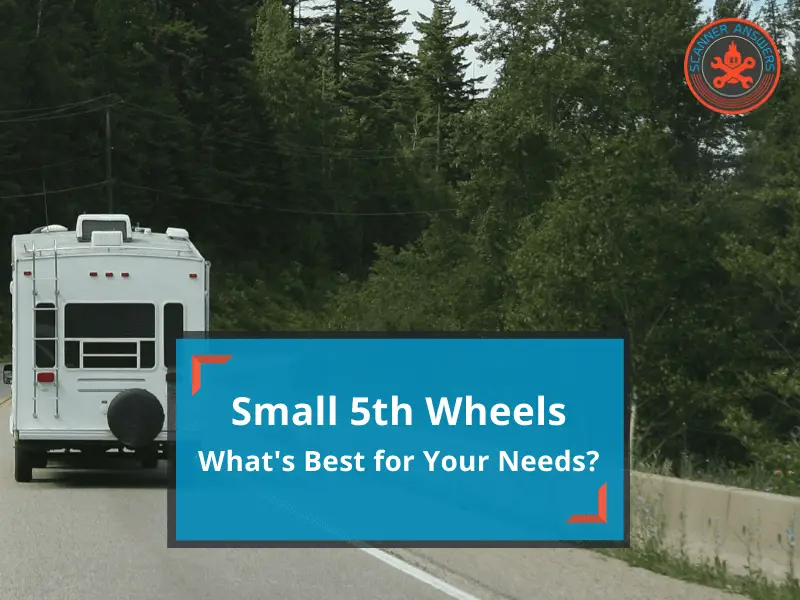 Most RV enthusiasts know that the words "small" and "fifth wheel" don't often coincide. While there are hundreds of options for compact travel trailers, most modern fifth wheels tend to be forty-foot-long mammoths with multiple bathrooms and enough sleeping capacity to house your local little league team.
Despite this reputation, there is a multitude of small fifth wheel options on the market, and these models can make a lot of sense for many consumers. We scoured the current offerings to find the most innovative, unique, and well-made small fifth wheels on the market.
Here's what we found:
Why Choose a Small 5th Wheel?
Normally, shoppers make a beeline towards the fifth wheel section of their local RV lot because they are looking for the largest or most feature-packed trailers available. However, even a small fifth wheel has a lot to offer. Even though there are dozens of reasons why you may want a small fifth-wheel trailer, here are three to consider:
Compared to a travel trailer, fifth wheels generally have significantly more storage space. The taller frame of a fifth wheel allows them to have under-belly or "basement" storage that is much larger than even the most accommodating bumper pull. This storage bonus extends to the inside as well. Because fifth wheels are generally taller, they can have larger cabinets and more overhead storage. A fifth wheel is a great option if you plan to live in your trailer full time or simply enjoy having enough space to bring all your toys.
One of the best things about fifth wheels is the variety of layouts offered. The relatively short, one-level layouts of travel trailers can mean that they all begin to look the same. In comparison, the multi-story arrangement of a fifth wheel means the sky's the limit. This has become especially true in recent years as manufacturers have begun experimenting with novel layouts like front-kitchen or mid-bunk units. However, even a standard rear-living room layout with a front bedroom will still feel extremely spacious and home-like with storage space and other amenities, compared to other trailers.
Because the hitch of a travel trailer is relatively far behind the tow vehicle's axle, bumper pull trailers can become unstable if improperly towed or loaded. In comparison, a fifth wheel puts the entire tongue weight (known as "pin weight" on fifth wheels) directly over the axle of the truck. This not only makes backing and maneuvering easier, but it makes the entire rig more stable and easier to drive. This can be a key difference because stability isn't just a matter of arriving relaxed. It can be a matter of arriving safely.

Who Makes the Best Small 5th Wheel Trailers?
Fifth wheels have always been popular options for campers, but the market has grown even more in the past few years. Due to this growth, there has never been a better time to be shopping for a fifth wheel of any size. While most new campers look great, not all are created equally. A new trailer is a big investment, so you want to make sure you buy the right model. Here are the options that we have found to provide the magic combination of quality, value, and design.
2. Livin Lite Camplite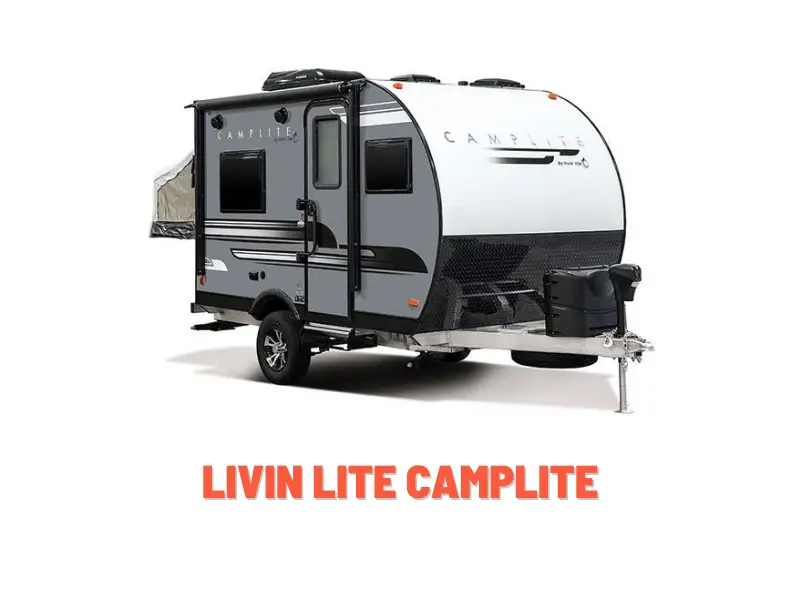 Although Livin Lite has not produced the Camplite for a few years, there is still an extremely thriving used market for these extremely noteworthy models. Livin Lite developed a reputation for producing some of the highest quality campers ever produced. By combining a welded aluminum frame with laminated composite panels, Livin Lite made a trailer that was not only light, but completely immune to rot, rust, and leaking. They were never the cheapest option on the market, but they are a camper that could last you a lifetime.
While they made a large variety of fifth wheel options, the 32 RLS is one of the most sought-after. Despite its relatively long 32-foot length, this spacious fifth wheel weighs only 7,500 pounds. It is very rare to see a fifth wheel this size be truly half-ton towable, but the unique construction method makes this feat possible.
Livin Lites are certainly some of the most durable campers available, but they admittedly lack some of the glamour of standard premium models. The interiors are beautifully made and attractive, but they are not as ornate as one might expect. Their designs can best be described as "understated elegance." That said, if quality is your primary motivator, look no further.
4. Rockwood Ultra-Lite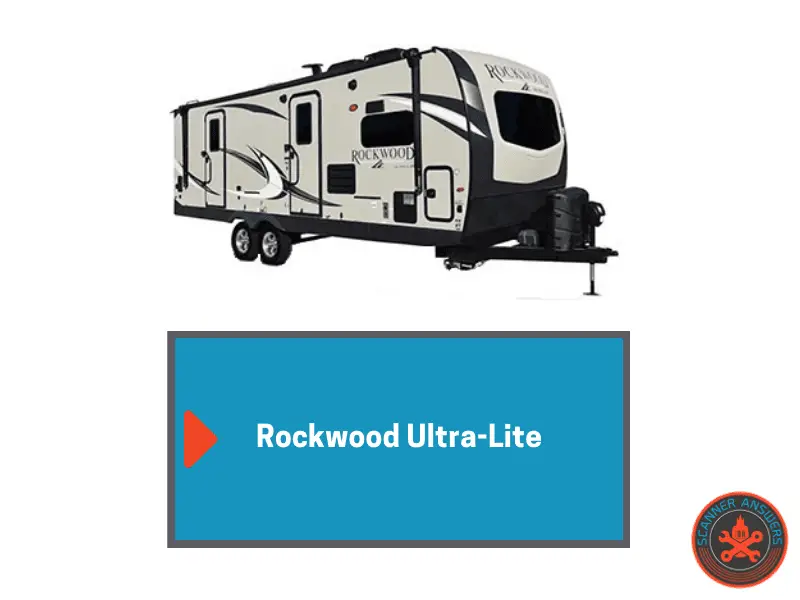 Rockwood is the bread and butter of the Forest River lineup, and they offer a staggering amount of variety within the range. Everything from soft-sided pop-ups to high-range luxury fifth wheels are sold under the Rockwood nameplate. Within this spectrum, the Rockwood Ultra-Lite range of fifth wheels is fairly new. As the name would suggest, the Rockwood Ultra-Lite's goal is to provide the same luxury as the other Rockwood fifth wheels while also creating a more approachable and easier to tow coach. By all accounts, they succeeded.
For this list, the most interesting model in the Rockwood Ultra-Lite range is also the smallest: the 2442BS. At only 28-feet, this is one of the shortest full-height fifth wheels available. However, it still has a lot to offer. Many smaller fifth wheels sacrifice bedroom and bathroom space to fit a larger living room. Yet, for a traveling couple, having a massive entertaining area is not normally a priority. Thus, the 2442BS shifts the focus to providing a larger bedroom and bathroom area. Given the target audience of this unit, that's a move that makes a lot of sense.
The bedroom is certainly very large for a 28-foot unit, but that doesn't mean the living room suffers significantly. With an L-shaped kitchen and full-size sofa, the living area is certainly on the cozier side but it is still a beautifully functional space. There's even a sofa bed for the occasional guest. As a mobile suite, this unit functions magnificently.
Better yet, it also manages to be extremely light. At just over 8,000-pounds, this trailer is easily half-ton towable. If you want a lovely getaway for you and your significant other but don't want to feel cramped at every turn, the Rockwood Ultra-Lite 2442DS should be near the top of your list.
6. Winnebago Micro Minnie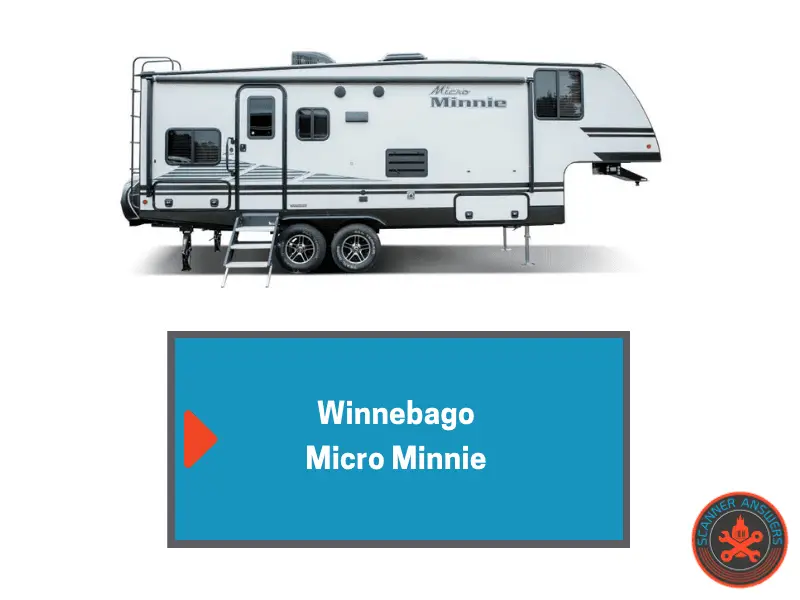 When you first approach a Winnebago Micro Minnie, it takes your brain a moment to adjust. We've become accustomed to fifth wheels being towering behemoths. Except for something niche like a Scamp, even the small fifth wheels are typically still quite large. However, the name is not the only thing about the Micro Minnie that doubles down on being small. Compared to almost every other fifth wheel on the market, the Micro Minnie range is shorter, narrower, less tall, and lighter. It's like they took a full-size fifth wheel and copied it at 75%.
There are three floor plans in this range, and they are all similar lengths. Yet, the 2405BH deserves special attention. At 27-feet long and under 5,800 pounds, this is the second smallest fifth wheel on this list. Despite this, it manages to be among the most versatile. The floorplan is fairly simple, with a queen bed up front and a single slide for the dinette. The true brilliance of this model becomes apparent at bedtime. The sofa is rear-mounted and folds into a bed as you would expect. However, Winnebago also included a drop-down bunk bed above the sofa. Thus, at night, this trailer becomes an impromptu bunkhouse model. All within 27 feet!
The finishes of the Micro Minnies are simple, but we found the quality to be extremely acceptable. Ultimately, these aren't designed to be luxurious condos. Rather, at around $34,000, they are easily towable and extremely affordable family-oriented units. They picked a goal and achieved it with flying colors.
8. Escape 5.0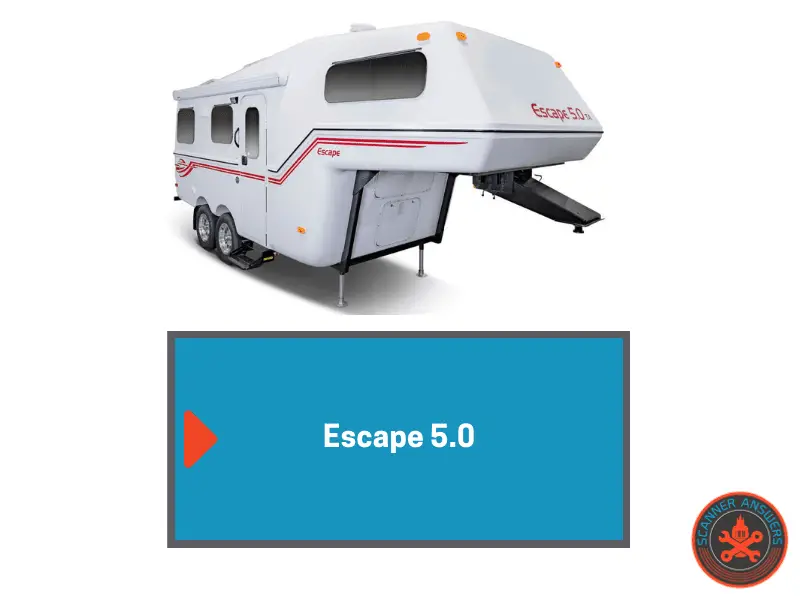 Remember when I mentioned that the Scamp doesn't have a lot of competition in its market segment? Well, that wasn't entirely true. Escape is a relatively new manufacturer, but they have proudly continued the tradition of two-piece fiberglass "egg" style trailers. Competition is always healthy, and there are definitely some pluses and minuses when comparing the Escape 5.0 to the Scamp 19.
Given their similar construction, the Escape 5.0 has many of the same benefits as a Scamp. At 21-feet, it's a tad longer, and at 3,900 pounds, it's a bit heavier too. It's an extremely strong design, though, and the two-piece construction is great for rigidity and avoiding leaks. If you like exploring some rougher roads with your camper, this is a great option. One key difference with the Escape is its two-axle design. While this is not a make-or-break issue in either direction, having a second axle is going to make the Escape more stable and easier to tow than the Scamp.
The interior is a bit of a mixed bag. Compared to the Scamp, the Escape feels a lot more modern and more luxurious. There is more wood and less exposed fiberglass, and many details seem a bit more elegant. However, the only available floorplan is a rear-dinette side-bath layout, much like a class-B motorhome. It is functional, but can also feel somewhat cramped. This is definitely a camper to live out of, not in.
Overall, the Escape is a very unique trailer that fulfills a niche well. However, it isn't for everyone.
Considerations before buying
You will likely have a lot of questions when shopping for a new fifth-wheel. Here are some considerations to keep in mind.
What features do you need in a 5th wheel?
Once you dive into the shopping process, the number of features and options can become overwhelming and confusing. To this end, it can be difficult to separate the "wants" from the "needs" of a unit. When looking at smaller fifth wheels, this becomes doubly important as sacrifices may need to be made. We always recommend creating a list of your must-have features before you begin your shopping journey. This keeps you focused and avoids distractions.
Should you get a travel trailer instead?
Whether or not you should get a travel trailer or a fifth wheel is largely a personal choice, and also based on circumstance. For example, if you already have an SUV but not a truck, a travel trailer might make more sense so that you won't need to replace your tow vehicle. However, fifth wheels are often easier to tow and offer more space. It all depends on your priorities.
Do you need a fifth-wheel that you can tow with your 1500 pickup?
If you are looking to tow a fifth-wheel with a 1500 or half-ton truck, be very careful not to exceed your truck's capacity. Often, a truck may be rated for the towing weight of the fifth wheel, but not the pin weight. Overloading a truck can quickly become a dangerous situation, and at the very least can make an otherwise relaxing trip into a stressful affair. There are plenty of half-ton towable options on the market, but you must always independently verify weights and tow vehicle capacity.
Conclusion
There is a plentiful selection of small fifth wheels on the market today, and there is no shortage of the best small 5th wheel trailers to choose from. Fifth wheels offer a lot of advantages over other options, and your tow vehicle should not have to be a limitation that keeps you from the fifth wheel experience. Regardless of your needs, there is sure to be a perfect unit for you. Today is a great day to find your dream fifth wheel, so start searching, find the right fit, and then get out there and enjoy the camping lifestyle!
You may be interested in reading out lightweight 5th wheel toy haulers next. If you decided you dont want to deal with a 5th wheel and prefer a bumper pull, consider some of these dual-axle camper options.