Summary
The Super Mini Car WiFi OBD2 Scan Tool Foseal Scanner for iOS and Android is perfect for novice and intermediate users, but professional mechanics can find this pretty useful as well. The price is perfect, and the universal compatibility with all OBD-II protocols is a welcome feature to have. Just make sure to get an app like Torque (for Android) or OBD Car Doctor (for Apple)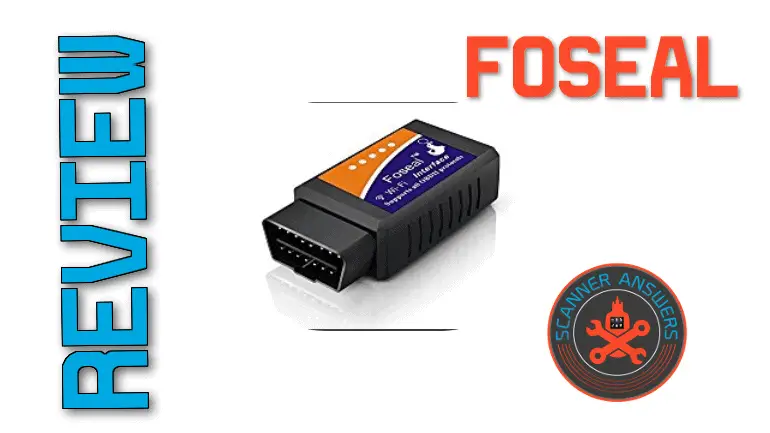 Foseal WiFi OBDII Hands-On Experience – Scan Tool for iOS & Android
Hello there! Vince here with Scanner Answers to bring you our latest Foseal WiFi OBDII Scanner Review. This handy code reader works on Android, iOS, and Windows phones. That's right, now you can transform your phone from a boring piece of complicated plastic into a butt-kicking, problem-fixing, money-saving tool that you can use to fix your car or pickup! If you want to save on spendy trips to the mechanic, then you need to consider picking up an OBD2 scanner. Luckily, you're already on the best website for finding the perfect OBDII scanners 🙂
What is the Foseal WiFi OBDII Scanner?
Vehicle scanners come in all shapes and sizes. The general rule is, the bigger the product the higher the price, but you get more features in exchange. Of course, if you really want a professional quality OBD-II scan tool then you'll have to pony up some serious dough. But we won't let that happen, because we have an OBD-II scanning tool that is more compact than an average smartphone, and it is also unbelievably cheap. We're talking about the Super Mini Car WiFi OBD-II Foseal Scan Tool and Scanner for iOS and Android.
Let's address the elephant in the room: as of the writing of this review, the Foseal WiFi OBDII scanner costs less than $21.99. There you go. It is also small and compact, and can fit in any cubbyhole inside your car. Of course, where it really belongs is under the dashboard, where it discreetly performs like a true champion. If you have a check engine light or MIL (malfunction indicator lamp) in your console, and if your car is OBD-II compliant, then the Super Mini Car Wifi OBD-II Foseal Scan Tool is worth a try.
Why should I buy the Foseal WiFi OBD2 Code Reader?
The best thing about this scanner is that it works via Wifi, so you can use your Apple or Android device to read, diagnose and erase OBD-II trouble codes. The Super Mini Car Wifi OBD-II Foseal Scanner is also compatible with all OBD-II protocols, including CAN-BUS. It will work on all OBD-II compliant vehicles with a valid 16-PIN DLC data link connector, and all you need is a WiFi connection and your Apple or Android device. How easy and cool is that?
The Super Mini Car WiFi OBD-II Foseal Scan Tool Offers Universal Compatibility on ALL OBD2 Protocols
It's quite a mouthful, but that's right. The Super Mini Car Wifi OBD-II Foseal Scanner is designed to work on all OBD-II protocols:
J1850 PWM
J1850 VPW
ISO9141-2
ISO14230-4 (KWP2000)
ISO15765-4 (CAN-BUS)
If you fix cars for a living, own more than one car, or just like to see how well your car runs, then this scanning device is perfect for you. You can scan older cars (from 1996-current) and switch to a newer model without changing scan tools. The WiFi capability is just brilliant. The Super Mini Car WiFi OBD-II Foseal Scan Tool is not a Bluetooth scanner, so you need a WiFi connection to make it work. But once plugged in, it is super easy to use. The interface is smooth and fast, but your phone has to be relatively close or you'll see some lags. But still, the performance is impressive, considering the price.
Get Tons of Vehicle Sensor Data with the Super Mini Car WiFi Foseal
This device is not just a simple code reader. Unlike cheap OBD-II scanning tools, the Super Mini Car WiFi vehicle scanner can display all current sensor data. This means that you can monitor the following:
Engine RPM, or revolutions per minute
Calculated load value
Coolant temperature readings
Fuel system status, including fuel flow and fuel pressure
Vehicle speed
Intake manifold pressure
Timing advance
Intake air temperature
Air flow rate
Oxygen sensor voltage reading, and a lot more.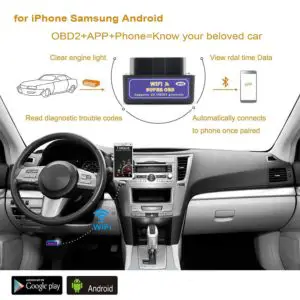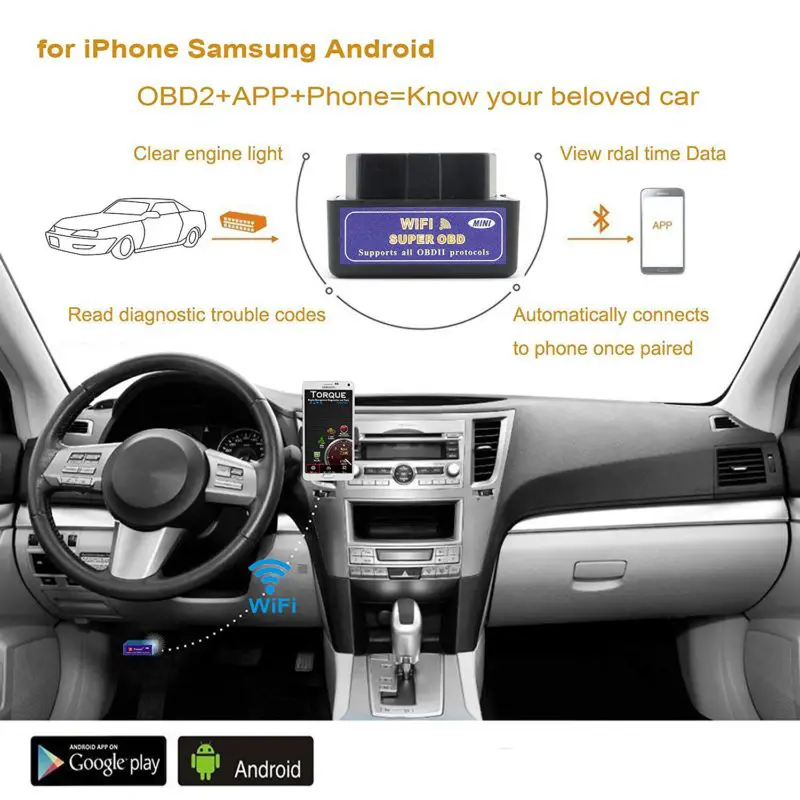 Think an ordinary code reader can do that? We don't think so. The Super Mini Car WiFi can be used by the average Joe, but it offers a multitude of features for the professional mechanic.
Want to monitor the effects of engine tuning in real time? This is the vehicle scanner for you. It will even work while you're on the go, and you can constantly monitor all the vehicle parameters while driving your vehicle (of course, you need to have WiFi on-board). Since there are no wires involved, you can park your iPhone 6 or iPad on the dash while reviewing the data from the Super Mini Car WiFi scanner.
The best part is that this device can read and scan manufacturer specific error codes, including generic trouble codes. It eliminates all the guesswork for you, and there is no need to use a separate scanner. It works on American cars and pickup trucks, and it will also work on your favorite Japanese imports, including European model cars.
Product Features of the Foseal WiFi OBDII Scanner
Don't be fooled by the size, and don't judge this product by its price. The Super Mini Car WiFi OBD2 Scan Tool is packed with clever features, some of which are found only on more expensive OBD-II scanners:
Read, scan and erase diagnostic trouble codes, including generic and manufacturer-specific trouble codes. Turns off the annoying check engine light in your vehicle console.
It not only determines the trouble codes, but it can display the meaning of the code on your iOS and Android device using the code definitions database. You can access over 3,000 generic code definitions, so there is no need to use a separate device to unearth that pesky trouble code.
Displays current sensor data for complete vehicle diagnostics. The real-time sensor data is especially useful if you like tuning your engine, or if you want to determine the effects of engine modifications or aftermarket performance parts.
Supports Apple iPhone 6, 6 Plus, 5S, 5C, iPad Air, iPad Mini 4 and Android devices including the Samsung Galaxy S4, S5, Note 2 and Note 3. It will also work on the LG G2 and the Google Nexus. Also compatible with Windows.
Final Thoughts and Conclusion
The Super Mini Car WiFi OBD2 Scan Tool Foseal Scanner for iOS and Android is perfect for novice and intermediate users, but professional mechanics can find this pretty useful as well. The price is perfect, and the universal compatibility with all OBD-II protocols is a welcome feature to have. Just make sure to get an app like Torque (for Android) or OBD Car Doctor (for Apple)
Also, be aware this scanner will not work on Apple devices running iOS version 5.1.1 or later. Still, if you want a cheap OBD2 vehicle scanner then you should definitely consider the Super Mini Car WiFi OBD2 Scan Tool.
Read more reviews on the Foseal on Amazon
Well, that's all we've got for now. I hope you enjoyed this Foseal WiFi OBDII Scanner Review. If you have any questions, please comment below! Don't miss our other reviews for Wifi OBD2 scan tools here and our guide to choosing the best OBDII wifi scanner for your needs!
-Vince