Turtle ICE

Car Guys Hybrid Wax

Meguiar's Carnuaba

Mothers California Gold

Griot's Garage Spray-on Wash

Chemical Guys Hybrid V7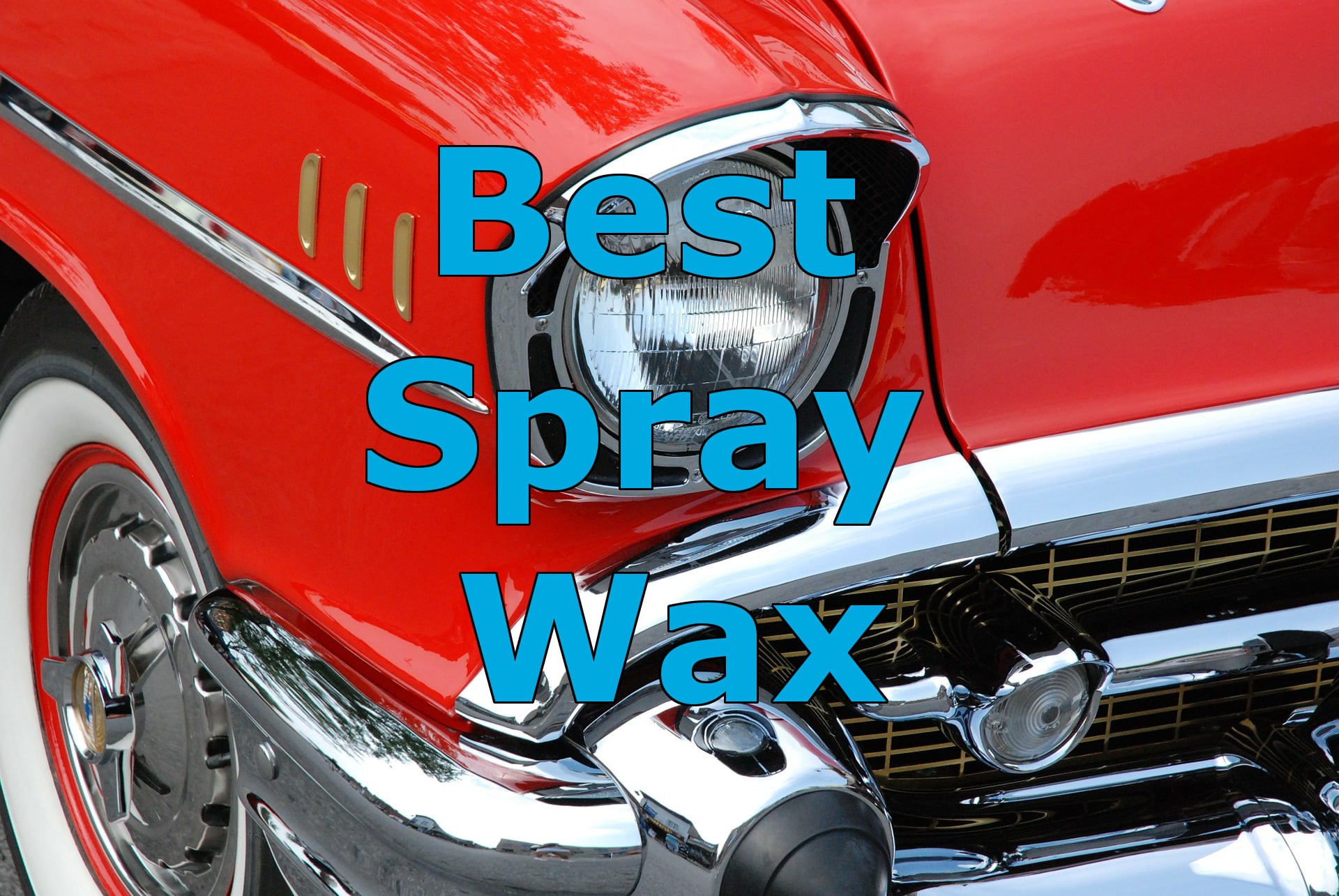 The Best Spray Wax for Cars and Trucks
Comparison Table:
| # | Preview | Product | Rating | Price | |
| --- | --- | --- | --- | --- | --- |
| 1 | | Turtle Wax T-477R ICE Spray Wax - 20 oz. , White | 4,520 Reviews | $12.99 | Buy on Amazon |
| 2 | | CAR GUYS Hybrid Wax - Advanced Car Wax - Long... | 14,489 Reviews | $19.97 | Buy on Amazon |
| 3 | | Meguiar's G7716 Gold Class Carnauba Plus Premium... | 9,866 Reviews | $8.67 | Buy on Amazon |
| 4 | | Mothers 07240 California Gold Clay Bar System | 14,987 Reviews | $22.94 | Buy on Amazon |
| 5 | | Griot's Garage 10984 Spray-On Car Wash 22oz | 867 Reviews | $29.99 | Buy on Amazon |
| 6 | | Chemical Guys WAC_808_16 Hybrid V7 Optical Select... | 5,120 Reviews | $17.43 | Buy on Amazon |
I'm Mike, and before I begin discussing the best spray wax for cars, I want to be totally honest with you. I have a confession to make…
…I am personally not a big fan of spray waxes. There, I said it out loud for the whole world to know. But before you begin saying that this is a bit counter-intuitive (writing about the best spray wax and not liking it much), kindly allow me to delve a bit more into this matter at hand.
I have nothing against spray waxes. Hell, I actually like the fact that they are easy to use. Simply spray them on, and wipe off. It's practically a no-brainer.
But I'm a serious car enthusiast, and I'm a stickler when it comes to my vehicle paint finish. Based on my many years of cleaning and detailing all sorts of cars, the thing that I don't like most about spray waxes is the performance. It just doesn't look as nice as a true wax and polish.
Now, I'll be fair here and say that I'm warming up to spray waxes… What I've found is that using them after car washes and between true wax/polishing, they certainly extend the vibrant shine of my paint.
So if you're planning to pick up a can of this stuff and have it be your only exterior detailing product, think again! Spray wax isn't a substitute for waxing your ride, but it helps make the carnuaba wax/polish last longer!
And let's be real here, waxing a car is not that difficult! Check out our guide that breaks it down: How to wax a car
Introducing the Best Spray Wax Products
Quick Look:
Turtle Wax T-477R ICE – Lowest Cost Spray Wax
Car Guys Hybrid Wax Sealant – One of the Best Quick Wax
Meguiar's Premium Quik Wax – Most Affordable Carnauba Spray Wax
Mothers California Gold Spray Wax – Best Selling Spray Wax Kit
Griot's Garage Spray-on Wash
Chemical Guys Hybrid V7 Spray Sealant and Quick Detailer

---
1. Turtle ICE
Bottom Line
Quick spray on wax that is also safe for glass – Anti static formula helps provide lasting protection and a beautiful shine!
One thing that makes the Turtle Wax ICE Spray Wax stand out is that you can use this product on paint, exterior plastic surfaces, and rubber trim. You can even use this to clean automotive glass without using a separate glass cleaner.
The Turtle Wax ICE Spray Wax is formulated with Smart Shield Technology that builds a layer of shine and protection with each application. This product utilizes advanced polymers to provide all-weather protection and shine. It will also fill in minor surface imperfections like mild scratches and swirl marks for a flawless finish.
Did I mention this is some cheap spray wax? That's right, if you're looking to save money, this stuff is a great deal!
With that being said, it is best to use this spray wax along with the entire Turtle Wax ICE collection to achieve the best possible results. Turtle Wax recommends using this product after every wash, and that's fine by me.
Pros
Cheap spray wax
Polymer formula makes it easy to apply
No buffing required
Works on paint and exterior trim, even on glass!
Cons
Product may produce streaks
Smells like vinegar
Update: We finally got our butts in gear and wrote a more in-depth review on this kit. You can read more about it here if you want to: Turtle Wax ICE Review
Scott over at Dallas Paint Correction even likes this wax. Check out his professional review below
---
2. Car Guys Hybrid Wax Sealant
Bottom Line
Very quick and easy to use all in one kit – made in the USA – 100% satisfaction guaranteed.
The Car Guys Hybrid Wax Sealant utilizes a combination of liquid carnauba wax and advanced polymers to provide a durable and lasting shine. Others claim that this product should be used immediately after washing the car while the paint is still wet. But I noticed some streaking when I did this so I still recommend drying the paint before applying this spray wax.
The Car Guys Hybrid Wax Sealant also comes with an edgeless microfiber detailing cloth which will make the application process much easier. The slick hydrophobic finish will encourage water beading so your paint will stay clean even after exposure to strong rain.
All in all, it's one of the best quick wax products that we've tested!
Pros
Easy to apply
Great lasting shine
Cons
Minor streaks are noticeable on dark finishes
It' a bit expensive
Want a more in-depth review? Here ya go! Car Guys Spray Wax Review
---
3. Meguiar's Quick Wax
Bottom Line
An awesome carnauba spray wax that is a favorite around here! Gives your vehicle paint a nice deep shine without much elbow grease
The Meguiar's Quik Wax is formulated with Carnauba and is the perfect spray wax for black cars. As with all Meguiar's products, this spray wax will leave a deep and glossy shine while applying a layer of protection to the paint in a single application.
Unlike other spray waxes we tested, the Meguiar's is able to be applied in direct sunlight and hot days. Also it leaves a lot less white streaking and cleans up quicker.
What I like most about this product is that it is easy to use and it doesn't leave white residue on plastic and trim pieces. The process is nothing more than to simply mist on and mist off using a microfiber towel. As with all other spray wax, the Meguair's Ultimate Quik Wax works best when used in conjunction with other Meguair's products.
Remember to mist one section of the paint at a single time to achieve the best results. I did notice a bit of streaking on black paint when I allowed the spray wax to dry thoroughly before wiping with a dry cloth.
Pros
Easy to apply and wipe off
Excellent water beading protection
Deep glossy shine
Low price
Cons
Quality concerns with the plastic bottle
Want some more info on this carnuaba spray wax? Check out our review here: Meguiar's G7716 Carnauba Quik Wax Review
---
4. Mothers California Gold
Bottom Line
Mothers is one of the highest recommended waxes we've encountered – EVERYONE LOVES THIS STUFF! Comes with two claybars and a microfiber cloth
The Mothers California Gold Spray Wax contains heat-resistant carnauba wax to provide a brilliant and lasting shine. This product can be used on both wet and dry surfaces to boost the protection of the existing wax in your paint. If you've never "clayed your car" then do some research and give it a shot. It adds a super deep shine to most vehicles and restores shine to glass-like quality.
What I like most about the Mother's California Gold Spray Wax is that it can also be used to treat and protect rubber, plastic trim, and glass, which is similar to the Turtle ICE Spray Wax.
The trigger bottle makes it easy to apply the product. However, I noticed that you will need to buff the surface slightly to achieve a good shine. Not exactly a wipe on and wipe off procedure, but it still performs well especially when used along with the Mothers California Gold Pure Brazilian Carnauba Liquid Wax.
Pros
Works well on wet and dry surfaces
Can be used to treat and protect rubber and plastic trim
Pocket-friendly price
Cons
Shine wears off easily after each wash
Streaking occurs if you let the product dry for too long

---
5. Griot's Garage Spray-on Wash
Bottom Line
While not exactly a spray wax, this spray WASH is great for cleaning off road grime and film to amplify the wax base already on your car
This product is a bit different in the sense that it is ideally used without water to clean your vehicle. The Griot's Garage Spray-on was is formulated to deliver an outstanding shine with adequate water beading protection.
Simply spray on and wipe off after rinsing your car. No need to dry the finish before applying this wash. The only caveat is that it is hard to wipe off when used on a dry surface. Believe me, I've tried it myself many times.
When used as directed, the Griot's Garage Spray-on Wax is one of the quick washes for your car. Although I did notice that you will need a bit more of the product to achieve the best possible results.
Pros
Works well when used as directed
Will not strip wax
Leaves behind a glossy shine
Cons
Not advisable to use on dry surfaces
It's expensive
6. Chemical Guys Hybrid V7 High Gloss Spray Sealant
Bottom Line
Awesome wax and sealer that\'s easy to apply on paint and wheels. Restores that show-room shine to most vehicles!
New for 2018!
We were intrigued by the Chemical Guys Hybrid 7 Sealant and Detailer. Our friend recommended this product highly for quick detailing work. The product claims to deliver a lasting and superior shine. The product is formulated to virtually disappear on the surface of the paint for a streak-free application.
The Chemical Guys Spray Sealant is designed to work at a Nano-spec level to instantly bond with painted surfaces. Not sure what exactly that means, but it sure cleans and shines up paint well! This product is also great for glass and alloy wheels, which we found unusual.
I picked up mine from Amazon here: Chemical Guys Hybrid 7
This sealant and quick detailer is easy to apply on relatively new paint. It only took a couple of sprays to refresh the finish of the hood, roof, and trunk on our 2005 GMC 1500 with midnight black pain. But if you are working with a dirty or oxidized finish, be prepared for streaking on dark-colored paint.
After treating the dirty surface with a separate coat of pre-cleaner and polish, the Chemical Guys Hybrid V7  applied smoothly and cleanly with minimal streaking, even on dark or black paint.
Pros
Great for new paint
Durable protection
Easy to apply on newly waxed surfaces
Cons
Not good for old or oxidized paint
It's a bit expensive
If you're buying some vehicle car polish spray, you'll need some quality microfiber towels. Check out the guide we just wrote: How to choose the best microfiber towel for your car
Here's the Real Lowdown on Spray Wax
Not everyone will agree with me here, but here's the real lowdown on spray wax: they're not quite as durable as pure carnauba wax, and the effects of spray wax will usually wear off after a couple of washes. That's a fact. Read more about the Best Car Waxes and Polishes here
In order to totally understand what I'm on about, you need to understand that spray wax is not the be-all and end-all of auto detailing. Spray waxes are only good as quick touch-ups in between the actual waxing and polishing process.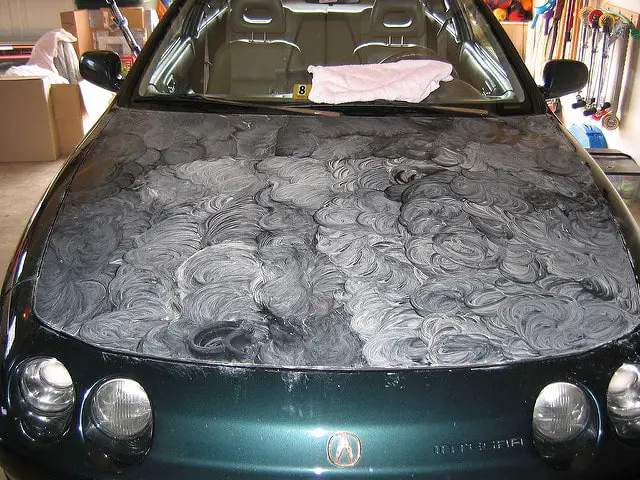 In other words, spray wax is better for brand new paint finishes that don't require intensive prepping and swirl removal. In this regard, I have to admit that spray wax works extremely well on brand new paint. The process will also save you a ton of elbow grease since it's easier to apply.
But when it comes to restoring the deepest possible shine and depth of color, you are better off with using a high-quality carnauba polish and finishing the job with pure carnauba wax. The same holds true if you are looking to remove scratches, tar, asphalt, dead insects, and swirl marks from the paint finish.
Here's another fact that you need to remember: you will still need to polish and wax the paint for the car polish spray to get the maximum benefit on the paint.
Got yourself a black or dark colored vehicle? You should read this guide: Top 5 Best Wax for Black Cars and Trucks
If you've ever thought of using spray wax on your car you're not the first one to do so. It's a popular supplement for traditional waxing that is cheap and fast.
Easiest way to wax a car with spray wax
Kindly allow me to discuss the easy steps to achieve the best possible shine and protection on car paint. This will allow you to thoroughly understand what spray wax is all about.
Step 1: Wash the car. Use a garden hose to spray off excess dirt from the finish before washing it using car shampoo. It is good practice to use a microfiber wash mitt when washing your vehicle. This will prevent scratches and swirl marks on the finish so you don't need to spend a lot of time polishing out the imperfections from the paint. Ideally, you should wash your car at least once a week, you filthy bastard.
Step 2: Rinse and dry your vehicle. Use a thick microfiber towel or chamois to remove excess water from the paint surface. After drying the vehicle now is the best time to inspect the condition and quality of the paint. Run your dry hands over the hood, roof, or trunk of your vehicle. Does it feel smooth as glass? If not, you need to wax the finish. Are there dull spots or mild oxidation on the paint? You will need to polish the vehicle before sealing the paint with wax.
Step 3: Apply polish or wax. It is still best to use pure carnauba wax or carnauba-based polish to achieve the best shine. You can wax by hand, or you can make things easier by using an orbital buffer.
Step 4: After step 3, you are basically good to go. You only need to apply spray wax in between waxing or polishing. This will help preserve the wax in the surface. The next time you wash your car, you can apply. No need to wax or polish the finish again.
Step 5: Apply weekly (maybe bi-monthly). You should polish or wax the paint at least every three months, but I highly recommend true waxing in monthly intervals.
There you go. You might know someone who applies spray wax after every wash, but I personally don't recommend this at all. Besides the fact that it will take too much work, it is not exactly an economical way to maintain the shine of your vehicle.
Like I previously mentioned above, you only need to apply weekly after washing the vehicle. Of course, this is assuming that you actually wash your car once a week.
Is Spray Wax Really Worth it?
You probably know by now that I'm not a big fan of spray wax. It's just that I personally prefer applying a light coat of pure carnauba wax weekly on my own fleet of cars. You can invest in a good orbital buffer to make the process much easier.
I have another beef with spray waxes: compatibility. Nothing serious here. If you used Meguair's or Mothers to wax and polish your paint, then you should use a spray wax from the same manufacturer. It's as simple as that.
Want to know the reason behind this? It's simple chemistry. Waxes and polishes are formulated differently. Some will use polymer-based sealants (like Turtle ICE wax) while others prefer to only use pure carnauba wax. If you use it with the same type of formula as the wax that you used on the paint, then this will yield the best possible results.
Pros and Cons of Spray Wax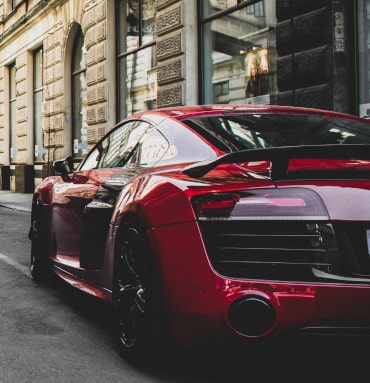 Spray wax is still partially liquid car wax, and contains the same ingredients that traditional waxes have. The only major difference is that it comes in a can.
Pros
One of the major benefits is that spray wax provides UV protection. Since UV light degrades car paint and leads to the richness and luster of the paint fading over time, this is a welcome benefit. Not only that, it restores the clear coat on the car and maintains it. Whether you want a little touch up before you rush out to an event, or just want to do a little maintenance, it's great either way.
Spray wax is also a great time saver in that it makes your hand/polisher carnuaba wax job last longer. Most people recommend waxing your ride every 3-4 months, but what I've found is that by using spray wax once a week or every other week, my paint stays shinier in between waxings.
Cons
Even though spray wax provides UV protection, in rare cases, it can damage finish overtime. This is because it contains a lot of chemicals that can react with your car's original coat of paint as time passes by. For this reason I highly recommend you do a real wax and polish once or twice a year to keep the vehicle exterior in pristine condition.
Another con is that it's is not an alternative to actually washing your car. Sure, if the vehicle has a little bit of dirt on it, you may be able to get by with just a light coat, but not otherwise. If your car is dirty, it will require a proper wash; there's just no other option.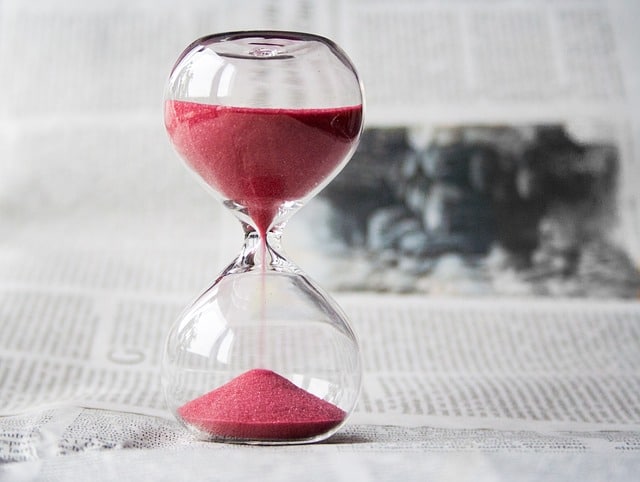 How long does Spray Wax Last?
Spray waxes don't usually last more than six months. But don't do that. They might "last" that long, but your paint isn't going to be as shiny and protected as if you applied it once a week or so. I like to apply a quick coat about once a week, usually after washing my ride.
Keeping your car looking good as new is important to many people. For some it's a status symbol, for others it's a badge of honor, and for some it's just something they enjoy doing as a hobby or as a tradition that was passed down generation to generation. Whatever the reason may be, auto spray wax waxes are a good tool to help keep your car looking brand new.
Conclusion
Choosing the ultimate winner among the best spray wax for cars is not an easy task. All the products I tested here worked well when used with the same brand of wax or polish.
My decision will be based on ease of application, the depth of shine, and the price. You know that I'm not exactly rooting for spray wax, but the Meguiar's Ultimate Quik Wax is my top choice. I would also recommend the Griot's Garage Spray-on Wax, but it is the most expensive product in this test. I just think it's better to spend your money on a proper carnauba wax or polish for the ultimate in shine and protection.
Now, these are great products to use if you want a quick "touch-up" shine before hitting the strip on a Friday night cruise, or if you're a busy guy and don't have a few hours to devote to using a true carnauba wax job.
Again, if you're looking to restore the depth, color, and clarity of automotive paint, nothing beats pre-cleaning, polishing, and waxing the finish. Auto spray waxes can only do so much when it comes to gloss, shine, and clarity.
-Mike