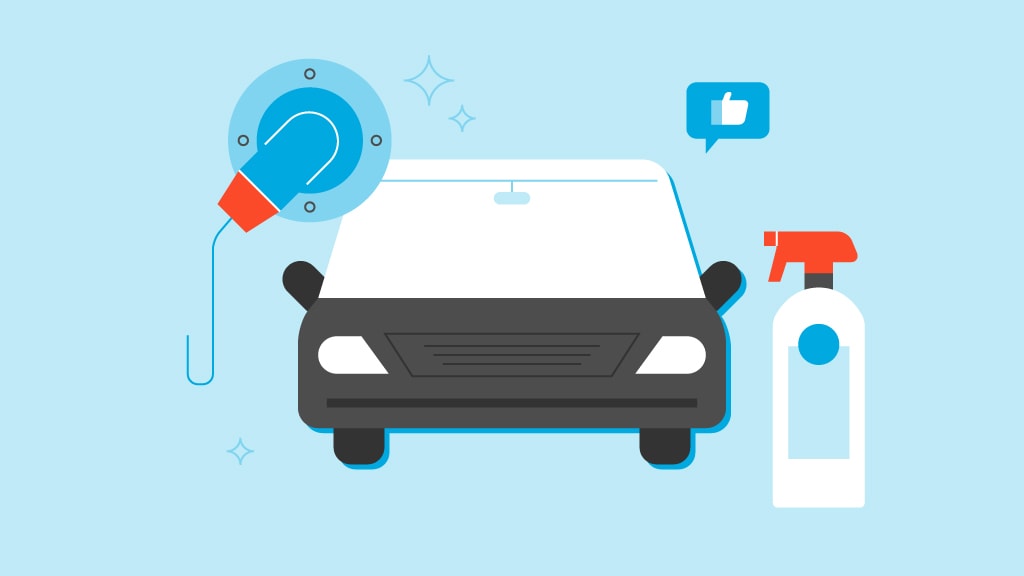 Hey there, I'm Matt. Today we're talking about how to wax and polish a black car paint job the right way! Ever since I can remember being into cars and trucks, I knew my favorite automotive paint color was black. After graduating high school, I bought myself a gloss black 1990 Mitibishi 3000gt VR4 with AWD and twin-turbos. Man that car was sweet. But I quickly learned that dark paint on vehicles in very tough to keep clean and lookin' good.
Question. 
What is your favorite paint color? It is hard to argue with the presence and aggression of a perfectly waxed and polished black car, truck, or SUV. Considering the dark hue of black paint, it is easy to assume that black paint is easier to maintain compared to white or light colored paint finishes….
Black paint sucks…. to maintain
But you're wrong. Seriously wrong. Black paint is notoriously hard to maintain since it requires regular polishing and waxing. You cannot achieve a bright, lustrous, and flawless black paint finish simply by washing the vehicle regularly. In fact, incorrect washing will cause swirl marks, which is the curse of black paint. Swirl marks are more visible on dark colored paint and they look magnified when light is pointing directly at the surface.
So what do you do in order to perfectly buff or polish a black car? Easy. It is all in the technique. However, the techniques I will mention below will need to be performed on a regular basis. If you do it right, you can expect your black car to maintain that deep and flawless look that is admired by car lovers from the all over the world.
How to Buff, Polish and Wax Black Automotive Paint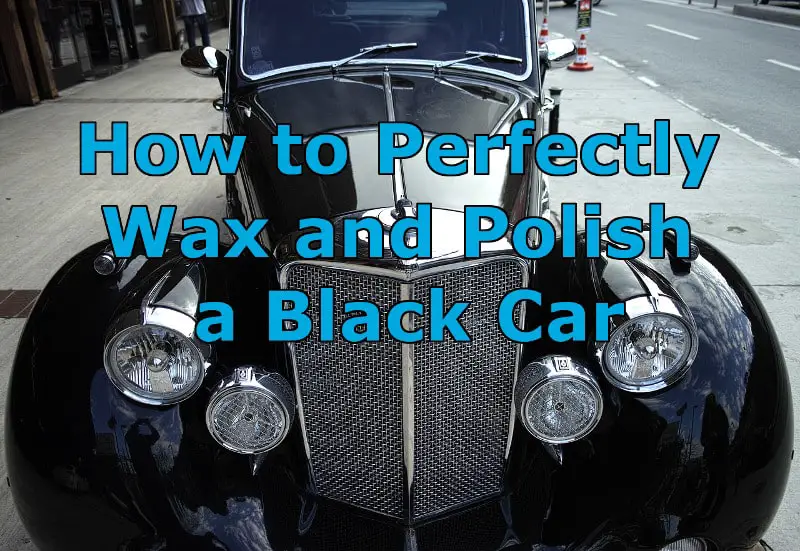 In order to perfectly buff or polish a black car, you will need to follow the 4-step process:
Wash – here's how to wash a vehicle
Pre-clean
Polish and buff
Wax – check out our best wax for black cars guide
You don't need to follow all 4 steps each time you wash your car. Here are the techniques that will keep your black car looking like new.
1. Wash
If you wash your car the right way, it is easy to prevent the occurrence of swirl marks or light scratches on the finish. The trick is to use a good quality car shampoo like the Mother's California Gold Carnauba Wash & Wax or the Meguiar's Gold Class Car Wash. You should also use a quality set of microfiber towels and a car wash mitt to wash and dry your vehicle.
Meguiar's Gold Class Car Wash, Car Wash Foam for...
Rich and luxurious car wash designed to wash and condition paint in one easy step
Premium formula offers rich foaming and sudsing action to gently and safely wash away tough dirt, road grime and contaminants without stripping wax protection
Ultra-rich conditioners reveal color and clarity and leave your paint with a radiant shine
Park the car in a safe and shaded area. Do not wash in direct sunlight. It is best to avoid washing a hot car to prevent soap stains on the black finish. Let the finish cool before washing the exterior.
If you don't have access to a faucet and garden hose, you can employ the 2-bucket method. Fill the first bucket halfway with clean water. The other bucket should contain the washing solution. If you constantly rinse the washcloth in clean water, you can significantly reduce the possibility of scratching or swirling the finish.
Is the car covered in caked-on dirt or mud? Rinse it well before applying car shampoo. Point the hose directly on the dirty surface to remove loose dirt. Wipe off excess dirt with a separate towel. Rinse the towel repeatedly until the surface is free from standing dirt.
Wash the car from the top to the bottom. Start with the roof, trunk, and the hood. Work your way towards the bottom part of the vehicle. Make sure to rinse the washcloth in clean water after washing each section. The wheels and tires should be the last part to be washed.
After washing the exterior, give it a good rinse. Make sure to remove all traces of soap and suds from the finish.
Wipe the paint clean using a dry microfiber towel. You can also use a chamois.
Black paint should be washed at least once a week.
Now that your paint is free from dust and dirt, it is time to assess the condition of the black paint.
If there are visible scratches, swirl marks, oxidation, or blemishes on the surface, you will need to pre-clean the paint before applying polish and wax. You can refer to Step 2 below in order to find out the right way to pre-clean black paint.
I know it sounds tedious, but there are no shortcuts in achieving a flawless black paint finish. The good news is that pre-cleaning should only be carried out at least once every 6 months, or whenever there are deep scratches and swirls in the finish.
But if your black paint is still relatively smooth, you can skip the pre-cleaning process and proceed directly to Step 3 (Polishing/Buffing) and Step 4 (Waxing).
2. Prepare that Black Paint
Pre-cleaning is basically removing blemishes and oxidation on black paint. I guess some people would place this in the same step as polishing, but I like to think of it as a seperate step.
If your paint is in decent shape, go ahead and skip to Step 3. But if you have some minor scratches from rubbing against a curb, lightly scraping the garage on the way out, or similar, pre-cleaning is how you can remove that.
Check out Michelle's experience after this step: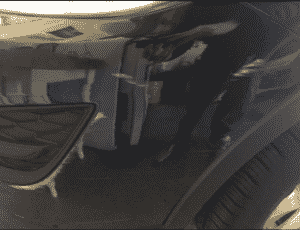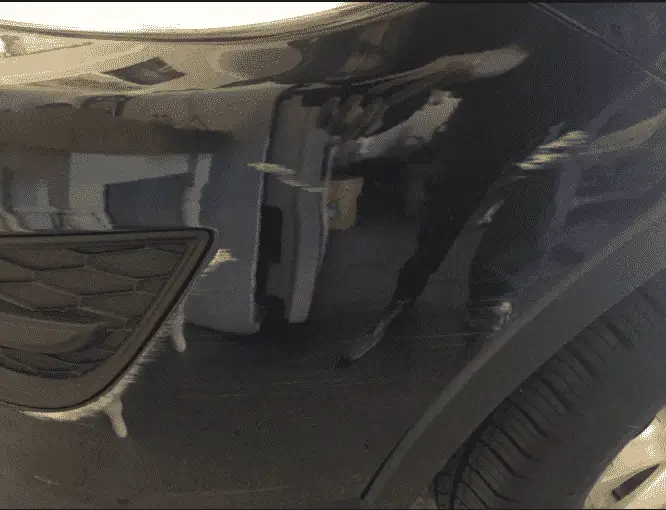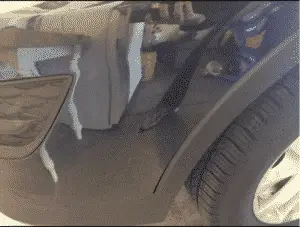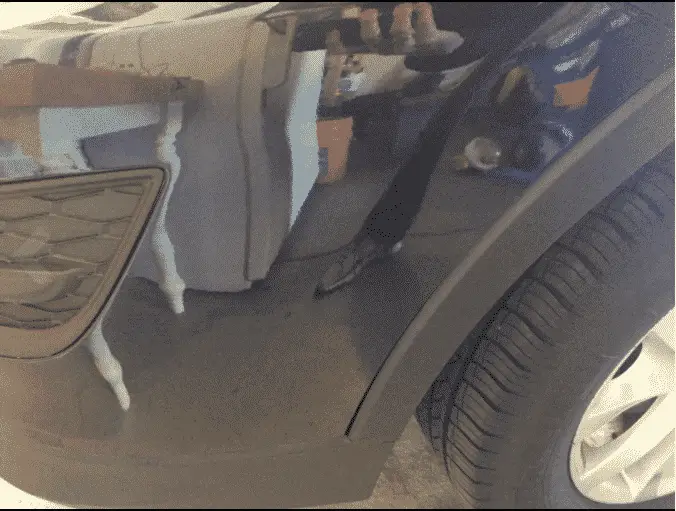 I prefer the Meguiar's Ultimate Compound for this job. The product can be applied by hand or machine and quickly removes surface imperfections to achieve a glossy finish. This product is also great for restoring the look of neglected paint finishes.
You start applying pre-cleaner on the topmost portion of your vehicle and work your way downwards.
Apply the cleaner on a clean applicator pad and work the cleaner on the paint surface.
Work with one section at a time. Apply more product over deeper scratches and swirls.
Let the product dry to a haze.
Wipe off the haze with a dry microfiber cloth.
After cleaning the paint, you must follow it immediately with a polish and wax. Polishing will remove the compound scratches left in the paint. This will help achieve the best results possible.
3. Polish
There is a huge difference between a pure polish and a polish and wax. I prefer using pure polish since it always produces great results on black paint. I like the Nu Finish Liquid Car Polish and the Meguiar's Ultimate Polish, but you can use any type of polish as long as it is designed for automotive paint.
| Preview | Product | Rating | Price | |
| --- | --- | --- | --- | --- |
| | Car Polish by Nu Finish, NF-76 Liquid Polish for... | 8,222 Reviews | $8.48 | Buy on Amazon |
| | ULTIMATE POLISH (16 OZ) | | $15.48 | Buy on Amazon |
Pure polish is different from vehicle paint wax. The polish does not need to dry before wiping off the excess. Think of applying polish similarly to how you apply lotion on your skin. You need to work the polish evenly on the paint. For this reason, you will need to keep a dry microfiber towel within reach as you apply the polish to the paint.
Apply a small amount of polish on a clean applicator pad. Work one section at a time. Apply the polish evenly on the paint. Buff the surface lightly using a dry microfiber cloth before the product dries to a haze.
Apply more polish over blemished areas. The essential oils and micro-abrasives in the polish will help remove light to moderate swirl marks, scratches, and paint oxidation.
At this point, the black paint will be smooth and shiny. You can check your reflection in the surface like you were looking in a mirror!
After polishing the paint, buff the surface lightly using a mildly damp microfiber towel.
You can also use a rotary buffer when applying and removing polish.
How often should you polish black paint? Black paint should be polished at least every 6 months or once a year, or whenever scratches or swirl marks are noticeable on the surface of the paint.
The job's not done yet. After pre-cleaning and polishing the paint, it is essential to apply a light coat of pure carnauba wax. The wax will give your black paint a deep and lasting shine while protecting the paint from bird poo and water stains.
4. Wax
You can use any type of wax or cleaner wax for cars, but I prefer to use pure carnauba wax since it never fails to produce amazing results. A couple of my favorite waxes for black cars is the Meguiar's Deep Crystal Carnauba Liquid Wax or the Mother's California Gold Brazilian Cleaner Paste Wax. Both products are manufactured from pure carnauba wax and offers a deeper, darker, and richer shine on black paint.
| Preview | Product | Rating | Price | |
| --- | --- | --- | --- | --- |
| | Mothers 05500 California Gold Brazilian Carnauba... | 1,990 Reviews | $15.99 | Buy on Amazon |
| | Meguiar's Deep Crystal Carnauba Wax - 16 Oz Bottle | 9,875 Reviews | $9.00 | Buy on Amazon |
If you want some other options, check out our  best waxes for black cars… 
Don't know the difference between paste and liquid wax? Liquid wax is simply easier to apply, but you can achieve great results using both.
Apply a small amount of wax on a clean applicator pad and work in one section at a time. Start with the hood, roof, and trunk. Work your way down to the bumpers, fenders, and the doors.
Only apply a light coat of wax at a time. Take note that multiple light coats offer better protection and shine than a single heavy coat.
Allow the wax to dry to a haze for 10 to 15 minutes.
Remove the haze and buff the surface lightly with a clean microfiber towel. Start buffing from the top and work your way downwards to prevent scratching the finish.
Make sure to remove all traces of wax on the paint finish.
Black paint should be waxed at least once every 3 months. But if you want your black paint to remain flawless for extended periods, it is advisable to wax the paint at least once a month.
You can wax the paint without applying pre-cleaner or polish. But if you pre-cleaned or polished the paint after washing, you should not skip the waxing process.
Now take a step back to admire your work. All that is needed is to apply a light coat of tire dressing or tire gel on the tires and you're ready to hit town!
Conclusion
Black paint is notoriously hard to maintain. Hopefully, this helpful guide on how to perfectly buff or polish a black car will help you in the pursuit of achieving the perfect black finish.
-Matt