Solo road trip sleeping in car? Read on!
Hey there, Vince here. Road trips are an awesome way to experience the sights and sounds in your country. But did you know you can save hundreds of dollars in hotels and accommodation fees by learning how to sleep in a car overnight? I know this may sound silly, but the money saved can be used on other expenses such as food, petrol/diesel, or even tickets to museums or other cultural events.
Road tripping is huge fun, but what do you do if you're somewhat low on cash? You should consider sleeping in your car overnight. This article will give you all the information you need on how to sleep in a car including the best cars to sleep in. Now, camping in your vehicle (rather than outside the car) might sound a bit uncomfortable especially if you drive a small compact. But with the right tools and the right techniques, you can wake up feeling fresh without spending exorbitant amounts of money on fancy hotels or filthy inns.
Keep reading to learn about how to sleep in a car on a road trip
5 of the Best Cars to Sleep In on Those Long Road Trips
Take it from me. There is no ideal vehicle to sleep in. You can have a spacious SUV or minivan and still wake up feeling like chopped liver. But if you have the right stuff, you can sleep soundly even if you're cramped inside a small hatchback.
However, there are some cars that will make it easier and more comfortable to sleep in. Station wagons, large SUVs, and minivans are the best choices for obvious reasons. Here are some of our favorites:
1. Volkswagen Golf Sportwagen – best small car to sleep in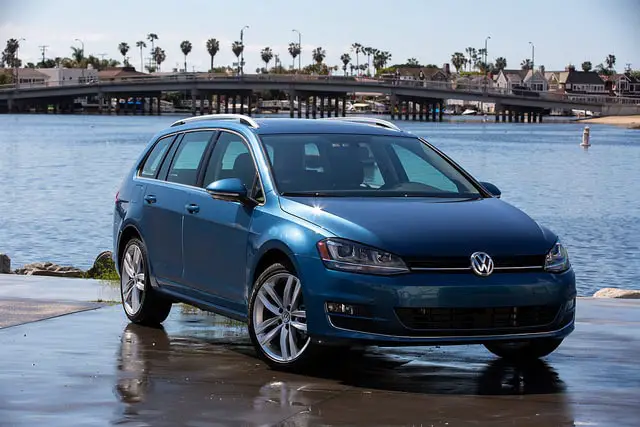 The VW Golf Sportwagen offers 66.5 cubic-feet of space if you fold the rear seats. All you need is a small mattress or comforter to transform the rear quarters into a comfy bed. Throw in a couple of pillows and you're all set! This car is also equipped with a power tilting and sliding panoramic sunroof that measures over 12 square feet. This means adequate ventilation even if you sleep with the windows closed. The 2018 VW Golf Sportwagen starts at around $26,000 and comes standard with a powerful 170-horsepower 1.8-liter turbocharged engine that gets 25/34 mpg.
If your windows aren't closing, you may need to repair the power window motor.
2. Subaru Outback – best cars to sleep in for camping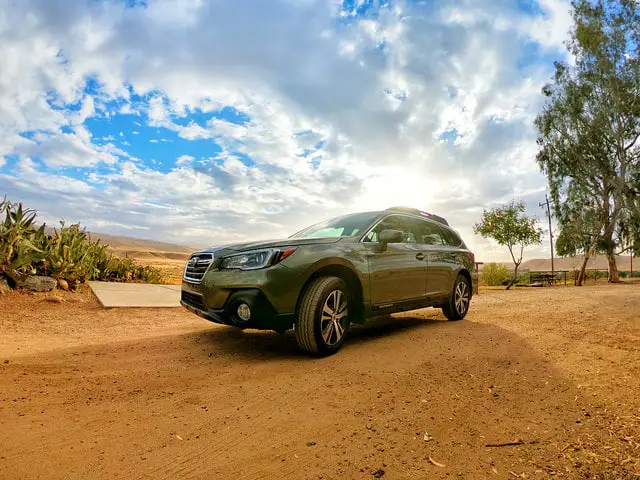 All models of the Subaru Outback are ideal cars to sleep in. But the 2019 Subaru Outback offers up to 73.3 cubic-feet of room if you fold the rear seats, which is more than what the VW Golf wagon has to offer. This car is also equipped with Subaru's proven symmetrical all-wheel drive system that offers relentless traction and grip whether you're exploring sand dunes, dirt roads, or some other frigid place in the far north. The 2.5-liter 175-horsepower Boxer engine is standard but you can choose the more powerful 3.6-liter flat-six motor that churns our 256-horsepower and 247 pound-feet of torque. Prices for the 2019 Subaru Outback starts at under $27,000 for the 2.5-liter motor and $35,000 for the 3.6-liter model.
3. 2019 Ford Flex
The 2019 Ford Flex is one of the best cars to sleep in by offering tons of room. If you fold the third row seats, you get 43.2 cubic-feet of room. But if you also fold the second-row seats, the Ford Flex will offer up to 83.2 cubic-feet. This is more than enough to create a comfortable sleeping environment while you're out on a road trip or when camping in the woods. This vehicle also offers multiple storage pockets, map pockets, and up to 10 cup holders and bottle holders. This means you can have a beer while laying down in the confines of your seven-seater SUV. The base 2019 Ford Flex SE starts at just around $31,000 and is powered by a 3.5-liter V6 engine.
Grab a seat cushion cushion for your car to make it even comfier for long trips!
4. Chevrolet Equinox – best suv to sleep in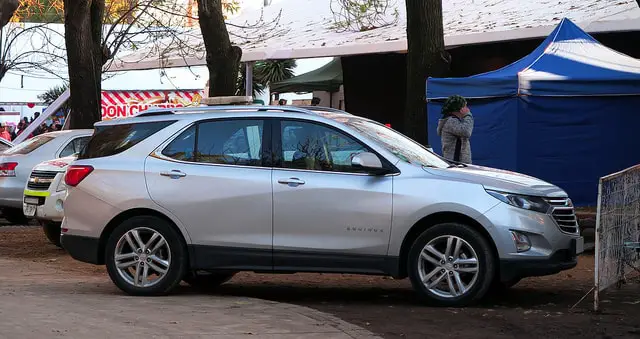 The Chevrolet Equinox was named as the most dependable compact SUV for 2018 by J.D Power and Associates. Most important of all, this small SUV can offer up to 63.5 cubic feet of space making it an ideal vehicle to sleep in. The base model 2019 Chevy Equinox LS is equipped with a punchy and fuel efficient 1.5-liter turbocharged 4-cylinder engine that can achieve 32 mpg in highway driving courtesy of the slick 6-speed automatic transmission. The Chevy Equinox is also capable of towing heavy loads up to 3,500 lbs. Prices for the 2019 Chevrolet Equinox starts at under $24,000.
5. 2018 Toyota Sienna – best mini van to sleep in
If you frequently take long road trips and you have a habit of sleeping in your car, you should take a long, hard look at the 2018 Toyota Sienna. Sure, minivans are far from being the cool vehicles they used to be, but when it comes to sleeping accommodations this vehicle (and other minivans for that matter) is king. The Toyota Sienna is equipped with split and stow third-row seats that allows you to fold the third row seats in one motion. This is an eight-seater minivan so you can only imagine the amount of room you can play with. All trim models of the Toyota Sienna are powered by a 296-horsepower 3.5-liter V6 motor with prices starting at just under $31,000.
6. 2018 Mazda CX-5
Many people say you sacrifice driving dynamics if you choose a CUV over a normal sedan or hatchback. But not if you choose the 2018 Mazda CX-5. This crossover offers a more exhilarating driving experience with the handling prowess of a Mazda3 hatchback. The CX-5 offers comfortable seating for up to five adults but if you fold the rear seats, you get 59.6 cubic feet of room so you can sleep comfortably inside the vehicle. The 2018 Mazda CX-5 is powered by a 2.5-liter SKYACTIV-G motor with cylinder deactivation that produces 187 horsepower while achieving an EPA-estimated fuel economy of 25/31 mpg. Best of all, the 2018 Mazda CX-5 looks the part as well.
If you're looking for an even cheaper suv to own, the Mazda CX-3 is slightly smaller and less expensive than it's CX-5 cousin.
How to Sleep in a Car Overnight
Planning to sleep in a car overnight? Preparation is key. Here are some tips that will help you sleep like a baby inside your vehicle.
Make sure to bring along some pillows and blankets. You can also use an inflatable air mattress or a sleeping bag if you are traveling to a place with sub-zero or cold temperatures. If you are travelling with the wife and kids, make sure to bring enough sleeping gear for the whole family.
It is better to pack all your gear inside the car rather than stuffing everything in the roof or trunk. There are times when it's not safe or convenient to go outside to unload all your sleeping gear.
Don't forget to bring along other essential items such as books, magazines, and music players to help you sleep faster. Do not rely on your vehicle's audio system for some mood music. You might drain the battery overnight.
After packing all your gear, the next thing to consider is finding a safe location to park your vehicle. Make sure to consult local and state regulations so you won't get a ticket if you sleep inside your car. Of course, the best place to park your car is in a place where you won't need to pay parking fees such as in large parking lots next to a Target or Walmart. Whatever you do, DO NOT pull over on the highway or on the side of a busy street. There is always a danger of other vehicles crashing to your car while you sleep. Truck stops or overnight rest stops are also an ideal place to spend the night inside your vehicle.
Always lock your doors. You might be parked in a safe or guarded place, but it is still best to always lock your doors as you doze off.
Ensure proper ventilation by slightly lowering the windows or opening the sunroof as you sleep. You can buy a small piece of window screen from a hardware store and wedge the screen around the opening of the sunroof. This will keep insects, bugs, or mosquitoes from interrupting your slumber without affecting the ventilation inside the vehicle. Never sleep without adequate ventilation.
If your vehicle doesn't come with tinted windows, make sure to bring along an extra piece of shirt or towel to cover all the windows in your vehicle. This will allow you to maintain your privacy without allowing excessive sunlight to disturb your sleep. It is also a good idea to bring along an eye pillow or eye mask if you prefer.
Keep the car keys in your pocket or any other safe place. Do not leave the key in the ignition while you sleep.
If you were fortunate enough to park your car at a rest stop, make sure to brush your teeth and take a shower after waking up. If not, a big bottle of water will come in handy so you can wash your face and perform your morning routines when it's time to wake up.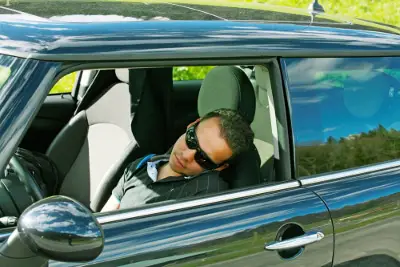 Is it dangerous to sleep in your car?
If you're trying to save a few bucks, you can live and sleep in your car for extended periods of time. Heck, the Homeless Firefighter has been living in his Toyota the past couple years. But there are some dangers to sleeping in your vehicle. 3 things to watch out for are
Carbon Monoxide Poisoning – when your engine is running it produces this gas which is poisenous to inhale over long periods of time. Make sure you don't have any exhaust leaks and park in an open space. Sleeping in a vehicle in the garage is a bad idea!
Malicious strangers – You're opening yourself up to more criminals if you're not behind a house-door with a dead bolt. Just make sure you cover up your windows and don't park in bad parts of town.
Toxic liquids spilling –  If you carry extra fuel in tanks or other chemicals, make sure they don't spill.
Conclusion
The truth is you can sleep in any type of vehicle as long as you bring the right stuff. You can even sleep in a small car like the Honda Fit or Mitsubishi Mirage provided you brought along some pillows and a couple of comfy blankets.
And make sure you detail your car before sleeping in it!