Power windows are a great convenience. Press a button, and the window regulator moves the glass up or down. It's fantastic when they're are working, but what happens when one gets stuck? And just as important, what's the power window repair cost?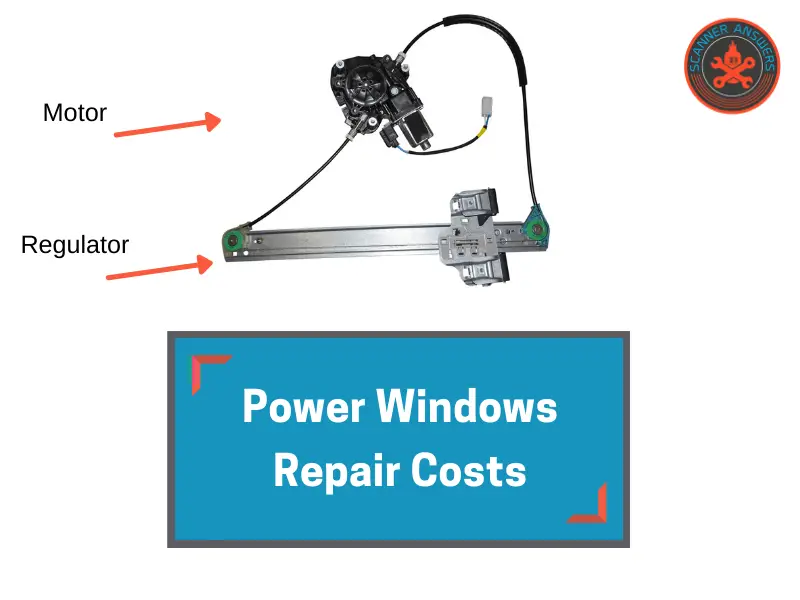 Driving with a window that won't close or open is frustrating. It's also uncomfortable in hot, cold, or rainy weather. When your vehicle's window glass is seized, it's going to be on the top of your priority list to get fixed.
How Much Does It Cost to Repair Power Windows?
Several factors affect how much it costs to repair power windows. The process starts with a simple diagnostic that runs on average, from $50 to $200. The diagnostic involves opening the door panel and inspecting the window motor regulator assembly.
Rates do vary according to car model and year, along with your mechanic's local rates. A chain repair shop or independent garage are usually less expensive than a dealership to have your window regulator repaired or replaced.  As of late 2023 going into 2024, we are seeing that mechanic labor rates have really gone up.  You can now expect to pay anywhere from about $100/hr at a rural, independent mechanic shop all the way up to $225/hr at a dealership in a large urban area.
What goes into total repair costs?
Most window motors require removing the door panel to replace, so that's where the labor time goes up.
The regulator can also wear out, and this part can range up to $300 and more, depending on the vehicle make and model.
New OEM parts will cost more than used parts. After-market parts can save you money.
The small electric window motor also need regular replacing, and the cost is similar to a regulator. However, labor will be higher since more work is involved. Most certified mechanics recommend replacing both parts even if only one is out. In the long run, it will save you time and money.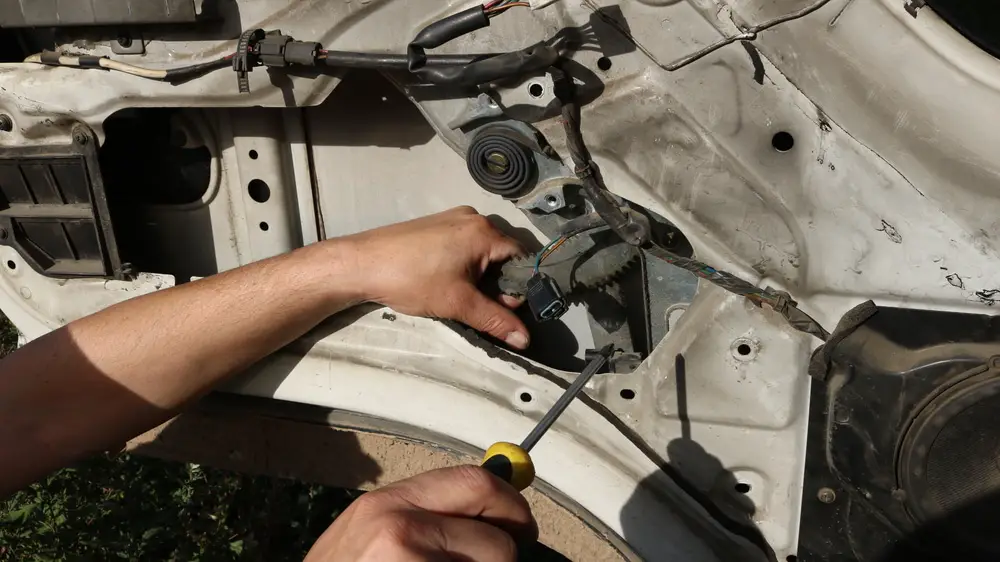 How Long Does it Take to Fix a Power Window?
Even if you have a vehicle with four power windows out, it won't take days or weeks to get your car or truck back. The time needed for a diagnostic and repair is, on average, a 1-to-2 hours for each window. This applies to having both the regulator and motor replaced.
So, if you have four that need repair, you can expect your vehicle back within four to eight hours. Your mechanic or the repair shop will give you an estimate on the amount of time it will take. If you only have one power window that needs to be replaced, you can be out on the road again in about an hour.
Parts Involved in a Power Window
There are only a few parts in a power window assembly. You have the glass, the regulator, the switch, and the motor. Each piece plays an essential role in how smoothly your power windows function.
The regulator – responsible for feeding the glass through the tracks. There are two tracks, one on either side of the glass. The power window regulator also comes with a drive function that keeps the glass level as it's going up or down.
The motor – provides the power the glass needs when you want the windows opened or closed. When these window motors fail, your glass is stuck. Most (but not all) vehicle manufacturers use a brush DC motor. It boasts a simple design that's easy to replace and is also inexpensive. It's the same type of motor used in adjustable seats.
The switch – similar to a fuse and uses the motor's power to open and close the vehicle windows. Each window has a switch, and some vehicles come with a master one that controls all of them from a single button on the driver's side.
Vehicles and Window Motor Repair estimates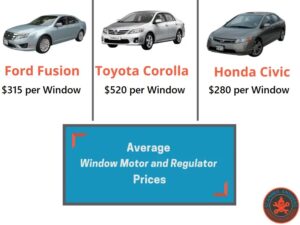 To give you a general idea of what you can expect to pay to have either the motor and regulator repaired, here are a few examples from some commonly driven vehicles. Find your car below and the estimated repair cost for the power window motor and regulator, and power window switch. Note: We have updated these costs for 2023-2024 due to a significant rise in mechanic labor rates since this article was originally published in 2021.
2010 Toyota Corolla
Motor and Window Regulator Repair Cost: The average cost to repair the motor and regulator, is $184 to $275 for parts. Figure about 2 hours of labor.
Power Window Switch Repair Cost: In general, you should expect to pay around $56-$140 for parts and your local mechanic rates would vary depending on your location. 2 hours labor would be a good estimate.
Average total cost (with labor): $520 per window
2006 Honda Civic
Power Window Motor and Regulator Repair Cost: $65 for aftermarket parts for only one window.
Switch Cost: The cost of the replacement power window switch ranges from $15-$60 for the part. 1-2 hours of labor time is to be expected.
Average total cost (with labor): $280 per window
2009 Ford Fusion
Motor and Window Regulator: $100 for parts, and 1-2 hours of labor
Switch Repair Cost: An aftermarket mechanical part runs about $46. Not too bad.
Average total cost (with labor): $315 per window
Other Vehicle Manufacturer Costs
Luxury, high-end, or rare car models have a hefty price tag included with a window motors or switches. Expect to pay even more for these brands at a dealership, especially if the brands include BMW, Mercedes, Cadillac, Acura, Jaguar, or Lexus. High-end vehicles include high-end costs for parts and labor. Replacement costs can run upwards of $870 per window.
Conclusion
You can expect at least one power window to have problems sliding up or down at some point. The most common windows to have issues with are, ironically, the ones you use the least, typically the rear driver and rear passenger windows. However, hopefully, they won't all fail at the same time. It's not cheap replacing power window regulators and motors, though switches are less expensive.
When your power window needs repair, take a minute to think about where you're taking the vehicle. Dealerships are the most expensive, and you can get the same excellent service at a chain or independent shop for a noticeably lower price. Use OEM, aftermarket parts, or used parts will significantly affect the cost and may not be an option at all repair shops.