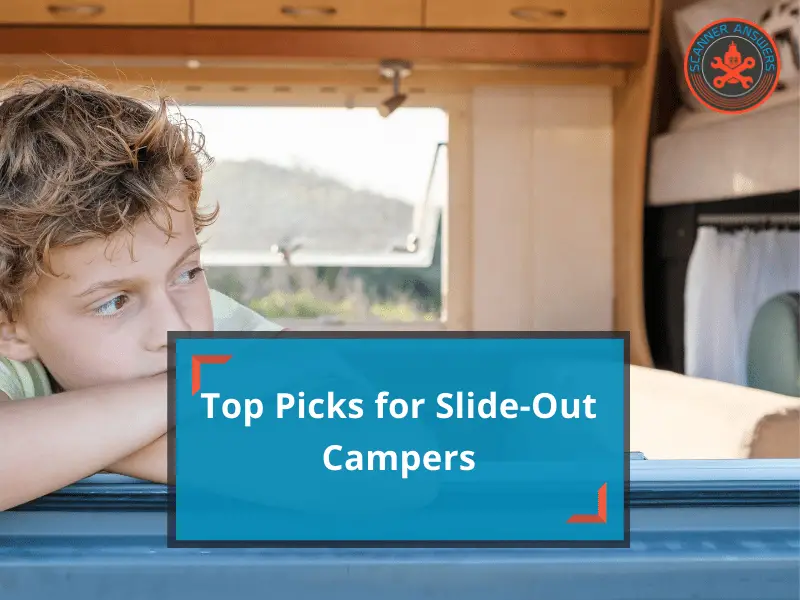 It was not that long ago that slide-outs were considered a luxury reserved for only high-end campers. Yet, as the industry has evolved, more and more features have become integrated into the smaller end of the market. Although large campers are nice, many people opt for smaller trailers for a variety of reasons. Perhaps you want something that you can two with the family, or maybe you simply want an easier towing experience. Exploration is another huge factor. Many older RV parks, and national parks in particular, have a twenty-six-foot length limit. Thus, a goliath of a trailer can actually prevent you from venturing to many dream destinations.
Of course, simply because you want a compact trailer doesn't mean you want to feel cramped. Thankfully, with the large selection of small travel trailers with slide outs, you can have the ease and the luxury combined into one. We've looked through the latest offerings to find the most exciting, innovative, and usable small travel trailers that feature slides. Here are the models to keep an eye on:
This is box title
1. Heartland Mallard M26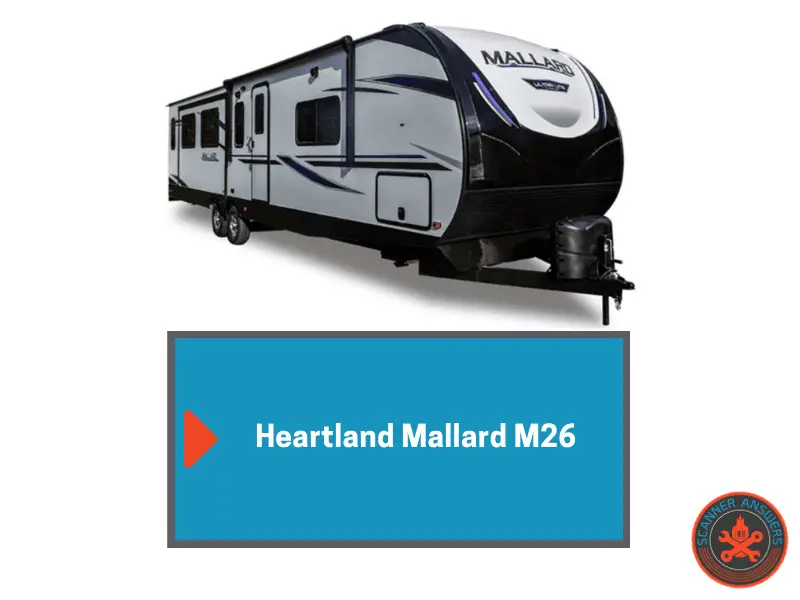 It's rare to find a "no-compromises" small travel trailer. However, it appears that Hartland has managed just that with the M26. In many ways, the M26 seems like a fairly traditional floor plan. However, the subtle differences are what make this model a true winner. This trailer features a front-position queen bed and a large slide that houses the dinette and sofa. The wall separating the front bedroom from the rest of the living space is actually a luxury that manner manufacturers overlook, so we were pleased with the boost in privacy. The kitchen is a unique twist on a classic design as well. Although the M26's kitchen is primarily a single-wall traditional layout, there is an L-shaped addition to the countertop that not only gives you more prep space but defines the space making it feel larger as well.
Moving towards the rear of the trailer, you're greeted by a surprisingly spacious bathroom with a generously sized tub. Finally, you reach the party piece of this unit. On the back right side, there is a set of bunk beds. Unlike most trailers in this class that feature narrow bunks only suitable for children, these bunk beds are full double-width. Have a big family or a large group of friends? This trailer could comfortably sleep ten people in a pinch.
Interested in other lightweight bunkhouse travel trailers?
Heartland offers you options, though. You can remove the upper bunk, creating a small private bedroom with a double bed. Thus, this isn't just a family rig. It's great for traveling couples as well. At under 6,000-pounds, this trailer is well within the realm of a half-ton towable. The cargo capacity is generous as well: a full 2,500-pounds, speaking to the overbuilt nature of this rig. This trailer packs a wealth of features considering its $42,000 MSRP, and we were impressed across the board.
2. Outdoors RV MTN TRX 21FBS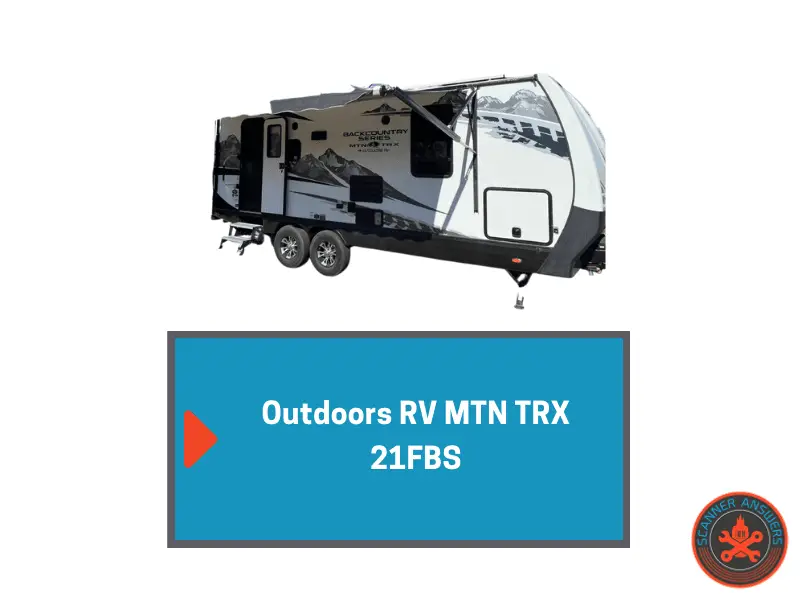 Not every RV shopper is looking to house a family, but it can be surprisingly challenging to find a compact travel trailer suited for an adventurous couple. Thankfully, the Outdoors RV MTN TRX 21FBS fits the bill. The name may be long, but the trailer is a compact 21-feet, making it an ideal choice for a first-time RV'er, or someone looking to downsize from a more cumbersome rig. Despite its compact outer dimensions, the 21FBS is a surprisingly cozy mobile apartment for back-woods adventures. The focus here was luxury, not simply capacity. There's a spacious queen bed up from, a convertible dinette, and a well-appointed kitchen. Sure, it doesn't have the sleeping capacity to host the Green Bay Packers, but it is a beautiful and spacious place to be.
The bathroom is a particular treat. In smaller trailers, the bathroom space is often the first thing to suffer. Not so in this unit. The rear-positioned corner bath has a huge garden shower, a generous vanity, and plenty of space to stretch out. Despite the luxurious interior, this trailer was built with some utility in mind too. Like most units made by Outdoors RV, the TRX 21FBS has significantly more ground clearance and much more rugged suspension than the average trailer. You can haul this 6,100-pound unit through your favorite fire road to that secluded campsite without fear of damaging your rig. For combining luxury and adventure, this $32,000 camper is hard to beat.
If you like this camper with a slide out, you may interested in these ultra lightweight travel trailers.
This is box title
3. Flagstaff Classic Super Lite 26FKBS
The Flagstaff Classic Super Lite 26FKBS is a unique trailer to the market because it was built with a very different goal in mind. Many compact travel trailers are built to be as light as possible, or as affordable as possible. Frankly, at 6,800-pounds, the 26FKBS is not particularly light, and with a $46,000 MSRP, it isn't particularly inexpensive either. But that wasn't the point of this unit. Most of the Flagstaff Classic Super Lite models are 26-feet in length, and that was done for a very specific reason. As previously mentioned, many national parks have a 26-foot limit on RVs. Want to explore Yellowstone? Well, a 27-foot unit becomes a problem quickly. With this parameter in mind, Flagstaff set out to build the most well-equipped unit possible within that space constraint. Unsurprisingly, they did a great job.
This is one of the few units on this list to feature dual-slides, one in the living room and one for the sideways mounted queen in the rear. This, combined with the large bathroom which separates the two areas with a side hallway, creates a convincing facsimile of a luxury fifth wheel. And that is likely the best description of this unit: a pint-sized luxury fifth wheel replacement. This pattern even continues to the outside.
One of the weaknesses of many small travel trailers is a lack of storage. Because they lack the height of a fifth wheel or motorcoach, many travel trailers have little or no storage. Flagstaff solved this issue by incorporating a drop-frame into the rear of the trailer, similar to the front of many fifth wheels. Thus, the Classic Super Lite series has some of the deepest and tallest storage in the segment. Looking for uncompromising luxury that allows you to explore the hidden gems of America? Give this unit serious consideration.
4. Keystone Hideout 179LHS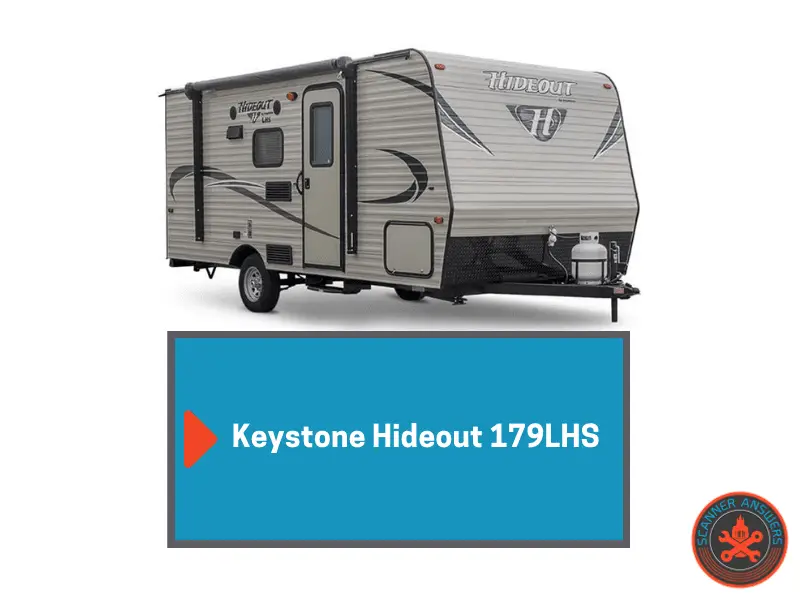 Camping on a budget shouldn't have to mean cramming yourself into a claustrophobic box. While slide-outs have been available on smaller trailers for several years now, they have only recently made the jump to the ultra-affordable "stick and tin" units. Compared to the other units we've looked at, the Keystone Hideout 179LHS is not going to have the laundry list of features of many of the higher-end trailers, but that's alright. The goal of the 179LHS is to provide an affordable and spacious camper in a compact footprint, and it achieves that goal admirably.
The layout of the 179LHS is simple but functional. There's a compact rear bathroom, a dinette within the slide-out, and a nicely positioned queen bed in the front. The kitchen won't be producing your next Michelin-starred meal, but it works perfectly fine for a hamburger or frying up some pancakes. The real benefits of this unit are space, weight, and price. The slideout is a particularly deep example, so this is sure to be one of the most spacious sub-20-foot trailers you come across. At sub-4,000-pounds, it's towable by even mid-size SUVs. Finally, with an MSRP under $20,000, it's approachable by almost any budget.
For a first-time RV owner or for someone who wants to focus on nature rather than watching TV behind closed doors, the 179LHS is a great example of a low-cost travel trailer that still offers the benefits of a slide-out.
This is box title
5. Coleman Lantern LT 18FQ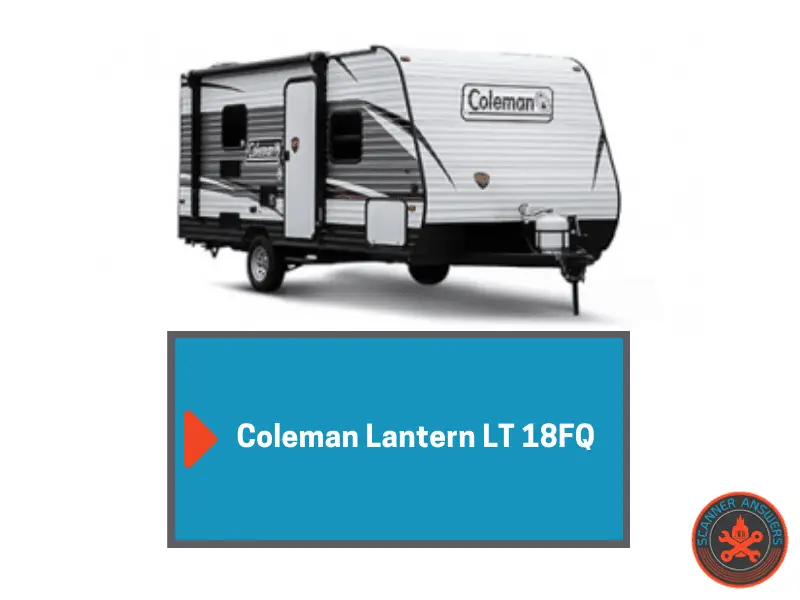 Coleman is always a fascinating brand to explore because they've been producing camping equipment longer than almost anyone else. When Coleman first started in Kingfisher, OK back in 1900, they had a general philosophy that they have carried through to this day: make long-lasting camping gear at a reasonable price. Whether we're talking about their camping stoves or their travel trailers, Colemans are rarely the flashiest, but they aren't the most basic either. They're a great mid-tier option for a budget-conscious buyer who cares about quality. Their latest offering, the Lantern 18FQ, is no exception.
The 18FQ's mission statement is to provide the most space in the smallest external size. At under 23-feet, sub-4,000 pounds, and under $24,000, this is an exceptionally compact camper that will have no struggle slipping into even the most "rustic" mom-and-pop campgrounds. However, unlike so many campers of this size, the 18FQ feels exceptionally spacious inside. It achieves this trick by having one of the largest slides in its class. Although this trailer only has one slide, the slideout occupies over 70% of the side of the trailer. Thus, this camper can almost double in size once you're ready to make camp.
The layout of this trailer is functional, but there are a few shortcomings. For one, the kitchen is not the largest. Although it has the basics, the sink is quite small, there is only a two-burner stove, and the counter space is mid-tier. Beyond this, Coleman compromises on a common area: the bathroom. Whenever a manufacturer is designing a compact layout, the bathroom is typically the first place to compromise. This makes sense, as it is theoretically the place where you will spend the least time- barring any cooking catastrophes. However, the bathroom in the 18FQ is particularly cramped and lacks a dedicated sink. It might not be a deal-breaker, but larger individuals may find it difficult to navigate.
Overall, this is a great layout with a dedicated goal in mind. For a reasonably priced camper that is easy to tow but doesn't skimp on space, this is one to watch.
6. Coleman 244BH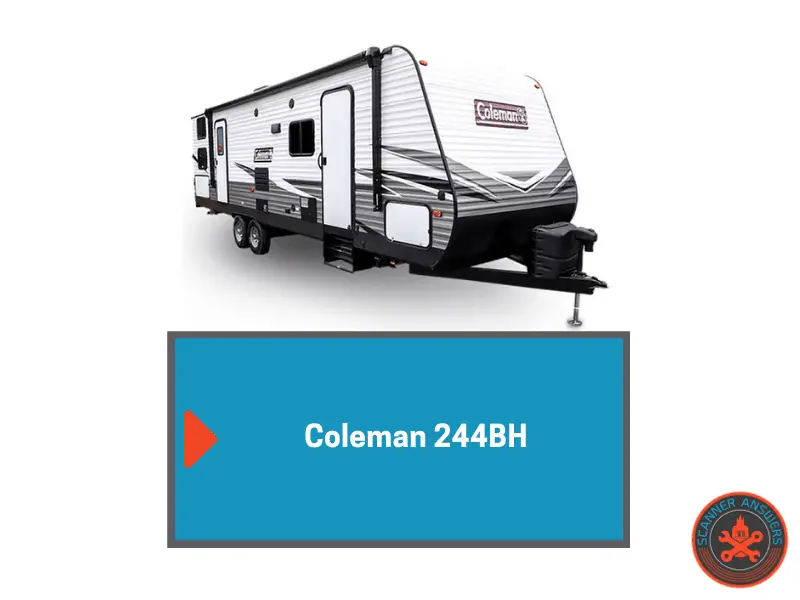 While the 18FQ discussed above may seek to maximize space, the Coleman 244BH maximizes pillows. Bunkhouse trailers are a wonderful option for large families or even couples that enjoy travelling with friends. Thankfully, needing a few more beds doesn't mean you need a massive truck to haul your camper. The 244BH is a fairly traditional layout but with excellent execution and attention to detail. The rear bunkhouse uses double beds, offering the double benefit of either providing extra space for solo sleepers or the ability to sleep two on each level. Between the bunks, queen bed, and convertible dinette, this unit can sleep a total of eight people. All within a 26-foot length weighing under 5,700-pounds.
Of course, given the huge amount of sleeping area, the living area is not the most spacious in the industry. Yet, Coleman utilized some clever tweaks to make the most out of the available space. The L-shaped kitchen allows for a surprisingly large work surface, even though the kitchen itself is quite compact. Further, the use of a U-shaped dinette allows for a great deal of flexibility. During meals, the table can be inserted and at least six people can dine comfortably. At other points, the table can be removed, and the dinette functions as a spacious sectional sofa. It's a great solution for a challenging limitation.
Coleman acknowledges that the point of camping is enjoying nature, and the outdoor kitchen makes this an easy goal. The generous awning and outdoor facilities make it easy to extend your living area into the outside of the unit. If you need to provide space for a lot of people but aren't looking for a mammoth trailer, the $44,000 MSRP 244BH deserves a serious look.
This is box title
7. Sportsmen Classic 151RB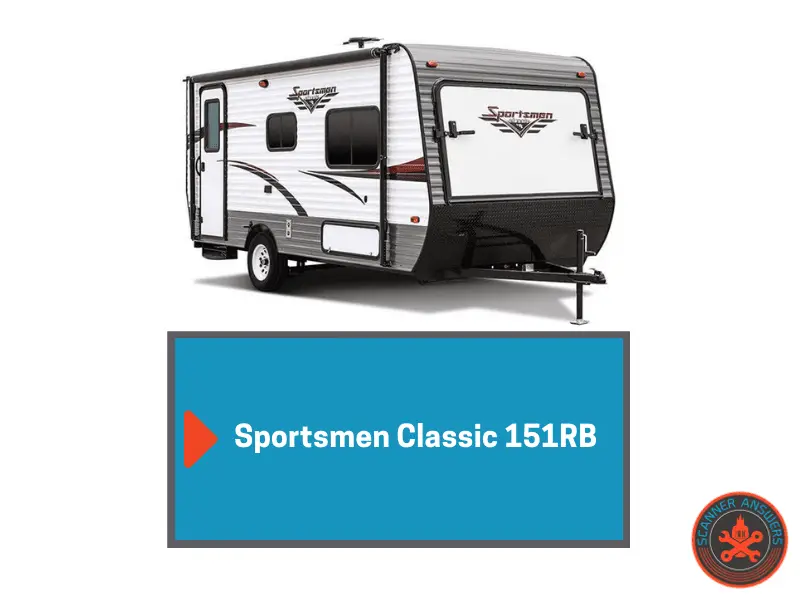 Many of the trailers we've discussed have been small, but what if you want the advantages of a slideout in a truly tiny trailer? The Sportsmen Classic 151RB is the smallest trailer on the market to feature a slide-out. At under 17-feet, it is hard to find a travel trailer much smaller without resorting to the tent-on-wheels known as a teardrop. Despite its small size, the 151RB fits a lot within its minuscule length. It has a full-size permanently mounted queen bed, a spacious sofa with an optional table, and a surprisingly spacious rear-positioned bathroom. If you're looking for a trailer for weekend adventures that don't require any fuss to use, this is a great option.
Even though slideouts can add weight to a trailer, the 151RB manages to maintain a feather-weight 2,500-pound dry weight. This allows this unit to be towed with something as small as a Ford Ranger or Toyota Tacoma. Whenever shopping for extremely compact trailers, certain areas can be overlooked. For example, many compact trailers I see have truly tiny awnings or no awnings at all. Not so with the 151RB, which has a generous 10-foot awning for extending your living space. Storage is another area where this trailer surprisingly shines. The area under the bed was reserved for externally accessible storage, so you'll have no trouble fitting your gear within the bays of this unit. Although best suited for solo travelers or couples, this compact sub-$20,000 unit represents a very unique approach that makes it ideal for many situations.
8. Grand Design Imagine 2400BH
Grand Design has developed a reputation for approachable luxury, and they have quickly become one of the leaders in the industry. Among the Grand Design models, the Imagine is somewhat of a darling child for combining high-quality finishes at an affordable price. The 2400BH represents a subtle twist on a popular layout. With its rear-positioned double-width bunk beds, U-shaped dinette, and front queen-sized bedroom, there is nothing inherently groundbreaking about the initial design. Yet, when you dig in, the details become impressive.
One of the most innovative features is the ability to use the bunk area as a pseudo-toy hauler. There is a large rear baggage door that opens into the bunk area. Not only is this a great secondary entrance, but it allows you to flip up the bunks and use that space for hauling bikes, umbrellas, and any other gear you need to have the best time on the go. It is a simple idea but it makes a huge difference. Further, the 2400BH has a truly impressive outdoor kitchen, including a mini-fridge. Buyers are often forced to choose between bunks and an outdoor kitchen, so we applaud Grand Design for including both here. Lastly, we can't discuss this trailer without talking about the bathroom. It's huge. Often, the bathroom area in a bunkhouse trailer feels like an afterthought, but here it feels like a focus. With a truly massive shower, plenty of floor space, and a generous corner-mounted vanity, it's a great place to be.
This 28-foot unit weighs just under 5,800-pounds, making it easy to tow for most trucks. At $34,000 MSRP, it isn't the least expensive, but it represents a great value for anyone looking for a small but luxurious bunk unit for a great price. This is a great example of getting the details right.
This is box title
9. Jayco Jay Feather Micro 173MRB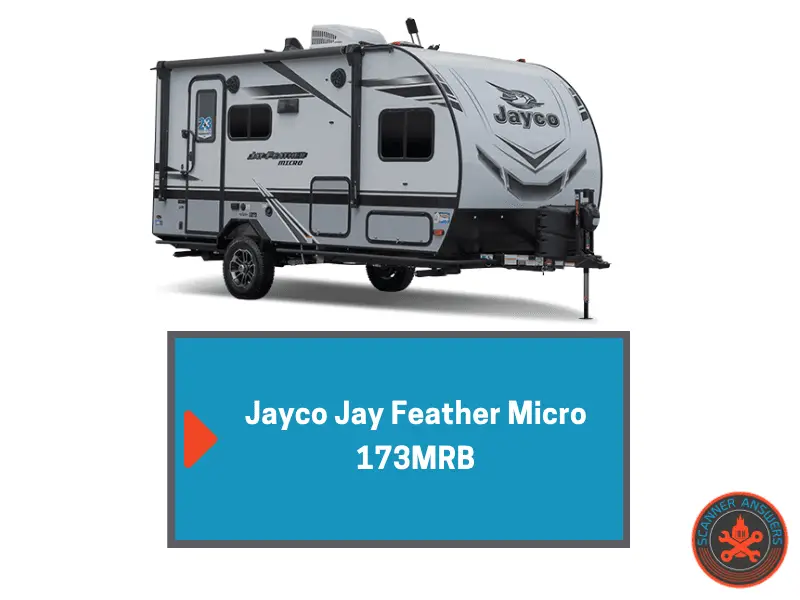 Speaking of bathrooms, we have discussed numerous times on this site that bathrooms are often an inherent compromise for smaller trailers. Especially once you dip below the 20-foot mark, you begin to expect the bathroom to be little more than a closet with a portable toilet. Thus, when you find a compact camper with a full-featured and spacious bathroom, it is really something to take note of. The 173MRB is designed like a mobile studio apartment, with the queen bed in the same room as the living area. While this cuts down on privacy, it makes the space feel more open, so this is a worthwhile tradeoff in our opinion. At $19,000 MSRP and weighing only 3,200-pounds, this is a great option for anyone looking for a simple getaway with a great bathroom.
10. Jayco Jay Feather X23E Hybrid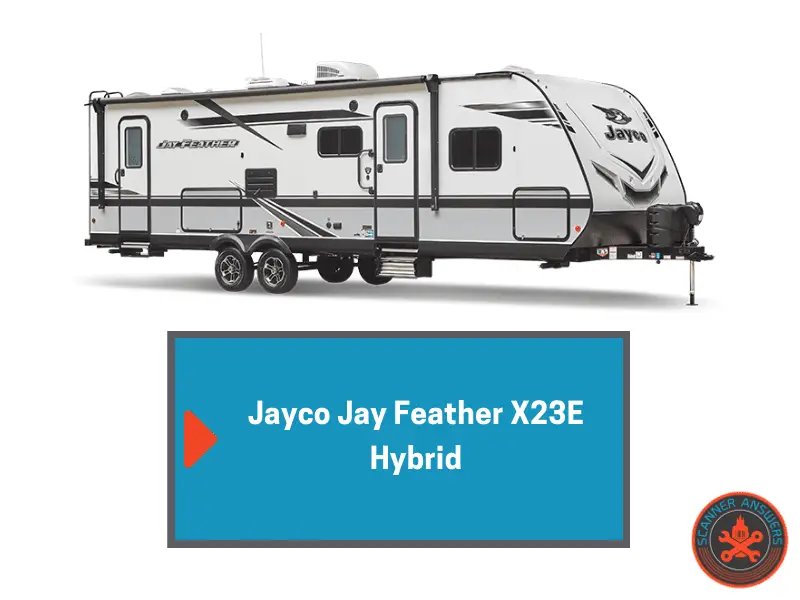 Hybrid travel trailers are a fascinating concept that frankly should be more popular. A hybrid trailer denotes a travel trailer that has normal harm-sided walls like a travel trailer, but fold-out "tent" beds like a pop-up. This arrangement allows for a huge amount of sleeping space in a compact unit, truly offering the best of both worlds. Among hybrid trailers, it is most common to have a bed at either end of the unit. However, the Jay Feather X23E goes beyond this and adds a third bed to the rear side of the unit. That's right: this is a 23-foot trailer with three queen beds.
Combined with the massive U-shaped dinette and convertible sofa, this impressive swiss army knife can sleep ten people comfortably, without a single bunk bed in sight.
Because none of the floor space is taken up by beds, this trailer has an incredible amount of living space. The U-shaped dinette is mounted on this slide-out, and provides plenty of seating for even a large family. The kitchen is generous, and the bathroom is quite spacious too. Overall, it is hard to fathom that a trailer this size could offer so much space. If you want the maximum space from a small trailer, give this 5,500-pound $32,000 marvel a look.
Do you really want a Slide-Out Travel Trailer?
Although most people consider slide-outs to be a win-win, there are still some considerations to factor in. Check out Alvin's video for an objective view to if slide-outs are good or not.
Pros and Cons to Slides
Overall, slide-outs are a fantastic addition to a trailer as they allow increased floor space without making the unit larger during transit. However, there are a few downsides. First, slideouts add complexity. A unit without slides will generally be lighter and more rigid than a slide-out trailer. Further, slide-outs add cost and complexity.
However, most buyers find that these potential shortcomings are well worth the added flexibility.
Hybrid vs Slide Out
Generally, the choice of hybrid versus slide-out comes down to your priorities. If your primary goal is sleeping space, a hybrid trailer may be best. However, if you value living space, focusing on slide-outs may be preferable. Some trailers even have both, like the Jay Feather X23E above, giving you the best of both worlds.
Durability Issues with Slides
Overall, slide-outs are very reliable, and the mechanisms have come a long way. The vast majority of slide-outs will offer you years of service without trouble. However, maintenance can be important. If your slide-out is a cable-driven unit, always make sure to check the cables and maintain proper tension. Further, make a habit out of checking the seals and cleaning the top of your slides to prevent leaks. Finally, always make sure the slide is fully in or fully out. Using a slide partially extended can damage the mechanism.
If you are interested in small travel trailers under 7000 lbs, we have a guide comparing them.
Conclusion
Slide-outs can add a huge amount of flexibility to your trailer, and make it feel even more like a home away from home. Simply because you want the ease, maneuverability, and versatility of a small trailer no longer means that you can't enjoy the added space of a slide-out. Whether you choose one of the models we discussed or another one entirely, small travel trailers with slide outs are a great way to enjoy the best of both worlds.