Lemur Monitors BlueDriver OBDII Scan Tool
Summary
The Bluedrivers are one of the most impressive OBD2 scanners on the market. One of my favorite features is that it works with iOS and Android. This is very rare to see in Wireless OBD2 scanners! The diagnostics for reading DTCs and providing common fixes save time and money. We'd recommend the BlueDriver to the curbside mechanic, or the professional.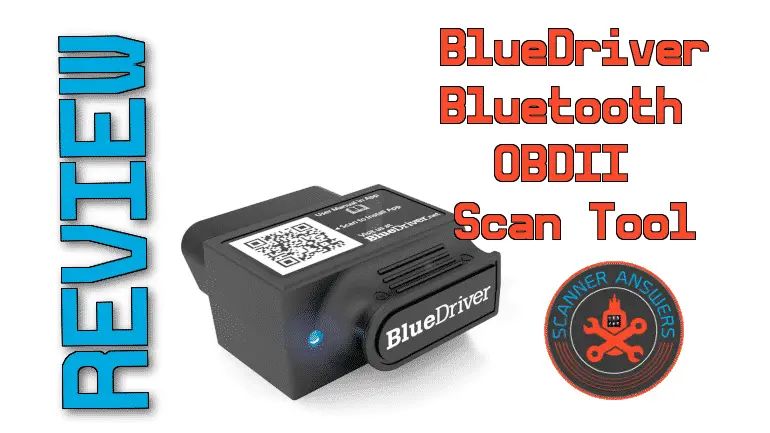 Lemur Monitors BlueDriver Review | OBDII Scan Tool for iOS and Android
We wrote the BlueDriver OBD2 Scanner Review to fulfill the request of many of our friends. This is an extremely popular OBD2 scanner, and for good reason! The BlueDriver Blutooth Professional for iPhone, iPad & Android by Lemur Monitors is a premium Bluetooth Scanner that offers diagnostic and troubleshooting capabilities that are beyond the reach of most competitors. It is compatible with both iOS and Android smartphones and tablet computers. Don't miss our other reviews on WiFi OBD2 scanners.
Updated for 2019 and 2020: After nearly two years of helping people find the perfect OBD2 scanner for their needs, the Blue Driver is still one of the best OBDII adapters for Android or iPhones.
BlueDriver OBD2 Scanner Review
Here's where I bought my Bluedriver scanner.
When the check engine light comes on, you need to find the cause, and fast! Introducing Wireless OBD2 adapters that you can use with any smartphone, tablet, or Windows laptop.
In recent years, Wi-Fi and Bluetooth-enabled OBDII Scanners have become common place. These nifty devices and will allow anyone with an iOS or Android device to easily diagnose and clear Diagnostic Trouble Codes (DTCs) without the need for specialized equipment or fiddly cables.
The Fred Rider did a nice video showing the hands on of this OBD2 interface.  Give it a watch if you dont like reading.
However iPhone and iPad owners are fully aware that many Bluetooth devices will not work with their handset or table. Apple simply prefers to limit the functionality of Bluetooth on its mobile devices. If you are an iPhone or iPad owner this can limit your options when searching for an OBDII scanner that will interface with your device. Luckily, the BlueDriver Bluetooth Professional OBDII Scan Tool for iPhone, iPad & Android is compatible with your IOS device and offers an incredibly feature-rich scanning experience.
Bottom Line
Scan and clear Check-engine, ABS, Airbag, and Transmission codes! It is the only OBDII adapter officially licensed with Android and Apple, so you know it will work with any smartphone you own! Fast OBD2 scanner that quickly scans any car or truck made after 1996 for issues. Instantly know if you can pass emissions. Access to the Reports database which has over 4 million vehicle fixes! View live engine and sensor data, capture freeze frame info, and a lot more!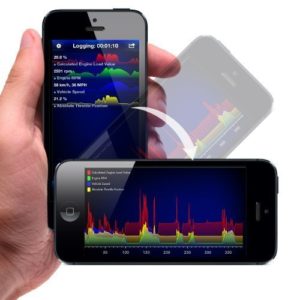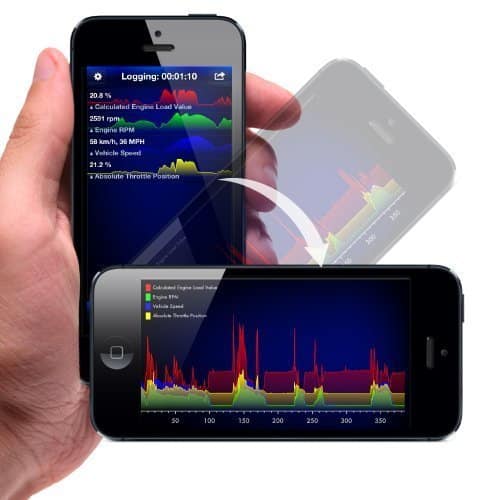 Features:
The other feature that distinguishes the BlueDriver Bluetooth Professional OBDII Scan Tool from most of its competitors is that it does so much more than simply allow you to read and clear diagnostic trouble codes.
Like other top-end Bluetooth scanners, it allows real-time data logging, and graphing of engine parameters. However, when reading DTCs it also provides a vehicle-specific list of possible causes, and can even provide a list of the most common fixes for that particular trouble code. This is immensely useful for the typical backyard mechanic who feels comfortable replacing faulty components, but who may not have the confidence to diagnose the problem himself.
Even for the more accomplished mechanic this additional information can a help pinpoint the most likely cause of the fault code. This will save more time and money when troubleshooting faulty components. This feature alone makes the Blue Driver Pro OBD2 Scan Tool a very powerful instrument for vehicle owners and professional mechanics alike.
Specifications
Compatible with both Android and IOS handsets and tablets.
Confirmed Check Engine Codes
Pending Check Engine Codes
Permanent Check Engine Codes
Enhanced Codes (e.g. ABS, Airbag, Transmission, etc.) for Ford, GM, Chrysler, Toyota
Code Definition
Possible Cause(s)
Top/Frequently/Other Reported Fix(es)
Check for whether or not the vehicle is ready for a local smog (i.e. emissions) test.
Advanced test results (like misfire counts) for On-Board Diagnostic System Monitors.
Graph – multiple data sources
Gauge – select a single data source
Data Log – save data to a CSV file
Pros and Cons of the BlueDriver
When writing the BlueDriver OBD2 Scanner Review, we immediately fell in love with the abundant features. But like all devices, this scan tool has got some pros and cons. We wanted to give you the best review and you should be aware of both!
Here's the things we liked:
The parts are manufactured and assembled by expert engineers in North America.
The BlueDriver app and sensors both work exclusively with each other as a single device to read data. They are completely compatible with each other. The app can be downloaded from iTunes and Google Play for free. There is no extra cost for downloading the app.
BlueDriver is certified to function with Apple iOS and Android phones and devices.
The Reading and Clearing Codes provide advanced codes for Airbag, Transmission and ABS. They also provide pending and permanent CEL (check engine light) codes.
Advanced data readings like misfire counts through the Advanced Mode 6 data readings.
Through the Repair Report, the device assembles any error code and gives a report of fixing the error by which one can print the information or email that to the technician of the car for further examination. This feature saves time and money.
Easily generate repair reports to diagnose the problem and get it fixed.
Durable and compatible with phones or tablets.
Convenient to use and also can be stored and carried easily because of the small size.
The wireless feature along with the application makes it possible for the tool to function fast with increased efficiency
This OBD2 scanner is relatively cheaper given the various types of feature it has and the way it performs.
User-friendly and capable of performing functions that an expensive scan tool can

Things we did not like:
Sometimes the Wifi or Bluetooth connections drop or gets slow
No support for Windows phones
Other odd findings – There are some problems with the software like if the phone is at sleep mode, the data readings will vanish and there is nothing one can do. Another limitation is that the live data are not saved in the BlueDriver sensor or even in the app itself. So the moment the engine is turned off the live data readings will get erased and you cannot restore them as they are not saved in the app or sensor which is a huge problem to consider as sometimes important details can be missed out.



*Additional Information
One of our kind readers pointed out one of my complaints regarding the live data "vanishing." He went so far as to contact Bluedriver support and ask them! Thanks man! Here's the response from Bluedriver about storing the live sensor data:
Lemur Support Response
Hello!
Live data is only recorded during the logging session, if you share it then a copy can be exported via email/dropbox/etc and a local copy is saved as well (the reviewer might not have been familiar with how this works). For data transfer the bottleneck is actually the vehicle itself which is slower than the bluetooth limits.
If you have any other questions please contact us any time!
Chris Nevin
Technical Support
Lemur Vehicle Monitors
Toll Free: 1.866.302.0054
Just goes to show that we do not know everything and appreciate all feedback from our readers 🙂
If you ever need to contact us, you can do so here: Contact Us
Blue Driver OBD2 Review Conclusion
Grab yourself the Bluedriver OBD2 scanner right here
The BlueDriver is one of the most impressive OBD2 scanners on the market. In a sea of cheap scan tools, this professional device really stands out.
Because this professional diagnostic scan tool works with iOS and Android, it's a convenient solution to troubleshooting most car troubles. iPhone and Android connectivity is a rare feature in Wireless OBD2 scanners! The diagnostics for reading DTCs and providing common fixes save time and money. We'd recommend the BlueDriver to the car enthusiast, curbside mechanic, or even professional automotive technicians.
Dont forget to download the free bluedriver app from Google Play or the Apple Store. This app has enhanced diagnostics features that you wont find in the cheaper scanners or software apps.
Learn more about wireless OBD2 scanners by checking out our ultimate buying guide in finding a Wi-Fi iOS OBDII scanner. Drop a comment below and I'll get you an answer!
Did you know that the Bluedriver  was featured in our guide to the best scanners for Volvo,  Nissan, Dodge, and Honda vehicles? Yeah, it's an awesome adapter!
Matt