KevianClean Interior Defense
Summary
I love this stuff as a dashboard protectant and it's a half decent cleaner. It's got a nice matte finish and infused with carnuaba wax to leave a nice finish with a nice "clean" scent. Non-toxic formula means it won't kill you if you breathe it in, or have a two-year-old that likes the lick car dashboards!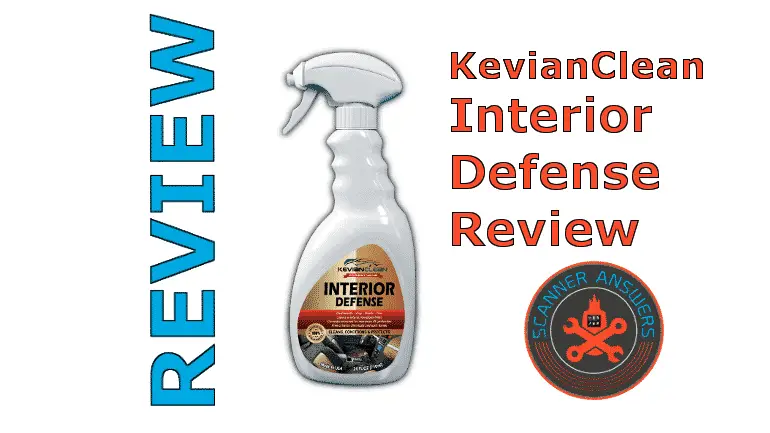 KevianClean Dashboard Protectant Enriched with Carnauba Wax
Hey I'm Mike and today I'm writing a KevianClean Interior Defense review after I tested it on my Ford pickup that past few months. Part of my job as an auto enthusiast is to answer many questions about auto cleaning products. I still remember the days when I was a poor teenager and have to bug my mom at the store so she would buy me fresh bottles of Meguiar's Gold Class, fuel injector cleaners or gas treatments, and throttle body cleaner. I spent a lot of my formative years around cars, so I have tons of experience when it comes to waxes, polishes, oil treatments, engine cleaners, and plastic or leather conditioners.
But when it comes to cleaning products for the car, what I personally like are interior cleaners and dashboard protectants. Yes, I also spend a lot of time prepping and buffing the paint but it's the inside that really counts.
Nothing beats the feeling of getting behind the wheel of a clean and dust-free dashboard. It just makes you feel a little bit more special, don't you think?
In this review, I bought a bottle of the KevianClean Interior Defense and proceeded to use it on my 2012 Ford F-150 Lariat 4×4 EcoBoost dash for a couple of weeks. I re-applied the product each week to see if this dashboard protectant is better than Armor All, which happens to be my all-time favorite.
The dashboard is the main focal point of your vehicle's interior so it needs to look pristine each and every time. But the dashboard is constantly exposed to harmful UV elements whether you're parked or cruising on the freeway so you can't simply wipe it with a rag dipped in soapy water.
Bottom Line
Non toxic formula that is awesome for cleaning and conditioning all kinds of vehicle interior surfaces. Use it on your seat, dash, and trim for a sleek finish and clean ride!
My initial impression of the KevianClean
Unlike other dashboard protectants like Armor All, the KevianClean Interior Defense is formulated with carnauba wax.
Yes, it's the same wax used to protect your car's paint. But this time, the carnauba wax is mixed with other non-toxic ingredients to clean, condition, and polish vinyl, plastic, rubber, and faux leather surfaces.
This product is not only good for cars since you can also use it on your boat, truck, RV, and even on outdoor furniture. The KevianClean Interior Defense is sold as a 24 Fl. oz. spray bottle and costs around [click here for price on Amazon].
Now I don't know about you, but I found the price to be a little much, especially if you consider the fact that a 28 oz. bottle of Armor All Original Protectant will only set you back around $6 to $8. The Armor All also comes in the same spray bottle that allows you to easily dispense the product on plastic, rubber, and vinyl surfaces.
I was also apprehensive about the cleaning properties of this stuff. The Chinese will often say that it is very hard to be the servant of two masters, and the same principle holds true when it comes to waxes, polishes, and yes, even dashboard protectants. I have never found a product that can actually clean AND condition the dashboard without sucking at one or both. So I was very interested to find out how well it can remove dirt and stains on the dash.
I guess you are paying for the 100% non-toxic formulation of the KevianClean Interior Defense since the Armor All is unable to make that bold claim. It also smells pretty good, but more on that later.
Applying it to my truck's dashboard…
I will usually wipe the dashboard with a damp microfiber towel before using a dashboard protectant, but I decided to play against my normal detailing procedure in this KevianClean Interior Defense review. Since I am curious how this product can lift off dust and dirt, I decided not to pre-clean the dashboard before using the product.
I sprayed the product on the dash and wiped off the excess with a clean microfiber towel. If your dashboard is extremely soiled with dirt (shame on you!), you will need to spray a bit more of the product and have at least 2 or 3 microfiber towels on hand.
Well, the KevianClean was able to rid the dashboard of dirt, but I ended up soiling two towels instead of just one. Probably because I let my dash get too dirty, haha. You can use this product for cleaning, but you will need to use a bit more of the product and change towels often.
Now one thing I really like of this dashboard protectant is that it's 100% VOC-free so it's nontoxic and safe to breath. I also noticed I didn't get that strange cloudy film on my windshield. That cloudy film drives me nuts!
The results are in…
Once everything was cleaned up, I was amazed at how the dashboard and the console were restored to an almost like-new condition.
Unlike the Armor All Original Protectant, the KevianClean Interior Defense had a matte and non-oily sheen. If you like the original non-waxy look, this is perfect for you. But if you prefer a high-gloss shine, stick with the Armor All.
And now, we'll talk about the scent. I appreciate the luscious smell of a gourmand designer perfume in the same way that I love the smell of freshly baked bread. I don't like using products with an overpowering chemical scent which is the reason why I prefer the Armor All dashboard protectant over other brands.
But the KevianClean has a clean lavender scent that made my Ford smell great! It's a distinctly mild and pleasant scent that made my interior smell like brand new. I'm not sure if other people will like the scent as much as I did, but I guess this has something to do with the all-natural and non-toxic formula.
Just one small issue with leather
My only caveat with this product is it doesn't work very well on real leather-finished surfaces, particularly the leather seats and door sidings. It performed well on my Ford's faux leather seats, but when I tested it out on my buddy John's Cadillac XTS that has those real 100% leather seats, it just didn't condition the leather very well. It did a great job at cleaning it up, just not the best conditioner. After my experience with the Caddy, I did some research and found that KevianClean recommends using their Leather Cleaner and Conditioner if you have that "real" leather.
Conclusion
Does the price of the KevianClean Interior Defense justify the cleaning and conditioning capabilities of the product? Eh, I'm still not sure. It's not the best cleaner that I have tested, especially for the price, but if you judge it as a dashboard protectant, it deserves every dollar since it has an all-natural carnauba-infused formula with a matte and non-oily finish coupled with a surprisingly refreshing scent.
It's safe for the environment, doesn't leave a film on your windshield, and is non-toxic. I'd recommend anyone try out at least one bottle 🙂
You can pick this stuff up here on Amazon: KevianClean Interior Defense Car Dashboard Cleaner UV Protectant Spray
-Mike