Griot's Garage Paint Cleaning Clay

Mother's California Gold Clay

Chemical Guys Medium

Armor All Ultra Shine Spray Wash

Optimum No Rinse (ONR)

Dodo Juice

Car Show 1 Waterless Wash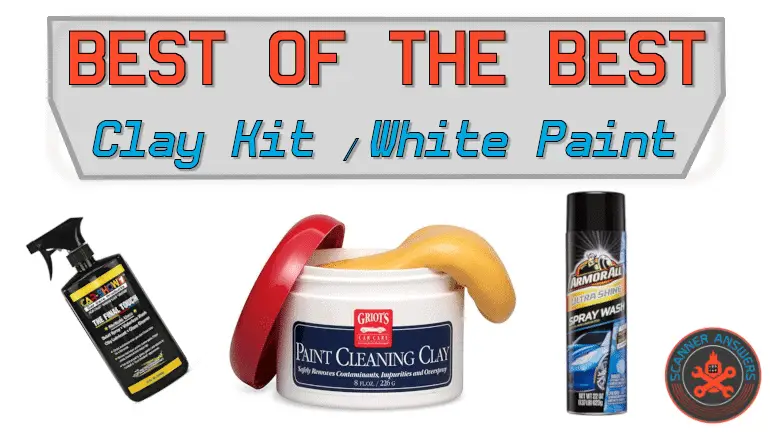 Vince here. Matt recently wrote about clay bar kits for darker vehicle paint and I figured I'd follow that up with a guide to choosing a clay bar kit for white cars and light vehicle paint!
Everything you need to know about Clay Bars, Lubricant, and white cars
The white paint in your car requires special care. Even though scratches and swirl marks are not as obvious on white paint, it needs protection from other harmful elements. Tree sap, asphalt, tar, industrial fallout, and acid rain can discolor the flawless white hue in your car's paint. With many months or even years of neglect, it doesn't take long for white to turn yellowish or just plain ugly.
There are surface contaminants that can't be removed by washing and polishing alone. White cars are highly recommended to be treated with a clay bar at least twice a year. This will ensure stains, rust, contaminants, debris, and brake dust are removed from the surface before causing further damage. Here is our list of the best clay bar kits for white cars so you can get cracking.
The Best Clay Bars for White Paint
1. Griot's Garage Paint Cleaning Clay
Bottom Line
We used a lot of clay bars in the past, but our favorite is the Griot's Garage Paint Cleaning Clay.
In our many years of testing auto detailing products, the Griot's Garage Paint cleaning Clay is one of our favorites. This product is not only good for white or black cars. It can be used to treat any color of clear coat paint. Yes, this clay bar is a bit pricey but you ultimately get what you pay for. We also like the consistency and lasting cleaning action of the clay. You also get a lot of clay to clean more than just a single car. Whether you have a new or older car, the Griot's Garage Paint Cleaning Clay will quickly restore the smooth and flawless finish in your car's white paint.
Pros
Economical and long-lasting clay
Good for all paint colors
Good for both light and intensive cleaning
Downsides
It's a bit expensive compared to the Mother's kit
2. Mother's California Gold Clay Kit
Bottom Line
Comes with detailer, clay bar, and towel, everything you need in a "kit"
In terms of value, it is hard to argue with the Mother's California Gold Clay Kit. This kit contains everything you need to clean and restore white paint. It comes with two 100-gram clay bars, a spray bottle of instant detailer, and a microfiber towel. This clay bar kit is ideal for all paint colors, but we particularly like using this on white paint. The clay bar has the right consistency without being too aggressive on paint. It not only removes and lifts off grime, contaminants, and debris, but it will prevent marring or scratching as well.
One complaint that I have about it is that the included detailer isn't the best lubricant. In a pinch you can fill up a spray bottle with some soapy water, but I'd still purchase a separate clay bar lube if your budget allows.
Pros
Terrific value
Includes clay lubricant and microfiber towel
Downsides
Clay deteriorates faster than other clay bar kits
Detailing spray isn't the best lubricant
3. Chemical Guys Medium Clay Bar
Bottom Line
This product is ideal for black vehicles that need moderate paint cleaning prior to waxing.
The Chemical Guys Medium Clay Bar is perfect for tougher cleaning jobs. Chemical Guys also offers a light clay bar for newer finishes. If the white paint in your car is festooned with ugly stains, discoloration, rough spots, and asphalt, this is the ideal clay bar kit for the job. Gentle strokes are highly recommended to prevent the occurrence of marring or swirl marks on dark-colored finishes. But on white paint, this clay bar is a God-send. The powerful cleaning action of this clay bar will instantly make your white paint gleam with joy!
Pros
More powerful cleaning action
Low price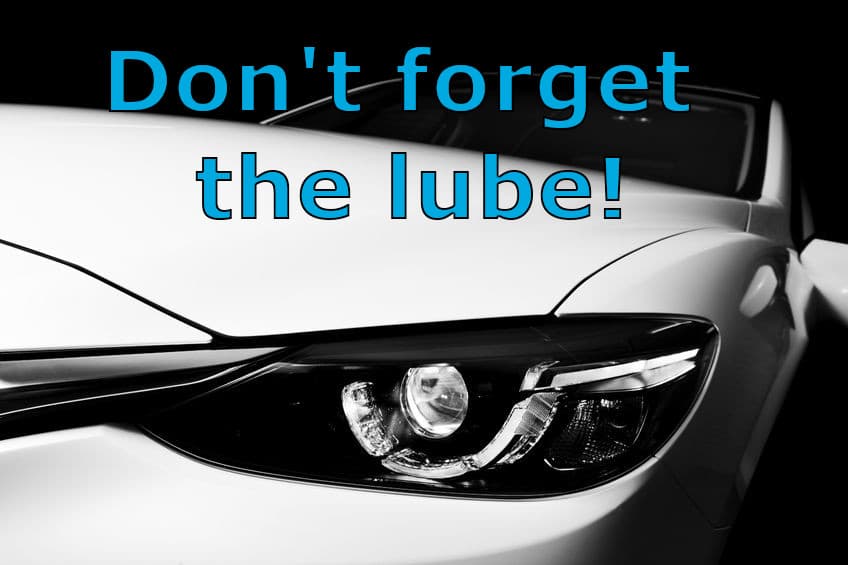 The Best Clay Lubricants – a must have for a complete kit!
Clay bar kits will only work with the right kind of clay lubricant. Sure you can use soapy water in a spray bottle and that works great but it will not provide the lubricity that you need to prevent marring while claying your car.
Clay lubricant will also make the job much easier because it's doesn't flash dry or evaporate as quickly as oil.
Here are our choices for the best clay lubricants to pair with your white paint clay bar kit.
1. Armor All Ultra Shine Spray Wash
I gotta give credit to Dallas Paint Correction & Auto Detailing for this tip. Before reading, you gotta watch this video:
You know what makes the Armor All Ultra Shine Spray Wash better than other clay lubricants? It has a foamy consistency that clings to the surface of the paint. This gives the clay bar enough lubricity to remove paint over-spray, rail dust, brake dust, and contaminants without the risk of harming or marring the surface. It doesn't drip unlike other water-based clay lubricants.
Sure it's not advertised as a "clay lube" but don't let that stop you from using it! For the ease-of-use and value, you cannot beat Ultra Shine to be the perfect clay lube.
Oh and it also works as nice surface detailer when you're in a pinch and want to clean your ride. Keep this in your trunk so you can quickly remove damaging bird droppings and tree sap easily without washing your entire car. This is a great all-in-one product that performs admirably as a clay lubricant.
Pros
Terrific value
Foamy consistency
Downsides
Sometimes it's hard to find in stores or online
2. Optimum No Rinse (ONR)
Bottom Line
Concentrated so it's a lot cheaper than the Armor-All and still does a great job. My second favorite clay bar lube.
To read more about why we choose this as our #2 and runner up clay luber, read more about it on our clay bar kit for black cars.
3. Dodo Juice Born Slippy Clay Lubricant Concentrate
No products found.
Bottom Line
Concentrated lube is great for saving money!
The Dodo Juice Corn Slippy Clay Lubricant Concentrate is one of the best clay lubricants we tested so far. Yes, you will need to dilute one part of Dodo Juice to ten parts of clean water to create your very own clay lubricant. It's not ready to use compared to other clay lubricants that come with their own spray bottles. However, that means you save money!
When mixed as directed, you can't go wrong with the Dodo Juice. This product is a shampoo-based clay lube that offers high lubricity and powerful lubing. A single 250ml bottle of this stuff is enough to make 2.5-liters of clay lubricant.
Pros
Economical to use
Superior lubrication and cleaning action
Downsides
No spray bottle included
Have to pre-mix yourself
4. Car Show 1 Waterless Wash & Clay Lubricant
Bottom Line
Concentrated lube is great for saving money!
The Car Show 1 provides many uses. It is a quick detail spray that can easily remove bird droppings and other stains on freshly waxed paint. It is also good for cleaning interior and exterior glass surfaces. This product is also a waterless wash that can easily lift off light dust and dirt without harming or scratching the paint, and without using water! But we also found out this is a great clay lubricant if we don't have any of the others around.
Pros
Easy to use
Doubles as a detailer
Downsides
Not as slick as other lubricants listed
Slightly more expensive for what you get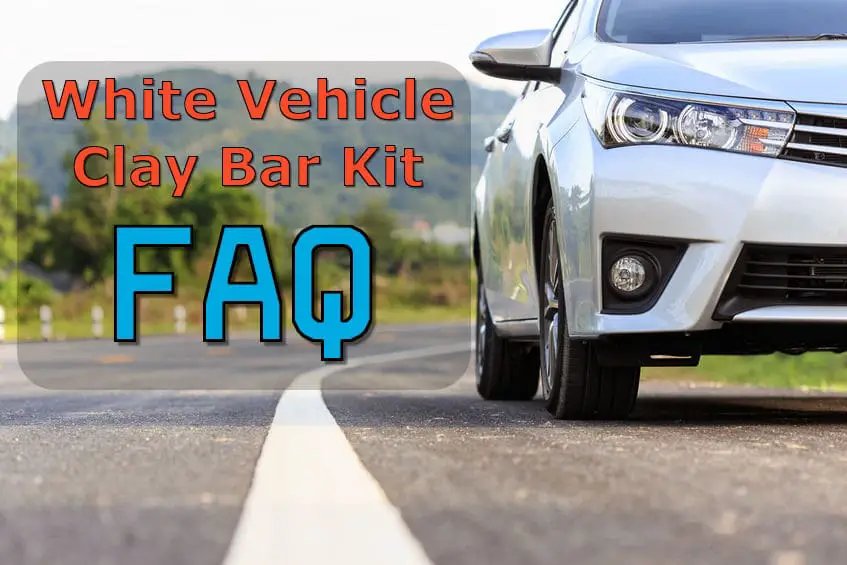 Building the perfect clay bar kit for your white car FAQ
Most people are confident in washing their car, and some are even experienced at waxing white vehicle paint, but the clay bar can often be intimidating to people who have never used one. So let's talk about some of the most common questions.
How often should I use a clay bar in my white car?
There is no official rule on how often you should use a clay bar in a white car. It all depends on a variety of factors such as where you live, the age of the vehicle, and how often the car is exposed to outside elements. However, you should inspect the condition of the paint and use a clay bar at least once a year. If your vehicle is predominantly exposed to harsh elements (or if you drive a lot of miles), it wouldn't hurt to use a clay bar at least once every few months to preserve the color and smoothness of white paint. The important thing to remember is to always wax the paint after using a clay bar to seal and protect the surface.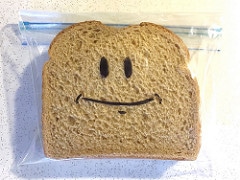 Use the Sandwich Bag test to feel if your paint needs a clay job 😉
 Pro Tip 
Here's the best way to know when it's time to bust out the clay bar (It's called the "Sandwich Bag Test")
Make sure your vehicle is just washed or dusted off.
Grab a sandwich bag or Ziplock bag or whatever is handy and slip it over your hand.
Gently run the BACK of your fingers over the paint and feel it. You'll have super-sensitive feels due to the plastic!
Now, grab your clay and lube and rub the clay back and forth using plenty of spray lube. If the clay gets dirty, fold it and knead it a little.
Finally, wipe it up with a microfiber towel and feel the area you just clay barred. Feel how smooth the paint is!?
Credits to this method go to Adam's Forums  and we also talked about it in our clay bar kit for dark paint guide.
Will a clay bar remove oxidation in white paint?
Generally, no. Polishing the paint is going to do much more for oxidation than a clay bar will. This holds true for both white and black paint. Polish can easily remove light oxidation and will prep the surface for waxing.
If you see a lot of stains, discoloration, or oxidation in your white paint, it is better to polish the surface prior to using a clay bar.
Will clay bar kits remove nicks, cuts, and scratches in white cars?
No. Clay bar kits can only remove bonded surface contaminants. It cannot repair deep scratches or reduce the appearance of swirl marks. If the scratch is deep enough to expose the primer or bare metal underneath, it is best to have it repaired by a professional. Clay bar kits are great in restoring the smoothness of paint and they are ideal for prepping the surface prior to polishing and waxing, but they are not ideal for removing or covering up surface damage.
I'm worried about marring or scratching white paint if I use a clay bar. Should I be concerned?
Not at all…. (now if you have dark vehicle paint, it's a different story!)
The secret is to prepare the paint before using a clay bar. Always start by washing the car with soap and water. Never wipe the clay bar on a dry surface. If the paint is filled with contaminants, repeated rubbing will induce scratches. Always use a liberal amount of spray lubricant before treating white paint with a clay bar. We've recommended three of our favorite white car clay bar lubes in this article.
How to Use a Clay Bar on White Vehicles
Want to know how to properly use a clay bar on white cars? Simply follow the steps below, or follow this excellent video from Ammo NYC
Step 1: Wash the vehicle thoroughly.
Before polishing, waxing, or using a clay bar kit, it is essential to wash the vehicle from top to bottom using clean water and car shampoo. This will remove excess dirt and dust on the paint. If water is scarce, you can look into waterless or rinseless car wash solutions also.
Park the car in the shade. Avoid washing your vehicle under the hot sun.
Rinse the vehicle using clean water. If the paint is excessively dirty, wipe away excess mud and dirt using a clean towel while rinsing the surface.
Prepare the cleaning solution by mixing the appropriate amount of car shampoo and water in a small plastic bucket.
Use a microfiber wash mitt to clean the vehicle. Start by cleaning the hood, roof, and trunk before washing the sides. This will prevent scratching the most visible parts of the paint.
Avoid using the same wash mitt to clean the wheels and tires.
Rinse the vehicle well using clean water.
Use a microfiber towel or synthetic chamois to dry the surface.
Step 2: Inspect the paint.
After washing and drying the vehicle with a clean microfiber towel, this is the perfect time to give the paint a closer inspection. For newer paint finishes, you can safely use a clay bar without polishing as long as the paint is in good condition.
Now this is usually where people start to disagree. I personally like to clay before polish polish before claying. Without making too much of a fuss out of it, here's why:
Claying the paint will remove above surface grime and make the paint a smooth canvas to work with. The polish works by removing the below surface defects and shines much better when the paint is smooth from claying
Step 3: Use a clay bar.
Now it's time to prepare your paint to be smooth as glass! Grab your new clay bar kit for your white vehicle and get to work!
Similar to the steps in car washing, it is better to start treating the top most portions of the vehicle. You should clay the roof, hood, and trunk before proceeding to the lower portions of the vehicle.
Spray a liberal amount of clay lubricant on a small section of the paint. Knead the clay to a circular shape and rub it gently over the lubricated surface. Spray more lubricant if the surface begins to dry. After rubbing the clay, remove excess lubricant using a clean microfiber towel.
Check the clay for dirt or dark spots. Knead the clay once more to reveal a fresh surface and proceed to clay a different section of the vehicle.
Repeat until all surfaces are treated with clay.
A couple things to keep in mind. If you drop the clay, sorry, but you gotta toss it out. Otherwise you risk ruining your paint.
Your clay is going to get dirty, this is okay! It means the clay is cleaning the surface just like it's designed to. When it's dirty, just fold it over, mash it down on the window or paint or whatever or knead it a few times until you've got a clean section.
I like to work in 1×1 or sections or work on one panel at a time. This allows me to remember where I've prepared (I'm old after all!) and allows me to keep the surface properly lubed while I'm working. This is where it's important to choose a good clay lubricant because plain ol' water evaporates so quickly!
Step 4: Apply polish.
After the surface is clean and clear, the polish will go a lot further to restore life to your paint. Whip out your elbow grease or DA polisher and get to work!
Pour a small amount of polish in a clean applicator pad.
Apply the polish using small circular motions. Start with one section at a time. It is better to start polishing the hood, roof, and trunk before treating the sides and the bumpers.
Before the polish gets a chance to dry, wipe the excess using a clean microfiber towel. Turn the towel over and buff the surface lightly.
Proceed to polish the entire vehicle.
Step 5: Wax the paint (Final Step).
After washing, polishing, and using a clay bar, the white paint in your vehicle is finally ready for a smooth coat of wax.
You will immediately notice that waxing is easier if the surface was pre-treated with a clay bar kit.
Pour or apply a small amount of wax in a clean applicator pad.
Apply the wax using small, overlapping circles to provide even coverage. Work with one small section at a time.
Allow the wax to dry for approximately 10 to 15 minutes.
Wipe off the excess haze using a clean microfiber towel.
Buff the surface lightly using a separate clean towel. Step back and admire the results!
Conclusion
Regular waxing and polishing will ensure your white car will remain spotless and clean. Using a clay bar twice a year or more will keep your white car looking like new for many years to come!
Contact us if you got any questions!
Vince