Products
Aquis Waffle Hair Towel

The RAG Company - Dry Me a River

Chemical Guys Wooly Mammoth

Meguiar's Water Magnet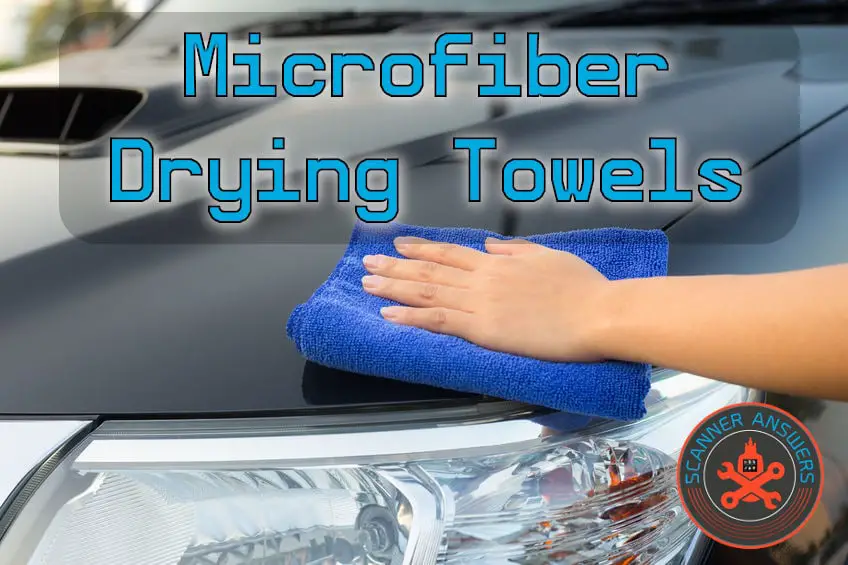 Time to throw out those dirty cloth towels and upgrade to microfiber drying towels!
Hi, Mike here. If you're still using cotton rags or terry clothes, or even an old T-Shirt to clean your vehicle, it is high time you make the switch to microfiber. The best microfiber towels for car detailing will make it easier to polish and wax your vehicle without harming the paint. But in this article, we are going to talk about our 4 favorite choices and our #1 is going to surprise you!
| # | Preview | Product | Rating | Price | |
| --- | --- | --- | --- | --- | --- |
| 1 | | AQUIS Original Waffle Hair Towel, Ultra Absorbent... | 941 Reviews | | Buy on Amazon |
| 2 | | The Rag Company - Dry Me A River - Professional... | 484 Reviews | | Buy on Amazon |
| 3 | | Chemical Guys MIC_1995 Woolly Mammoth Microfiber... | 4,026 Reviews | $46.55 | Buy on Amazon |
| 4 | | Meguiar's Water Magnet Microfiber Drying Towel -... | 17,341 Reviews | $10.40 | Buy on Amazon |
There are many types of microfiber towels. Not all are great for drying cars, and only some of them are ideal for exterior automotive detailing. If you want to wash, dry, polish, and wax your vehicle like a professional, you need to equip yourself with the right tools, specifically the ones that make contact with the surfaces in your vehicle.
Read more about waxing black vehicles and waxing white vehicles
Using the wrong towels or rags along with improper cleaning techniques will severely damage and scratch paint, plastic, alloys, and rubber. You might think you're doing a good job by removing all those mud, dirt, and debris from the surface. But using the wrong towels will introduce scratches and swirl marks to an otherwise flawless finish.
The Best Microfiber Towels for Drying Cars
The guys and I tested out a bunch of different microfiber towels and narrowed our list down to the 4 below. Some of the products are not meant for drying cars per se (they are for hair!), but they quickly and effortlessly remove water from vehicle paint!
1. Aquis Waffle Hair Towel
Bottom Line
Alright it's designed for drying your hair but believe me, this baby wipes away water quicker than a drought in California! …too far? Sorry! 🙂
Just to make things clear, this microfiber towel is primarily intended for drying thick hair. Yes, human hair! This is one of the best and most absorbent microfiber towels for drying hair.
About a year ago I was getting tired of paying high prices for "name brand" towels and decided to look into some other microfiber vehicle drying fabric. That's when my buddy John said, "Yo Mike, check out this Aquis that I borrowed from my wife." Sure enough, the crazy man had borrowed his wife's hair towel and used it to dry his car! After a brief demonstration showing how quickly it wicked away the water from John's 2002 Ram 1500, I was sold. When I got home I ordered myself one with next day Amazon Prime shipping!
It used to take me three towels to dry my black Subaru WRX, but I can get it dried up with only 1 Aquis towel! (sometimes I'll pair it with a T squeegee)
Quick Specs:
Size – 19 x 39 inches
Weight – 2 ounces
Material – 80% Polyester & 20% Nylon
 Pro Tip 
Pair this towel with a California Blade and you'll be able to dry your car using just this ONE towel!
Note: If you want to use a squeegee, you do risk more paint scratches, so to be on the safe side, I'd just use it on the windows, and maybe lighter paint vehicles that you don't mind if the paint isn't in pristine condition.
Unlike other microfiber towels, this product is manufactured using high-grade Aquitex microfiber (I don't know exactly what that means, but it's dang good for drying vehicles!). This ultra-absorbent material is weaved into an innovative waffle design pattern to quickly absorb larger amounts of moisture. What's great about this drying towel is the weight. It remains light and easy to use despite the increased surface area. It is designed to be gentle on hair and skin, so there's no doubt this towel is also great to use to protect clear coat paint.
Pros
Waffle design makes the towel super absorbent
Lightweight material even when wet
Can remove standing water in more than half the time
Downsides
If you have a lady in your life, she'll probably steal it
2. The RAG Company – Dry Me a River
Bottom Line
Larger than the Aquis and you get two-for-the-price of 1!
There are many things to like about the RAG Company microfiber towel. It has the same waffle-weave design as the Aquis towel. This means it can absorb more water for faster dying times. It has silky soft satin edges that are soft to the touch to prevent scratches. This towel has a 70/30 blend which makes it one of the best microfiber towels for drying vehicles. It utilizes the finest AA-Grade Hyosung Split Microfiber material from South Korea. This is considered the highest quality material for professional-grade results. What's more, the towels are sold as a pack of two to deliver outstanding value.
Quick Specs:
Size – 20×40 inches
GSM – 400
Weight – 2 ounces
Material – 70% Polyester & 30% Polyamide
Pros
Excellent absorbency
Satin edges prevents scratches and premature damage
Durable waffle weave for lasting performance
Great for buffing and waxing
Downsides
Doesn't absorb as much water as the Aquis
3. Chemical Guys Wooly Mammoth
Bottom Line
SUPER absorbant and fluffy towel that is perfect for drying cars and larger trucks and SUVs
The Chemical Guys brand is one of the leaders in the automotive detailing industry. This Wooly Mammoth Microfiber Dryer Towel is one of their best products for drying cars. This towel was specifically engineered to cut your drying time in more than half the time it takes when using an ordinary cotton rag. The split fibers in this drying towel are weaved using a spiral pattern to deliver the softest and plushest material for drying cars. It measures 25" x 36" so you can dry a large full-size sedan without wringing the towel. It also has silk banded edges to reduce the possibility of scratching or swirling the paint.
What I really like about this product is the high GSM. This means the towel is incredibly fluffy and absorbent so you can dry even trucks and SUVs without much effort. I still find that a squeegee is perfect for the windows and this is great for soaking the H2O off the paint!
This is a great towel to get your car cleaned for spring!
Quick Specs:
Size – 25×36 inches
GSM – Around 800 (cannot confirm the exact number though)
Weight – 16 ounces
Material – 70% Polyester & 30% Polyamide
Pros
Silk banded edges prevents scratches
Great absorbency
Plush and soft material
Downsides
It's a heavy beast especially after soaking up water!
4. Meguiar's Water Magnet
Bottom Line
Lower priced towel that's easy on the budget and does a decent job at drying cars.
Are you noticing a trend here? The Meguiar's Water Magnet Microfiber Drying Towel also comes with an innovative waffle-like weave. This super-absorbent microfiber towel will effectively and quickly dry all wet surfaces with less wringing. Meguiar's is a known leader in the automotive care industry and their version of a drying towel deserves a ton of praise. It measures 22" x 30" and is the right size for cars, trucks, RVs, and even boats! It absorbs more than twice the amount of water (of normal towels) without leaving scratches, lint, and water spots.
Now when compared to the other towels, it's about half the price but one of the downsides is it's not as absorbent as the Rag Company, or Chemical Guys. People's opinions really differ on this towel and it mainly comes down to the low durability and inability to absorb all the water on the car.
I added it to this list because I've always had great luck using it and never experienced the low-life-span that some people report, but honestly, I'd look into the Aquis or the Wooly Mammoth if you can afford them.
Quick Specs:
Size – 22×30 inches
GSM – About 350 (unsure on the absolute number though!)
Weight – 6.5 ounces
Material – 70/30?
Pros
Super soft and plush material
Affordable price
Downsides
Some people report durability issues
Doesn't absorb water as well as others in this list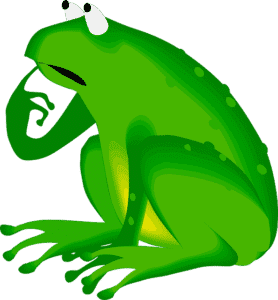 Understanding Microfiber Towels
Like I previously said at the beginning of this article, not all microfiber towels are the same. In order to find the right towel for the job, you need to consider the density and blend ratio of the material. We talk more about Microfiber towel basics here – Microfiber towels for detailing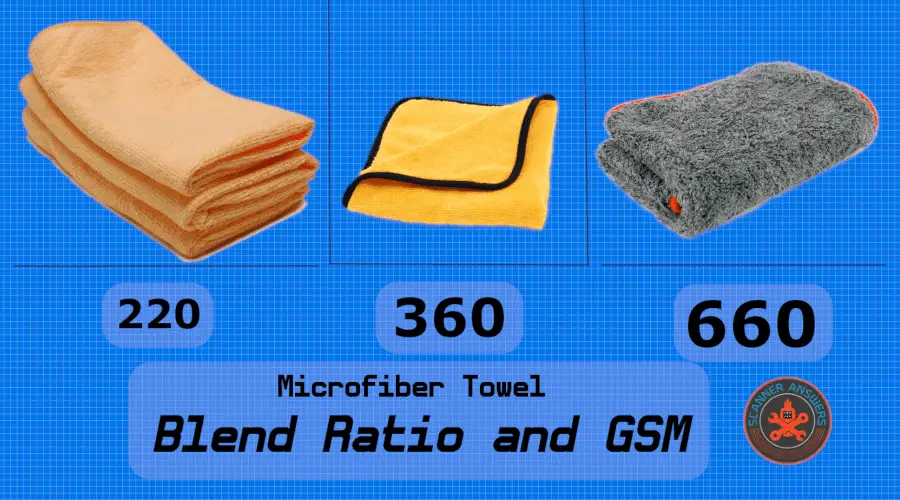 Density
The density of microfiber towels is measured in GSM or grams per square inch. A higher GSM means a softer, plusher, and thicker towel. In general, a microfiber towel with a 350 GSM is ideal for waxing, polishing, and general cleaning jobs. On the other hand, microfiber towels with a higher GSM such as 600 or 800 is more ideal for drying cars. A softer and thicker towel will be able to absorb more water since there is more fibers per square inch of materials.
Blend Ratio
The next time you are thinking about purchasing a microfiber towel, look at the label to determine the blend ratio. Microfiber is manufactured using a blend of polyester and polyamide.
For example, if the blend ratio is 70/30, it means the material is composed of 70% polyester and 30% polyamide. In order to determine the absorbency and texture of the towel, look for a higher polyamide ratio. The towel with a 70/30 ratio will be generally thicker and more absorbent than a comparable microfiber towel with an 80/20 blend. In other words, the best microfiber drying towels for cars should have a higher polyamide ratio.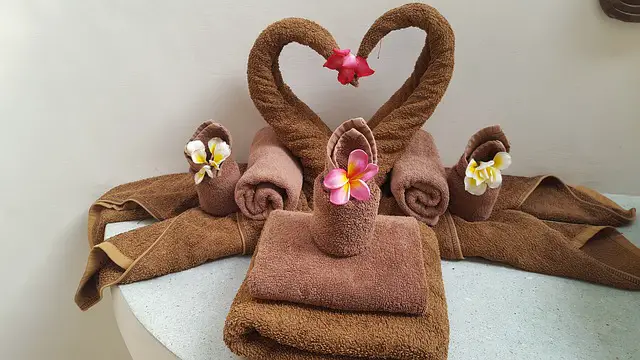 Is microfiber better than cotton terry cloth?
In a nutshell, yes. Microfiber absorbs many times its weight in water compared to an ordinary cotton cloth. In most cases, it can even absorb more water than a sponge! Microfiber towels are also lint-free. The plush fibers can easily lift off and trap dirt and debris to prevent scratching.
Read more about Microfiber towels here.
Compared to terry cloth, microfiber is also more hygienic. It can trap more bacteria within the fibers than conventional rags. Best of all, microfiber is many times more durable. Of course, this will all depend on the quality of the cloth, but they can generally last longer if you treat them right.
For example, microfiber wash cloths can absorb more soapy water. It can clean and remove dirt without harming the paint. This is especially true if you have a car with black or dark paint. Try and see for yourself. In my many years of detailing cars, I have never used a wash mitt that performs and lasts longer than microfiber.
What is the proper way to clean microfiber?
Check out Ammo NYC's guide also
Due to the unique characteristics of microfiber, it will require special care. The best way to clean lightly soiled microfiber towels is to clean them using warm water only. You can do this the old-fashioned way (washing by hand), or you can simply throw them in the washer. Make sure to use warm water. Avoid using hot water! Hot water can 'burn' or destroy the fibers in the towel. On the other hand, using cold water is also not applicable. Cold water will be unable to break down the dirt, debris, and waxes in the fibers of the material.
Some people use ordinary washing detergent or dish soap to clean dirty microfiber towels. This is a big no-no. Sure, cotton and denim will benefit greatly if you clean them using strong detergent, but this rule doesn't apply to cleaning microfiber.
As an added rule, it is best not to use fabric softeners to prolong the life of the material. Fabric softener is great for bed sheets, pillow cases, and bath towels. However, the chemicals in fabric softeners will only deteriorate the unique fibers in your towel.
But what if the towel is soiled or extremely dirty? There are cleaning products specifically formulated to remove deep-seated dirt without harming the material. One such product is the Chemical Guys Microfiber Wash Detergent.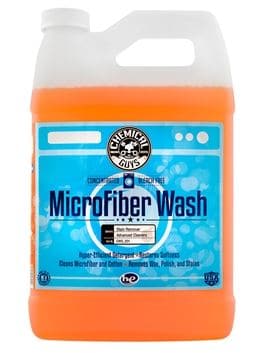 This product is formulated using an intense blend of surfactants and emulsifiers to gently remove dirt and oily residue without drying out or burning the fibers. If there are stubborn stains in the towel, simply soaking it for 20 minutes in clean water mixed with microfiber cleaner is enough. If you are using special detergents to wash your microfiber towels, make sure to rinse them properly to remove all traces of residue.
There is another way to clean lightly soiled microfiber towels. Pour a teaspoon of vinegar in a wash basin filled with warm water. Soak the towels for at least 10 minutes and wash by hand. Rinse the towels repeatedly using clean water and you're done! This is one of the easiest ways to clean and prolong the life of your towels without using soap.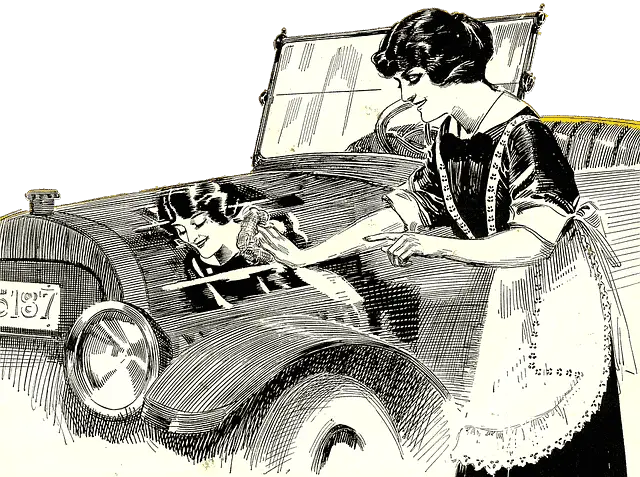 How to Properly Wash and Dry Your Car
The easiest way to prevent scratches and swirls is to wash and dry your vehicle properly. Here are the easy steps to achieve a clean and scratch-free vehicle.
Step 1: Avoid washing your car under the hot sun. It is best to safely park your vehicle in a shaded area or garage. Do not wash a hot vehicle. Make sure all surfaces are cool to the touch before washing. This will prevent streaks and water spots.
Step 2: Always rinse the exterior with clean water before washing the surfaces with car shampoo. Use a garden hose to spray away dirt, grime, and debris from the paint.
Step 3: Mix the appropriate amount of car shampoo in a bucket of water. Dip the microfiber wash mitt in the soapy mixture. Clean the top most portions of your car first before proceeding to clean the doors, running boards, and bumpers. Wipe the hood, trunk, and roof of your vehicle first. Since more dirt is situated to the parts of your vehicle that are closer to the ground, washing the top portion will prevent scratches caused by heavy debris.
Step 4: Use a separate wash mitt to clean wheels and tires. Again, these are the parts that are in closer contact with the road. It will most likely contain heavier amounts of dust and dirt. The trick is to wash all painted and exterior surfaces and use the remaining wash solution to clean the wheels. If you can afford it, it is better to use a separate wheel and tire cleaner. Spray the cleaner directly on those dirty wheels and tires and rinse.
Step 5: Rinse all surfaces thoroughly using clean water.
Step 6: Wipe away excess water using the best microfiber towels for cars. Using microfiber drying towels is the safest and fastest way to remove water or moisture from all exterior surfaces. Start on the hood, trunk, and rook of your vehicle and work your way downwards. Make sure to use a separate drying towel for the wheels and tires as well.
I also have a habit of using a separate drying towel to clean glass. If you will be using a single towel for the entire car, make sure to dry the glass surfaces before proceeding to remove excess water in exterior paint. This will prevent smudges and streaks on the windshield and windows in your vehicle.
Conclusion
Wow that was a lot of information! Let's try and recap some of the information. You should by now know that you want to use a microfiber drying towel to avoid scratches, marks, swirls and everything else!
Aquis Waffle Hair Towel – my favorite all-around towel
Dry Me a River – another great option, you cannot go wrong with this one
Chemical Guys Wooly Mammoth – probably the most absorbent of all of them
Meguiar's Water Magnet – Lowest priced, but also lower quality and doesn't soak up as much water
There is a reason why highly-trained professional detailers insist on using microfiber towels when washing, drying, or detailing a car. Microfiber drying towels will allow you to completely dry your vehicle without leaving lint, streaks, or water spots in half the time.