Dual Action Orbital Polishers
Meguiar's G3500

Porter-Cable 7424XP

Makita 9237CX3

Black + Decker WP900

Chemical Guys BUF_209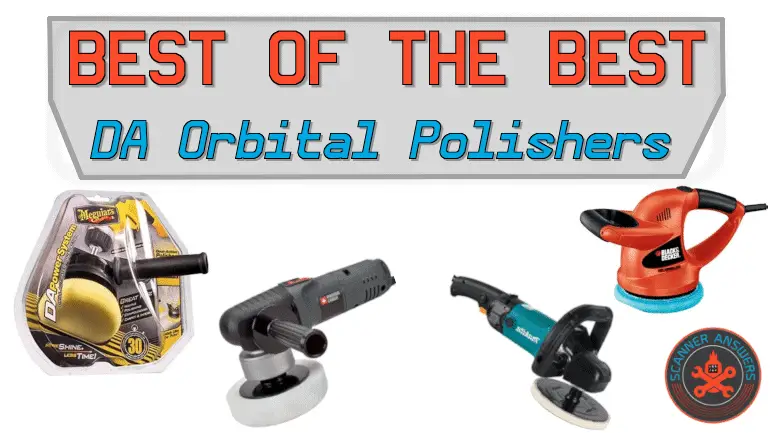 Want to learn the easiest way to wax your ride?
Are you looking for a faster and easier way to buff, polish, or wax an entire car? Check out our list of the best dual action orbital polishers for the money. The guys and I tested each and every dual action polisher in this list to come up with a comprehensive list of our favorite polishers.
Hi, Vince here. If you are reading this, congratulations. I have to admit not all car owners have the time or the energy to personally wax or polish their vehicles. Welcome to the awesome world of car buffs!
Comparison Table
| # | Preview | Product | Rating | Price | |
| --- | --- | --- | --- | --- | --- |
| 1 | | Meguiar's Dual Action Power System Tool: Get... | | $58.99 | Buy on Amazon |
| 2 | | PORTER-CABLE Polisher, 6 Inch, 4.5 Amp, Speed Dial... | | $139.00 | Buy on Amazon |
| 3 | | Makita 9237CX3 7" Polisher | 1,542 Reviews | | Buy on Amazon |
| 4 | | BLACK+DECKER Polisher, 6 inch, 2 Handle Grip,... | 10,255 Reviews | $39.99 | Buy on Amazon |
| 5 | | Chemical Guys BUF Porter Cable 7424XP Detailing... | 624 Reviews | | Buy on Amazon |
Both old and new cars demand more than just a regular wash. Besides the requisite maintenance items like oil changes and brake servicing, your vehicle will need to be polished and waxed regularly as well. This is not just an aesthetic issue, although nothing beats the look of a freshly polished and waxed paint job.
It is all about maintaining the resale value of your ride. If you were vigilant in maintaining the color and shine on your car's paint, you can expect it to have a bigger resale value compared to a vehicle with a neglected and tired paint job, guaranteed.
Now, I still prefer the old method of polishing or waxing by hand as long as you know what you're doing. But using a dual action or DA polisher is perhaps the fastest and easiest way to clean, polish, and wax the paint in your car.
The 5 Best Dual Action Polishers
Here are the 5 best dual action polishers you can buy today so you can begin detailing your car in your own garage.
Quick Look
Meguiar's G3500 DA Power System Tool – My favorite dual action orbital polishers for the money!
Porter-Cable 7424XP 6-inch Variable-Speed Polisher – More expensive than my first pick, but still a great choice!
Makita 9237CX3 7-Inch Variable Speed Polisher – If your budget allows, this is one heck of a car polisher!
Black + Decker WP900 6-Inch Random Orbit Waxer/Polisher – This is the perfect cheap car buffer!
Chemical Guys BUF_209 Porter Cable 7424XP Complete Detailing Kit – Includes 13 items with everything you need to get started buffing and waxing!
1. Meguiar's G3500 DA Power System Tool
Pros
Budget friendly DA polishing kit
Compatible with most corded drills
Hassle-free to use
Downsides
Small 4" head is not exactly ideal for bigger jobs
You need a corded drill
My first choice for the best dual action polishers is not exactly a power tool itself. The Meguiar's G3500 Da Power System Tool that easily attaches to most standard household drills. This particular DA polisher kit works well when used with a 3/8" corded drill that spins between 1,200 to 2,500 rpm.
That's right, you save some cash because this is a tool you just attach to your Milwaukee or DeWalt drill!
This kit comes with a dual action head to deliver faster and better results without the risk of harming or burning the paint. I chose this kit because of the price. Since the actual power tool is not included, you pay less… Compare that to a complete DA or dual action polisher system that can reach hundreds of dollars, it is easy to understand why the Meguiar's G3500 DA Power System Tool is an excellent DA car polisher for money.
The kit comes with a yellow polishing pad and is ideal for removing light to moderate scratches and swirl marks. You can also buy a separate set of Meguiar's compounding pads and waxing pads that easily attaches to the head of the Meguiar's DA Power System Tool.
Meguiar's G3500 DA Power System
The head is designed to accommodate 4" pads. This is not exactly an issue unless you are planning to polish or wax a hulking SUV or camper van. But for normal jobs like waxing sedans, sports coupes, or crossovers, the 4" head is perfect for the job.
2. Porter-Cable 7424XP 6-inch Variable-Speed Polisher
Pros
Compact size
Variable-speed dial
Great value
Downsides
The included polishing pad feels cheap
The Porter-Cable 7424XP 6-Inch Variable-Speed Polisher is one of my favorite dual action polishers in the market. I find the 6-inch head to be ideal for medium to large jobs. This is a complete DA tool that comes equipped with a random-orbit head that spins anywhere from 2,500 to 6,800 OPM or orbits per minute.
Bottom Line
While it's one of my favorite polishers, it took second place because of the higher price tag. If you got the cash though, I recommend you pick this one up.
The head is controlled with a variable speed dial so you can easily adjust the speed depending on the type of job. You can sand, compound, polish, or wax without changing tools. I also like the 2-position removable side handle for an ambidextrous operation. The side handle makes it easier to control the polisher as it spins on the surface of the paint. It is not as heavy as most corded drills which makes it ideal for home or DIY use.
The Porter-Cable 7424XP 6-Inch Variable-Speed Polisher comes with a 6-inch polishing pad right out of the box. It also comes with a premium 3-year limited warranty with 1-year free service to give you complete peace of mind.
What I really like about this DA polisher is the professional feel and build quality. Holding this tool will definitely make you feel like a pro!
3. Makita 9237CX3 7-Inch Variable Speed Polisher
Pros
Larger 7-inch DA head
Variable-speed dial and trigger switch
Slow-start feature
Downsides
It's expensive
It's heavier than other DA polishers
Makita is one of the best brands in the power tools industry. There is nothing intermediate about the Makita 7-Inch Variable Speed Polisher. This tool has the heft and feel of a professional-grade product. It weighs in at a rather portly 7 lbs. but the included loop handle makes it almost effortless to hold and control the DA polisher as it glides over the paint.
This orbital polisher is equipped with a 7-inch dual-action head. I did find the larger head to be a bit fiddly to use on those delicate corners on the vehicle body, but this tool was also manufactured for industrial and commercial use, hence the larger 7-inch head.
The Makita 7-Inch Variable Speed Polisher is great for automotive and marine use. It is also ideal for heavier jobs like polishing stone. The tool is equipped with a variable speed dial and trigger so you can easily match the speed of the head to the intended application.
What I really like about the Makita 7-Inch Variable-Speed Polisher is the soft start system. The head will slowly rotate upon start up to prevent flinging the polish or wax all over the surface. I also like the rubberized loop handle and included side handle so you can configure the tool to your exact preference.
Perhaps my only caveat on this DA polisher is the price. You can expect to spend a couple hundred bucks for this professional quality DA polisher. But for larger jobs that demand a precise and heavy-duty polishing tool, it is hard to find an equal.
4. Black + Decker WP900 6-Inch Random Orbit Waxer/Polisher
Pros
Lightweight and compact design
Affordable price
Great for applying wax
Easy to use
Downsides
Single speed setting
Flimsy build-quality
There are many things to love about the Black + Decker and it's probably the best cheap car buffer that you can buy! However, there are a couple of things that you won't like as well. Let's start with the good.
This dual action polisher is light and compact, which makes it ideal for DIY use. It even comes with a two-handle design which makes it the most comfortable DA polisher in this list. It is equipped with a lengthy 10-foot power cord so you can work freely inside the garage. This feature also makes it ideal for working on boats or other commercial applications.
As an added bonus, the Black &Decker is one of the cheapest car polishers on this list. This makes it a great bang-for-the-buck DA polisher for those who have a tight budget.
But there things that I find a bit annoying as well. My main gripe with this dual action polisher is the single speed motor. It is designed to spin at 4,400 orbits per minute only, which only makes it ideal for waxing and light polishing jobs. If you are working on a deeply scratched, swirled, or oxidized finish, you're out of luck.
I wish the Black + Decker WP900 Polisher came with a variable-speed setting. This feature alone would have made this the hands-down favorite to be the top dual action polishers for the value, even if they raise the price.
I also had some gripes about the build quality of the product. Yes, the plastic construction makes this tool incredibly light, but I prefer the heavier feel of other DA polishers especially when attacking deeper scratches and swirls.
On the other hand, the Black + Decker WP900 is the perfect DA polisher for waxing automotive paint. If you already have a DA polisher but can afford to plunk a few bucks for a new one, I highly recommend this tool for applying wax or sealants.
5. Chemical Guys BUF_209 Porter Cable 7424XP Complete Detailing Kit
Pros
Complete DA polisher and detailing kit
Variable-speed dual-action design
Includes 5 polishing pads and a pair of microfiber towels
Perfect car polisher for beginners
Downsides
The price might be an issue for most buyers
Is this the best value-packed detailing kit that includes a Porter Cable 7424XP 6-Inch Variable Speed Dual Action Polisher? Yes! If you are new to detailing and you are looking for a complete detailing kit along with your very own dual action polisher, the Chemical Guys BUF-209 Complete Detailing Kit is the perfect choice.
For a higher price, you get the Porter Cable 6-Inch Variable Speed DA Polisher. Yes, it is the same tool in this best dual action polishers list, so you're already getting a superb quality and professional-grade DA polisher.
You also get a pair of microfiber towels, five Hex-logic compounding/polishing/waxing pads, and a spray bottle of pad cleaner and pad conditioner. The kit also includes a backing plate, counter plate, and wrench to seal the deal.
The Porter Cable DA Polisher can spin at 2500 to 6800 oscillations per minute. This is definitely one of the best DA polishers for compounding, polishing, and waxing. Nothing beats the convenience and flexibility of a variable-speed DA polisher. You can treat deeper scratches and wax the finish to a brilliant shine without changing tools.
In my opinion, the Chemical Guys Detailing Kit is the best dual action polisher for beginners. All you need is a bottle of polish or wax and you're good to go!
What's the difference between a dual action and rotary polisher?
A dual action polisher (or most commonly referred to as an orbital polisher) is the best choice when it comes to paint and automotive detailing. Dual action polishers are designed using a central spindle that also rotates over an eccentric offset, hence the jiggly motion of the spinning head.
The term 'dual action' was coined from the spinning head that not only spins in a circle, but it also oscillates as the head spins.
We all know the Earth rotates on its own axis as it also revolves around the sun, right? Dual action polishers work in the same way. The odd or irregular motion of the spinning head will prevent excess heat from accumulating over the paint surface to prevent irreversible damage. Best of all, most dual action polishers are equipped with a clutch that cuts out the power as the rotating head is pressed harder on the surface.
On the other hand, rotary polishers are constructed to spin in a constant orbit. This is the primary reason why inexperienced users should be careful in using a rotary polisher to clean or polish automotive paint.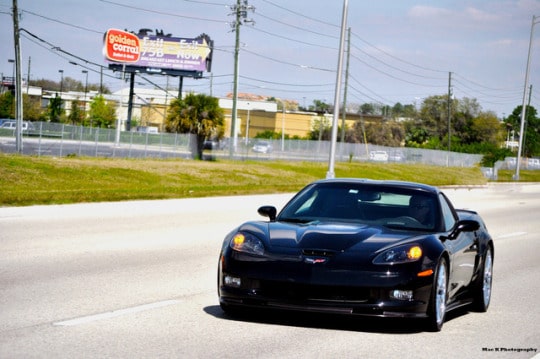 But in the hands of a professional detailer, rotary polishers can equal or even surpass the results of a dual action polisher. Rotary or circular polishers are also ideal for deep compounding or when removing deeper scratches and swirl marks.
Dual action polishers are gentler compared to a rotary polisher and are ideal for DIY use. I tried using a heavy rotary polisher with a wool attachment and I was sweating by the time I polished an entire hood. You also have to be conscious about your actions. Just a second of inattentiveness is enough to completely ruin your pant job!
Want to know how to properly use a dual action polisher? – Click here – The article contains everything you need to know including the types of polishing and cleaning pads for each type of detailing job.
In this article, our primary focus is testing and reviewing the best dual action polishers for the money.
Dual Action Orbital Polishers FAQ
Dual action orbital polishers are useful tools for removing swirl marks, minor scratches, and oxidation. They can help polish out these blemishes and are the preferred choice for applying wax.
The following answers address the most frequently asked questions about DA polishers.
Why Should You Wax and Polish Your Vehicle Paint?
Waxing and polishing are two separate methods for protecting the paint job on your vehicle. Polish is used before applying wax.
Read more about waxing and polishing your ride
You use a polish to help remove buildup such as dirt, grease, and oxidation. This can help prevent rust and prolong the life of the paint job. You can also polish out minor scrapes and scratches.
Car polish is available in different forms. You can get sprays, foams, and liquids that are applied to the surface.
The car wax is applied after polishing. While the polish removes buildup, the wax adds a protective layer and a nice shine to your vehicle. It is a type of sealant that helps shield the paint from fading due to UV rays. It also minimizes corrosion by preventing moisture from penetrating the paint. If you want to quickly wax your car, consider picking up a bottle of spray wax.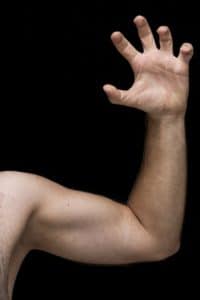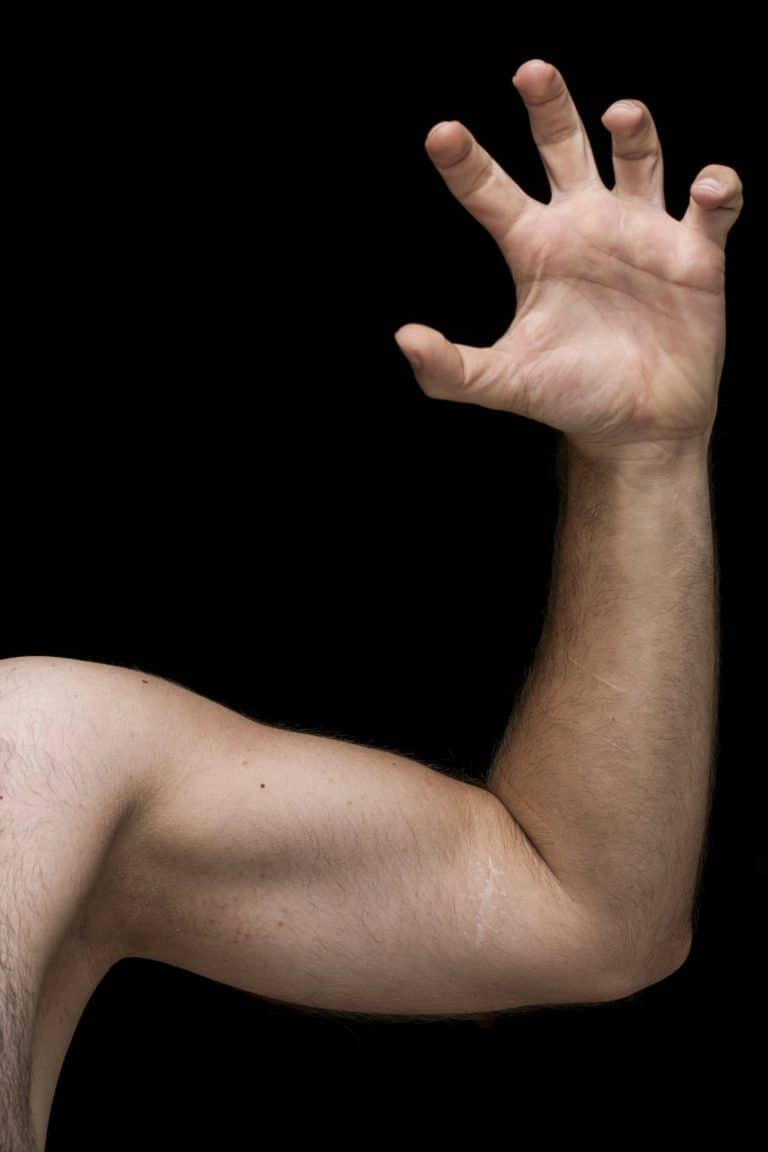 Machine Wax vs Hand Wax – Which Option Is Better?
Polish and wax can be applied manually or with the help of an electrical tool. These tools are called buffers or polishers and they provide several advantages compared to manual waxing and polishing.
Electric polishers save you time, which is why they are commonly used by dealers and body shops. It is also easier to scratch the paint or leave swirl marks when polishing by hand.
Keep in mind that electric buffers can also damage the vehicle. If you polish for too long, you may begin to wear the paint down. However, with careful operation, the electric tool is still the most effective way to polish and wax a vehicle.
What Is the Advantage of Applying Wax with DA Polishers?
Using a rotary buffer increases the risk of creating swirl marks and removing of the top coat of paint. Hand waxing does not always provide effective results, especially for removing small scratches. A dual action orbital polisher offers the best results.
With an electric buffer, there is an increased risk of damaging the paint job, especially if you have never used a buffer before. If you are a beginner, it can be easy to apply too much pressure. This may result in swirl marks or scratches.
Rotary buffers rotate a foam pad at fast speeds to polish your vehicle. When the pad rotates at high speeds, it produces heat. This heat is needed to remove deep scratches. However, it can be overkill for basic polishing, allowing beginners to easily scratch their vehicles.
Using a DA polisher helps solve this problem. They do not create enough heat to remove or cause deep scratches. They are also more user-friendly, making them the perfect option for those who do not have experience polishing vehicles.
The DA polisher also prevents you from applying too much pressure. These devices use an oscillating action, which comes to a stop if there is too much pressure applied, thus protecting the paint job.
Overall, dual action orbital polishers are easier to use and more versatile. Besides polishing, you can use them for waxing.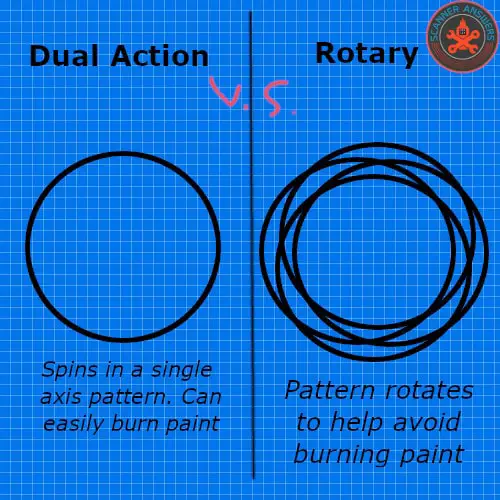 Random Orbital versus Forced Rotation DA Polishers – Which Should You Use?
There are two main types of DA polishers. You can use a random orbital or forced rotation polisher.
Random orbital polishers feature a free-spinning pad that is not connected to a motor. It moves along a small orbit via a backing plate. Due to the design, the pad stops rotating if you apply too much pressure, which makes it the safest option for newbies.
However, the random orbital design is also great for experienced users. With practice, you can learn to maneuver the polisher to create different rotating patterns with the pad, offering precise control.
With a forced rotation DA polisher, the motor drives both the orbiting motion and the rotation of the pad. The rotating pattern is fixed and allows for more force to be used, which may be needed for removing deeper scratches.
As the rotation of the pad is connected to the motor, newbies may find the device difficult to master. It is also easy to damage the paint job by applying too much heat or pressure.
The random orbital dual action polisher is an extremely safe way to polish and wax your vehicle. It is great for beginners and provides the flexibility to give experienced users more control over their polishing action.
What Are the Best Tips for Using a DA Car Polisher?
The first tip for getting better results with a DA car polisher is to stand close to the vehicle. Many beginners make the mistake of standing too far away. With your arms extended, you may be too far away to get a good view of the work that you are completing.
Extending your arms while you work the polisher across the body of the vehicle also wears you out quickly. If you stand close, you can keep your elbows bent, which helps distribute the weight. You can thus work longer and more accurately without getting fatigued.
When polishing your vehicle, it is also important to plan your project. You should determine what speeds to use on the polisher based on the task.
For example, if you need to remove minor scratches, you may need to use a faster speed compared to basic pre-wax cleaning. You should also start with the most significant issue and work your way down to the slower speeds.
As you polish the vehicle, avoid working too quickly. You need to concentrate on small two-foot by two-foot sections. Do not move on to the next section until you have finished polishing.
Another common mistake is lifting the pad off of the vehicle while the polisher is still running. Always turn the machine off and allow the pad to come to a stop before lifting it.
If you are a using a corded tool, drape the cord over your shoulder. This keeps it from swinging in front of you and dragging across the paint job. Keeping the cord behind you also prevents you from tripping over it.
Conclusion
If you're getting old like myself and tired of hand polishing your ride, then a portable DA polisher may be just what you need! I hope this guide has been enough to help you make the right decision. If you've got any questions, go ahead and contact us!
Be sure to check out our other sweet guides:
-Vince