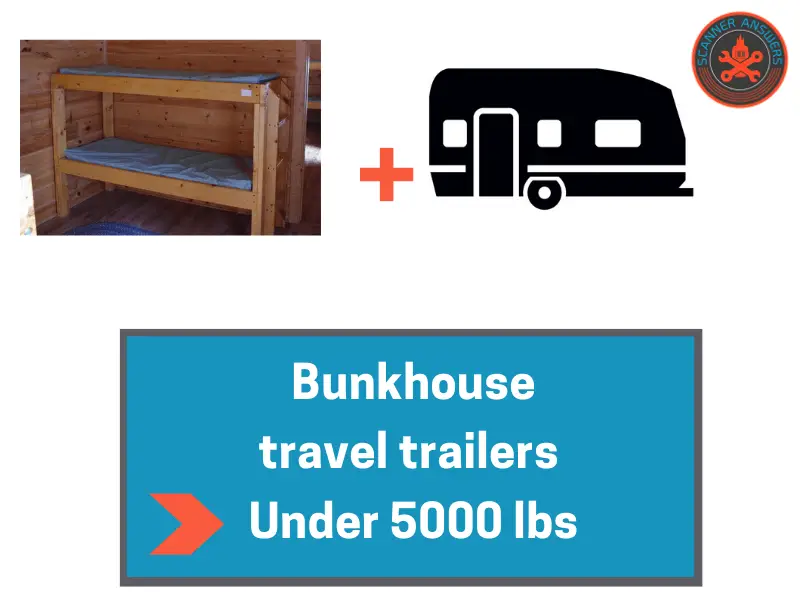 For many RV enthusiasts, the ideas of camping and spending time with family are inseparable. The connection makes sense. It's hard to imagine a better vacation for your family than hitting the road, seeing the country, and enjoying nature.
However, space is a constant issue. With even one child, finding the space in a cramped camper can be a challenge. The difficulty only grows when your family gets larger.
Thankfully, the manufacturers have answered the call, and the bunkhouse floorplan has quickly become one of the most popular options on the market.
What is a bunkhouse floor plan?
A bunkhouse floor plan is just what it sounds like: a camper floor plan that incorporates at least one bunk bed.
Beyond this basic requirement, the variety is staggering. On the smaller end of the market, bunk beds can be found in all but the most minuscule trailers. Want a simple and lightweight travel trailer with a bunk bed and little more? They're available. On the other end of the spectrum, larger bunkhouse RVs can incorporate stunning features that were unimaginable only years prior. Want a mobile mansion with a full second bedroom and bathroom to keep the kids at bay? Well, there's an option for you.
Learn why Travel trailer weight matters!
8 Best Bunkhouse travel trailers under 5000 lbs (UVW)
| | | |
| --- | --- | --- |
| Model | Price | Weight Lbs. (UVW) |
| Keystone Hideout 25LHSWE | $10,000-$20,000 (used) | 4,888 |
| Sportsmen KZ 180TH | $10,000-$20,000 (used) | 3,330 |
| Coachmen Clipper Ultra-Lite 17BH | $20,000 (like new) | 3,014 |
| KZ Sportsmen Classic 191 BHK | $20,000 (like new) | 3,350 |
| Forest River R-Pod RP193 | $20,000 – $30,000 (used to new) | 3,654 |
| Livin Lite Camplite 21BHS | $$,$$$ (hard to find!) | 4,058 |
| Forest River Flagstaff Micro-Lite 25BRDS | $20,000 – $40,000 (used to new) | 5,300 |
| Coachmen Apex 226 BH | $27,000 – $40,000 (used to new) | ~5,000 |
Who should purchase a bunkhouse RV?
When looking at the target market for bunkhouse travel trailers, the option answer is shoppers with large families. Yet, you don't a cast of eight to benefit from a bunkhouse layout. In addition to large families, many families with just one or two children find that the ability to offer their children a private and personal space can bring invaluable harmony to family vacations. Even if you don't have children, the versatility of a bunkhouse floor plan opens many doors. Dog owners, craft dealers, and full-time travelers all find the additional space and flexibility to be a wonderful asset. Many people even turn the spare room into an office for staying productive on the road. So, who should buy a bunkhouse travel trailer? The harder question is "who shouldn't?"
Should you buy new or preowned?
The choice of whether to buy a new or preowned RV is a complex topic. Ultimately, each option has a plethora of pluses and minuses. Of course, the main motivator is often price. For the budget-conscious RV shopper, used options can often provide a more approachable path towards RV ownership. While this may seem cut and dry, it is important to fully consider all aspects of a purchase. While a used camper may seem cheaper at first, there are often significant discounts on new RVs. Financing is often much easier for new units as well. Finally, the warranty of a new RV can provide both savings and peace of mind. Different options will work better for different people. However, always make sure you calculate the entire cost, not just the number on the sticker.
8 Favorite bunkhouse travel trailers under 5000 lbs
Many families desire to tow their camper with an existing tow vehicle. While larger campers can be wonderful, you're unlikely to drop the kids off at soccer practice in a one-ton dually pickup. Thus, lightweight bunkhouse campers are a wonderful option for practicality, versatility, and value. We went out and searched for eight of (what we think are) the best bunkhouse travel trailers under 5,000 pounds. Here's what we found.
Keystone Hideout 25LHSWE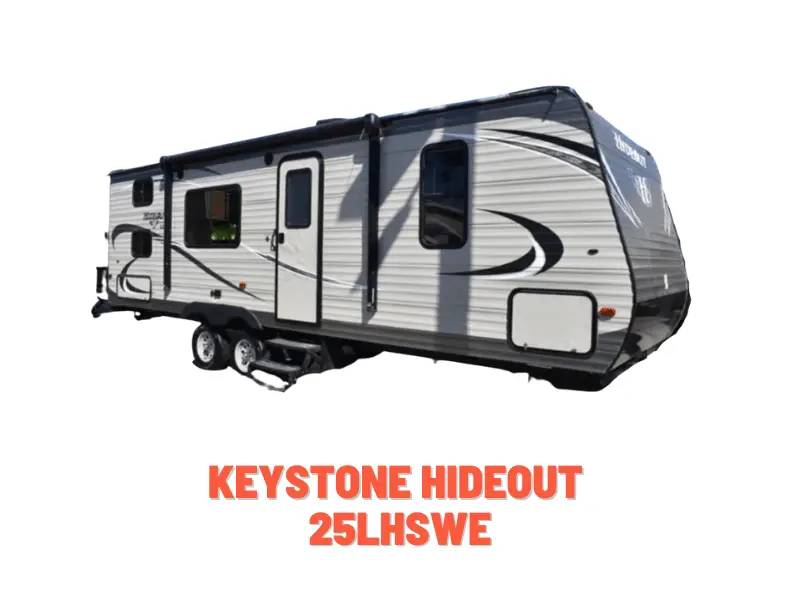 Keystone is well known for making innovative designs, and the Hideout 25LHSWE is no exception. Often, when considering a bunkhouse travel trailer under 5000 lbs, your mind wanders to very small models. However, this Keystone is a spacious twenty-five feet long. Despite its sizable length, it weighs a mere 4,800 lbs, making it easily towable by most half-ton trucks and SUVs.
How is it so light?
The key to the Hideout's svelte weight is two-fold.
First, it is constructed using modern composite panels which are extremely rigid yet very light.
Second, this floorplan does not have a slide-out. While this may strike some people as a drawback, the decision to omit the slide makes a lot of sense.
Having no slide-out makes this trailer significantly less likely to leak, and makes the ownership experience simpler overall.
Even with no slide outs, there is a truly admirable amount of space within. The 25LHSWE has a front queen bedroom with a sliding wall to offer plenty of privacy. The bunk beds are expansive two, with a double-wide set of bunks in the back corner.
Overall, this camper can sleep an incredible ten people. With a myriad of thoughtful touches like a shoe-storage bin and a pre-mounted TV stand, this $26,000 trailer represents excellent value. It easily makes our top spot in the best bunkhouse travel trailers.
Sportsmen KZ 180TH – A Toyhauler!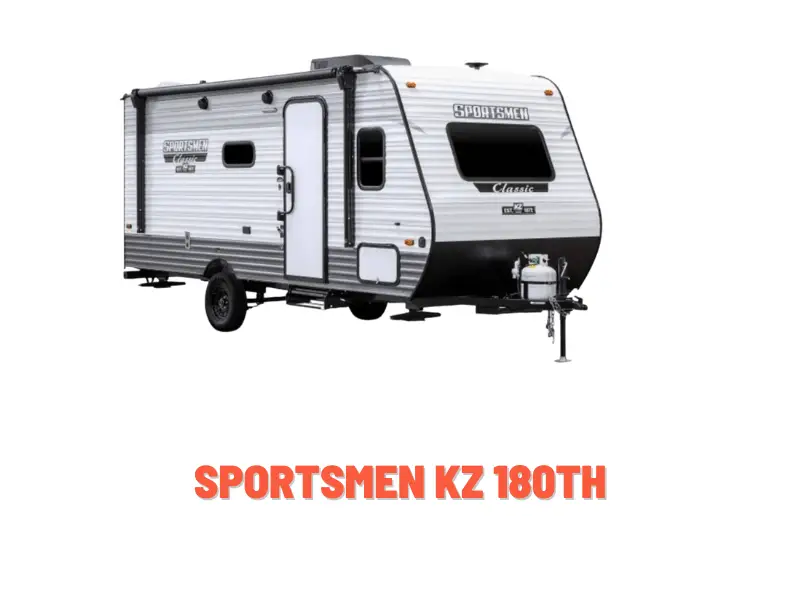 When thinking about a budget or lightweight Bunkhouse travel trailer, the idea of a lightweight toy hauler probably does not cross your mind. Traditionally, toy haulers were reserved for the top of the market and required a heavy-duty truck to tow thanks to their typically heavy weight.
Within this landscape, the Sportsmen KZ represents a very unique prospect. Most bunkhouse travel trailers have a traditional queen or king-size bed up front, and a secondary set of bunk beds in the back. The 180TH breaks this mold and opts to have a single set of bunk beds upfront. This unique layout allows the KZ to have plenty of space for sleeping and for hauling your toys – all in an eighteen-foot long package weighing a mere 3,200 pounds unloaded.
What are the compromises?
Of course, every camper represents a set of compromises in some capacity. For the 180TH, that compromise comes in the form of luxury. While the Sportsmen is well built and nicely trimmed, it won't be mistaken for Dolly Parton's next tour bus anytime soon. However, I find this departure from glitz to be rather refreshing. The interior of the 180TH is clean, efficient, and effective.
The design philosophy of this travel trailer is clearly "everything you need, nothing you don't."
The front bunk beds are generously wide and allow you to easily sleep two or three roving youths. The bathroom and kitchen appointments are small but perfectly usable for any adventure. Because of the relatively compact kitchen and bathroom, the majority of this trailer is devoted to the "garage" space, which measures an impressive nine feet long at full width, with an additional four feet of length available in the aisle. In total, this trailer can hold up to 1,300 pounds and can easily carry two ATVs, three dirt bikes, or more mountain bikes than you can possibly need.
A Travel Trailer that hauls toys is awesome
The garage area includes a folding sofa that can be used for lounging or sleeping an additional two people, making for a total of five sleeping options. Overall, this sub-$25,000 trailer represents a return to our roots. We camp to spend time outdoors, to enjoy nature, and to play with our off-road toys. The Sportsmen KZ 180TH reminds us that there is more to RV life than watching TV on a portable sofa.
Coachmen Clipper Ultra-Lite 17BH Travel Trailer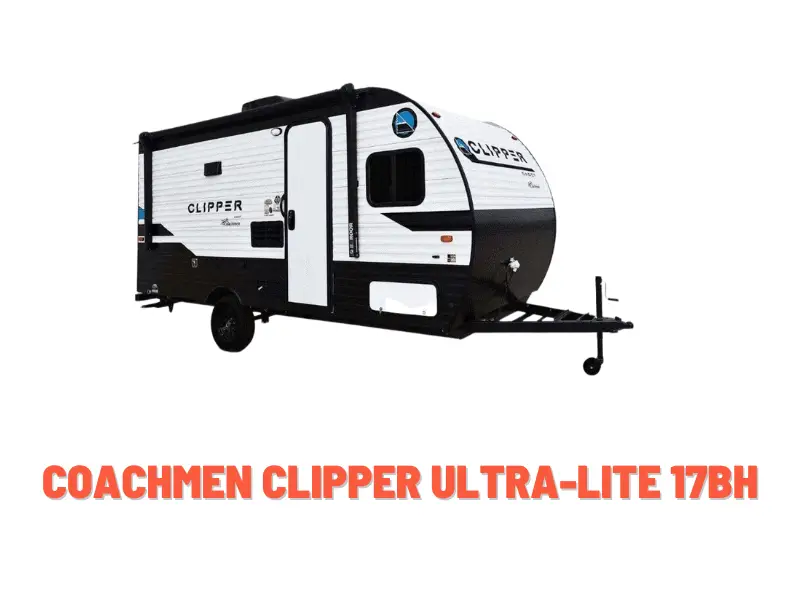 Coachmen is one of the oldest manufacturers of travel trailers still in the market, and their products represent a significant number of firsts. Perhaps one of the most influential developments is their introduction of the bunkhouse layout. Coachmen was offering these practical layouts long before bunkhouse floorplans became a staple of every company.
It's compact!
The Clipper Ultra-Lite is a fairly traditional layout, but it is done with the attention to detail and care that you'd expect from Coachmen. If your goal is to have room for your entire family in as compact a unit as possible, this travel trailer represents a fantastic option. The layout is straightforward, with a set of bunks in the back flanking the bathroom and a queen bed running sideways along the front wall. A compact dinette provides a place to eat or work and converts into an additional bed if needed.
This seventeen-foot unit can sleep six people if you don't mind close-quarters.
No more cramped quarters
Despite its small size, there is a surprising amount of space in this travel trailer. The overhead cabinets throughout provide an amount of storage space that rivals any much larger units, and the countertop space is best-in-class. There's no getting around the fact that this is a small trailer, but the space is utilized incredibly well. The attention to detail is fantastic as well. The position of the bunk beds provides a welcome addition of privacy to the younger campers, especially whoever is in the bottom bunk.
Read more about the 17BH
Thoughtful touches run throughout, like the headboard on the front bed that gives you cubbies for storing your phone or a CPAP machine. It's a subtle difference, but one that many companies would overlook. The addition of a true tub instead of the more common shower will be appreciated by anyone needing to wash a child or dog who got muddy on the trails.
At just over 3,000 pounds, almost any SUV should happily tow this camper. And at under $20,000, any wallet will be happy as well.
It's the perfect combination of great value and lightweight that make it earn this spot in our best bunkhouse travel trailers list.
Read more about Trailer Dimensions
KZ Sportsmen Classic 191 BHK – with Slide Out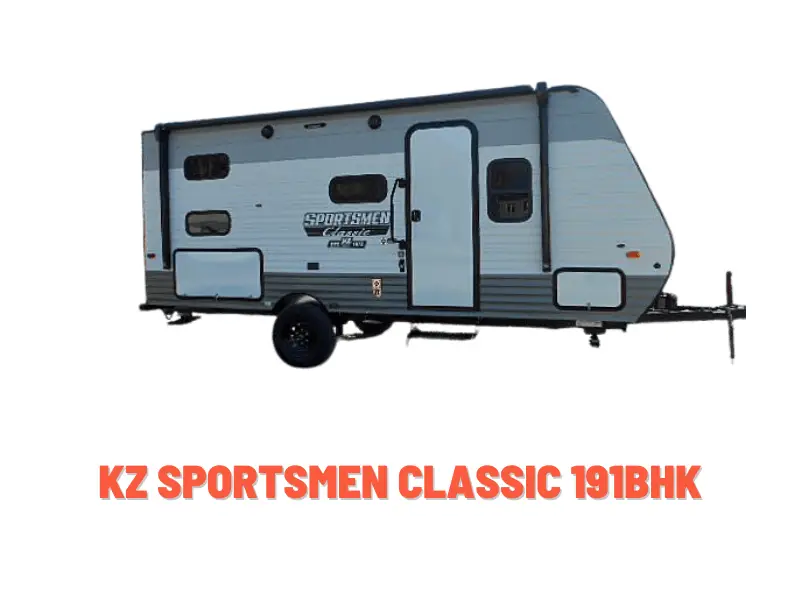 If you spend a lot of time around travel trailers and other campers, you will start to notice that some manufacturers make some questionable decisions. Whether they're including closets that aren't usable or features that don't make sense, common sense isn't always in abundance in RV design departments.
With this landscape, it is exceptionally reassuring when you come across an RV that just makes sense.
The KZ Sportsmen Classic 191BHK is just such a unit. It was designed by people who know how actual families camp.
The 191BHK is difficult to classify, as it incorporates many features that are only seen on high-end or much larger units. While there are many examples of this, one such feature clearly stands out:
The outdoor kitchen
Outdoor kitchens have become a popular addition to many fifth wheels and travel trailers, but they are rare to see on affordable or lightweight trailers. This is a shame, but outdoor kitchens make a lot of sense.
The KZ's outdoor kitchen is small but very functional, including:
small fridge
a griddle
additional countertop space
It is a wonderful way to keep the mess, grease, and smells out of your trailer while being able to enjoy flipping pancakes in the great outdoors.
Living Space
Inside the 191BHK, there is more space than you'd expect from a nineteen-foot trailer weighing only 3,350 pounds. The front queen sized bed is comfortable and spacious, and the rear bunks are generously sized as well. The single dinette is mounted on a slide out which frees up a lot of floor space for playing or lounging alike. Overall, there is sleeping space for five.
Full Bathroom
The spacious bathroom, too, is the largest in its class and features a full shower, vanity, and porcelain foot flush toilet. At just over $25,000, this trailer is admittedly not the cheapest in its class. However, in terms of numerous features and space, it punches well above its weight.
Read more about the Sportsman
Find more small campers with slide-outs.
Forest River R-Pod RP193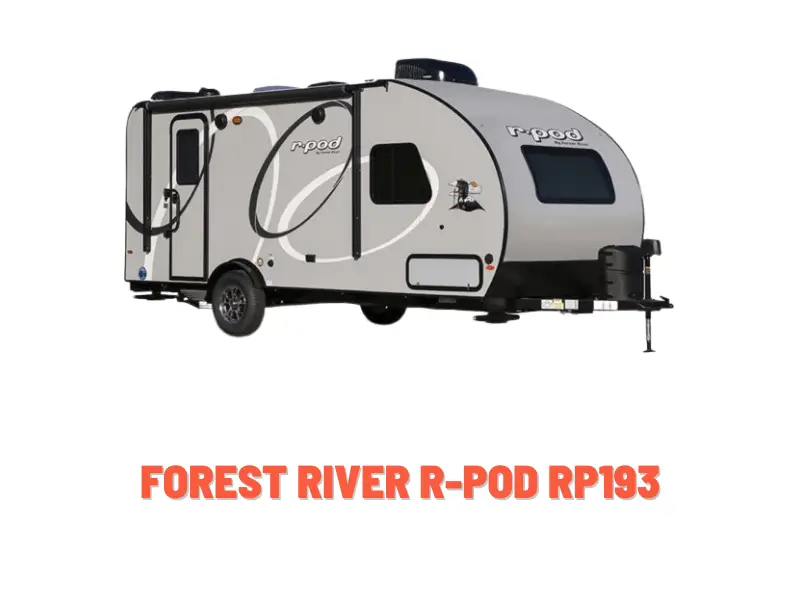 The Forest River R-Pod series is a somewhat quirky lineup. I've heard them referred to as the "Saabs of the camper world", and I find that description rather apt. Although their exterior design is unique, a bunkhouse layout was always notably absent from their lineup. That changed recently with the addition of the RP193. This floorplan solves a problem that is very often neglected by designers. In many bunkhouse campers, you can sleep many more people than you can entertain.
Featuring a murphy bed, twin bunks, and wet bath, the R-Pod finally addresses this problem that has plagued the ultra lite travel trailer genre for years!
Living Space Surprise
The basic layout of the RP193 is fairly standard. In fact, it is almost identical to the KZ Sportsmen 191BH mentioned above. Bunk beds and bathroom in the back, queen sized bed up front, single slide… you know the drill.
However, the RP193 makes one very important tweak. Rather than the front bed being fixed in place, and thus useless for the majority of the day, Forest River made the front bed a hinged murphy-style bed that flips up to reveal a sofa.
This presents the best of both worlds for a small travel trailer where space is a premium. With this unique combination, the RP193 doesn't just sleep five. It allows up to six people to lounge comfortably on sofas as well.
Why did it take so long for this to be invented?
At 3,650 pounds, this innovative nineteen-foot lightweight travel trailer is beautifully finished and easy to tow. For anyone who wants the flexibility of spending time inside on a rainy day, this is a wonderful option to consider. For $27,000, the versatility of this layout makes this a terrific addition to our lightweight bunkhouse travel trailers list.
Livin Lite Camplite 21BHS Travel Trailer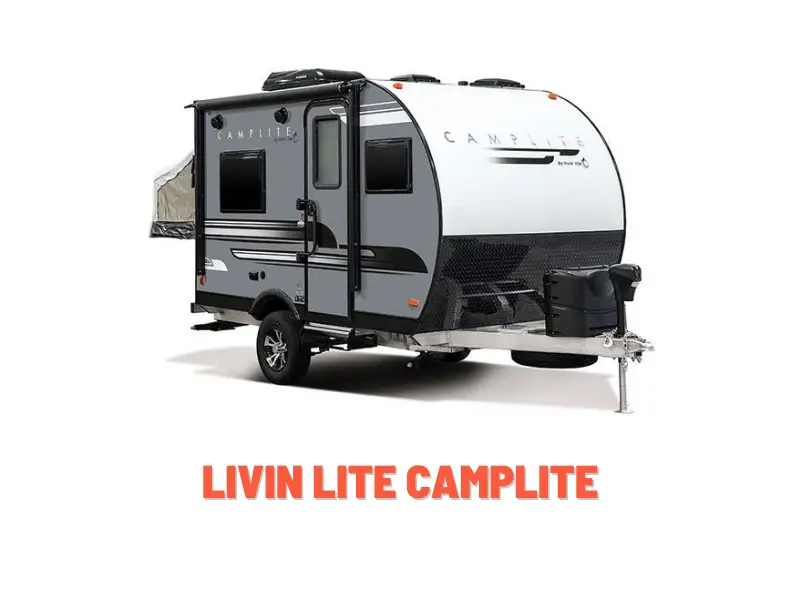 Livin Lite is a brand that simply refuses to be forgotten. After getting their start in the late '90s, they quickly earned a devoted following for their unique aluminum framed travel trailers. Although they were never the cheapest option, it was hard to argue with the quality. While they ceased production in 2018, they made several bunkhouse layouts throughout their run. Most of these were fairly simple layouts, with a focus on long-lasting materials and minimal weight.
They are rare!
If you can find a bunkhouse Livin Lite, you will be rewarded with a beautifully made trailer that weighs well under 3,500 pounds. Of course, quality comes at a cost. These trailers still have a fanatical group of fans, and even used examples still regularly command over $25,000.
Forest River Flagstaff Micro-Lite 25BRDS Travel Trailer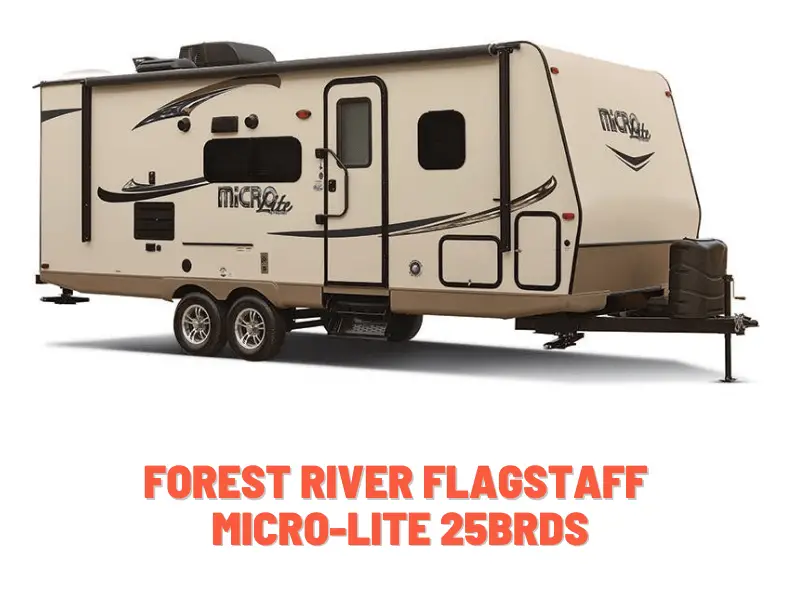 Having sung the praises of the R-Pod RP193, the Forest River Flagstaff 25BRDS gives me hope that this floorplan is becoming more popular. Like the RP193, the Flagstaff incorporates a murphy bed into the front wall, giving you both sleeping and comfortable lounging spaces. Unlike the RP193, Forest River wasn't shy about making a larger trailer. At twenty-five feet long and just over 5,000 pounds, the 25BRDS is the largest trailer in this lineup. However, it should still be towable by most family trucksters.
Floor Plans
The amount of space within this trailer's confines is frankly staggering. The L-shaped kitchen is a unique touch and goes a long way towards making this unit feel more like home. The U-shaped dinette is a great choice as well, serving equally well in dining, sleeping, and lounging roles. The rear-positioned bunk beds are large, but unfortunately lack a shape named after a capital letter.
You'll find pass through storage but unfortunately no overhead storage… but that's one of the prices to pay when your gross vehicle weight rating is right over 6,000lbs.
Not many travel trailers have slide outs, but the 25BRDS features a U-Dinette slide out.
Overall, eight people can sleep comfortably in this $37,000 masterpiece. If you're looking for the most luxury possible in a (nearly) sub-5,000 lbs UVW bunkhouse, look no further.
Coachmen Apex 226 BH 2019 Travel Trailer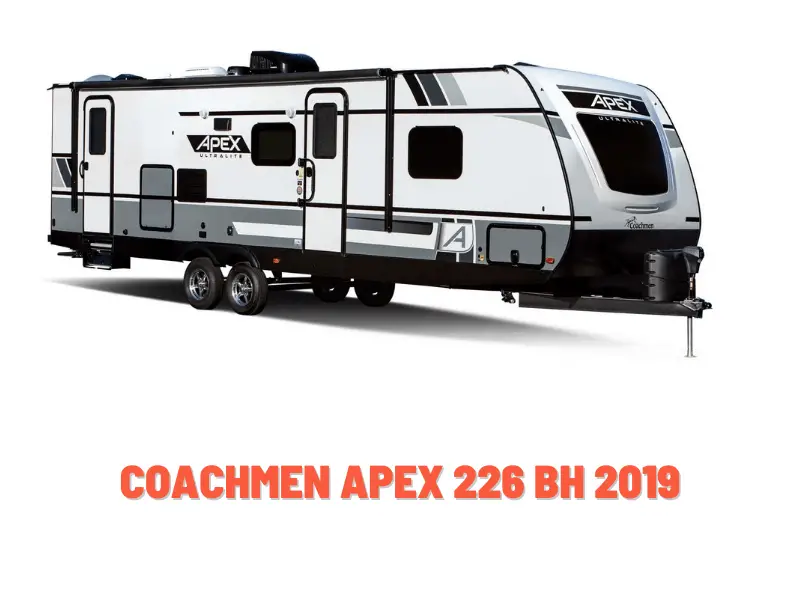 As previously mentioned, you can always rely on Coachmen to bring innovation and unique features to the bunkhouse market.
We like dual axle trailers and the The Coachmen Apex 226BH fulfills a niche that I imagine will work superbly for many families. It is common for families to have plenty of toys and camping gear that they need to haul, but many don't want the inherent compromises required by a toy hauler layout. The 226BH blurs the line between traditional bunkhouse and toy hauler, and does so to great effect.
Floor plan
At first glance, this is a floor plan we've seen before. There's a queen size bed in the front, a dinette to the side, and double-wide bunks to the rear.
The difference is in the bunk area. Here, the bunk beds can flip out of the way, revealing a flat floor and a large cargo door on the rear of the trailer. This provides a perfect space for bikes, chairs, kayaks, or any other camping accessories. Once you're at your site, you unload your gear and flip down the beds.
Brilliant.
Weight and Price
There's a lot to like about the 226BH. At 4,600 pounds UVW , it's particularly light for its twenty-two-foot size. And between the bunks, dinette, and queen sized bed, you can sleep eight. That should be enough extra sleeping space that you don't have to kick someone outside to tent camp!
If you need the space of a toy hauler but aren't willing to camp in a rubber-floored shipping container, the $27,000 Coachmen Apex 226BH needs to be on your shortlist.
Conclusion
The bunkhouse trailer market has never been more popular, and there have never been more options at all sizes and price points. If you're looking for a bunkhouse travel trailer under 5000 lbs, you won't be short on choices. From incredibly compact units like the Coachmen Clipper 17BH to the shockingly spacious Flagstaff 25BRDS, there is an option for every taste. Camping has always been a wonderful pastime for families, and a bunkhouse trailer makes the experience that much more sweet.
Want a little more room, or maybe you're not keen on bunk beds? Check out our guide to Travel Trailers Under 7000 lbs. If you want the lightest possible travel trailer check out these ones under 2,000 lbs.