Summary
The Turtle Wax ICE product range is scientifically developed to bring out the best shine and offer lasting UV and water-beading protection without the hard work and elbow grease. Check out the Turtle Wax ICE Premium Car Care Kit if you want a complete and state-of-the-art automotive detailing kit at a lesser price.
Hey there my name is Mike and when it comes to car care products, there are two brands that I trust: Meguiar's and Turtle Wax. I've been using both products since the day I learned to drive my dad's car (1980s Delta 88 Four-Door – Man that car was fun!). I basically grew up using both brands. Turtle Wax is a well-known brand in the automotive care industry, offering a wide range of products designed to clean, protect, and enhance the appearance of vehicles. The company has been in operation for several decades and is recognized globally for its car care solutions.  When I had my first car, I only turned to those products to maintain the paint of my ride. That's why I was excited when Matt asked me to write this Turtle Wax ICE review.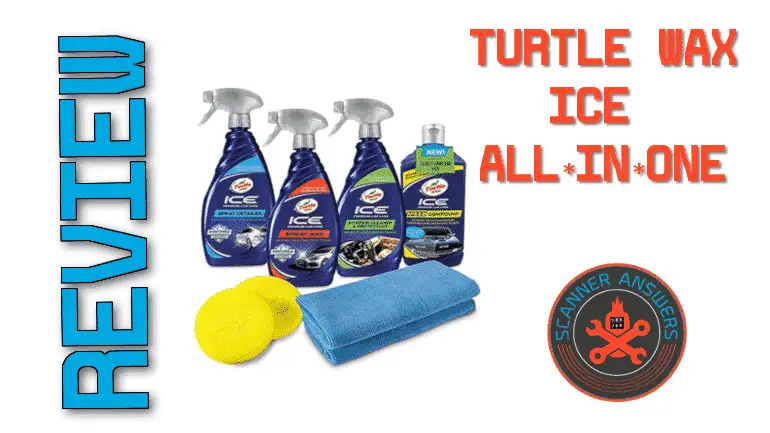 Turtle Wax ICE Kit – Is this the top all-in-one car waxing kit?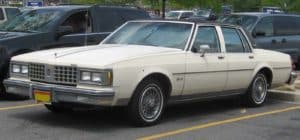 Not too long ago, paste wax was terribly awful to use. Yes, this includes the earlier versions of Turtle Wax. For those of you who are old enough to remember, waxing a vehicle used to be a day-long activity which involves the entire family… usually kicking and screaming!
Thankfully, things have changed since then.
Even the purest of carnauba-based waxes and polishes are easy to apply and easy to remove. But polymer technology is catching up fast. One of the best polymer-based car care products in the market today is Turtle Wax ICE.
We first learned about this Turtle Wax system when we were trying to find the best spray wax for cars and let me tell you, it's a great kit! For the price and ease of waxing use, you cannot find a much better value.
Bottom Line
8 piece kit comes with about everything you need to
detail the inside and outside of your car
or truck – Very easy to apply and much simpler than paste waxes like carnuaba – Protects vehicle paint from sun and rain – created a polymer shield barrier – Smells good!
What you (used to) get with the Turtle Wax ICE detailing kit
Turtle Wax ICE consists of seven products that are formulated to work together. This will allow you to achieve remarkable results in terms of shine and protection. In my many years of driving and owning different cars, I always use carnauba-based products because in my mind, carnauba still remains to be the best ingredient to deliver the highest level of gloss and protection.
But I spent a couple of weeks testing all the products in the Turtle Wax ICE range. You can buy them individually if you like, but like I said, polymer-based products should be used in combination with the same polymer-based formula.  Sadly, there used to be a complete 8-piece kit available, but as of 2023 it has been discontinued. The kit looked like this and included the following items: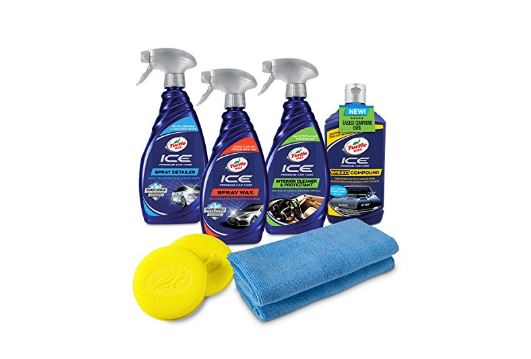 Spray Wax
Spray Detailer,
Interior Cleaner & Protectant
Speed Compound
2 microfiber towels
2 foam applicator pads
Needless to say, I was impressed that you were able to get all these products for such a low price! In my review of the Turtle Wax ICE kit, you will find out why spending an entire afternoon waxing your pride and joy is now a thing of the past.  Since the kit has been discontinued, you will have to purchase each item separately (bummer)!  At any rate, you can still read my reviews of each product below (it's a really great product line!)
Features of Turtle Wax ICE
All products in the Turtle Wax ICE family are formulated using Turtle Wax's proprietary ICE Smart Shield Technology. It happens to be the most advanced scientific polymer engineering formula in car care products today. I'm no scientist so I don't know exactly what that means, but it sounds pretty awesome and should keep my car's paint glassy!
Smart Shield Technology is designed to build interlocking layers of protection as you apply a particular product. Those layers of synthetic polymers will provide a magnified shine along with lasting protection against the elements.
All Turtle Wax ICE products can be applied even if your car is parked directly under the sun for added convenience. I strongly advise against doing this (unless you want to quadruple your chances of getting skin cancer and a crap wax job), but it's good to know that you can.
How to use the Turtle Wax Kit for maximum results
Watch this video from Turtle Wax so you know how to use the ICE kit properly and don't muck up your ride!
My Test and Review of Each Product
Similar to other exterior and interior detailing kits, you will get a paint cleaner, spray wax, and spray detailer. It would have been nice to test and review the Turtle Wax ICE Paste Wax and ICE Wash and Wax as well. But I guess Turtle Wax thinks the included spray products are enough for average car owners, and that's fine by me.
Make sure you wash your car before using any of these products!
Turtle Wax ICE Speed Compound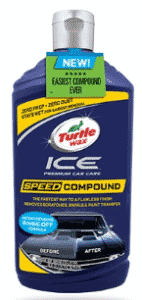 The first product I tried was the Turtle Wax ICE Speed Compound. This produce is designed to remove swirl marks, oxidation, and mild scratches on the paint. But unlike traditional compounds, the ICE Speed Compound is designed not to leave dust, stains, or residue even on sensitive metallic paintjobs.
Best of all, this product is easy to remove. Simply rinse off with water after working the product on the surface to achieve the desired results. I didn't believe it at first, but it managed to remove the pesky swirl marks on the hood and doors of my car. I treated the entire vehicle and it literally took me only 15 minutes to complete.
The Turtle Wax ICE Speed Compound can be applied by hand or machine. This product is not designed to remove overly deep scratches and severe oxidation.
Turtle Wax Ice Spray Wax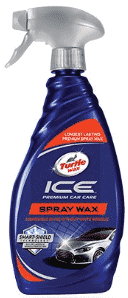 Next came the Turtle Wax ICE Spray Wax. This product is reputed to be the longest lasting spray wax that Turtle Wax has ever developed in its many years of protecting and beautifying cars.
The ICE Spray Wax was easy to apply and easy to remove. It was almost effortless, especially if you pre-treated the paint with the ICE Speed compound. Lightly mist one section at a time, work the product using a clean microfiber towel, and turn the towel over before lightly buffing the surface to achieve a smooth, glossy, and lasting shine.
I was able to wax my entire car in 20 minutes. Was I satisfied with the results? Considering it took me approximately half an hour to pre-clean and wax the paint, of course I was satisfied!
However, my old school mentality kicks in when it comes to judging the depth and gloss of the paint. For
black cars
, the Turtle Wax ICE is okay as long as you are working with a moderately stained or swirled surface. But for severe oxidation, scratches, swirl marks or heavy restoration jobs, nothing beats the good old fashioned way of pre-cleaning, polishing, and waxing the car using a pure polish and carnauba-based wax.
But for any other paint color, the Turtle Wax ICE is highly recommended. This kit will make it easier to maintain the like-new look and appearance of your ride.
Turtle Wax ICE Spray Detailer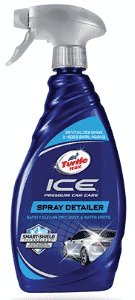 The Turtle Wax Ice Spray Detailer is formulated to instantly revitalize the shine and is best utilized in-between car washes. After treating my vehicle with the ICE Speed Compound and ICE Spray Wax, I waited for a week before treating the paint with the ICE Spray Detailer.
I washed my vehicle and wiped the surface dry. Despite a week of continuous weather exposure, there were still a lot of water beads on the paint, which was a sign the Turtle Wax ICE Smart Shield Technology is doing its job.
I sprayed on and wiped off the ICE Spray Detailer using a clean microfiber towel. The results were amazing. It gave my vehicle a newly-waxed appearance and it only took me 15 minutes after washing the car.
Turtle Wax ICE Interior Cleaner & Protectant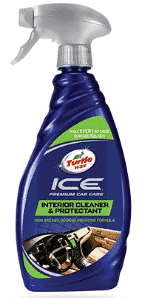 The Turtle Wax Interior Cleaner & Protectant is formulated to protect leather and plastic surfaces from harmful UV rays. The product is also designed to neutralize harmful odors while giving the interior a natural and non-greasy finish.
The same procedure applies. Simply spray the ICE Interior Cleaner & Protectant directly on the dashboard, console, door sidings, and leather seats. Work with one area at a time. After lightly misting the area, use a clean cloth to wipe the area clean. Turn over the cloth and wipe again to dry. I was done in around 20 minutes or less.
I like the non-greasy and low-gloss finish. I also like the pleasant scent of the ICE Interior Cleaner & Protectant. But if the seats and the console are extremely dirty or soiled, it is best to remove excess dirt and stains using a damp cloth before treating the surface with the Turtle Wax ICE Interior Cleaner and Protectant.
Conclusion
Hopefully this Turtle Wax ICE review has helped you make an informed choice on whether this is a good product line up for you!
The Turtle Wax ICE product range is scientifically developed to bring out the best shine and offer lasting UV and water-beading protection without the hard work and elbow grease. Check out the Turtle Wax ICE Premium Car Care Kit if you want a complete and state-of-the-art automotive detailing kit at a lesser price.
-mike