Windshield Wiper Blades
Bosch ICON

Rain-X 840014

Rain-X RX30218

AERO Premium

Michelin 8520 Stealth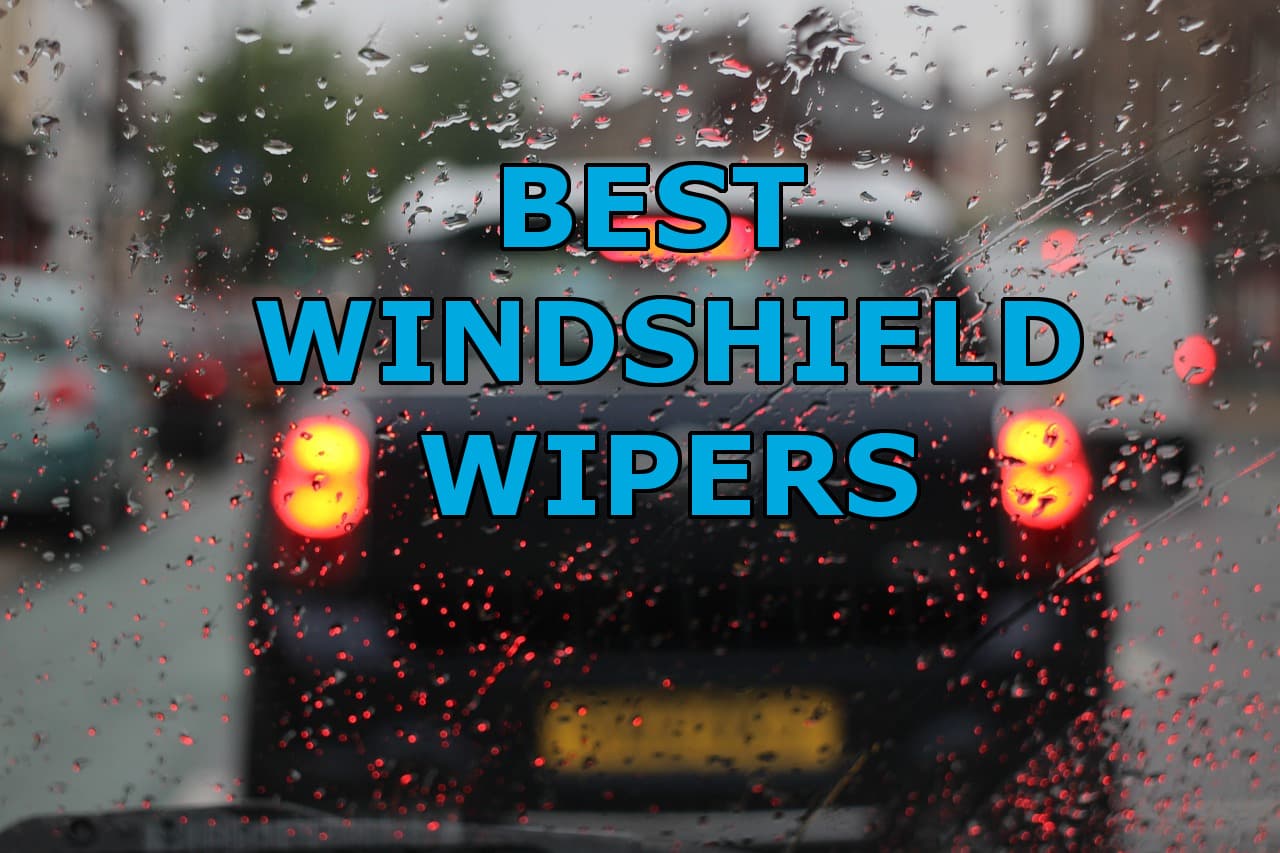 ScannerAnswers' Guide to Choosing the Best Windshield Wipers
Matt here to bring you the latest in the best windshield wiper blades and reviews. We've been asked by some of our friends what wiper blades we recommend for heavy rain, ice and snow. This article is here to help you make the right choice!
Comparison Table
| # | Preview | Product | Rating | Price | |
| --- | --- | --- | --- | --- | --- |
| 1 | | BOSCH 26A ICON Premium Beam Wiper Blade; 26" -... | 18,832 Reviews | $28.17 | Buy on Amazon |
| 2 | | Rain-X 840014 B22-2 Expert Fit Beam Blade, (Pack... | 64 Reviews | $14.44 | Buy on Amazon |
| 3 | | AERO Voyager 24" + 18" Windshield Wipers, Premium... | 33,308 Reviews | $17.99 | Buy on Amazon |
| 4 | | Rain-X RX30218 Weatherbeater Wiper Blade -... | 49,147 Reviews | $10.99 | Buy on Amazon |
| 5 | | Michelin 8520 Stealth Ultra Windshield Wiper Blade... | 8,929 Reviews | | Buy on Amazon |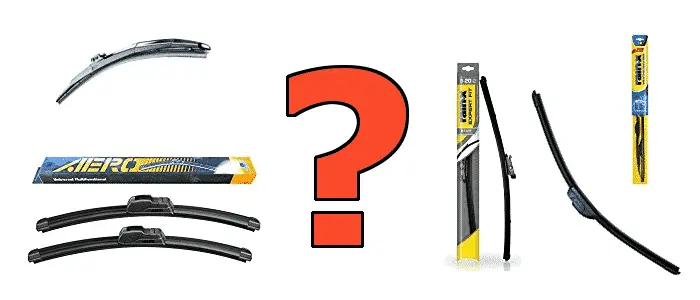 Introducing The Top 5 Best Windshield Wiper Blades with Reviews
Now that you know what type of wiper blades you need for your car or truck, and you know what season you need, you can read our windshield wiper review guide below.
Bosch ICON – Best Windshield Wiper Overall
Rain-X 840014 – Best Winter Wiper Blade for Ice and Snow
Rain-X RX30218 – Best Cheap Windshield Wipers
AERO Premium – Top OEM Replacement Wiper Blades
Michelin 8520 Stealth – Good Budget Choice Wipers

1. Bosch ICON
Bottom Line
Shield design helps prevent snow and ice build up – aerodynamic design captures the wind to press the blade against windshield – Long lasting rubber outperforms most other blades
We had a good argument deciding on the Bosch Icon vs the Rain-X 840014. The reason for debate is because Bosch has designed this blade to be a single unit, which is great for keeping out snow and ice. But Mike bought a pair for his wife's Kia Optima and the driver's side wiper blade just never fit the window very well, and really sucked at whisking away moisture and being silent.However, we chalk this instance up to be the outlier because the Bosch ICON is an exceptional blade. We've been putting them on cars since they were released to market in 2011 and only had the one bad set for the Kia.
bottom line: If you want to invest in a set of wipers that are great for sun, snow, and rain, grab yourself a set of Icons. 
Bosch applies an expert design to offer you long-lasting blades. You'll love that these blades can be used for a longer period than most wipers, even if it comes at an elevated price. If you take good care of them, they may still be an economical option, since you won't have to replace them often. The blades are made to last in cold and hot conditions, so it will help you in any climate you live in. Let's take a closer look.
Pros
Bosch sells these blades in many sizes
The wipers can be easily installed and the kit includes 2 hook adapters
The blade is excellent for use in snowy conditions, because Bosch adds a protective shield. This inhibits snow and ice from building up on the arms; this increases your safety on the road
Bosch makes sure you can use these wipers for a long time, even if your car gets a lot of sunlight. The wiper is made of FX-dual rubber. This lasts up to 40% longer, because its resistant to heat and ozone damage
The tension spring makes sure the wipers stay close to the window so as much moisture as possible can be removed with every swipe
Cons
The price is higher than most windshield wipers on the market
Some people find a problem with these blades, seeing streaks on the window. This could be because the wipers are beam styled, which doesn't put as much pressure on the wipers as some other styles. To prevent frustration, you may need to ask professionals to help you install them, so they can make adjustments if necessary.
Summary
This blade is an excellent combination of features that will help keep you safe in any weather condition. Unfortunately, it's more expensive than most blades, but price shouldn't be an issue when you're thinking about safety. Get the best, so you know you're safe.
2. Rain-X 840014
Bottom Line
Cheaper than Bosch Icons and we've found they last longer – Much better wipers than OEM – great for heavy rain
Rain-X has been manufacturing vehicle parts for 40 years. This means these wipers are made based on a lot of knowledge and experience. You will benefit by purchasing an item that has been perfected over time, through many experiments and user feedback.
Pros
The wiper's spoiler is aerodynamically designed. This gives less wind resistance so there's a lesser chance the wiper will lift off the window when driving in strong winds or at high speeds
The blade is curved so it can follow your window's contours
These blades are easy to install so anyone can set them up
They fit most vehicles, but cars with unique designs may have to check with the manufacturer first, to prevent frustration
Rain-X products are reasonably priced
Cons
Some clients complain about the fact that they don't fit all vehicles. The wiper comes with various adaptors, but the wiper doesn't fit snugly to all of them
The adaptors don't all fit well on wiper arms either. It may be smart to take your vehicle to your supplier to fit them before purchase, if possible
Summary
This is a well-designed wiper to try. If it fits your vehicle you'll have a clean windshield for a long time.
3. Rain-X RX30218
Bottom Line
Arguably the best wiper blades for a cheap pair – Works well in rain and easy to install – If you live in harsher climates, consider a different blade.
This is another Rain-X product, so once again you have the benefit of 40 years of experience backing this product. We love the price of these Rain-X's and they work great if you don't have to fight with Mother Nature's weather too much.
You'll love these benefits if you opt to try these.
Pros
They are remarkably affordable, but you receive excellent quality for this low price
Rain-X improves the wiper's durability by manufacturing the frame from galvanized steel
The wipers are available in 12 sizes, so you're bound to find one that fits your vehicle
You can purchase them in packs of five, which can save you money. This is especially beneficial when you're changing more than one vehicle's wipers at a time
Rain-X prevents streaks by attaching friction reducers and making sure there are many pressure points along the wiper
Easy installation is guaranteed, because the J-hook adapters are already installed
The type of rubber used in these blades doesn't crack or tear as easy as other types, even when faced with excessive heat, cold or even salty conditions
Cons
Many customers have complained that it's not compatible with all vehicles. You may want to ask an expert's advice about using it on your car, before purchasing a pair.
Summary
Rain-X knows how to offer clients the best kind of wipers, and with this item, they do it again. Though you'll have to make sure it fits on your particular brand and model, if it does, you'll love driving in any kind of weather.
4. AERO Premium
Bottom Line
If you like your OEM wiper blades these are a great replacement – All season blades that are great in snow
If you're working with OEM (original equipment manufacturer) parts, you know you're working with quality. Though these wipers may not be exactly like the ones your new vehicle was supplied with, they can be quite close to them in quality and design. This is because car manufacturers know exactly what to design to complement their vehicles. Here's what you'll love about this AERO product.
Pros
You don't have to switch blades when the seasons change. This high-quality product will offer exceptional service during hot, cold, wet and snowy weather
You won't have to worry about drag or noise, because the wipers have an aerodynamic design
The wipers are manufactured from a special type of rubber. This rubber helps so that there is less streaking
A whole range of sizes is available, so they should fit most vehicles
Installation of these wipers are effortless. Three simple steps are followed:
Open the arm's plastic cover
Insert the wiper arm
Close the plastic cover
Cons
These wipers only carry a 6-month warranty. This is more a neutral because blades should be replaced about every 1 year.
These aren't the most affordable wipers on the market
Summary
It's worth it to go with a brand that's trusted by vehicle manufacturers as you're sure to receive excellent quality. If the slightly elevated price doesn't bother you, this could be the answer to your next wiper replacement.
5. Michelin 8520 Stealth
Bottom Line
Good wiper with a happy medium between expensive and cheap blades – Easy to install – Smart Hinge patented design protects against ice freezing to the wiper arm
Michelin is known for its excellent vehicle parts, and these wipers fall into the same degree of quality. Many tests show that these wipers perform better than similar products on the market. The manufacturers have added many features to help keep drivers safe. Here are a few worth mentioning.
Pros
Your window will be cleaned well thanks to evenly distributed pressure. This is attained by its Smart Hinge structure, which works better than beam-style wipers. An additional feature is that the ends are independently suspended so that they can grip your car's window according to its exact contour. This structure even prevents snow from clogging the blade
You can easily exchange your current wipers with these, thanks to Michelin's EZ-Lok connector system.
For the exceptional features, these blades are decently priced.
Cons
Some clients complain about streaking and wiper skipping. This problem is vehicle specific. You can ask professionals to help you install the wiper, or simply confirm whether these are appropriate for your vehicle before purchasing them.
Summary
Michelin manufactures quality products, but no item is perfect. If this item fits your wiper setup, you'll love how effortless it helps you keep a clear view of the road, with no clogging, even in snowy climates.
Why do I need a good set of windshield wipers?
In a recent article from Napa, they suggest that windshield wiper blades should be replaced every six months to a year. 
The upkeep of your vehicle is essential, no matter the car's age or brand. Maintenance keeps your car in excellent condition so you can have hours of enjoyment. The more important reason for maintenance is that it keeps you safe.
Visibility is an important feature when it comes to safety. Abiding by rules, being vigilant and having the best headlights will allow you to see the road in front of you and drive safe. If, however, you can't even see through your windshield, you'll be left stranded or put yourself and others in danger if you attempt driving.
Recommended: https://scanneranswers.com/best-hobby-rc-cars-and-trucks-to-buy/
Your vehicle's windshield wipers need to be in excellent condition at all times so you know there's no chance of you causing an accident. Windshield wipers clear your windows so you can see where you're going. Why is it necessary to purchase high-quality wipers? When do they need to be replaced? Let's discuss these important matters. This review will show you some of the best windshield wipers on the market, so you know what to purchase next time it becomes necessary.
What does a windshield wiper blade do?
Windshield wipers are used to clear the driver's area of vision by wiping the car window clean. As a driver, you have the responsibility to ensure optimum driving conditions as far as possible. The following can become bothersome if they block your view:
Rain—This can range from a few drops to pouring rain
Snow and Ice—This can quickly cause a frozen layer and needs to be wiped away quick
Live organisms—Bugs fly into windshields and can obstruct a driver's view. Even though they're small they can distract a driver's attention
These factors can occur on any road, so no matter where you drive, windshield wipers are essential.
What you need in a high quality windshield wiper
When you're out shopping for your vehicle's maintenance, you may wonder about the wide range of wipers available. They are not all the same, and you'll be wise to choose one which offers you the following features:
The correct size for your vehicle, because you need as much of your windshield cleaned with every swipe as possible
It needs to be smooth so it cleans efficiently
The wiper should grip the windshield, instead of pushing away from the window. This is done through the material used, the design of the wiper, and whether it's flexible enough to follow the contours of the window
Windshield wipers that are high in quality last a long time without the substance deteriorating
Many of the factors mentioned above result in streak-free cleaning. Streaks can be just as obstructive as a bug or leaf clinging to the window
You don't want to spend unnecessary money, so purchase wipers that you can replace yourself, instead of asking a professional for help. Many designs available these days make it easy for vehicle owners to take care of their cars effortlessly
If you can find an affordable wiper that offers all these features, you have found a winner!
When do you need to replace your windshield wipers?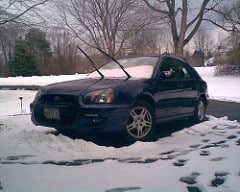 The suggested time to replace replace wiper blades is 6-12 months. However, the guys at ScannerAnswers are cheap and we try to get as much life out of our wipers as possible! Vince one time got 3 years (!) from his blades, but we can usually get 2 years or two major winters worth out of a pair of blades. If you live in a cold climate like Minnesota or Canada, one of the best ways to get extended life from your blades in to extend them off the windshield whenever possible. This will prevent your wipers from freezing to the glass and extend life.
It's time to replace your blades when you see the following:
The rubber parts should not be deteriorated. The wipers won't clean well and they could break or crumble at any second
The wipers should grip the windshield. If the rubber has become too hard it will start lifting in places
If you hear sounds while the wipers are on, you should think of replacing them. A squeaking sound when the wiper moves across the window is a sign that the wiper no longer forms the correct angle. It can't follow the window's contours, so the changed pressure causes sounds
If the wiper doesn't make a smooth swipe across the window, but rather makes streaks or hops across the space, you need to have them checked.
If any of these apply to your current wiper setup, you need to consider replacing your wipers with one of the options mentioned below.
Final verdict
We believe the best wipers would be the Rain-X B22 or the Bosch Icons. They are both great for rain, snow and harsh conditions. If you treat them right they should last at least 12 months.
I hope this guide to choosing the best windshield wiper blades has helped you choose the right one for your vehicle! If you have any questions, please contact us or leave a comment below.
Suggested: https://scanneranswers.com/best-led-headlight-conversion-kit/
Matt