Scotchgard Upholstery Protector
Summary
Even though this stuff is primarily designed for home or office use, my experience writing this Scotchgard Fabric & Upholstery Protector review shows that this product also works well inside a vehicle. If you have an expensive luxury car or if you simply want to protect the brand new look of your fabric seats or interior carpeting, this fabric protector will make you smile 🙂
I don't know if you got kids, but if you don't, let me tell you something…. Nothing is sacred when you have kids! You're going to need to invest in some fabric protector and interior cleaner if you want to have a chance at keeping your car or truck nice. Don't get me wrong, kids are awesome. But their hand-eye coordination isn't quite dialed in at 2 years old. I learned this one day when my toddler introduced his Dr Pepper to my 1969 Nova's bucket seats! Ha, I must have spent 2 weeks trying to get that sugary mess off. That's why I was pumped about writing this Scotchgard Fabric & Upholstery Protector Review. The guys and I have wrote a lot about washing your car, and waxing and polishing, but wanted to spend some time talking about keeping the inside of your ride clean too.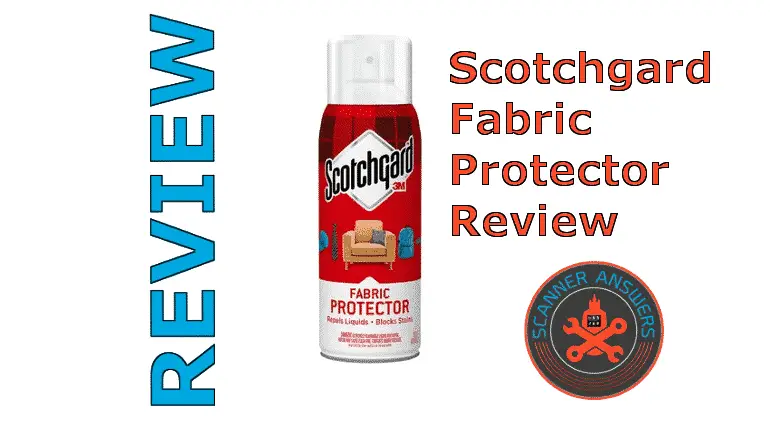 I sprayed the Scotchgard Upholstery Protector on my Jeep seats, and here's what I found…
Originally it seems Scotchgard is for couch and other house furniture, but it turns out it's great for protecting your cloth vehicle seats.
This 3m protector product is nothing new, but it remains a bestseller since it provides strong fabric protection to repel spills and stains. Think of it as an invisible barrier that adheres to the fabric. If you accidentally spilled water or coffee on the treated fabric, the spill will simply glide away and you can wipe off the excess with a paper towel. No mess, no fuss.
I recommend grabbing a can of this stuff on Amazon here: Scotchgard Upholstery Protector. If you cant find it, 303 Aerospace is a great alternative.
I guess it's clear how this couch protector spray can be useful in protecting the fabric seats, floor mats, and carpets of your vehicle. When it comes to spills and stains, prevention is always the best cure. The 3M Scotchgard Fabric & Upholstery Protector will give your interior the first line of defense against accidental spills.
…Now if only I knew about this stuff when my son was younger!
Bottom Line
Spray this stuff on your seats and carpet to build an impenetrable wall against liquid spills, dirt, grime and other nasty stuff! This protector keeps your car or truck interior looking and smelling good as the day you bought it.
Tips to using the 3M Scotchgard "Stain Repellent"
I love a simple, one-step process and that's my favorite part of the Scotchgard Fabric protector. A single 10 oz bottle  is enough to treat an average-sized sofa or two chairs. This means that you could easily treat your front and rear seats and still have some left over for the carpet.
Mike just finished up the best interior cleaner and dashboard protectant roundup. Click here to check them out.
What I really love about this fabric protector is it dries clearly so you won't even notice that the surface was treated with the Scotch guard spray. The spray is also odorless so it is safe to use around kids or pets.
However, here are some other things you need to remember before using this product:
Do not use the upholstery protector on leather or unfinished leather surfaces like suede or Alcantara. The product may damage or discolor the leather-covered surface.
Do not use this product on fabrics with an X code. If you're not sure, simply refer to the tag of the fabric. Those with an X code simply means the fabric cannot be cleaned by water or solvents.
The product will need to dry for at least a couple of hours before it is safe to use. This is important to remember if you are planning to use this on pillows, clothing, or on the fabric seats of your car.
The product will not work with just a one-time application. In most cases, you will need to apply two coats of the Scotchgard Upholstery protector to provide watertight protection. You will also need to treat the fabric at least every 6 months to maintain a high degree of protection against stains and spills.
If you treated the fabric seat covers in your vehicle, you will need to reapply the product if you wash or dry clean the seat covers.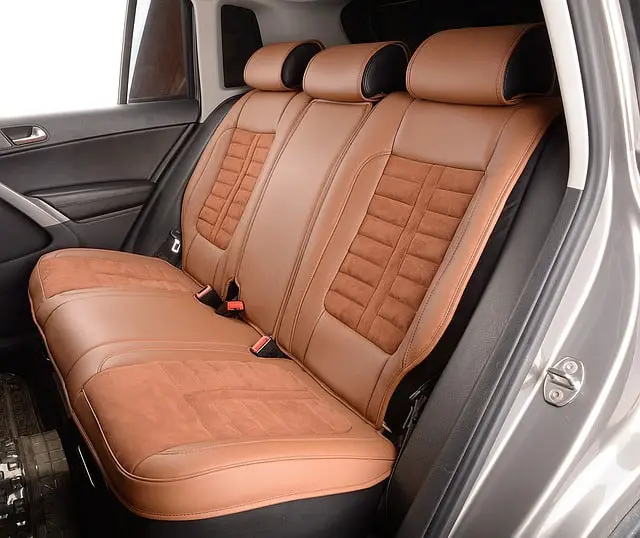 My hands-on test and review
I bought two cans of the Scotchgard Fabric & Upholstery Protector for around [see lowest price]. That's a good deal deal if you ask me. Considering the fact you will only need a single can of the upholstery protector to treat an average-sized sedan, both cans should last a solid year or more.
I'll say that if you got a big 4×4 Ford Superduty truck, or SUV with fabric seats, you will probably end up using both cans to complete the job.
Since I will be treating the fabric seats and the carpets in my 1999 Jeep, the first step was to vacuum the interior to remove loose dirt and dust. If there are stains on the seats and carpets, it is best to remove them using a cleaner like the KevianClean Interior Defense or the Car Guys Super Cleaner
If you don't have an upholstery cleaner, you can use a mixture of ¼ cup baking soda mixed with a cup of warm water to soak and remove the stain.
The surface of the fabric should be pre-cleaned before using this Protector in order to produce the best results.
My Jeep is equipped with rubberized floor mats (like these ones from Jeep World) so I had to remove all of them. Mind you, if your vehicle is equipped with fabric mats, you can also treat those using the Scotchgard Protector.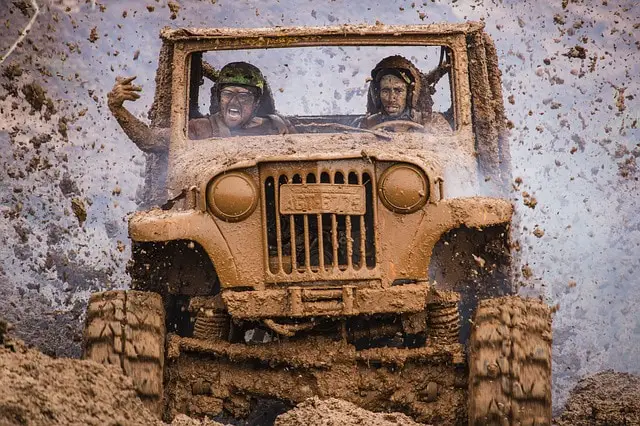 Applying the Protectant…
After vacuuming and wiping down my seats, I was ready to rock-n-roll!
I sprayed a liberal amount of the fabric protector on the front and rear seats and allowed it to air dry. I had to leave all the windows open since this will allow the product to dry faster. It was a fall day here in Florida, and the temps were around 70* degress in the shade. It only took about 30 minutes for this stuff to dry to the touch on my seats.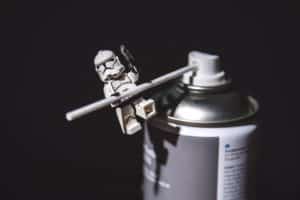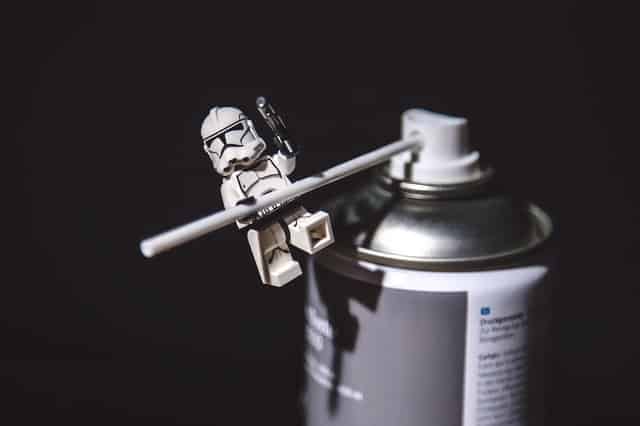 Depending on the weather and temperature, there are instances that you will need to allow the solution to dry overnight to produce the best results. I treated my interior in the morning and the product was almost fully dry by the middle of the afternoon. The front seats dried faster than the rest so I decided to proceed with the test.
After treating the seats, I proceeded to spray the product on the interior carpeting as well. I basically consumed a single 10 oz. bottle to treat the seats and the carpets in my ride. Since I've got all-weather rubber floor mats on the Jeep, I didn't need to treat the carpet, but figured I had an extra can Scotchgard, so what the heck!
As a bonus, you can spray it on most carpeted cargo spaces like your trunk to protect against water and stain damage.
Testing out the Scotchgard with an "accidental spill"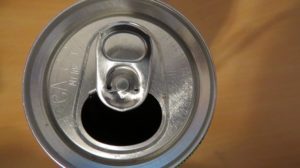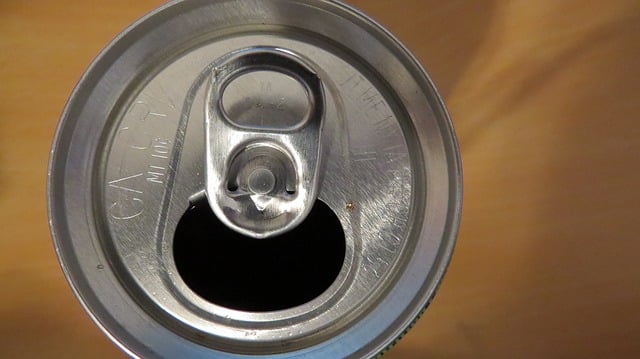 What better way to test the effects of this stuff than by staging an 'accidental' spillage similar to the one my son demonstrated with the Dr Pepper. I grabbed a can of that fizzy, molasses goodness from the fridge and spilled a small amount of the drink (about 2 tablespoons) on the front passenger's seat.
True to Scotchgard's claims, the soda pop did not penetrate the fabric of the seat. It formed a large bead of soda on the top of the seat, and I was able to quickly remove the spill using a microfiber towel without leaving any visible stains.
I'm not sure how long the soda would have stayed 'beaded up' on the seat, so I'd recommend cleaning it up as soon as possible if you're using it in the real world.
Conclusion
Even though this Scotchgard auto interior fabric is primarily designed for home or office use, my experience writing this Scotchgard Fabric & Upholstery Protector review shows that this product also works well inside a vehicle. If you have an expensive luxury car or if you simply want to protect the brand new look of your fabric seats or interior carpeting, this furniture protection spray will make you smile 🙂 Keep your carpets smelling fresh and new for years by applying this auto carpet water shield.
I purchased the Scotchgard Protectant from Amazon, and you can purchase it here
-Matt