Summary
Awesome protectant that is safe to use on many surfaces, and not too expensive. As a life-long ArmorAll fan, I enjoy the finish of the 303 and believe it's one of the best dashboard protectants that you can buy today
I'm gonna be honest with you. I was hesitant to write this 303 Aerospace UV Protectant review because I've been a die-hard Armor-All fanboy my entire life. Since owning my first car (1990 white Toyota Celica) I was meticulous about keeping the blue vinyl clean, conditioned, and lookin good! That's the first time I started with Armor-All and I never saw a reason to switch to any other car upholstery cleaner or dashboard protectant.
So when Vince came to me and said, "dude you gotta check out this 303 spaceship wonder liquid stuff," I thought it must be a practical joke. Man was I mistaken!
Mike just finished up the best interior cleaner and dashboard protectant roundup. Click here to check them out.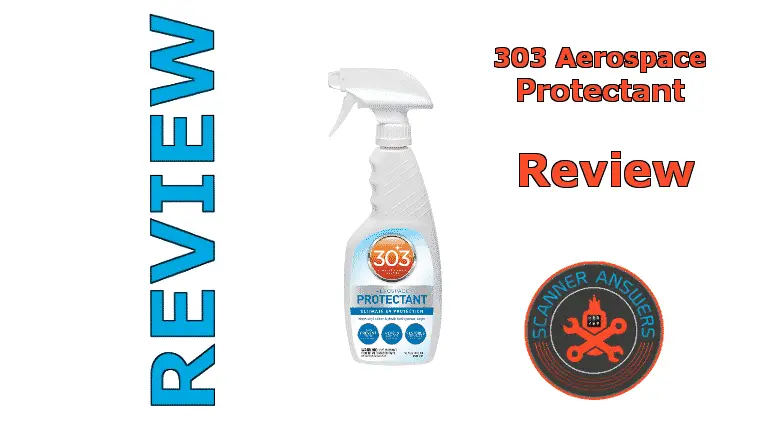 I used 303 Aerospace Protectant on my Kia Optima and here's what I thought.
If you WANT an essential shop product that protects (not the best cleaner for super grimy cars/trucks) that:
is made in America (oorah!)
protects against the sun (the sun loves killing your sweet ride!)
not too expensive (save your beer money for the weekend!)
and can be safely used on tons of surfaces (Rubber, finished leather, plastic, vinyl, to name a few!)  
…. Then you NEED to check out 303 Aerospace UV Protectant.
Bottom Line
Ditch the greasy dash protectors *cough armor all cough* and grab this awesome conditioner that you can spray all over the inside and outside of your car to keep it lookin good! Spray it in your house too if you get bored of detailing your truck and want to impress your wife 😉
Wait, is this a Dashboard Protectant or Cleaner?
It is easy to get confused by the wide range of dashboard protectants and cleaners in the market. Some products can boast of mild cleaning capabilities while others are solely protectants in the purest sense of the word.
The 303 Aerospace UV Protectant is not a cleaner. It is not designed to remove stubborn dirt and stains on the dash. Instead, this product is designed to restore the new look on vinyl, rubber, fiberglass, and leather surfaces.
Don't let this think that you have to go out and buy some special cleaner that you saw on late-nite TV for $9.99…. Naw, the fact is that a microfiber cloth with some good 'ol Soap and Water should be all you need if you got a really dusty and dirty interior. Just give it a wipe down with soap and water to clean up the grime before applying the 303 Space Protector.
Product Features of the 303 Spaceship Protectant
The most important thing you need to know about the 303 UV Protectant is the non-toxic and environmentally friendly formula. This product does not contain petroleum distillates, silicones, ammonia, or alcohol.
It's not gonna screw up the planet so your kids can't enjoy it!
This makes it ideal for use in the house, office, gym, auto, sports equipment, and even outdoor furniture. The water-based formula was originally intended for aerospace and aviation applications and dries to a clear and matte finish without any traces of oil.
It's designed to protect against fading, cracking, peeling, and discoloration caused by harmful UV rays. The product is easy to apply and provides long-lasting performance while allowing the surface to repel dust and dirt in a single application.
All of this sounds very promising indeed. But the unique thing about the 303 Aerospace UV Protectant is the way you apply the product to the intended surface. This product is not designed to air dry so you will need to work the product on the surface like you were applying polish to the paint.
Tim did a sweet video using it on his vehicle. Check it out here.
Unlike Armor All or the KevianClean Interior Defense dashboard protectant, treating the surface is not just a simple spray and wipe affair. You will need to work with a section of the surface at a time to ensure the product is absorbed evenly in all exposed areas.
Some people say the 303 UV Protectant is not very good when it comes to shine and protection. But the truth is the product was formulated to produce a matte and non-oily finish while still retaining a high level of UV protection. If you like a satin and sleek finish you will love using this product inside and outside your car.
What I also like about the 303 Aerospace UV Protectant is it can safely be applied to leather seats, leather sofas or couches, and on all leather-covered surfaces. Although this product is not applicable for unfinished leather like suede or Alcantara, applying UV protection is an easy and inexpensive way to retain the finish of those leather seats in your car, home, or office.
303 Aerospace UV Protectant Hands On Review
I wanted to try this on my fake leather seats before treating the dashboard of my 2013 Kia Optima with grey interior . I grabbed a clean and moist microfiber towel and proceeded to wipe away loose dust and dirt from the leather seats.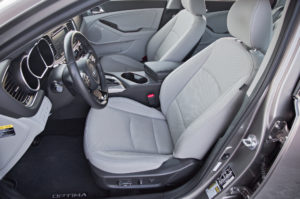 While I was at it, I rinsed the towel, wrung it out to remove excess water, and wiped the door sidings and the dashboard.
The trick to cleaning the interior of your car is to work methodically.
Start on the rear interior and work your way towards the front. If you are planning to apply dashboard protectant, it is imperative to pre-clean the surface to produce the best results.
I grabbed my bottle of 303 and sprayed a light mist on the rear leather seats. I used a dry microfiber cloth to work the product gently on the leather while removing the excess. I was pleased with how the product was able to invigorate my tired-looking leather seats.
You will need to have a bunch of clean microfiber towels at your disposal when using this product since I needed a fresh towel after treating the entire rear interior of my vehicle. I like to use the AmazonBasics Microfiber Cleaning Cloth – they're cheap and last a while. 
I proceeded to treat the dashboard with the 303 Aerospace UV Protectant. For this part, it is best to spray the product on the cloth before wiping the dash to prevent overspray. The results were amazing without the overly glossy and sticky finish.
I was able to treat the entire interior of my car in less than 30 minutes, although I had to use 4 or 5 microfiber towels to complete the job.
So far, so good. But there is one thing I don't like that bothers me about this stuff.
While I appreciate the water-based and odorless formula, the protectant can easily wash away if you use this on the exterior of your vehicle.
I treated the black plastic bumper of my other car with the 303 Aerospace UV Protectant. While it looked good at first, all it took was a light rain shower to bring back the dull and lifeless look of the bumper. If you are planning to use this product to surfaces that will be exposed to rain, you will probably need to re-apply the protectant a bit more often to produce excellent results.
But other than that, I think the 303 Aerospace UV Protectant is one of the best dashboard protectants that you can buy today. The price is on the higher side of the spectrum compared to other silicone-based products, but you get a dashboard protectant that is odorless, non-toxic, and great for plastic, rubber, vinyl, and leather surfaces.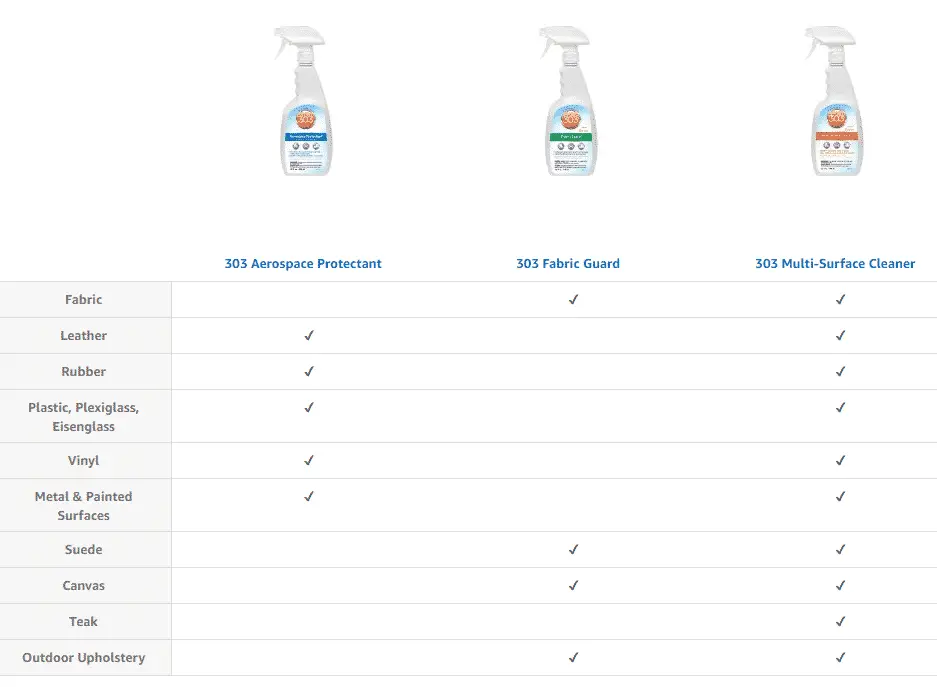 Conclusion
I hope my 303 Aerospace UV Protectant review gives helps you find the best dashboard protectant for your needs.
I felt it is a great value product, protects tons of surfaces and will become a long-term companion in my auto detailing kit.
I love the fact that it gave my dashboard a matte and clean finish without leaving traces of unsightly residue.
I might just switch from Armor-all to this 🙂
-Vince
p.s. if you like this product, you may be interested in the Scotchgard protectant.