303 UV Protectant Spray

Car Guys Super Cleaner

3M Scotchgard

KevianClean Interior Defense

Armor All Oxi Magic
Does your car or truck look like the inside of a trash can? We just finished up reviewing the best interior cleaner and dashboard protectant that you can safely use on your car or truck and we're excited to tell you about them! Mike and I spent last weekend detailing a 2013 Jeep Cherokee that had a little too much fun in the mud. So we got to test out these products first hand!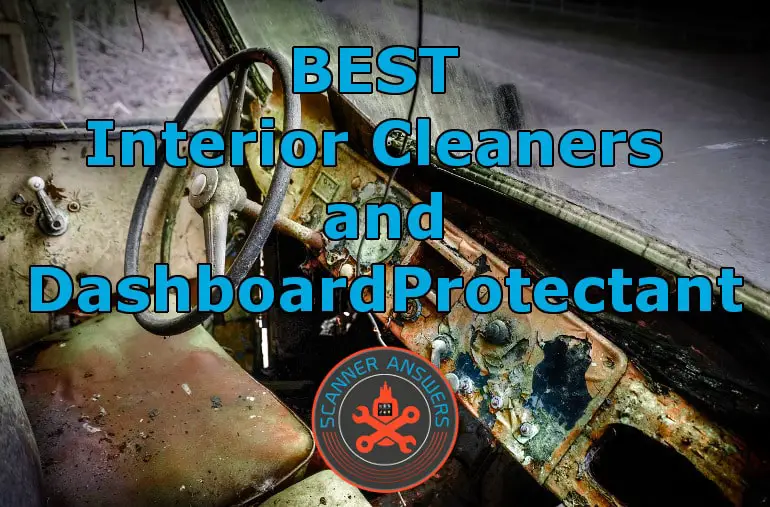 5 Cleaners and Protectors for your dashboard and upholstery
Here is quick summary of the best interior car cleaner and best car dash cleaner that the guys and I at ScannerAnswers have tried so far.
| # | Preview | Product | Rating | Price | |
| --- | --- | --- | --- | --- | --- |
| 1 | | 303 Aerospace Protectant – UV Protection –... | | $23.19 | Buy on Amazon |
| 2 | | CAR GUYS Super Cleaner | Effective Car Interior... | | $16.97 | Buy on Amazon |
| 3 | | Scotchgard Fabric & Upholstery Protector, 2... | | $34.78 | Buy on Amazon |
| 4 | | KevianClean Interior Defense Car Vinyl Protectant... | | $17.95 | Buy on Amazon |
| 5 | | Armor All Fabric and Carpet Cleaner for Cars, Car... | | | Buy on Amazon |
The Best Car Interior UV Protectors and Cleaners Reviewed
303 UV Protectant Spray – Best dashboard protector
Car Guys Super Cleaner – A universal cleaner for car interiors of all kinds
3M Scotchgard – Best car interior protectant for fabric and upholstery
KevianClean Interior Defense – Best natural, non toxic cleaner and protectant
Armor All Oxi Magic – Best car upholstery cleaner
Baking soda and vinegar is a great homemade dash cleaner that will work just fine for most projects, and soap and water should take care of the cleaning of your vehicle. However, sometimes you'll run into jobs where the kids (or wife!) have spilled McDonalds and ice cream and soda all over, and you've gotta break down and use some upholstery cleaner. And always, always, always, use some quality UV dashboard protectant to keep your dash from cracking open like the caverns of time.
So if you're in the mood for a proper interior detailing, here are the best car upholstery cleaners and dashboard protectants. I've been driving or working around cars (and even slept in cars!) for as long as I can remember and I've used a LOT of car interior cleaning products in the past.
Here are my favorites.
1. 303 UV Protectant Spray
Bottom Line
This is probably the most popular car dashboard protector against harmful UV rays. It doubles down as a light-duty cleaner. But it's best when used as a no-shine, matte-finish protector.
After cleaning the dashboard and the door sidings, you will need to apply a light coat of UV protectant to guard the hard surfaces against oxidation and premature UV damage. For that, you will need the 303 UV Protectant Spray. If you want an awesome no-shine dash protectant, this stuff works great!
But first, here's a minor caveat: this product costs around [see price] for a single 32 Fl. oz. spray bottle. It is a bit expensive compared to other dashboard protectants but the 303 UV Protectant is different since it comes with a non-toxic water-based formula that is free from petroleum distillates and silicone-based oils.
What I particularly like about the 303 UV Protectant Spray is it leaves a smooth and matte finish on the treated surfaces. There's none of that overly glossy and oily finish.
The 303 UV Protectant should be applied on hard surfaces similar to the same procedures when applying polish to the paint. Spray a light mist on a small section at a time, use a dry towel to gently work the product on the surface, and wipe off the excess.
Vince wrote a bit more about his experience with this stuff that you can read here: 303 UV Protectant Review
The Good

Water-based non-toxic formula
Leaves behind a matte finish
Easy to apply
Lasting UV protection

The Bad

2. Car Guys Super Cleaner
Bottom Line
This is strictly a cleaner and it's a darn good one at that! You can clean about anything. It doesn't protect from UV, so you'll need to buy a separate dashboard UV protector.
The Car Guys Super Cleaner is a reformulated multi-surface, water-based, and polymer-infused cleaner. This product is ideal to clean and revitalize the look of canvass, leather, fabric upholstery, carpets, plastic, rubber, metal, and vinyl surfaces. This product is also great for wood trim and is powerful enough to remove baked-on bird droppings and tree sap from the paint!
I like the fact that Car Guys is actually pushing this product as a genuine cleaner and not as a cleaner AND protectant. They are right when they say products that claim to clean and condition are never good enough for both jobs. It is either they don't clean well, or they only offer marginal protection against UV rays. This product is a pure auto interior cleaner and requires the use of a separate dashboard protectant if you're looking for an impressive degree in UV protection.
Since the Car Guys Super Cleaner is a multi-surface cleaner, you can also this product in your home or office. You can use this to clean your sofa or furniture and even your spa cover! This is also great to have in the boat since it can effectively clean and remove dirt and stains on metal and leather-covered surfaces.
Not bad for a cleaner priced at around [amazon link="B071XB18BF" title="see price"] for a 16 oz. spray bottle, right?
The Good

Multi-surface cleaning power
Water-based polymer formula
Easy to use
Nice, clean scent
Affordable price

The Bad

Does not offer UV protection on hard plastic and rubber surfaces

3. 3M Scotchgard
Bottom Line
An ounce of prevention is worth a pound of cure. The Scotchgard isn't so much a cleaner and it is an interior protector. It's a decently priced product that adds a shield to your upholstery seats and carpets and causes spills to be easily wiped off before they can stain.
The Scotchgard Fabric & Upholstery Protector is a consistent top-seller simply because it works. This product is not only good for the interior of your car since it is also designed to be used around the house and in the office.
I'm sure you've heard of this product before. I'm not in the liberty to discuss the ingredients of this cleaning formula, but the liquid is extremely flammable so I'm assuming it contains a blend of petroleum distillates and other chemicals.
Scotchgard is not exactly a cleaning product. You use this product after cleaning your interior upholstery to protect it from future spills and stains. The idea is to spray a liberal amount of the product in your fabric seats or interior carpeting to protect them from accidental spills. This product will form a protective barrier on the treated surface so you can simply wipe away the liquid spill with a cloth or paper towel without leaving a stain on the surface.
The effects don't last forever. You will need to reapply the Scotchgard every 3 or 6 months. This product comes in two 10 oz. cans and is priced at around [amazon link="B008JA4PZY" title="see price"]. A single can is enough to treat an average-sized couch or approximately five jackets.
This product is ideal to use on your couch, sofa, carpets, pillows, backpacks, shirts, and even on canvas shoes! Inside the car, it's will work great on fabric seats and carpeting.
Take note that the Scotchgard is a fabric and upholstery protector. It is not designed to protect hard plastic surfaces and leather-covered upholstery and trim.
Read more about Scotchgard and Matt's review
The Good

Provides an invisible barrier to ward of spills and water stains
Easy to apply
Perfect for the car, home, or office

The Bad

Product is flammable and contains harsh chemicals

4. KevianClean Interior Defense
Bottom Line
If you're looking to clean your dashboard and car naturally without using harsh chemicals, this is was you need. It's free of chemicals that are harmful to pets and kids, and does a great job and cleaning most surfaces in your car or SUV.
The KevianClean Interior Defense cleaner and protectant costs around [amazon link="B00OAFU9B6" title="see price"] per 24 Fl. oz. bottle. If the price is a turn-off, wait until you hear what this product can do. This cleaner is ideal for hard interior surfaces like plastic, vinyl, rubber trim, and leather seats.
It is biodegradable, non-toxic, and contains no chemical irritants. This is good news if you have kids and pets in the car.
The KevianClean also has a light lavender scent. I particularly like the smell of this product since other cleaners have a harsh chemical scent.
What's more, this cleaner is infused with top-grade carnauba wax to offer impressive levels of UV protection. The Interior Defense is formulated to clean the hard surfaces of your vehicle's interior while protecting against drying, aging, cracking, and discoloration.
This cleaner is not only good for the interior since you can also use this on rubber bumpers, boats, and outside furniture. The product will also work on bonded or faux leather couches or sofas so you can clean those items with a simple spray and wipe!
While I admit the KevianClean Interior Defense is a bit pricey by today's standards, it is hard to argue with the peace of mind you'll get in using a water-based, non-toxic, and environmentally friendly product.
However, this product works best as a cleaner. I also found out the water-based formula can easily wash away when applied to exterior trim pieces when it rains. If you are going to use this product to clean your dashboard, remember to follow up with a light coat of UV protectant.
The Good

Water-based and non-toxic formula
Easy to apply
Pleasant lavender scent
Easily removes dirt and stains

The Bad

Not ideal for interior protection against UV
It's a bit expensive
5. Armor All Oxi Magic
Bottom Line
It's a great low cost interior upholstery cleaner that everyone should have for cleaning up after the kids!
Armor All is not only known for the original protectant that I have used since I was a kid but it's also renowned for the Oxi Magic Carpet and Upholstery Cleaner. I'm not really sure what it means when the label says this product can deep clean using a 'powerful oxygen action', but this stuff is powerful enough to make the toughest stains disappear right from your very eyes!
A single 22 Fl. oz. spray bottle of the Armor All Oxi Magic Carpet Cleaner only costs around [amazon link="B0006Z9ST8" title="see price"]. This is a terrific deal since it's designed to work on floor mats, carpets, upholstery, vinyl, and hard surfaces such as the dashboard and the door panels. I also tried this product on the headliner of my car and it worked brilliantly without needing much elbow grease.
For stubborn and deep-seated stains, the trick is to spray a liberal amount directly on the affected area and let it soak for a couple of minutes. After that, it is all just a matter of lightly rubbing the stain using a dry microfiber towel and you're done!
Although I prefer using a water-based and non-toxic cleaner for my car, I have to admit that the Armor all Oxi Magic Carpet and Upholstery Cleaner is close to my heart since it is one of the easiest products to use when it comes to removing tough dirt and stains on the carpets and fabric seats of my ride.
The Good

Powerful cleaning action
Super easy to use
Reasonable price
Light, neutral scent

The Bad

Wait a second Mike, why do I need a car interior cleaner or dash protectant?
We eat, drink, and virtually live inside our cars. This is the reason why it's important to maintain a clean and sparkling interior. Besides the obvious health benefits and aesthetic looks, a well-maintained interior will significantly increase the resale value of your car when it's time to sell it on the open market.
Unfortunately, it is a bit tough to keep everything spotless and clean. I am guilty of that fact ever since I spent a lot of time working with other cars. Luckily for us, we can count on the best car upholstery cleaners to get the job done.
But before you go out and buy the first bottle of cleaner you can find, you need to discern the difference between a cleaner and a protectant.
Suffice to say that you need both in order to complete the task at hand. You can think of it like detailing the paint. The proper way to clean the exterior is to wash the vehicle, apply polish, and finish off by treating the paint with a coat of carnauba wax.
Cleaning the dashboard and hard plastic interior trim is similar to waxing the paint. You will need to rid the surface of deep-seated dirt, smudge, and grime before applying a light coat of UV protectant. The last step is critical since the dashboard protectant will protect your dash from fading, cracking, peeling, and early deterioration.
When it comes to interior trim pieces, the seats, door sidings, and headliner, using a car upholstery cleaner is a must since it can make easy work on the dirtiest and most neglected parts of the interior.
If you have a short attention span like Vince, CleanMySpace did a nice little video on cleaning your interior. 
Simple and Easy DIY Interior Cleaning Tips
The secret to maintaining a spotless and sanitary vehicle interior is to immediately clean or blot the spills as they happen. Yeah if you let that Ben and Jerry's ice cream sit in the 100* Florida sun, it's gonna suck to clean!
Love going to the drive-thru but hate the ketchup stains in your seats or carpeting? When the inevitable happens and you don't have a bottle of upholstery cleaner at hand, here are a couple of simple and easy DIY interior cleaning tips that might save the day.
Always keep a roll of paper towel, tissue, clean microfiber towels, or baby wipes ready in the glove compartment. You will never know when you will need them the most. Trust me on this. It is also a good idea to keep a small bottle of rubbing alcohol since you can use this to remove stains in case of an emergency.
Are there deep-seated stains in your carpets, headliner, and upholstery? Baking soda will do the trick. Simply mix ¼ cup of baking soda with 1 cup of warm water and use a toothbrush to work the cleaning solution into the stain.
You can also clean the seats using a simple cleaning solution consisting of ¼ cup white vinegar, a few small drops of dish soap, and warm water. Mix everything in a spray bottle and use this to clean the fabric seats in your ride. Spray a light mist of the cleaning solution directly on the seats and wipe away the excess using a clean and dry microfiber towel. This really works if you don't want to bother with a commercially available car upholstery cleaner.
If you have a car or if you own multiple vehicles, do yourself a favor and buy a quality wet and dry vacuum cleaner. You can easily maintain the look of your interior by simply using the vacuum at least once a week. This is also helpful to easily dry the carpets or the seats if you spill water or soda all over your interior. You will thank yourself in the end.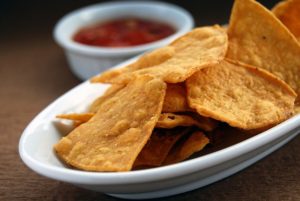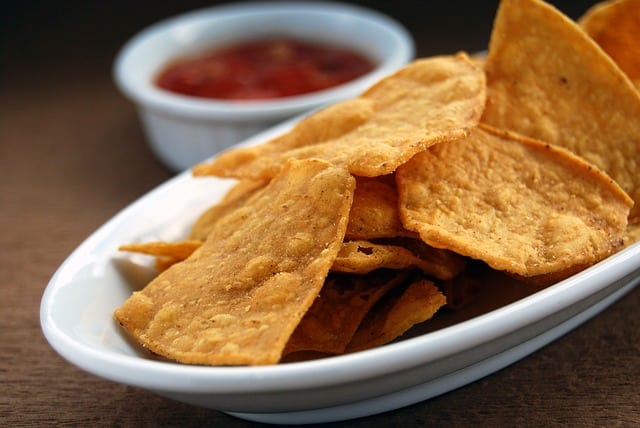 Conclusion
If there are hard to remove dirt and stains in the interior of your ride, grab one of the best upholstery cleaners and best dashboard protectants to make the job easier and hassle-free. Make sure to have a stack of fresh and clean microfiber towels on hand since you will need a lot if your interior is extremely dirty.
If you got any questions, drop us an email: https://scanneranswers.com/about/
-Mike