Summary
This Meguiar's spray wax kicks butt when it comes to exterior car detailing! The only thing I don't like is the price.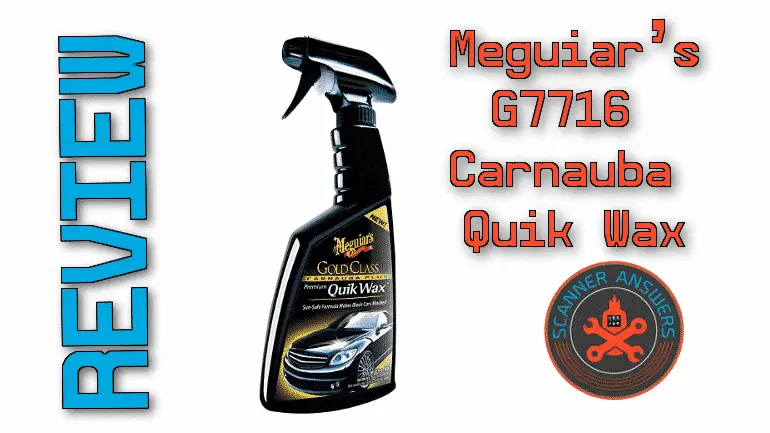 What's all the fuss about this Meguiar's Gold Class Quick Wax!?
The Meguiar's Gold Class Carnauba Premium Quick Wax is the newest product in the Gold Class family. I am personally a huge fan of the Meguiar's Gold Class Carnauba Plus paste or liquid wax simply because they are the best in terms of shine and paint protection. We first stumbled across this stuff when working on our Best Spray Wax for Cars and then decided we needed to write a seperate review because this stuff is AWESOME!
Today, I'm gonna tell you why I think it's one of the best spray waxes for your vehicle (if you're into spray wax…)
I picked up this wax from Amazon and think they've got the best prices around! Meguiar's Gold Class Quik Wax on Amazon
I've been using the Gold Class paste wax since I was a pimply teen. I was obsessive-compulsive when it came to car care products. I was always searching for a wax or polish that will give my car the blackest and deepest shine. One thing led to another. Before I knew it, there were literally 15 to 18 bottles of wax and polish in my garage closet, and all of them are from different brands.
Read more about waxing black cars
But Meguiar's products were always my favorite, even back then. All their waxes and polishes are easy to apply by hand and they produce great results.
Even up to this modern day of hi-tech polymers and color-based waxes, the Gold Class Carnauba Plus is still my hands-down choice if you are looking for a wax that produces the highest level of shine in the shortest amount of time.
This is the reason why I was excited to give the new product a try. In this review of the Meguiar's Gold Class Premium Quik Wax, I met up with my colleague who recently bought a jet-black 2017 Mazda6 sedan. I also managed to acquire a pristine 2002 Mazda MX-5 in black paint. This will be the perfect opportunity to find a good wax for dark paint!
My reason for testing the Meguiar's Gold Class Premium Quik Wax on two cars is to figure out how the spray wax will perform on both old and newer finishes.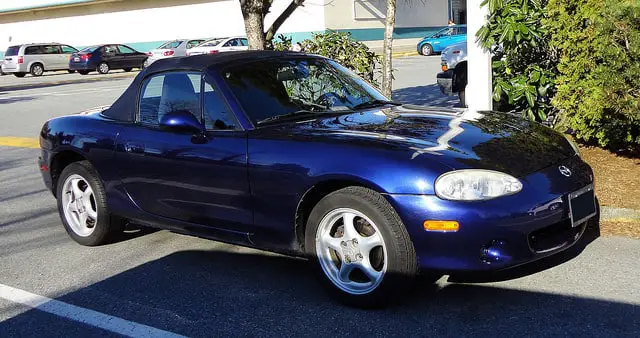 Features of the Meguiar's Gold Class Carnauba Plus Premium Quik Wax
Bottom Line
Carnuaba blend spray wax cuts the chore of waxing time to fractions! Easy and safe to apply to any kind of vehicle paint. Works AWESOME on dark paint colors!
Don't confuse this new product with the Meguiar's Ultimate Quik Wax. Although both products were designed to enhance the shine and depth on automotive paint, they vary in terms of the formulation.
The former contains a polymer formula that provides excellent water beading protection. The new Gold Class Carnauba Plus Premium Quik Wax is formulated using pure carnauba wax and will provide the highest gloss among Meguiar's lineup of spray waxes.
The product is easy to apply. It will not leave white residue on plastic or black trim. This is a big PRO to me because if you've ever used some pure carnuaba wax from a tin, you know that stuff can muck up your trim quick!
It is safe to use on all glossy and clear coat paints. Of course, since the Meguiar's Gold Class Carnauba Premium Quik Wax is primarily created to deliver an outstanding shine, this product is not intended for use on matte, flat, or satin paint finishes.
You can use it even under intense sun exposure. I'm not saying you should wax and detail your car in direct sunlight, but it's good to know the product is safe to apply even on hot-ish paint.
How to apply spray wax?
Is this your first time? Don't worry, spray wax is pretty easy to apply but there's tons of different ways to do it! Basically all you really need is a good microfiber towel and a clean vehicle! Here's a good video from Detail King which should help!
My Test and Review
Come to think about it, "why not test the product while the car is parked outside?" That's exactly what's on my mind as I began my review of the Meguiar's Gold Class Carnauba Plus Premium Quik Wax.
But before that, I did an indoor test. I parked the Mazda6 and the MX-5 side-by-side in a shaded garage after giving both cars a quick wash. I examined the paint finish and decided to first test the new Carnauba Quik Wax on the hood of both vehicles.
I grabbed a couple of new microfiber towels, played some music, and went on with the test.
My first impression of the Meguiar's Gold Class Premium Quik Wax is the easy on and easy off application. The product was a pleasure to use and it gave instant results with a single application.
The Mazda6 had fresh paint from the factory. But after treating the hood with a couple of mists of the Meguiar's Gold Class Premium Quik Wax, the surface was visibly glossier than the rest of the body panels. The hood surface was smoother and had a deeper black color as well.
The results were similar on the Mazda MX-5. Although there were swirl marks and minor scratches on the hood, the old paint was devoid of ugly oxidation. I treated the hood to a couple of sprays of the Meguiar's Gold Class Premium Quik Wax and wiped off the excess to instantly reveal a blacker, smoother, and glossier finish.
However, there are a couple of things you need to keep in mind. The Meguiar's Gold Class Premium Quik Wax is non-abrasive and is not formulated to remove or erase deep scratches and swirl marks. The product is good enough to make light scratches and swirls less noticeable, but that's about it.
If you are looking for a product that will remove oxidation, scratches, swirl marks, and stains, you are better off with a proper polish such as the Meguiar's Ultimate Polish.
| Preview | Product | Rating | Price | |
| --- | --- | --- | --- | --- |
| | Meguiar's G19216 Ultimate Polish - 16 oz. 2 Pack | 40 Reviews | $29.22 | Buy on Amazon |
With that in mind, I decided to test the product on the small trunk of the Miata MX-5. I grabbed a bottle of liquid polish to remove scratches, swirls, and stains on the trunk. I also applied a very light coat of carnauba wax to seal the paint surface. The last step was to treat the surface using the Meguiar's Gold Class Premium Quik Wax. The results were pretty outstanding to say the least.
I then proceeded to park the Mazda6 under the hot afternoon sun. I tried the Meguiar's Gold Class Premium Quik Wax on the roof and the results were the same. The product glided smoothly on the hot paint surface and dried out evenly without leaving stains and residue.
If you are going to use this product on a big car like the Mazda6, make sure you have a lot of clean microfiber towels on hand to prevent cross-contaminating or scratching the paint.
Conclusion
No surprises here. I was expecting the Meguiar's Gold Class Premium Quik Wax to perform admirably but it managed to impress me even more. The fact you can use this product under the sun is an amazing feat in itself.