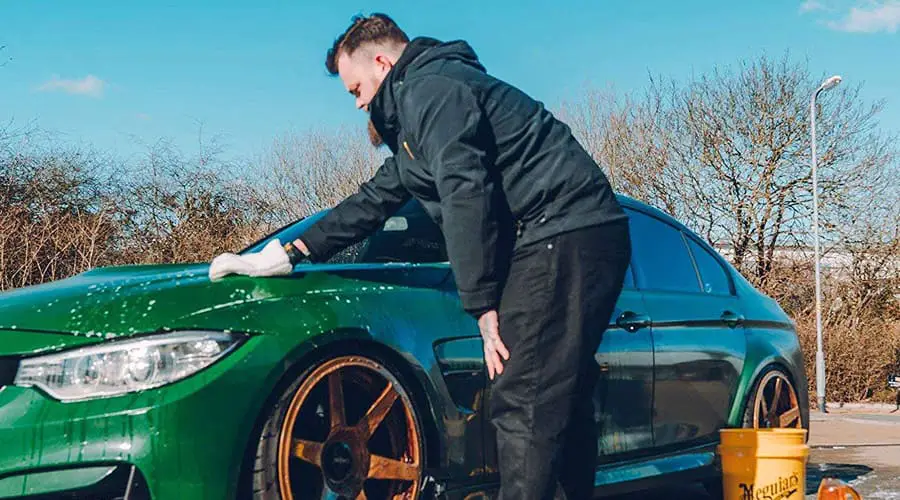 The winter is a tough season on any vehicle and harsh on your car both inside and out. Once spring is around the corner, you can see a glimmer of hope that it is time to wash and clean your car without feeling like it's just going to get covered in dirt, mud, and salt. It's easy to get your vehicle back to top condition with some good cleaning products and elbow grease. There are lots of products that can get your car ready for the warmer weather and maintain its sparkle throughout the season. Don't worry – spring and a clean car are just around the corner.
1. Liquid Wax
There are liquid waxes on the market that are reasonably priced and a great product for protecting the exterior of your vehicle. They are easy to apply and simple to use overall. Make sure you pick one that is easy to wipe off and will not stain the trim of your car if it is an area that is not painted. Most waxes are good on glossy and clear car coatings.
Read the full MEGUIAR'S Ultimate Liquid Wax review here
2. Wheel and Tire Cleaner
Having clean tires and hubcaps changes the look of a car when it hits the road in the spring. Finding a good tire cleaner means getting the salt, mud, and winter grime off easily without a lot of scrubbing. Go for a product that is acid-free and has a good pH balance so it won't damage wheels or hubcaps. While some finishes are hardy, those that are plastic-dipped and painted need something gentle. You do not want to do a lot of scrubbing or use harsh chemicals.
3. Microfiber cloths
Anything you read about cleaning the car will tell you to use high-end microfiber cloths and towels. Bigger ones are a bit better because they let you dry your car quicker with bigger swipes. Drying your vehicle with these cloths makes sure you do not have water spots or streaking. They are extra absorbent for a quick spotless dry and should be machine washable so you can make sure you aren't transferring dirt from a previous wash and scratching your paint or finish.
Chemical Guys and Meguiar's also make dang good microfiber towels!
4. Glass Cleaner
Vehicle windows take a beating in the winter. The outside gets all the road grime and dirt and the inside get the residue from people and the car heater. Buying a good glass cleaner means you can get a streak-free shine on both the inside and outside of your windows. Make sure the cleaner you choose can get rid of the window film as well as the heavier dirt. Using a spray offers a drip-free and even application. Ammonia-free is the best way to go so it won't bother you while you clean and won't leave any lasting chemicals. You want something to get through bug splatter, bird poop, and road spray with ease.
5. Car Soap and Shampoo
When you are trying to spruce up the vehicle in a spring cleaning, you want a good overall car soap and shampoo, something you can use every week that has neutral pH and offers a gentle wash that won't hurt the vehicle's finish. A good clean with no leftover residue is the way to go. The soap should be strong enough to remove all dirt, salt, and caked-on mud and grime without damaging coatings or stripping other protectant layers.
Pick one that you can use in a bucket or with a sprayer.
Did you know you can make your own car soap?
6. Dustbuster
Instead of hauling your big-sized home vacuum to your car, buy a dustbuster to help keep the interior clean. You can get one that is cordless and fits in all the small spaces of your car. Many can hold a charge for over 12 hours at a minimum and are lightweight. You can find brands that have good suction power and even have cyclonic action to keep the filter clean and make emptying easy.
7. Wheel Brush
While you can scrub your wheels by hand, using a brush makes it easier. A brush helps you clean all the hard to reach places where dirt and salt from the winter roads may sit. Find one that has a good hand grip and a rubberized bumper so you can not damage your wheels with sharp edges. The wheel brush you choose should have soft bristles so to get off brake dust and dirt without scratching. It can double as a fender and bumper cleaner as well.
8. Interior Protectant Spray
There are lots of interior cleaners that let your car sparkle and look new. Many of these cleaners are multiuse. They clean and brighten surfaces while protecting them from UV light. Find a cleaner that works on rubber, leather, plastic and more. You will need different cleaners for fabrics and flooring. A good product will work against fade and cracking while also stopping stains and dust from settling in. Water-based solutions are best so they aren't toxic or smelly. They are easy to use and make your interior shine.
9. Tire spray
Once your car and tires are completely clean, finish it off with products that make the look complete. A tire shine spray can do just that. A good spray makes your tires look new with a dark sheen. A good spray not only makes the tires look good but also protects them from outside elements. You can choose different types of spray that allow various finishes such as low or high sheen.
10. Car Wash Mitt
The basic item of all cleaning products: the car wash mitt. A microfiber mitt is a perfect way to get your car clean and shiny. Look for one that is lint-free and won't scratch the finish. They tend to be absorbent so they are great for washing your car.
Final Thoughts
With spring around the corner, cleaning your vehicle lets you roll into the warmer weather with a refreshed car that has washed the winter away. Buy cleaning products that are good quality and not only clean but also protect your vehicle.