ChemicalGuys VRP

CarGuys Applicator Kit

Meguiar's Endurance

TriNova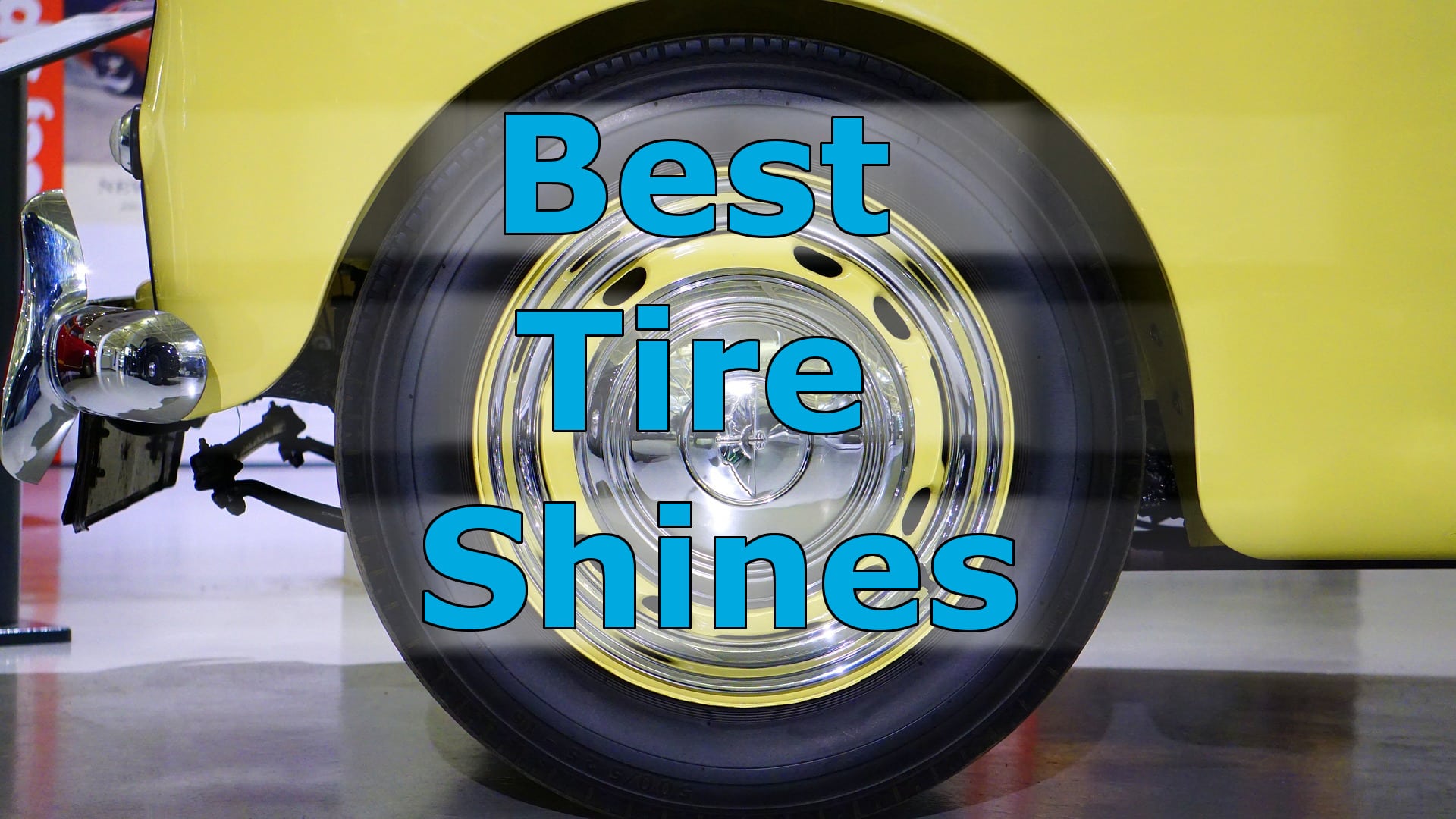 Best Tire Shines and Dressing Gels and Sprays
Here's a quick question: what is the single most important factor that will make your car truly stand out? If you answered a clean and shiny paint job, then you're wrong. That's why today we're talking about the best tire shines to keep your black tires shiny and fresh looking!
Comparison Table
| # | Preview | Product | Rating | Price | |
| --- | --- | --- | --- | --- | --- |
| 1 | | Chemical Guys TVD_107_16 VRP Vinyl, Rubber and... | 31,502 Reviews | $11.97 | Buy on Amazon |
| 2 | | CAR GUYS Tire Shine Spray | The Perfect Shine |... | 6,742 Reviews | $17.97 | Buy on Amazon |
| 3 | | Meguiar's Endurance Tire Gel - This Long-Lasting... | 17,370 Reviews | $11.89 | Buy on Amazon |
| 4 | | Trinova 33511 Tire Shine Spray No Wipe -... | 5,924 Reviews | $35.48 | Buy on Amazon |
Sure, a pristine paint job is all well and good when it comes to looks. But have you ever thought about tire blooming? You know, those ugly and brown stains on your Michelin tires? Even if you've just finished waxing your car, if those tires aren't black and shiny, they will grab everyone's attention!
It doesn't matter if your vehicle is squeaky clean. If your tires aren't 'black' enough, then this will affect the overall look of your vehicle. This holds true if you're rocking a nice set of rims. Tires devoid of brownish stains on the sidewall will make your car look better.
In order to get rid of tire blooming, you need to use the best tire shines or tire dressings. While I was on vacation in a small part of South East Asia, I found out that tire dressings are also called 'tire black', and it does make a lot of sense.
Recommended Reading: https://scanneranswers.com/best-synthetic-motor-oil-comparison-chart/
Tire black has the consistency of molasses. Other formulas are a bit watery, while others come in a handy spray. However, the consistency doesn't matter because they all do the same job. They give your tires a shiny, glossy, and blacker appearance. They also protect the tires from harmful ozone rays and they also keep the tires cleaner for a longer period of time.
If your tires are not cleaned or washed regularly, then tire blooming will certainly manifest itself faster than you can say 'Dear Lord!' But here's the bewildering truth: tire blooming is not caused by dirt, dust, and mud alone!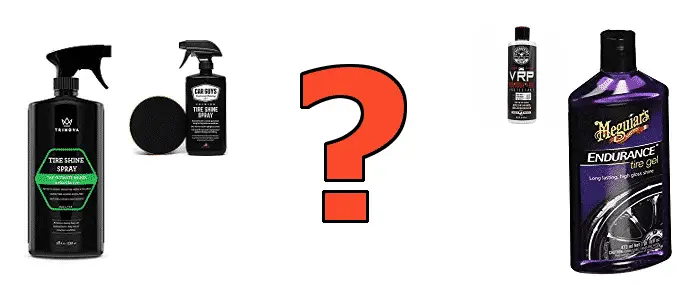 Four of the Best Tire Shines to Stop the Onset of Tire Blooming
Listed here are some of the best tire shine products that I have personally used in my vehicles.
ChemicalGuys VRP – Best shine for tires and interior
CarGuys Applicator Kit – Best Tire Shine Spray
Meguiar's Endurance – Best Tire Shine Gel
TriNova – Most Popular Selling Tire Shine

1. ChemicalGuys VRP
Bottom Line
Formulated to be safe and tires plus leather, vinyl, and plastic! Leaves an excellent shine and protect against dirt and sun
What I really like about the Chemical Guys Super Shine Dressing is that you can use it on both interior and exterior surfaces. This product feels dry to the touch but it leaves behind a smooth and glossy shine. The formula is designed to resist dirt and water while providing lasting protection against oxidation.
You can use the Chemical Guys Super Shine Dressing in all types of rubber, leather, and plastic components. This product will not only protect your tires and prevent tire blooming, but it will also shield your dashboard, fenders, trim pieces, and plastic bumpers from the harmful effects of oxidation. This product is not intended for use on painted plastic or rubber components.
Pros
Water-based formula is dry to the touch
Creamy consistency makes it easy to apply
Nourishes leather, plastic, and rubber surfaces
Cons
Wears out easily when used on exterior surfaces
2. CarGuys Applicator Kit
Bottom Line
Quick and easy to use spray gets tires shined up fast! Microfiber pad included free – cleaner than other tire dressing gels because its a spray
The CarGuys Tire Shine Spray is formulated with polymer additives to achieve a lasting and durable shine.
What I like about this product is the spray application.
Simply spray a small amount of this tire shine to an applicator pad and wipe on. This kit even includes a tire applicator pad. It's makes less of a mess than other tire dressing gels I've used.
You can also use this product on dull and faded plastic, vinyl, or rubber trim. The formula is non-toxic and environmentally friendly as well. The CarGuys Tire Shine Spray is also ideal for both interior and exterior use. Take note that the included tire applicator pad is good for your tires only. If you want to use this on your dash, you will need a separate microfiber applicator pad.
The thing I noticed about this product is that you need to let it dry on your tires before setting off. If you don't, then this product will sling. But if you leave it to dry before driving your car, then you can expect a lasting and durable shine that won't fade away even if you spray the tires with water.
Pros
Polymer-based formula makes it easy to apply
Lasting shine (provided that you let the product dry)
Cons
The product is a bit greasy to the touch
3. Meguiar's Endurance
Bottom Line
Very affordable tire shine gel that gives a sleek glossy shine and lasts quite a while!
In the world of automotive detailing products, Meguiar's is one of the best. I personally prefer their waxes and polishes over other products simply because they work brilliantly.
I am proud to say that the Meguiar's Endurance Tire Gel is one of the best tire shines that I have used in a while, and it costs less than other tire dressings too!
There's one caveat, though. You need to use this product sparingly, and you need to let it dry on the tires before driving. A little gel goes a long ways!
The Meguair's Endurance Tire Gel is a polymer-based product that is designed to give a long lasting and durable shine that will last for a week. Of course, this will all depend on how you drive your vehicle and the prevailing weather conditions, but the product works as advertised. The rich gel formula prevents runs, drips, and product over-spray.
Pros
Lasting shine and performance
Gel formula is easy to apply
Economical to use
Great price
Cons
Leaves a greasy residue when not used sparingly
4. TriNova
Bottom Line
One of the most popular sprays on the market – Long lasting gloss or matter coating – Restores tires to factory showroom looks
I must admit that I only used the TriNova Tire Shine Spray for a short period of time. I used this product on my Chevy SUV, and it did restore the tires to a like-new appearance. But when I sold my truck to my cousin who lives in Arizona, I totally forgot about this tire shine which was tucked neatly in the rear compartment.
The TriNova Tire Shine Spray is unique because it will allow you to achieve a degree of shine depending on how long you let the product saturate on your tires. Spray a thick coat and let it air dry for a high gloss finish. If you want a satin-like finish with a medium gloss, spray it on and wipe off the excess with a cloth.
This is a very popular spray and all our friends that use it swear it's their go-to tire dressing spray. I might have to pick up another bottle 🙂
Perhaps my only gripe with the TriNova Tire Shine Spray is that it costs more than the usual tire dressings in the market. But in terms of shine and lasting performance, it is one of the best tire shines that money can buy.
Pros
Easy to apply
Leaves a lasting high-gloss shine
Wipe off the excess to achieve a satin-like finish
Cons
It's a bit expensive
The shine fades easily when exposed to hard rain
What is Tire Blooming?
Tire blooming occurs as a result of oxidation. If you see brown stains on the tire sidewall, then those are the remains of oxidized anti-ozonant.
Anti-ozonant is an organic compound. It is an additive most widely used in tire manufacturing. Ani-ozonant is also used in other plastic and rubber components. The main purpose of anti-ozonant is to prevent the degradation of rubber and plastic materials. Based on the name itself, anti-ozonant will protect the material from ozone rays. This organic compound will delay the onset of wear and prevents the rubber from becoming dry and brittle even when repeatedly exposed to extreme sources of heat.
Tires are designed to retain a level of anti-ozonant. When the compound is pushed nearer to the surface of the sidewall as the tires wear out, the anti-ozonant will be constantly exposed to air, moisture, and ozone. As the anti-ozonant oxidizes, the result is an ugly brown stain that sticks to the tire sidewall. This is what you call tire blooming.
But it doesn't stop there. Tire manufacturers also mix a non-stick type of chemical to the formula. This chemical is similar to Teflon and prevents the tires from sticking to the molds. This chemical will bond to the tire and will seal the anti-ozonant to the surface of the tire. As you probably know by now, when the anti-ozonant oxidizes, then you say hello to the effects of tire blooming.
Will Tire Dressings and Shines Cause Tire Blooming?
No. This is a myth that needs to be debunked. You've probably heard about certain formulas of tire shine or tire dressings that will actually contribute to the onset of tire blooming. But in my many years of maintaining and detailing a wide array of vehicles, I can honestly say that tire blooming is actually caused by NOT using tire dressings after cleaning the tires.
Think about it for a minute. If you clean your tires using Dawn dish soap (which is actually a pretty effective way of removing dirt, mud, and brake dust from wheels and tires) or detergent, then you are ultimately drying out the surface of the tire. If you don't put tire shine on a freshly cleaned tire, then you are basically leaving the tires more vulnerable to oxidation, which will cause drying, cracking, peeling, and a stained sidewall. Dish soap is designed to strip off wax, grease, or any type of oil-based lubricant. This is the reason why you should NEVER use dish soap on the painted surface of your ride unless you are planning to apply wax or polish after cleaning the car.
There are 2 main types of tire dressing, tire shine, or tire black:
water-based
silicone-based
It was previously believed that water-based tire dressings are the preferred choice since silicone will tend to accelerate the oxidation process. Wrong.
Based on my experience, tire blooming is inevitable whether you regularly clean your tires or not. Dirty and muddy tires will not cause tire blooming, and the same holds true for silicone-based tire shines.
The single and most effective way of eliminating and preventing tire blooming is to coat your tires with tire dressings or tire shine each and every time you clean the tires with water and soap.
How Do I Remove Tire Blooming on my Tires?
If you see a lot of tire blooming on your tires, there is no need to panic. All you need to do is to clean and brush the tires thoroughly with soap and water and apply a thin coat of tire dressing or tire gel to the sidewall.
Like I previously mentioned above, dish soap is a cost-effective way to remove the brownish stains on your tires. The trick is to avoid saturating the tires with dish soap. Simply use a sponge to apply soapy water to the tire, use a soft tire brush and scrub the tire thoroughly, and rinse off the soap immediately. Clean one tire at a time. Let it dry and apply a coat of tire gel or tire dressing and you're all done!
How to Clean your browning and dirty tires (Youtube Video)
Conclusion
Choosing the best tire shine need not be complicated. All the products I tested performed admirably and they were all easy to apply. But there is one product that stood out, and it's not mainly because of the low price.
If it were my money, I would choose the Meguair's Endurance Tire Gel. For the price and longevity of the shine, it's hard to beat. But the downside is that you can't use it on interior trim. But since this test is about reviewing the best tire shines (and not the best plastic and rubber protectant), then the Meguiar's Endurance Tire Gel is my top choice.
Hey check out this sweet article: https://scanneranswers.com/best-rated-car-batteries-for-long-lasting-performance/
-Mike