Engine Degreasers Rated
Purple Power

Gunk Foamy

Chemical Guys Signature Orange

Oil Eater Cleaner

Simple Green Foaming Crystal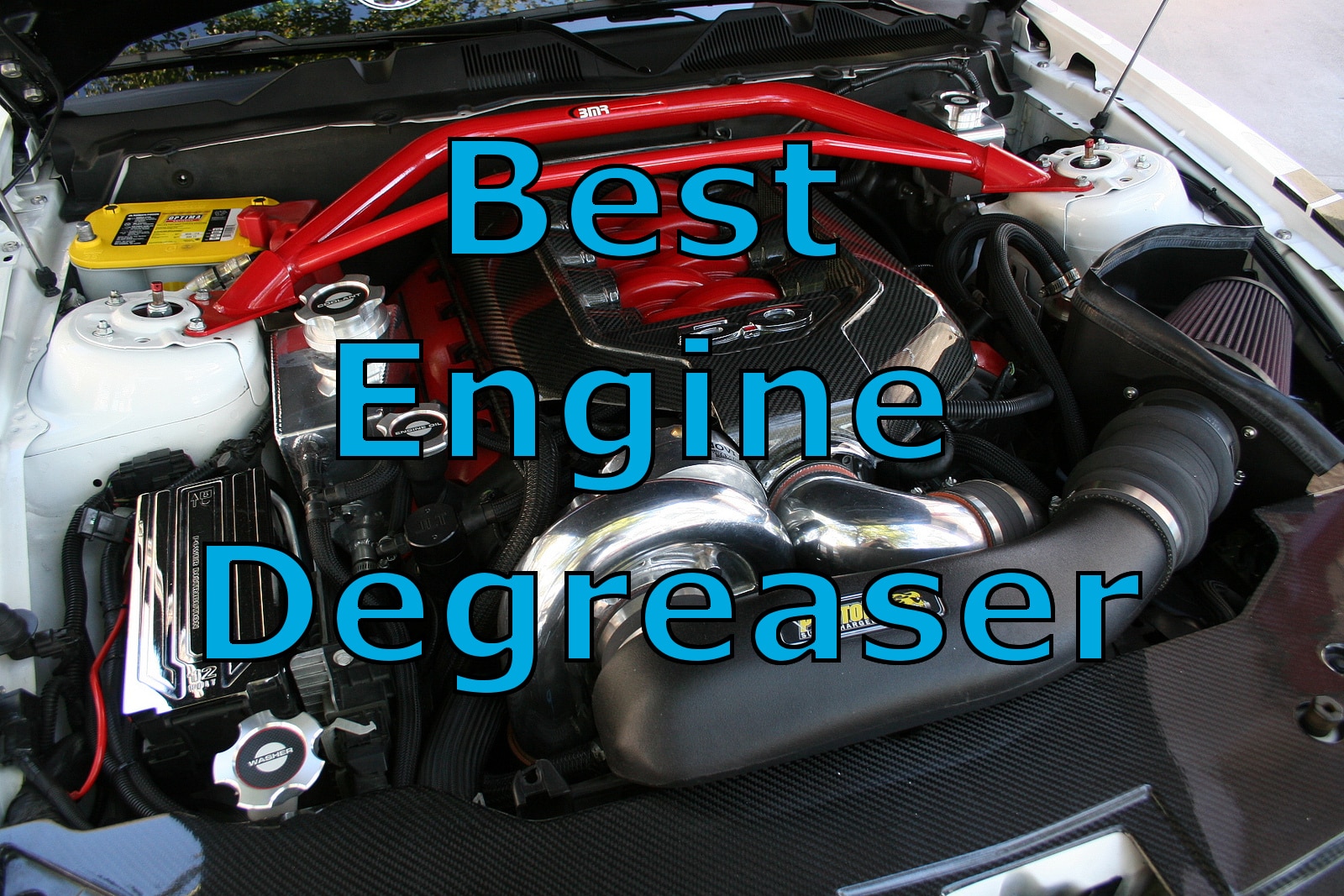 Best Engine Degreaser for a Sparkling Clean Engine Bay
I know a lot of you will agree with me that we spend a lot of time washing and waxing the exterior of our rides. This is all part of being a dyed-in-the-wool car enthusiast.
We have a saying that holds true: friends don't let friends drive a dirty car.
But do you also pay attention to the engine bay of your ride? Probably not. You can't clean the engine bay with water and an old rag. You will need to use an engine degreaser to clean the engine bay, especially if you have an older car.
Comparison Table
| # | Preview | Product | Rating | Price | |
| --- | --- | --- | --- | --- | --- |
| 1 | | Purple Power (4320P) Industrial Strength Cleaner... | 828 Reviews | $19.49 | Buy on Amazon |
| 2 | | Gunk FEB1 Foamy Engine Brite Engine Cleaner -... | 2,155 Reviews | $11.58 | Buy on Amazon |
| 3 | | Chemical Guys CLD_201_16 Signature Series Orange... | 5,840 Reviews | $9.99 | Buy on Amazon |
| 4 | | Oil Eater Original 1 Gallon Cleaner and Degreaser... | 8,817 Reviews | $15.74 | Buy on Amazon |
| 5 | | Simple Green 19010 Foaming Crystal Industrial... | 121 Reviews | | Buy on Amazon |
Friends don't let friends drive a dirty car…
But before we tackle the best engine degreasers, let me tell you a story. I'm sure you can relate to this in one way or another.
I have a friend that maintains a sparkling clean ride, complete with tire dressing and all. He also spends an entire weekend detailing the interior and exterior of his ride. He is a true car nut, and he is OCD when it comes to dust, swirl marks, and scratches on the paint.
I feel his passion. I used to have an exotic Japanese coupe with jet black paint. You know that black paint (or dark paint colors for that matter) is a magnet when it comes to swirl marks and mild scratches on the finish. The only way to get rid these nasty battle scars is to prep, polish, and wax the finish. I guess you know that already. If you need help on choosing wax for your ride, check out our guide: Best Car Wax 
But when my friend called me to borrow an OBD2 scanner diagnose a check engine problem (the MIL or malfunction indicator lamp was ON), imagine my horror when I popped the hood open to check the engine bay.
To say that it was dirty was an understatement. In my mind, it will take more than the best engine degreaser to clean it up. It was like Poland after WWII. It was THAT bad. Every nook and cranny was covered in thick layers of dust, and there were tons of grease and grime that will make OPEC proud.
In my mind, why does my friend spend a lot of time detailing the paint and not even contemplate on tidying up the engine bay?
He told me "I'm not pretending to know a lot about cars, buddy. You know I love driving, but I only know jack sh** about engines and stuff."
Well, he made a valid point. What he really meant to say was that he was afraid to clean the engine because he didn't want to mess things up. Spraying the engine bay with water should be done sporadically. In short, engine detailing is not for novices. It is very easy for something to go terribly wrong, like your car refusing to start after dousing the engine bay with water.
There is a reason why professional engine cleaning and detailing will cost you as high as $150 or more depending on your vehicle. You will need adequate knowledge about engine parts that don't appreciate it when you spray them with water like a virile fireman. Like the alternator, for instance.
Best engine cleaners and degreasers summary
Purple Power – Best Overall Engine Bay Cleaner
Gunk Foamy – Best Engine Degreaser
Chemical Guys Signature Orange Degreaser
Oil Eater Cleaner and Degreaser
Simple Green Foaming Crystal – Easiest to use engine cleaner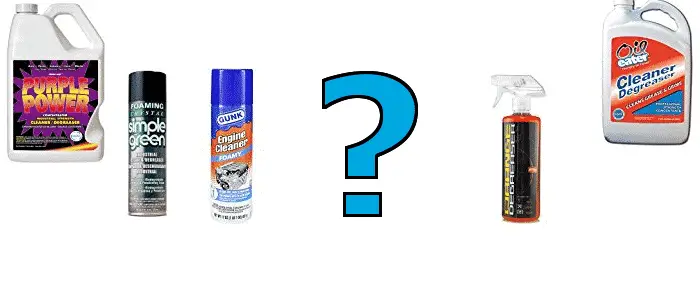 Introducing the Best Engine Degreasers for a Full Detailing and Cleaning
Here are the top engine degreasing products that you can use on your car. These are products that we've tested over the years and have had great results.
1. Purple Power
Bottom Line
Great low cost cleaner that works on engine bays and hundreds of other surfaces
The Purple Power made the top of our list because it's one of the cheapest cleaners that doubles as an engine degreaser. While not designed specifically for cleaning engine bays, it still does a great job!
The Purple Power Degreaser is designed for automotive, home, farm, industry, and marine use. It is an industrial strength cleaner and degreaser that delivers good value for money. This concentrated product costs less than [click to see price] per gallon, which is pretty cheap in my book.
The concentrated formula is designed to penetrate grease, dirt, and oil while creating a barrier between the surface and the stain. This cleaner and degreaser is non-flammable, non-abrasive, and biodegradable. However, this product should not come into contact with painted surfaces as it may cause permanent damage or dulling of the surface.
Since the Purple Power is concentrated, you only need a small amount of this product mixed with water in a 1-liter spray bottle for the magic to take effect. You can also use this product undiluted to remove stubborn dirt, grease, and grime on demanding jobs such as cleaning the barbecue grille.
This product worked well in removing grease and gunk from the engine bay, but you need to be careful that you don't mess up the paint in your fenders and front bumper. For stubborn and hard to remove dirt, you will need to brush off the stain after letting Purple Power soak for about a minute or two.
Pros
Works as advertised
Economical to use
Easily removes thick dirt and grime with a single application

Cons
It will harm paint
Not intended for use in aluminum and delicate plastic parts

2. Gunk Foamy
Bottom Line
Our favorite engine degreaser – simply spray, scrub and rinse – no need to dilute with water
I have to admit that this is one of my favorite engine degreasers. The Gunk Foamy Engine Degreaser is not as cheap as the concentrated formula of Purple Power, but it is easier to use and ridiculously easy to apply. Just spray it over your engine, do some quick scrubbing, and rinse it off. Bam! Engine bay detailing is done!
The foaming action clings easily to vertical surfaces so you can clean every nook and cranny of the engine bay. While Gunk says that no scrubbing is required, you will still need to use an engine detailing brush to remove thick wads of dirt and grime from the valve cover and head of your engine. It is ridiculous to assume that this product will ultimately erase all traces of dirt and oil without scrubbing, but I used this product on a not-so-old Honda Accord and it did the job without necessitating the use of a brush.
The Gunk Foamy Engine Degreaser is safe to use on all engine components, even cars equipped with plastic engine covers. The fast acting formula will literally dissolve dirt, grease, and grime if you let the product soak for 10 to 15 minutes.
Using this product is the easiest way to clean and degrease your engine. It is not as effective on extremely dirty and greasy surfaces, but it does the job quite well for the price.
Pros
Intense foaming action dissolves grease and grime easily
Easy to use – simply spray, let soak, and rinse with water
Good value for money

Cons
Not intended for heavy jobs or extremely filthy surfaces

3. Chemical Guys Signature Orange Degreaser
Bottom Line
High strength cleaner that should be diluted before using – Economical price and smells good too!
The Chemical Guys Signature Orange Degreaser is formulated to remove tough dirt, grease, and grime on car engines, tools, tires, rims, undercarriages, and even on industrial-grade machinery. The citrus-based formula can easily loosen oil, grease, and grime so you can easily rinse them off with water!
This product is super concentrated. You can use it pure strength for heavy stains, or you can add a few drops to a bucket of water so you can mop away dirt and grime from your shop floor. While this product is safe to use on plastic surfaces, I recommend NOT using this product full-strength in cleaning aluminum parts. We heard of a guy that ruined his supercharger lid by doing this.
However, when diluted to the right strength, it is hard to fault the Chemical Guys Orange Degreaser. Another plus factor is the citrusy scent, which makes for a more pleasurable cleaning experience.
This engine degreaser did the job right the first time. The trick is to dilute the product with water, spray and let it soak for a while, then lightly scrub the surface and rinse with water.
Pros
Citrus-based formula effectively loosens dirt and grime
Economical to use
Pleasant citrus scent

Cons
Might harm aluminum parts

4. Oil Eater Cleaner and Degreaser (1 gallon)
Bottom Line
Another all-purpose cleaner that we use for cleaning engines – works on tons of surfaces – USDA approved for non-food surfaces – probably the safest cleaner besides soap and water
First, the bad. The Oil Eater Cleaner and Degreaser costs more than [see price] per gallon. Yes, the product is concentrated so a little goes a long way, but this product costs 3x as much as the Purple Power Degreaser.
But then again, the Oil Eater Cleaner and Degreaser is non-hazardous, non-corrosive, non-toxic, and USDA approved for use on non-food surfaces. So you don't have to worry much about getting this stuff on your hands because it's not as harsh of a cleaner as some of the other engine degreasers listed. This product is not only good in degreasing the engine bay, but you can also use this to clean floors, carpets, white-wall tires, heavy machinery, and industrial tools.
Simply dilute a small amount of the product with water and spray liberally over the entire engine bay. Of course, you will still need a brush to remove thick and gummed up grease and grime. Let the product soak for a while, scrub, and rinse.
Since this product is non-toxic and non-corrosive (except on warm or hot aluminum surfaces), it doesn't do a good job of cleaning concentrated amounts of oil and dirt, such as oil spills on the shop floor. The Oil Eater engine degreaser is not designed for tough jobs like that.
Pros
Non-toxic and non-hazardous formula
Good for home and automotive use
Effectively removes grease and grime on the engine bay

Cons
Not good for heavy-duty jobs
It's a bit expensive

5. Simple Green Foaming Crystal
Bottom Line
Spray and go cleaner – no need to dilute or mix! Great quick engine bay detailer
What makes the Simple Green Foaming Crystal Engine Degreaser stand out is the color-free and fragrance-free formula that is non-abrasive, non-toxic, biodegradable, and safe to use on plastic, rubber, and metal surfaces. It's also the easiest engine bay cleaner to use. It comes in a compressed spray can so you do not have to dilute it, just spray, scrub a litte, and rinse. That's all!
I also like the price. This engine degreaser costs less than [price too low to show] for a 20 oz. spray can. The foaming action clings to vertical surfaces which make it easy to apply the product on hard to reach surfaces. Like the other products I tested here, the trick in using the Simple Green Foaming Crystal Industrial Cleaner and Degreaser is to let the foamy solution soak for at least 2 minutes before rinsing off.
While it might cost a little more than the Purple Power or Chemical Guys cleaners, it's a very conveniant cleaner to have around the shop.
You will still need to utilize a soft brush to remove stubborn grease and grime prior to rinsing. But for not-so-tough jobs, this product makes easy work of carbon deposits and oil sludge.
Pros
Odorless and colorless formula is safe to use on plastic, rubber, and metal
Easy to apply foam effectively emulsifies oil and grease
Biodegradable and non-toxic
Friendly price

Cons

You need something stronger for serious carbon build-up

Engine Bay Cleaning and Detailing Tips
Mike wrote up a good article on DIY Engine Detailing that you should check out for an in depth guide on cleaning that greasy old vehicle engine bay.
Here are some tips that you need to keep in mind if you are planning to purchase an engine degreaser for some good old DIY action:
NEVER use a pressurized washer to wet or clean the engine bay. Pressurized water will allow moisture to penetrate the various rubber seals in the engine bay. Take for example the fuse box. Pointing a high-pressure washer directly on the fuse box might allow droplets of water to wreak havoc on the electrical system. Only use a garden hose with sprinkler attachment to clean the engine bay.
You will need a plastic bag or some aluminum foil to wrap around certain parts such as the ignition coil, alternator, and distributor. It is also a good idea to wrap the engine dipstick and electrical plugs with aluminum foil to lower the risk of water contamination. Electricity and water don't mix. It's simple science.
DO NOT spray or apply engine degreaser to a hot engine. Better yet, DO NOT wet a hot engine with water. Rapid changes in temperature will severely degrade rubber hoses, belts, and other plastic parts in the engine bay. Let the engine cool for about 2 hours before cleaning. Better yet, you should wash and degrease the engine preferably in the morning before starting the car. You can also perform an engine wash in the late afternoon so the engine can dry overnight.
DO NOT use harsh detergents to clean the engine bay. This will lead to premature deterioration of engine parts, especially rubber and plastic.

How to clean your engine bay (the right way)
We HIGHLY recommend you check our ChrisFix's video on detailing your engine bay. Make sure you subscribe to his channel too! He's a good guy that provides tons of helpful DIY car tips and fixes.
Conclusion
For general cleaning and degreasing, all the products in this test worked surprisingly well. If you are looking for an all-purpose degreaser, you can't go wrong with the Purple Power Degreaser, the Chemical Guys Orange Degreaser, and the Oil Eater Cleaner and Degreaser.
However, when it comes purely to the best engine degreasers, nothing beats the value and ease of use of the Gunk Engine Degreaser and the Simple Green Foaming Crystal Engine Degreaser. Best of all, these two products are friendly on the pocket and ready to use with no dilution necessary.
Matt