Hey there I'm Mike and today we're talking about the differences between the Porter Cable 7346SP vs Porter Cable 7424XP Sander/Polisher. Last week the guys and I had our old Harbor Freight polisher crap out on us so we started looking for another one. Needless to say we ran into a bit of a pickle when we found out that Porter Cable seems to have made two different power sanders but we couldn't figure out which one to choose.
So after some internet sleuthing we found the difference and figured we'd pass on our new-found knowledge to you, dear internet reader!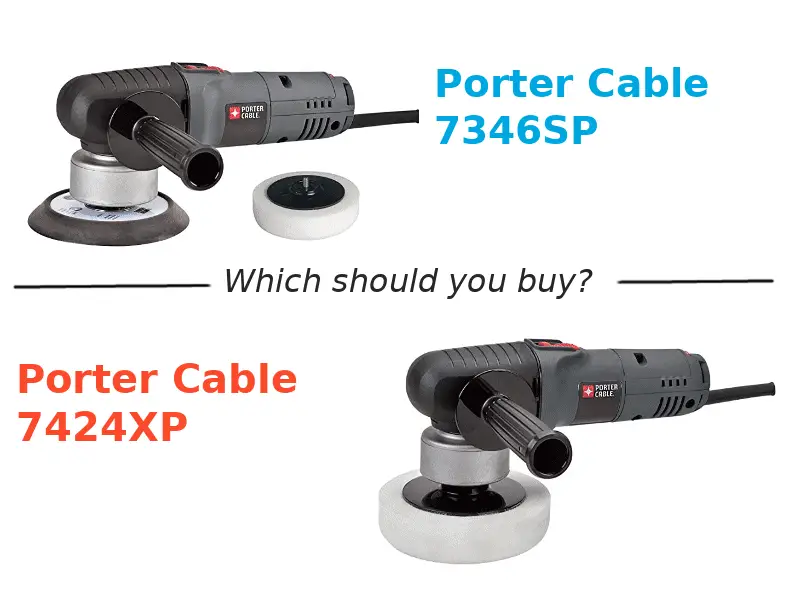 Porter Cable is one of the best in the business when it comes to high-quality and professional-grade orbital polishers. But what's the real difference of the Porter Cable 7346SP versus the 7424XP? The real answer might surprise you.
Pro Tip
**Spoiler Alert *** The difference between the Porter Cable 7346SP vs 7424XP all comes down to the packaging. The "SP" version comes with a sanding disc AND a polishing pad and the "XP" comes with only a polishing pad. Also, the XP version can usually be had for slightly cheaper.
Having the right tools in any trade or hobby is a necessity. If you like detailing or polishing cars, it is imperative to choose the right orbital polisher. With that being said, two of the best contenders are the Porter Cable 7346SP and the 7424XP.
Both are in the same price range. They even look the same as well. Searching for answers in the Portal Cable official website doesn't reveal much, either.
However, if you look closely, the real difference is right there for you to see.
Porter Cable 7346SP vs 7424XP –  How They Differ
If you're planning to buy an orbital polisher mainly as a sanding tool, the Porter Cable 7346SP is the one for you. It seems the SP stands for; Sanding Pad. So the "SP" version comes with a Sanding Pad AND a Polishing pad. And this is the only difference between the 7346SP and 7424XP.
The XP model is equipped with ONLY a 6-inch polishing pad right out of the box. So if you want to save some cash and don't plan on using a sanding pad, get the "XP" version.
Yes, that's about it.
What the Internet says…
Now, other online forums might have a different take. Some say the Porter Cable 7424SP is powered by a smaller 3.7 amp motor since it is lighter at 5.75 pounds. I also read the XP is equipped with a smaller 5-inch backing plate, but this is also not true since both products are equipped with 6-inch backing plates.
With that being said, both polishers appear to be the same except for the sanding disc or sanding pad. Both the Porter Cable 7346SP and the 7424XP have a wheel diameter of 6-inches. Both are also powered by a 4.5 amp motor respectively, and ditto for the orbit speed, which is at 2,500 to 6,800 orbits per minute.
However, it all depends on what you're looking for in a polishing tool. If you're planning on doing some serious sanding, the Porter Cable 7346SP is the perfect choice, especially if you can get it at a cheaper price.
But if you're buying an orbital polisher for auto detailing purposes, the Porter Cable 7424XP is one of the best choices in the industry.
Then again, both products are good for either sanding or polishing. It just so happens the Porter Cable 7346SP comes with a sanding pad, which means you can begin working without buying a separate polishing pad.
But if you're a car enthusiast and all you want is an easy to use orbital polisher for restoring and maintaining car paint, you can't go wrong with the Porter Cable 7424XP.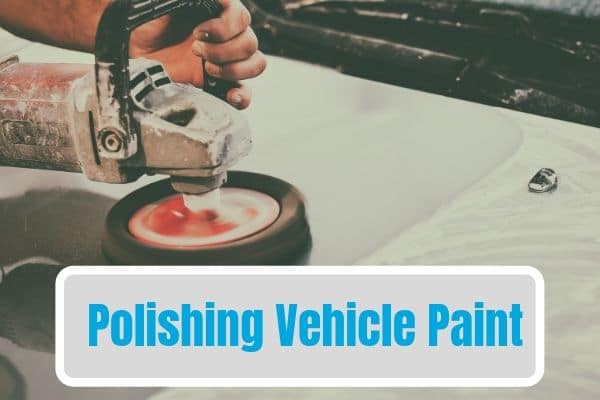 How to Maintain Car Paint with a Sander or Polisher
There's a world of difference between waxing and polishing.
Waxing is simply adding a layer of protection over the clear coat. On the other hand, polishing is the act of literally shaving away a minuscule portion of the clear coat to restore smoothness and shine.
Read more about if you're polishing your car too often!
Yes, the simple act of polishing the paint is enough to shave off a small layer of clear coat. This means polishing should only be done at least once every 6 months, or at most once per year. Polishing is required if removing scratches and swirl marks is the main objective. Remember that waxing, no matter how frequent or how much wax you choose, will not get rid of scratches in the paint.
In fact, some waxes will only fill in the scratches, similar to covering skin with cosmetic products. The damage is still present underneath, but you can't see it as clearly when wax is applied over swirls or scratches. The sad part is it won't take long for the effect to wear off. In most cases, the damage will be visible after only a couple of washes or rain exposure.
Don't have time for a full wax? Check out our spray wax guide for a quick 10-minute wax job!
Like I said, choosing the right orbital polisher is important, but assessing the condition of the paint is the foremost consideration. Every car or every paint demands a different level of work and attention, so it is important to check the condition of the paint before proceeding.
How to polish your paint with a Porter Cable 7346SP or 7424XP
After you've settled on which power polisher model to choose, you'll wanna get to work polishing your ride. Here's the 5 steps we like to use when taking care of our vehicle paint. If you prefer to watch a video, I've linked a terrific guide by Dallas Paint Correction & Auto Detailing below –
Wash the entire vehicle with car shampoo and clean water. Use a high-quality microfiber wash mitt to avoid adding light scratches and swirls as you wash. Make sure to rinse the vehicle thoroughly with clean water.
Use a top quality microfiber cloth to dry the vehicle.
Use the hand swipe method to check if the paint needs polishing or waxing. Simply run or swipe your hand in a small section of the hood. If the paint feels rough, or if you feel a lot of rough spots, it is time to use a clay bar.
Of course, after treating the paint with a clay bar, you will still need to polish or wax the paint at the very least. The act of wiping wet paint with a clay bar is enough to remove or pull out foreign particles in the paint surface. Waxing and/or polishing will level or cover up the pitted surfaces in the paint to achieve a smoother and deeper gloss.
After treating the paint with a clay bar, it is time to grab your Porter Cable 7346SP or 7424 XP to lightly polish the paint. The trick is to lightly saturate the polishing pad with liquid polish to achieve the best results. Start at a slower speed and work your way upwards over damaged or scratched surfaces.
Polish should not be left to dry on the paint. After applying the polish, make sure to immediately wipe away any excess with a clean microfiber towel.
After polishing the paint, it is important to add a final layer of wax. The wax is a protective barrier against dirt, bird poo, and UV rays. When it comes to waxing, less is more. Pour a small amount of wax in a clean applicator pad and apply to one panel at a time. It is better to apply two thin coats than to apply a single thick coat.
Unlike polish, the wax will need to cure for 10 to 15 minutes. Remove the excess using a clean microfiber towel. Turn the towel over and buff lightly for a high-gloss shine.
Conclusion
Hey we hope this guide helped you choose which Porter Cable Sander / Polisher is right for you.
If you want to save a couple dollars and only plan on polishing, get the Porter Cable 7424XP which only comes with the polishing pad.
However, if you think you might do some sanind in the future, get the Porter Cable 7346SP which comes with both the polishing pad and sanding disc.