Hey, I'm Matt, and today we're talking about the best AGM batteries in 2023 (this post was originally written in 2019, but we have re-tested our favorites and the results have changed!) that you should consider if you're upgrading your car battery. Keep in mind that AGMs are usually 2-3 times more expensive than a regular battery. Still, they also are smaller, last longer, and are spill-proof. Let's get into more specifics about this unique battery pack!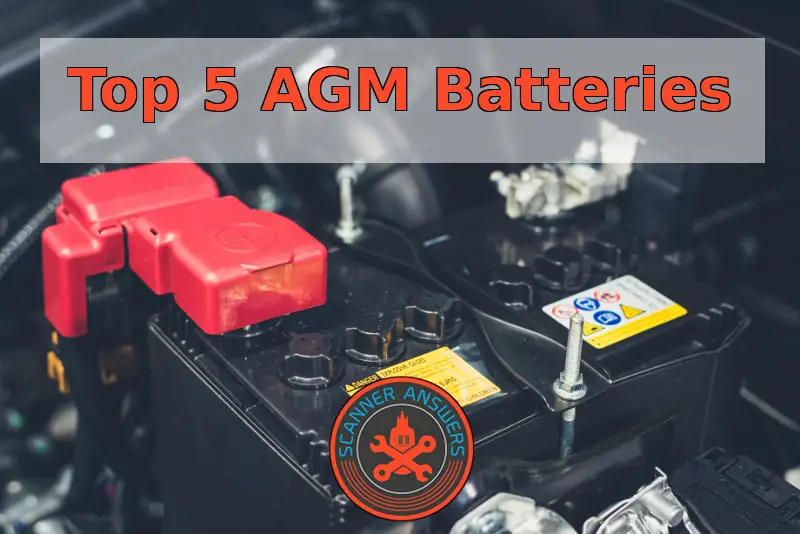 Are you looking for a new Absorbed Glass Matt (AGM) Battery?
There are two general types of car batteries:
Flooded / Wet Cell – cheaper and quickly distinguished by the removable plastic caps on top of the battery
VRLA / valve-regulated lead-acid battery – sealed type of battery and is maintenance-free
But then again, there are two types of VRLA car battery: AGM (Absorbed Glass Mat) and Gel Cell. Without a doubt, VRLA or maintenance-free is a better option than a flooded battery. But if you're settling for VRLA, your money is best spent on the AGM variety, especially if you're looking to replace the existing battery in your car, truck, or SUV.
What's the difference between AGM and gel cell batteries?
AGM batteries are also called membrane batteries. Internally they contain a thin fiberglass mat that acts like a sponge to hold the electrolytes. On the other hand, gel cell batteries contain a gel-like silica-based electrolyte to offer higher power capacities.
However, gel cell batteries have a higher acid resistance and are not suitable for use in extreme hot or cold weather. AGM batteries are more suitable for automotive applications and offer a higher rate of power delivery in shorter bursts. Gel cell batteries are better suited for deep-cycle or marine applications.
It is hard to say AGM batteries are superior to gel cell, but the former can be manufactured to produce a lower internal resistance courtesy of the thin fiberglass membranes.
AGM batteries can produce higher outputs without increasing the actual size and weight.
Gel cell batteries are usually more costly than AGM, which explains why AGM batteries are still the preferred choice. But for any other marine or deep-cycle application, gel cell batteries are better than AGM.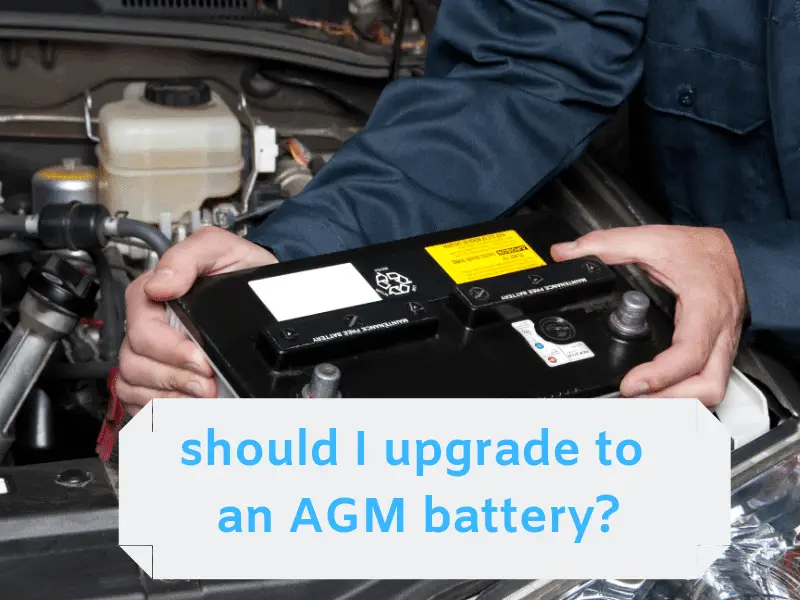 Should I upgrade to an AGM Battery?
If you're looking for the absolute top performance battery, then you should consider an AGM. Compared to conventional flooded style batteries, AGM batteries are going to pack a lot more "punch" due to the lead plates packed tightly into the glass mat separators.
You should consider this lead-acid battery type if you have a V8 engine or live in a cold climate. Make sure your car battery has enough amps!
Another trend that we're seeing is newer vehicles outfitted with AGM batteries. With all the latest car technology like Teen Driver, Mobile Apps, Stolen Vehicle Recovery, etc. the electrical current draw is much higher. We see an even higher demand in the future for AGM batteries.
Check out this video by Engineering Explained to learn more about Flooded vs AGM batteries
The 5 Best AGM Batteries For Your Car
Alright you've read on this far and still think you need and AGM battery, so below are my favorite choices and the summary:
Quick Look:
Diehard Advanced Gold
Optima Red Top
XS Power
Universal Power Group
VMaxTanks
1. XS Power D3400 XS Series AGM Battery
Is your vehicle equipped with a banging sound system? The XS Power D3400 XS Series is the best AGM battery for your car or truck. With cold-cranking amps of 1000 and 65 amp hours of juice, this AGM battery is perfect for stock, modified, racing, or off-road applications.
The unique thing about this battery is the M6 terminal bolts. It does not come with conventional battery posts or terminals. You can purchase these battery terminals separately if you need them. With an ultra-low internal resistance and spill-proof design, the battery can be mounted in almost any position without affecting performance.
The XS Power D3400 XS Series is the best AGM battery for racing applications and extreme off-road driving.
2. DieHard 38217 Advanced Gold AGM Battery
The DieHard 38217 is not the cheapest AGM battery in this list. But it offers a solid does of reliability courtesy of the advanced and durable casing. This battery offers 20x more protection against vibration and hard use. The spill-proof design and full-frame positive and negative plates prevents electrical shorts.
The DieHard 38217 has a reserve capacity of 170 minutes and a cold cranking amp (CCA) rating of 775. It even won the coveted Women's Choice Award for 2018 as America's more recommended car battery. With prices starting lower than the Optima Red Top, the DieHard 38217 Advanced Gold AGM is one of the best AGM batteries that money can buy.
3. Optima Redtop
Optima AGM batteries are one of the best despite the higher price tag. The Redtop is ideal most automotive applications with a CCA rating of 720. The reserve capacity (RC) is 90 minutes.
But what makes Optima Batteries 8020 Redtop stand out is the unique SpiralCell Technology, which gives Optima batteries an unconventional shape. Instead of settling with traditional flat plate AGM batteries, the spiral wound cells inside each Optima battery offers up to 2x longer life and a stronger starting burst.
You can read our full Optima 8020 Redtop review here
The spiral wound cells are also crafted from pure lead plates coated with lead oxide. The cells are encased in a spill-proof and shock-resistant casing that offers up to 15 times more vibration resistance. The Optima AGM battery may be expensive, but it remains one of the best AGM battery for the money.
Did you know? This battery won our top batteries for Subaru Outback guide
4. Universal UB121000 45978 Sealed Lead Acid Battery
No products found.
For about the same price as the DieHard comes the Universal UB121000. Prices are cheaper than others in this list and still offers the full convenience of a spill-proof and shock-resistant design. This AGM battery has a capacity of 100Ah which makes it ideal for most automotive and off-road applications. It can churn out 15 amps on standby and 30 amps in cycle mode.
As an added plus, the Universal UB121000 has a 30-day refund policy and a one-year warranty.
5. Vmaxtanks Vmaxslr125 AGM Battery
Without a hint of doubt, Vmaxtanks is one of the experts in manufacturing the best quality AGM batteries. The Vmaxslr125 offers superior performance. The brand claims 8 to 10 years of life span in float mode, which is brilliant for an AGM battery. However, this particular AGM deep-cycle battery works best in solar panels or other renewable energy applications.
The Vmaxtanks Vmaxslr125 is a 12-volt AGM battery that delivers 125 amp hours of juice. Similar to other AGM batteries in this list, it also comes in a leak-proof and maintenance-free design. The casing is also rated to be shock and vibration resistant.
Conclusion
AGM batteries have a great life span and last a long time. Just make sure the battery is not discharged to lower than 60%.
If you're planning to store your vehicle for the winter, make sure to purchase a battery charger or battery tender to maintain the capacity of the AGM battery in storage.
Indeed, an important aspect of choosing the best AGM battery in 2023 is not only the brand, but also how you care for the battery. Make sure to replace the battery if you notice cracks or signs of wear on the exterior casing.
And if you still cannot decide the right choice for your ride, check out our other guide on batteries with extended performance.
-Matt