Car Guys Hybrid Wax Sealant
Summary
In this Car Guys Hybrid Wax Sealant review I found that it's a great all-around spray wax. My one grip is that on older vehicles that have minor scratches or swirls, it doesn't perform the greatest at removing these paint imperfections. You may need to polish your vehicle paint prior to get good results (if your paint is old).
Now it's awesome on cars that have been polished and waxed throughout their life, or even just polished before using the Hybrid Wax spray. One thing I love is that it's a great way to extend the life of a paste carnuaba wax job. Before using it, I was waxing about 4 times a year… with this stuff, I only need to wax twice a year!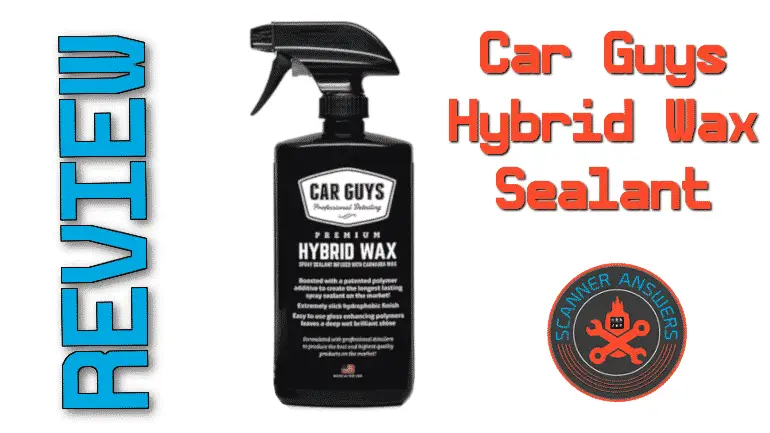 Want to quickly shine your car or truck? Check out this spray wax!
Mike here. All week I've been looking forward to testing and writing this Car Guys Hybrid Wax Sealant review. The company claims this product is like liquid magic in a bottle. All you're supposed to do is to spray on and wipe off to give your car a showroom shine. Now I'm no wizard, so I don't know how magic works, but I figured with a claim like that, it's gotta be good!
However, I had my apprehensions towards the Car Guys Hybrid Wax Sealant. If you read our guide to the best spray wax then you already know that we prefer a proper polish and wax when taking care of vehicles around the shop.
I am a traditional type of guy when it comes to exterior detailing. I always follow the three-step process of:
Pre-cleaning (car washing)
Polishing
Waxing
I usually shy away from unfamiliar products that give the promise of instant results.
Bottom Line
Very quick and easy to use all in one kit – made in the USA – 100% satisfaction guaranteed.
Pros
Easy to apply
Great lasting shine
Makes water "bead up" and roll off
Perfect product to extend existing carnuaba paste wax and polish lifetime
Cons
Minor streaks are more noticeable on dark finishes
It's a bit expensive
If you're paint isn't in the best shape, I'd recommend doing a polish FIRST, before applying this hybrid wax
Who are the Car Guys?
The Car Guys are a recent player in the automotive care scene and they make lots of detailing products like spray waxes, tire shines, microfiber towels, and much more. What I like about them is their products are bio-degradeable and don't contain a lot of harmful chemicals! The price and product ain't too bad either.
Now they might not be as popular as brands that have been around for years like the Turtle Wax, Mother's, or Meguiar's. But that doesn't mean you shouldn't look into their line-up of vehicle car products.
Recently I've been using the Car Guys Plastic Restorer on all rubber, vinyl, and plastic components in my ride for the past couple of years. I actually prefer this product over the Armor All Original Dash Protectant, but that's just me. Maybe we'll write more about automotive plastic care products in the future?
CAR GUYS Plastic Restorer | Bring Plastic, Rubber,...
✅ Results That Last! – Are you tired of wasting time and money on plastic restorers that claim to last long? They always look great in the beginning.. only to fade after a few days, or maybe a...
✅ Survives Rain! – Does this sound familiar? You spent all that time perfectly applying a new product and it looks great! Wow, you finally found the one! BUT… after the first rain-fall you look...
✅ No More Oily Mess! – Do you hate all the oily, greasy gel dressing products that stay wet and never fully dry? That describes about 90% of the plastic and trim restorers on the market today!...
I talked to a couple of friends who are familiar with the Car Guys Premium Series Hybrid Wax Sealant and I got mixed reviews. Some of them were in awe on how easy it was to apply the product, while others say the shine is one of the best among the many brands of spray waxes, detailers, or sealants in the market.
But it wasn't all good news. A friend of mine also told me the product is not good for black or dark paint. He also said the streaks and the marks on the surface were extremely hard to remove and required moderate elbow grease, which is the exact opposite of what a 'liquid magic in a bottle' is supposed to be. My friend's car was a 90's Civic and his paint wasn't in the best shape to start with, so I suspect he should have done a full wax and polish prior to using this spray wax.
In this Car Guys Hybrid Wax review, I wanted to find out how good this "hybrid wax" really was.
Features of the Hybrid Wax Sealant
People often ask me the difference between waxes and sealants. I tell them they are basically the same thing. Applying a fresh coat of carnauba wax over freshly cleaned and polished paint is the final step that will seal in the shine while protecting the clear coat paint from harmful UV elements.
Is this a bad case of severe marketing hype? Probably. The Car Guys Hybrid Wax Sealant is a synthetic spray sealant that is infused with pure carnauba wax. The product also contains a patented polymer additive similar to the Turtle Wax ICE series.
This unusual fusion of naturally-derived and synthetic ingredients will make it less work (less than paste wax) to wax and protect the exterior surfaces of your car, truck, or SUV. This product is not strictly intended for automotive paint. It can also be applied on exterior or interior paint and on glass, plastic, chrome, aluminum, and fiberglass surfaces inside your home.
The Car Guys Hybrid Wax is not a polish. Don't expect this product to remove swirl marks, scratches, and oxidation. This product should only be applied on a cool surface and away from direct sunlight.
Test and Review
I figured I needed two automobiles with different paint jobs in order to properly test and review this stuff. I managed to acquire a black Mazda Miata and white 2014 GMC SUV for this test.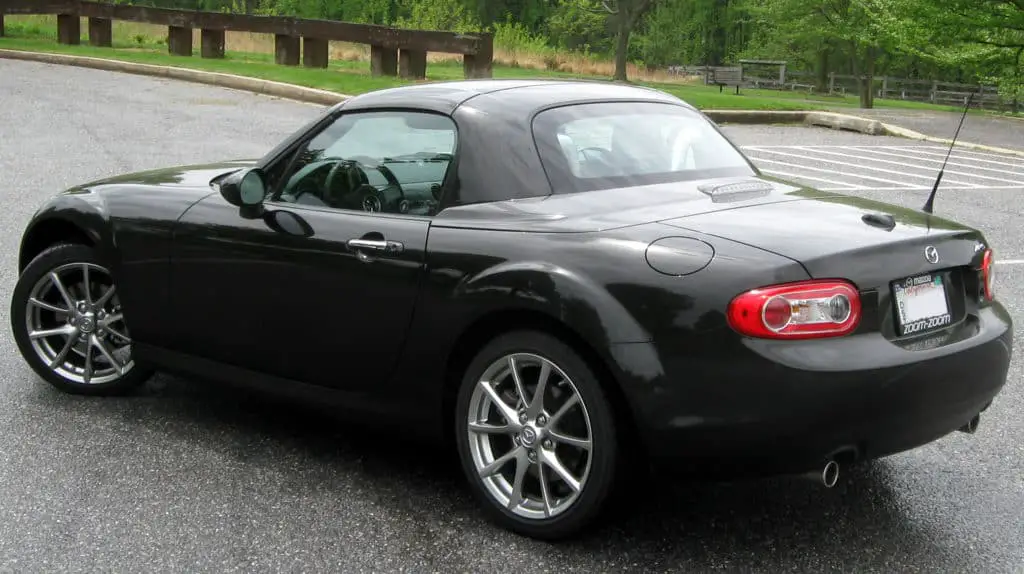 The white GMC SUV's paint job was in relatively good shape because it was only 4 years old. The surface was still smooth barring a couple of rough spots on the hood and the doors. After giving the SUV a quick wash, I lightly misted the hood with the Hybrid Wax, wiped off the excess using a microfiber towel, and turned over the towel to lightly buff the surface. Make sure to fold your microfiber towel in quarters to get the most use out of it!
*Here's a quick walk-through on how to use spray wax with a microfiber towel:
The result is a newly waxed appearance. I sprayed water on the hood to assess the water-beading protection of the Car Guys Hybrid Wax and I was impressed. There were literally tons of small water beads on the hood which means the product was providing adequate amounts of hydrophobic protection. So far, so good.
Next came the black car. The paint surface was in average shape but clearly needed some TLC before proceeding. I applied masking tape on the center of the hood. The left side will be treated with pure polish before sealing the surface with the Car Guys Hybrid Wax. The right side will be treated only with the Car Guys Hybrid Wax.
The purpose of this test is to find out how well the Car Guys Hybrid Wax will perform on black paint. If you are not aware how difficult it is to maintain a flawless and shiny black paint, let me enlighten you: black paint looks great when new, but it can easily turn into a scratched and swirled mess without regular polishing and waxing.
I treated the left side of the hood with polish and applied a light coat of the Car Guys Hybrid Wax. I wiped the excess with a clean microfiber towel and buffed the surfaced lightly. The results were incredible as long as you don't apply too much of the product to avoid streaking.
Next came the right side of the hood. Keep in mind the right side was not treated with polish! I sprayed a light mist of the Car Guys Hybrid Wax and wiped off the excess. I was expecting some mild streaking, and I was right! In fact, the untreated surface was a bit harder to buff since the surface was a bit rougher than the left side.
My friend was right, but there was one thing he missed: the surface needs to be treated with polish before applying the Car Guys Hybrid Wax. I think you won't have problems using the product on pristine (or new) black paint. But for older black finishes, don't expect great results if you failed to pre-clean or polish the paint.
Conclusion
If you look at the Car Guys Hybrid Wax Sealant as a handy spray detailer that should be used in between washing and waxing, you are on the right path. But I don't believe it's all you need to maintain the flawless color and shine of your vehicle's paint. Look into adding some carnuaba wax paste, polish and a clay bar into your external detailing! We have a whole section dedicated to this: Vehicle Waxing, Polishing, and Washing
Mike