Veepeak Mini Wifi Adapter

Innova 3100 Corded Scan Tool

Big Banana Scanna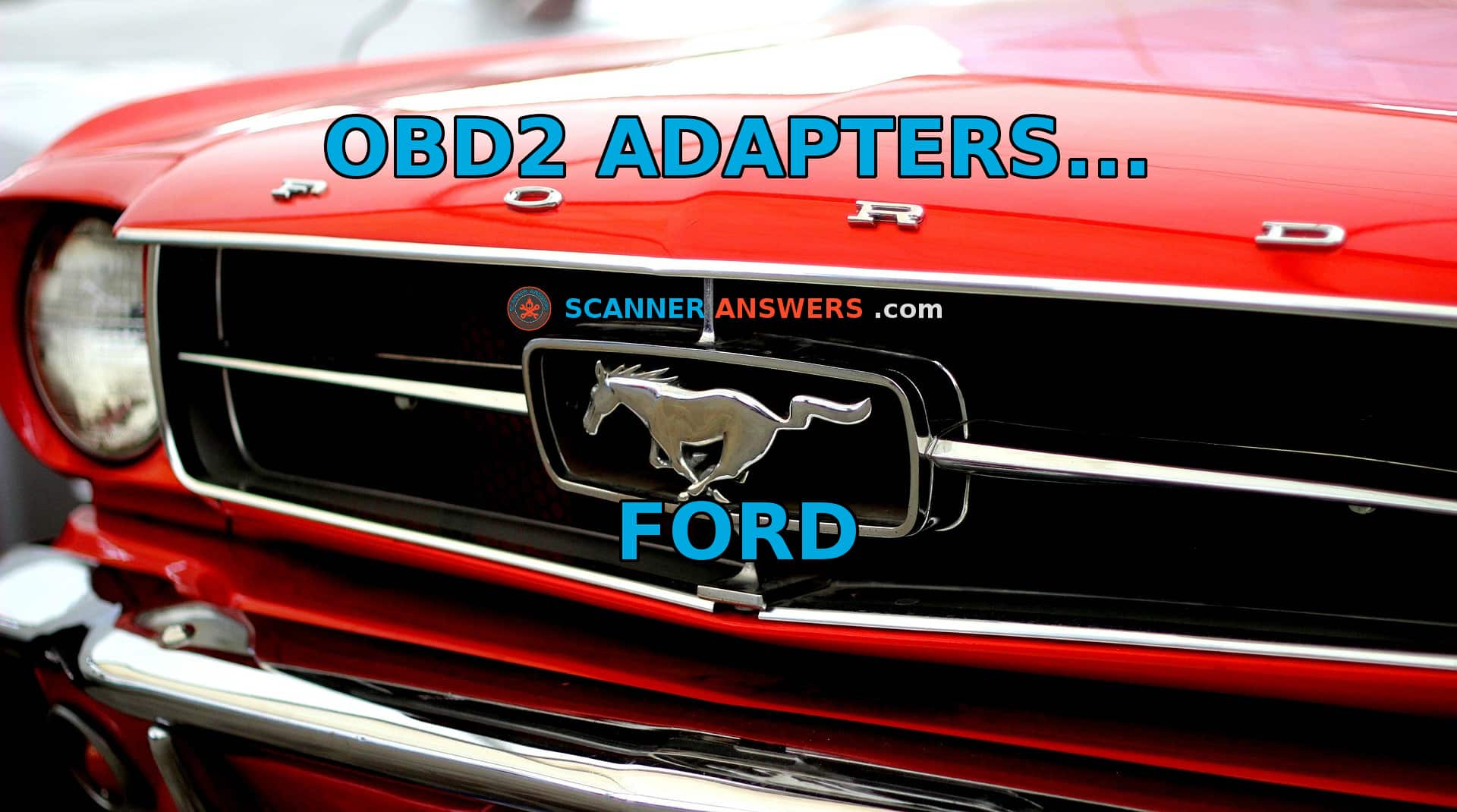 Finding the Best OBD2 Scanner for Ford Vehicles
Want to skip the reading? Here's my choices!
| # | Preview | Product | Rating | Price | |
| --- | --- | --- | --- | --- | --- |
| 1 | | Veepeak Mini WiFi OBD II Scanner Adapter Car Check... | 7,097 Reviews | $19.99 | Buy on Amazon |
| 2 | | Diagnostic Code Reader/Scan Tool with ABS and Live... | 175 Reviews | | Buy on Amazon |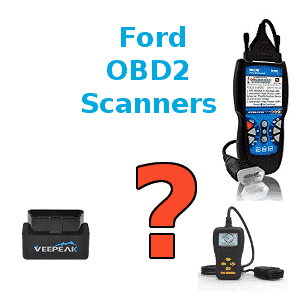 This is my guide to choosing the right OBD2 scanner for Ford vehicles. If you happen to have a Ford, and you want to get rid of that check engine light on your console, you need to have your own scanner so you can read, diagnose, and erase those Ford OBD2 trouble codes. If you're looking for a tool to pull obd2 codes for Ford, then you're in the right place!
We've said it many times before on ScannerAnswers: getting your own OBD2 scan tool is one of the most economical ways to fix your car. Of course, there is always the option of going to the dealership, but money is tight nowadays. Nobody wants to spend thousands of dollars on car repair!
My test subjects (Ford Flex and Explorer)
I'm a big fan of fast Fords. The Focus ST is still one of the best handling sporty compacts that money can buy, and the Ford F-150 is still the definitive pickup truck with car-like levels of refinement. Vince still hasn't come around and loves Chevy's, so he get's to spend more time testing OBDII scanners while he's fixing his truck 🙂
Sadly, I don't yet own a Ford Focus ST for this review, but I made due with a 2014 Ford Flex SUV. This family car is equipped with a 3.5-liter V6 engine with 287 horsepower and around 254 pound-feet of torque. This baby purrs when the engine is healthy, but our test SUV had trouble accelerating, and the engine vibrates erratically when idling.
How I wish I had a Mustang to play with, but I had to make do with a 2011 Ford Explorer with the same 3.5-liter V6 engine as our Flex test unit. This SUV still looks good even after all these years, but there are times when the engine refuses to start, and there's a check engine light on the dash.
Okay, I think it's time to get down and dirty with our choice of the best OBD2 scanners for Ford.
Here's the overview:
Veepeak Mini – Top Wireless WiFi Ford Adapter for the price
Innova 3100 – Best Ford OBDII scanner for the features
Big Banana –

2018 Update, this scanner is no longer in stock 🙁
1. Veepeak Mini Wifi Adapter
Bottom Line
Low Cost – WiFi adapter that works with Android or iPhone – Find and fix engine problems and view live sensor data – Works with most Ford, Dodge, GM, Toyota, Honda, vehicles made after 1996
The Veepeak Mini WiFi Code Reader is next on our list. We love wireless OBD2 scanners because they are easy on the pocket. This particular code reader is less than a tank of gas (find it on Amazon), but it can do a lot of troubleshooting for the price!
This device supports all five OBD2 protocols including CAN-BUS, although the company admits that it may not support hybrid or full-electric vehicles. It can also read real-time engine sensor data using only your iPhone, iPad, or Android smartphone.
Thankfully, our Explorer test unit is not a hybrid, and so is our Ford Flex. We hooked this baby up, fired up our iPad and opened the OBD Car Doctor app. True to form, the Veepeak Mini WiFi was able to read the mass air flow sensor error code. If you use this adapter with your Android smartphone or tablet you'll want to use the Torque app. Try out the free app before investing in the paid one 🙂
We initially had some trouble when we tested this OBD2 scanner on our 2014 Ford Flex. We disconnected the device and hooked it up again. The Veepeak Mini WiFi was able to read both the cam sensor and the ignition circuit trouble codes.
2. Innova 3100 Corded Scan Tool
Bottom Line
Corded scanner means you don't have to fuss with wireless connections, apps, and phones – Read and Clear ABS codes and Check Engine lights – Emissions readiness tester – Freeze frame ability lets you take a virtual snapshot of your vehicle's sensors when the trouble occurred
The Innova 3100i is the only scan tool in this test that has a colored LCD screen. It is also the most expensive in this test, but we weren't bothered at all. Just look at it! The brilliant screen and the professional-looking interface is worth the money alone. This device wouldn't look out of place inside a plush garage or service center.
The Innova 3100i is designed to quickly and easily read and erase engine trouble codes for GM, Ford, Chrysler, and Toyota vehicles. In fact, this scan tool can also read ABS (anti-lock braking system) trouble codes, and it can also perform diagnostic tests on the battery and alternator to check the performance of these vital electrical parts.
After hooking this up to our Ford Explorer test car, the Innova 3100i took no time at all to read and diagnose the faulty mass air flow sensor. As an added bonus, the freeze-frame data feature of this OBD2 scan tool enabled us to determine the engine coolant temperature and the fuel trim of the motor when the error code popped up.
The Ford Flex was next. By this time, our test unit was really struggling. The engine was vibrating so hard, and the tailpipe was spewing unburnt fuel like a hardcore dragster. Thankfully, the Innova 3100i was able to read the P1364 error code, including the cam sensor error code.
Since the Innova 3100i has a battery/alternator test feature, we decided to test the battery and the alternator of our Ford Flex before wrapping up. The voltage of the battery was less than 12 volts, which meant that this SUV will also need a new battery pretty soon.
I picked up the Innova 3100 here (from Amazon) and found the cheapest price online.
3. Big Banana Scanna
Editor note: Unfortunately this Scanner doesn't seem to be stocked any longer! That's okay, we've got tons of other OBD2 Adapter reviews here: https://scanneranswers.com
No products found.
Bottom Line
Very simple and easy-to-use Corded OBD2 scanner – Read and clear CeL light codes – Check emissions readiness, VIN number, and freeze frame data – Affordable!
The Big Banana is one of our favorites simply because it works. Although it's not the cheapest OBD2 scanner in the market, it is one of the easiest to use. The minimalist appearance of this Ford OBDII scan tool is a god-send for those who don't know much about cars, let alone scanning Ford OBD2 trouble codes.
I grabbed my buddy Vince and we hooked this up to our ailing Ford Flex, and it took less than a minute to diagnose the trouble code. As it turns out, the Flex had an ignition coil primary circuit fault, represented by the code P1364. That was easy.
But that wasn't the only thing wrong with the car. The Big Banana BB600 was able to detect a faulty cam sensor as well.
The Explorer was next. We hooked up the Big Banana BB600 so we can read the fault code. It turns out that there's something terribly wrong with the mass air flow sensor. No wonder the engine refused to start!
Like we said, the Big Banana BB600 gets the job done with minimal fuss. This baby is compatible with all 1996 and newer vehicles, even those that utilize CAN protocol.
Conclusion
We know the feeling when the malfunction indicator lamp lights up. It's not very pleasant, and nobody in their right mind would like to spend a day or two in the shop while spending hundreds or thousands of dollars to diagnose and fix the check engine light on your Ford car.
Why not invest your money on a Ford OBD2 code reader instead? This will save you both time and money, while helping you keep your sanity as well.
-Matt