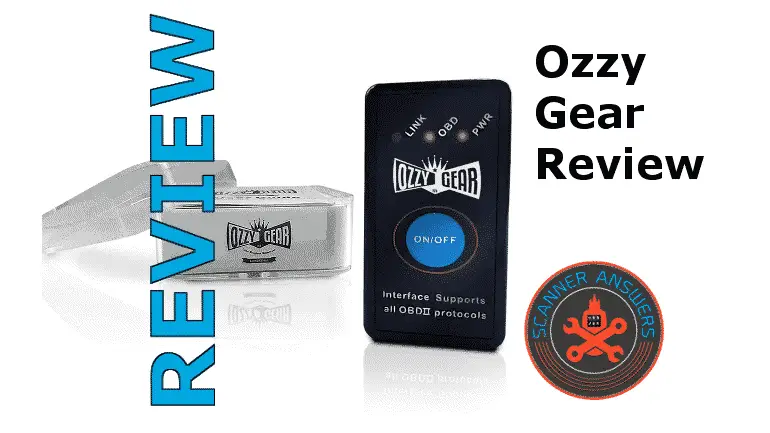 Let's get into the review!
I'm always excited when trying new OBD2 scanners. I don't know about you, but the fact that a small and compact wireless device capable of 'reading' the CPU in my vehicle still blows my mind. I'm an old-school kind of guy, and I still love to tinker with carburetor-equipped muscle cars. But times have indeed changed. Back in the not so olden days, you need to rush to the dealership and pay hundreds of dollars to diagnose the check engine light in your dash.
Ozzy Gear – an Awesome OBD2 Bluetooth Adapter!
No products found.
Bottom Line
Low cost OBD2 adapter that reads and clears Engine DTCs, check engine lights – Works on most vehicles manufactured after 1996
Well, not anymore. We now live in the age of smartphones and practical wireless devices. I got my hands on the No products found., and I'm finding it hard to wipe the smile off my face. Why? It's because there is something about this OBDII scan tool that makes it stand out from the rest of the scanners that I've tested so far: this little baby is backed by a lifetime warranty.
Think about that for a moment. I'm holding in my hand a compact and Bluetooth-powered OBD2 adapter that comes with a hassle-free return option. What made this moment a bit more exciting is the fact that I can try this nifty device in my cousin Walter's 2007 Toyota Camry. His car has a bit of black smoke emanating from the exhaust. It also idles roughly even if the engine is hot. Of course, accompanying these symptoms is the annoying presence of a check engine light on the dash.
In order to make things more interesting, Walter convinced me to test the Ozzy Gear OBD II Bluetooth Scanner in my own car, which happens to be a beat-up Mitsubishi Evolution VI. But there's a problem: my car is running fine. Sure, it's not the hyped-up rally machine that it used to be, but there is no check engine light on my ride. So we did the next best thing. I deliberately loosened the two screws that hold the throttle position sensor (TPS) at the right angle, I turned the TPS downwards, and presto! We have a check engine light on the dash.
Now, we're ready to explore the capabilities of the Ozzy Gear OBD II Bluetooth Scanner.
The Ozzy Gear Scanner Works on all Android and Windows Devices
Since the Ozzy Gear OBD2 scan tool works via Bluetooth, it will work on all Android devices. I'm a bit of an Apple man myself, but Walter brought along his new Samsung Galaxy S7. This nifty scan tool will work on Android smartphones, tablets, and Windows PC/laptops. All you need is to download a third party OBD2 app from the Google Play Store (we're using Torque Pro), plug in the Ozzy Gear into the OBD2 diagnostics port, pair your device with the Ozzy Gear Scanner, and you're good to go!
Check out out guide to finding the best smartphone app for OBD2 adapters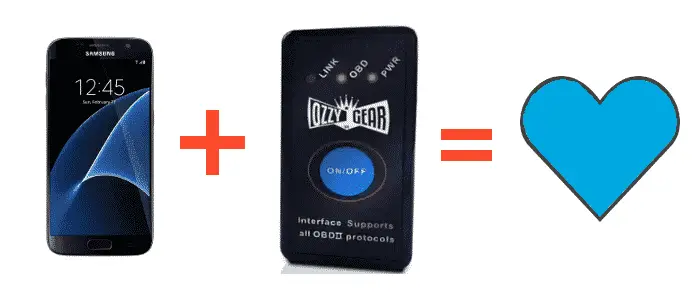 Compatible with all OBD2 Protocols
The Ozzy Gear OBD2 Scan Tool is compatible with all OBD2 protocols including CAN-BUS. This device is designed to work on all 1996 and newer vehicles sold in the USA. However, this OBD2 scanner will not work on hybrid or electric vehicles.
To be fair, almost all wireless OBD2 scanners have the same compatibility feature. This is not a problem if you're going to use the scan tool on 1 or 2 cars in your household. However, the same can't be said if you're a mechanic who works with a variety of old and new cars. But since the Ozzy Gear OBD2 Scanner is compatible with all OBD2 protocols, even professional mechanics will have no problems using this scan tool.
Remember that even though all vehicles manufactured since 1996 are OBD-II compliant, it doesn't necessarily mean that they use the same OBD2 protocol.
Clears Diagnostic Trouble Codes and Reads the Cause of the Check Engine Light
Now comes the fun part. I plugged the Ozzy Gear into the OBD2 port of Walter's Camry, turned it on, and paired it with his Android phone. In less than 30 seconds, the Ozzy Gear was able to determine the cause of the check engine light on the dash. It was a faulty engine coolant temperature sensor. It displayed the trouble code P0115. Walter thought that his Camry needed an engine overhaul because there was thick, black smoke every time he steps on the gas. What a relief!
Visibly impressed, he insisted that we test the Ozzy Gear in my Mitsubishi. Remember that I deliberately tinkered with the TPS until the check engine light was lit on the dash. I plugged it in and the Ozzy Gear OBD2 scanner was able to detect the faulty TPS. The trouble code P0111 and P0112 were displayed in Walter's phone. It only took 10 seconds.
I've encountered OBD2 Bluetooth scanners that won't work on turbocharged vehicles, but the Ozzy Gear worked like a charm.
Top Product Features
This device is small, compact, easy to use, and inexpensive. And it works like it should, which was very impressive. Here are the features of the Ozzy Gear OBD II Bluetooth Scanner:
Reads generic and manufacturer-specific trouble codes and displays the meaning of the codes
Clears the check engine light
Compatible with all OBD2 protocols and works with all 1996 and newer vehicles sold in the USA
Displays real-time sensor data including throttle pedal position, O2 sensor readings, fuel trim, vehicle speed, and much more
Connects and pairs easily to your Android or Windows device using a third party app (whether free or paid)
Comes with a convenient ON/OFF switch so you can leave it plugged in without worrying about excessive battery drain
Backed by an impressive lifetime warranty
Ozzy Gear Review Conclusion
I have to admit that the No products found. is a bit more expensive than other Bluetooth scan tools in the market, but not by much. It costs less than an oil change, so it's still a cost-effective and smart way to diagnose and fix your car. If you think about it, when was the last time you spent thirty bucks on a tool that came with a lifetime warranty? I rest my case.