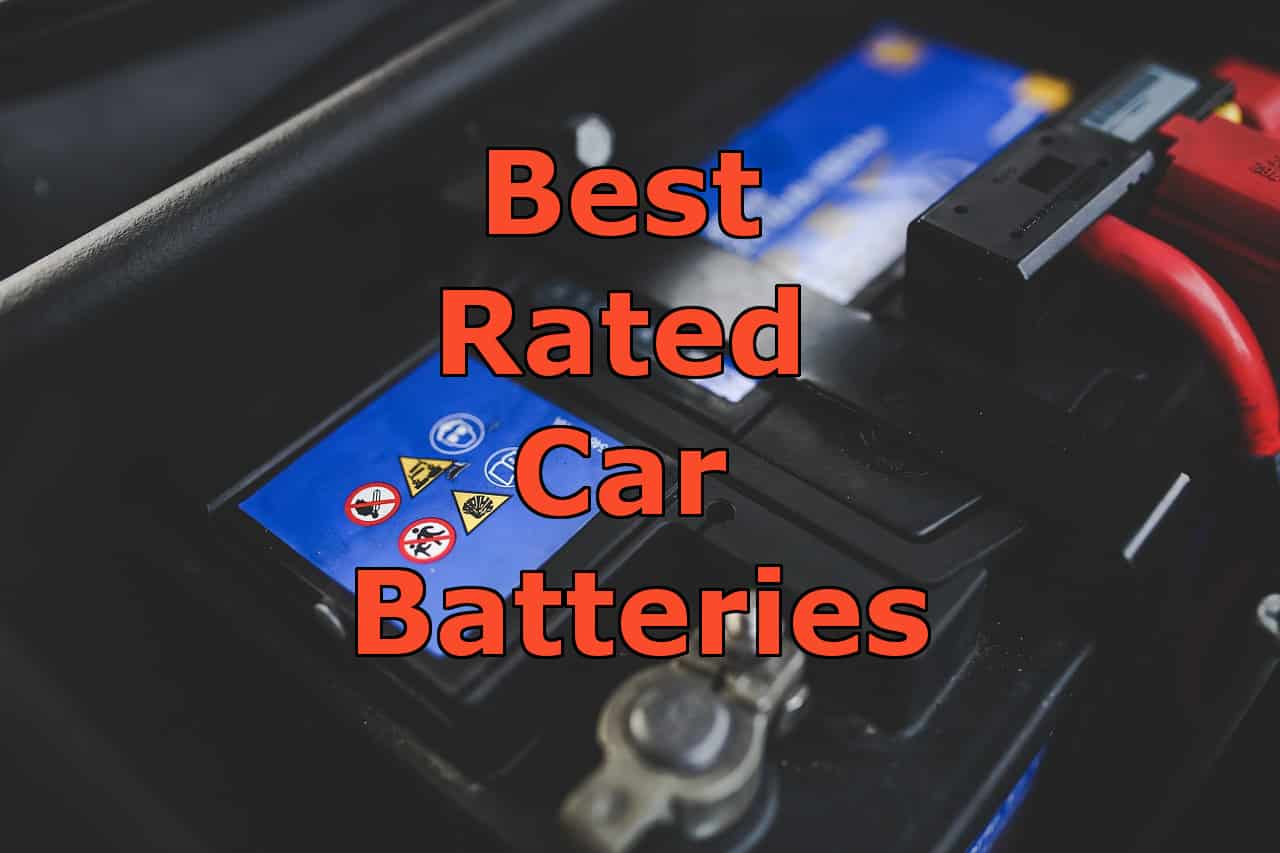 What Is The Best Automotive Battery?
Mike here with ScannerAnswers to bring you another article on some cool car stuff! Today we're talking about the best rated car batteries. If you've owned a car or pickup for any time, then you'll know how important a battery that holds a charge is! I remember my first car, a 1990 Toyota Celica, had a cheap old battery and I was always worried I wouldn't make it to work. When I was 16 years old I quickly learned how important a good cold weather battery is to have!
A car battery is the heart of your vehicle and needs to be well looked after. You also need to choose the right replacement when an old battery dies. Replacements are inevitable, because batteries only last a while, no matter how well you look after them.
Comparison Table
| # | Preview | Product | Rating | Price | |
| --- | --- | --- | --- | --- | --- |
| 1 | | OPTIMA Batteries 8020-164 35 RedTop Starting... | 2,183 Reviews | $269.99 | Buy on Amazon |
| 2 | | Exide Edge FP-AGM34 Flat Plate AGM Sealed... | 27 Reviews | | Buy on Amazon |
| 3 | | Odyssey PC680 Battery | 1,356 Reviews | $167.99 | Buy on Amazon |
| 4 | | ACDelco Battery Asm - 94RAGM | 868 Reviews | $175.99 | Buy on Amazon |
If it's time for your vehicle to get a new battery, use these few guidelines to update your knowledge about the subject because it's better to go shopping if you know what you're looking for. Read through these tips below so you know what good battery features are. Then, browse through our list of options so you can choose the best car battery for your vehicle.
Our Top 4 Best Rated Car Battery Buying Guide Summary:
Optima RedTop – The Best All-around Car and Pickup Battery
 Exide Edge AGM Sealed – Highest CCA rated Battery
Odyssey PC680 – Best Battery for Motorcycles and ATVs
ACDelco AGM Sealed – Best AGM Battery
Below you'll find our list of the top 4 vehicle batteries that can be purchased online. I would highly recommend you check out your local NAPA or auto parts store because you may be able to find a better price there because they do not have to account for the shipping cost of heavy batteries.
1. Optima RedTop
Bottom Line
720 Cold Cranking amps – 90 minute reserve capacity – Great cold weather battery
This is a battery for any vehicle, whether you have an ordinary sedan or a huge truck. Optima strives to offer clients the obvious options in car batteries by manufacturing items that automatically shoot to the top of shopping lists.
Great all-around battery for cold weather, diesels, and vehicles that need a good kick!
The company thinks of original ways to make your life a bit easier. Here is why you'll love this Optima product:
Pros
This battery can be mounted in almost any position. Even if it has to be fixed at an angle, it won't spill acid, because Optima fits it with a spill-proof exterior casing
If you let it run down by leaving on the vehicle's lights for too long, this battery will recharge quicker than most other batteries
If you install it in a vehicle used for riding over rough terrain, this battery won't give any problems. It can withstand vibrations up to 15 times more than many other batteries on the market. This makes it ideal for trucks and 4WD vehicles
This is a maintenance-free battery, so you won't have to keep filling it with electrolytes
The battery is well known to have a strong CCA. Part of its quality is thanks to the spiral-wound cells that work differently than the usual flat-plate cells found in many other batteries. CCA is 720
This specific Optima product—the Red Top—can be used for diesel vehicles as well. As long as there's a your alternator is not failing to help manage charges, this is the battery for you
The battery is one of the less expensive ones on the market
Cons
The battery is quite heavy. This may influence the performance of smaller vehicles
Some customers complain that it gave problems within a short period of time, but this can be case specific.
Summary
Optima offers an amazing battery which fulfills most of your battery requirements. The additional features such as being spill safe, makes it the ideal option for some scenarios. What are your most prominent requirements?
You can read our full Optima Red Top battery review here.
2. Exide Edge AGM Sealed Battery
Bottom Line
Absorbed Glass Mat (AGM) sealed battery – very resistant to leaks and spills – 120 minute reserve charge – 770 Cold Cranking Amps power
This battery is designed to handle the high demands that are sometimes put on batteries. If you're driving a very large vehicle, or require a battery that can outlast the rest, this may be your answer.
If you need an AGM sealed battery with a high CCA rating, you need the Exide Edge!
Exide was determined to launch a product that will make an impact on the battery market. This battery will give you powerful, long lasting service, so it's bound to make an impact on you. Here's why:
Pros
This battery has an exceptional reserve capacity of 120 minutes.
The battery life is longer than many of its competitors. This feature holds, even if the battery is used regularly in circumstances that strain batteries. These circumstances include occasions such as heavy city traffic where a vehicle constantly stops and goes. Even in stress tests done by experts, this battery performed well
The construction of the battery prevents spillage
It has a CCA of 770
Cons
This battery is much heavier than most other batteries on the market. The weight makes it impractical for small vehicles, or for use on some motorcycles.
This battery is quite expensive when compared to other similar projects
Summary
Exide certainly created a monster of a car battery. This is seen in its performance but unfortunately, in its weight and price too. If this is what you're looking for and your budget allows the expense, enjoy the power you're buying.
3. Odyssey PC680
Bottom Line
Great low cost battery for smaller engines – works well enough for cars and trucks that do not live in cold climates
Odyssey brings you an excellent battery in terms of strength and life span; it even comes at a decent price. It's important to note that this battery rates lower than the other batteries on this list in various areas, such as CCA and RC. However, that doesn't mean it may not be what you're looking for.
The Odyssey PC680 is a great option for smaller engines and vehicles that don't reside in a cold climate.
The best use we've seen for this battery is on motorcycles, ATVs, boats and side-by-sides. Our buddy Dan has a Corvette and he runs one of these batteries, but he also lives in Florida so he doesn't have to battle the cold weather like some people!
(Looking for the best Corvette batteries?)
This battery may not be as strong as other batteries mentioned on this list, but if you don't live in areas with extreme weather conditions, this battery is probably all you need. Because it doesn't cost much, you'll be able to achieve your goal at a fraction of the price other batteries demand. You'll also love the additional features that make life easier as the owner
Pros
Odyssey designed the casing to prevent spillage
The battery has a CCA of 170 and RC of 24 minutes
The battery recharges fast. You only need about 4 hours for it to be back to full capacity
The battery can handle vibrations, so if you're using it in a vehicle on rough roads, or for projects requiring it to move, it won't die on you
The battery is quite light, which can increase the vehicle's performance since it doesn't have to carry a heavy load
The manufacturers claim you'll enjoy more than 3 years of service from this battery. It may even be as long as 10 years if you maintain it well
It has a longer cycle life than many other competitors' batteries
Cons
The low CCA isn't beneficial for cold conditions
The low RC puts you at risk of running out of power if you don't plan well
The battery size and fittings are smaller than most cars' original batteries. However, you can still use it in most cars
Summary
This is a small battery which can make a huge impact. You won't be able to use it in very cold conditions, but it will serve your car well in most other climates. You'll love the price as well as the long life span. Is this what your car and your budget requires?
4. ACDelco 94RAGM Professional
Bottom Line
Great low cost battery for smaller engines – works well enough for cars and trucks that do not live in cold climates
We love the ACDelco AGM battery and believe it's one of the best OEM battery upgrades for you car or truck. It's slightly more expensive than the Optima or Exide, but we're partial to ACDelco because we've been using their parts for years and never had a bad experience.
If you don't mind forking out a couple extra dollars for a trust worthy brand name, go the with ACDelco AGM battery. 
ACDelco offers you this exceptional battery and if you're looking for excellent performance and power, this may be what you were waiting for. The battery has many features to make sure you get power, without these features pushing the price through the roof. Let's go through them.
Pros
This battery falls into the price range of smaller, less-powerful batteries, so you can purchase power at a fraction of the price other brands require
The design is practical, because the acid can't leak
These exceptional features increase performance and lifespan:
The battery's temperature is regulated by acid circulation inside the battery
The alloys used incorporates calcium
The negative paste has a high density
Its CCA is 880
The battery has an RC of 140
The company offers a 36-month free-replacement period
The absorbed glass mat battery is maintenance free, and has a long lifespan
Cons
This battery is very heavy. Remember that this may have an impact on the performance of small vehicles.
Summary
ACDelco succeeds in making a powerful and trustworthy battery. The company offers this to the public at an acceptable price. This is all you need in terms of battery power and your budget will survive the shopping spree.

How important is it to choose a high-quality battery?
Your battery determines whether your car will go anywhere at all. Therefore, you need to make sure you choose one that won't stop working out of the blue, or give you problems after a short while, which will only increase your car's maintenance cost. It's not necessary; you simply have to choose a proper battery from the start.
Your battery provides the power for the rest of the engine to work. If you have a battery that seizes the whole time, it could damage your engine parts; they will experience strain every time you need to start up the car again. Prevent this by using only the best batteries on the market.
When is it an excellent car and truck battery?
You need your battery to have the following features, so you know your car will function as best possible:
A battery needs to have a high CCA measure; CCA stands for cold cranking amps. This represents the battery's ability to start even in cold weather
Long battery life is a must!
What features must you consider before making a purchase?
Before making your final decision on which battery to purchase, check into these things:
Size – Different vehicle models accommodate different batteries. You can't simply pick up any battery. Get one that's the same size as your original battery.
CCA – If you live in an area with a very cold climate you need to opt for a more expensive, but more dynamic battery with a high CCA rating
Reserve capacity – How long will the battery last if the engine isn't running? It's not ideal to use battery power while the engine is off, but some situations may call for it, and you don't want your battery to die suddenly in those circumstances.
Durability – A battery that can handle vibrations is beneficial. You won't run into problems simply because you go off the beaten track now and then.
AGM, Wet cell or Gel – There are a few different versions of lead cell battery. For a detailed explanation on this, we suggest checking out this guide.
How important is it to choose a high-quality battery?
You need to weigh scenarios and choose the one you're most comfortable with. You need to consider your current capital, the costs over a long period and the maintenance required.
You can purchase a cheaper, lower quality battery, but then you may have to replace it regularly. You may find that it stops working quite suddenly without warning. Is this a situation you want to put yourself in?
On the other hand, high-quality batteries cost more, but you'll be able to use them for a long time, even in cold climates. Your initial capital investment may be high, but for a long time afterwards you won't have any problems with the battery.
In the long run, this option may work out cheaper, because you don't have to do maintenance and you don't have to replace the battery soon. Do you have the funds available to enable this scenario?
Different Types of Batteries
Batteries differ in the following ways. Which will be the most appropriate for your vehicle and circumstances?
Size
As mentioned above, you need to choose the correct size battery. Most websites will let you lookup your car's battery size.
We recommend you check manufacture's sites for finding the right size for our top 4 best automotive batteries.
Maintenance type
Some batteries don't require maintenance, but they're usually more expensive. If your battery needs maintenance, you'll have to top up electrolyte levels. Car batteries come in different formats.
When do you need to change your battery?
Batteries can stop working all of a sudden, but certain warning signs often precede it. If you notice any of the following happening, you may have to replace your battery.
Does your car struggle to start up in the morning?
If your car's battery is already a few years old, it's smart to replace it before winter sets in
Are the lights on your dashboard flickering when you start up the car in the morning?
Do you notice physical changes to the battery such as the casing that bloats or acid leaking?
Most batteries last 3 years. If your battery approaches this age, have it replaced, or at least measure its capability
If the battery was in long-term storage and not maintained.
Now you know when to head to the battery store. It's better to do it sooner, rather than later, because you don't want to be stranded somewhere without a working battery. So, let's see which one of these items will be the best car battery for your vehicle.
Final Thoughts
I hope this guide to the best rated car batteries has been helpful. Choosing a new battery can be a daunting task, but if you choose any of these batteries, you'll be alright!
-Mike-