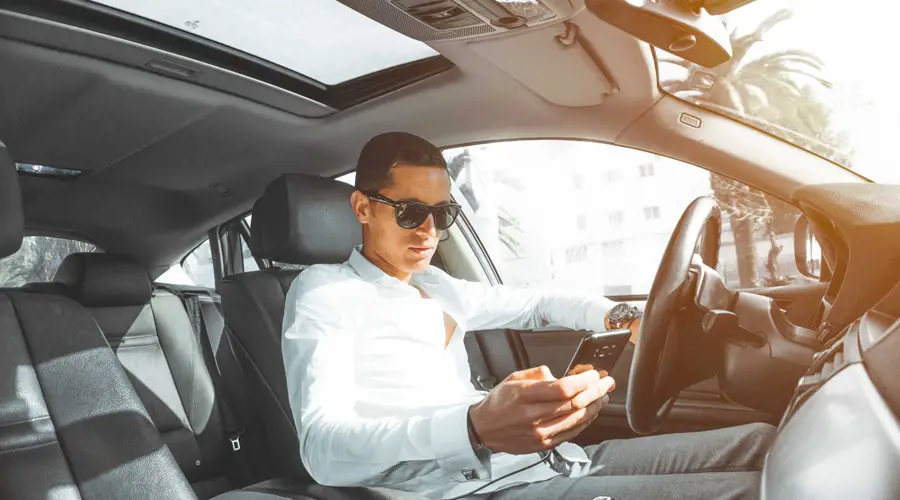 It's common to wear driving sunglasses during the day to help with sun glare but did you know some sunglasses make it easier to drive at night?
A lot of people have a hard time driving at night. The dim lighting and glare from oncoming headlights create unsafe driving conditions but the best nighttime driving glasses can help.
How to Choose the Best Night Driving Glasses
The main reason to wear nighttime glasses while driving at night is to reduce glare from oncoming headlights though they also improve depth perception and contrast. But choosing a pair of night driving glasses is not the same as picking a cool pair of shades. Here are the things you should look for to find the right pair for you.
Polarization
Polarized lenses are the best way to reduce glare because they block horizontal light from getting through. Headlights from oncoming cars are a perfect example of horizontal light which is why polarized lenses work so well. Polarized night driving glasses help reduce night driving glare, which can be helpful for everyone.
Tint
The best tint for a night driving glass lens is yellow. Yellow lenses reduce blue and white light which eliminates headlight glare. Yellow can cause some color distortion but this is usually only a problem during the day.
Material
There are a few materials available and they each have their benefits. Plastic lenses will get the job done and are exceptionally affordable but may not last very long. Polycarbonate lenses are lightweight, cheap, and exceptionally durable. If you're looking for something top-of-the-line, go for Trivex. It's impact-resistant and performs better than other materials.
10 Best Night Driving Glasses
1. BLUPOND Night Driving Glasses
BLUPOND polarized yellow lens glasses reduces nighttime driving glare and flashes from blue light, successfully blocking bright headlights and improving night time vision. The durable metal rimless frames provide a large field of sight and the nose pad and rubber supports are exceptionally comfortable.
They're available in brown, black, and titanium and are a really great value. They come with some nice extras, including a cleaning kit, hard case, screwdriver, storage pouch, cleaning cloth, and glasses clip.
2. Fiore HD Night Driving Sunglasses
Fiore has a few different styles of driving glasses to choose from but we're partial to the aviator style. The classic design looks good on anyone and the spring hinges are comfortable and adjust to fit any face shape.
This is one of the more affordable options on our list. The plastic yellow lenses work well when driving, and they're covered by a 30-day money-back guarantee so you can return them if you're not happy.
3. SOXICK Night Driving Glasses
These glasses from SOXICK feature lenses with a polarized anti-reflective yellow coating. They're a good choice for driving at night but can also be used when it's foggy, cloudy, or rainy.
The aluminum-magnesium frame is lightweight and durable with adjustable nose pads and spring hinges for added comfort. They also come with a 30-day money-back guarantee so you can give them a try with no risk.
Are your headlights dim at night? You may need to remove headlight haze.
4. Bircen HD Night Vision Driving Anti-Glare Glasses
There's a lot to like about these night vision glasses from Bircen. The polarized yellow lens glasses are ideal for night driving, enhancing color clarity, definition and providing glare reduction from oncoming headlights. These anti glare glasses are made from high-strength resin that resists breakage and scratching.
The adjustable aluminum-magnesium frames are extremely durable and lightweight and the flexible arms and nose pads fit any face. You can try them risk-free for up to 30 days and return them if you aren't satisfied for any reason.
5. Optix 55 HD Day Night Driving Glasses
Another great option if you're on a budget is this pair from Optix 55. They feature plastic frames and polarized yellow lenses ideal for controlling night driving glare. The wrap-around style can be worn over prescription glasses, too.
You get some nice extras with these glasses, too, including an EVA protective case and microfiber pouch so you can prevent scratches and dents when you're not wearing them. Choose from black or tortoiseshell frames.
6. Mr. O Sunglasses Over Glasses
If you're looking for a pair of night driving glasses that are also insanely stylish, take a look at this pair from Mr. O. The plastic polarized yellow lenses are great for night driving and the plastic frames are available in six colors, including pink, yellow, and blue.
These night driving glasses can fit over your prescription glasses so they're convenient and work for anyone. They're effective driving sunglasses during the day since they block 100 percent of UV rays and come with a 90-day money-back guarantee.
7. Lumin Night Driving Glasses Vector
One of the most stylish options we found for best night driving glasses is this pair from Lumin. The heavy yellow tint improves night driving and is also great when you're behind the wheel in the rain, mist, fog, and smog.
The unisex frame design is mostly black but has a nice little pop of brown and blue to add some color. They're also really comfortable to wear and fit just about any face perfectly. These glasses are covered by a lifetime warranty, too, so you really have nothing to lose.
You might be interested in: Best cars to sleep in
8. Pro Acme Night Vision Glasses
Another great choice, if you're in the market for a pair of night driving glasses on a budget, is from Pro Acme. They feature a stylish metal frame and a minimal design that looks great and adjusts to any face. The plastic polarized glasses have a yellow tint to block blue light and glare and they're super lightweight and comfortable.
These glasses come with a microfiber pouch, cleaning cloth, and a leather case for safe storage. You also get a 100 percent satisfaction guarantee. If you're not happy, return them within 30 days for your money back.
Make sure your headlight lumens are bright enough for night driving!
9. Ideal Eyewear Night Driving Wear Over Glasses
These glasses from Ideal Eyewear are designed to fit over your prescription glasses. The yellow lenses are ideal for improving night vision but they also block 100 percent of UV rays so they're also a great choice for day time driving sunglasses as well.
These night driving sunglasses are available in two different sizes so you can be sure they'll fit over your prescription glasses properly. They're affordable, reliable, and effective.
10. Feirdio Night Vision Glasses for Driving
Finally, we recommend Fierdio Night Vision Glasses. The polarized yellow lenses are ideal for night driving or in fog, rain, or low light. They have a wide field of vision and a classic aviator style that's not only functional but also looks good.
The aluminum-magnesium metal alloy frame is durable and so lightweight that you'll barely feel them on your face. They're covered by a limited lifetime breakage warranty as well as a 30-day money-back guarantee.
Dim headlights? Consider upgrading to an HID or LED kit.
Now that you have a good pair of night glasses, consider a second set of driving sunglasses.
Source of Featured Image: canva.com