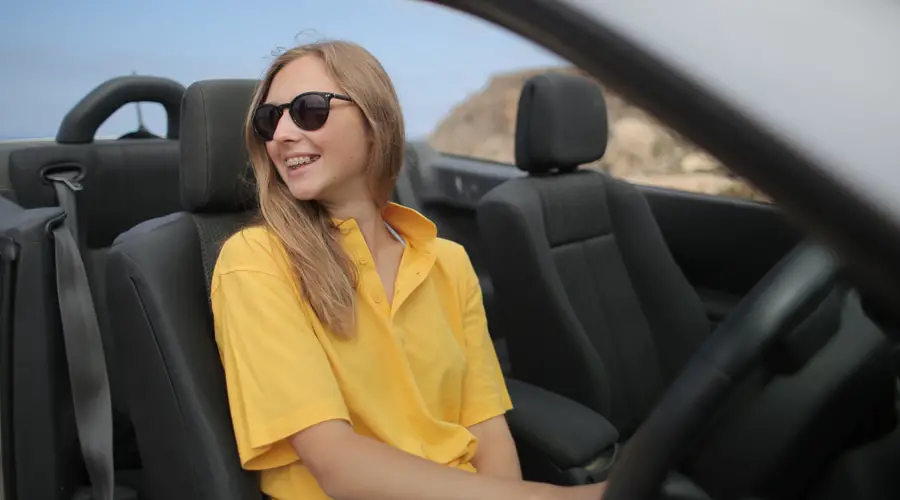 There are a few things to think about when it comes to choosing the best driving sunglasses. Similar the night driving glasses, you want them to look good, of course, but you can't just choose the coolest pair off the rack and expect them to improve your vision while driving.
Why Driving Glasses?
When behind the wheel, you have to be able to see clearly. Glare is a huge factor in a lot of car accidents. Squinting and shielding your eyes from sun glare is something a good pair of driving sunglasses can help you avoid. There are even some shades that block out different parts of the color spectrum, making the road and your surroundings look crisp and clear.
The best driving sunglasses shouldn't be too dark. In fact, they should let in between 20 to 40 percent of light. Polarized lenses with a gray, copper, or amber tint are the best choice to eliminate sun glare and maintain color integrity. You also have to be sure the frames aren't too bulky. Thick frames look great on the beach but can get in the way of your peripheral vision while driving.
Remember that not all sunglasses are created the same and the best pair is not always the most expensive. That said, you getting the wrong pair just because they're cheap can do more harm than good.
Here are some of the best driving sunglasses for 2020.
Although these are described as men's sunglasses, there's no reason the ladies won't love them, too. The lightweight aluminum metal alloy frames are durable and thin and the classic aviator style is timeless. These frames won't obstruct your peripheral vision and look great on just about anyone. Plus. they're so lightweight and comfortable, you might forget that you're wearing them.
The polarized lenses block 100 percent of UVA and UVB rays, making them ideal not only for driving but also for a variety of other outdoor activities. They cut down on glare while you're driving, even when there's snow on the ground.
One of the things we like the most about these polarized glasses is they come with a 30-day money-back guarantee so there's no risk to try. They're also available in a few color combinations, including black, gold, and silver frames.
These sunglasses from Serengeti are one of the more expensive options out there but they are loaded with features that make them an investment well worth it. The non-polarized lenses are designed with a gradient tint that's ideal for driving and even aviation.
How do they do it? Serengeti uses a special photochromic lens glass that darkens in bright sunlight, adjusting so your eyes get more protection when they need it. Changes occur on a molecular level, expanding and contracting and getting lighter and darker depending on the amount of environmental light.
Another cool thing about these lenses is that they selectively filter light wavelengths, sharpening color and contrast. Though they are not polarized, they're designed to limit blue light which cuts down on haze and glare.
These sunglasses are super lightweight thanks to the titanium frames and light-weight mineral glass lenses. Silicone gel nose pads keep the glasses perfectly positioned and comfortable. That's not all, Serengeti also offers a two-year manufacturer warranty.
Sale
One of the most stylish options on our list is this pair from Duco. We love that the frame has a chunky look while offering a stylish chain-like embellishment on the arms that opens up your peripheral vision. The frames are made of high-quality polycarbonate that's lightweight and exceptionally durable.
As for the lenses, they block 100 percent of harmful blue light and are polarized to control glare and improve your vision when driving. They're also made of an impact and scratch-resistant material. Duco claims you can hit it with a hammer and it still wouldn't break.
These glasses also feature wide nose pads and an angled design that make these glasses extremely comfortable to wear. There are four different colors to choose from: black frames with gray lenses, brown with brown lenses, champagne with brown lenses, and purple with brown lenses.
They offer a 30-day money-back guarantee with a full refund if you're not completely satisfied. Plus, these sunglasses come with some nice extras, including a case, cleaning cloth, fabric pouch, polarizing testing card, and screwdriver.
J+S Premium Military Style Classic Aviator Sunglasses prove that the best driving sunglasses don't have to cost an arm and a leg. The classic aviator design looks great on anyone and never goes out of style. Plus, there are so many colors to choose from, you're bound to find one that suits your personality.
These sunglasses have a special multi-layer design that filters and blocks over 99 percent of glare, giving you maximum comfort and visibility. They're also extremely durable and scratch-resistant so they're a good choice for daily use as well.
As for the frames, they're made of a metallic alloy that's really lightweight while also being strong and durable. Spring-loaded hinges and adjustable silicone nose pads help them adjust to your face to deliver maximum comfort.
J+S offers a one-year warranty on its frames as well as a 30-day money-back guarantee so there's no reason not to give them a try. Note that there are a lot of lens colors to choose from. For driving, J+S recommends brown or mirrored lenses.
Safe and Stylish
The best driving sunglasses should be both stylish and effective. Save the chunky dark plastic frames for the beach and the wrap-around styles for skiing. When you're driving, you need to clearly see what's in front of you and maintain an effective peripheral vision.
That said, you don't have to totally compromise style. There are plenty of options out there that improve your vision behind the wheel and keep you looking good at the same time.
Source of Featured Image: canva.com