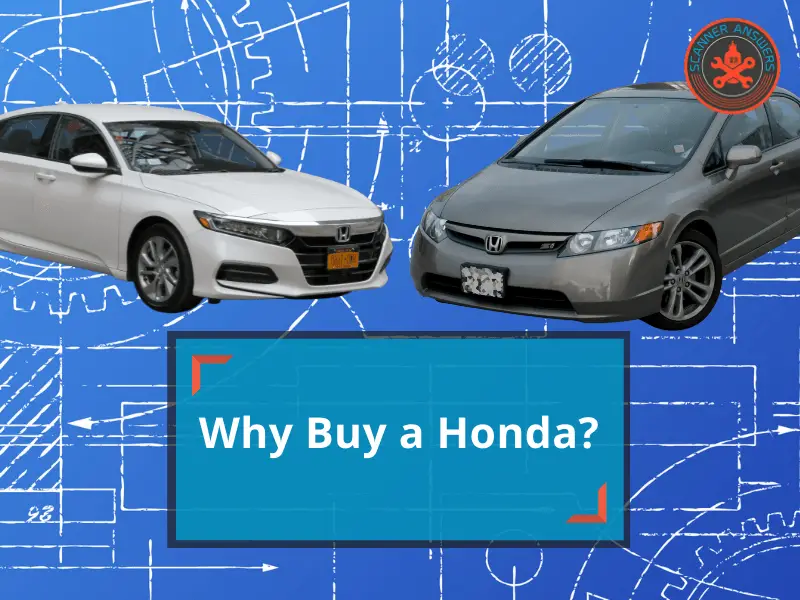 Are you in the market for a new car? Chances are you're already overwhelmed by the number of options available.
The Honda brand has already popped up a few times as you talk to your friends and family about buying a new vehicle.
So why buy a Honda? What makes it so unique? Is it really the right car for you? This is what you'll learn by reading on.
Everything You Need to Know About Honda
In the beginning, Honda wasn't even producing cars. Soichiro Honda founded the company in 1946 to build 2-cycle motorbike engines. In 1948, Honda Motor Company, Ltd. was established, and the company opened its first store in Los Angeles in 1959.
Later on, Honda invaded the car market, but surprisingly enough, most of their earlier models utilized their famous 2-cycle motorbike engines. They were already available, and the company's engineers and employees trusted them enough. The size of the cars produced was small, so a compact engine wasn't a big issue.
Today, Honda isn't just about interesting reliable cars and fun motorbikes. The company is currently working on an electric unicycle that allows people to move comfortably in their home or office. Older or sick people can also benefit from their therapeutic Walking Assist Device. It's lightweight and easy to operate, helping people with mobility problems to walk again.
Honda has been selling reliable cars for years, and their ambition never stops. In addition to their classic models, hybrid models and hydrogen-powered cars were also made to meet the needs of consumers.
The company is involved in the production of several products, including aircraft, watercraft, mountain bikes, power equipment, and solar cells. Although Honda is a Japanese automaker, over 1,000,000 vehicles are sold in the US.
9 Reasons to Buy a Honda
When you're shopping for a new or used car, you don't only think about the price, but the value of the vehicle and your investment for a few years to come. Honda is a car that you can depend on, the same way thousands of people trusted this brand. Here are some of the top reasons why you should buy a Honda car.
1. Affordable
Although the price you pay for a car isn't the most critical factor to consider, it's still one of the most important ones. You want a vehicle that provides the best value for your money as you can drive it safely for a long time. This is what you get when you buy a Honda.
The Honda Civic or Honda Accord prices start at $21,700 and $25,000 for 2021 models. This isn't too bad for high quality vehicles that will last you for many years to come.
2. Award-Winning Brand
Honda won the Car and Driver Top Manufacturer Awards more than 80 times, more than any other brand. Winning this award means that the company has always worked to maintain its level, so it doesn't disappoint customers.
In addition to this prestigious award, the company has won other awards like Best Buy Award, Greenest Automaker, Best Overall Non-Luxury Brand, and Top Safety Pick. This proves that the brand is always working on meeting and exceeding the needs of potential customers in a highly competitive market.
3. Fuel Efficiency
Buying a Honda means that you'll have a reliable car that won't eat up your gas. This means that you won't have to buy gas regularly to power your car. Maximizing fuel efficiency is an excellent feature, and Honda even produces hybrid models have even better fuel economy.
Honda Civic fuel economy = 31 / 40 city/highway mpg
Honda Accord fuel economy = 30 / 38 city/highway mpg
4. Reliable
Honda car makers are always designing a car that can last for a very long time. These cars will safely take you and your family across the road while you're enjoying a comfortable driving experience. The trusted car is backed up by excellent customer support service to provide assistance when needed.
Read more about the awesome Honda reliability
5. Safety
Honda has a motto that says" Safety for Everyone" and they try to live by it by introducing several safety systems that guarantee the welfare of the driver and all the passengers. Their innovative systems include the Safety Sensing Suite, the Road Departure Mitigation System, and the Lane Keeping Assist System.
Moreover, there's the HondaLink application that can be extremely helpful in case of an unfortunate crash. The app notifies someone who can call the authorities so they can send help to the location of the accident.
6. Good Resale Value
When you're buying a car, you're probably thinking about all the time you'll spend driving it, but you should also think about selling it in the future. Honda cars have high resale value because the cars are durable and reliable. Even when you're looking for a new car, you'd be glad to know that there will be a lot of people waiting to buy it.
They also keep a high resale value because they are affordable to maintain.
7. Versatile Models
The good thing about Honda is that you can find whatever you're looking for. There are compact cars for city life and bigger models that would suit a family.
Sport car lovers can also find what they need while the hatchback models are suitable for city dwellers that can't find a parking spot easily but would still need a car with a big trunk for their belongings. Whatever you're looking for, you can always find the right Honda that would work for you.
Unlike other brands that usually specialize in a single-model, Honda offers different varieties of vans, trucks, sedan cars, and more so they can meet the needs of all their potential customers. The brand even offers models with extra features that appeal to a particular segment in the market, but they're still more affordable than other brands.
8. Eco-Friendly Cars
For 15 years, Honda cars were chosen as America's Greenest Vehicles because the company is aware of the importance of producing eco-friendly cars. Moreover, the company has even worked on creating its own environmentally conscious award to guarantee that other brands are following its lead.
Several models like Honda Insight, Civic Hybrid and Odyssey have been voted as the most reliable cars. They're both fuel-efficient and are considered environmentally friendly.
9. Style
In addition to being safe, reliable, and affordable cars, Honda models still manage to be stylish and sleek. Their modern designs are elegant and easy to handle, so you'll always feel comfortable while driving your Honda. The cars come in different colors so you can always find the one that suits your taste.
5 Reasons to NOT Buy a Honda
With all these qualities, come a few concerns. Although Honda is an excellent choice, there are several points that put some people off when they're thinking about buying a Honda model.
1. Pricy Options
The basic models of Honda are incredibly affordable. However, once you think about loading your vehicle with some extra features, the price rises fast. Other brands offer the same extra features without being that expensive.
2. Expensive Used Car Market
Due to their popularity, Honda cars have a higher resale on the used market. This is good news for you if you're selling your old car, but bad news if you're looking for an affordable used vehicle.
For example, a 6-year-old Honda Civic with xx,xxx miles are still sold for ~17,000 and are considered a 'Good Price' according to Kelley Blue Book.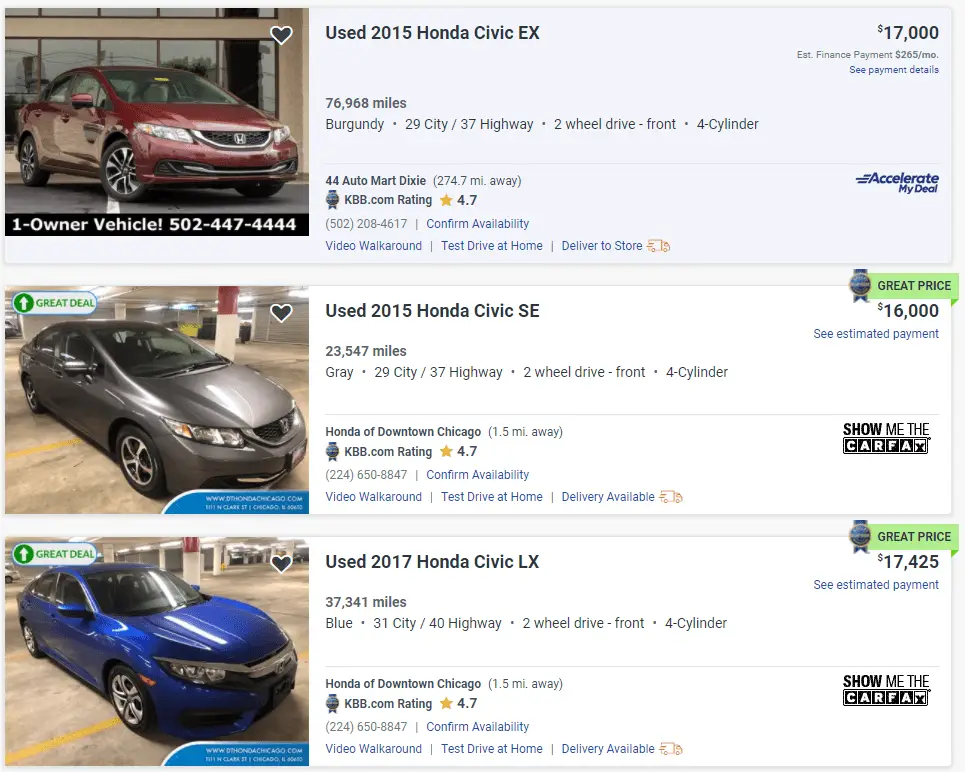 3. Keeping Up with Technology
Honda has come a long way in working on their infotainment systems. The older versions were rather annoying to use as they didn't support Android Auto or Apple CarPlay.
Nevertheless, this has changed, and the recent models are designed to provide drivers and passengers with a seamless experience, making the car more popular among tech-savvy customers.
So if you're buying a newer model, this should be a problem for you.
4. Basic Models
Honda produces a lot of models, but it's best known for a special range; practical economic cars, and compact car models.
Although the company has recently worked on giving their older models a facelift, their cars' style still remains a little bit basic compared to other brands.
Repositioning the tail lights or tweaking some of the curves still works. However, if you're a fan of innovative avant-garde styles, a Honda won't be the right car for you.
5. No Luxury Cars
The truth is that Honda managed to add some cool features to their successful models, but the brand has yet to offer a luxurious car. Other brands like Mercedes and Lexus have distinctive characteristics that set them apart from more affordable brands. Honda tried to enter this market by making a few adjustments to their already basic models.
If you want more style, or power, consider their luxury vehicles brand: Acura
Conclusion
Reliability and safety are strongly associated with Honda cars. For decades, this brand has managed to produce high-quality cars that cater to the needs of all car lovers across the globe. The research doesn't stop, and the company is always looking for new models and additions that would make the brand more appealing to new customers.
Being in a competitive market means that the company has to move forward all the way. While still maintaining its well-known safety standards, Honda is working on introducing new models and features that would always put its name ahead.