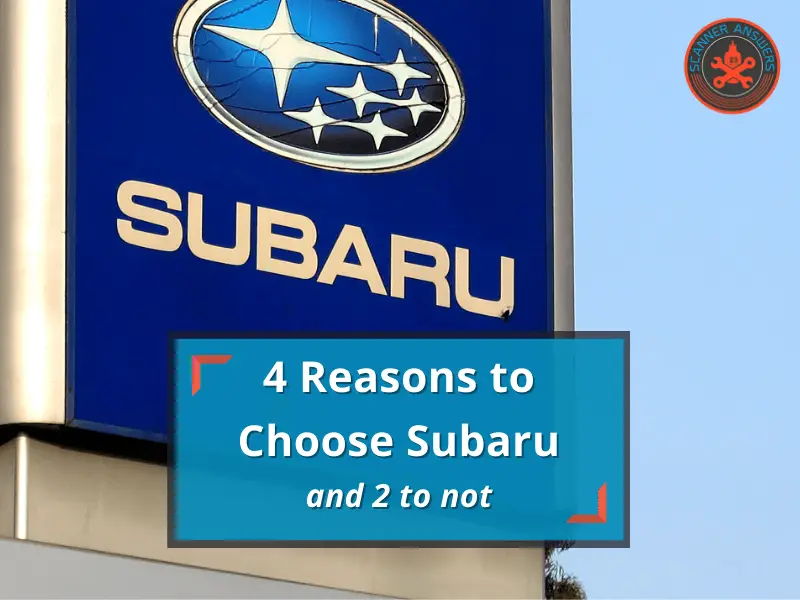 Subaru VS Other Car Brands
According to Statista.com, Subaru alone claimed a market share of about 1.7% in 2019. This number is pretty impressive, bearing in mind that other companies own multiple car brands. However, if you are still asking yourself, why buy a Subaru and not any other car brand? Then let's dive in!
Today, I've taken it upon myself to give you the answer to this question. In the following article, you'll find the top reasons to buy or avoid a Subaru based on your preferences.
Top 4 reasons to buy a Subaru
The rise in the previously mentioned market share is due to the impressive qualities the Subaru brand possesses. It is ultimately what drives a lot of buyers to purchase a Subaru over other cars. In the following list, I'm going to discuss the top reasons why Subaru is a great car to buy.
If you're going to spend hours every day in your car, you need to make sure that you're safe and sound at all times. Car safety alone is one of the biggest decision-making factors while choosing a new car.
In fact, there are multiple reports that show that buyers are looking for advanced safety features over automation.
The folks at Subaru are well-aware of the buyers' concerns, and the Subaru brand is known to push the safety technologies and features to the limit.
This gives the buyers an option to have a relatively affordable vehicle that has all the safety features that you can only find in a high-end brand, such as Volvo and Mercedes.

In addition to drivers, a lot of reputable car safety organizations idolize Subaru's standards, too! For example, the Insurance Institute for Highway Safety (IIHS) has ranked Subaru's cars among its top safety picks for over 6 years now.
All Subaru models, including Impreza, Crosstrek, and WRX, have been featured as top picks in their list. Additionally, some of its models scored a staggering 10/10 score on their safety tests, such as the Forester.
What Are the Best Safety Features in Subaru Models?
Now that you know that safety is the primary reason to go for a Subaru, let's take a deeper look into these features!
The cars achieved these excellent results thanks to the rollover sensors, airbag systems, and other advanced safety features, such as: (make it a list or chart)
Subaru EyeSight Technology
As the name suggests, this new technology by Subaru gives you an additional pair of eyes on the road. The technology combines advanced cameras and artificial intelligence to scan the road for any dangers.
Moreover, it monitors the movement and speed of the surrounding traffic to optimize the cruise control settings automatically. Not only that, but it'll alert you if you stray far off your lane while driving.
The technology also stops the car immediately if a pedestrian crosses the road in front of the car. According to Subaru and the IIHS, the EyeSight technology has helped in reducing the rate of rear-end crashes with injuries up to 85%.
Vehicle Dynamic Control (VDC)
Another great safety and stability feature is the Vehicle Dynamic Control system. This technology utilizes different sensors to monitor the speed of all wheels, and the steering wheel position. It gives you the most stable and safe ride possible.
It also prevents the wheels from spinning at different speeds. This allows the system to restabilize the vehicle if the wheels spin without traction.
The system helps your Subaru to stay on its path and regaining stability and traction control easier and quicker.
Subaru StarLink
The StarLink is an advanced system that is available whether you're inside or outside the car.
The system can notify you if the car has any collision. Additionally, it boasts an enhanced roadside assistance setting. You can also use it to remotely lock, unlock, horn, and even locate the car. Moreover, it comes with an SOS emergency assistance, stolen vehicle recovery, and more!
The Subaru brand is among the most reliable names in the market. This means that you won't have to replace, fix, and repair the car as often as others. Subarus are indeed a bit expensive to maintain. However, you won't need to spend that money as often. Also, Subaru has a low depreciation, which means that they don't lose much of their market value with time. Their engines are also highly durable, long-lasting, and can serve for long years. Even when they have an issue, they work flawlessly once they're fixed.
Although safety plays a huge role in making Subaru the car of choice to many drivers, Subaru's automation is a huge asset too!
Of course, there are plenty of manufacturers that offer an all-wheel-drive (AWD) car. However, a small handful of the highest-end brands can match Subaru's level in this category.
Apart from the rear-wheel-drive Subaru BRZ, every single model from Subaru is a four-wheeler. The all-wheel-drive experience has always been one of the core value points you get with a Subaru.
The AWD boosts the level of traction of Subaru's vehicles significantly. You could even notice that in the Vehicle Dynamic Control technology that I mentioned above.
Subaru is one of the oldest automakers to implement a full-time All-Wheel drive in their cars. Most manufacturers new to the AWD game will add the AWD to existing car designs. However, Subaru builds the All-wheel drive system first.
Engineering the car to work on a full-time AWD from the ground up gives Subaru's models a clear edge on the road. The entire system, including the motor and transmission, is in perfect balance along a central line in the car.
The combination of AWD and symmetry maximizes the level of control, stability, and traction. Subaru continues to develop the system, making it lighter and more stable than ever. As a result, you can enjoy a more confident and entertaining experience behind the wheels of the Japanese giant.
For many of us, nothing beats the feeling of a fast car. With a passion for speed, Subaru has always been a regular entry in the garages of street racers and tuners. Who can forget the 2009 Subaru Impreza WRX STI GH– featured in the "Fast and Furious" franchise.
If you're a gear-head who's all about speed and performance, Subaru has got you covered. Besides their reliable SUVs, Subaru also offers some of the best sport edition vehicles around.
The WRX STI comes with a turbocharged Subaru Boxer engine with a capacity of 2.5 liters. This engine is able to produce about 221 kilowatts and 407 Newton-meter of torque. This immense power translates into a tremendous acceleration on the road.
According to Acceleration Times, the 2014 WRX can reach 100 mph (160 kph) in a mere 13.1 seconds.
Two Reasons NOT to Buy a Subaru
Owning a Subaru means a trouble-free experience most of the time. Yet, nothing is entirely perfect.
All cars have their ups and downs, and Subaru's models are no exception to this rule. Let's have a look at some of the reasons that make a Subaru less than the ideal car for you.[/su_box]
One of the obvious problems with having a Subaru is their price tags. Usually, Subarus are the more expensive option to go for in their class.
There are other car manufacturers that make good cars at a more affordable price. For example, Toyota, Honda, Hyundai, and Kia.
Let's take the Subaru Outback as an example. The average price of the Outback is about $33,170.
This wagon model is pricier than some other popular compact SUVs in the market, such as:
| | |
| --- | --- |
| Vehicle | Price |
| Hyundai Tucson | $23,350 |
| Honda CR-V | $28,930 |
| Kia Sportage | $21,659 |
| Toyota RAV4 | $28,701 |
All these cars are great and offer an affordable alternative to having a Subaru. Yet, none of them is able to crack the "safety with performance" code the way Subaru does.
On the other hand, the new Outback costs much less than some luxury brands, including:
Volvo V60 – $39,650
Audi A6 Allroad – $65,900
Subaru spends a lot of effort to improve its fuel economy through different technologies. However, it still has a relatively worse fuel mileage when compared with some of its class competitors.
The reason behind that fuel inefficiency is its high power engines and the All-wheel-drive. Although, for many riders who want safety and performance in one place, Subaru's fuel mileage seems like a fair trade-off.
Currently, the most fuel-efficient model from Subaru is the Impreza. It can run at 38 miles per gallon, with most other Subaru models running at 33 to 34 miles per gallon.
3. Head gaskets and maintenance costs
If you've been around cars long enough, you'll have heard about Subaru's infamous head gasket failure. While this may not be applicable to you who are looking for newer vehicles, if you're buying a used Outback or Impreza, it's something to watch out for.
They can get expensive to maintain also.
Conclusion
With that said, let's sum up all the reasons to buy or avoid a Subaru.
If you're looking for a budget-friendly vehicle that has outstanding fuel efficiency, you can find other alternatives that do a decent job, comparably.
However, If you're aiming for a vehicle that offers high performance and safety in exchange for a slightly higher price, Subaru is a great option to consider.[/su_panel]